Last Updated on January 11, 2022
Taobao is a paradise for shoppers who like the unlimited diversity of products on offer and, at the same time, don't want to pay too much for the items. While Taobao is also a member of the umbrella company that oversees AliExpress, buyers rumor that at Taobao, prices are several times lower than on AliExpress, mainly because it's a Chinese-only platform for the local use. But we have good news – in this guide, we're giving step-by-step instructions on how to order from Taobao.
 Here you'll find out what you can and cannot buy at Taobao as a foreign citizen, how to set up an account and link it to a certain payment tool, how to have your purchase shipped, and how to track a package. We're also covering some after-sale issues, such as returning products and claiming refunds from the sellers in case the products are unsatisfactory in any form.
How to Buy from Taobao?
 Wondering how to buy from Taobao? Probably, you must first clarify what exactly you can and can't buy here to proceed to the actual shopping. Here is the list of products that you won't be able to get shipped abroad:
Foodstuffs. It's forbidden to sell even tea or coffee for international shipments at Taobao. Other banned food products include noodles, bamboo products, and the like.
Liquid and powdered substances. Another limitation is set on cosmetic products, perfumes, nail polish, thermometers, and even ink.
Piercing and cutting objects, firearms. You'll never get a knife, or a gun, shipped from Taobao (as well as from most of the online merchants, by the way).
Electronics. Unlike AliExpress offering a huge variety of electronic appliances, from vacuum cleaners to smartphones, Taobao doesn't offer such products on sale to foreign citizens.
Replicas of branded products. Although China is known for its well-manufactured, realistic replicas of numerous brands, you can't purchase any of them from Taobao.
Products exceeding the weight and dimensions requirements of the Chinese customs. For instance, you shouldn't expect to buy a cheap sofa at Taobao. Even large installments may be banned from transportation, so it's better to negotiate the issue with the merchant at first and maybe organize the large-scale order into several smaller shipments.
 So, once this list of the limitations is clear, let's proceed to the actual buying process. The Taobao shopping service is available only for registered users, so the first thing to do is register.
 Registration
 Before making any purchases, you need to become a registered user. It can be done by clicking on the "Register" ("??") tab to the right from the smiling orange face. Once you click on it, you'll be shown a page of Chinese characters that you'll hardly understand, but don't worry; it's only the Terms and Conditions statement that you should agree to. Just click "????" to continue the registration process.
Both as a Taobao app user and as a visitor of the desktop website's version, you'll be asked to verify your mobile number with the help of a 6-digit OTP sent to you as an SMS. Make sure to provide your personal mobile phone number as Taobao regularly sends codes for the account's verification, and in case you have an account blocked and have no access to the mobile number you indicated upon registration, it will be super hard to restore the Taobao account.
After the mobile phone's verification, you can create a login, password, create a username, and the registration is considered complete. Registering on a PC is simpler than with a mobile app as the desktop website understands English and has a legible automatic translation overall. A note of caution: try not to access Taobao from different IPs as there is an IP tracking system on the website that may cause the permanent blockage of your account.
 The Taobao Lite app is suitable for all types of mobile platforms. You can set up an account right from the smartphone in that app, which is much easier and quicker.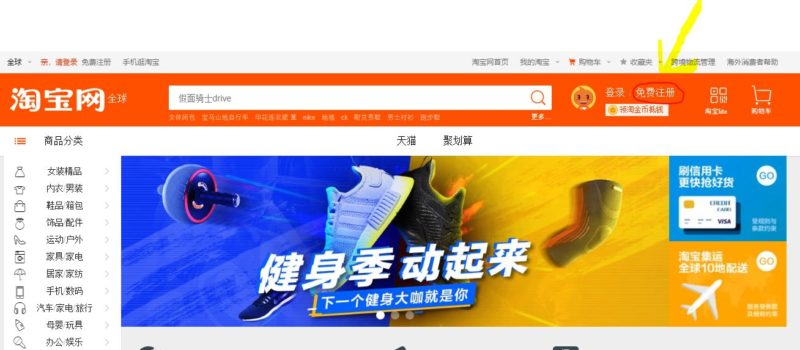 After registering an account, make sure to set an account on Aliwangwang. It's a messaging platform through which you'll communicate with Taobao sellers. You can't register on it as a newcomer, getting there only with the help of your Taobao account details.
Also, don't forget to add your shipping address so that the price for the products is correctly calculated with the shipping rates.
Browsing Products
Once you're in, you may start the actual buying process. Your first step should be to browse products and find exactly what you need. As the website is currently unavailable in English, you'll have to find a Chinese equivalent to your search words and insert them into the search bar at the top of the screen.
How to use Taobao in English?
After the product range is displayed, you may translate the description of any product that interests you into English or even translate the whole page of search results into English with the help of Google Translate.
After you find some product of interest and want to check its details, click on the product and go to its page. Here you'll see the detailed description of the product, available sizes, the size of the minimum order, and product reviews. On this page, you may also contact the seller directly by clicking on the speech bubble icon to start a chat and clarify all the remaining questions about the product.
To add the product to your cart, tap on the light-orange button right to the product's photo.
Buying Products
Once you've selected the product that you like and it's in your Shopping Cart, you need to provide the seller with a delivery address. Now it's high time to think about the payment. Taobao processes payments via the Alipay platform, and every new customer has a unique Alipay account assigned to his or her Username.
The first-time payment will require the creation of a secret 6-digit Alipay password. After that's done, you're welcome to choose among Visa, Mastercard, or JCB cards (service fee is 3%), Malaysia eBanking option (with a commission of 1.5%), and you can also pay with an Alipay gift card (with no fee but with a daily limit of 5000 CNY).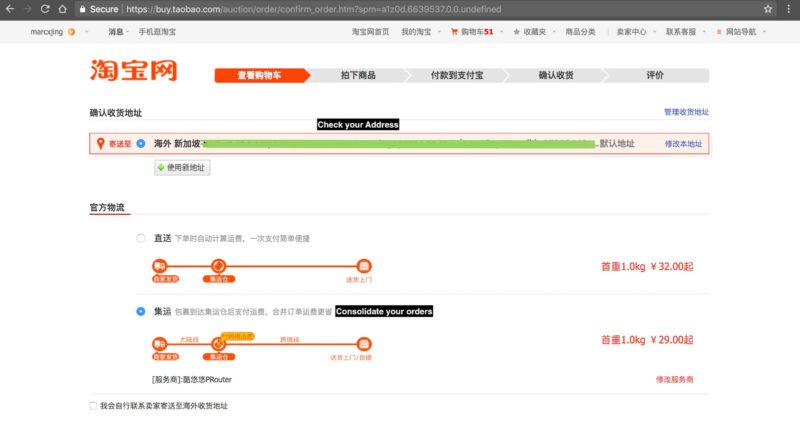 Shipping Your Products
Before paying for the order, you may need to decide on the shipment method. If you want to have several orders from various merchants to be shipped in one parcel (which is really cost-effective), then you may opt for the Taobao international shipping method, which is Taobao Consolidated Shipping.
It works as follows: all your merchants send their shipments to a forwarder warehouse, each marked with your unique ID of a buyer. Once all your shipments with one ID arrive, the local Chinese forwarder packs them into one parcel and sends it to your address. After consolidation, you'll be able to track the postal package as one while it heads to you.
Does Taobao shipping to the US allow consolidation?
Yes, this method of shipment is currently available for the residents of the USA, Canada, New Zealand, Singapore, Malaysia, and Japan only. Other shoppers at Taobao won't be even offered this option. They will need to choose between Contact Seller Shipping and Taobao Direct Shipping options depending on the distance, waiting time, and price quote for the shipment.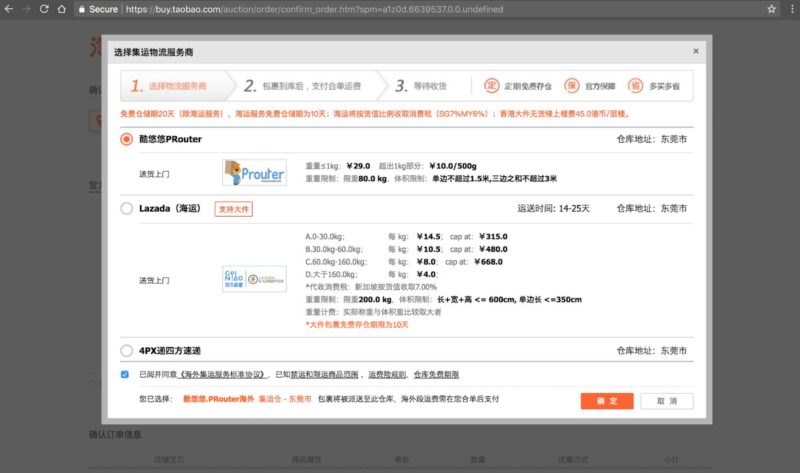 Tracking and Delivery
 Can you track a shipment from Taobao? Yes, it's available throughout its travel to you. Taobao enables postal tracking directly at the website (with some order statuses changing depending on the shipment's status). Here are some statuses to keep track of:
????? – payment went through successfully;
????? – your purchase has been shipped to the warehouse;
????? – the shipment has been transferred to the local postal carrier in your country;
????? – the shipment has arrived at the forwarder's warehouse, and you need to pay for the international shipment of your consolidated parcel.
If you're wondering how to trace your order with a Taobao track order number, it's pretty simple. You may either use the carrier's website or app for the tracking or refer to Pkge.net, a universal one-stop solution for real-time tracking of all shipments around the globe. The benefit of using Pkge.net is the simple registration and the comfort of tracking all your shipments delivered by multiple carriers in one place.
Once you save the list of tracking numbers of all your deliveries in progress, Pkge.net keeps an eye open for all the changes and issues timely notifications on the change of their statuses.
Keep in mind the waiting times that apply to Taobao shipments. If you're a customer from the USA, you will receive a package delivered by Cainiao, with the maximum waiting time of 9 business days. Canadians receive their Taobao purchases via JCEX (within 5 business days) or by EMS or DHL (the waiting time may extend to 9 days).
Australians and New Zealanders usually get their parcels within 5-7 business days.
The Customs
Please keep in mind that you'll also be charged some import duties on the products coming from China. In the USA, the customs tax equals 10% of the estimated purchase's cost, while Canadians will pay a 7% customs tac and a 5% GST. Australians face the 10% tax duty, while the residents of New Zealand pay 15%.
Claiming a Refund from TaoBao Merchants
Things happen, and your products may arrive damaged or be actually not what you ordered, wrong in size, color, or fit. If you're for any reason dissatisfied with the condition of the product, then you have 10 days after receipt to click on the "Refund" button. After that, you should send the refund application within the next 15 days, clarifying the reason for the refund and attaching any photo or video evidence of the problems.
Once the request is accepted, you'll get all funds back to your account within 7 business days.