Last Updated on January 24, 2023
Spending a fortune on your work wardrobe doesn't sound like the smartest idea in your book – and so, you are faced with the dilemma of choosing to save your style or your pocket. But how about saving both?
With the help of a few smart tips, creating a capsule work wardrobe collection is not that challenging of a task. From the perfect blazer and sharp button-down to work-appropriate, discreet pearl earrings, here are the main pieces you will need to look put-together, chic and professional, all while spending just under $500.
1. Find Your Very Own Power Suit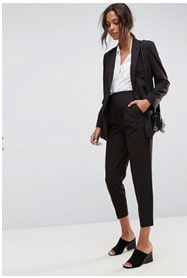 Suit: $135 from asos.com
The number one staple of an office-ready capsule collection is no other than the pantsuit, regardless of your field of activity. Whether you work in a creative area or hold a rather formal position, the power suit is the surest way to look professional.
And while bold and rich shades might look tempting when purchasing your very first power ensemble, if you are on a budget, the best way is to stick with classic neutrals and avoid prints, as much fun as they might be. Prioritizing versatility and classic cuts will make the job of staying on a budget much easier – not to mention, the job of getting dressed in the morning will definitely entail less hassle.
2. The Little Black Dress, Reinvented
Dress: $56 from asos.com
The little black dress is no longer black. That's right – there's no need to commit to the darkest hue of all when building a budget-friendly, versatile work wardrobe. Shades of charcoal, grey, taupe and navy are just as versatile when it comes to mix and matching pieces from your wardrobe.
So if you are looking for the right little dress for work, give these alternative shades a try and opt for a cut that is flattering, as well as comfortable, such as this feminine wrap number from Asos.
3. Grab a Flattering, Versatile Blazer
Blazer: $20 from boohoo.com
Adding a soft shade of blush to your work wardrobe to spice things up just slightly is a great idea to incorporate a little joy-inducing color. The second thing you should be looking for when on the hunt for the perfect blazer: a cut that's not too restrictive (since you'll be wearing it on repeat) and not too overpowering (think major shoulder pads) when paired with your tapered pants or sheath dresses.
4. Purchase a Wrinkle-Free Button-Down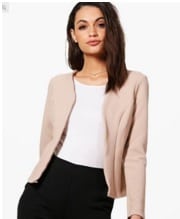 Shirt: $59 from portmans.com
When shopping for the perfect button-down for work, make sure to invest in pieces that allow you to save time in the mornings – such as low-maintenance, wrinkle-free shirts that are perfect for your grab & go lifestyle.
A classic button-down is a must have in any type of work wardrobe, whether you have an office job or interact with clients all day long. Paired with dark wash skinnies or with classic cigarette pants, a streamlined white button down is one of the easiest ways to look polished and put-together at all times.
5. Grab a Tapered Pant
Pants: $26 from hm.com
You kept it classic with the shirt, the suit and even the dress and you added a touch of color with the help of a chic blazer. And now's the time to incorporate some pattern into your office life. The best fit for the job: a pair of clean-cut tapered pants with a subtly cropped design (perfect for those loafers and Oxfords) in a classic, yet modern print.
Go for a neutral shade and a print without an expiration date (spotted here: the Glen plaid print) like this pair from H&M in order to master that perfect combo between elegant and fresh.
6. Perfect Your Look with the Right Bling
Earrings: $69 from thepearlsource.com
There's no better way to accessorize a chic work-ready outfit than with a pair of classic pearl studs in radiant ivory white. Whether you're rocking your little sheath dress or your power suit, pearl earrings simply can't miss the mark on chic, office-ready style.
Our favorites: these discreet studs from The Pearl Source that have the power to give your look that perfect final touch.
7. Opt for a Structured Handbag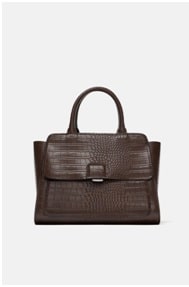 Bag: $50 from zara.com
When on a mission to look put-together and chic, opting for structured, streamlined cuts is the way to go – and that applies both to accessories and to clothing items. And in order to achieve that professional look that translates well into the widest range of professions, a structured, modern handbag should definitely be on your shopping list.
No need to opt for classic black when it comes to your purse – in fact, feel free to add some color, as well as some texture into your look.
8. Ditch the Stilettos for Preppy Loafers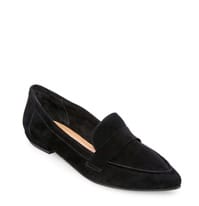 Shoes: $80 from stevemadden.com
One of the key elements when shopping for your work wardrobe on a budget is making sure that you are always prioritizing comfort. Since you want to get the longest wear from the items you select, opting for comfy, classic cuts is definitely the right mindset ahead of your shopping adventure.
Case in point: opt for a classic pair of loafers that look just as elegant as heels and work perfectly both with dresses and suits by adding a chic preppy vibe to the entire outfit.