Last Updated on March 8, 2022
Regarded as "a giant of American letters," John Ernst Steinbeck, Jr. was a Pulitzer Prize winner as well as a recipient of the Nobel Prize in Literature. His critically-acclaimed novel, The Grapes of Wrath, on the plight of migrant workers during the Great Depression, is still considered as Steinbeck's masterpiece and one of the greatest pieces of Western literature.
John Steinbeck Work Highlights
John Steinbeck, Jr. was an American author and a college dropout. He worked as a manual laborer before becoming a successful writer, penning 27 books during his lifetime. He authored novels, non-fiction books, and collections of short stories. His impressive written works include Tortilla Flat, East of Eden, Of Mice and Men, and In Dubious Battle. Most of his work centered on themes of fate and injustice.
In 1962, Steinbeck won the Nobel Prize in Literature. He was awarded the honor for his realistic and imaginative writings using keen social perception and sympathetic humor. His work informed, educated, and entertained the readers.
John Steinbeck Overview
Born on February 27, 1902 in Salinas, California, John Ernst Steinbeck Jr. was brought up with modest means. John Ernst Steinbeck, his father, had several jobs to make ends meet. The senior Steinbeck ran a flour plant, was a Monterey County treasurer, and once owned a feed-and-grain store. Olive Hamilton Steinbeck, his mother, was a former teacher. John Jr. grew up with his three sisters.
Steinbeck was described as a shy but smart kid. At a young age, he fell in love with the land, particularly Salinas Valley, which was often the setting of his novels. He started writing short stories and poems at 14. In 1919, to please his parents more than anything else, Steinbeck enrolled at Stanford University. But for the next six years, he would drift in and out of school. Eventually, in 1925, Steinbeck left college without a degree.
After dropping out, he tried to do freelance work as a writer. He moved to New York for a brief time. He took a job at a construction company while being a newspaper reporter at the same time. Not long after, Steinbeck went back to California and worked as a caretaker for Lake Tahoe.
It was during this period when he wrote his first novel, Cup of Gold, then met and married Carol Henning. She was his first wife. Over the next decade, with the financial and emotional support of Henning, Steinbeck proceeded to work on his writing.
His first couple of books received lukewarm reviews. It was when he published the humorous novel Tortilla Flat in 1935 that Steinbeck achieved real success. Ironically, he adopted a more serious tone for his next books.
In 1939, Steinbeck published The Grapes of Wrath. It told a story of a dispossessed family in Oklahoma who had to relocate to California during the Great Depression. At the height of its popularity, the novel sold over 10,000 copies on a weekly basis. In 1940, Steinbeck received the Pulitzer Prize for that particular work.
On December 20, 1962, at the age of 66, Steinbeck died in New York City.
Fascinating Facts and Tidbits about John Steinbeck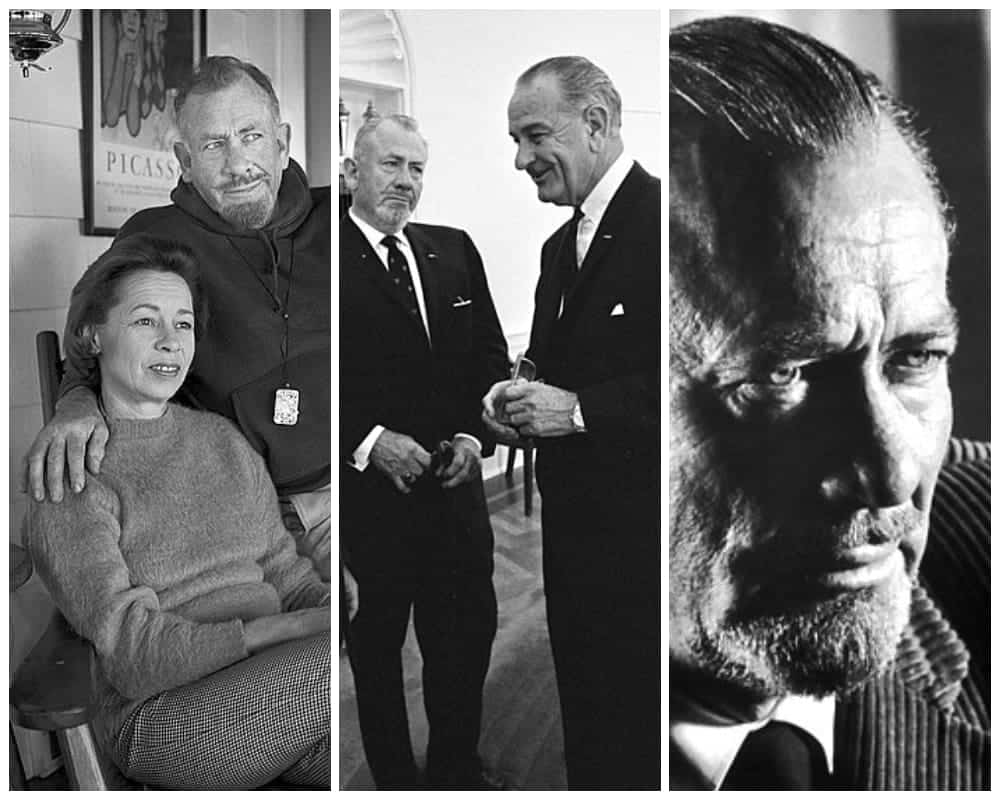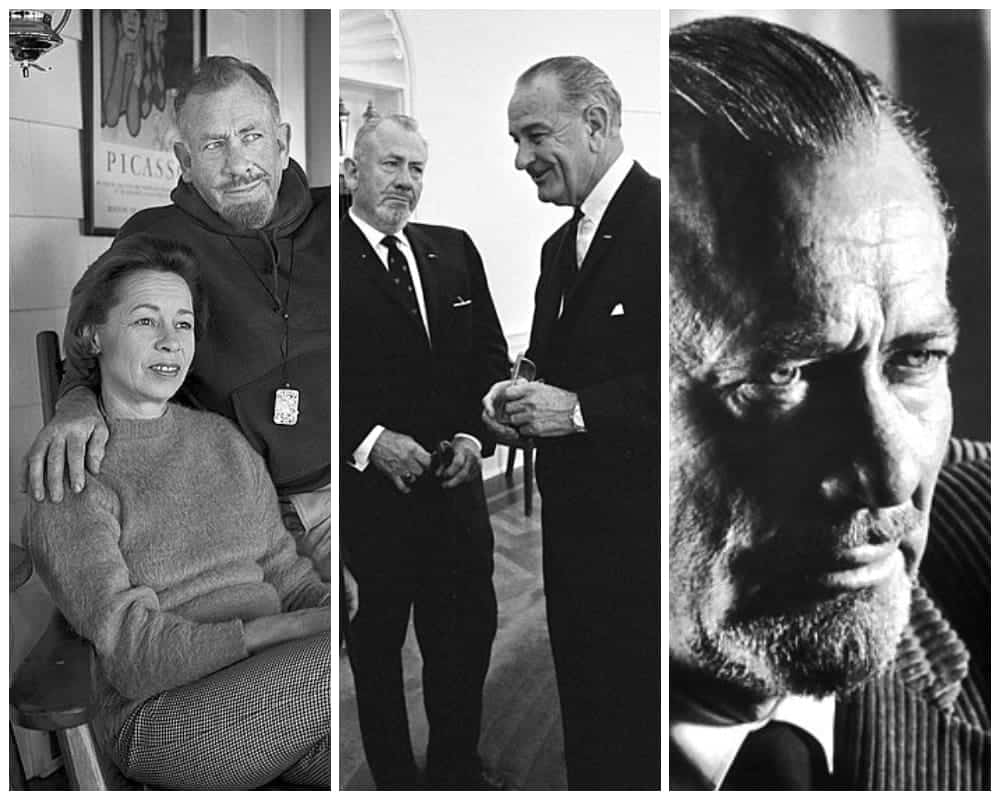 To write and complete East of Eden, Steinbeck used over 300 pencils. It was said that he preferred using paper and pencil over a typewriter or a pen. In fact, he often used up to 60 pencils a day.
One of his dogs ate an early draft of his novel, Of Mice and Men. Steinbeck was a dog lover, and one of his pets, Max, devoured almost the entire draft of the novel.
Early in his career, Steinbeck burned about 70 of his short story manuscripts. He claimed that he had been writing so well, he didn't want reminders of his "terrible moments."
Steinbeck was a war correspondent for the Herald Tribune during World War II. His columns were circulated all over the US, except in Oklahoma. The said state held a grudge against him for writing The Grapes of Wrath.
When President John F. Kennedy was assassinated, Jacqueline Kennedy asked Steinbeck to write her late husband's official biography. Steinbeck and Elaine, his third wife, were out of the country when the assassination happened.
Soon after The Grapes of Wrath was published, then first lady Eleanor Roosevelt came to the defense of Steinbeck's book. In her writings, she assured readers that the author didn't make any exaggeration in describing the poverty condition of the country at that time.
Years after Steinbeck's death, Elaine went to a bookstore in Japan. She asked if they have a copy of The Grapes of Wrath. Not recognizing the title, Elaine told the owner that John Steinbeck wrote the book. The owner, finally recognizing the late author's name, asked if she meant "The Angry Raisins." How's that for being lost in translation?
Though famous for his bleak themes, the majority of Steinbeck's work possessed an eternal optimism. Here are 30 John Steinbeck quotes worth remembering.
John Steinbeck Quotes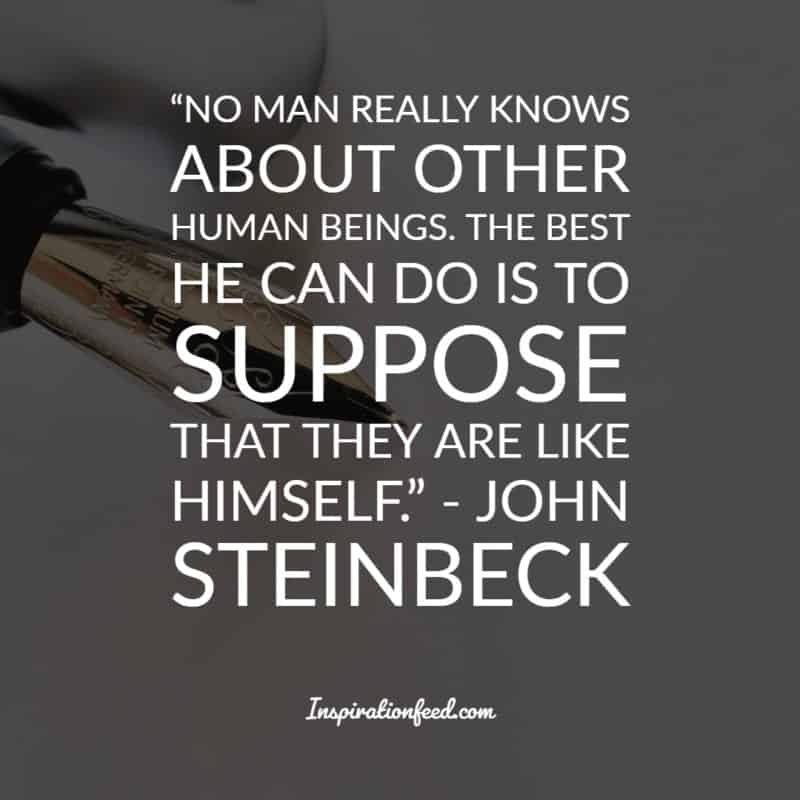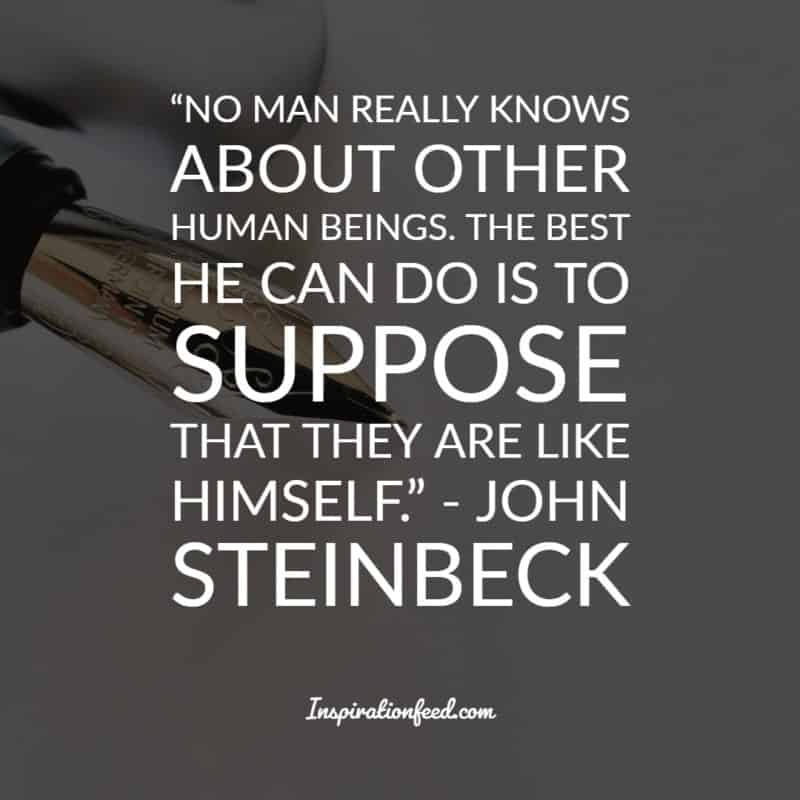 "No man really knows about other human beings. The best he can do is to suppose that they are like himself." – John Steinbeck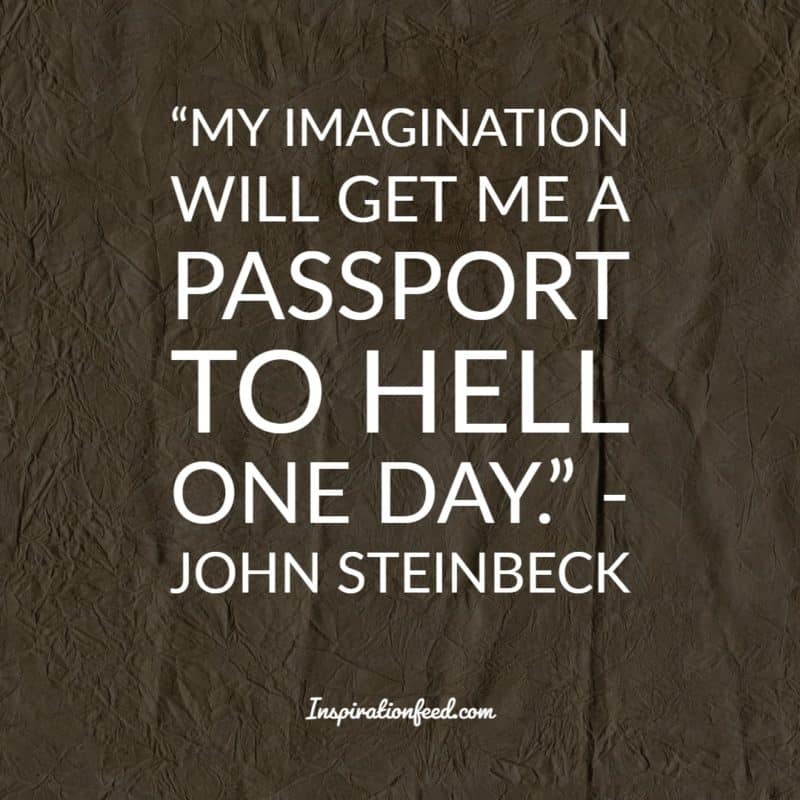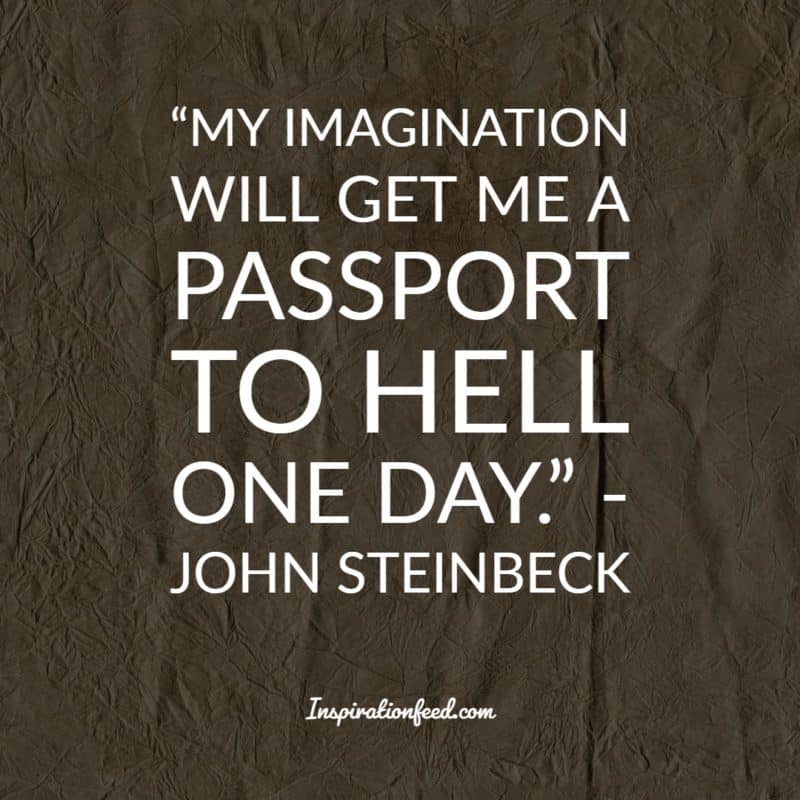 "My imagination will get me a passport to hell one day." – John Steinbeck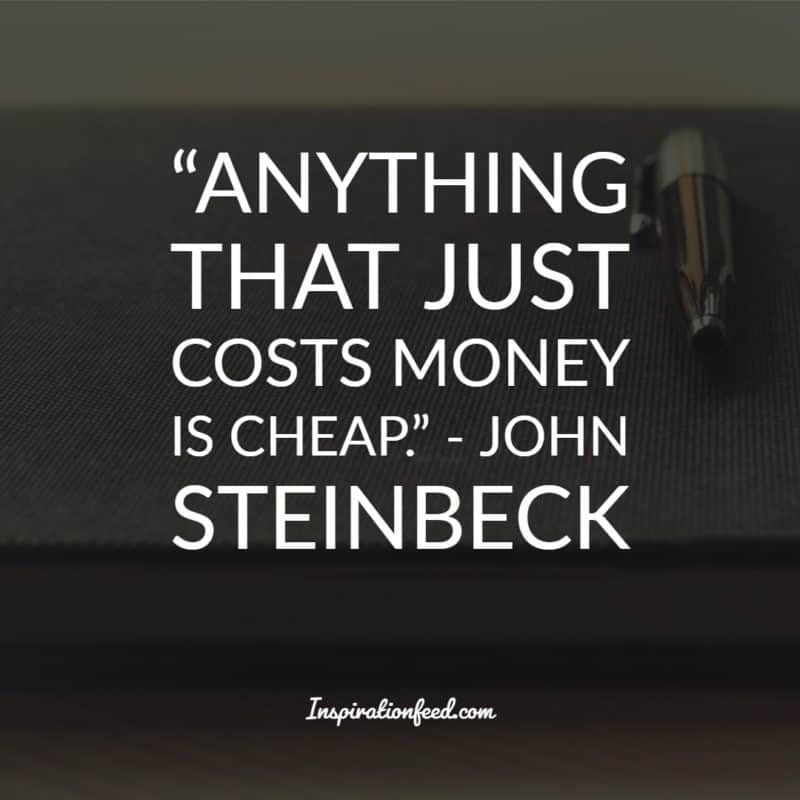 "Anything that just costs money is cheap." – John Steinbeck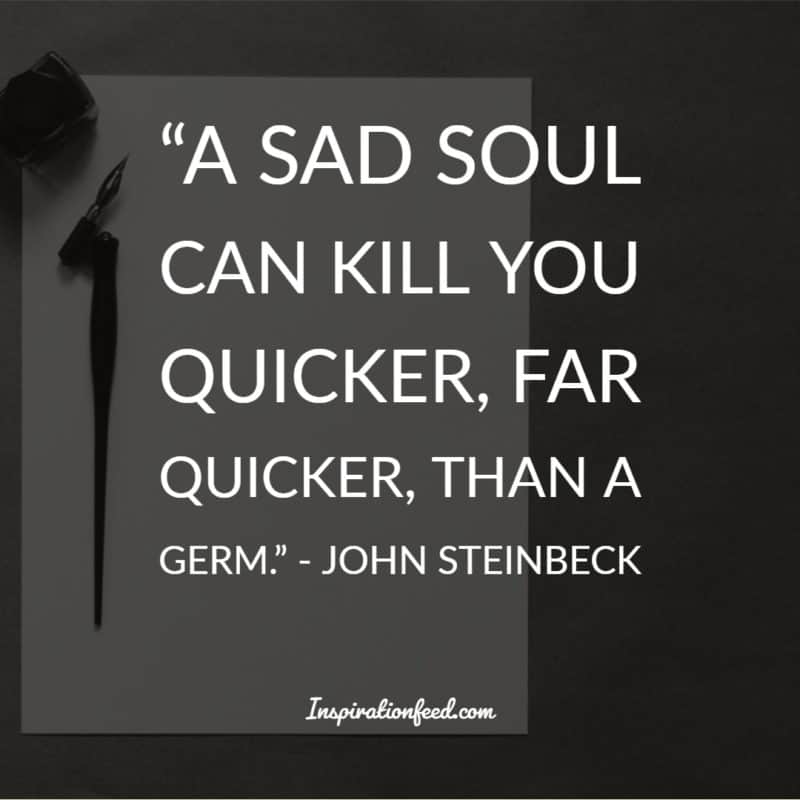 "A sad soul can kill you quicker, far quicker, than a germ." – John Steinbeck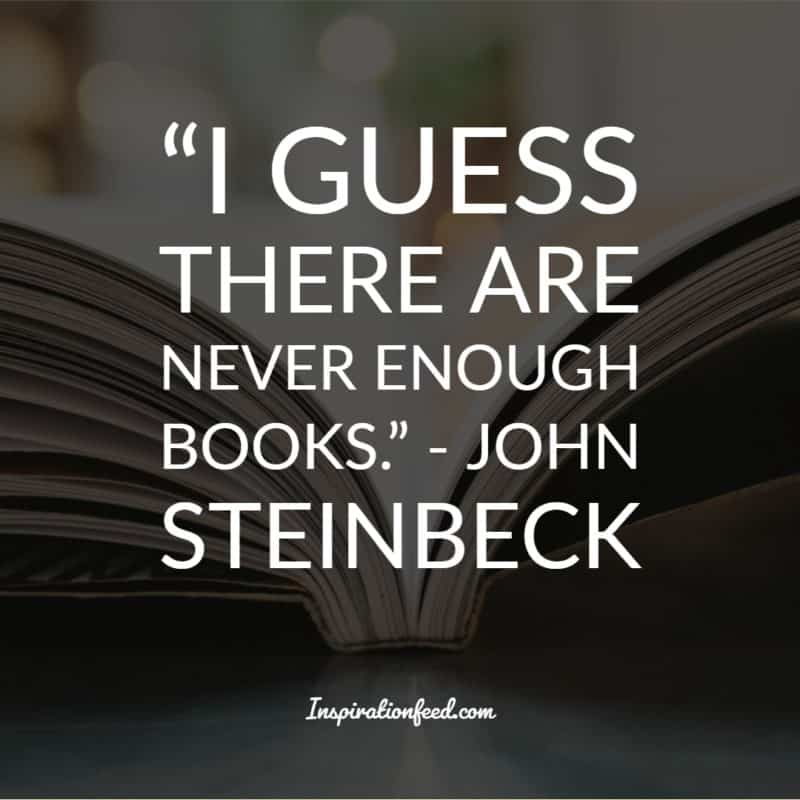 "I guess there are never enough books." – John Steinbeck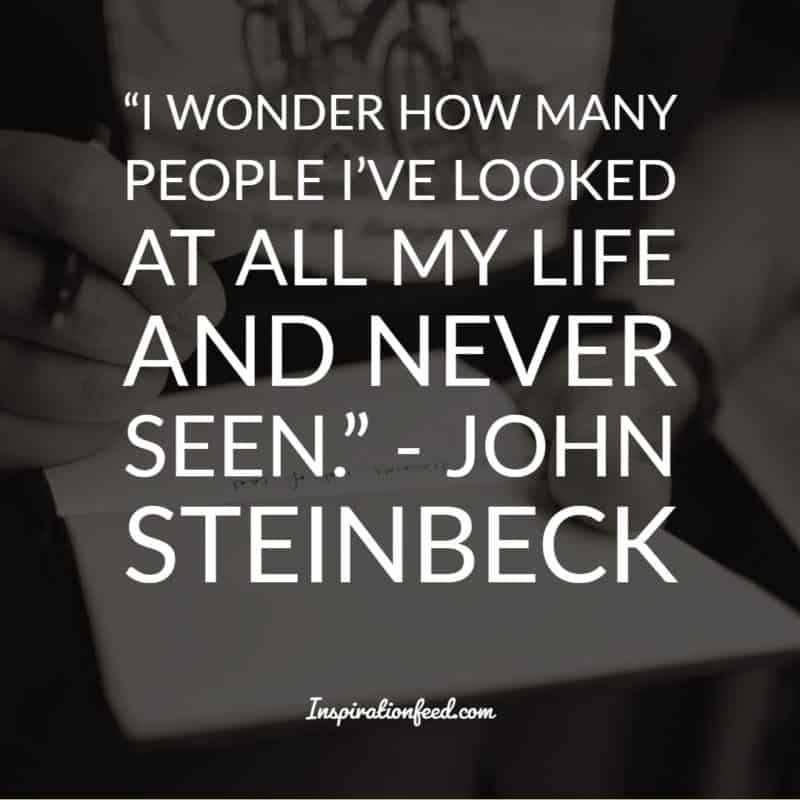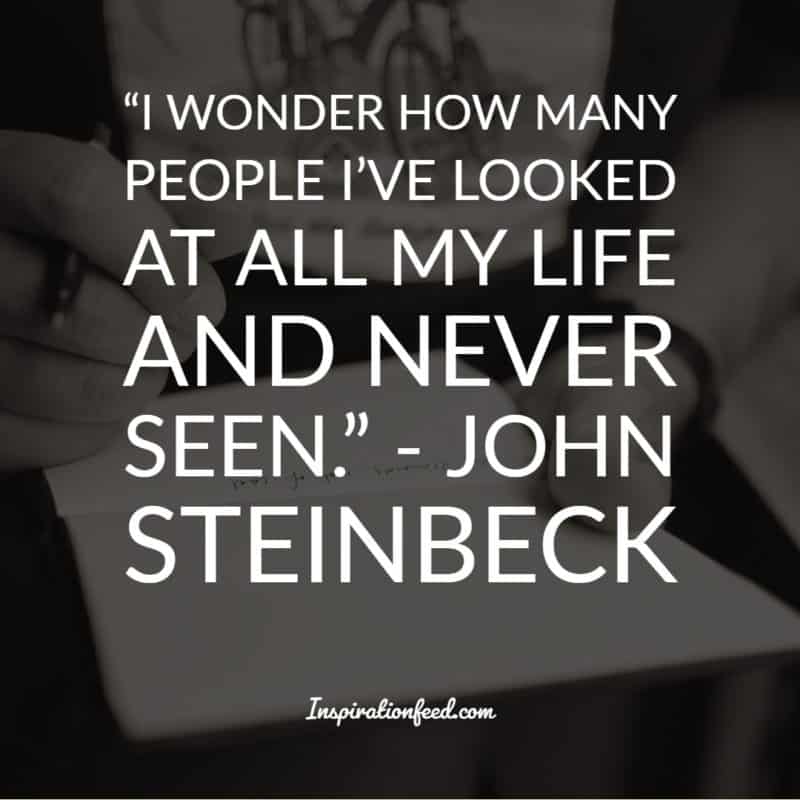 "I wonder how many people I've looked at all my life and never seen." – John Steinbeck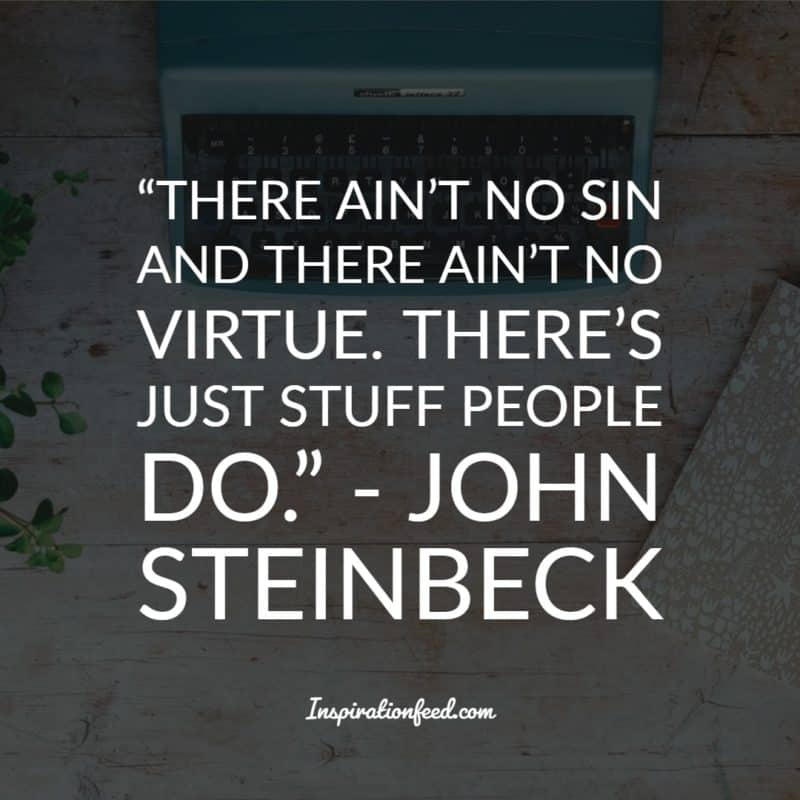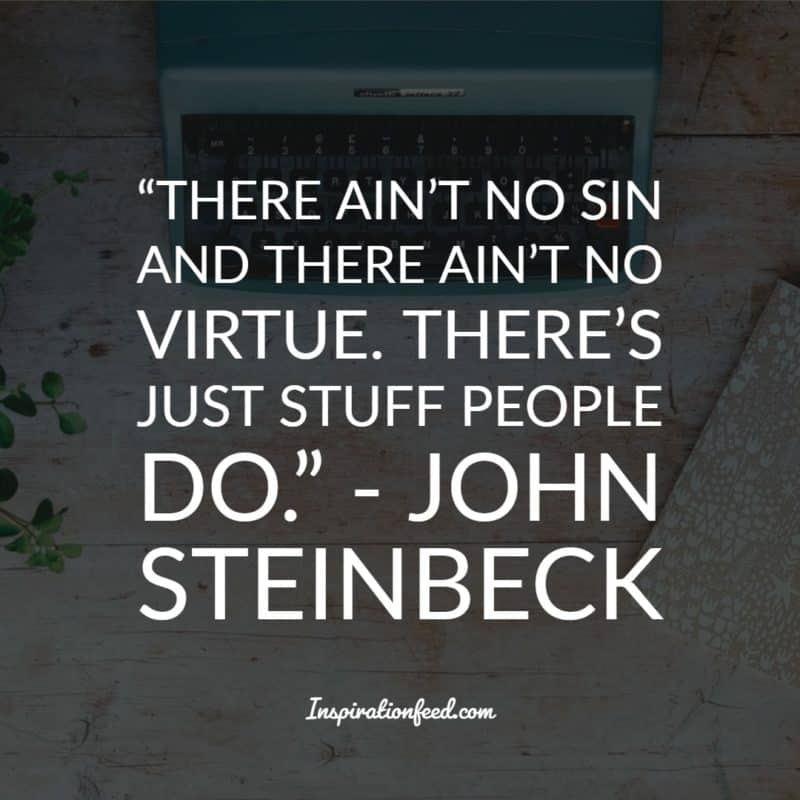 "There ain't no sin and there ain't no virtue. There's just stuff people do." – John Steinbeck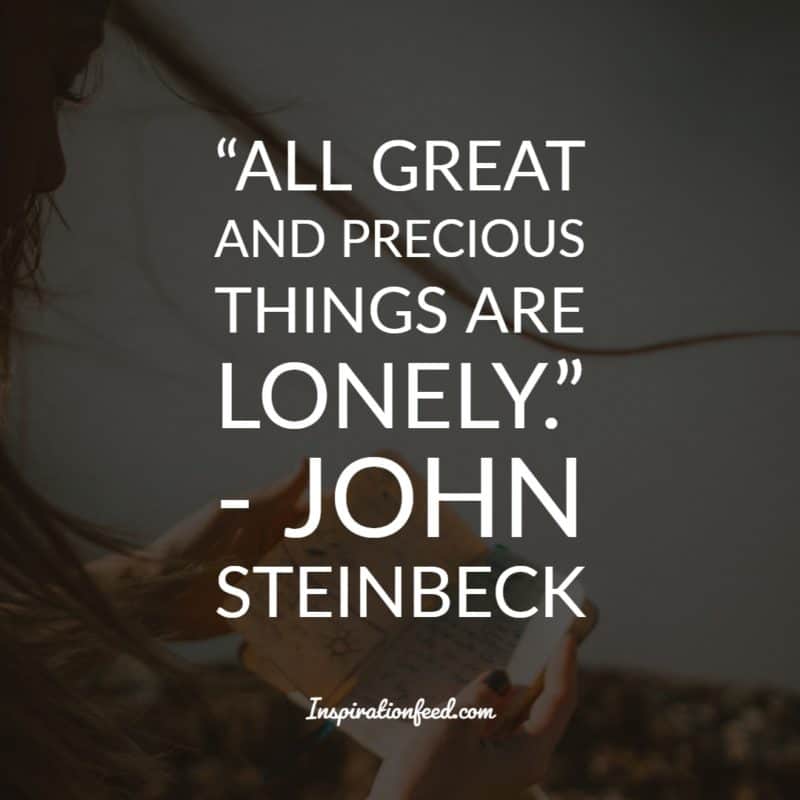 "All great and precious things are lonely." – John Steinbeck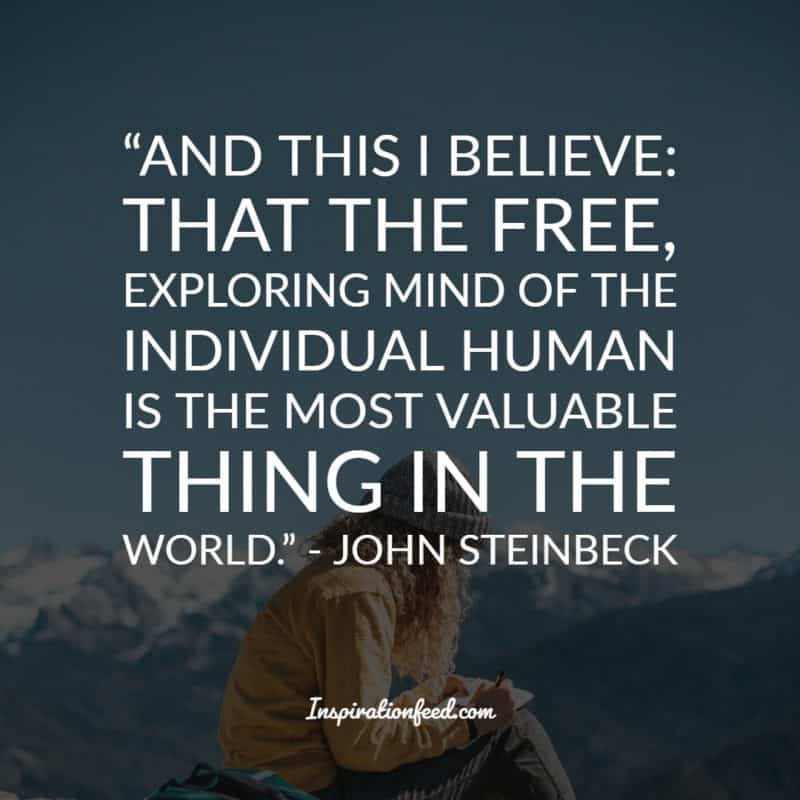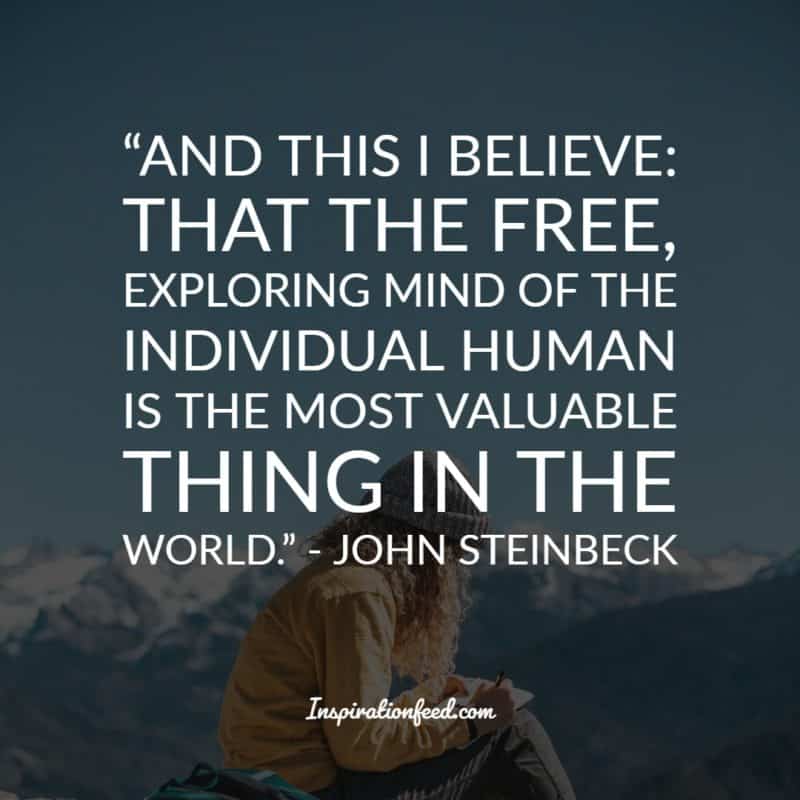 "And this I believe: that the free, exploring mind of the individual human is the most valuable thing in the world." – John Steinbeck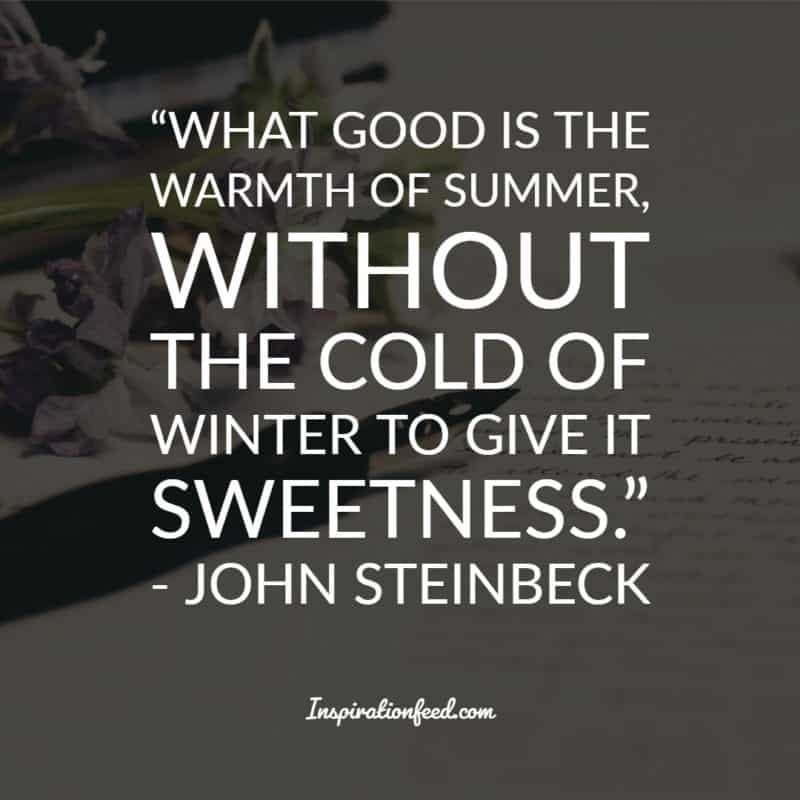 "What good is the warmth of summer, without the cold of winter to give it sweetness." – John Steinbeck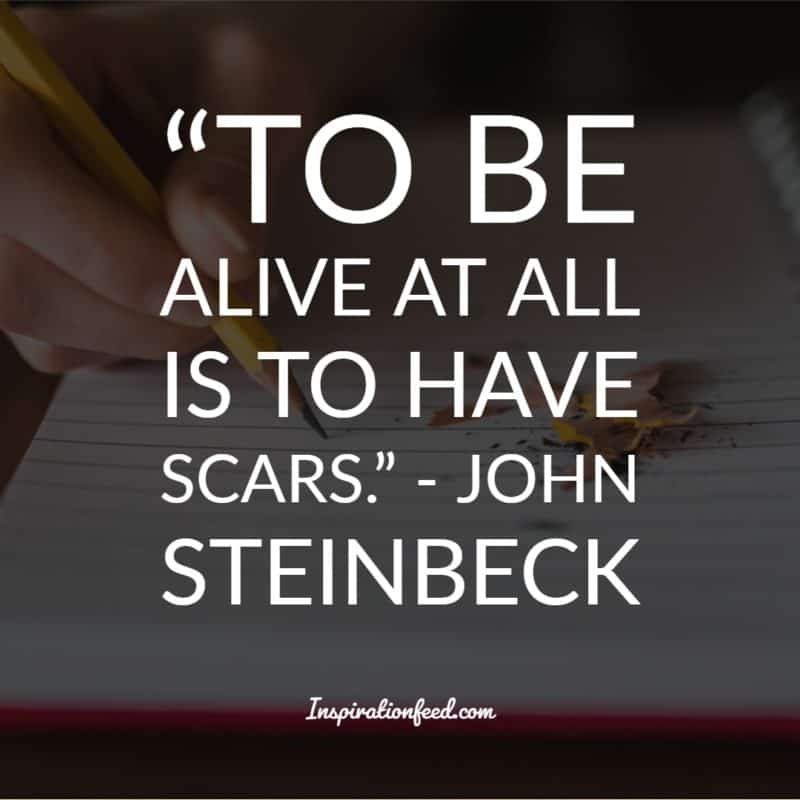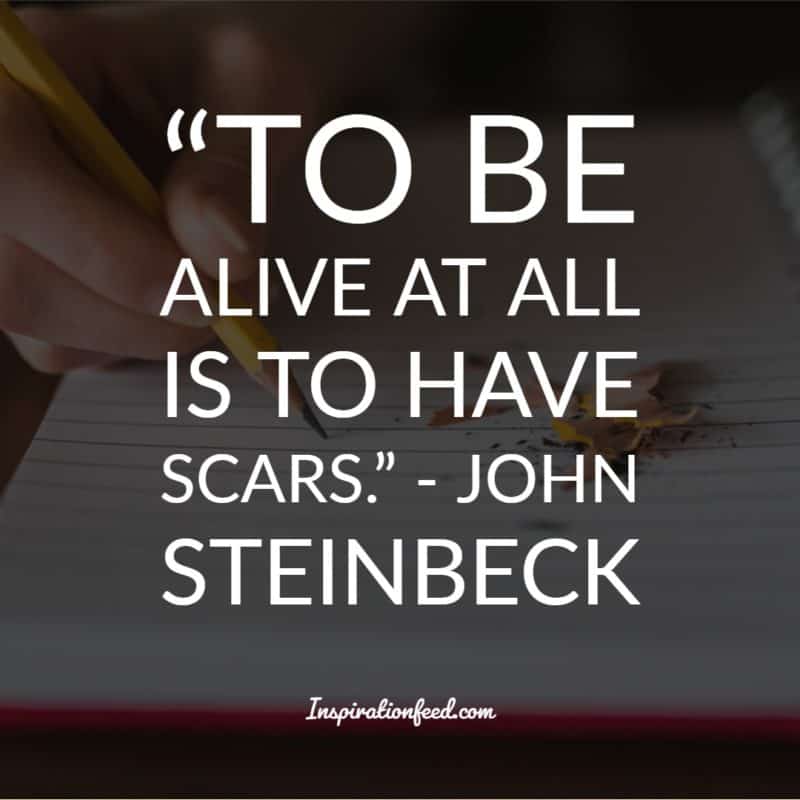 "To be alive at all is to have scars." – John Steinbeck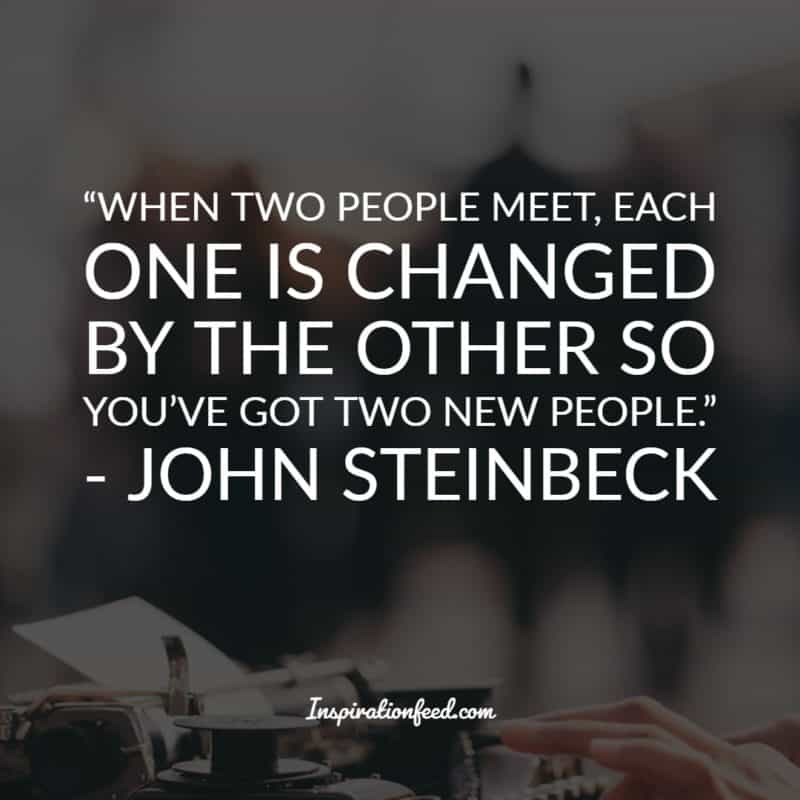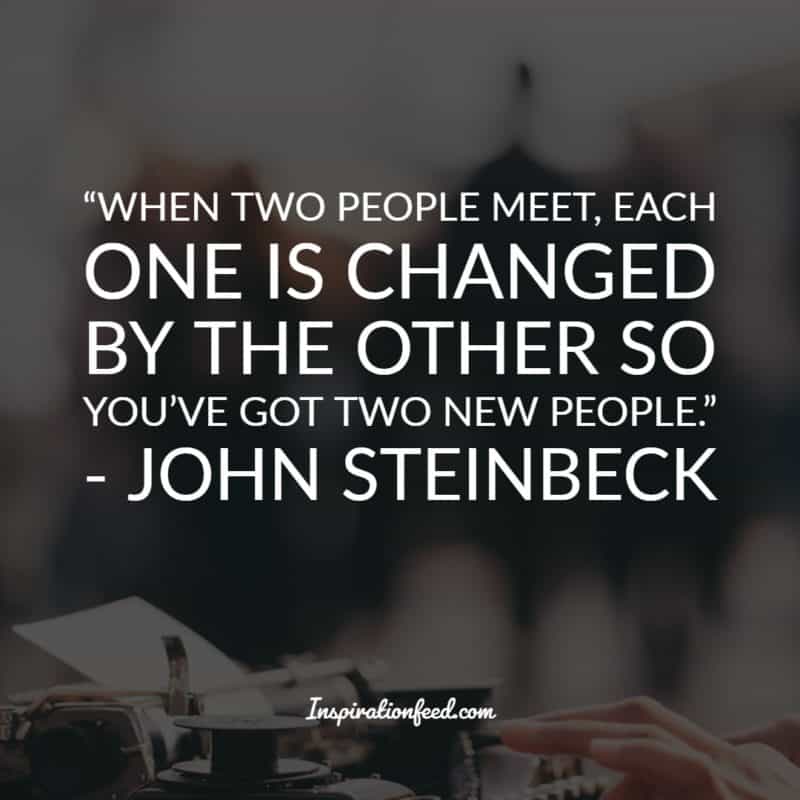 "When two people meet, each one is changed by the other so you've got two new people." – John Steinbeck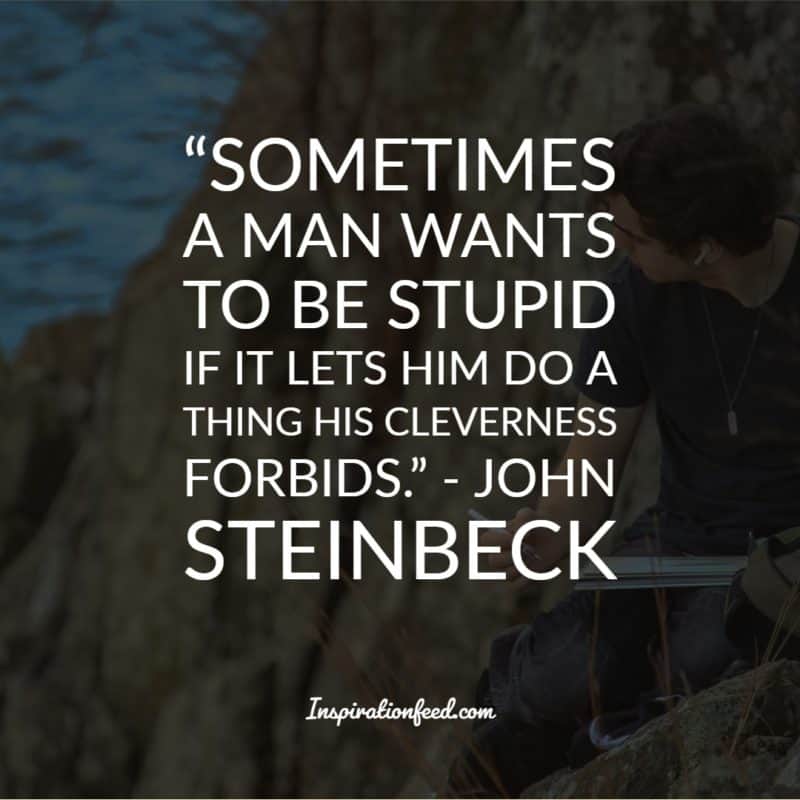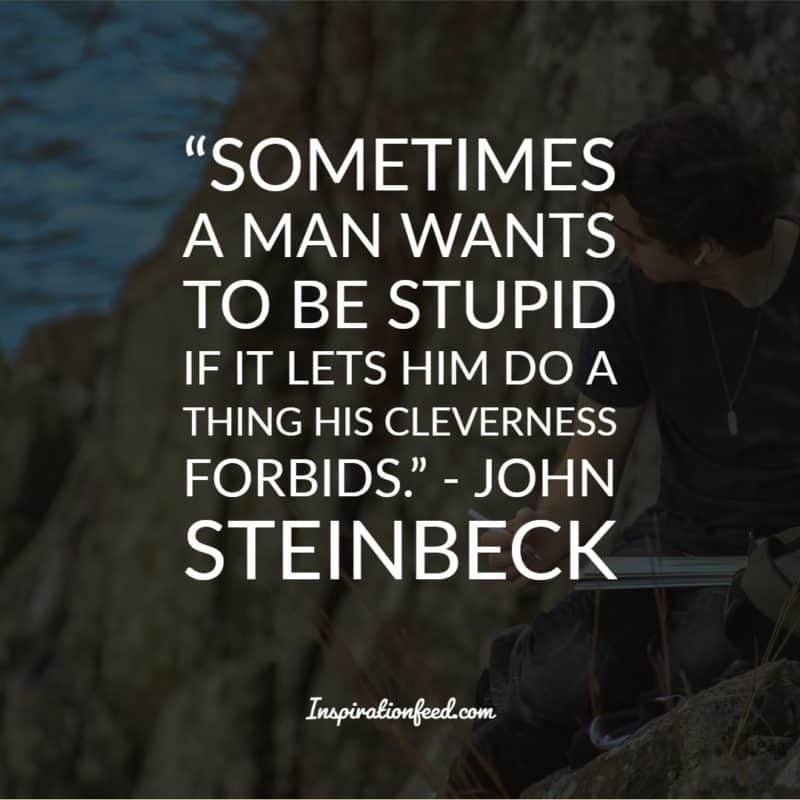 "Sometimes a man wants to be stupid if it lets him do a thing his cleverness forbids." – John Steinbeck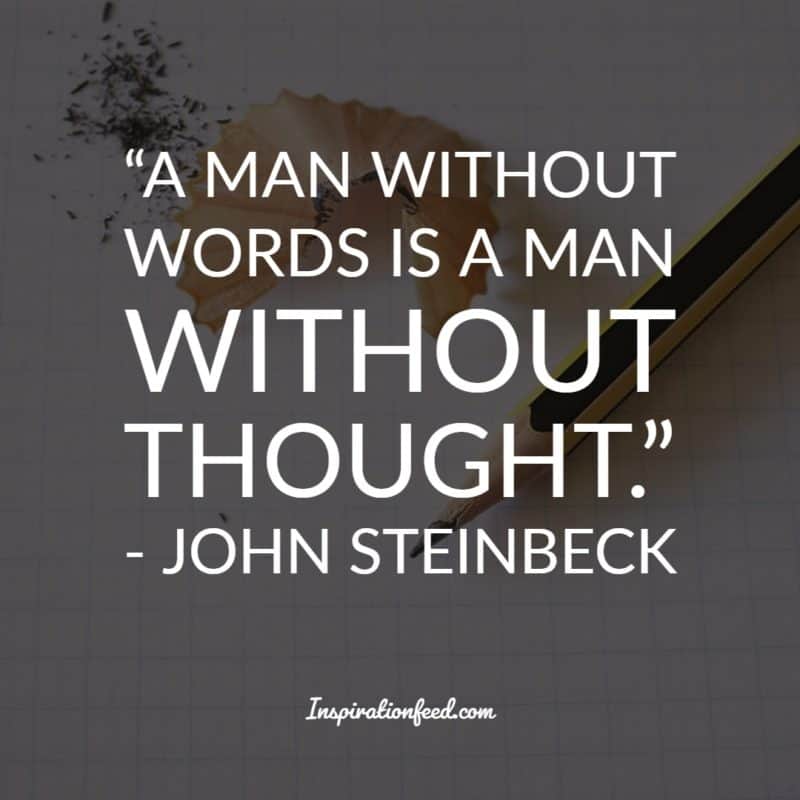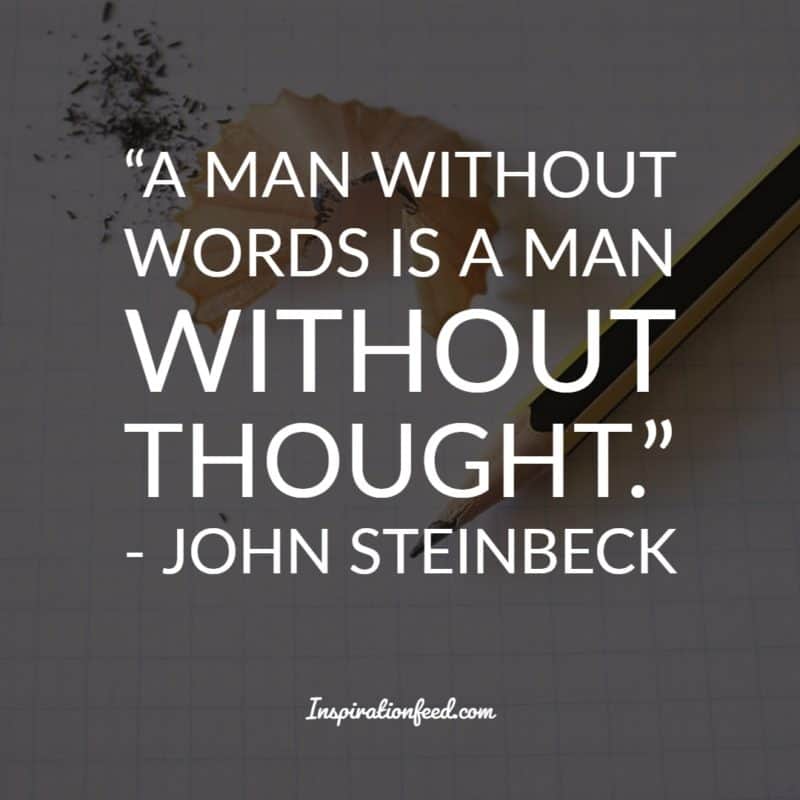 "A man without words is a man without thought." – John Steinbeck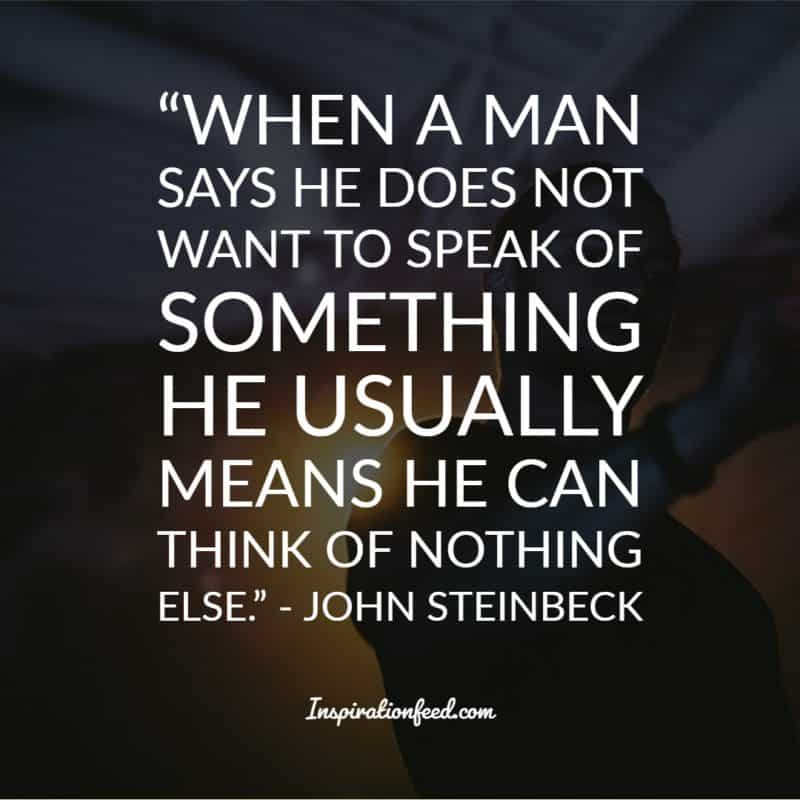 "When a man says he does not want to speak of something he usually means he can think of nothing else." – John Steinbeck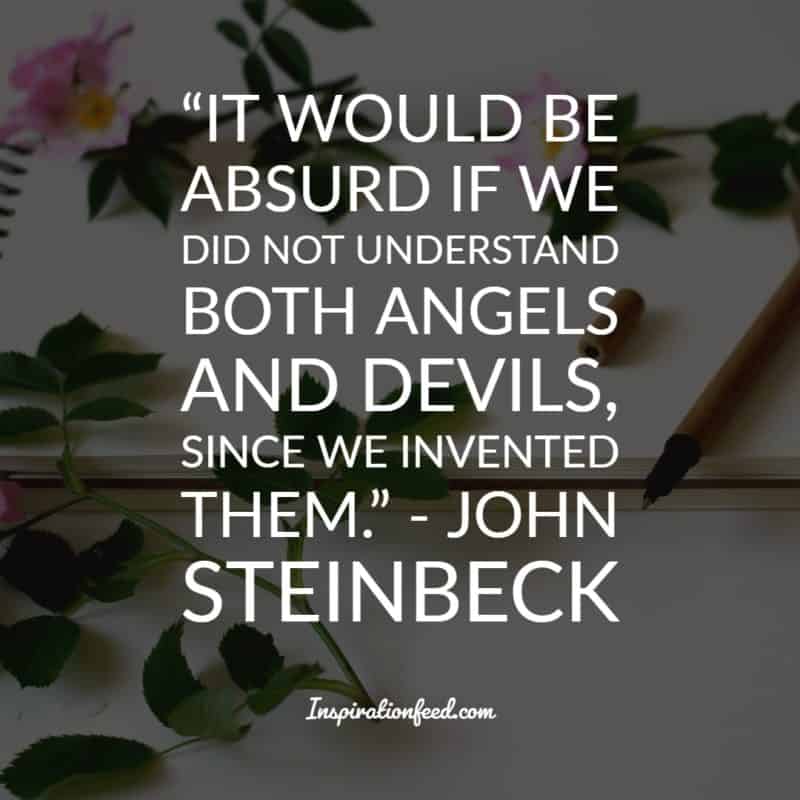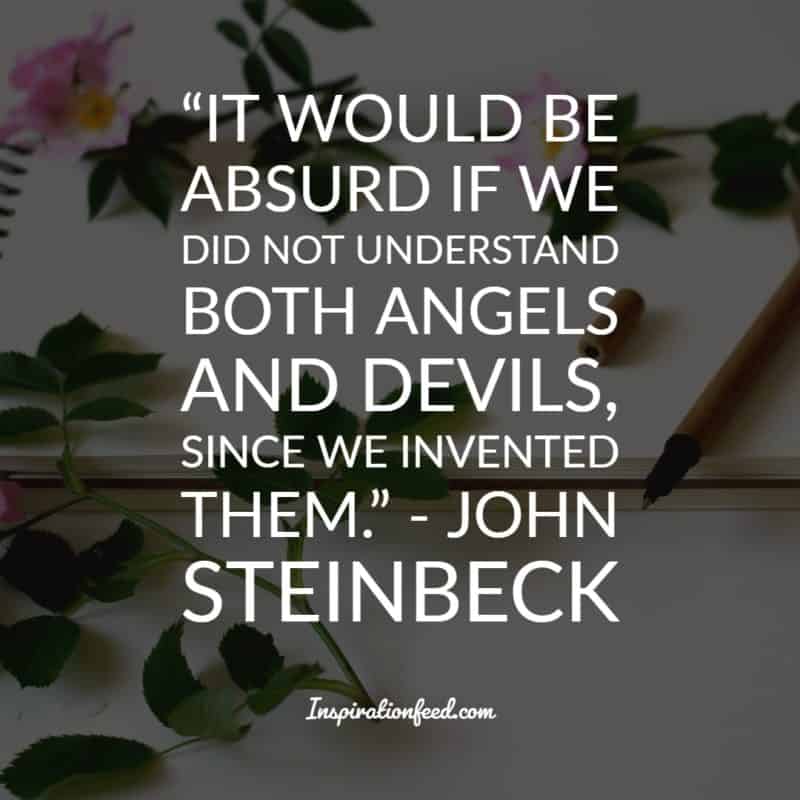 "It would be absurd if we did not understand both angels and devils, since we invented them." – John Steinbeck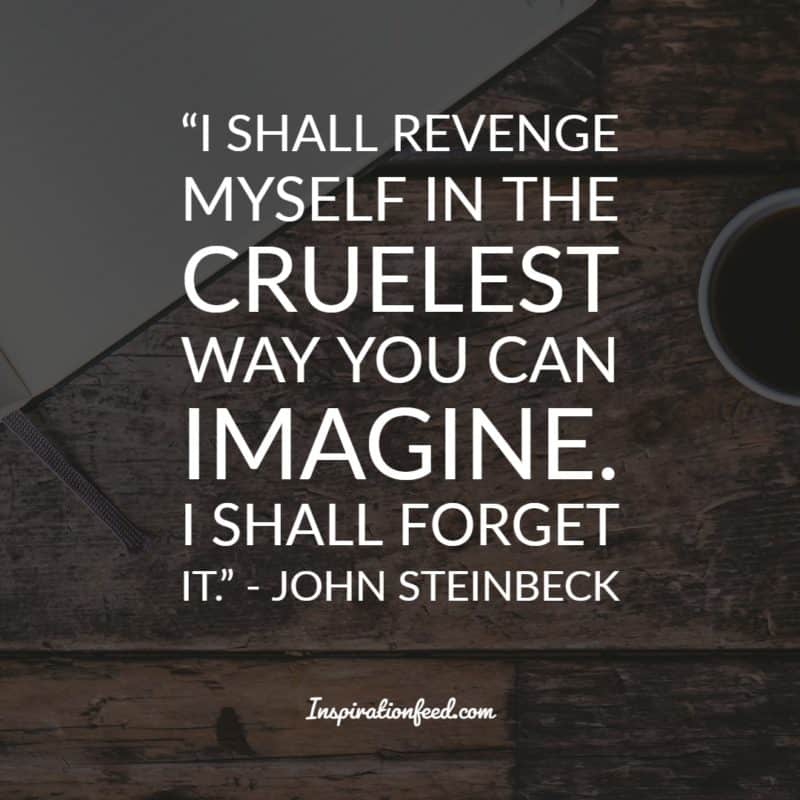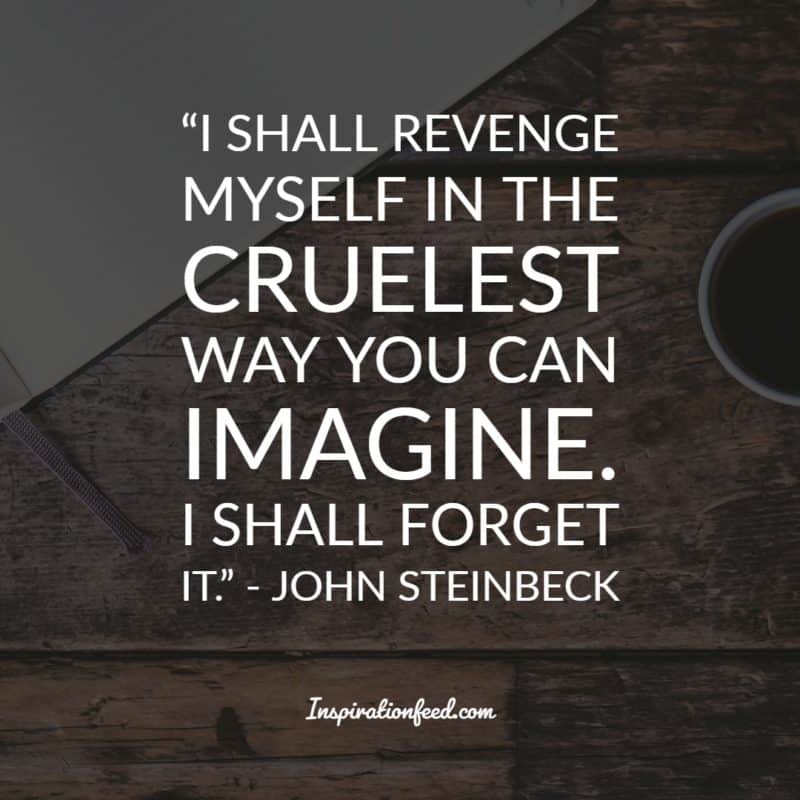 "I shall revenge myself in the cruelest way you can imagine. I shall forget it." – John Steinbeck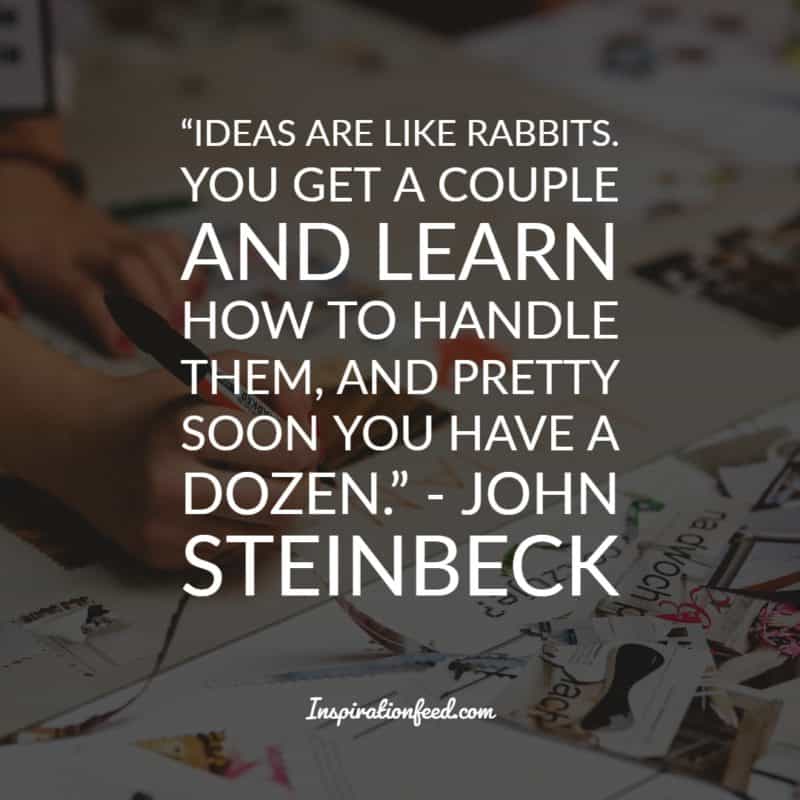 "Ideas are like rabbits. You get a couple and learn how to handle them, and pretty soon you have a dozen." – John Steinbeck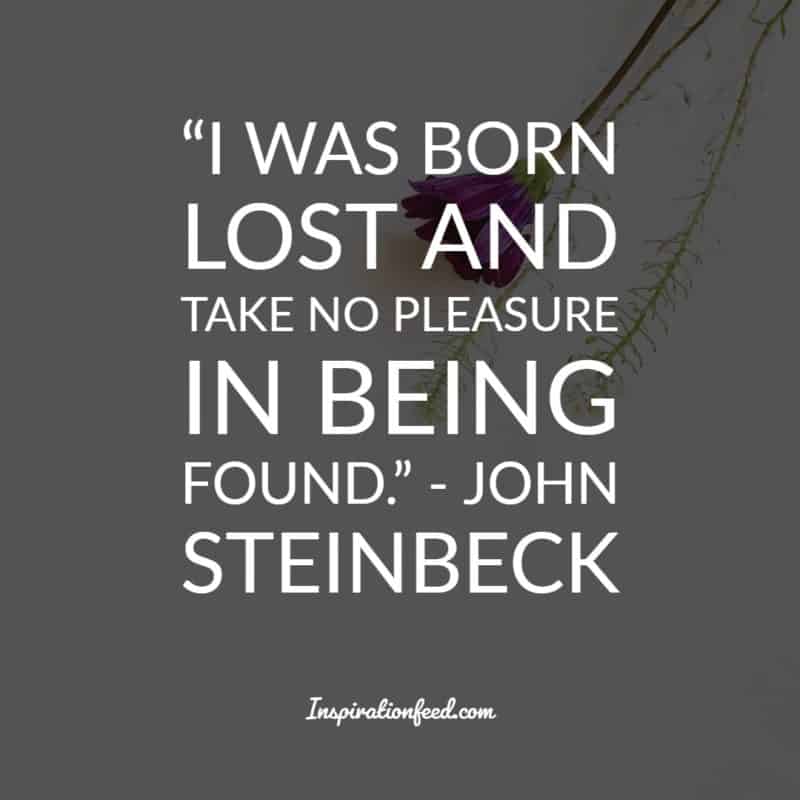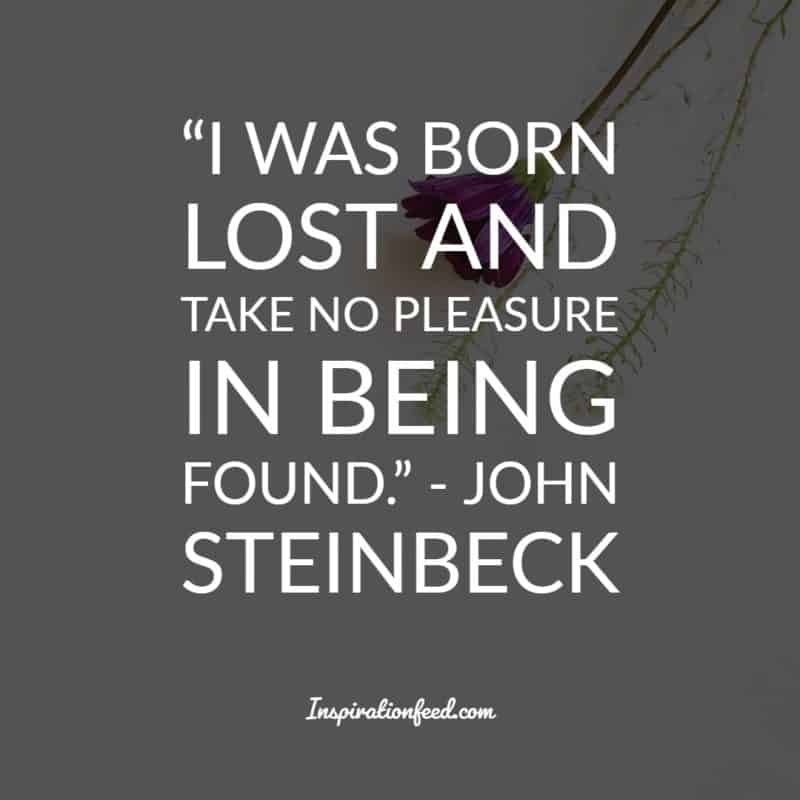 "I was born lost and take no pleasure in being found." – John Steinbeck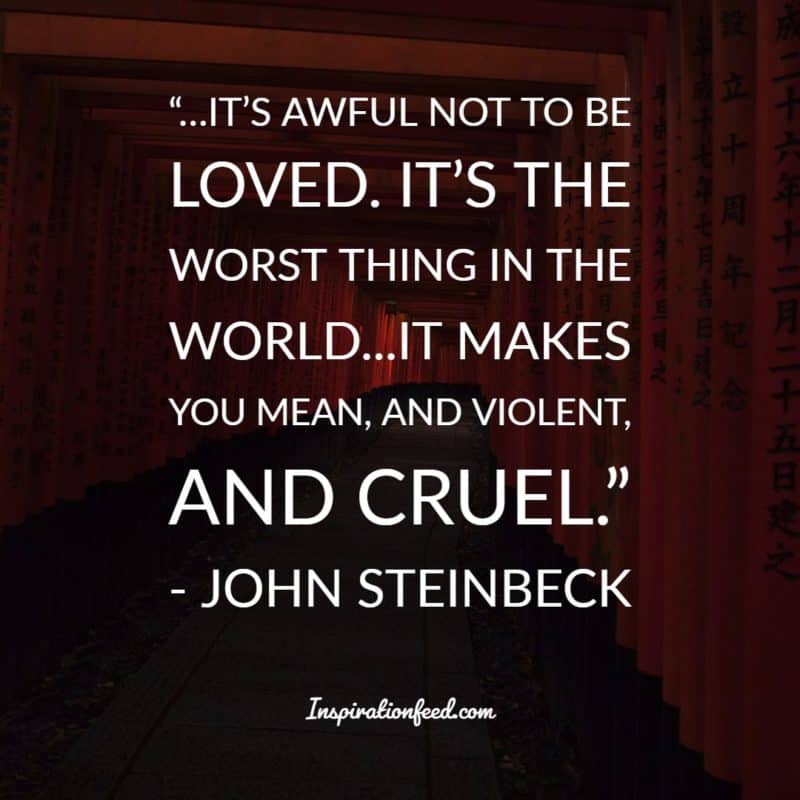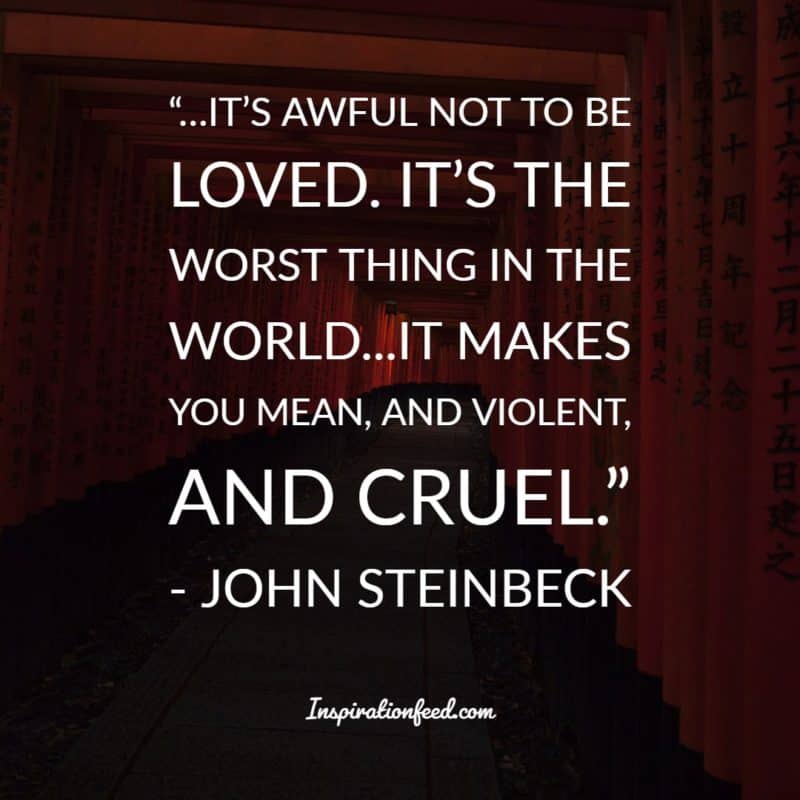 "…it's awful not to be loved. It's the worst thing in the world…It makes you mean, and violent, and cruel." – John Steinbeck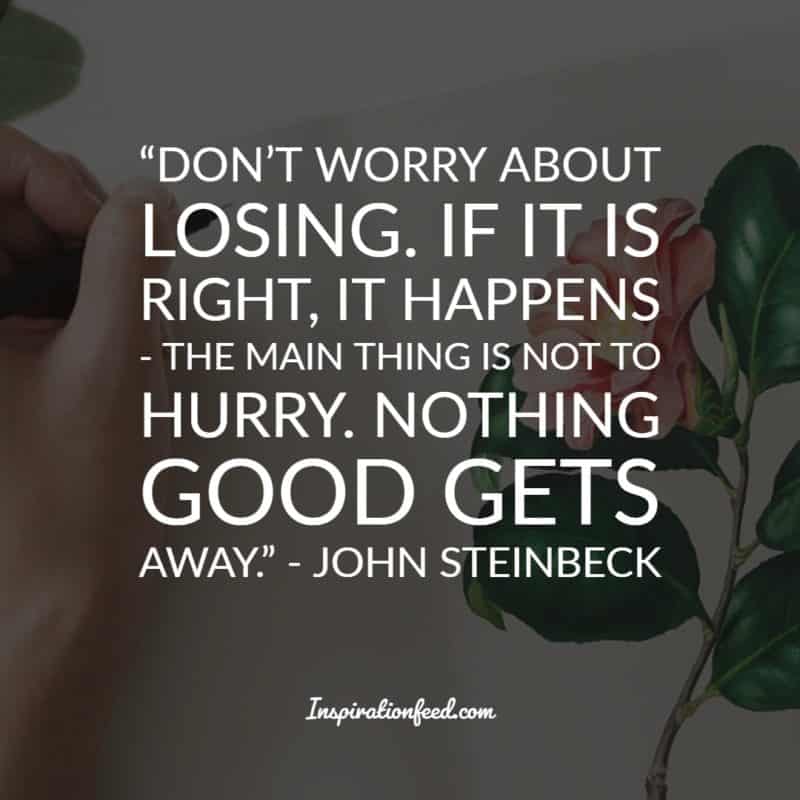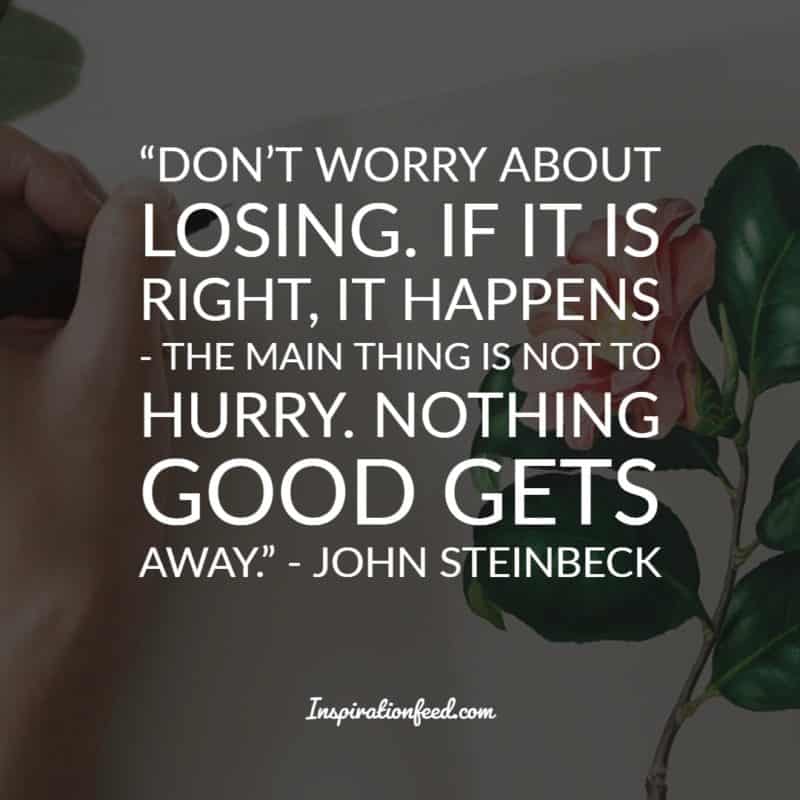 "Don't worry about losing. If it is right, it happens – The main thing is not to hurry. Nothing good gets away." – John Steinbeck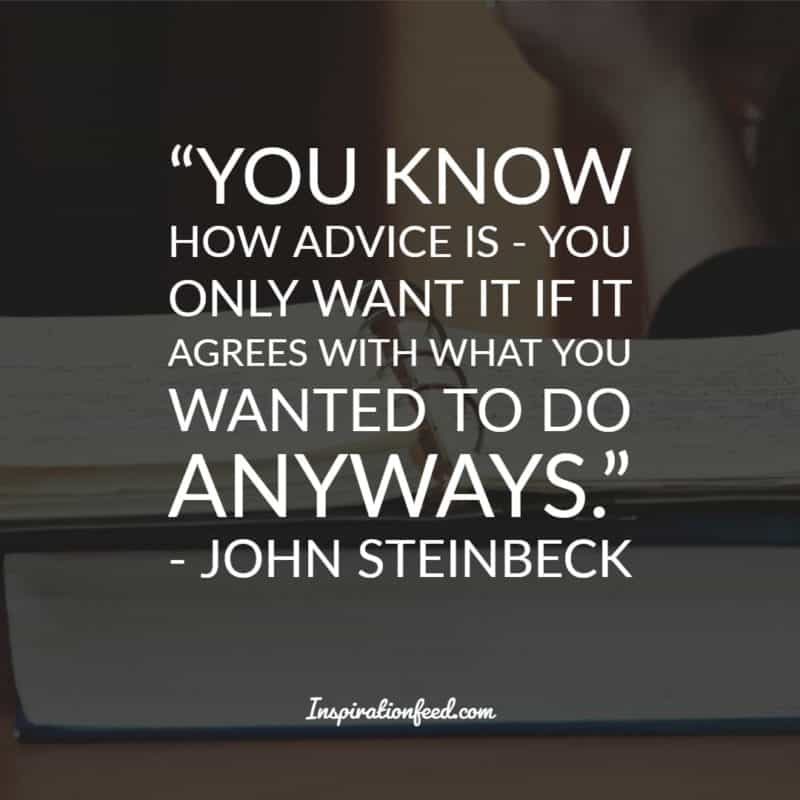 "You know how advice is – you only want it if it agrees with what you wanted to do anyways." – John Steinbeck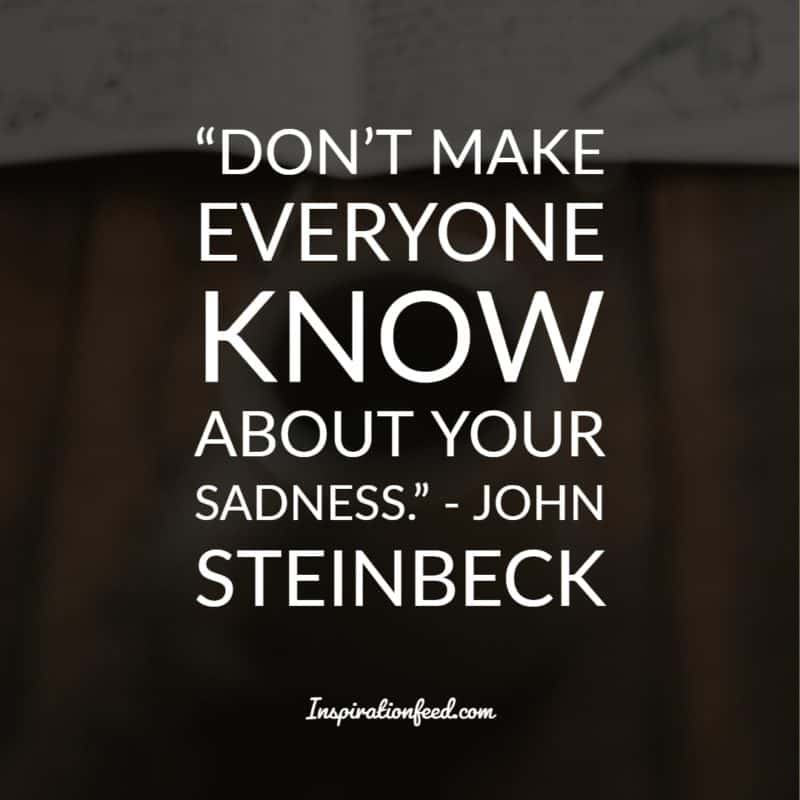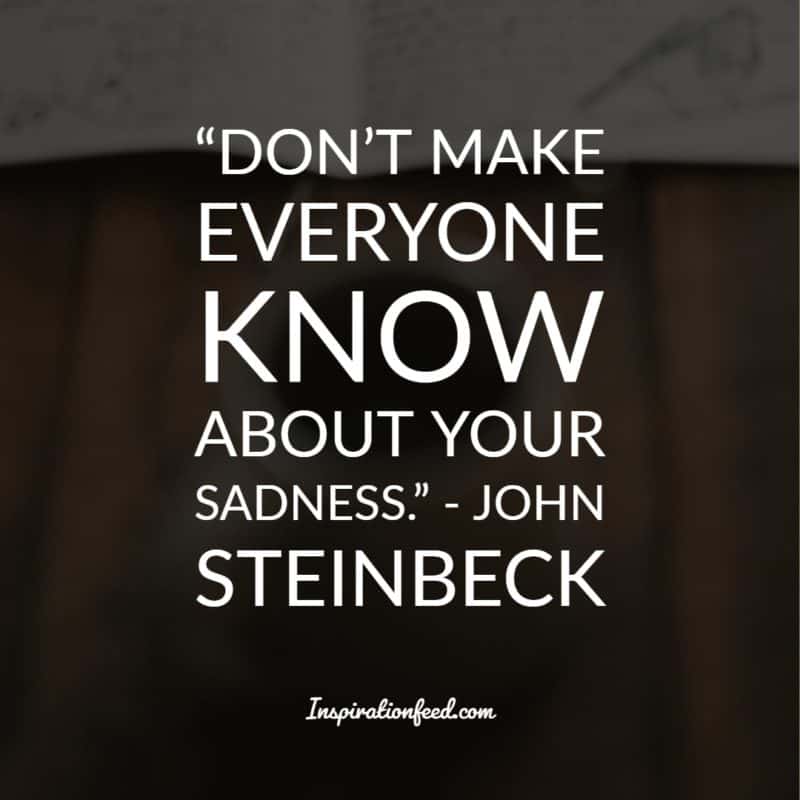 "Don't make everyone know about your sadness." – John Steinbeck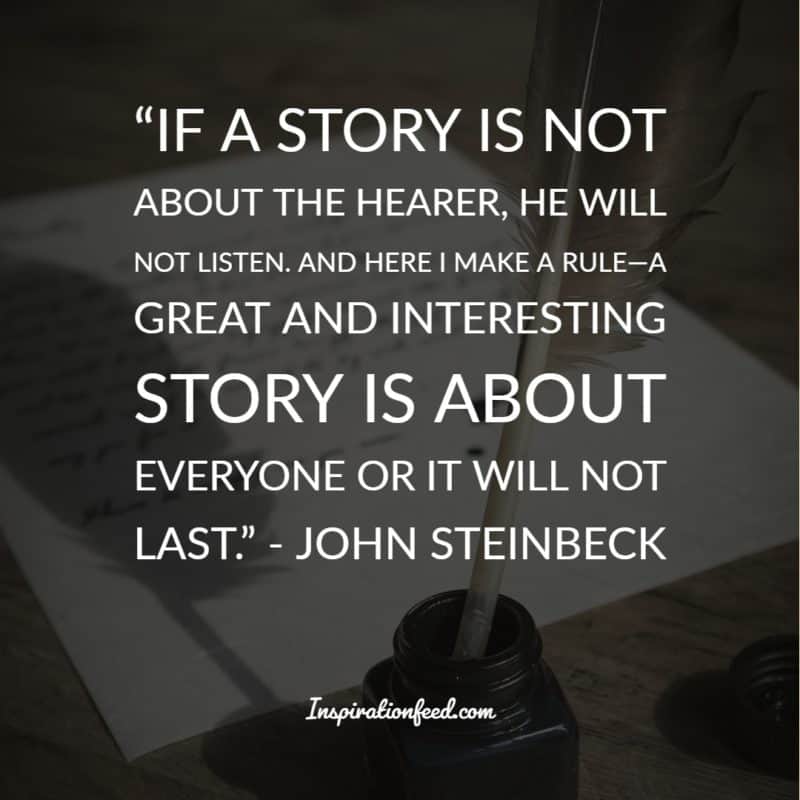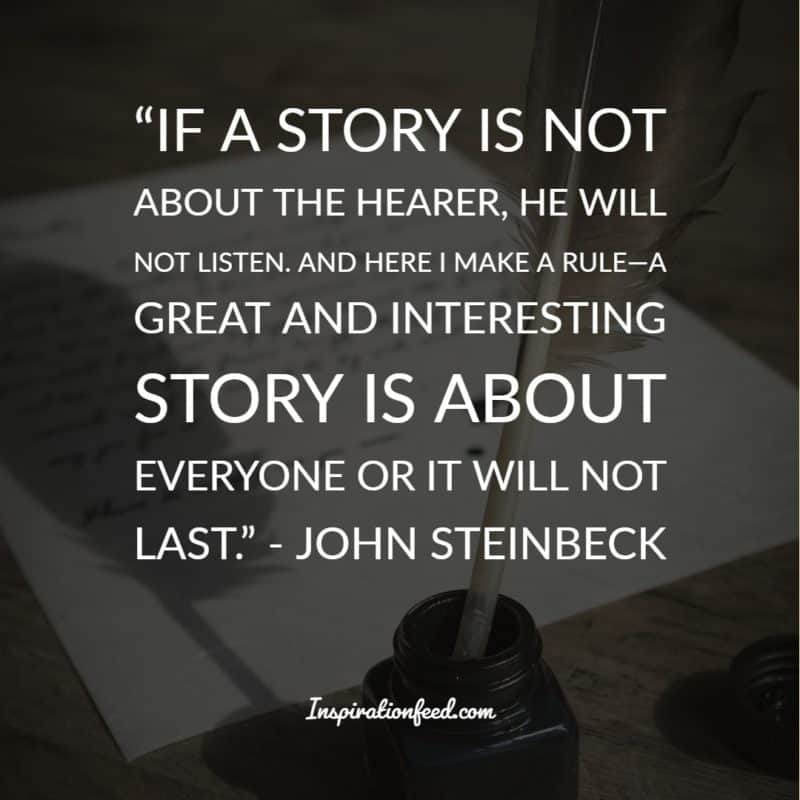 "If a story is not about the hearer, he will not listen. And here I make a rule—a great and interesting story is about everyone or it will not last." – John Steinbeck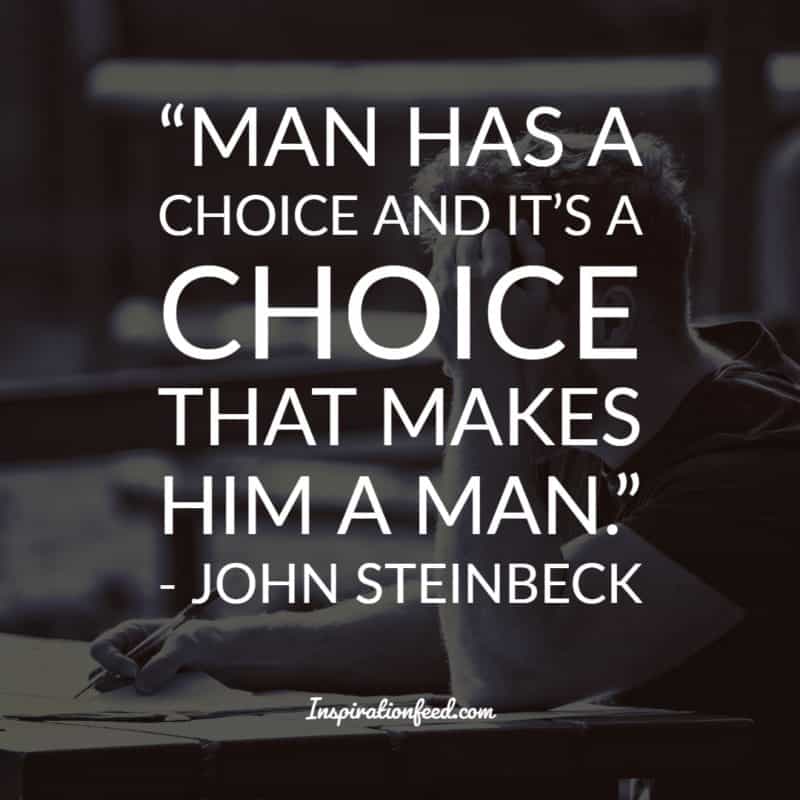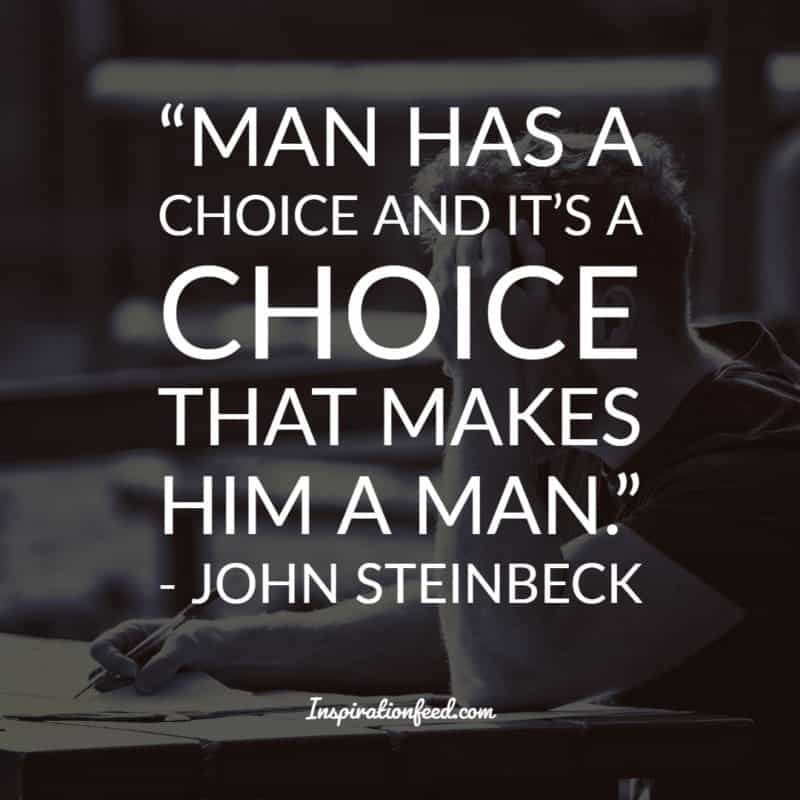 "Man has a choice and it's a choice that makes him a man." – John Steinbeck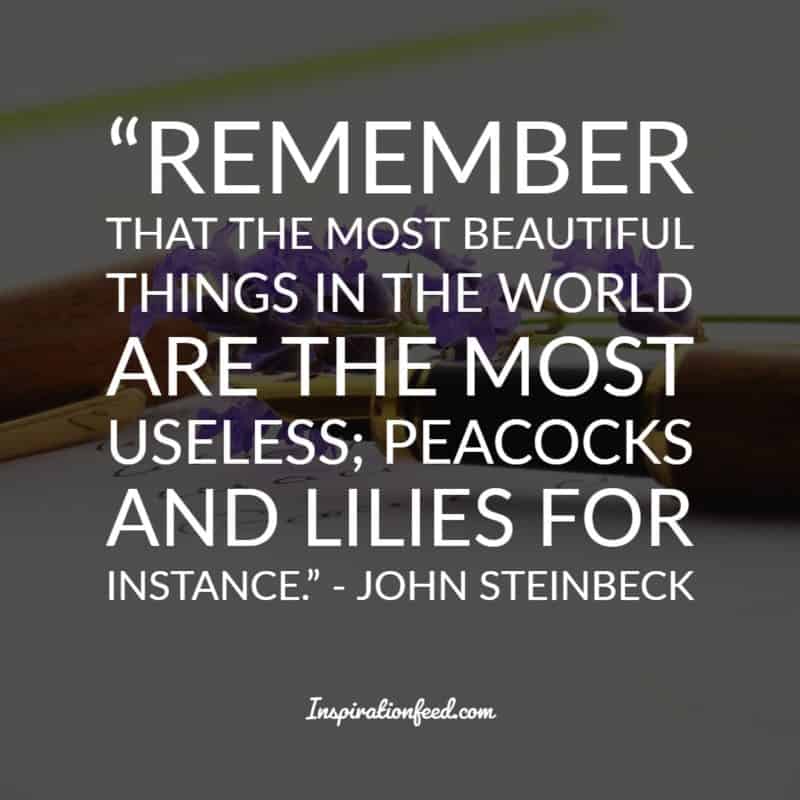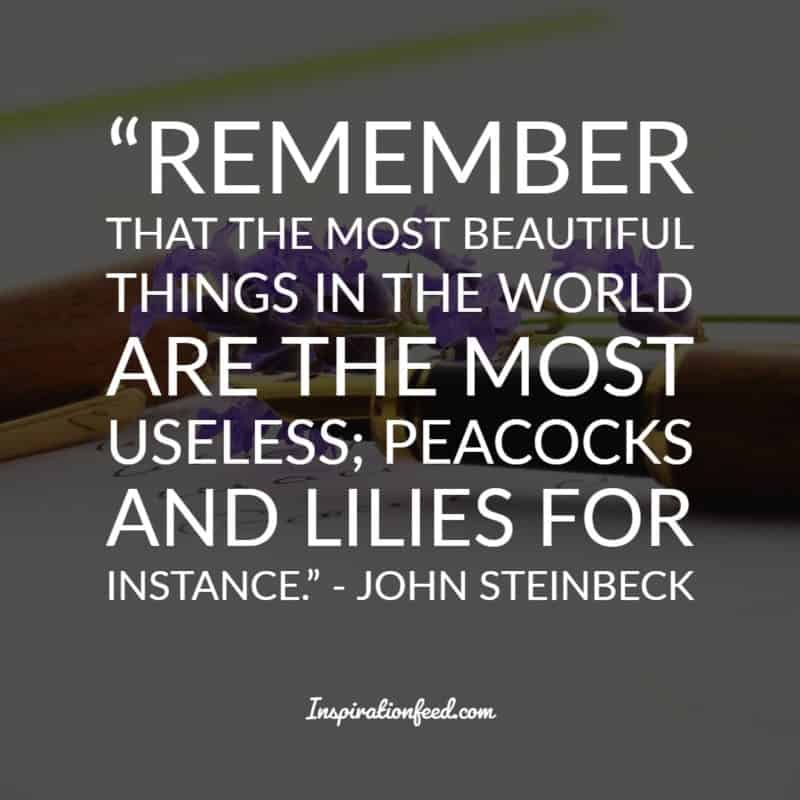 "Remember that the most beautiful things in the world are the most useless; peacocks and lilies for instance." – John Steinbeck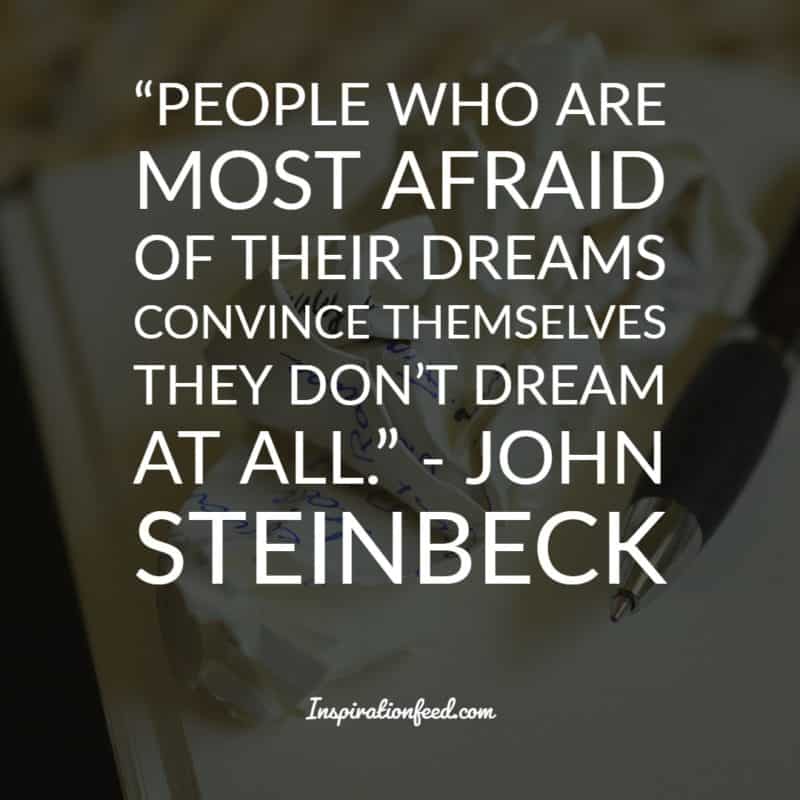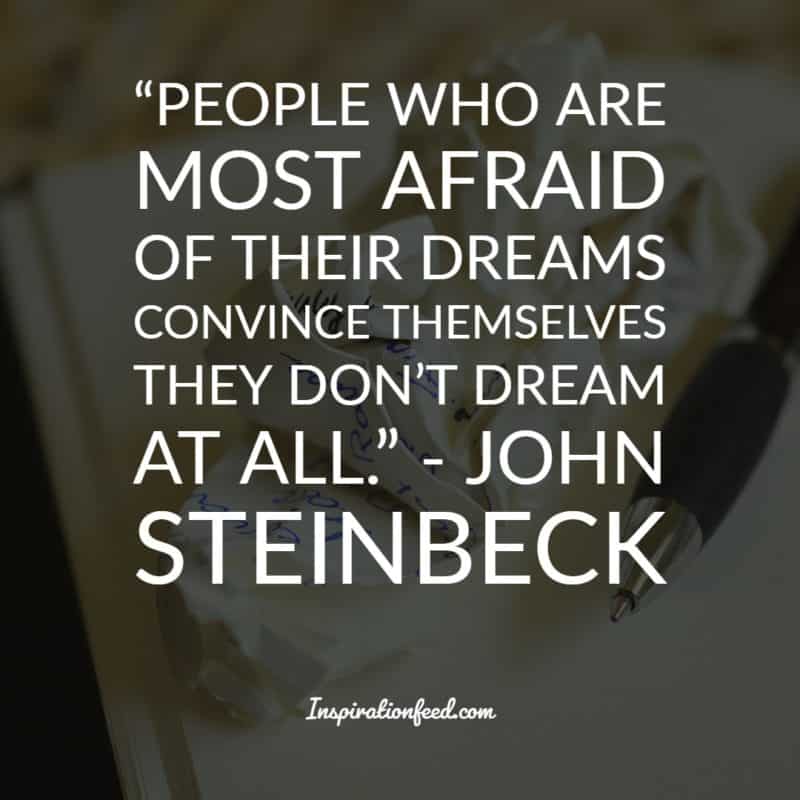 "People who are most afraid of their dreams convince themselves they don't dream at all." – John Steinbeck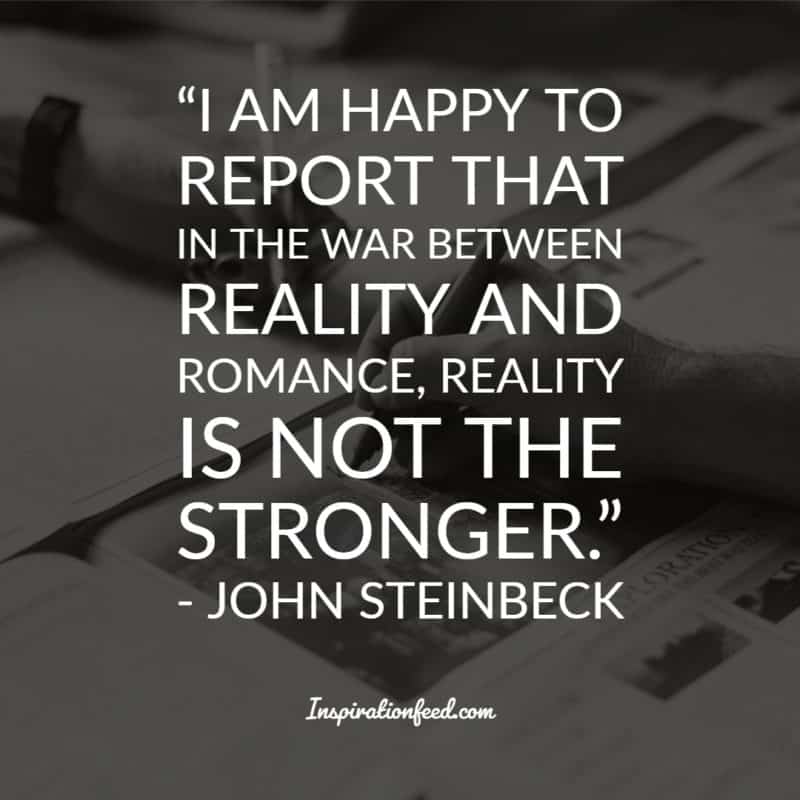 "I am happy to report that in the war between reality and romance, reality is not the stronger." – John Steinbeck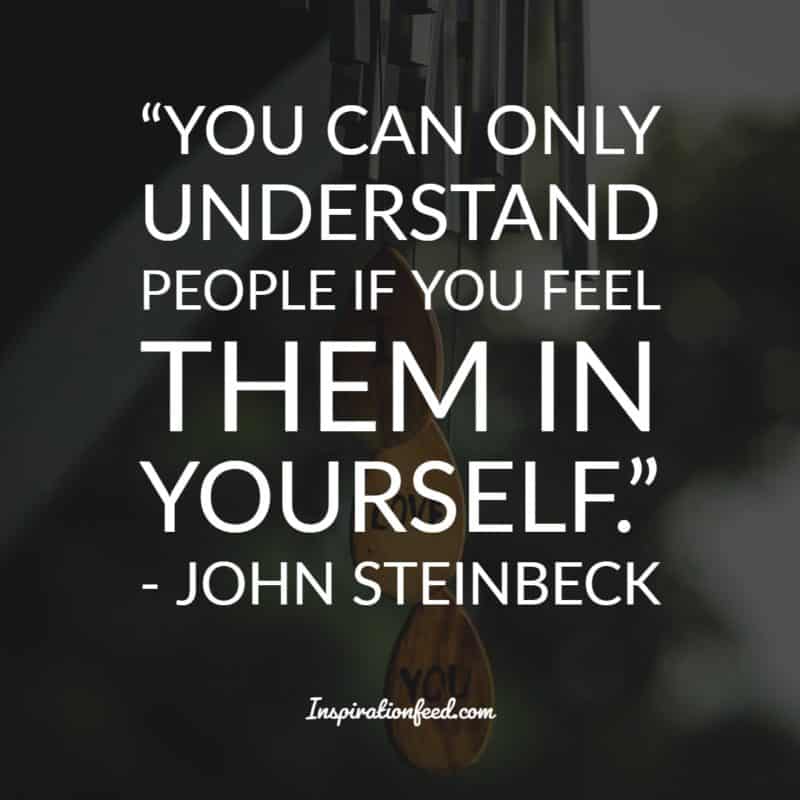 "You can only understand people if you feel them in yourself." – John Steinbeck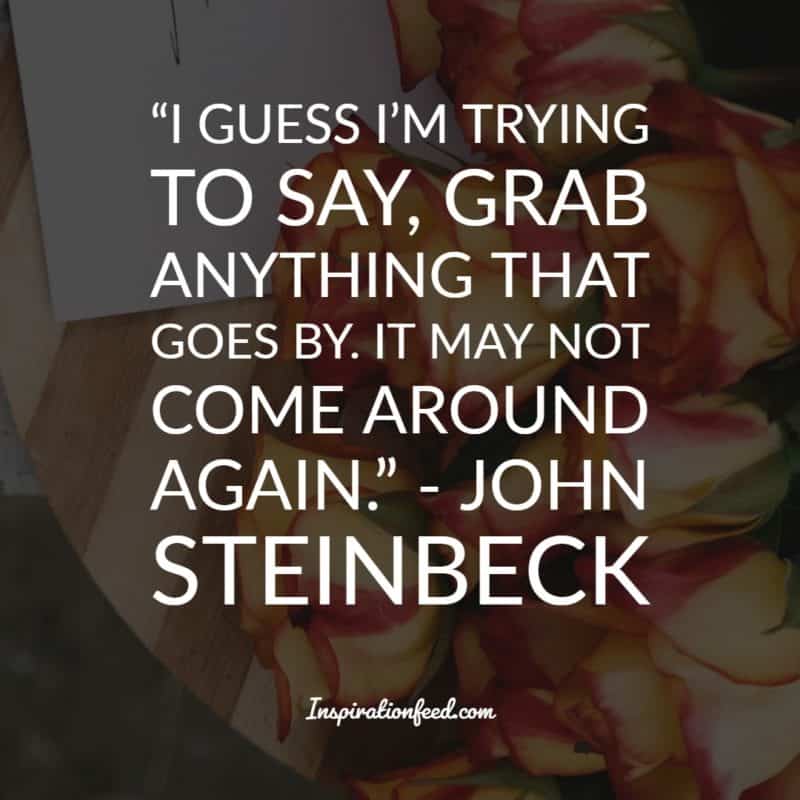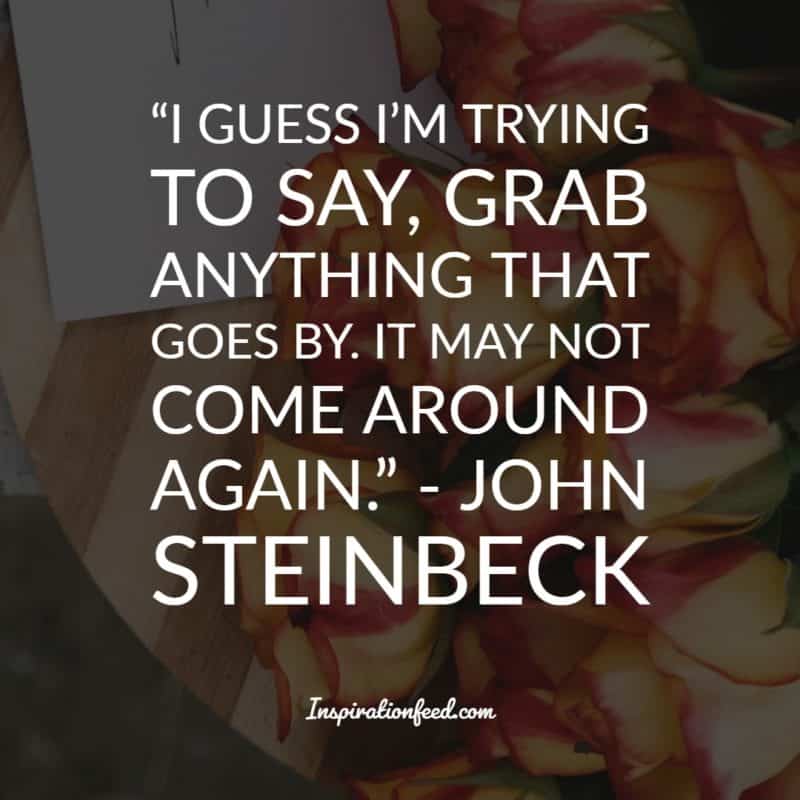 "I guess I'm trying to say, grab anything that goes by. It may not come around again." – John Steinbeck