Last Updated on January 24, 2023
Designers come in many shapes and sizes, hues and shades, areas, and facets of expertise. Architects, interior designers, urban planners, and landscape architects are all involved in the creation of spaces people live, work, and play in.
Graphic and Industrial Designers
Graphic designers use their innate artistry, digital know-how, and the bottomless world of visual media for effective communication, usually for a brand or website. Their close cousins are industrial designers who build new designs from scratch.
These designs are used in everyday life, from cars to furniture to toys to medical equipment, making many things that others take for granted appear in the realm of possibility. What they have in common is the ability to solve problems in an innovative way. Using their abstract creative powers, a visually appealing design is made for a specific purpose.
Fresh Ideas and Inspiration
In the design world, inspiration is everywhere for the taking. It takes an observant eye and sharp mind to take this inspiration and give rise to your next award-winning design. It is true that countless styles, designs and ideas have already been born to cater to an equally innumerable number of purposes. If you are in this world, there will be times when coming up with a fresh idea seems impossible.
It might seem that everything that can be done has already been done before, and to a certain degree, even top graphics and industrial designers will agree.
However, there is always room to grow. Do not allow thoughts like these to act as hindrances to creating something beautiful that you and the client can be happy about. Designers have within themselves the desire to innovate. There is a non-stop cycle of learning, thinking, and doing when chasing after inspiration.
The Creative Process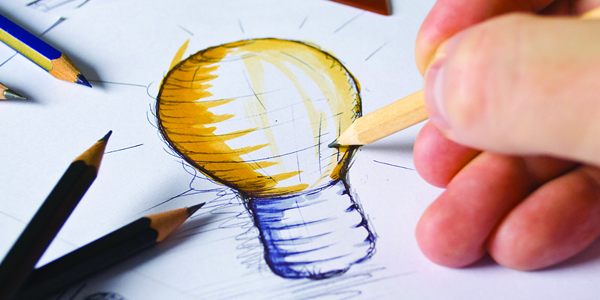 One of the biggest misunderstandings in design is between originality and creativity. Quite frankly, there are very few original ideas nowadays. Creative thinking is based on past works and it is this aspect of it that gives basis to teaching its history, foundations, etc.
Knowledge of these things develops the ability to think using gut feel and creatively in general. As a designer, seeing connections and relationships between unrelated ideas using intuition, non-verbal communication, and visual cues enhances the ability to re-create something with a particular purpose in a totally new way. Below are 40 inspirational design quotes that you can use to bring new life into your designs.
"There are three responses to a piece of design – yes, no, and WOW! Wow is the one to aim for." – Milton Glaser
"I strive for two things in design: simplicity and clarity. Great design is born of those two things." – Lindon Leader
"Design is a plan for arranging elements in such a way as best to accomplish a particular purpose." – Charles Eames
"If design isn't profitable, then it's art." – Henrik Fiskar
"Simplicity is not the goal. It is the by-product of a good idea and modest expectations." – Paul Rand
"Content precedes design. Design in the absence of content is not design, it's decoration." – Jeffrey Zeldman
"Technology over technique produces emotionless design." – Daniel Mall
"A designer knows he has achieved perfection not when there is nothing left to add, but when there is nothing left to take away." – Antoine de Saint Exupéry
"A design isn't finished until somebody is using it." – Brenda Laurel
"Design is as much an act of spacing as an act of marking." – Ellen Lupton
"Create your own visual style… let it be unique for yourself and yet identifiable for others." – Orson Welles
"Practice safe design: Use a concept." – Petrula Vrontikis
"Design is in everything we make, but it's also between those things. It's a mix of craft, science, storytelling, propaganda, and philosophy." – Erik Adigard
"Design is not just what it looks like and feels like. Design is how it works." – Steve Jobs
"Design is a plan for arranging elements in such a way as best to accomplish a particular purpose." – Charles Eames
"Intelligent design itself does not have any content." – George Gilder
"Good design is all about making other designers feel like idiots because that idea wasn't theirs." – Frank Chimero
"Good design is obvious. Great design is transparent." – Joe Sparano
"Good design, at least part of the time, includes the criterion of being direct in relation to the problem at hand – not obscure, trendy, or stylish. A new language, visual or verbal, must be couched in a language that is already understood." – Ivan Chermayeff
"You can't do better design with a computer, but you can speed up your work enormously." – Wim Crouwel
"I want to make beautiful things, even if nobody cares, as opposed to ugly things. That's my intent." – Saul Bass
"The life of a designer is a life of fight. Fight against the ugliness. Just like a doctor fights against disease. For us, the visual disease is what we have around, and what we try to do is cure it somehow with design." – Massimo Vignelli
"But I find that for myself, without exception, the more I deal with the work as something that is my own, as something that is personal, the more successful it is." – Marian Bantjes
"Socrates said, "Know thyself." I say, "Know thy users." And guess what? They don't think like you do." – Joshua Brewer
"Digital design is like painting, except the paint never dries." – Neville Brody
"Never fall in love with an idea. They're whores. If the one you're with isn't doing the job, there's always, always, always another." – Chip Kidd
"A designer knows he has achieved perfection not when there is nothing left to add, but when there is nothing left to take away." – Antoine de Saint-Exupéry
"If you do good work for good clients, it will lead to other good work for other good clients. If you do bad work for bad clients, it will lead to other bad work for other bad clients." – Michael Bierut
"Graphic design will save the world right after rock and roll does." – David Carson
"The public is more familiar with bad design than good design. It is, in effect, conditioned to prefer bad design, because that is what it lives with. The new becomes threatening, the old reassuring." – Paul Rand
"It's through mistakes that you actually can grow. You have to get bad in order to get good." – Paula Scher
"I've never had a problem with a dumb client. There is no such thing as a bad client. Part of our job is to do good work and get the client to accept it." – Bob Gill
"Typography at its best is a visual form of language linking timelessness and time." – Robert Bringhurst
"Invention is 10% inspiration and 90% perspiration." – Thomas Edison
"If you think it's expensive to hire a professional to do the job, wait until you hire an amateur." – Red Adair
"You can have an art experience in front of a Rembrandt… or in front of a piece of graphic design." – Stefan Sagmeister
"Form follows function-that has been misunderstood. Form and function should be one, joined in a spiritual union." – Frank Lloyd
"Design can be art. Design can be aesthetics. Design is so simple, that's why it is so complicated." – Paul Rand
"What works good is better that what looks good, because what works good lasts." – Ray Eames
"Failure is built into creativity… the creative act involves this element of 'newness' and 'experimentalism,' then one must expect and accept the possibility of failure." – Saul Bass