Inspirationfeed has reached over 58+ million people to date (82,541,000 pageviews). Advertising on Inspirationfeed will help you reach creatives, designers, artists, entrepreneurs, freelancers, bloggers and spread the message about your product or story. We have been writing quality content for readers worldwide for well over a decade.
What kind of content do we publish?
You'll find in-depth articles on a variety of topics like entrepreneurship, business, entertainment, parenting, self-development, social media, SEO, finance, freelancing, and technology.
We strive to provide high quality long form content for our lovely readers. Gain exposure and recognition for your company, product or service through advertising.
Blog Statistics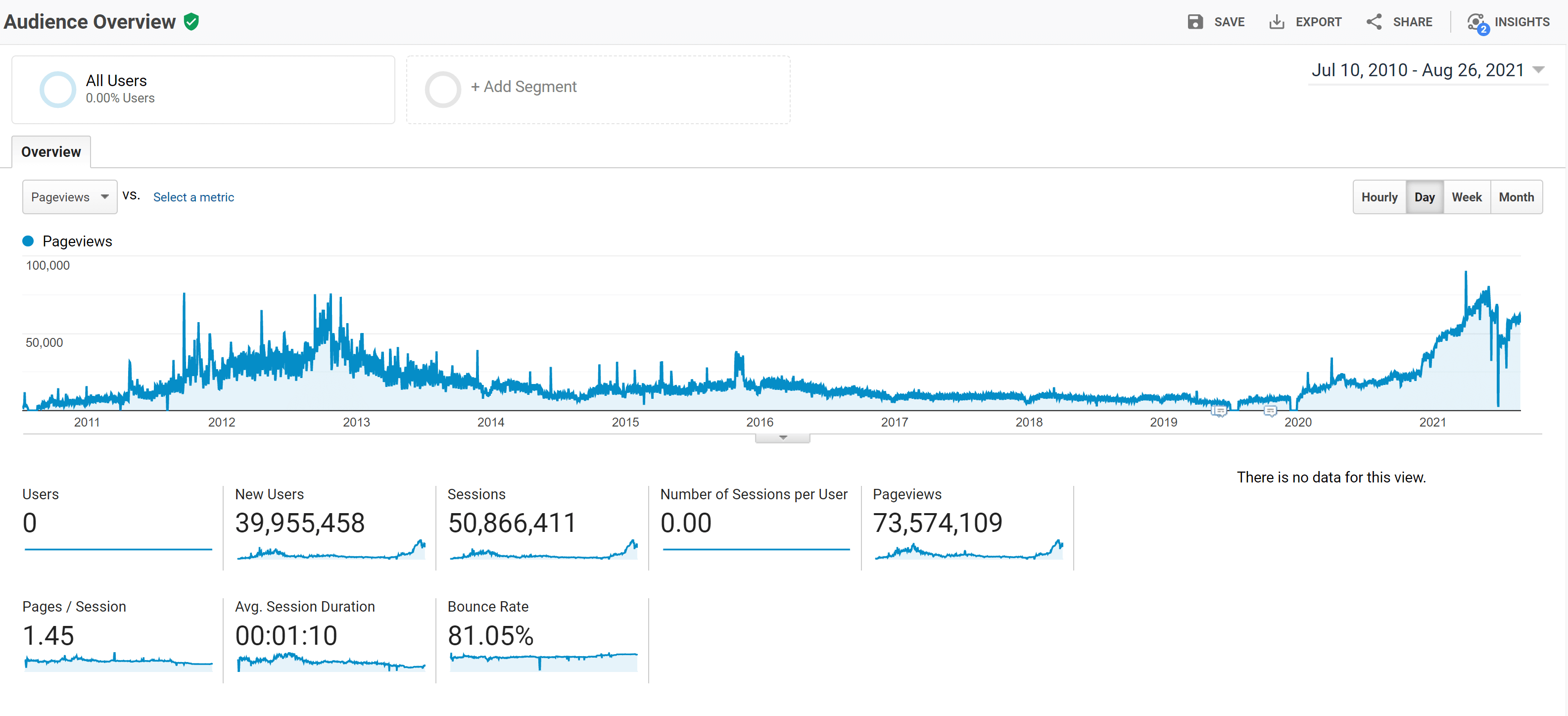 (Google Analytics):
Unique Visits: 1,367,975+ per month
Pageviews: 1,959,831+ per month
Top Countries: United States, United Kingdom, Canada, and Australia.
Social Media Presence:
Demographics:
Gender
Male: 55.1%
Female: 44.9%
Age
18-24: 24.43%
25-34: 42.39%
35-44: 15.89%
45-54: 9.15%
55-64: 5.39%
65+: 2.76%
SEO stats
You can run our website through any of your favorite research tools like Moz, SEMrush or Ahrefs. If you have knowledge about Search Engine Optimization, our stats speak for themselves.
Quick Stats:
1million+ backlinks from 31,240+ unique domains (According to SEMrush).
SEMrush Authority Score 53
Moz Domain Authority 74
Ahrefs Domain Rating 73
Advertising Options
Currently we offer the following advertising opportunities;
1. Custom Articles
You provide us with all the proper details, and we will come up with a 1,200-1,500 word article about your business, product, or service.
Why so many words?
Because Google said themselves that they're focusing on higher quality content moving forward. That means spun or low quality content is worthless.
It's been proven that good, informative, and well written articles rank better. We intend to write content that is original, fresh, and actually benefits the reader.
After you receive the article, you can review and approve it. If you don't like it, we can rewrite it one more time, no questions asked.
Please note: We will not take every client that emails us looking for a brand mention or sponsored post.
2. Sponsored Posts
Do you have a product or a service you would like to promote? Whether it's a new product you're launching or simply a story you're excited about, we're happy to help you reach more people and build momentum.
Sponsored content offers long-term search value and brand recognition, and since our website is well-ranked and well-established, your post has the potential to work for you for years to come.
Your article must be well written. This means proper English with no grammar mistakes.
Your article must be at least 1,000 words. Anything less is what we consider 'thin content.' Articles that have a low word counts are less likely to rank. This means you're wasting your time and money. We don't want you to do that.
Please contact us for up-to-date rate information, and put "sponsored post" in the subject line.
Important: Not all sponsored posts will be accepted.
Important Information
Starting on March 1, 2020 Google will start using link attributes (sponsored, ugc and nofollow) as hints for them to incorporate for ranking purposes. This announcement indicated that (sponsored, ugc and nofollow) links will be given a different amount of weights towards search rankings.
We will always follow Google's guidelines, this means that all sponsored links will have rel="sponsored" or rel="nofollow" attribute. Remember, you can be penalized for not marking paid links. This is a chance we are not willing to take.
You can read more about this major change starting in 2020 here: Evolving "nofollow" – new ways to identify the nature of links
Why Clients Love Us
SEO Optimization: We use tools SEMrush.com for keyword optimization and research. A professional tool used by some of the top websites in the world like Ebay.com, Tesla.com, Nike.com, Forbes.com, IBM.com, Walmart.com, Booking.com and many more.
Licensed Images: Unlike 99% of the internet who uses free stock photos from websites like Unsplash, Pexels, or Pixabay, we pay for unique high quality photos to make your article stand out.
Professionalism: We value integrity and trust. We treat others how we want to be treated.
Experience: We've been in business for over 11 years. We are recognized as a trusted digital magazine who has worked with dozens of Fortune 500 companies.
We are very selective about who we work with and 99% of enquiries are not answered. Please don't send us chaser emails if you haven't heard from us.
Before you reach out, please note the following:
We do not offer free exposure for start-ups, apps or anything else.
We do not share infographics.
We do not work for free.
We do not work in exchange for gear, trips, products or services alone.
We do not take guest posts anymore – sorry.
We do not promote anything that go against our core beliefs.
Unless you have a budget of at least $500, we will not be able to work together on a campaign.
Get In Touch
If your project meets the above criteria and you'd like to work with us, please contact using the form below. We are excited to hear from you.
Very important: Due to spammers and scammers who simply love to waste time. If you don't write your real budget, your email will be ignored.