If you're a graphic designer or typographer, intimate understanding of typography is vital for your success. If you're looking to improve your skills and learn more about typography, then you're in luck!
Today we collected must read books for passionate typography lovers ranging from practical to philosophical. Be sure to read the descriptions to pinpoint what you're most interested in. Enjoy!
1. U&lc : Influencing Design & Typography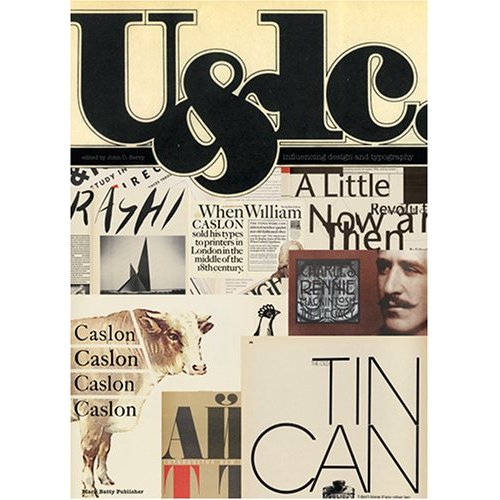 U&lc magazine (Upper & lower case) was a defining voice in graphic design worldwide between 1970 and 1999. It was in some ways a lifestyle magazine for the design community providing a fascinating intersection of popular cultural and graphic design in the last quarter of the 20th century. The list of editorial contributors to U&lc is long, and many prominent designers worked on designing entire issues.
Their best work is showcased in this book through the reproduction of selected covers, stories and illustrations from the nearly 120 quarterly issues that were published. This book also contains an introduction and four informal but in-depth chapters on the background, context, use of design and typography, and the people involved in making U&lc happen over the years.
2. Dangerous Curves: Mastering Logotype Design by Doyald Young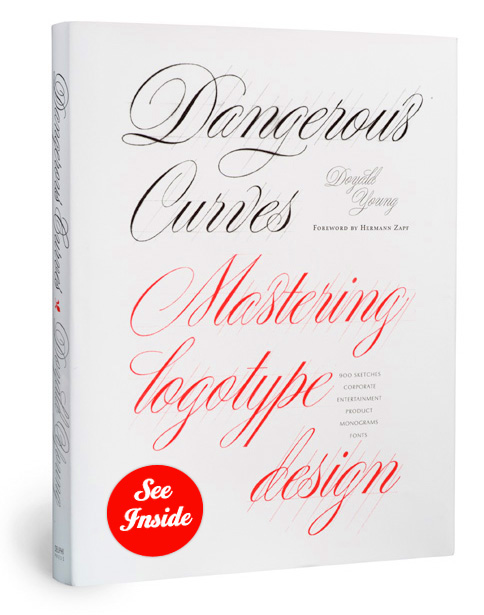 Dangerous Curves  attempts to show both emerging and expert designers how, in an age of computer-dominated design, the designer can turn to their very own hands for both inspiration and solution.
The only way to create a logotype that is truly unique is for the designer to transcend the limitations of the available fonts and typefaces on the market. Dangerous Curves provides a roadmap for that very worthy endeavor.
3. The Form of the Book: Essays on the Morality of Good Design (Classic Typography Series)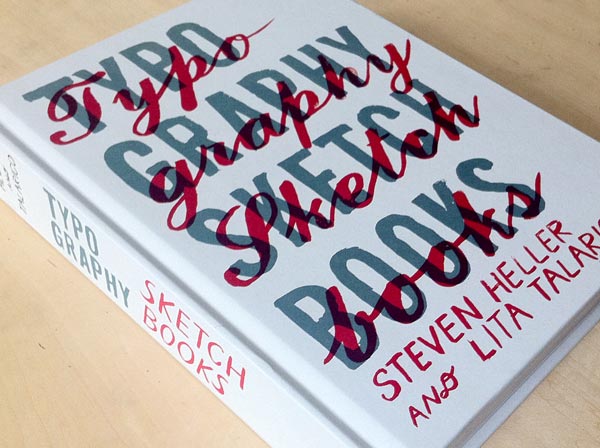 Where do the best contemporary fonts come from, and who designed them? Fortunately for us, typography for most designers is an obsession, one of the purest forms of design, one that can always be improved and refined. Selected by the world's most knowledgable and well-connected graphic-design commentator, Steven Heller, this book gets into the minds of designers who create typefaces, word-images and logos through their private sketchbooks.
This collection of typographic explorations, arranged by designer intimately reveals how over 90 of world's leading designers and typographers continually strive to find new and exciting ways of communicating through letters and words. Established designer and up-and-coming talents include Ivan Chermayeff, Carlos Segura, Milton Glaser, Maira Kalman, Bob Aulfudish, Matthew Carter (US), Javier Mariscal and Patrick Thomas (Spain), Erik Spiekermann, Viktor Nübel (Germany), Peter Bilak and Enkeling (the Netherlands), Jean Baptiste Levée (France).
The result of these wide-ranging typographic musings provide fascinating insights into the expressive quality of letters and words. Aimed at all those who use type, whether by hand or on screen, this pleasing compendium stresses the importance of good typography at a time when reading habits are changing and celebrates a craft that has endured for centuries.
4. Emigre No. 70 the Look Back Issue: Selections from Emigre Magazine 1-69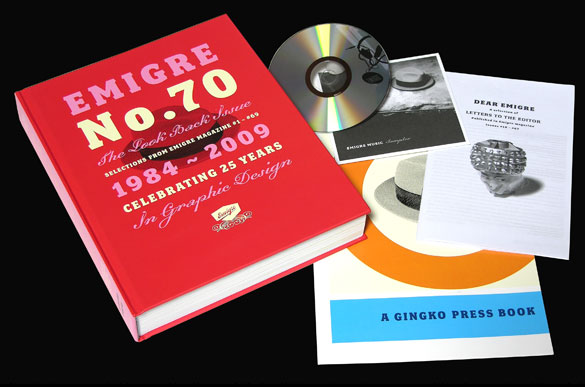 During the late 1980s and throughout the 1990s, graphic design was experiencing one of its most exciting and transformative periods. The Apple Macintosh computer had been introduced, design schools were exploring French linguistic theory, the vernacular had become a serious source of study and inspiration, the design and manufacture of typefaces was suddenly opened up to everyone who could use a computer, and for the first time in the United States, New York City was no longer the place to look for the latest developments in graphic design.
And in Berkeley, California, across the bay from Silicon Valley, Emigre magazine, like no other, recognized the significance of the events, and became both a leading participant and a keen observer of this innovative international design scene, generating a body of work and ideas that still resonate today.
5. The 3D Type Book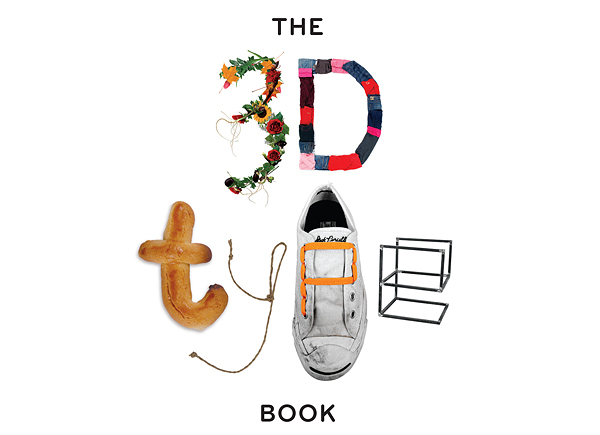 This book is the most comprehensive showcase of three-dimensional letterforms ever written, featuring over 1,300 images of more than 300 projects by more than 160 emerging talents and established individuals and studios including Sagmeister Inc, Vaughan Oliver, Milton Glaser, Alvin Lustig, Louis Danziger, Roger Excoffon, Paul Elliman, Marian Bantjes, Geoff Kaplan, Clotilde Olyff, Italo Lupi, Marion Bataille, Antoine+Manuel, Frost*Design, Mervyn Kurlansky, Non-Format, Oded Ezer, Rowland Scherman, Post Typography, Rinzen, Underwares Type Workshop, J. Kyle Daevel, Ji Lee, Pleaseletmedesign and Strange Attractors Design. As well as pioneering milestones from as far back as the 1940s, this book focuses on recent and brand new typographic projects. 3D type specialist Andrew Byrom explains the context and motivation behind these innovative works in an insightful foreword.
6. Scripts: Elegant Lettering from Design's Golden Age
Seen in everything from wedding invitations and birth announcements to IOUs, menus, and diplomas, script typefaces impart elegance and sophistication to a broad variety of texts. Scripts never go out of style, and the hundreds of inventive examples here are sure to inspire today's designers. Derived from handwriting, these are typefaces that are stylized to suggest, imply, or symbolize certain traits linked to writing.
Their fundamental characteristic is that all the letters, more or less, touch those before and after. Drawn from the Golden Age of scripts, from the nineteenth to the mid-twentieth century, this is the first compilation of popular, rare, and forgotten scripts from the United States, Germany, France, England, and Italy.
7. Thinking with Type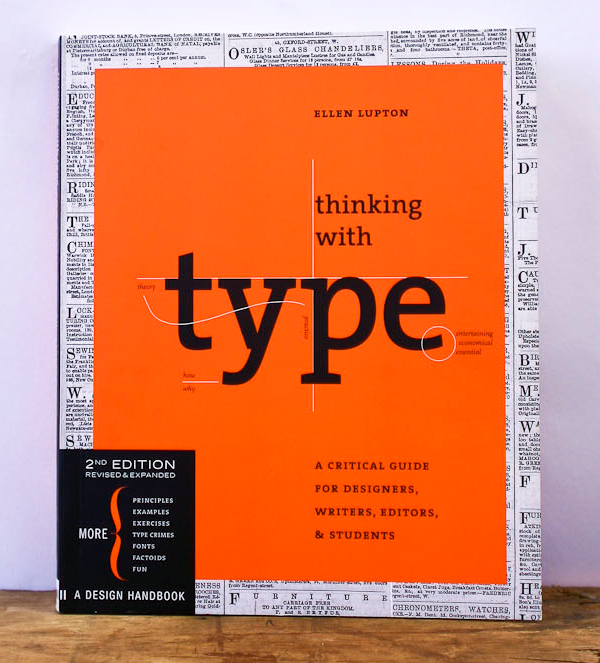 Thinking with Type is the definitive guide to using typography in visual communication, from the printed page to the computer screen. This revised edition includes forty-eight pages of new content, including the latest information on style sheets for print and the web, the use of ornaments and captions, lining and non-lining numerals, the use of small caps and enlarged capitals, as well as information on captions, font licensing, mixing typefaces, and hand lettering.
Throughout the book, visual examples show how to be inventive within systems of typographic form—what the rules are and how to break them. Thinking with Type is a type book for everyone: designers, writers, editors, students, and anyone else who works with words. The popular online companion to Thinking with Type (www.thinkingwithtype.com) has been revised to reflect the new material in the second edition.
8. Detail In Typography by Jost Hochuli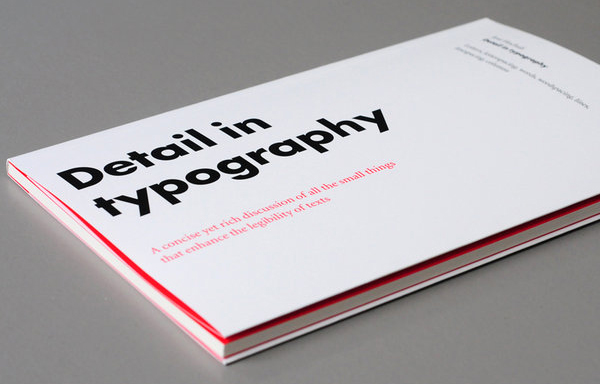 How is it that text can be set perfectly and yet look insufferably dull? How do you achieve perfect congruence between the type itself and its meaning? In Detail in Typography Jost Hochuli, master book designer and author of the seminal Designing Books, addresses the finer points of setting text.
Hochuli begins with a consideration of how human beings read, moving on incrementally to considerations of letter, word, and line as well as word-space and line-space. Hochuli concludes by examining whole paragraphs and how they carry meaning. Produced in Switzerland to the highest standards, Detail in Typography embodies critical thinking and articulate design in its own physical form.
9. Language Culture Type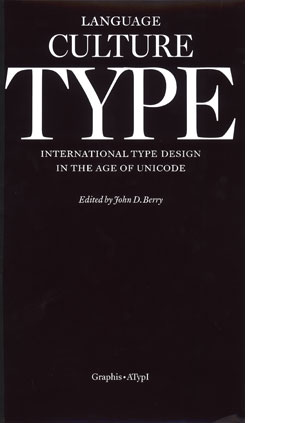 Language Culture Type grew out of the first international type-design competition, the 2001 Bukva:raz!, whose goal was to promote global cultural pluralism, interaction, and diversity in typographic communications. The book lavishly presents the winning entries, along with information about each typeface, its language, and its designer.
A series of essays gives context for the interplay of types and languages in the world today — including the attempt to mesh all existing scripts into a single digital encoding system called Unicode. It also delves into the specific issues around developing typefaces for the many linguistic cultures in the world, from the various Cyrillic letterforms to Vietnam's ancient ideographic script.
10. Penguin by Design – Phil Baines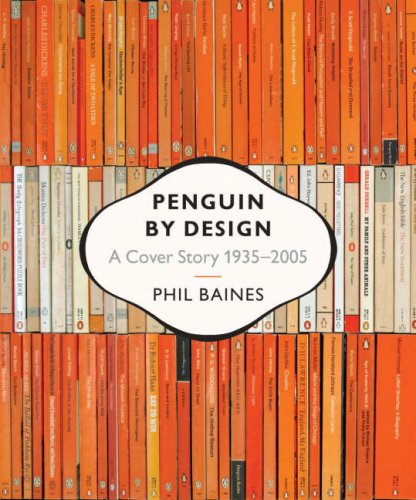 Ever since the creation of the first Penguin paperbacks in 1935, their jackets have become a constantly evolving part of Anglo-American culture and design history. By looking back at seventy years of Penguin paperbacks, graphic designer Phil Baines charts the development of British publishing, the ever-changing currents of cover art and style, and the role of artists and designers in creating and designing the Penguin look—including Penguins, Pelicans, Penguin Classics, and more.
Rich with stunning illustrations and filled with details about individual titles, designers, and even the changing size and shape of the Penguin logo itself, Penguin by Design shows how covers become design classics.
11. Creative Characters: Interviews with Font Designers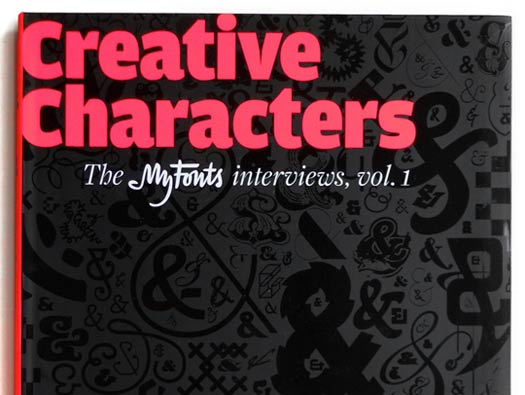 Creative Characters is a collection of in-depth interviews with the most influential typeface designers in the business as well as up-and-coming young guns, who discuss the motives and methods behind type.
The list of designers includes Jim Parkinson, Underware, David Berlow, Alejandro Paul, Veronika Burian, Rian Hughes, Cristian Schwartz, and many more. Jan Middendorp is a freelance editor, writer and designer working in Berlin. He has written for magazines on design such as Eye, Typographic, Etapes and the Netherlands' leading magazine on design Items. He also works as consultant and editor for companies such as Linotype, MyFonts and LucasFonts.
12. The Elements of Typographic Style by Robert Bringhurst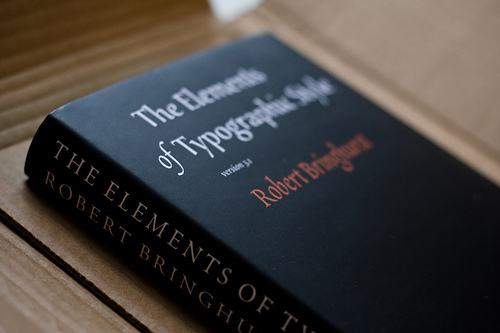 Renowned typographer and poet Robert Bringhurst brings clarity to the art of typography with this masterful style guide. Combining the practical, theoretical, and historical, this edition is completely updated, with a thorough exploration of the newest innovations in intelligent font technology, and is a must-have for graphic artists, editors, or anyone working with the printed page using digital or traditional methods.
13. I Wonder by Marian Bantjes
Quirky, poignant, astute, funny—this beautiful book presents a compelling collection of observations on visual culture and design, written and illuminated by world-renowned typographic illustrator Marian Bantjes. In Stefan Sagmeister's telling words, Bantjes's work is his  "favorite example of beauty facilitating the communication of meaning."
14. Just My Type: A Book About Fonts by Simon Garfield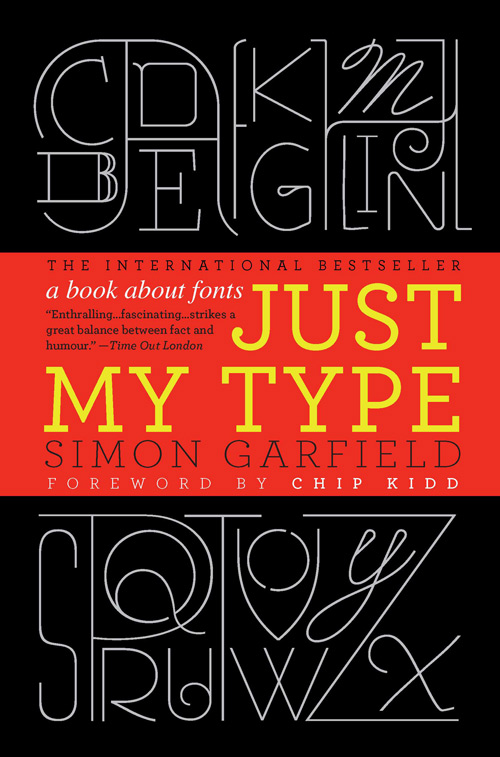 Typefaces are now 560 years old, but we barely knew their names until about twenty years ago, when the pull-down font menus on our first computers made us all the gods of type. Beginning in the early days of Gutenberg and ending with the most adventurous digital fonts, Garfield unravels our age old obsession with the way our words look.
Just My Type investigates a range of modern mysteries, including how Helvetica took over the world, what inspires the seemingly ubiquitous use of Trajan on bad movie posters, and what makes a font look presidential, male or female, American, British, German, or Jewish. From the typeface of Beatlemania to the graphic vision of the Obama campaign, fonts can signal a musical revolution or the rise of an American president. This book is a must-read for the design conscious that will forever change the way you look at the printed word.
15. Type: A Visual History of Typefaces and Graphic Styles, Vol. 1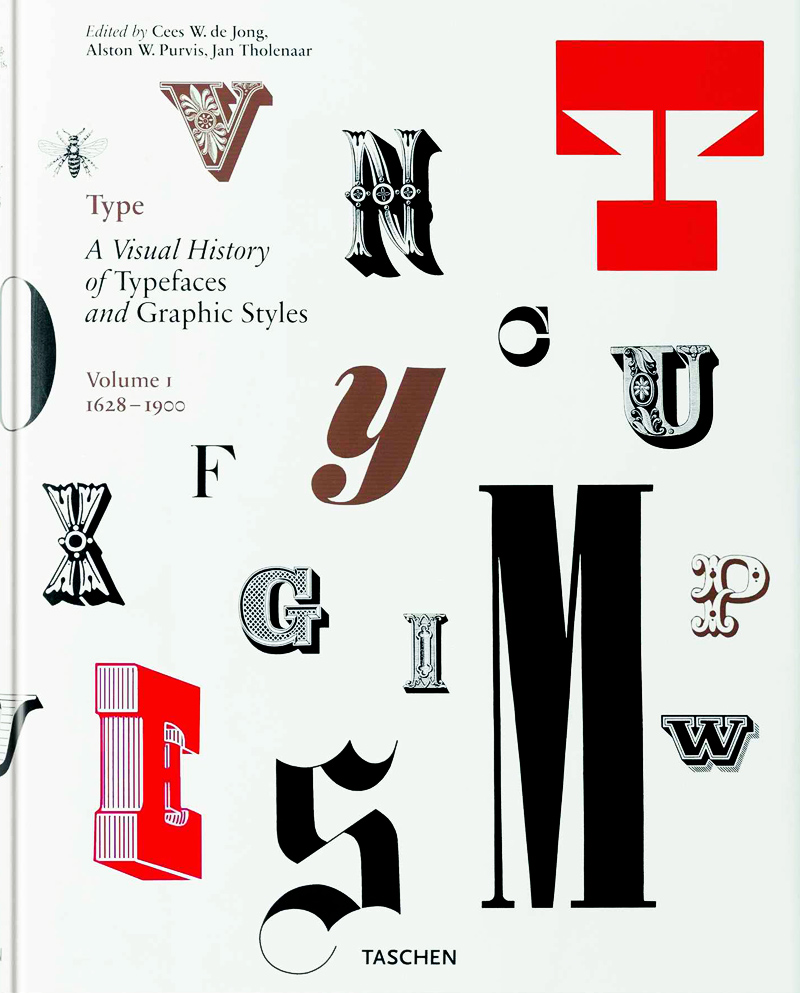 This book offers a novel overview of typeface design, exploring the most beautiful and remarkable examples of font catalogs from the history of publishing, with a special emphasis on the period from the mid-19th century to the mid-20th century, when color catalogs were at their height.
Taken from a Dutch collection, this exuberant selection traverses the evolution of the printed letter in all its various incarnations via exquisitely designed catalogs displaying not only type specimens in roman, italic, bold, semi-bold, narrow, and broad, but also characters, borders, ornaments, initial letters and decorations as well as often spectacular examples of the use of the letters.
The Victorian fonts, sumptuous and sometimes unbelievably outrageous, are accorded a prominent place in this book. In addition to lead letters, examples from lithography and letters by window-dressers, inscription carvers, and calligraphers are also displayed and described.