It seems that CBD can't go anywhere without leaving its mark somewhere. The beauty industry is no exception.

Now that consumers have discovered the magic of CBD in their skin creams, cleansers, and makeups, the demand is growing at a pace that the beauty industry almost can't keep up with. 
Most of the beauty products containing CBD are sold by CBD retailers. For example, the CBD cream from Penguin is very popular. However, major brands like Estee Lauder, e.l.f. Beauty, and Ulta Beauty are also getting on the bandwagon, and it looks like CBD is infiltrating the beauty industry in a big way. 
CBD's Skincare and Beauty Benefits

If you're wondering why CBD has developed so much hype, you need to look into the many ways that it can improve overall health and wellness for the users.
Not only can it treat many physical and mental ailments, but it can also enhance beauty and penetrate the skin deeply.
CBD is derived from the hemp plant, which is known for containing many medicinal and healing properties.
It's devoid of THC, so if you take any CBD products meant for consumption, you don't have to worry about getting high, but you will notice many physical manifestations of the product. Here are some of the top beauty benefits of CBD-infused products. 
Acne Treatment:

Acne is a combination of an over production of sebum and inflammation. CBD has antioxidant properties that are designed to treat both. It calms infected skin and normalizes sebum production to minimize breakouts. It also has anti-inflammatory properties, so it makes a great spot correction treatment for those pesky cystic pimples. 
Skin Condition Healing:
Those who suffer from eczema, psoriasis, and other skin conditions know the pain of trying to find moisturizers and non-steroidal creams that work to heal their inflamed skin.
CBD creams are fantastic for reducing inflammation associated with flare ups, soothe itchy and painful skin, and provide deep moisture. Together, these benefits can minimize the effects of these skin conditions short and long term, and it's safe and gentle enough to use on children with eczema as well. 
Anti-Aging Properties:

Sun damage, free radicals, acne scarring, dry skin, and more contribute to increased signs of aging on the skin. CBD can help to remove unsightly blemishes and restore moisture and elasticity to the skin.
Its antioxidant properties also remove free radicals that can cause age spots and increase your risk of getting skin cancer. 
Sun Protection:

Skin cancer is the most common form of cancer in the United States with more than 9,500 people diagnosed daily. It affects more than $3 million people in a given year, and while most skin cancer can be caught early and removed, other types of cancer, like melanoma, are highly aggressive and deadly.
Protecting your skin from the sun's harmful UV rays is key, and CBD can help. In combination with SPF sun lotions, it can chase away cancer-causing free radicals, repair UV damage, and soothe sun-burnt skin to protect you from the sun's harmful rays. 
Pain and Inflammation Relief
:
Sometimes, beauty hurts. Whether you're wearing stilettos for an event or taking Botox injections for your face, pain often comes with the territory.
To remove pain and inflammation involved in your beauty routine, CBD creams (especially from Penguin CBD) are a fantastic treatment. Rub the cream into the offending spot, and it will penetrate through the top layers of skin to provide deep-seeded relief. 
Deep Moisture:

Hydration in the skin is the key to preventing many skin problems from acne breakouts to eczema flareups to signs of aging. Most of the time, your skin doesn't get the hydration that it really needs because you're using the wrong products or don't apply moisturizers often enough.
CBD creams and lotions can offer long-lasting hydration and can be applied from head to toe. It breaches the first several layers of skin, not just the top layer, so when you wash with soap, you're not immediately stripping the moisture from your body. Re-application is necessary, of course, but not as often as with regular creams. 
Makeup Infusion
:
Some foundation creams, CC creams, BC creams, and other all-over concealers are being laced with CBD. These creams are designed to add extra moisture, treat breakouts, and advance healing for your skin.
When you remove the makeup each night, you'll notice better and better results on your skin. There are also mascaras designed to make your lashes look longer, eye balm to reduce puffiness and dark circles, and lip balm to moisturize and normalize the thin skin of your lips. 
Retail Development of CBD in the Beauty Industry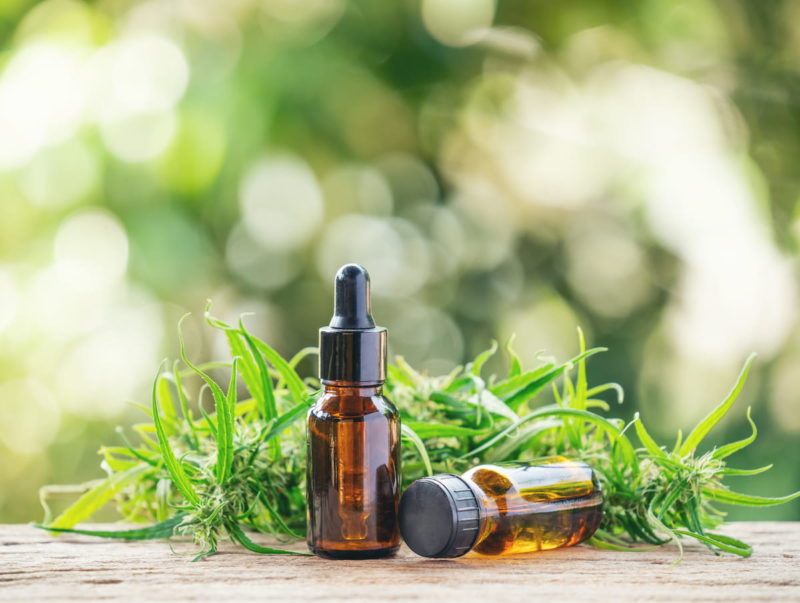 Expect big things from the CBD beauty market. Big names in the industry are unable to ignore the potential of "We have seen a high level of interest in cannabis beauty from retailers over the past month based on our store checks and incremental launches. We expect further retailer developments in the coming months," Erin Murphy, senior research analyst for the investment bank Piper Jaffray told CNBC.com. 
Murphy also stated that experts expect to see more CBD involved when research on CBD and its effectiveness is more established. Research on CBD is expanding significantly, particularly when it comes to the topical use of CBD because there seems to be lower risk in that sector. 
"Recall that we view the CBD beauty market as an extension of the broader natural & clean beauty movement that is taking hold within the industry. Google search trends suggest consumer interest in cannabis beauty has been picking up over the past year," Murphy continues. 
In 2020 and beyond, CBD should be the talk of the beauty industry given recent forecasts for its success. The beauty industry is already worth $800 billion, and add CBD to the mix, another industry worth tens of thousands, and you're looking at a massive market with incredible potential. 
Not only will more brands and investors get involved, but consumer demand will increase. With increase in demand, we'll start getting a larger supply of products. It's a clearly established cycle here, and the momentum is only expected to increase with the coming years.