With the increasing popularity of smartphone photography, there are a growing number of apps available for quick touch-ups. One such app is Facetune, which is designed to make selfie editing a breeze, offering a range of features like retouching and teeth whitening.
Whether you're a selfie enthusiast or just looking to up your Instagram game, here we will tell you about FaceTune to put your best face forward. With its user-friendly interface and powerful editing tools, you'll be amazed at the transformation you can achieve with just a few taps. Here we will also tell you about an all-round alternative to Facetune for desktop. So, go ahead, embrace your inner photographer, and let Facetune take your selfies to the next level.
What Exactly is FaceTune?
This photo editing app focuses on enhancing selfies and portraits. It goes beyond just editing static photos because you can also use the app to apply similar effects to your videos. Download Facetune for iOS or Facetune for Android via the links.
How Much Does Facetune Cost?
While FaceTune does offer a free version, some of the most valuable features are locked behind a paywall. To unlock the full potential of this app, you'll need to invest in the paid version and subscribe for $9.99/month.
Facetune Key Features:
Facetune offers an array of editing features aimed at improving the quality of your selfies. Here are some of the key functions you will find in this app:
Retouch: This feature allows you to make basic edits to your photos. You can either use the automatic retouch feature or manually adjust the various functions.
Reshape: Use the reshape feature to target specific areas and make them appear bigger or smaller. There is also a restore button to undo any excessive changes.
Face: The face feature enables you to adjust your facial structure and highlight specific features, such as your eyes, eyebrows, lips, smile, and nose.
Looks: This feature allows you to apply makeup in a jiff thanks to a collection of premade presets.
Filters: Facetune offers a wide range of filters categorized under various themes. Each sub-filter provides a preview to help you choose the most suitable option.
Relight: Use the relight function to change the angle of the lighting and adjust the shadows in your photo.
Backdrop: With this feature, you can replace the background of your photo with another image or choose from preset backdrops.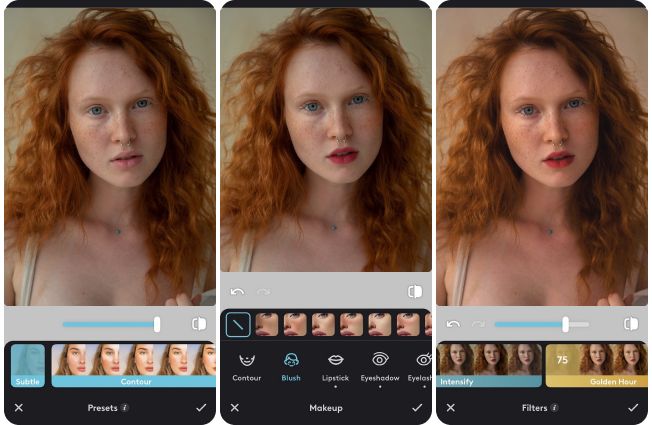 Tips for Using Facetune:
To make the most of Facetune, here are some tips to keep in mind:
Less is more: Avoid going overboard with edits. Excessive alterations can quickly make the image appear unnatural, so use Facetune for subtle changes.
Maintain your identity: Avoid using features that dramatically change your facial structure. Instead, focus on making minor tweaks, improvements, and creative touches.
Have fun: Remember that Facetune is a tool for enhancing portraits and selfies for social media. Don't get too caught up in striving for perfection in every image or become obsessed with creating unrealistic versions of yourself.
Facetune for PC: A Powerful Alternative
If you are looking for more precise editing, check out the mighty yet easy-to-use alternative of Facetune for computer. With this free Facetune alternative, you can retouch your photos, whiten teeth, smooth skin, and adjust details, colors, and lighting, just like in Facetune. The software also offers advanced features such as batch processing, advanced retouching techniques, and the ability to work with RAW files. It is a great choice if you prefer editing on your PC rather than a mobile device.
Conclusion
As smartphone photography continues to gain popularity, apps like Facetune have become essential tools for quick and easy photo editing. With its user-friendly interface and powerful editing features, Facetune allows users to transform their selfies and portraits with just a few taps. However, it's important to avoid excessive alterations to maintain a natural look. Additionally, for those who prefer editing on a PC, there is a robust alternative to Facetune for computers, providing advanced editing capabilities and precise control. So, embrace your inner photographer and let Facetune take your selfies to the next level.