Now, for the promotion of an event, holiday, birthday celebration, a restaurant event or nightclub party advertising, most of the businesses use online media channels, like Facebook event promotion, Instagram posts, Google ads, etc.
But flyers have turned into one of the most underestimated ways of effective promotion. Using flyers for spreading the word about an event, you can benefit as much as from an online promotion. This post is dedicated to the collection of 45 Free Event Flyer Templates PSD for Restaurant, Birthday and Other Celebration Promotion.
Progress is like a tango with two steps forward and one step back. Event flyers distribution can add a great value as part of a complex approach to an event promotion that includes both traditional offline and a modern digital advertising media.
How Effective Are Flyers for an Event Promotion?
In the era of digital media domination with a huge number of online ads, social media promotional posts and other marketing techniques, many people try to dismiss such aggressive promotion. An event flyer is a great way to stand out from the crowd and reach your target audience at the right time and in the right place.
Thanks to their physical nature, flyers provides an effective audience reach thanks to several distribution channels:
Door-to-door;
Insertion in newspapers, magazines and other media;
Distribution on the street or in-store;
Direct mail;
Posting digital version of an event flyers via Facebook and Instagram.
In a competitive advertising world, simple flyer distribution is not enough for attracting people's attention to an upcoming event, celebration, etc. In order to take the most out of event flyers and turn it into a cost-effective marketing tool, there are few recommendations how to use event flyers.
Take advantage of the places with waiting rooms, where there are a lot of people waiting for a service. Leave your event flyers in such local services, like dentists, hairdressers, beauty salons, SPA centers, gyms, fitness clubs, etc. People used to take a magazine to read and it's a perfect chance to make them read your attractive event flyer.
Put on a flyer a value proposition or a great deal. For example, this can be a discount for the entry fee to an event, or +1 person you can take to an event for free, etc. People won't walk by without taking such a valuable event flyer.
Drop event flyers at the doors near the location where event will take place. These are hyper-targeted audience which is more likely to visit an event hosted nearby.
Adapt offline flyers to social media-friendly format. Convert your printable event flyer design into digital in order to use it for social media campaigns for a greater audience outreach. Online event flyers can be shared and promoted via Facebook business and event pages, Instagram stories and promoted posts, Twitter and Snapchat, etc.
What to Put On an Event Flyer?
Traditional plain flyer handouts will never get noticed and chances are that they will be thrown in the trash. Here are several tips on how to make an event flyer stand out and what include in to a flyer.
Add vibrant, attractive colors to grab attention. For example, if you are promoting a nightclub event or party, then neon colors would be most relevant. But if you want are planning a vintage-related event, restaurant event, etc, then pastel colors will be a good option. Also, use contrasting colors to make a flyer pop up.
Use bold, creative typefaces to make headlines legible and easy-to-digest. You better avoid using such fonts like Times New Roman or Comic Sans. For headlines and body text use the colors which contrast to the background color. Pick a perfect legible font for your design projects from this list of 45+ legible free fonts.
Make the most important event information like event name, value proposition, phone number, price, call-to-action clearly displayed on an event flyer.
Write an eye-catching headline and a call-to-action to make people read the whole flyer text.
A Free Event Flyer Template PSD Is a Win-Win for Non-Designers and Event Promoters
When it comes to event planning and promotion, the process involves a lot of professionals, including graphic designers, event promoters, marketers, etc.
Thanks to modern design and editing tools and design resources, you don't have to have design skills for creating a high-quality and attractive event flyer design. You can simply use pre-designed free event flyer templates in PSD.
A free flyer PSD template has a needed design layout, creative elements, fonts included to the flyer Photoshop file. All you need to do is to customize it to fit your event promotion needs. Change colors, add custom text, like specific event date, place and call-to-action via using smart objects in Photoshop.
45 Free Event Flyer Templates PSD for Restaurant, Birthday and Other Celebration Promotion
The below-listed collection of 45 free event flyer PSD templates include a wide range of special events flyer designs, free birthday celebration designs, free restaurant flyer PSD designs, etc.
Download any of these 45 free event flyer templates in PSD and use them for creating original promotional flyer handouts, creative and awesome birthday invitations, restaurant flyer designs, etc.
5 FREE FOOD FLYER BUNDLE IN PSD
Birthday Party Free White & Gold PSD Flyer Template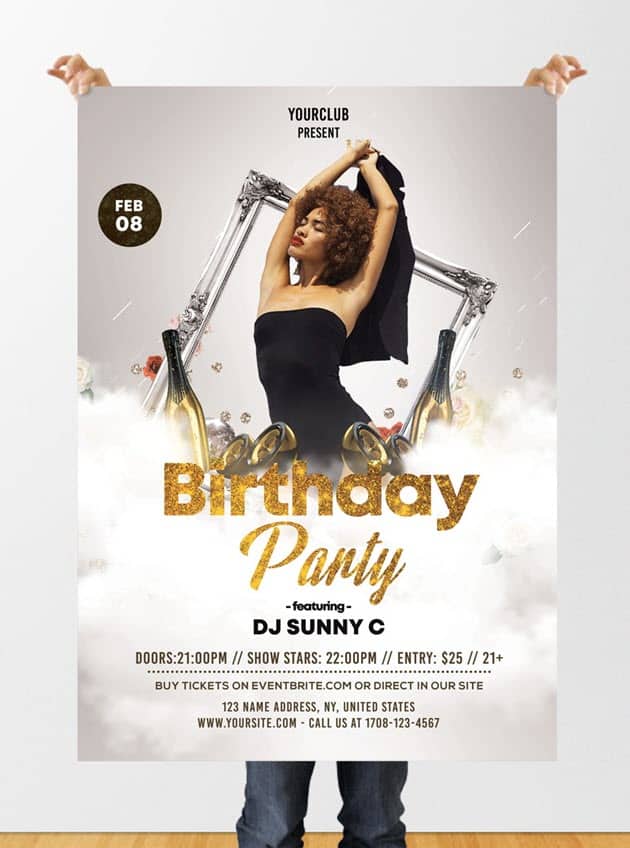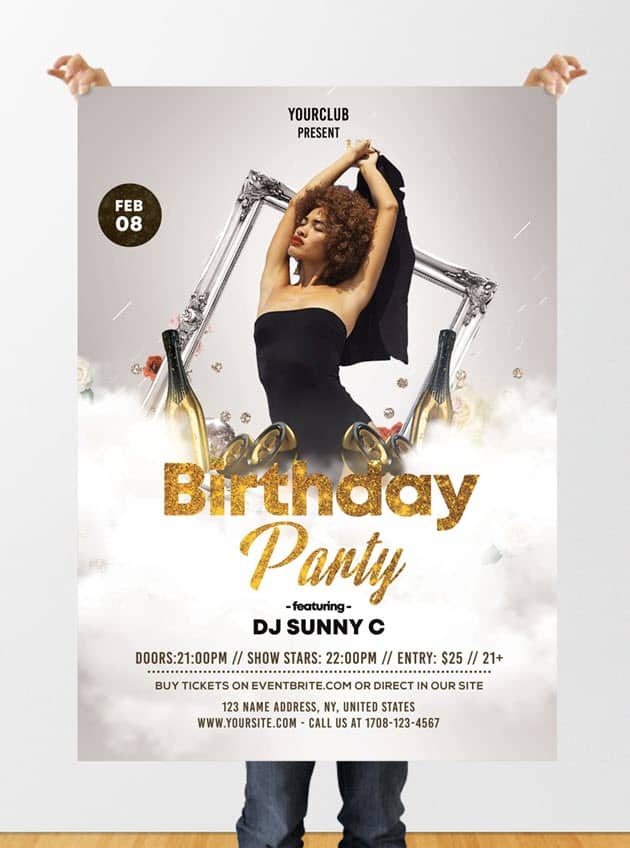 FREE WEDDING FLYER IN PSD
Birthday Celebration Free Flyer and Poster Template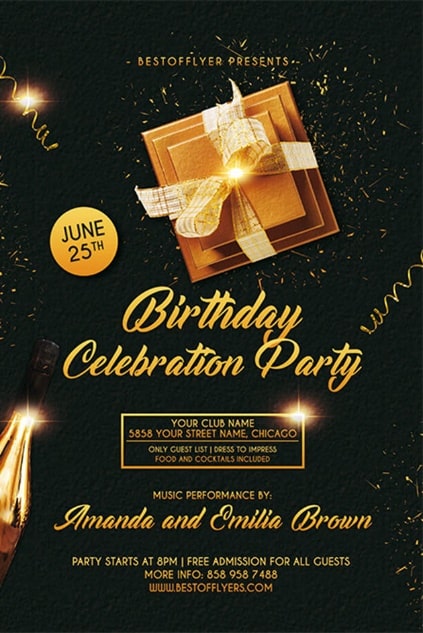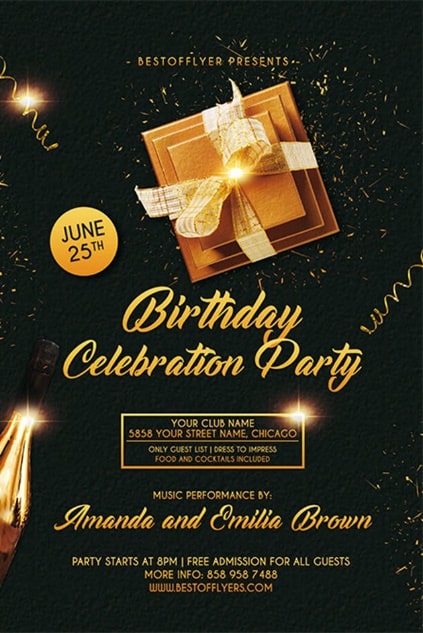 FREE SUMMER PARTY FLYER IN PSD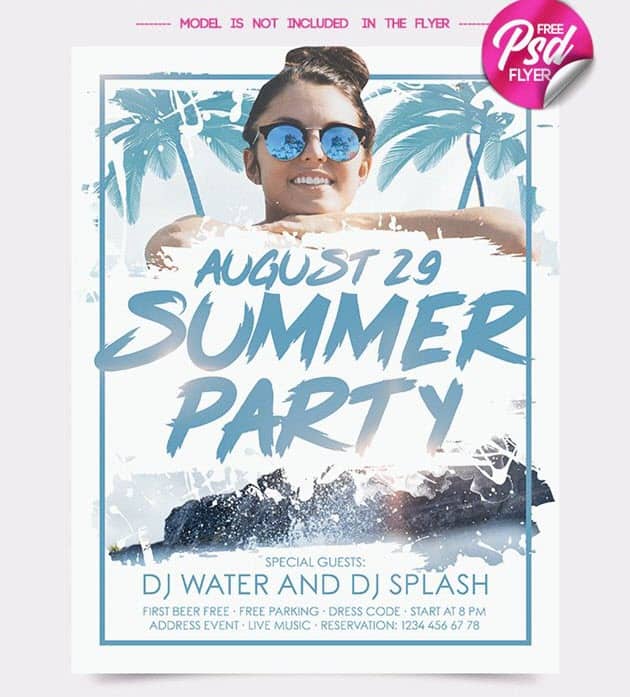 Anniversary Party Free Flyer Template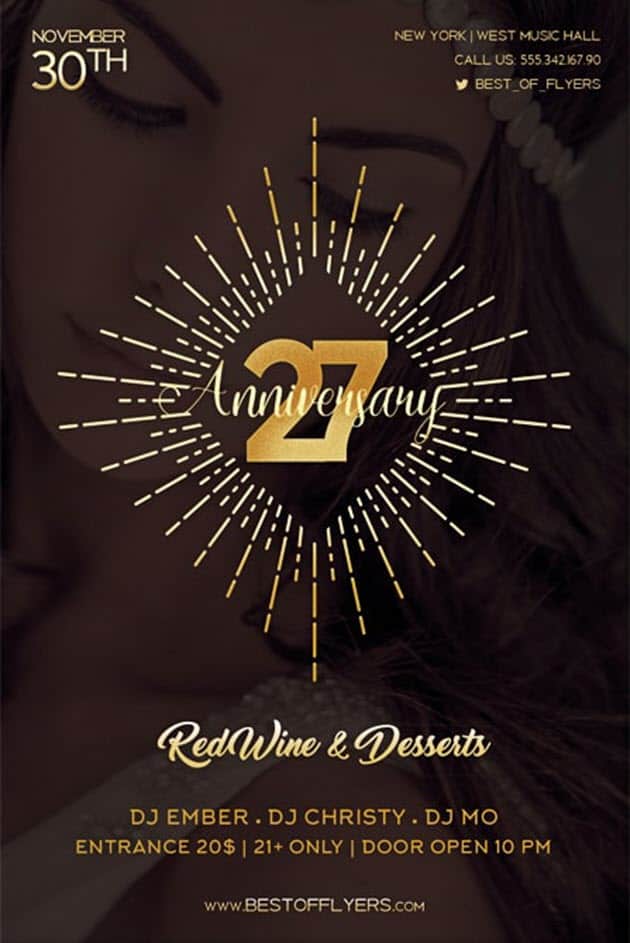 FREE COCKTAIL PARTY FLYER IN PSD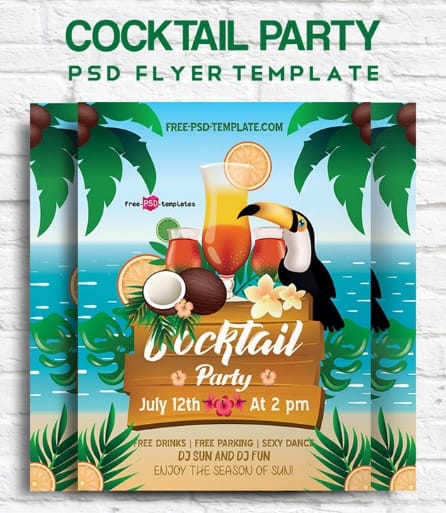 Happy Sixteen Free Flyer PSD Template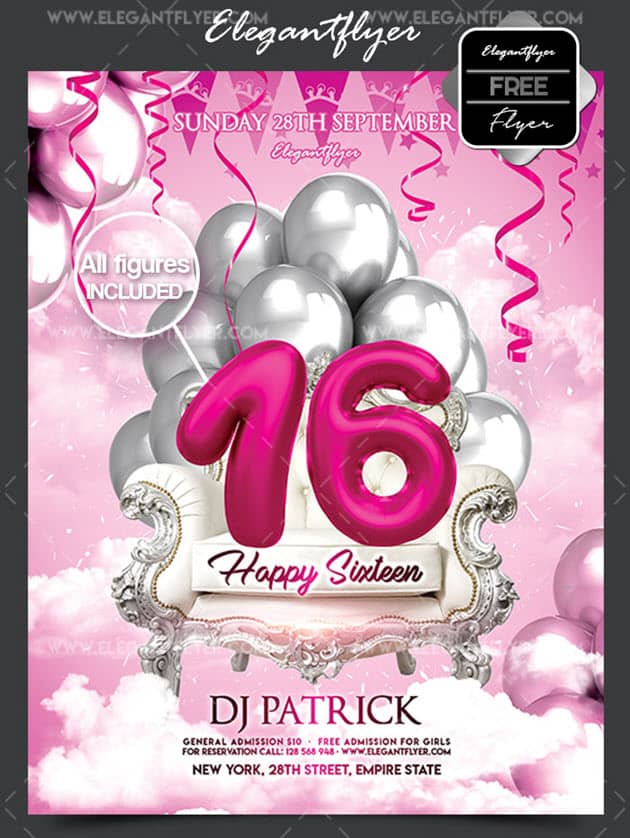 FREE WEDDING FLYER IN PSD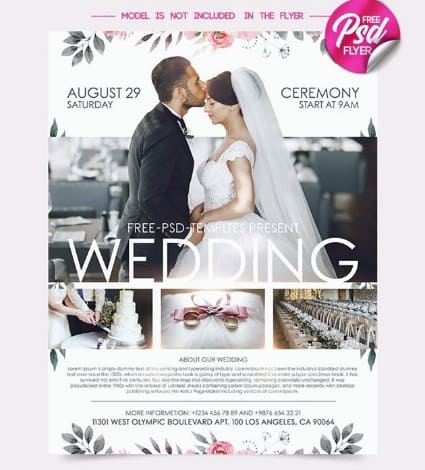 Sweet Birthday Party
Free Flyer PSD Template