Last Updated on March 8, 2022
Primarily protesting about social and economic issues, the occupy movement first became international news when protesters descended on Zuccotti Park in New York City to voice their discontent about the global financial crisis and the lack of legal repercussions. Their slogan, "we are the 99%" refers to the top 1% of the population where the wealth is distributed. Protesters in London also called for the end of tax evasion by wealthy firms.
These movements brought together people from various nationalities and backgrounds, and so created a diverse array of multi-media pieces of art. These come in the form of diaries, poetry, music and paintings and such pieces are being collected by the New York Historical Society and the National Museum of American History to preserve for future generations. These pieces of art can help to explain the protesters causes and capture a snapshot of history.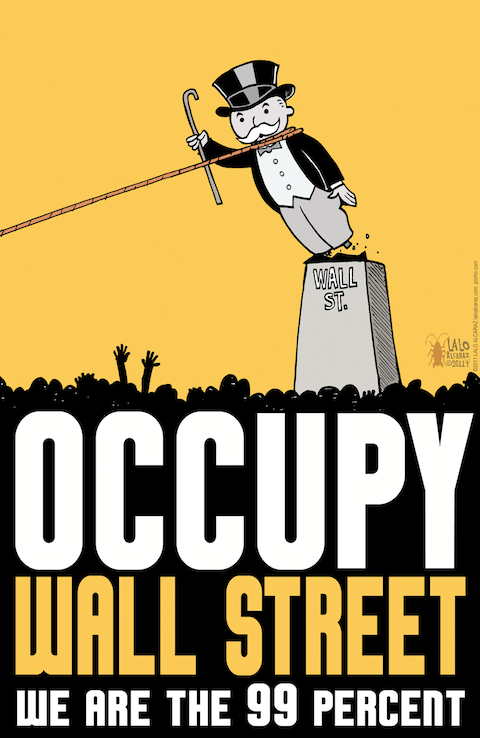 An example of this art was found during the clean-up of Atlantic Cities. The mural created by the protesters of the occupy movement in Los Angeles, was initially used to protect a fountain however the "residents" have turned it into something that is now to be displayed for all to see. Preserved due to the efforts of Matthew Rudnick, he is quoted as saying "It would have been a tragedy to throw it away."
The Internet was a massive source of media for the occupiers which have given them not only publicity but a way to spread their word around the world in seconds. OccupyWriters.com features over 3,000 writers who support the occupy movement and have written stories, poems and just general wondering about the protests. Lemony Snicket's article details thirteen observations about Occupy Wall Street from a distance, Matthew Zapruder writes a Poem for Plutocrats and Zach de la Roche dedicates his poem to those whose courage is changing the world.
Occupy Comics
Art and Stories Inspired by Occupy Wall Street has been designed to be a time capsule telling the story of the movement as it unfolds. Primarily released as digital edition comics, limited edition paper editions will then be released finishing with an anthology late 2012. Award-winning writer and creator of Occupy Comics, Matt Pizzolo wrote, "artists and writers have the unique ability to evoke broad ideas and ideals in captivating and dramatic ways."
Not only has the occupy movement fuelled art but it has also been fuelled BY art. Posters advertising dates and time of "occupations" have taken their inspiration from the 1930's Spanish posters and of Paris in the 60's. Posters also featured pictures of Uncle Sam saying he wants you to #occupy and the Guy Fawkes mask from V for Vendetta.
Despite being made prior to the 2011 Occupy Movement, this piece became a symbol for many of the protesters. "One" by Sandy Pearson, completed in 2009, displays all the things that Pearson believed to be wrong in the world. Originally asking the question what the real value of a dollar was, it is now being used to ask who is stealing the dollars? Due to the uniqueness of "One", copies have been printed onto vinyl banners and displayed at 5 occupy events around the US.
The 2011 occupations of Wall Street, London and other world cities has brought to the forefront, issues that have long been a problem. This has left us with pieces that capture feelings, detail events and give personal accounts of what happened. These may be new pieces but they have been inspired by those that have come before.
This article was written by PrintExpress online printing; a printing service based in London, specialising in booklets, business cards and magazine printing, among many formats. Did you enjoy this article? Got any feedback? Don't be shy, comment below and let us know! For more useful articles, please don't forget to subscribe to the RSS-feed and follow Inspirationfeed on Twitter, Google+ and Facebook! If you enjoyed the following article we humbly ask you to comment, and help us spread the word!