Last Updated on January 20, 2022
With the amount of social channels for businesses to look after, social media management resources have grown to be very popular today. Hootsuite enables you to keep track and regulate your various social media channels. It helps you to keep an eye on what people say about your brand and allows you to respond promptly. You can watch over "streams" from several social media networks including Facebook, Twitter, and Google+. You can publish updates or respond to comments right away.
If you handle the updates for your business' social networking sites, it's likely that you've already heard of Hootsuite. In a study about tracking social media tools, Hootsuite emerged as the top Social Media Management System resource, with more than 20% of businesses utilizing it to handle their social networking accounts. The tool was introduced in 2008 by Invoke Media, and has ever since amassed an extraordinary variety of features.
How to Use Hootsuite
First, you need a Hootsuite account. It is possible to sign up with an email, or via Facebook, Twitter, or Google+. You don't need to pay anything for the basic account. However, if you intend to handle several social networking accounts at the same time, business or Pro accounts are offered, starting at $8.99 per month.
Once your account is created, you'll be directed to a quick start page where you can link your social media accounts. It only displays a few, but you can add a lot more down the road. Once you've connected your accounts, you can start using Hootsuite.
You will be directed to the Hootsuite dashboard. If you're using this for the first time, you will be given a set of "tasks" to complete. These include putting in streams, making a tab, and scheduling a post. Putting in a stream makes it very easy to pay attention to what happens on your social media channels from a single page. It's also possible to add a maximum of three other social media accounts to handle (unless you upgrade to a business plan, where you're presented with more options).
How to Schedule a Post with Hootsuite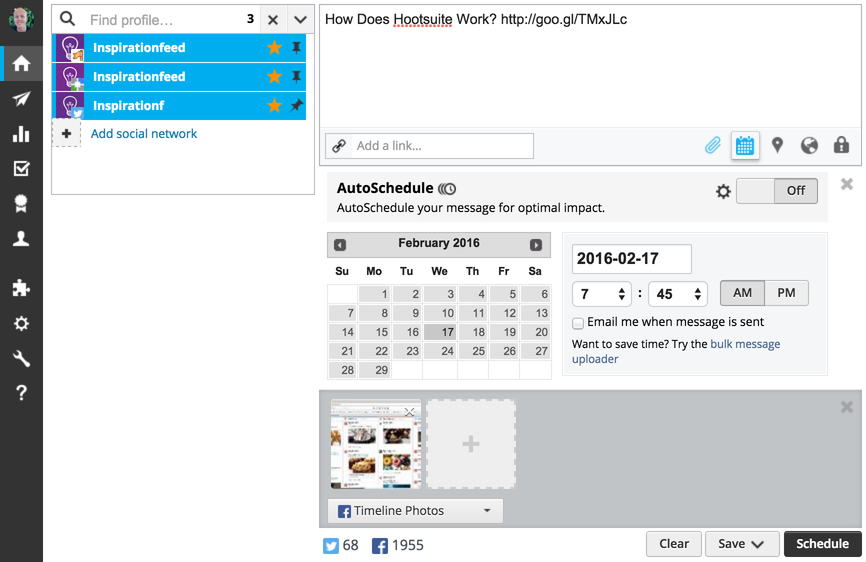 Although Hootsuite is far more than just a tool to schedule social media posts, it's probably the best introduction to what Hootsuite can do. At the top of your Hootsuite page, you'll see a small box that says "Compose Message." Here, you can type whatever message you want to post, add pictures, and choose the time you would like the post to be sent. On the left side of the page, just over the compose box, you can choose which social networking sites you intend to use. It's possible to schedule posting to multiple networks at the same time.
To choose the time to schedule a post, you're given two choices: manual and auto. To get into either of these options, click the tiny calendar in the compose box. For certain promotions or campaigns, or whenever you host a Twitter party, have your posts posted at a specific time. To do this, use the manual scheduler. Alternatively, when there is no particular time needed, you can just allow the Hootsuite AutoScheduler to figure out the best time to publish your post.
Also, to make multiple posts at a time easier to do, use the bulk message option.
Incorporate Your Blog RSS to Hootsuite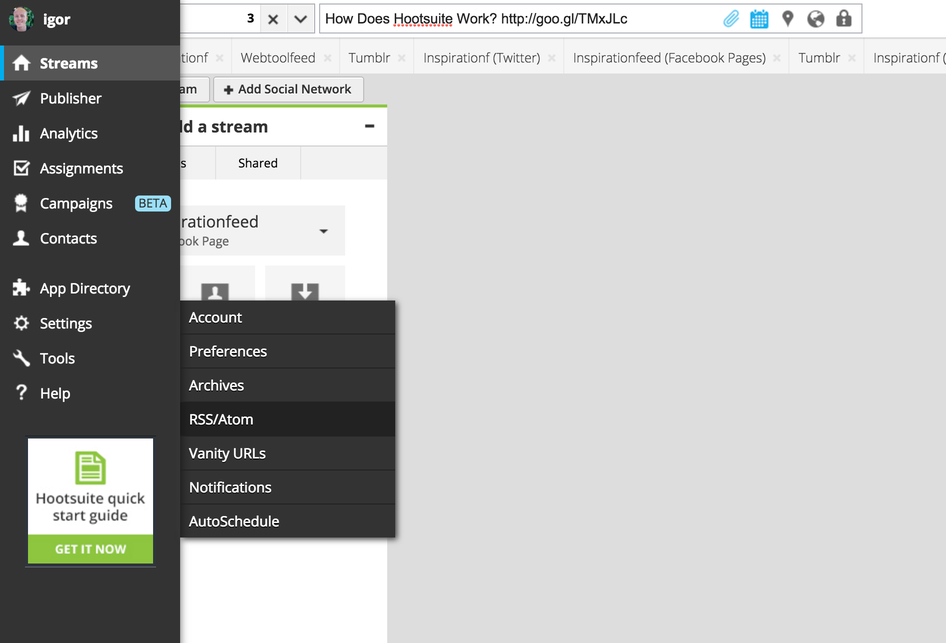 If you're already using Hootsuite to handle your (or your client's) social media accounts for a blog, you need to add your Blog RSS to the social media resource. This allows your new blog posts to be automatically posted to Hootsuite the instant you publish them.
Hover just above your Hootsuite profile picture to bring about the gray menu. Once it shows up, choose "Settings." On the screen that appears, pick "RSS/Atom," then click on the + symbol beside "My RSS/Atom Feeds."
Type in your feed information. If you're using a self-hosted WordPress, it's likely that your feed address will be yoursite.com/feed. In this part, you'll be able to choose which social media channels you want your posts delivered to, the frequency Hootsuite checks your blog for new posts, the number of posts to send, the structure you want them submitted, and any messages you'd like to be automatically included with your social messages. Afterward, click the "Save Feed" option.
Schedule to Facebook Groups on Hootsuite
Not all Hootsuite users know this, but it's possible to schedule to Facebook Groups via Hootsuite. Many bloggers create groups where they can share and discuss their posts with their readers/followers. To make it easier to schedule posts to your Facebook Groups, all you need to do is click the "Add Social Network" option and select Facebook. From there, you can link your personal Facebook account. It will then retrieve all the Facebook pages you handle along with all the Facebook groups you're part of. As soon as your selected pages and groups are imported, you can just schedule your messages as you usually do.
Follow Hashtags on Hootsuite
Twitter hashtags are used wide and far these days. Occasionally, you may have to follow one for your business. While this can be done on Twitter, many users typically find the process complicated. In addition, some users need to follow multiple hashtags at the same time. In Hootsuite, you can include streams for specific hashtags for you to be always updated on what's being tweeted about your niche or brand.
Following hashtags can be extremely helpful in devising content ideas. Whenever you struggle to create a topic, just go to your Hootsuite stream and find out what other people are discussing in the stream. Whatever your area of interest is, it's useful to add a couple of hashtag streams to your Hootsuite to help you interact with other bloggers or discover new ideas.
Keep Track of What People Are Saying
If you're a business proprietor or a social media account manager for a business or blog, having the ability to keep track of what people are saying regarding your business is crucial. You can monitor your company name or blog title and specific keywords that they are related to. It's also possible to search for words you're just keen on following, without searching for a specific hashtag. There are two methods to make this happen: the Search Query Tracking and the Keyword Tracking.
The Search Query Tracking enables you to follow a specific search query. You can also identify the exact variables you want to present in the results. On the other hand, the Keyword Tracking lets you add a maximum of three keywords you wish to follow in a specific stream. 
Designate Tasks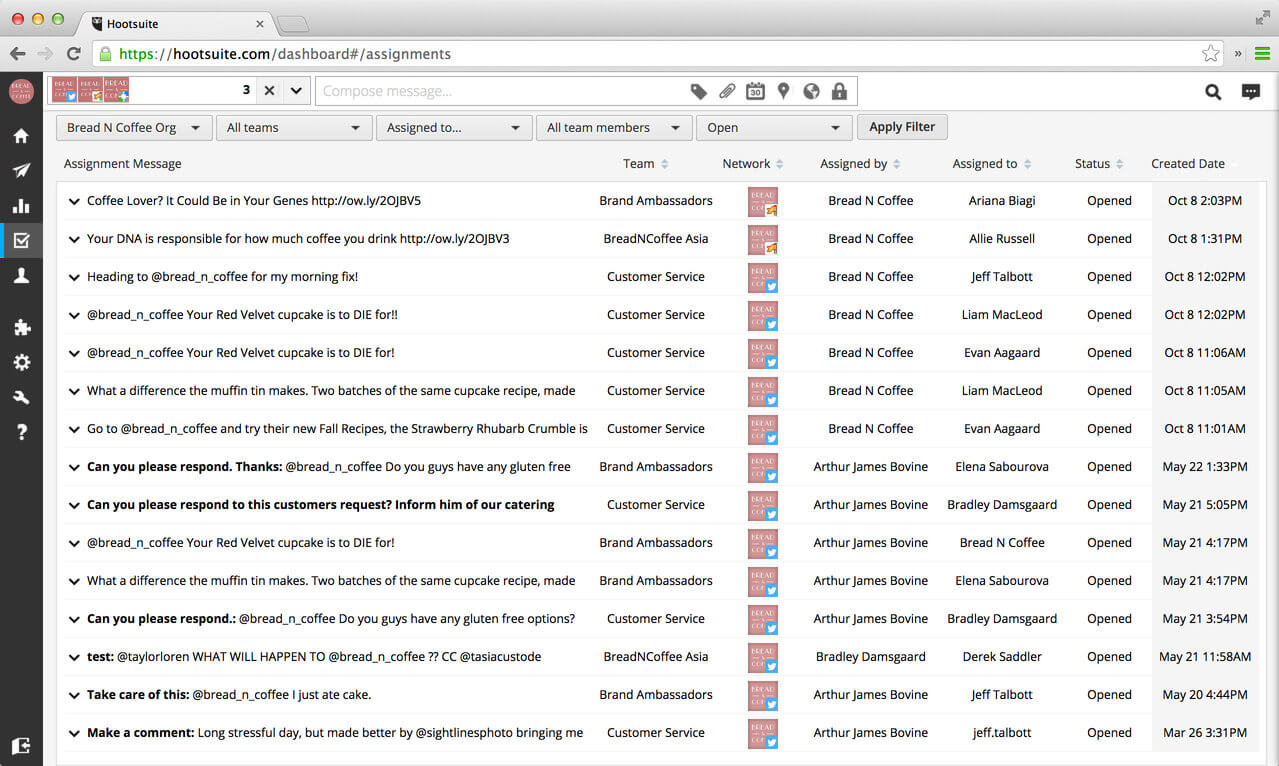 If you are a part of a blog with several contributors, task designation is a Hootsuite feature that brings you great advantage. If you're browsing through the Twitter feed and see an appealing topic you think someone from the team should blog about, the drop down menu on the Twitter stream comes with an option to "assign" to any team member. This is an excellent method to easily and promptly share ideas.
Study Analytics
Hootsuite has a strong analytics feature, which can be viewed at the left fly-out menu. Here, it's possible to create several reports based either on the preset templates provided or through your own template. This way, you can easily keep track of the social impact of your posts. A number of the more complex reports require that you buy "points" so you can run them.
Check Up on Twitter Lists
If you have several Twitter lists (accounts you allotted to specific groups), using Hootsuite helps you see their tweets easier, instead of browsing through your entire Twitter feed. Ultimately, this makes it simpler to keep an eye on what's being carried out with the accounts you're following.
Use the Mobile App
Hootsuite features an excellent mobile app to help you keep tabs on all of these things even when you're out and about. It's on the market on both iOS and Android gadgets, and it's easy to download, set up, and use.
Reasons to Use Hootsuite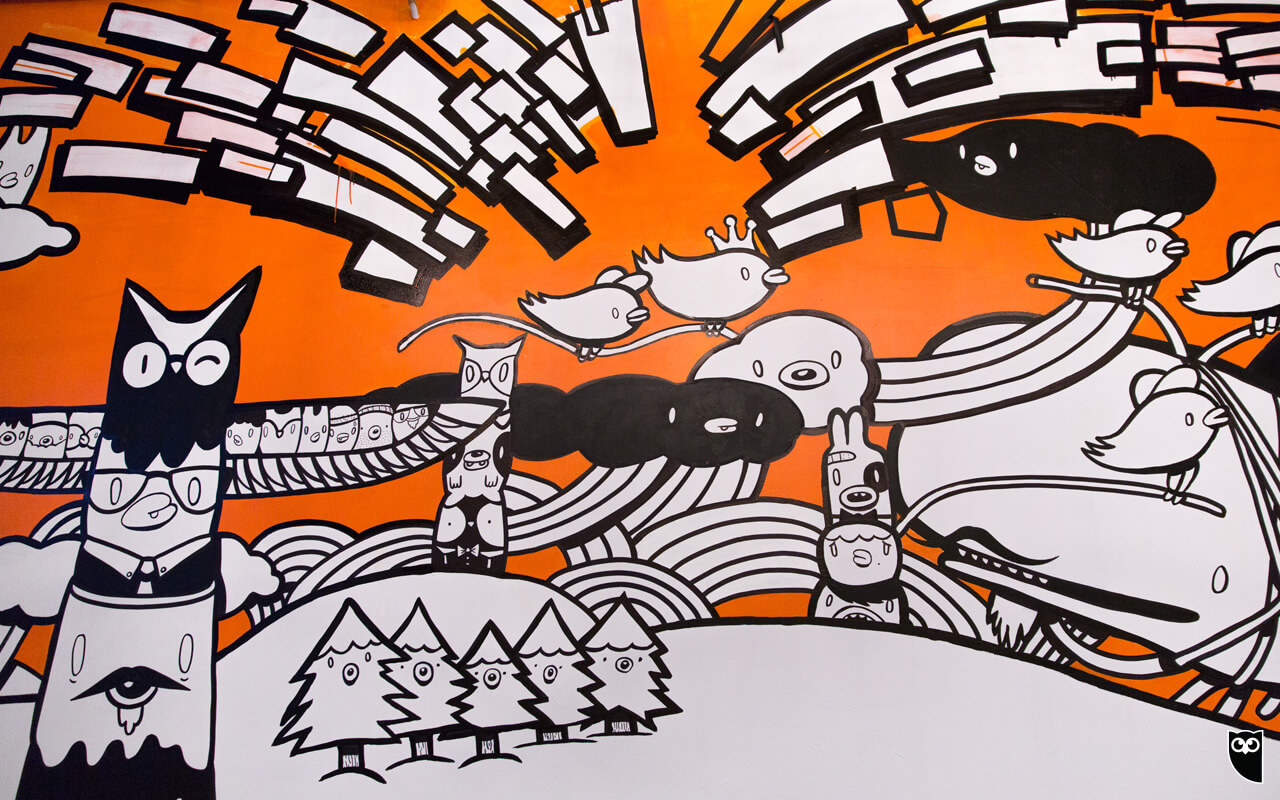 Keep an eye on a variety of streams in one place.
Almost certainly, the most compelling reason to use Hootsuite is the fact it enables you to handle a wide variety of social networking sites. At present, Hootsuite helps you regulate:
Twitter
Facebook (profiles, pages, and occasionally, groups)
LinkedIn (profiles and pages)
Google+ Pages (NOT for personal accounts)
Foursquare
Instagram
WordPress blogs
Via Third-Party Apps:
Vimeo
Tumblr
Evernote
Flickr
Mailchimp
SlideShare
Storify
It's also possible to add more than one account under the same social media channel. This is beneficial if you commandeer multiple Twitter handles or Facebook pages. You can also send a post to numerous channels all at once. However, just be a little cautious here and think of the market on each platform. Your Facebook visitors may vary from your Twitter followers. Tweets are only 140 characters per post, whereas Facebook allows considerably longer and richer content with photos and videos.
Allows you to have a team taking care of your social media world.
One of the key reasons businesspeople recommend Hootsuite is because of the Hootsuite's team management service. Hootsuite lets you assign responses to various team members. For instance, if you get 20 mentions in a single day, the account admin can hand over each mention to different team members. Each time a team member is signed in, they'll see which projects are assigned to them and not make the slip-up of answering a status already responded to.
Yet another useful Hootsuite tool is its messaging feature. This allows team members to deliver private messages to one another. This is especially beneficial if your team members are working outside the office or even in various parts of the world. One little precautionary measure about this is understanding that an account with multiple team members is quite expensive on Hootsuite. For medium to large companies with a decent marketing budget, this wouldn't be a problem. But smaller companies may find this difficult to use.
Enables you to manage your customer service on Twitter.
Whether you have to use Hootsuite to look after your social channels is determined by the kind of business you have and the reasons why you have a social presence to begin with. If your main reason for a social presence is for dealing with customer service on Twitter, then using Hootsuite is probably your best bet.
Mobile systems or utility businesses love Hootsuite as it enables them to assign customer messages to various team members managed, in general, by an administrator. Hootsuite also allows you to save draft messages you can publish whenever you receive a commonly asked question, such as directions to your business or hours of operation.
Allows you to use a cross-platform strategy.
One of the advantages in using the Hootsuite web app is its easy-to-use factor across various platforms, such as on Mac OSX, Windows, Linux and mobile devices. Hootsuite functions on all present-day browsers and possesses an array of specialized mobile apps to assist you when you're on the go. The only omission at the moment is an app for Windows Mobile.
If you are handling your social media channels as part of a team, you'll be depending on the Hootsuite mobile app a lot, especially in supervising Twitter. The mobile Facebook app lets you handle Facebook pages if you are an administrator without needing to reveal any passwords. Twitter presents no admin features, so the best way to permit multiple individuals to run a Twitter account is by sharing the password. This is not great from a security standpoint and might open up your Twitter account to misuse, particularly if a team member leaves the company.
However, if your team members use the Hootsuite app to look after your business' social media channels, you don't have to reveal or share any passwords for your accounts. Each member will use their own Hootsuite account instead.
If you have a business that requires a social media presence, using Hootsuite will help you be more organized and more focused. If you own a small company or just starting up, you can take advantage of the free account in the meantime, and then upgrade to Pro once you've expanded your budget. If you own a medium to large size business, purchasing the Hootsuite business account is a move you won't regret.
Hootsuite is an essential tool for managing social networks by allowing teams to efficiently track conversations and measure campaign results. – Pete Cashmore CEO, Mashable
Run your social media like a Fortune 100 company. Click the sing up button below to start your free 30 trial for Hootsuite Pro.