Everybody has experienced a runny nose at some point. A chronic runny nose can have many different causes and characteristics. For example, the color of the nasal discharge can vary as well.
In some cases, one may experience a runny nose with clear fluid that is constant or persistent.
This article explores some causes of a chronic runny nose. The article also addresses what you can do to ease the symptoms and the treatment options your doctor may prescribe.
What causes chronic runny nose?
A typical runny nose is caused by an increase in the production of nasal mucus. A runny nose can have many causes but often occurs due to the inflammation of tissues inside your nose. This inflammation is also known as rhinitis.
A chronic runny nose happens repeatedly or takes a long time to go by itself. It may present itself as an extra fluid that is produced and can drain from your nose or down to the back of your throat. This is also called post-nasal drip.
So what are some of the potential causes of a chronic runny nose?
A viral infection
Some viral infections such as the common cold and the flu can attack the tissues of your nose. To respond to this, your nose produces more mucus to trap and wash the viral particles away. This causes a persistent runny nose.
The symptoms of a viral infection may vary depending on the virus that is causing the infection. For example, according to the CDC, a runny nose happens more with the common cold than with the flu. A runny nose that is caused by the common cold may last anywhere between 10 and 14 days.
Allergies
Some allergies are a common cause of a chronic runny nose. Allergies affecting your nose are called allergic rhinitis. With allergic rhinitis, the immune system overreacts to a typically harmless substance, such as pollen, mold, or for some people, pet dander. The body reacts by having inflammation in the nasal passages and therefore increased mucus production.
Non-allergic causes
Non-allergic causes of chronic runny nose describe nasal symptoms that develop in the absence of allergies or an infection. While the exact biological cause of non-allergic runny nose is unknown, various factors can trigger, including; some foods, medication like the overuse of nasal decongestants, irritants, and changes in weather.
Infections inf the sinuses and adenoids
Sinuses or facial cavities that drain into the nose can fill with infected mucus resulting in sinusitis – an inflammation of the sinuses. Adenoids, as well, which are tissues found in the back of the nose, can also get infected and cause a similar production of mucus.
Nasal polyps
Nasal polyps are benign – meaning, non-cancerous growths that develop in the nasal passages. However, nasal polyps result from chronic inflammation in these passages and are typically associated with other conditions, such as allergies and asthma. Chronic inflammation caused by nasal polyps can lead to symptoms like a persistent runny nose.
There are many causes of a chronic runny nose. These are just but some of them.
Chronic runny nose treatment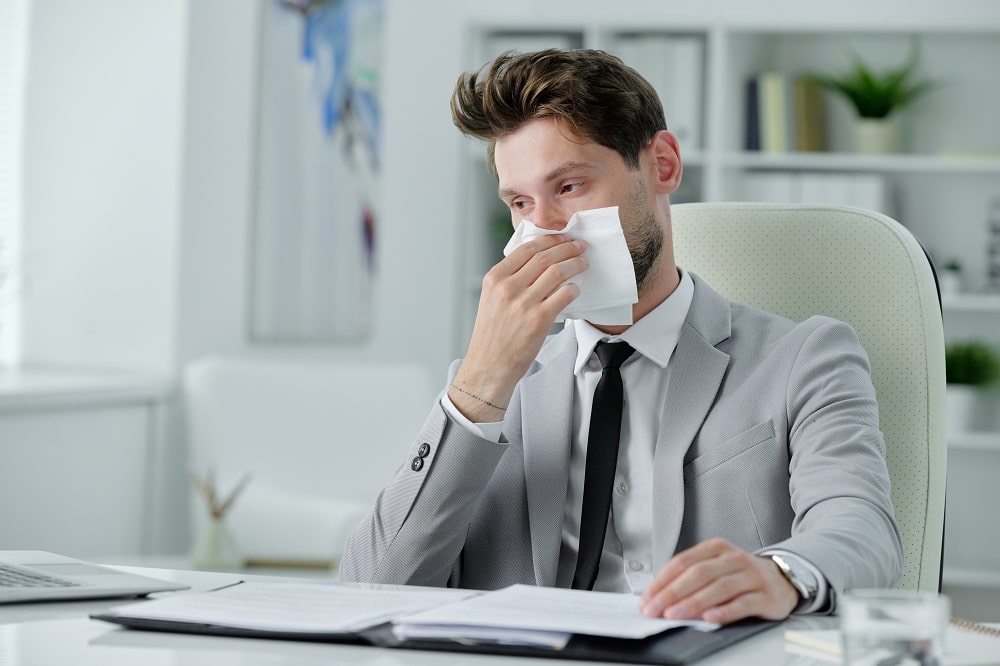 A typical runny nose will most likely go away on its own. So generally, it does not need treatment. But, for a chronic case, you might need to see your doctor, or access healthcare through a telehealth service.
It is time to see your doctor for treatment of a chronic runny nose if;
your runny nose doesn't clear up after ten days
A high fever accompanies it
You have other symptoms of a bacterial infection, such as fever and mucus that is yellow or green
You have a bloody nasal discharge
You have a nasal discharge following a head injury
Your doctor will use different approaches to treat your chronic runny nose, depending on its cause and severity. Your doctor will help you identify any irritant or allergy that you might be having and decide what treatment options to use. For most cases, avoiding the irritants works just fine. For other cases, different treatment options may be necessary, including;
Steroid nasal sprays
Intranasal steroid sprays that are applied directly into the nose are often recommended as the first line of treatment. These steroid sprays are potent anti-inflammatory and anti-allergic agents that may relieve most of the associated symptoms of a chronic runny nose, nasal congestion, and post-nasal drip.
Oral steroids
These are drugs that are highly effective, mostly for allergic patients. Oral steroids are best used for the short-term management of chronic runny noses caused by allergies. These must be prescribed and their use monitored by a healthcare professional. Their extensive use can have serious side effects and are thus reserved only for chronic cases that fail to respond to the usual treatment.
Decongestant sprays
The decongestant sprays quickly reduce the swelling of nasal tissues by shrinking the blood vessels in these tissues. This improves breathing and drainage over the short term. The use of these decongestant sprays should be limited to 3 to 5 days because of their potential to cause addiction.
Immunotherapy
Immunotherapy treatment is another treatment line used to reduce a person's response to an allergen. It works by identifying an allergen, then small amounts of the allergen are given back to the patient. The patient will then develop antibodies that will react to the allergen, and they will become less sensitive as well as less reactive to the substance causing allergic reactions.
These are some of the treatment options used, especially for the allergic causes of a chronic runny nose. The treatment options for the non-allergic chronic runny nose are typically the same. If the symptoms are brought about by an infection, then your doctor will identify and treat the infection.
Summary
There are different possible causes of a chronic runny nose, with some of the most common ones including; allergies, infections, and non-allergic causes.
For most patients, a runny nose is easily managed at home and goes away within a few days. For chronic runny nose, you might need to see your doctor who will use different treatment options, including; the use of decongestants, nasal sprays, oral medications, or immunotherapy.
References