Snow White and the Seven Dwarfs is a 1937 animated musical fantasy film produced by Walt Disney Productions and directed by a team of directors under the supervision of David Hand. The film was based on the German fairy tale "Snow White," first published in 1812 by The Brothers Grimm. It stars an ensemble voice cast, including Adriana Caselotti, Lucille La Verne, Harry Stockwell, Roy Atwell, Pinto Colvig, Otis Harlan, Scotty Mattraw, and Billy Gilbert.
Snow White and the Seven Dwarfs is undeniably one of the most successful animated films ever created. Not only because it succeeded in advancing the narrative that most stepmothers are inherently wicked. Or because it was the first animated movie ever to employ the use of a multi-plane camera. But also due to its warm and positive portrayal of little people.
The film introduces us to a beautiful but orphaned princess known as Snow White who lives with her stepmother, the Evil Queen. Jealous of Snow White's enchanting beauty and admirable character, the Evil Queen orders that the princess be murdered. However, Snow White is miraculously saved by seven dwarf miners who make her part of their household.
The surprising discovery that Snow White is still alive infuriates the Evil Queen even further. The Queen hatches yet another plot to murder the innocent princess. She disguises herself as a hag and succeeds in feeding a poisoned apple to Snow White. Snow White falls into a death-like trance from which she can only be awakened by a kiss from the prince.
Anyone who has watched Snow White and the Seven Dwarfs would agree that the seven kind dwarfs are the film's most endearing characters. And in this article, we introduce all seven dwarfs by name and personality.
1. Doc
Doc is the de facto leader of the seven dwarfs. He's the father figure that the rest of the group looks up to.
Doc is incredibly easy to tell apart from the other dwarfs. That's because he sports a white beard and wears wire-rimmed glasses. He also dons a yellow hat and an orange-brown tunic.
As the leader of the dwarfs, Doc is the most industrious of the group and is always on the go. He can be seen fixing ditches, building cabinets for Snow White's cottage, and constructing ladders. He certainly delights in doing things as opposed to simply getting them done.
However, Doc spares no opportunity to display his bossy attitude. His rather patronizing attitude has him constantly clashing with Grumpy.
And like all leaders, Doc isn't without his weaknesses and vulnerabilities. He particularly has a stuttering problem that often makes him look like a clown before what's supposed to be his subjects.
2. Sleepy
Sleepy is the direct opposite of Doc, character-wise.
While Doc delights in being constantly on the move, Sleepy would die to catch a nap at the slightest opportunity he can find. He's particularly notorious for dozing off even when it's the least of times to do so. Suffice it to say that his uncontrollable sleepiness often puts the entire pack at a disadvantage.
Sleepy isn't difficult to recognize at all. If you miss him for his droopy eyes which are eternally half-closed, then you'll spot him for his mouth that barely moves when he speaks. The only sounds he's perfect at making are yawning and snoring.
Sleepy's other defining feature is his tummy that's always protruding from the hem of his pants. Besides, he always looks fatigued even right after waking up from deep slumber.
In terms of dress code, Sleepy can be seen donning a brown shirt, orange pants, and a green hat.
3. Happy
As his name rightly implies, Happy is the jolliest of the seven dwarfs. He seems to enjoy more enthusiastically things that the rest of the group would consider simple pleasures. For instance, he has a penchant for eating, partying, and cheering the other dwarfs.
Happy shares certain fundamental traits with Doc. Both characters are relatively plump. They also have a large white beard.
However, Happy is distinguishable from Doc in that he doesn't wear glasses.
Thanks to his personality, Happy always spreads love and joy to his fellow roommates. He's the one character that will light up any occasion, no matter how gloomy or empty.
Another interesting fact about Happy is his outgoing personality. He's the only character who was courageous enough to introduce himself to Snow White. The rest of his roommates were so blown away by the princess' beauty that they were speechless.
4. Grumpy
If Happy is the jolliest of the seven dwarfs, then it's only natural to expect Grumpy to be the most easily irritated. And you wouldn't be wrong in your presumptions.
Grumpy aptly lives up to his name. This character is instantly recognizable by his hair-trigger temper. His frequent and unnecessary outbursts are epic. When he's not complaining bitterly, he's actively seeking out something to complain about.
In fact, it would appear as if Walt Disney incorporated this character into the film to draw more attention to the more likable dwarfs like Happy.
However, there's a pleasant side to everyone, and Grumpy has his too. The character is outstanding for his tender care and devotion to his loved ones. He's actually the one who leads the daring quest of saving Snow White from the malevolent Queen.
Grumpy is also distinguishable by his big nose. Besides, he wears a red shirt, brown pants, and a brown hat.
5. Dopey
Dopey is another character from Walt Disney's 'Snow White and the Seven Dwarfs' that nearly everyone who has watched the film immediately falls in love with. That's probably because he's Snow White's favorite dwarf.
Dopey doesn't speak and is also intellectually challenged. He's fairly goofy too, and has a way of wreaking havoc in the household even without realizing it.
But despite all his limitations, Dopey can be occasionally charming. He's one of the characters in the film that lights up the room whenever he comes in. Also, the fact that he's largely unaware of his mishaps speaks to his primitive innocence.
In terms of appearance, Dopey has the face of a child. His cheeks are rosy and he dons an oversized green tunic complete with a yellow shirt and a purple hat.
Due to his childlike face, Dopey is unsurprisingly the only dwarf not to have a beard.
6. Bashful
Bashful is the most romantic of all seven dwarfs. He can be seen batting his soft little eyelashes whenever Snow White is around, ostensibly to catch her attention.
Bashful also blushes a lot in Snow White's presence. He does this by hiding behind his beard and covering up his face. During these intense moments of anxiety, the character struggles to express himself.
Although he has a deep admiration for the princess, Bashful never seems to summon enough courage to approach her. He's speechless whenever his love interest is around and only prefers to share his feelings with the rest of the dwarfs.
Bashful is also incredibly cute. Whether she's flirting with Snow White or embarrassed that her overtures aren't receiving the attention they deserve, this character retains his charm and beauty.
Bashful dons red pants, a gold shirt, and a green hat.
7. Sneezy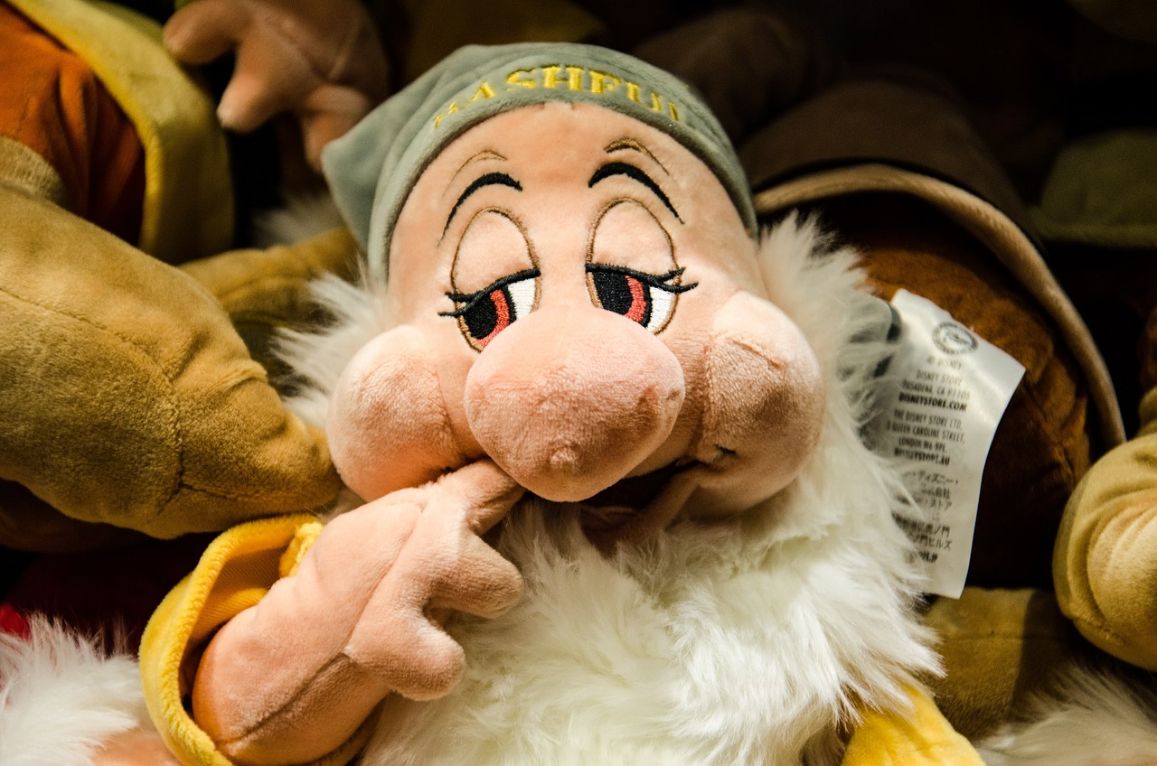 The last of The Seven Dwarfs is by no means the least. In fact, he's just as charming as most of his roommates.
True to his name, Sneezy sneezes a lot. He walks around with his finger placed under his nose in an attempt to suppress a sneeze.
However, Sneezy's sneezes are so powerful that they usually come out anyway. So strong are the sneezes that they can often move objects as heavy as furniture.
Sneezy's endless sneezes are due to hay fever. The disease has him nursing other symptoms too, such as a stuffy nose. And did you know that this character was voiced by Billy Gilbert who had dealt with allergies too?
Besides sneezing a lot, Sneezy is also noted for his loud snores. But unlike Sleepy, this character doesn't sleep a lot.
Sneezy is also a friendly and kind-hearted dwarf. He dons red pants and a brown shirt with a gold hat.
Final Word
It doesn't matter whether you're into animations or not. You're bound to be overwhelmed by the charm and warm-heartedness of the seven dwarfs in Snow White and the Seven Dwarfs.