Last Updated on January 24, 2023
Proposing to the love of your life is one of the most nerve-racking things you'll ever do, so naturally, you want to plan every detail and ensure the timing is just right. But remember, as the famous quote from Harry met Sally goes: "When you realize you want to spend the rest of your life with somebody, you want the rest of your life to start as soon as possible." So don't bother too much about making everything flawless. Just focus on making it meaningful, and the rest will fall into place.
Should I Propose Before or After Dinner?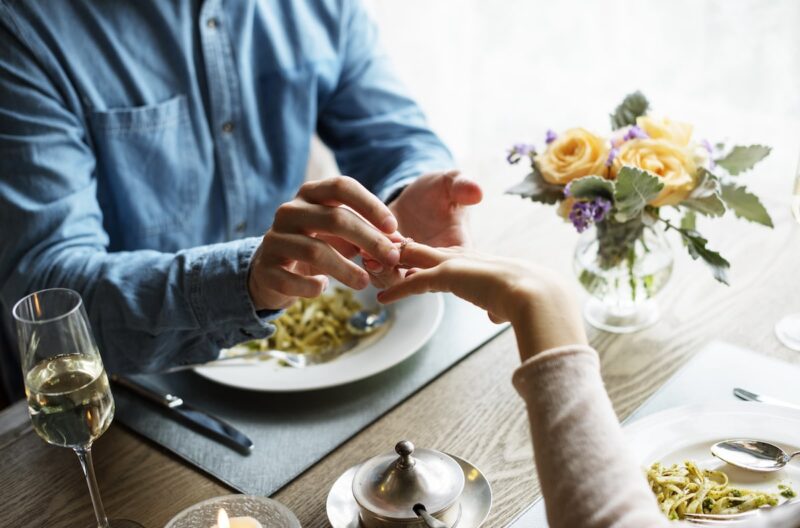 In all honesty, there is no specific answer to the pressing question of whether to propose before or after dinner. Both options have their pros and cons, so it's important to weigh them carefully before deciding. Ultimately, the decision of when to propose is up to you; just consider what would be most meaningful for you and your partner and go with that.
A Pre-dinner or Post-dinner Proposal – The Pros and Cons
In this section, we'll consider the pros and cons of proposing before or after dinner as it relates to various important factors, including personality, intimacy, chances of mishap, and the possibility of rejection.
Personality
BEFORE DINNER – a pre-dinner proposal is more suitable for individuals with anxious temperaments: imagine sitting through a 4-6 course meal with your anxiety getting the best of you because all you can think about is your impending proposal? It sure doesn't seem nice, especially if your partner picks up on your nerves and it becomes an issue. A pre-dinner proposal might be your best bet if you have difficulty managing your nerves; this option lets you get the proposal done quickly, allowing you to enjoy the rest of your night. 
AFTER DINNER – a post-dinner proposal is befitting for people who don't seem to be affected by nerves. However, choosing to propose after dinner may make your proposal seem abrupt and lackluster since there's literally nothing else to do unless you have other things planned. 
Chances of Mishap 
BEFORE DINNER – another pro to a pre-dinner proposal is that there are fewer chances of your proposal going wrong since there's no food involved yet.    
AFTER DINNER – we're all too familiar with the food mishaps that can happen in public places, especially when the food is so good! Proposing after dinner means you might have to contend with several unpleasant contingencies, including allergic reactions, wardrobe malfunctions from overeating, food spillage, or even food poisoning, and the list goes on. While these misfortunes don't always happen, it is important to consider them when deciding.
Possibility of Rejection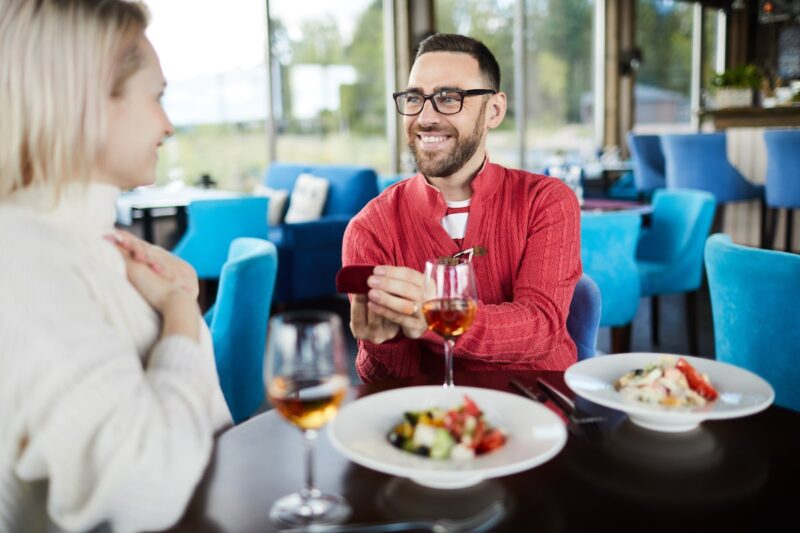 BEFORE DINNER – a pre-dinner proposal means that dinner afterwards becomes something special if all goes according to plan. Proposing before dinner makes your dinner a celebration for you, your partner, and invited family and friends. You get to spend time together over delicious and expensive food. But what happens when your partner turns down your proposal? You'd have to sit in awkward silence and eat a whole meal with this person who has just broken your heart- that'll hurt.
AFTER DINNER – Next to a severe allergic reaction, the worst thing that could happen at a proposal date is your partner saying no. In the event that this happens, you can both leave the restaurant without any drama. A proposal rejection can be excruciatingly painful, but at least you know you enjoyed your dinner!.
Intimacy 
BEFORE DINNER – you might have decided on a dinner proposal because you and your partner crave intimacy; however, a pre-dinner proposal might defeat this purpose since there's barely any privacy (unless you paid for a reservation of the entire restaurant).
Proposals often attract attention, and with a before-dinner proposal, you cannot control the level of attention yours will get. Sitting down to dine after your proposal means that everyone is either looking at you, congratulating you, or sharing unsolicited tips for your impending marriage. If this bothers you, you should definitely consider proposing after dinner.
AFTER-DINNER – as a follow-up from the previous point, proposing after dinner is preferable if a large audience will be a problem for you or your significant other. If you propose after dinner, you can leave the restaurant soon after, avoiding any onlookers who attempt to get involved in your business.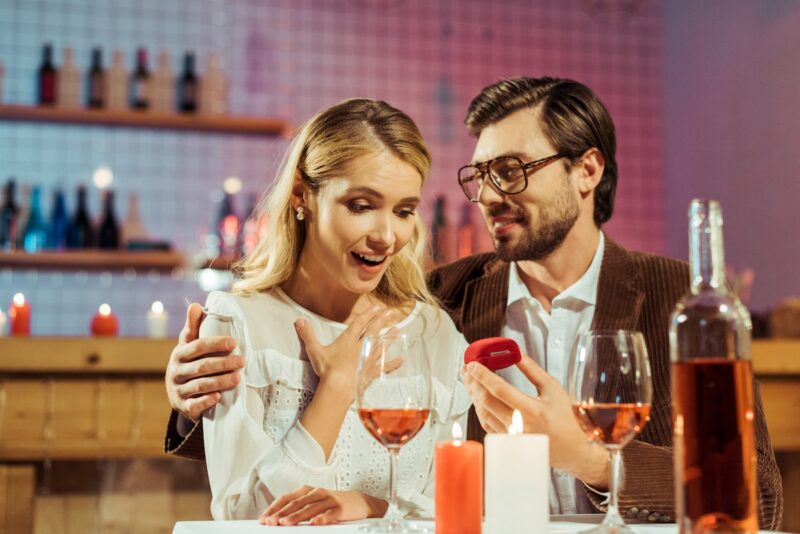 We have come to the end of our list, and we certainly hope that you can weigh the pros and cons of a pre-and post-dinner proposal and come to a conclusion that is most appropriate for you and your partner. And if you eventually decide not to have a dinner proposal, there are certainly other types of proposals you can have. Whatever you eventually decide on, we are rooting for you, and we certainly do hope that you have the perfect engagement.