Since 2006, when it first launched, Twitter has grown to unprecedented heights. Home to over 330,000,000 accounts, it has become a powerhouse of content sharing. From multimedia corporations to worldwide news sites, to Donald Trump, to the average person, Twitter is a platform through which anybody can give their own views, offer the latest news, and subscribe to the views of others.
Video content has become an increasingly important part of the platform recently, and downloading, or saving this video content has become more and more popular. Unfortunately, you cannot download videos or GIFs directly via Twitter just yet, so, if you wish to do so, you will need a third-party video downloader. This article looks to give you 6 of the best video downloaders that you can use to make saving Twitter content easier than ever before. 
What is a Twitter Video Downloader? 
In short, they are exactly what they say on the tin. They are a downloadable tool or application that cater specifically to saving videos or files shared on Twitter for offline use. There are a host of tools available that cater to different file types and come at different price points. However, a majority of them are free, powerful and do exactly what you need them to do without having to pay a penny. Most of the tools on this list are in fact free, and yet still offer great service. 
Why you may need a Video Downloader
Twitter and the Twitter feed is always moving at such a fast pace, so keeping up with the breadth of content can be challenging. Having a tool that you can use to download videos or GIFs that you have seen whether funny or educational means that you do not need to spend any time searching later on.
Furthermore, you may not have constant or consistent Internet access, so having a downloading tool allows you to save the videos for viewing later on if you need it. Also, if you know somebody that is not on Twitter, you can download content and send it to them independent of the app. 
What to look for in a good Video Downloader?
Value
While a majority of video downloaders can be free, some do charge for their services. However, many of the services that require you to pay are usually more advanced and will allow you to download and edit videos into different formats from other platforms. So, it is important to do research before you commit to any particular service, because even though some are more expensive than others, a service that requires you to pay may be more worthwhile. 
Ease of Use
This is crucial comment especially because all of the downloaders will be separate third-party software. You will want to ensure that the service has a user-friendly interface that allows for quick and efficient downloading of documents. 
Compatibility
This is not just about compatibility across platforms like Apple, Android, or desktop devices for thought rather, it is about its ability to download different file formats and potentially download content from different sites, making them multi-functional. 
The List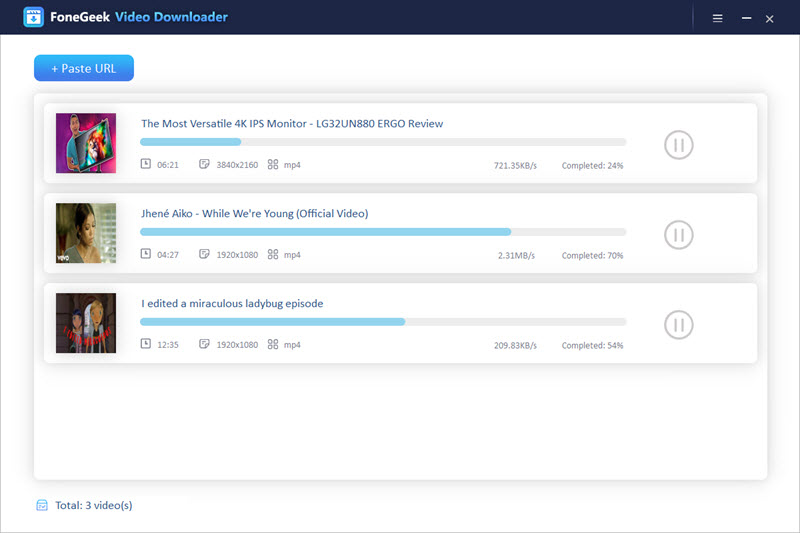 The easiest method for downloading Twitter videos is to utilize a third-party tool named FoneGeek Video Downloader; all you need to do is paste the link to the tweet and download it to your computer. This tool comes with a clean and easy-to-navigate interface, you won't see any annoying ads while downloading. The download process is lightning-quick and you can download multiple videos simultaneously.
In addition to Twitter, you can download videos from YouTube, Facebook, Vimeo, Dailymotion and many other video streaming sites. You can download high-quality videos, including HD 1080p, 4K and even 8K resolution. Also, you're able to extract audios from videos and save in MP3 format depending on your needs.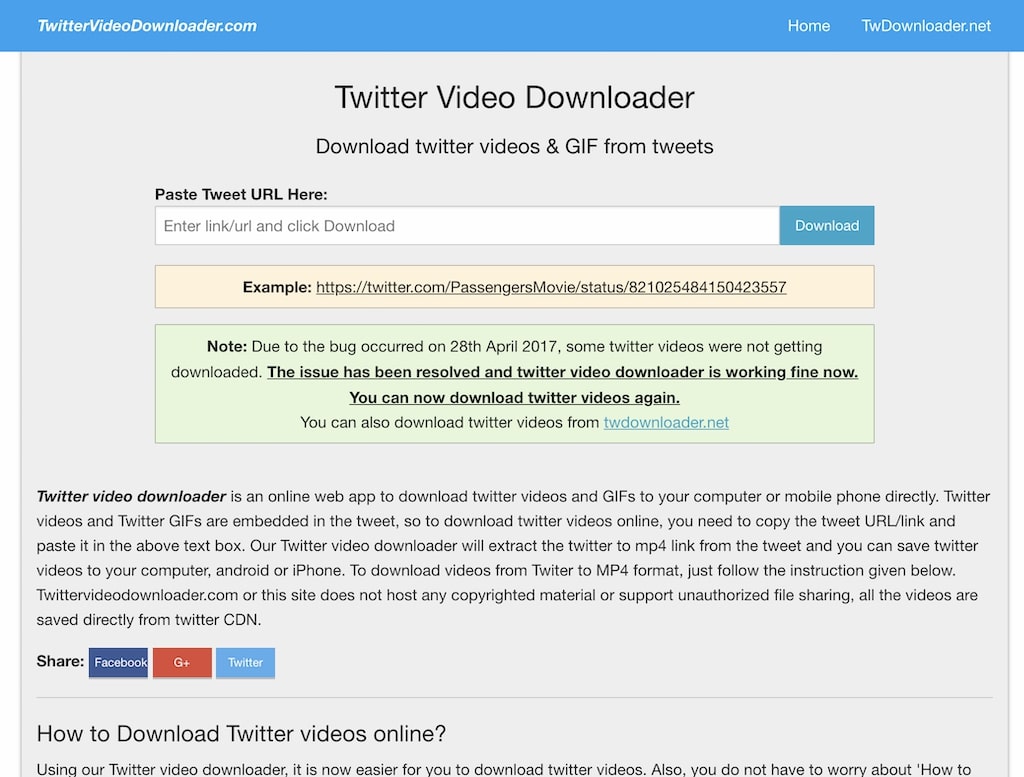 In terms of simplicity, Twitter Video Downloader is as good as it gets. It has a web app that can convert tweets with the embedded video or GIF into an MP4 file that is ready to be stored on your phone or computer. It has a very minimal and easy to use design and interface, which gives the user instructions on how best to upload and download a file if help is needed.
Using Twitter Video Downloader is simple, just copy and paste the URL into the bar, and it will work its magic for you. It does not contain any ads or annoying malware which is a big plus, and best of all, it is free to use. Compared to services last charge, it is a little more limited in what it can do, however that is to be expected and if you are just looking for a tool that can download Twitter videos specifically, then I would say that this is one of the top options available.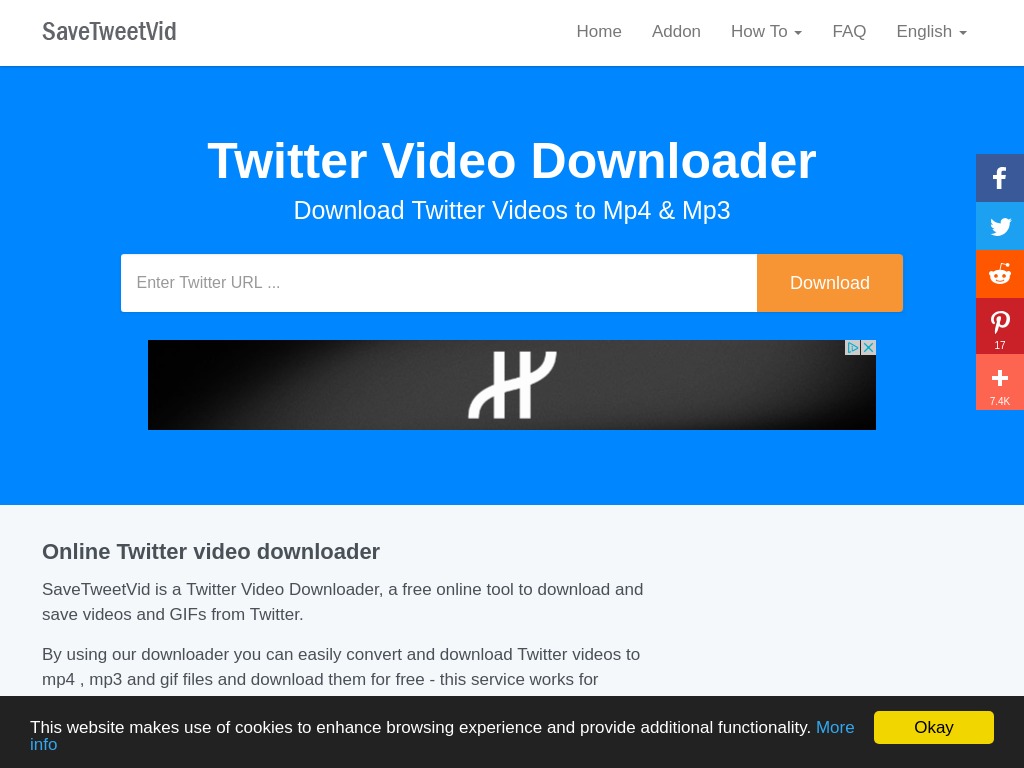 The name says it all, SaveTweetVid is another popular Twitter video downloading service that you can utilise to save and download content that you like on the platform. It is similar to Twitter Video Downloader in that it is compatible across all devices and downloads into MP4 format.
However, where it differs is that it also lets you convert into MP3 files as well. It is available in a variety of languages, so it caters to non-English speaking Twitter users too, and does not require any signups or registration fees. It is easy to download, easy to navigate, and easy to use. Another quality option.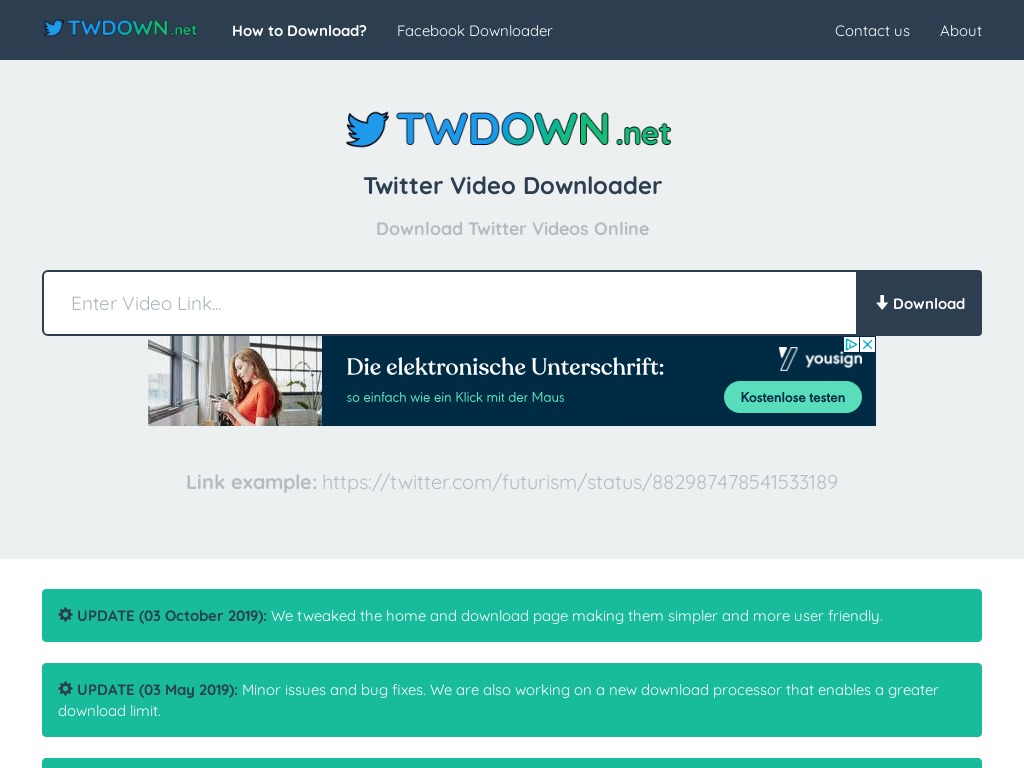 Yet another easy to use and easy to follow video downloading service, TWDown.net allows you to copy, paste and, convert files into MP3 or MP4 format quickly and easily. All you need to do is copy and paste your URL. It prides itself on utilizing its fast and efficient servers to allow the user to download content at fast speeds.
The ability to use TWDowns powerful servers to quickly download MP3 files also means that you can listen to music or sound effects that you like with ease, a feature that I like. As well as being free to use, it also updates regularly, looking to make the user experience better and more up to date. It is quite similar to the previous two services however it is faster at both processing and downloading. 
If you are looking for either a good video downloading app or something a little different, MyMedia is a quality option. It is compatible only with iOS, which is its main downfall, but it does offer a wealth of features for those who cannot get access. What I like about it is, it lets you download videos from other platforms like Instagram and Facebook as well as Twitter.
This offers more variety for the user, allowing you to save any video or GIF onto your camera roll effortlessly. It is also free, which is a bonus considering the fact that it is such a powerful and versatile application. There is an audio player as well as a video one and there is a nice security feature that allows only the owner to access via a code.
However, it can be complicated to use, and considering the fact that there is no tutorial on how to use the platform, there can be a learning curve attached. Although, once you get used to it, MyMedia is a free, powerful, and versatile application that although only happens to be available to Apple users, is a great choice.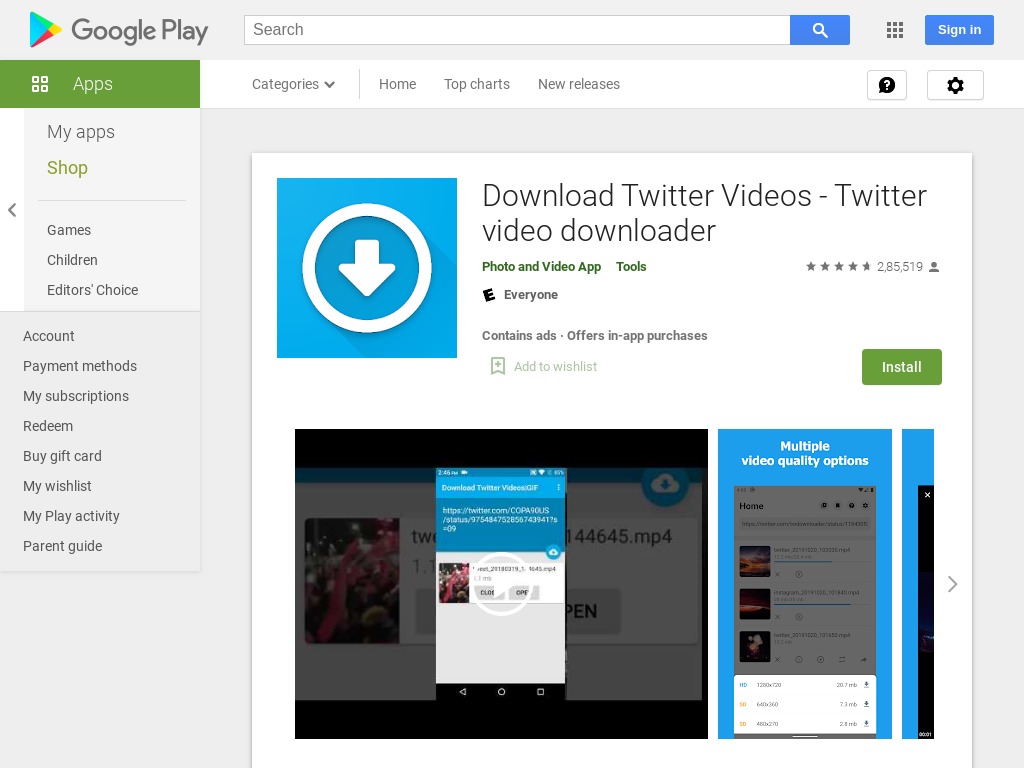 If I am going to suggest an Apple exclusive, it is only fair to give an Android exclusive too. While I am sure it is not famous for its creative name, Download Twitter Videos does have many attractive features, and with nearly 200,000 installations on Android devices, you can be assured that it is a popular and trusted application.
It has no ads, it does not redirect you anywhere, and there are no in app purchases attached to it. All you need to do is enjoy its simple interface and utilize the easy-to-use features to download videos or GIFs from Twitter. It has a built-in video player and allows you to secure videos with personal pass codes to.
I like this level of security, even if it is only surface level. There are a few small bugs and errors that happen from time to time but the app does have regular updates and those fix issues when necessary. 
Now for something totally different! Jihosoft is not used a video downloading service, it is a robust software that can download in 4K and 8K from any platform. You can convert and edit video files, edit audio files, download YouTube playlists as well as download twitch highlights and full streams.
It is perfect if you wish to watch any videos from any platform in an offline capacity. As well as giving you these advanced tools and editing capabilities, downloading is also simple, similarly to other services, just copy and paste your URL, select your format and desired resolution and you are good to go. It has a one click download feature that is also useful, this takes any hassle away from the process and lets you download any video with the press of a button.
It does come at a cost however, but at $30, it does not break the bank and with its host of advanced features, you can enjoy content not only from Twitter, but from any platform with ease.