Warren Buffett is one of the wealthiest and most respected investors in the world. His sharp entrepreneurial instincts started at a young age and helped him build his own business empire. Now in the prime of his success, he gives back to the community as a philanthropist.
Early Life
Warren Edward Buffett was born on August 30, 1930, in Omaha, Nebraska. His father, Howard, was a stockbroker and eventually became a US congressman. Growing up, he was well-exposed to his father's profession and showed strong interest in stocks. He developed an early propensity for financial and business matters.
Buffett's childhood in Nebraska was largely shaped by the Great Depression. As a young boy, he learned the value of money and lived a frugal life. He made his first investment at the tender age of 11 when he bought three shares of the Cities Service Preferred, then worth $38 a share.
He eventually sold the shares for $40, only to regret the decision afterwards when Cities Service rocketed to around $200 per share. This experience taught him the importance of patience in the world of investment.
At age 13, he started working as a paperboy, delivering Washington Post dailies every morning and afternoon. The next year, he reached his first financial goal of saving $1000. From grade school through high school, he continued to demonstrate his money-making skills.
Apart from being a paperboy, he sold candies, beverages, stamps, golf balls, and magazines. He also worked as an editor of a horseracing tip sheet. He made another investment in the form of pinball machines for a pinball leasing business he started with a friend. Their first clients were their classmates.
The Makings of a Business Magnate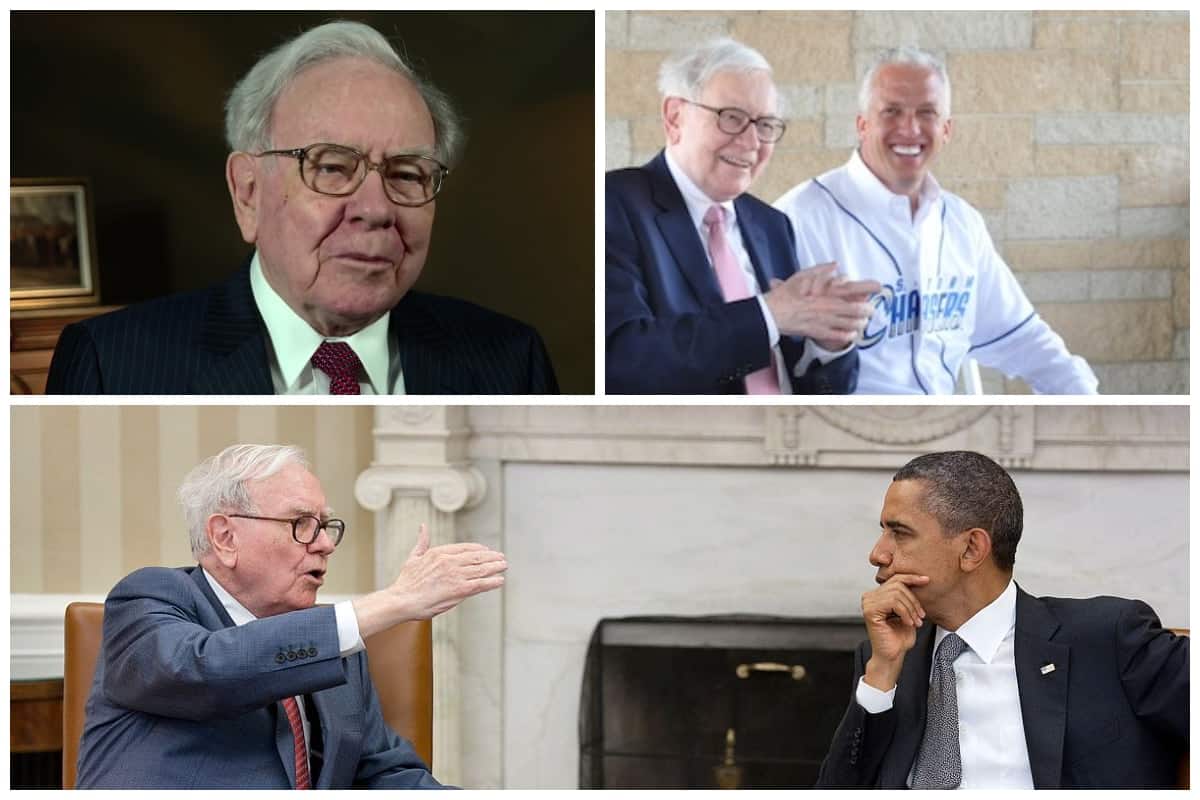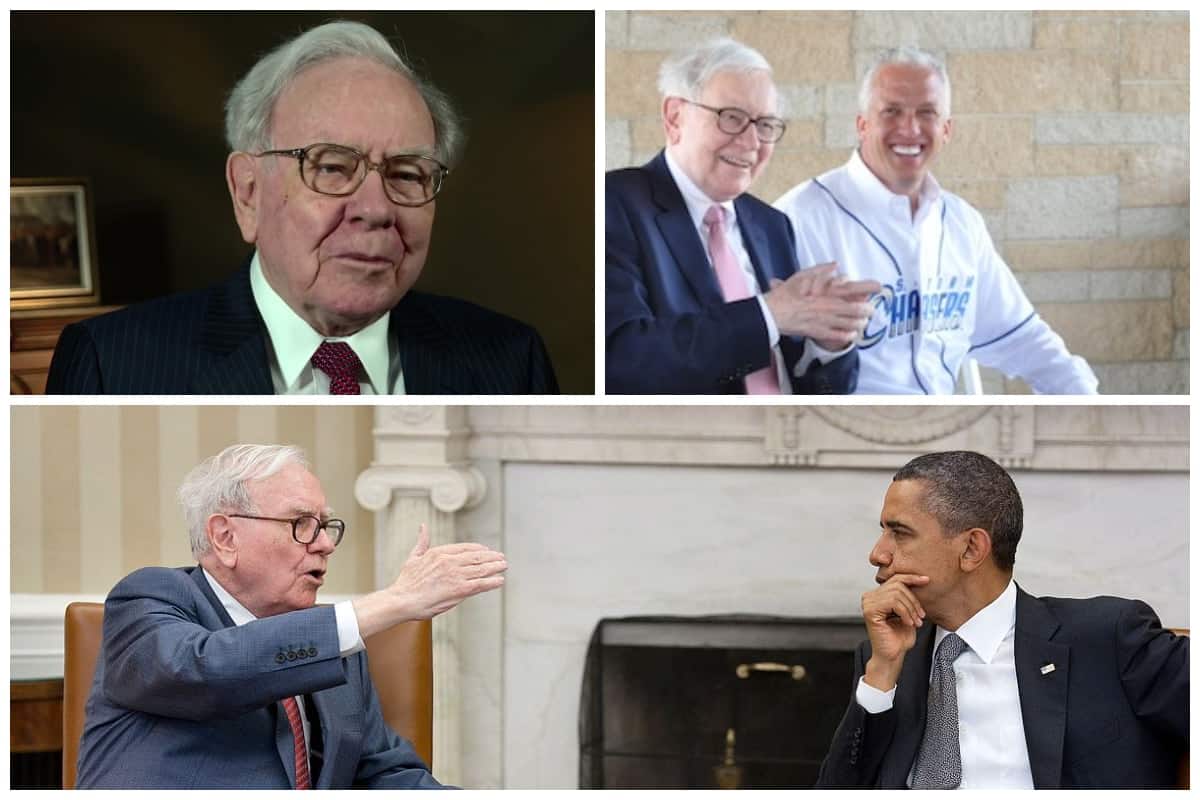 At 15, Warren had saved over $2000 which he used to purchase a 40-acre farm in his hometown and hired a farmer to work on the land. He used the profits to pay for his education although he initially did not plan to attend college.
With much prodding from his father, he went to the University of Nebraska and graduated with a degree in business administration within three years. Warren applied to Harvard Business School but was declined. He then went to Columbia Business School to learn from Benjamin Graham and David Dodd, authors of "The Intelligent Investor", a book that had a huge impact on him. He earned a Master's Degree in Economics at the age of 21.
In 1956, Warren went home to Omaha and started his own investment firm, Buffett Partnership. Knowing that he can make enough money from his investments, he had planned to retire although he was only 26 at the time.
Through the influence of his mentors and business partners, he pursued his goal of being a millionaire by the age of 35. His most significant investment happened in 1962 when he bought shares in textile manufacturer Berkshire Hathaway.
Exemplifying his intelligence and expertise, he invested in the struggling company despite having no knowledge about textile manufacturing. Two years later, he acquired chairmanship of Berkshire Hathaway and expanded into other industries. He bought assets in media, particularly in Washington Post, which he used to sell as a boy.
He also invested and became the company director of Coca-Cola, a beverage he sold to his classmates in grade school. Other companies added to the Berkshire Hathaway stable are GEICO (insurance company), Exxon (oil company), Duracell (battery maker), Dairy Queen (restaurant chain), and Kraft Foods Group (food and beverage company).
Warren earned the nickname "Oracle of Omaha" for all his business success. In 2007, he made it to TIME Magazine's 100 Most Influential People. The next year, he was proclaimed the richest person in the world by Forbes, with a net worth of $62 billion.
Philanthropy and Legacy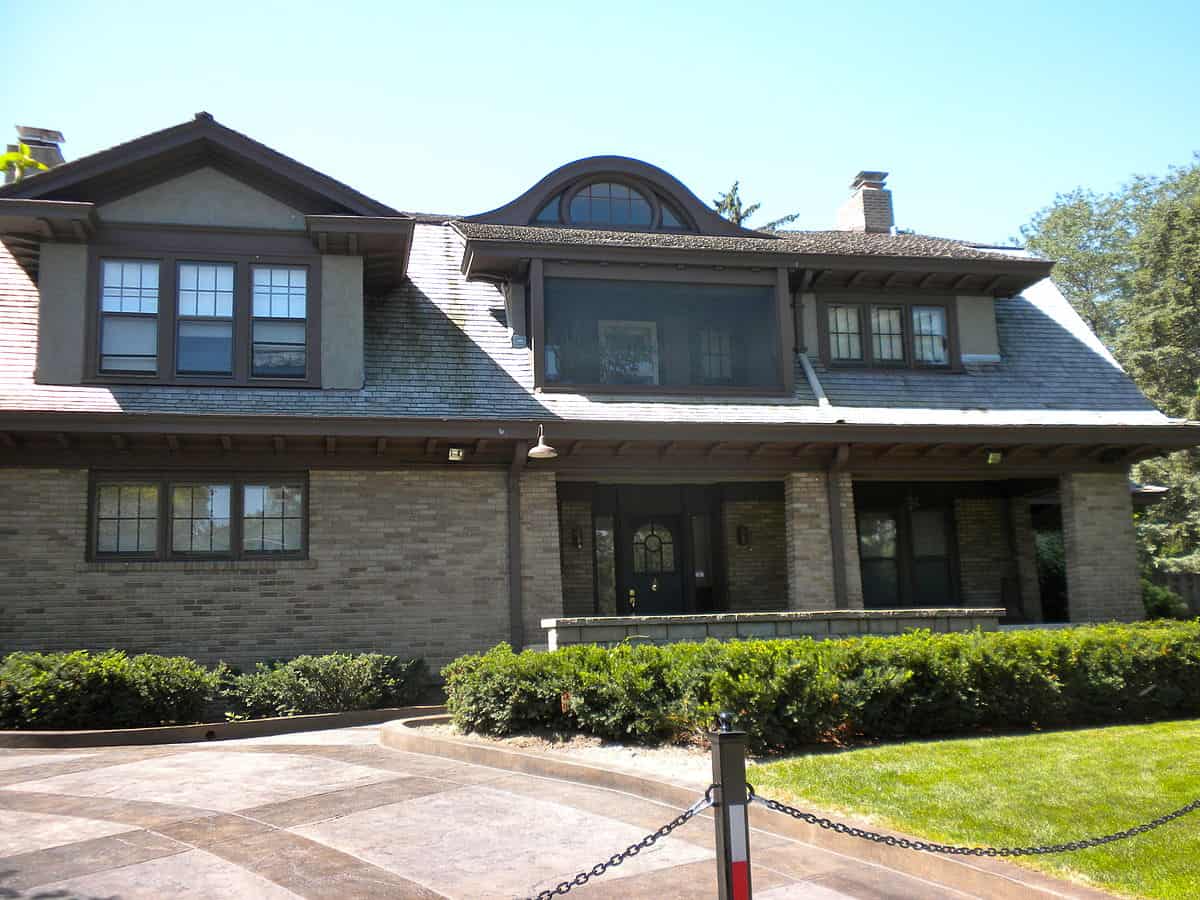 Despite building unthinkable wealth, Warren has been living a quiet and modest life.
In June 2006, he committed to donate more than 99 percent of his fortune to charity, with most of it to go to the Bill and Melinda Gates Foundation. He donated 10 million shares of Berkshire Hathaway worth approximately $31 billion, making it the largest charitable donation in history.
In 2010, he launched "The Giving Pledge" with his friends and fellow-millionaires Bill Gates and Mark Zuckerberg. They vowed to donate at least half of their wealth and encouraged other millionaires to follow suit.
Warren is now well into his eighties but continues to be an inspiration in the world of business and beyond. It has been reported that at least 47 books honoring Warren and his success have been published.
The CEO of Border Books revealed that the only living persons that have the same number of books written about them are former US presidents, world leaders, and the Dalai Lama.
Warren Buffett Quotes
Here are 40 of the most inspiring Warren Buffett quotes: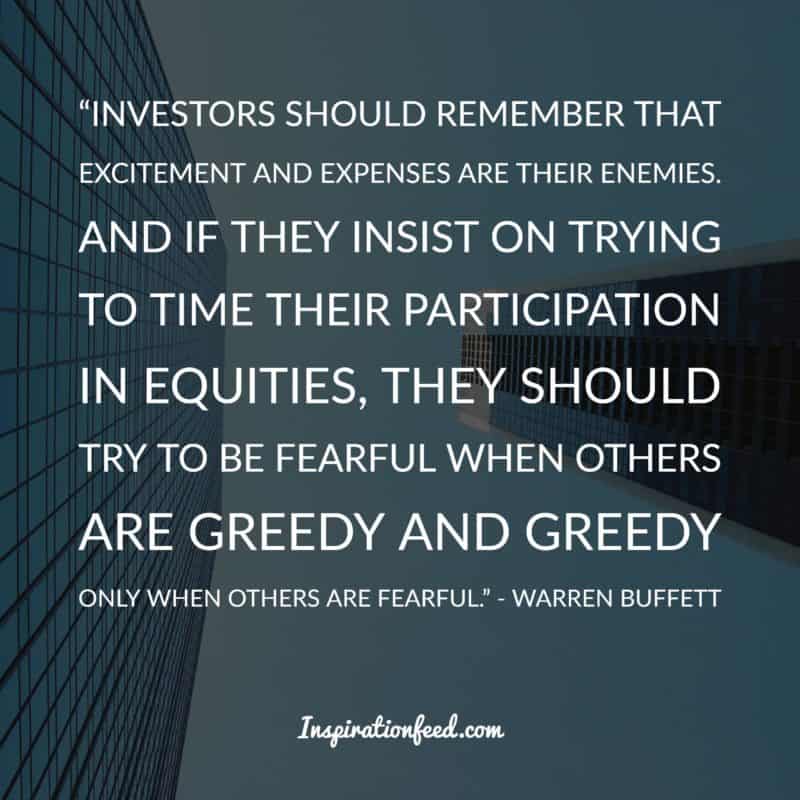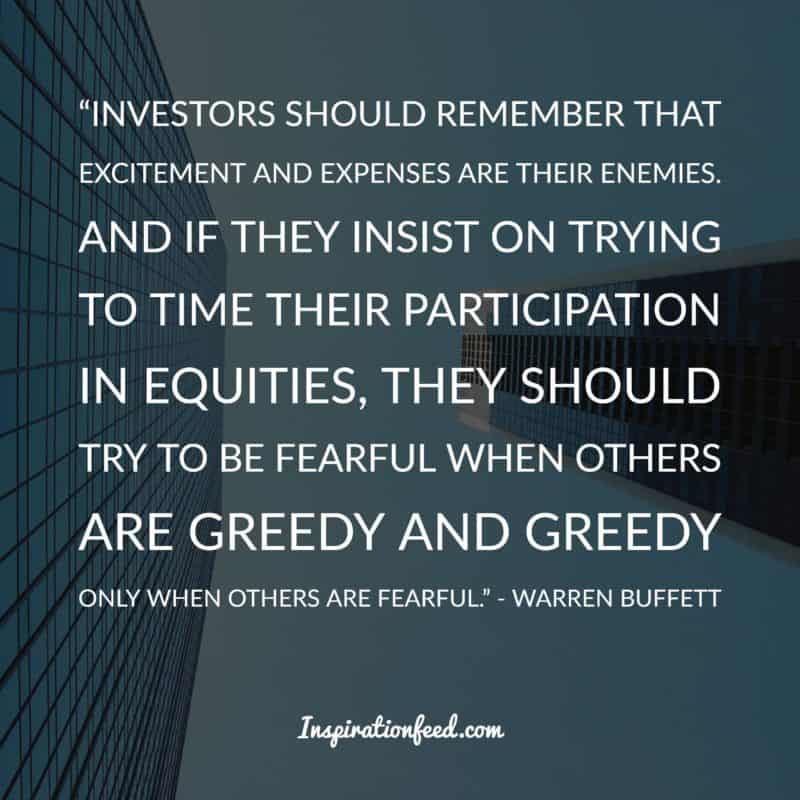 "Investors should remember that excitement and expenses are their enemies. And if they insist on trying to time their participation in equities, they should try to be fearful when others are greedy and greedy only when others are fearful." – Warren Buffett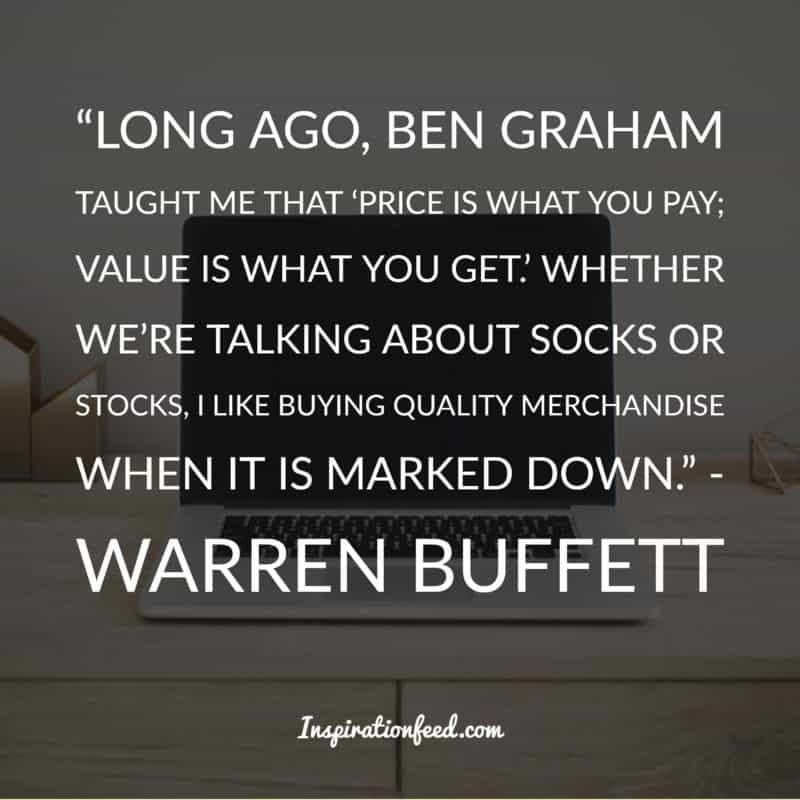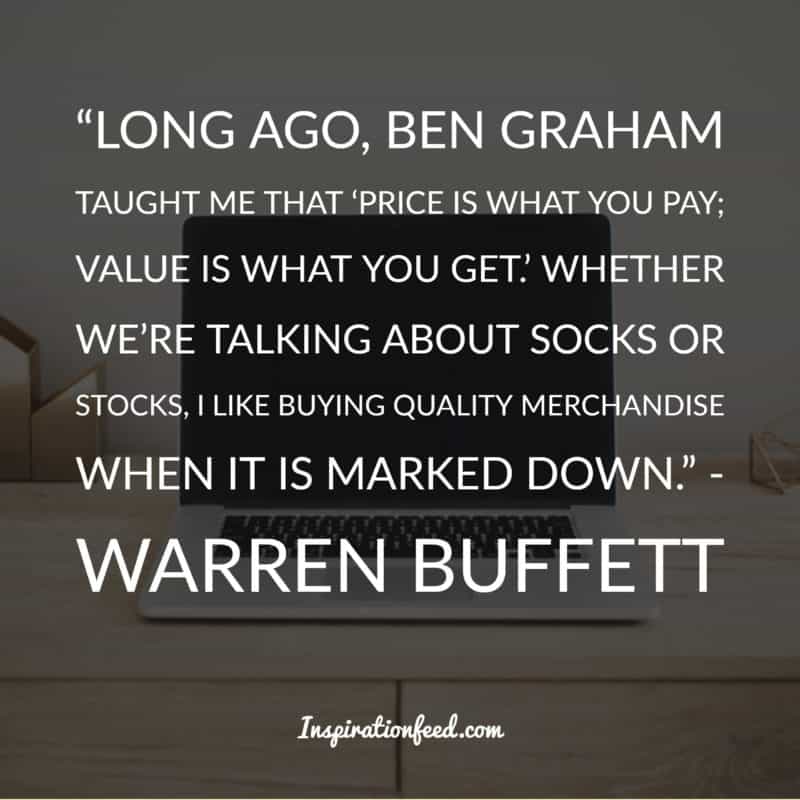 "Long ago, Ben Graham taught me that 'Price is what you pay; value is what you get.' Whether we're talking about socks or stocks, I like buying quality merchandise when it is marked down." – Warren Buffett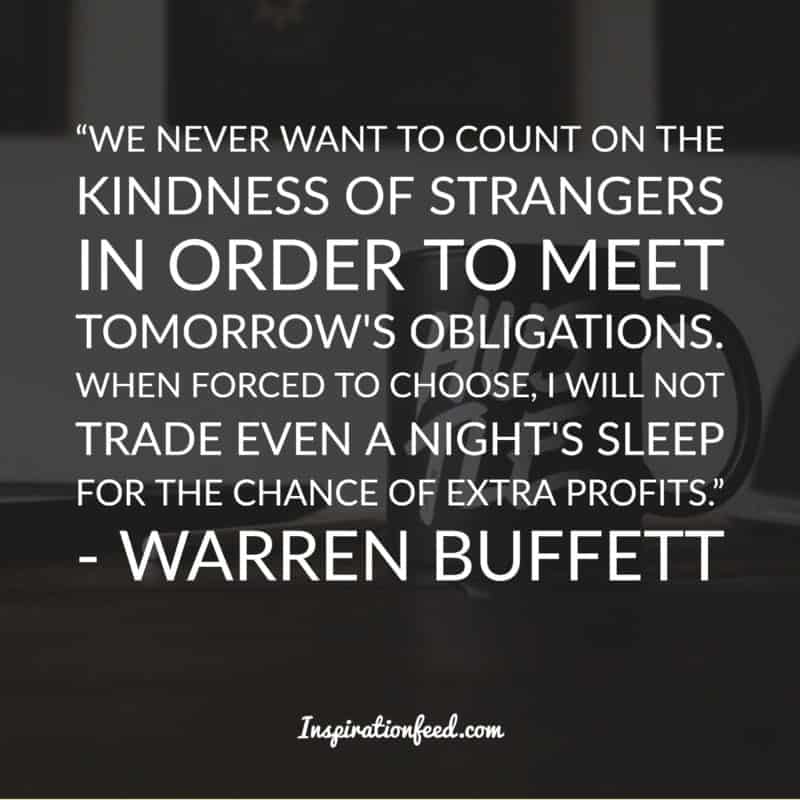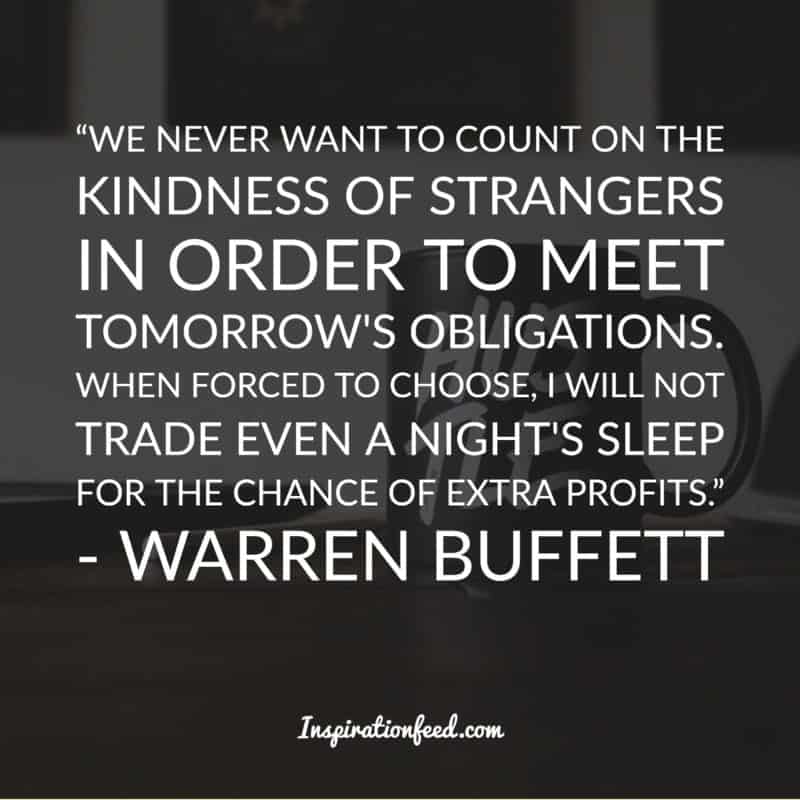 "We never want to count on the kindness of strangers in order to meet tomorrow's obligations. When forced to choose, I will not trade even a night's sleep for the chance of extra profits." – Warren Buffett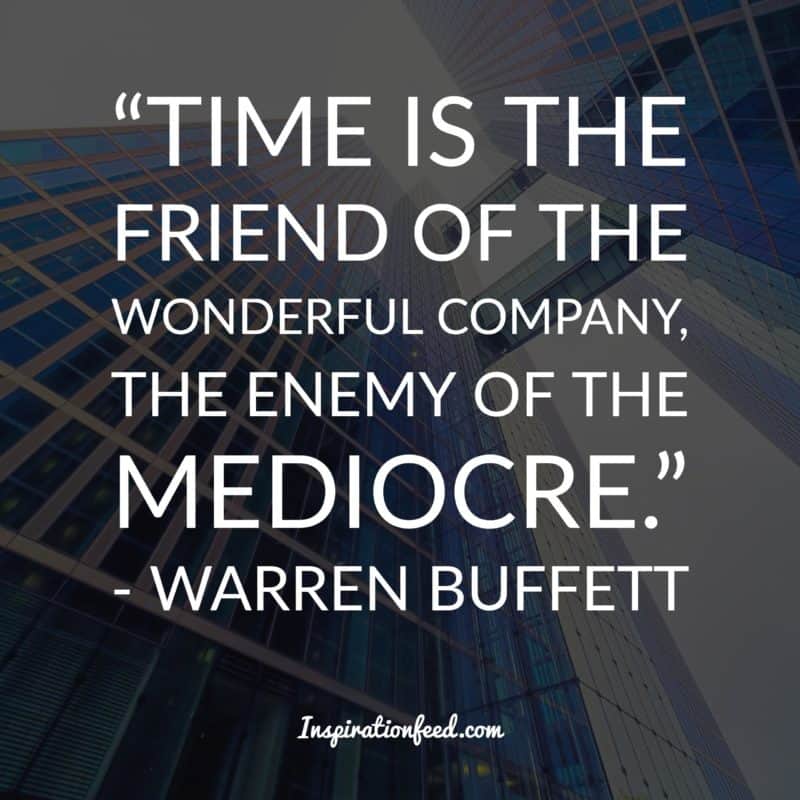 "Time is the friend of the wonderful company, the enemy of the mediocre." – Warren Buffett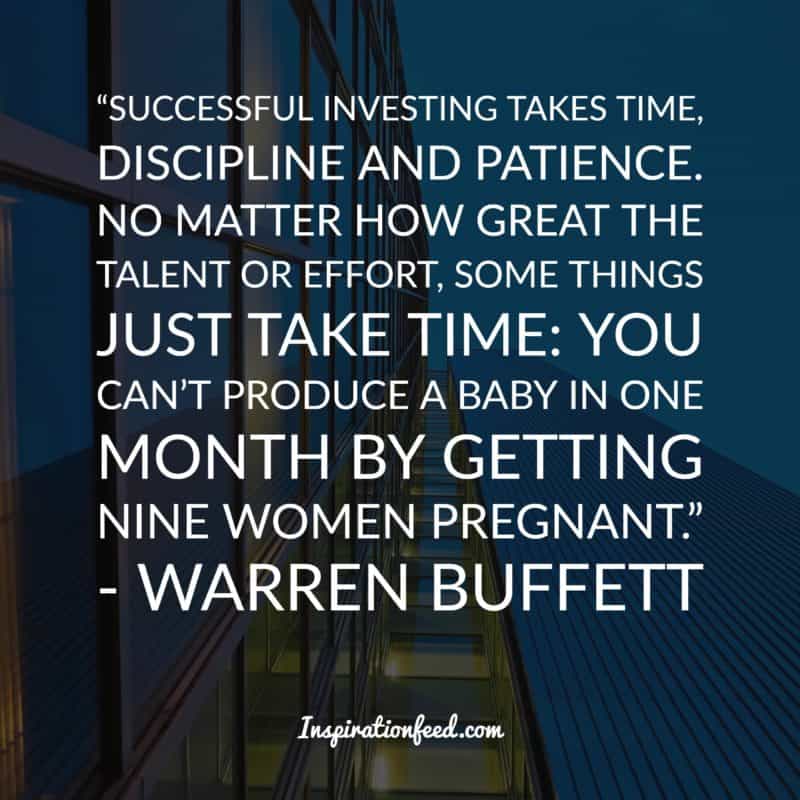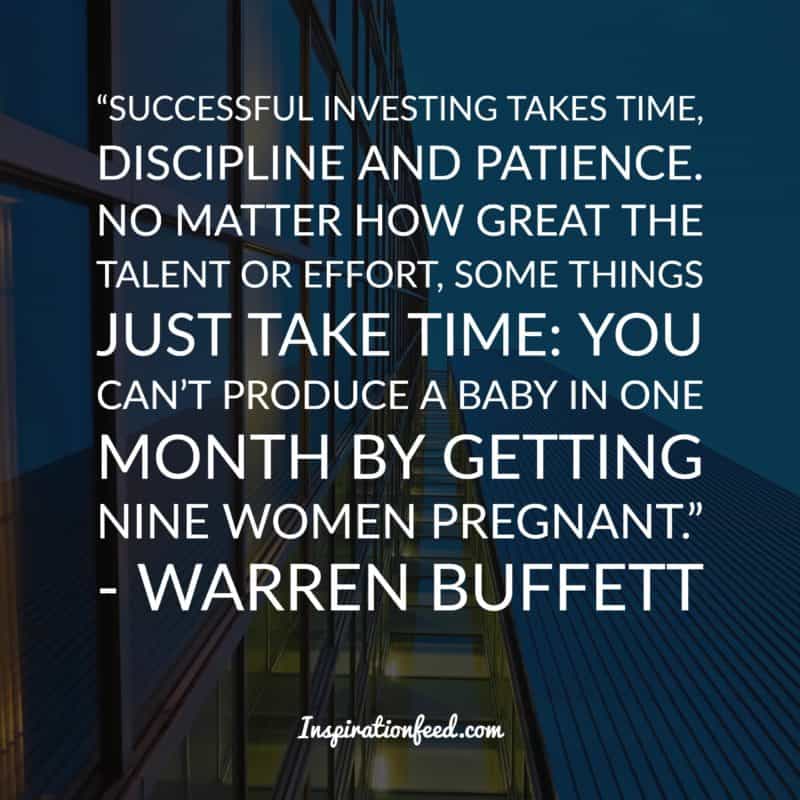 "Successful investing takes time, discipline and patience. No matter how great the talent or effort, some things just take time: You can't produce a baby in one month by getting nine women pregnant." – Warren Buffett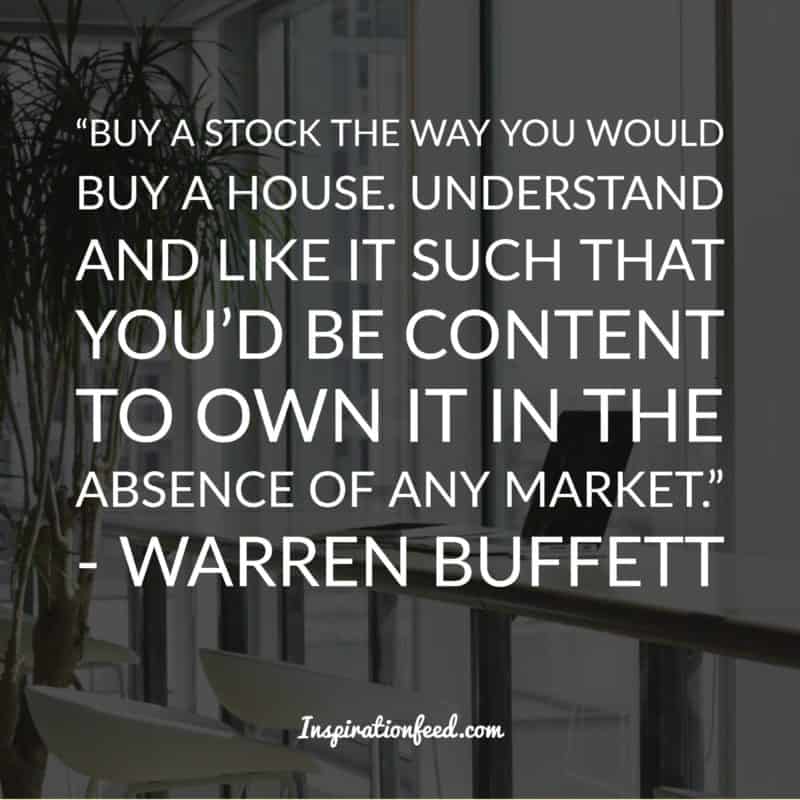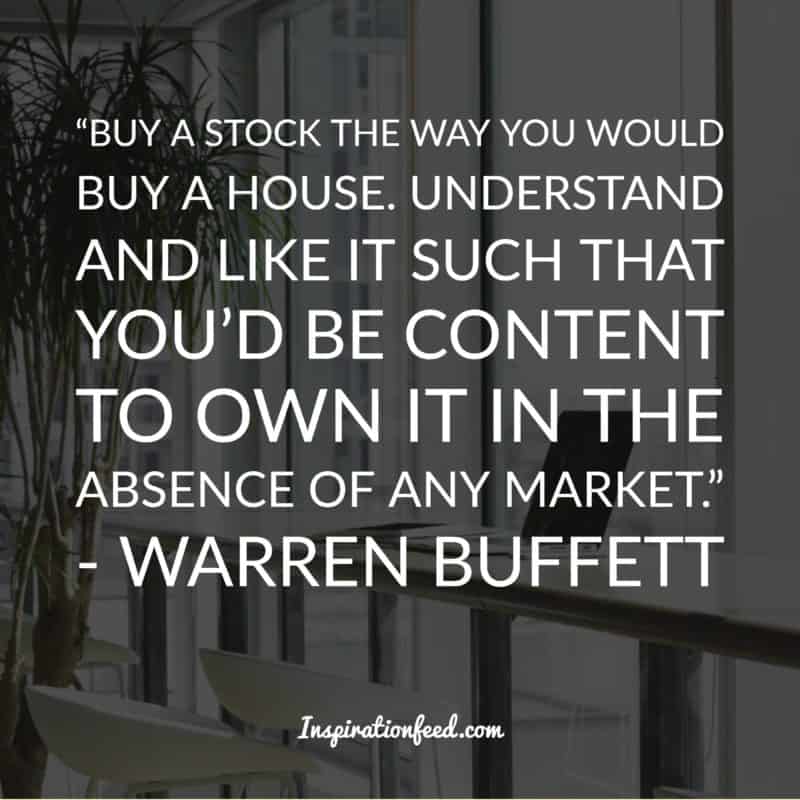 "Buy a stock the way you would buy a house. Understand and like it such that you'd be content to own it in the absence of any market." – Warren Buffett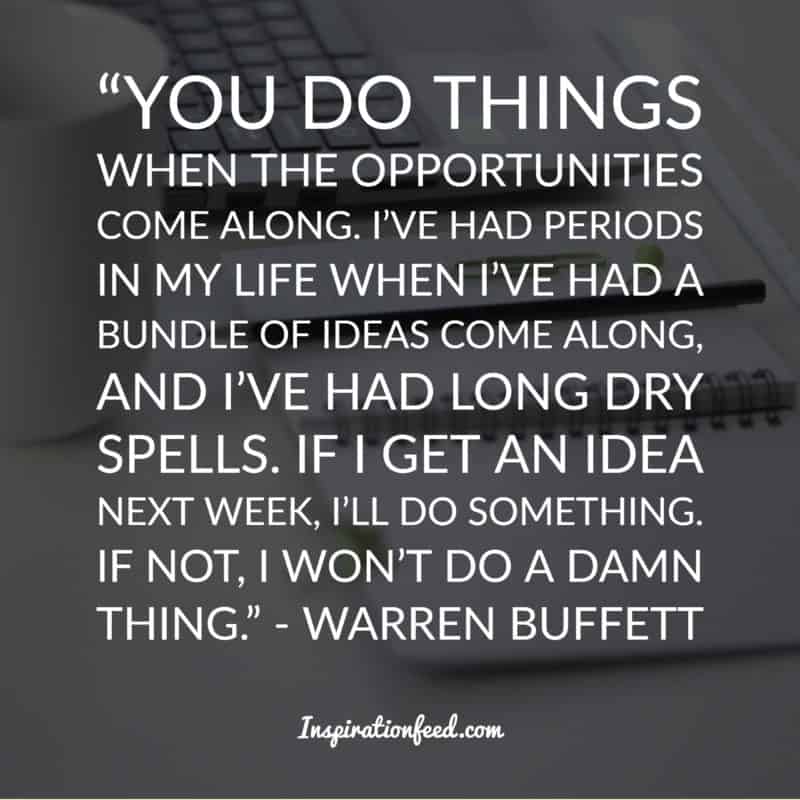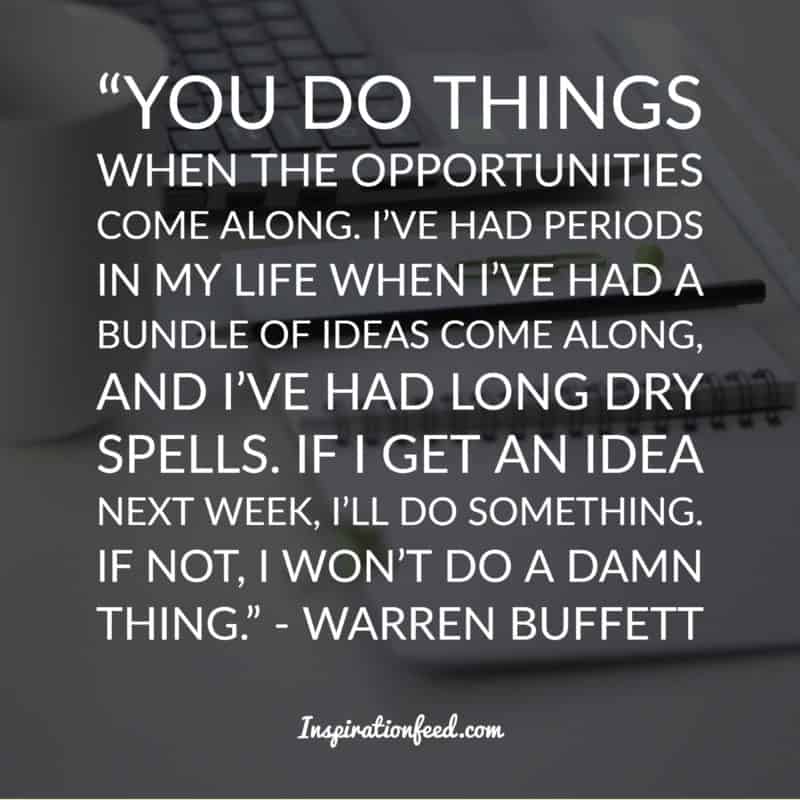 "You do things when the opportunities come along. I've had periods in my life when I've had a bundle of ideas come along, and I've had long dry spells. If I get an idea next week, I'll do something. If not, I won't do a damn thing." – Warren Buffett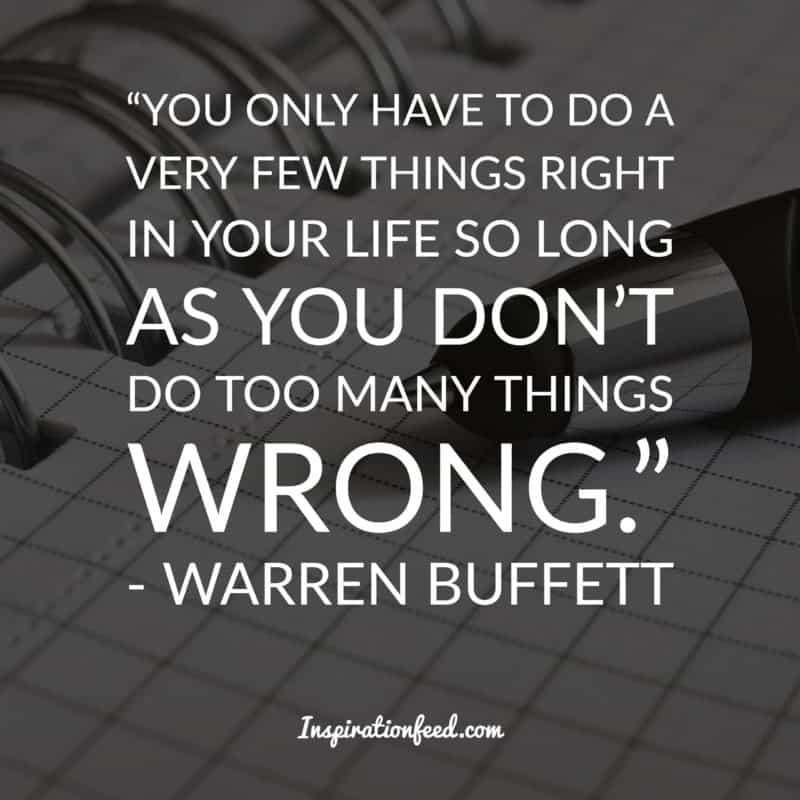 "You only have to do a very few things right in your life so long as you don't do too many things wrong." – Warren Buffett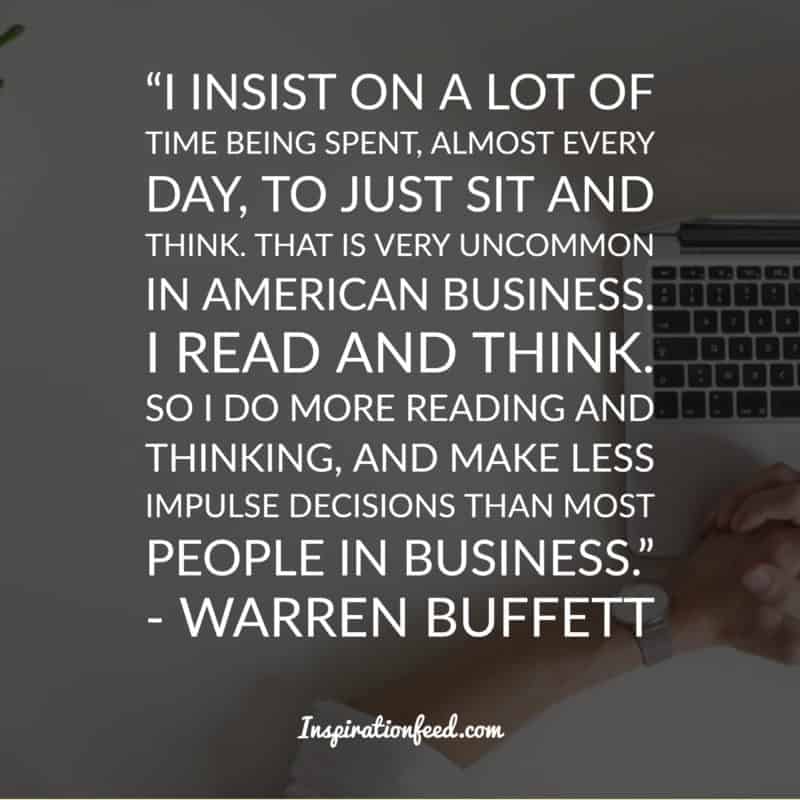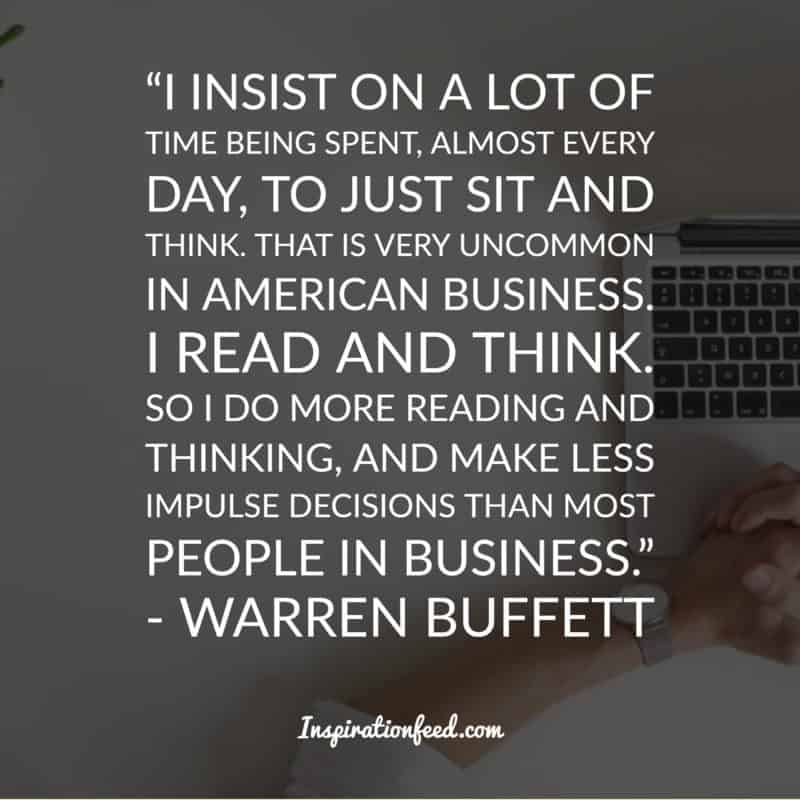 "I insist on a lot of time being spent, almost every day, to just sit and think. That is very uncommon in American business. I read and think. So I do more reading and thinking, and make less impulse decisions than most people in business." – Warren Buffett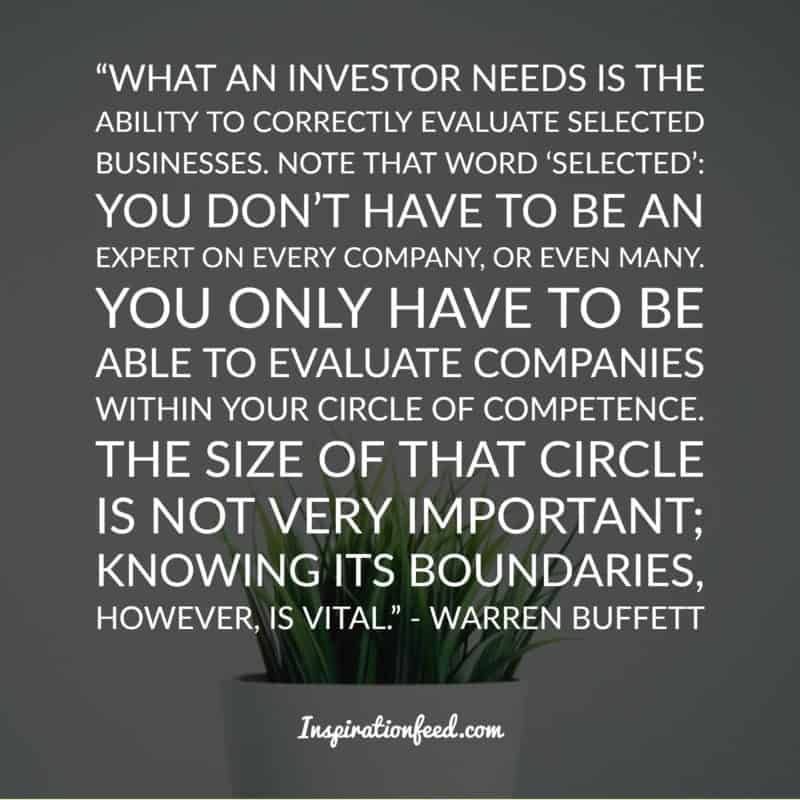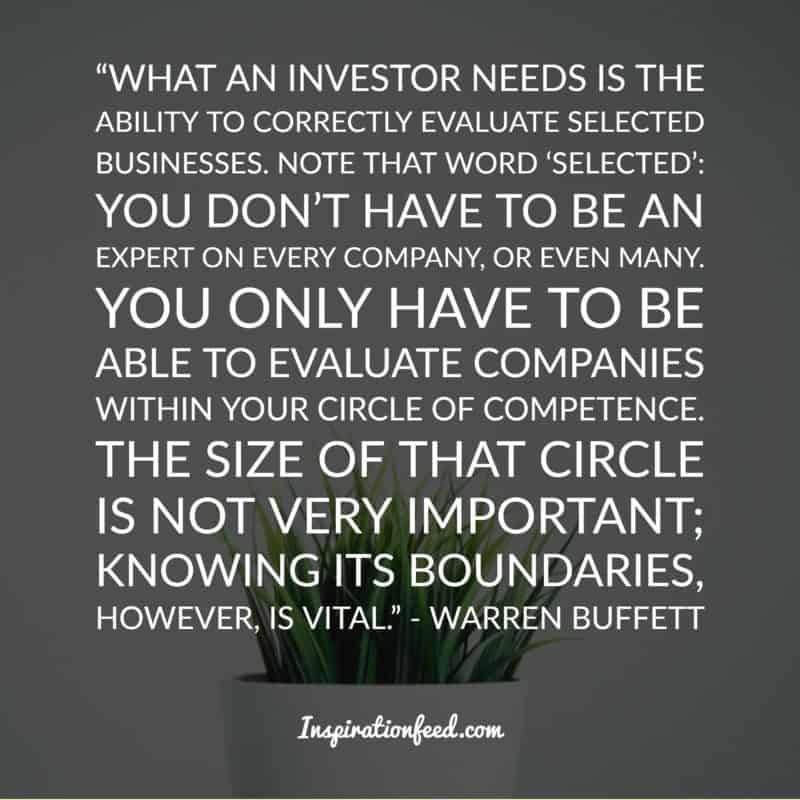 "What an investor needs is the ability to correctly evaluate selected businesses. Note that word 'selected': You don't have to be an expert on every company, or even many. You only have to be able to evaluate companies within your circle of competence. The size of that circle is not very important; knowing its boundaries, however, is vital." – Warren Buffett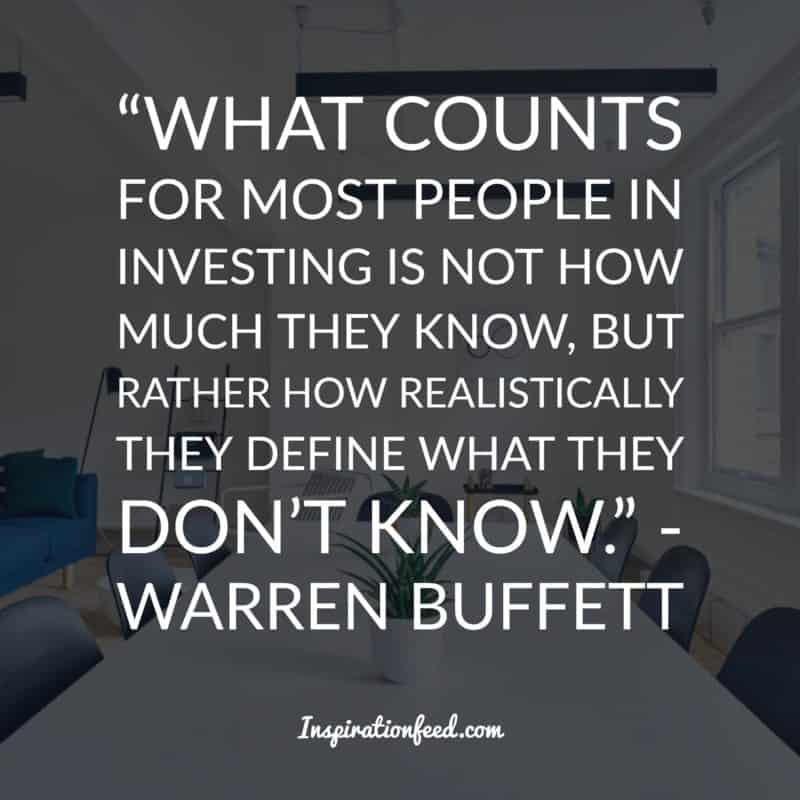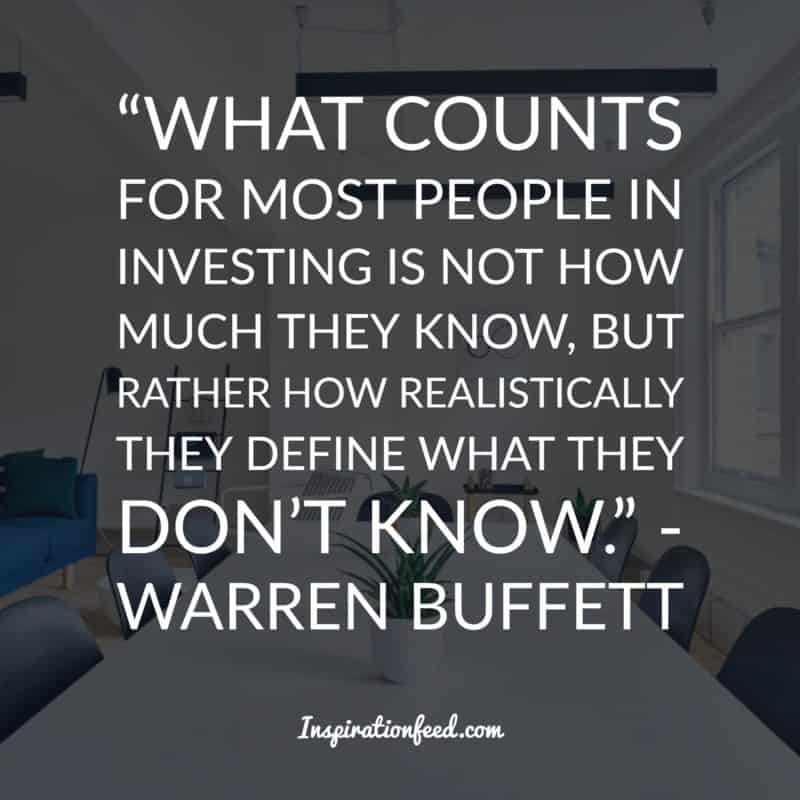 "What counts for most people in investing is not how much they know, but rather how realistically they define what they don't know." – Warren Buffett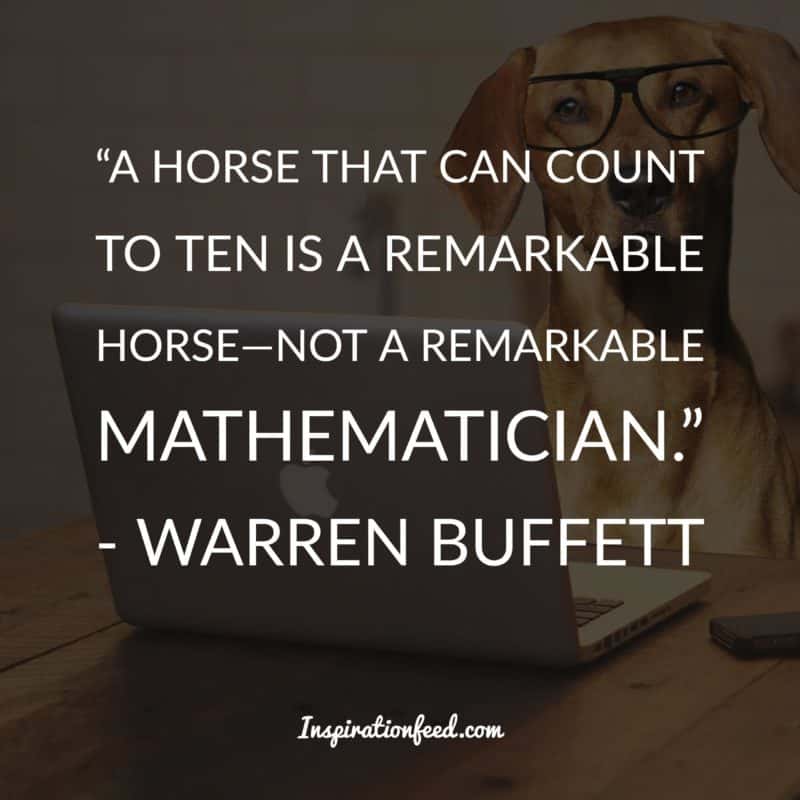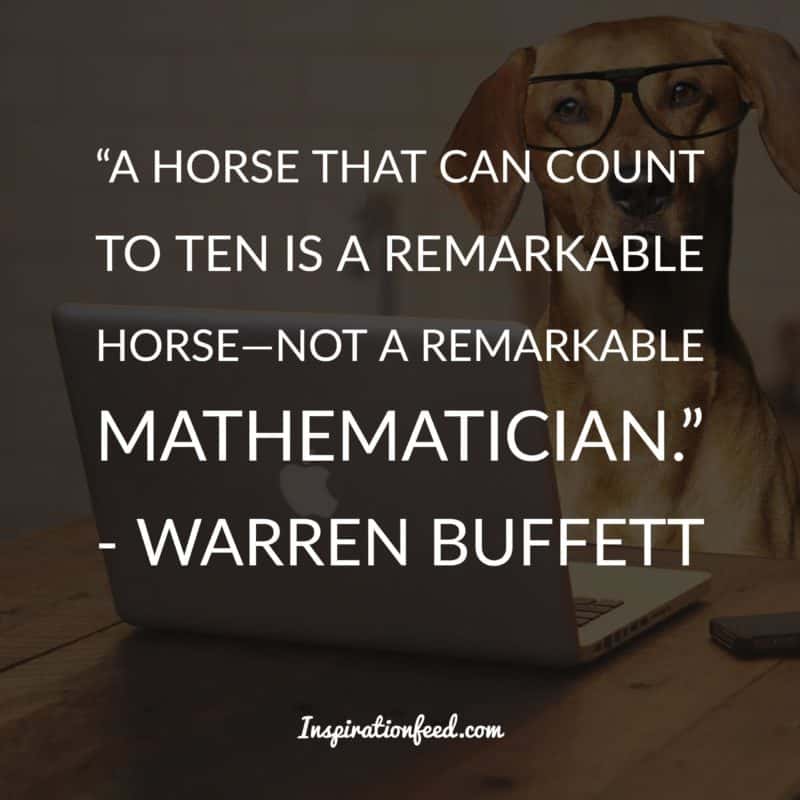 "A horse that can count to ten is a remarkable horse—not a remarkable mathematician." – Warren Buffett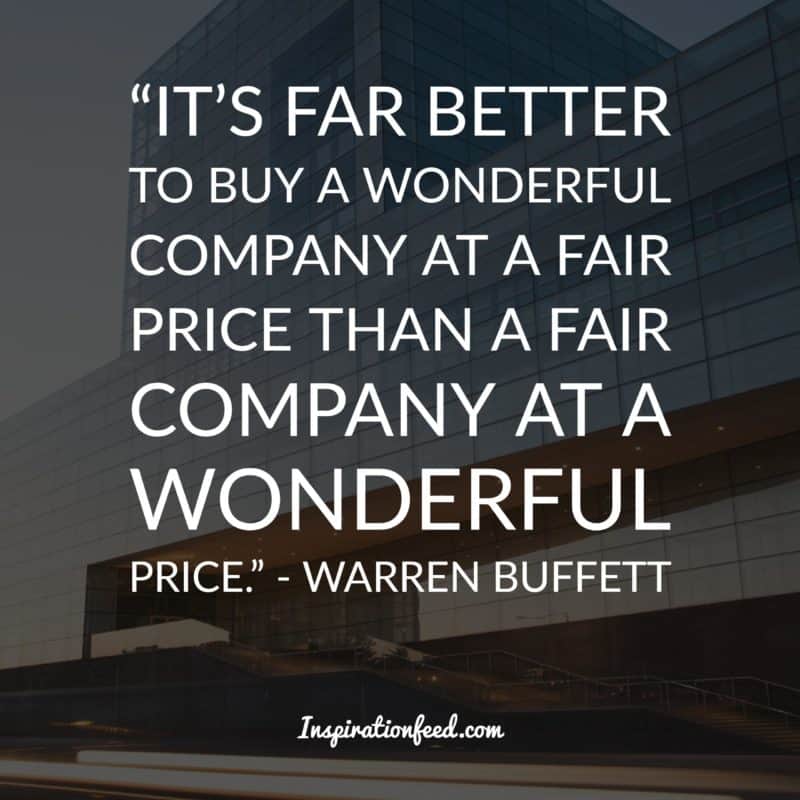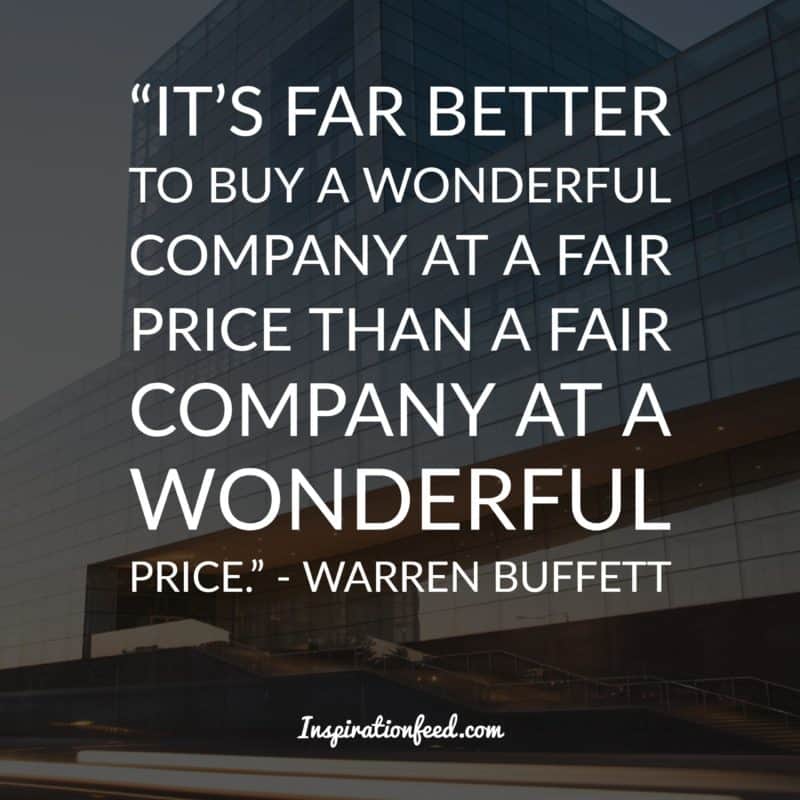 "It's far better to buy a wonderful company at a fair price than a fair company at a wonderful price." – Warren Buffett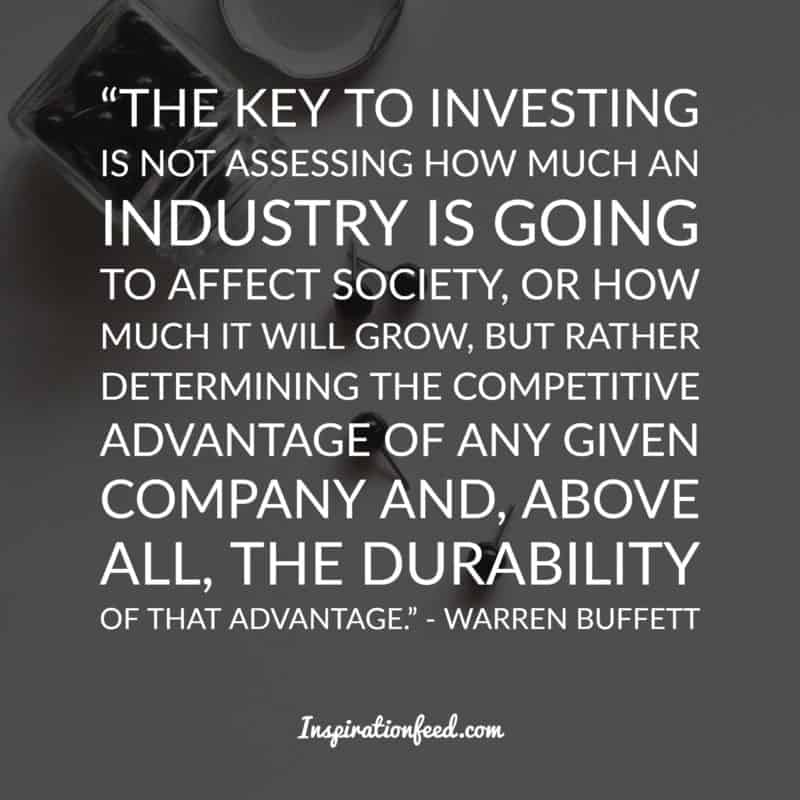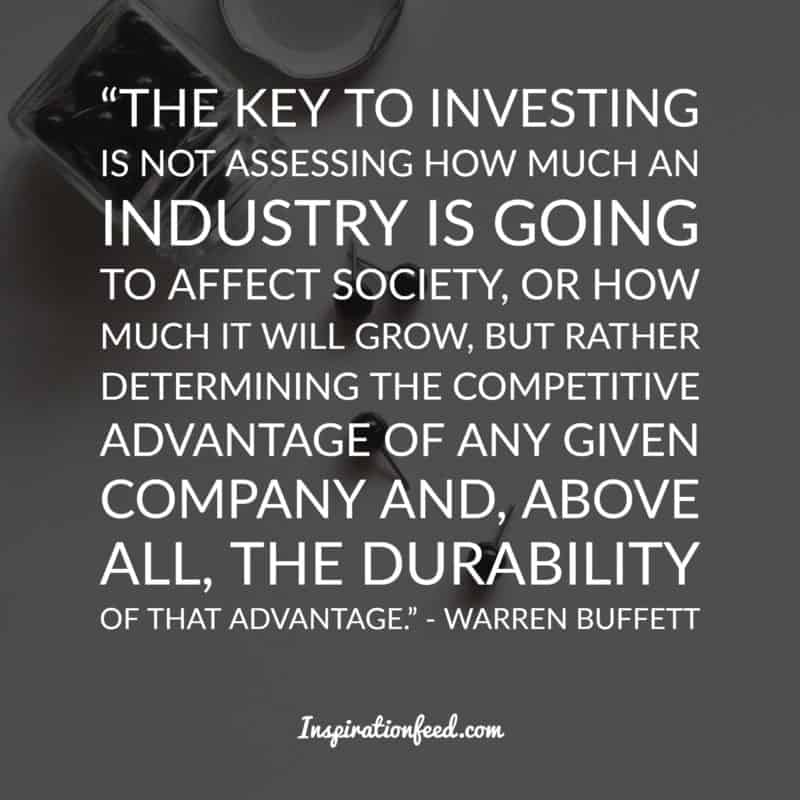 "The key to investing is not assessing how much an industry is going to affect society, or how much it will grow, but rather determining the competitive advantage of any given company and, above all, the durability of that advantage." – Warren Buffett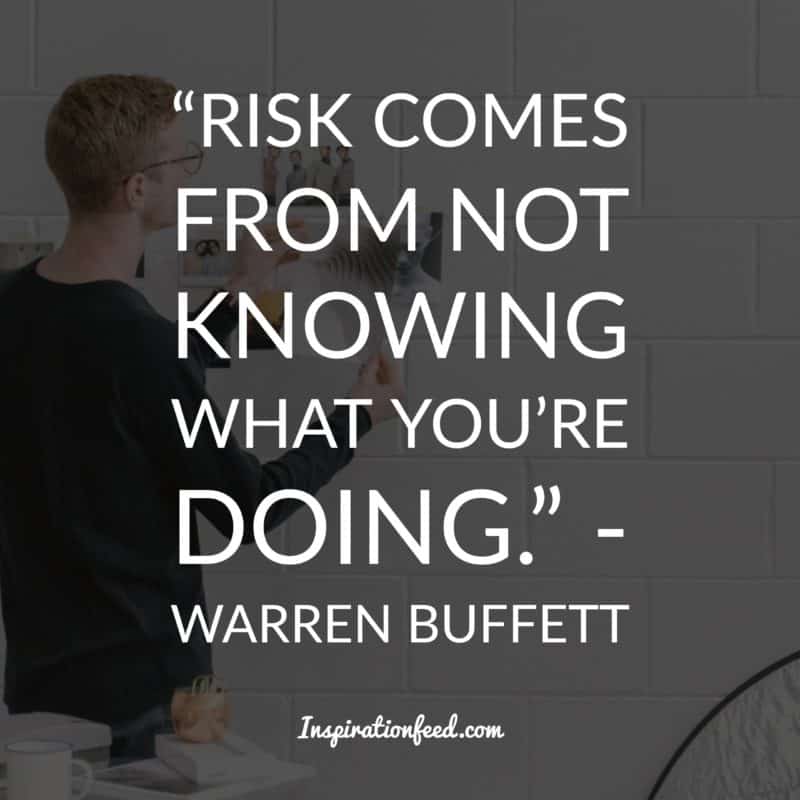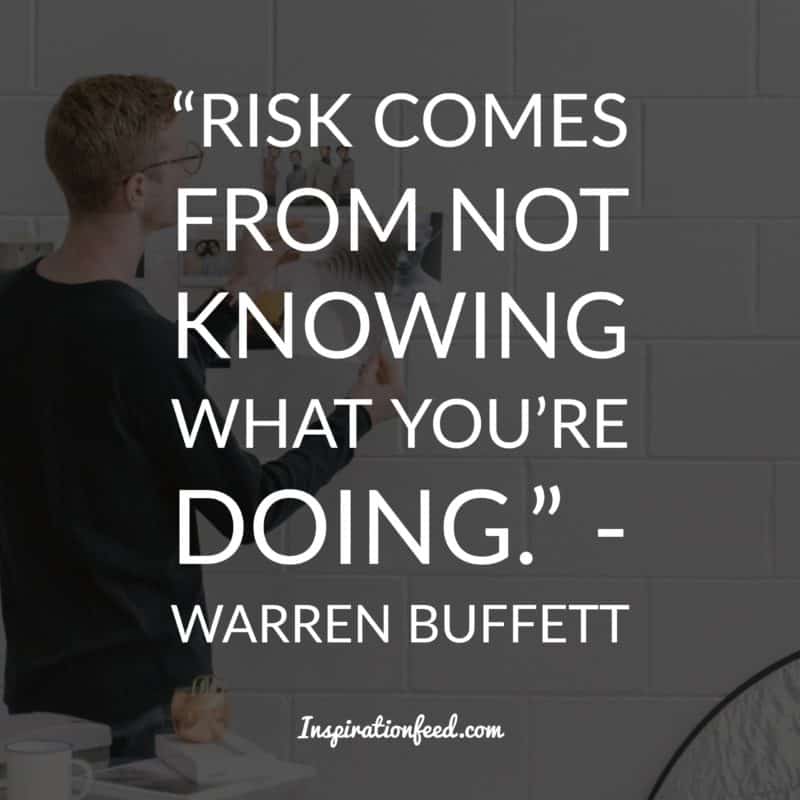 "Risk comes from not knowing what you're doing." – Warren Buffett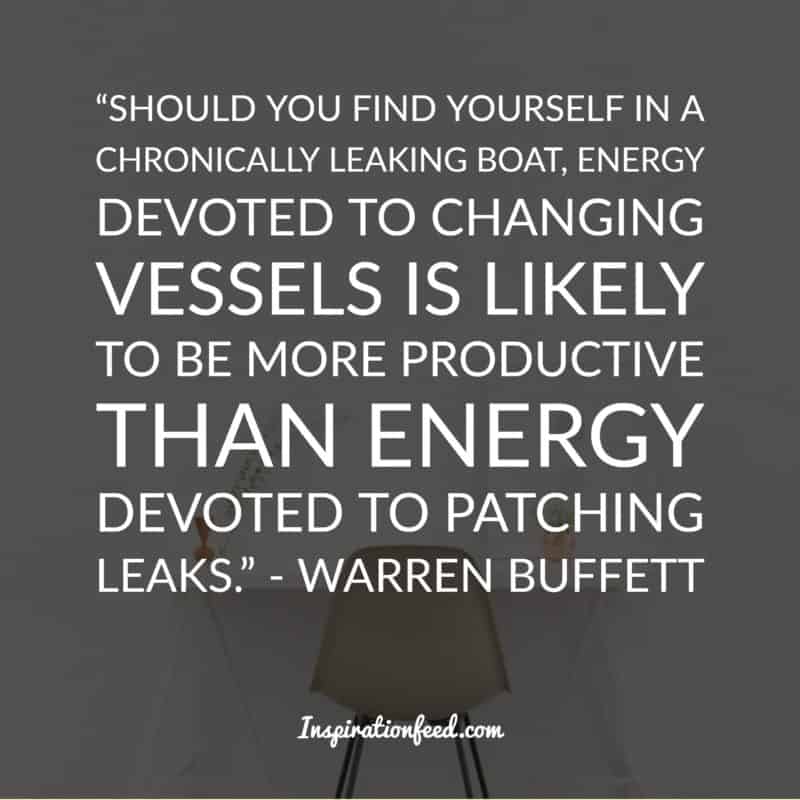 "Should you find yourself in a chronically leaking boat, energy devoted to changing vessels is likely to be more productive than energy devoted to patching leaks." – Warren Buffett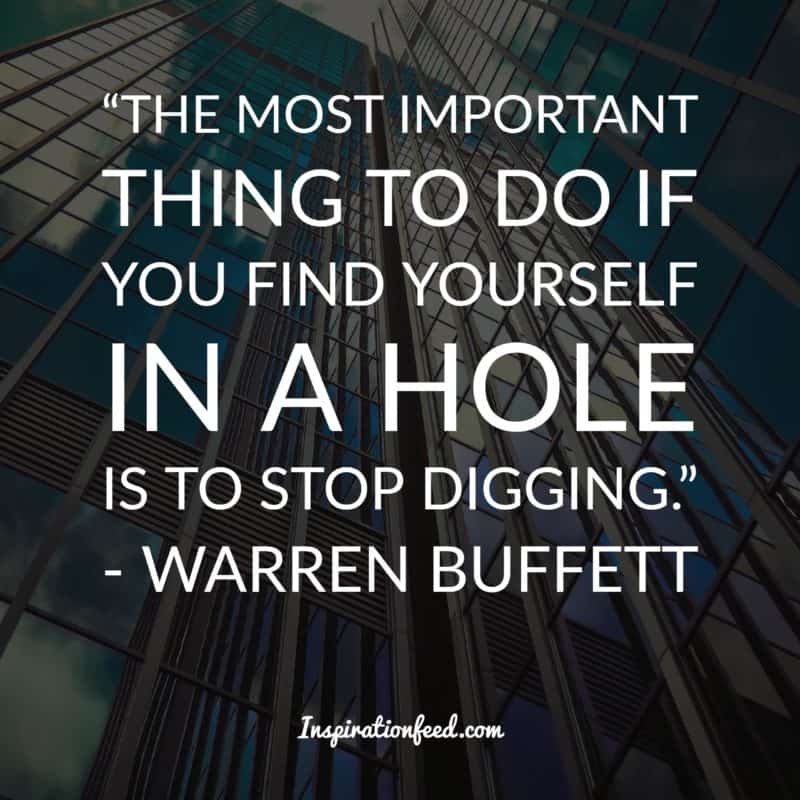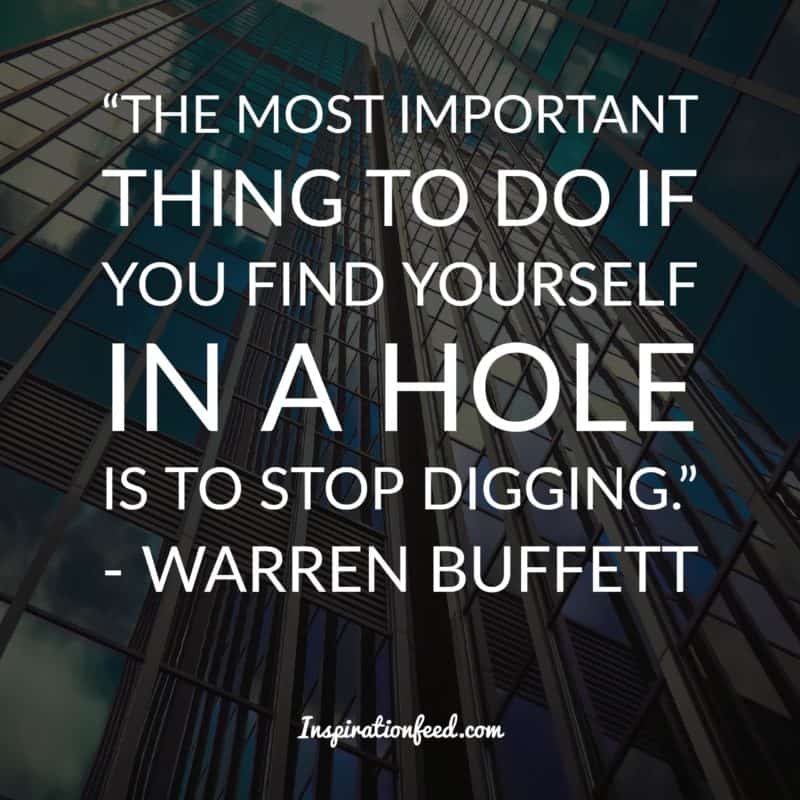 "The most important thing to do if you find yourself in a hole is to stop digging." – Warren Buffett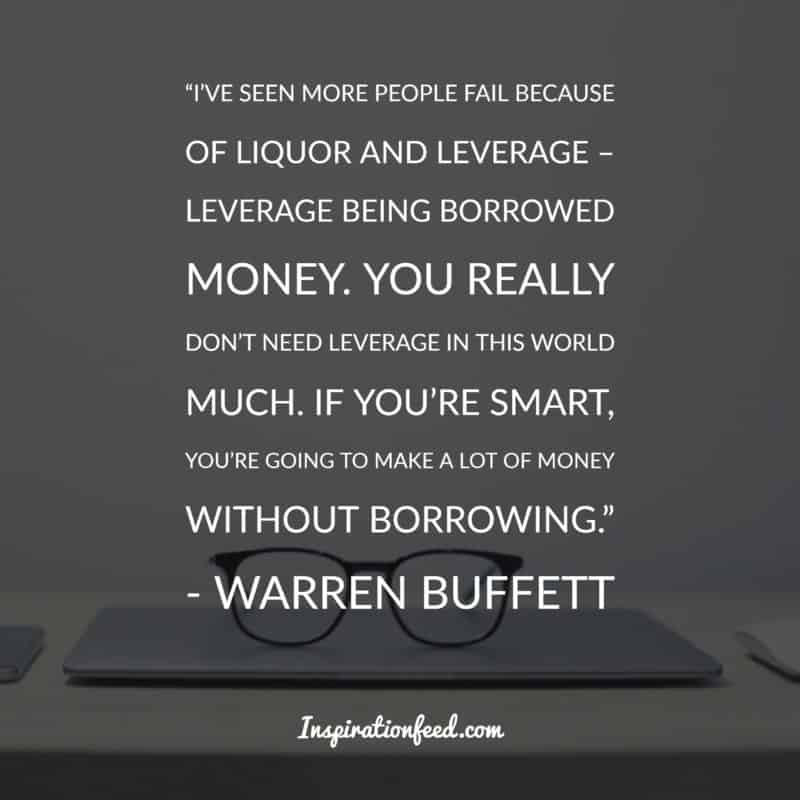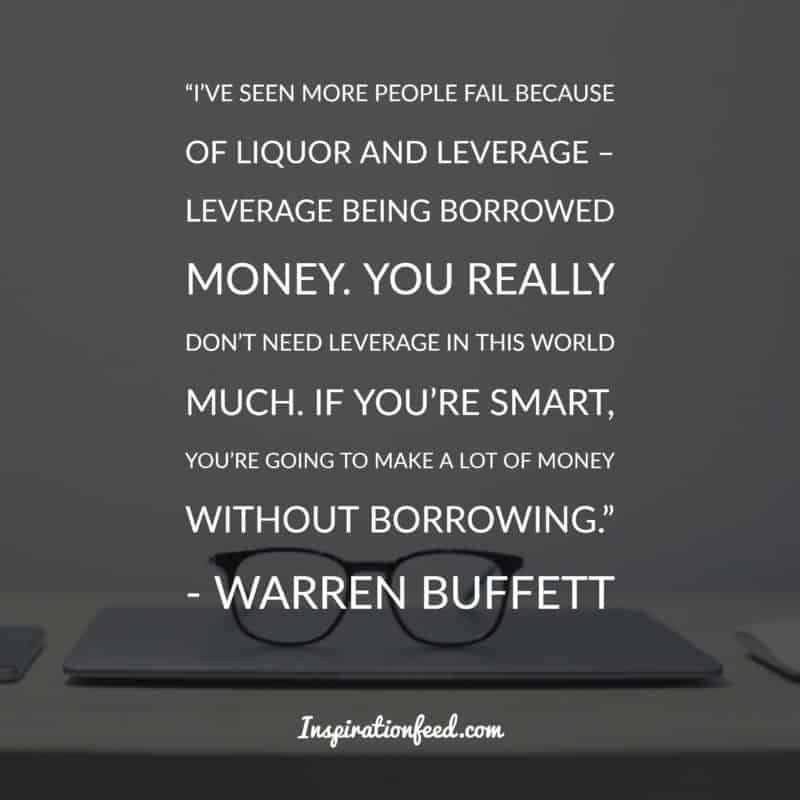 "I've seen more people fail because of liquor and leverage – leverage being borrowed money. You really don't need leverage in this world much. If you're smart, you're going to make a lot of money without borrowing." – Warren Buffett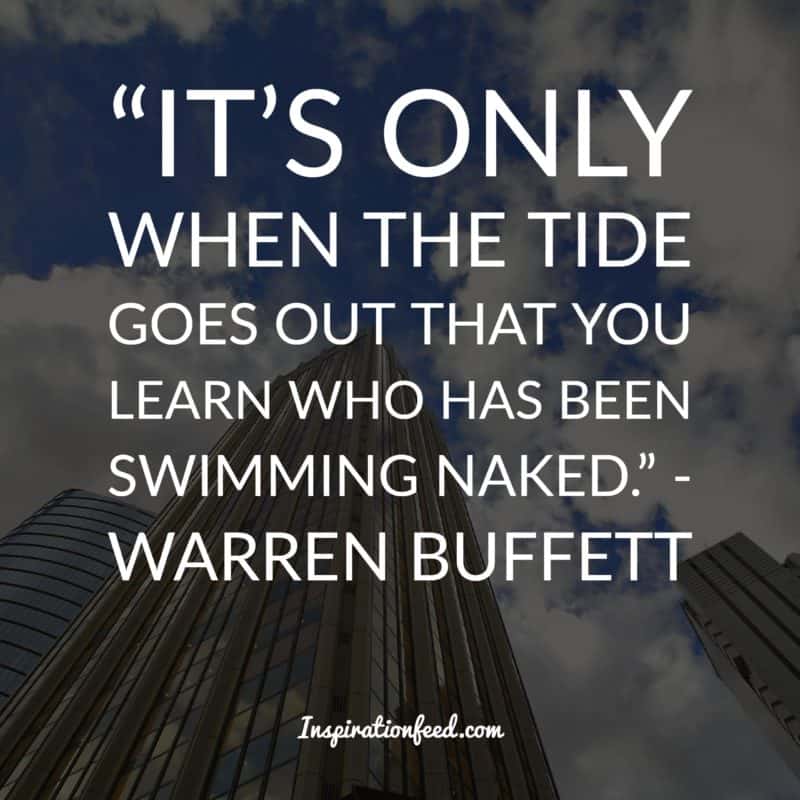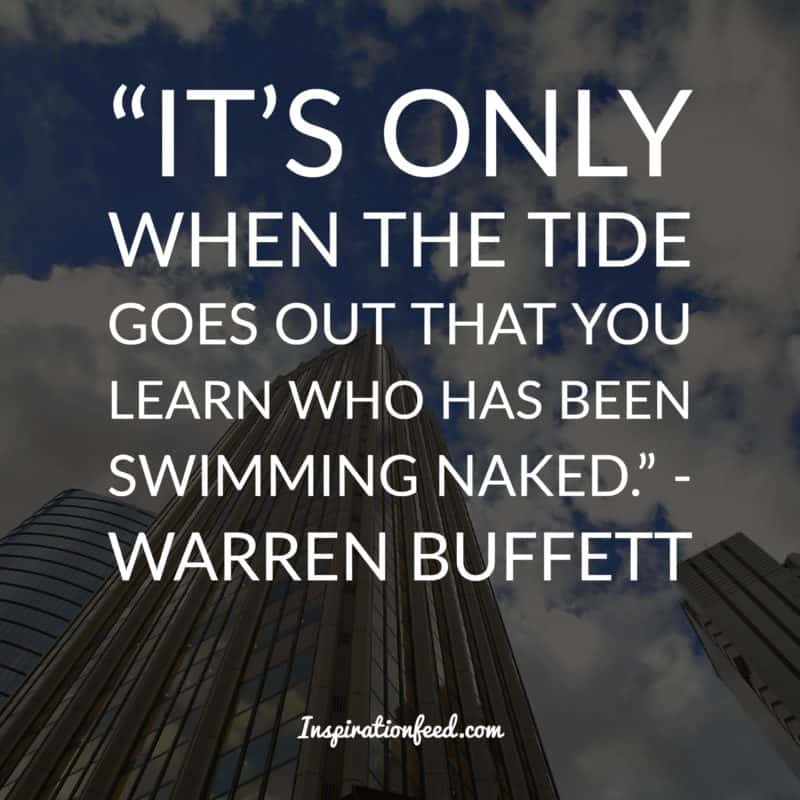 "It's only when the tide goes out that you learn who has been swimming naked." – Warren Buffett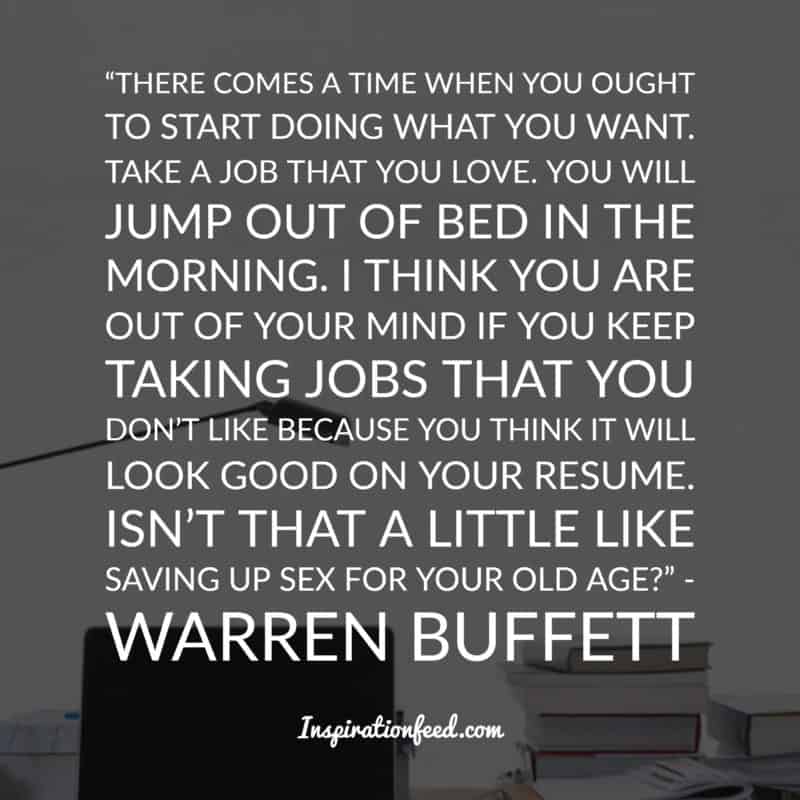 "There comes a time when you ought to start doing what you want. Take a job that you love. You will jump out of bed in the morning. I think you are out of your mind if you keep taking jobs that you don't like because you think it will look good on your resume. Isn't that a little like saving up sex for your old age?" – Warren Buffett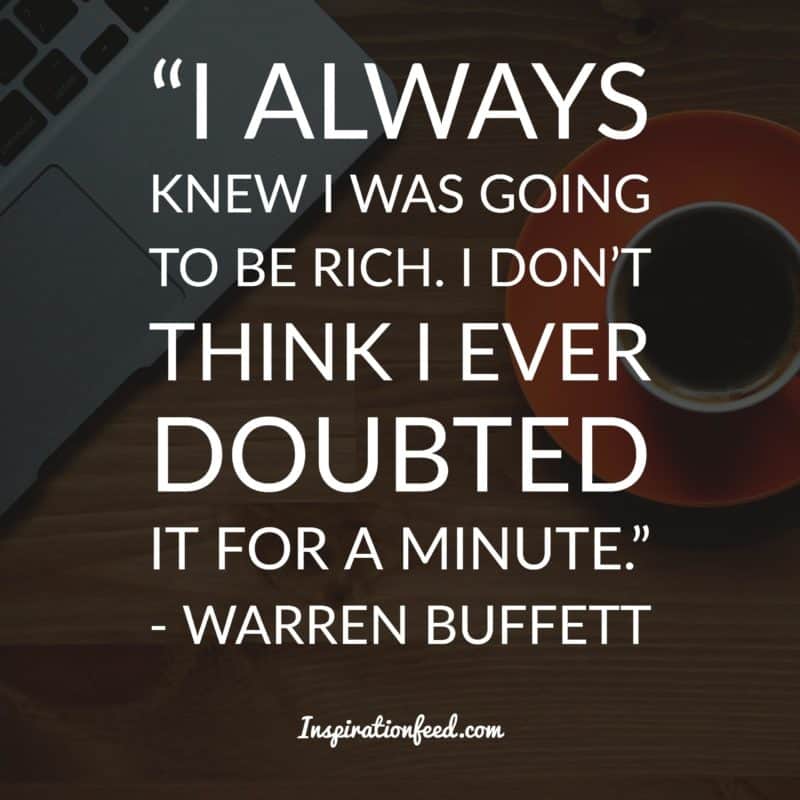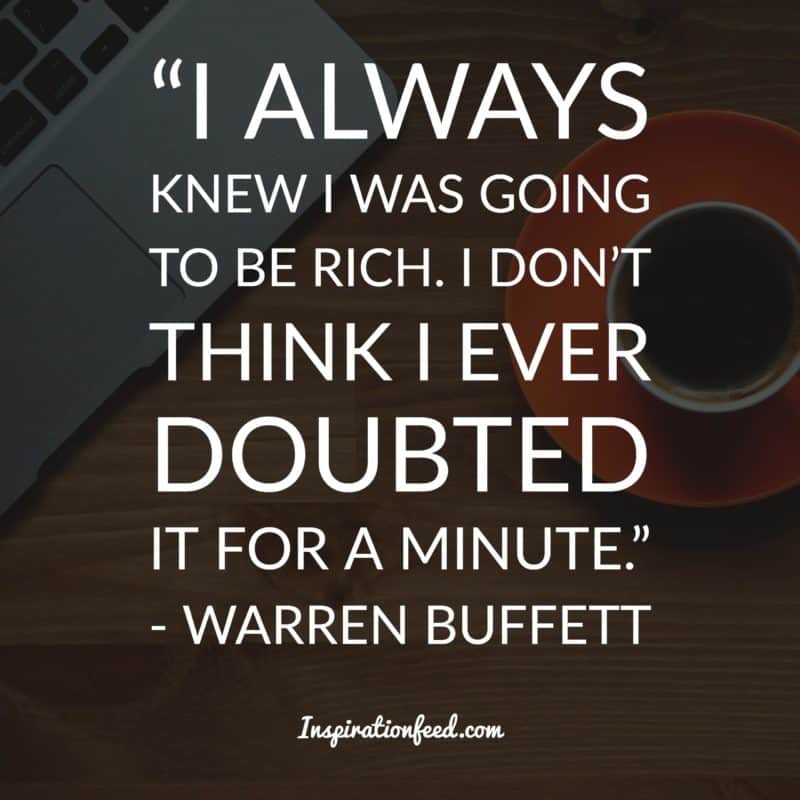 "I always knew I was going to be rich. I don't think I ever doubted it for a minute." – Warren Buffett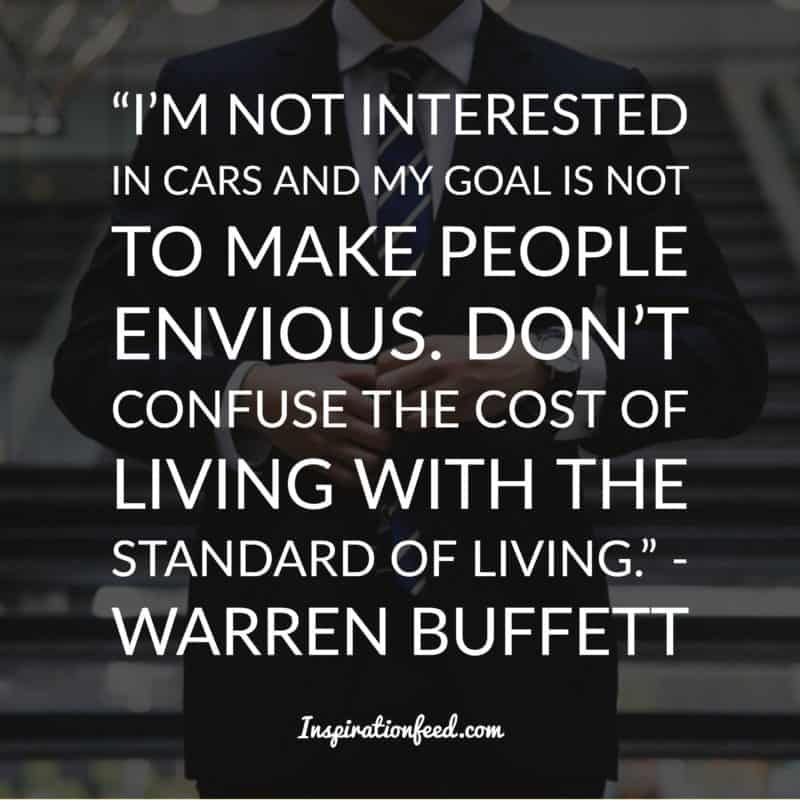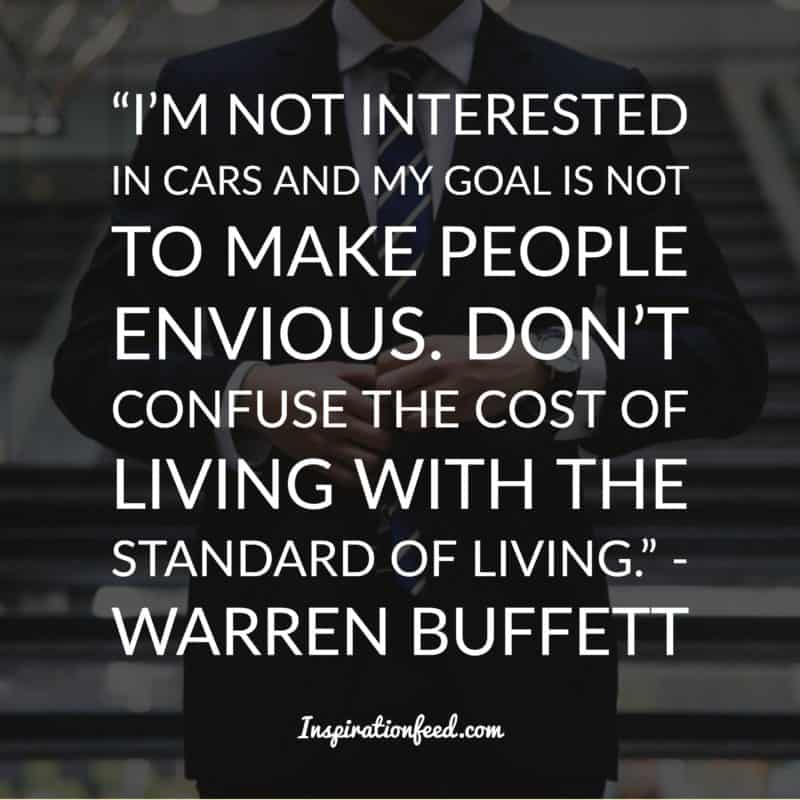 "I'm not interested in cars and my goal is not to make people envious. Don't confuse the cost of living with the standard of living." – Warren Buffett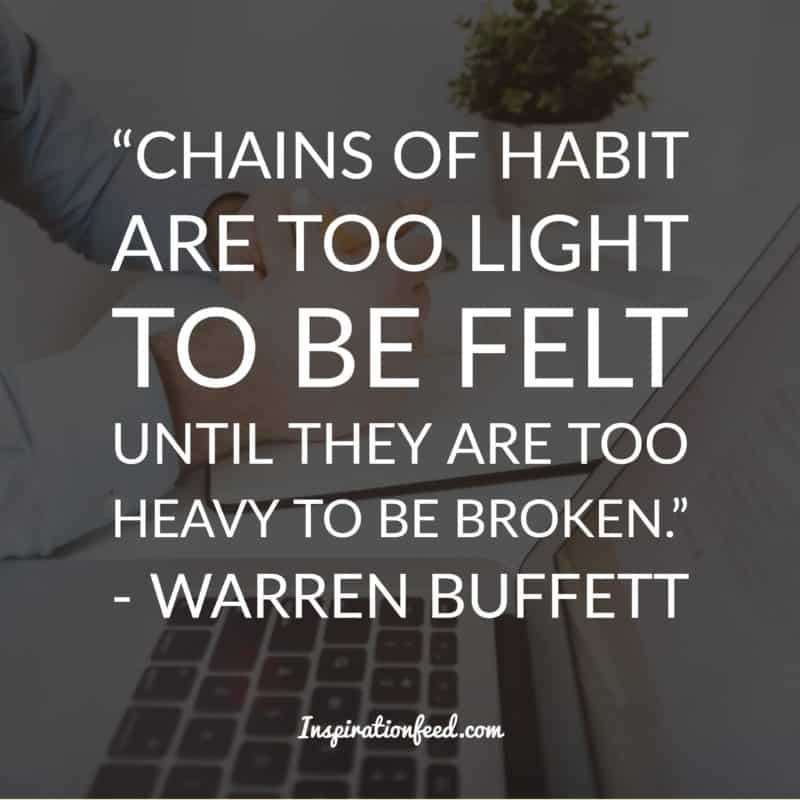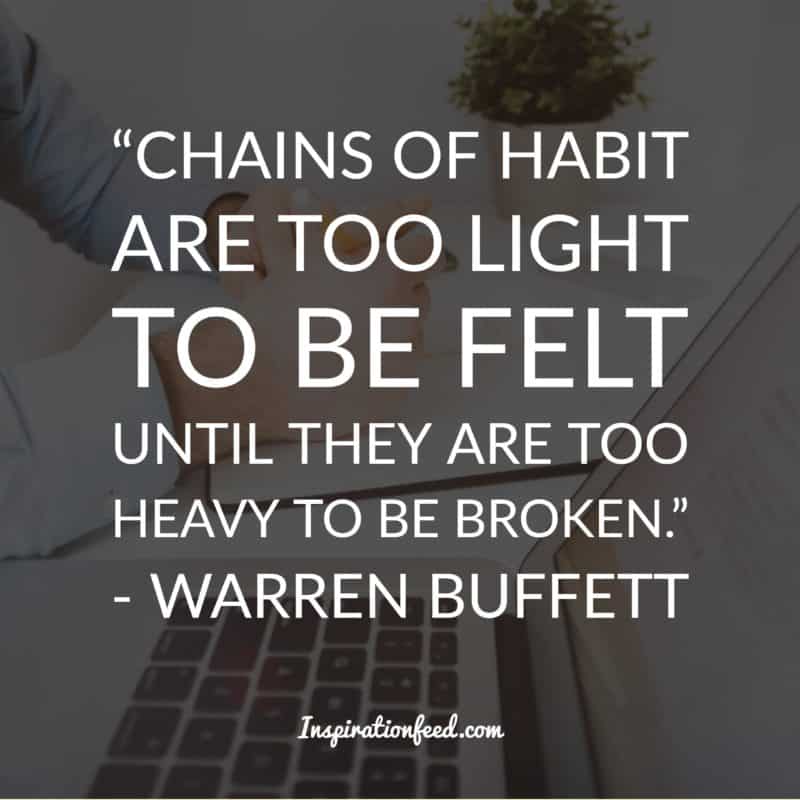 "Chains of habit are too light to be felt until they are too heavy to be broken." – Warren Buffett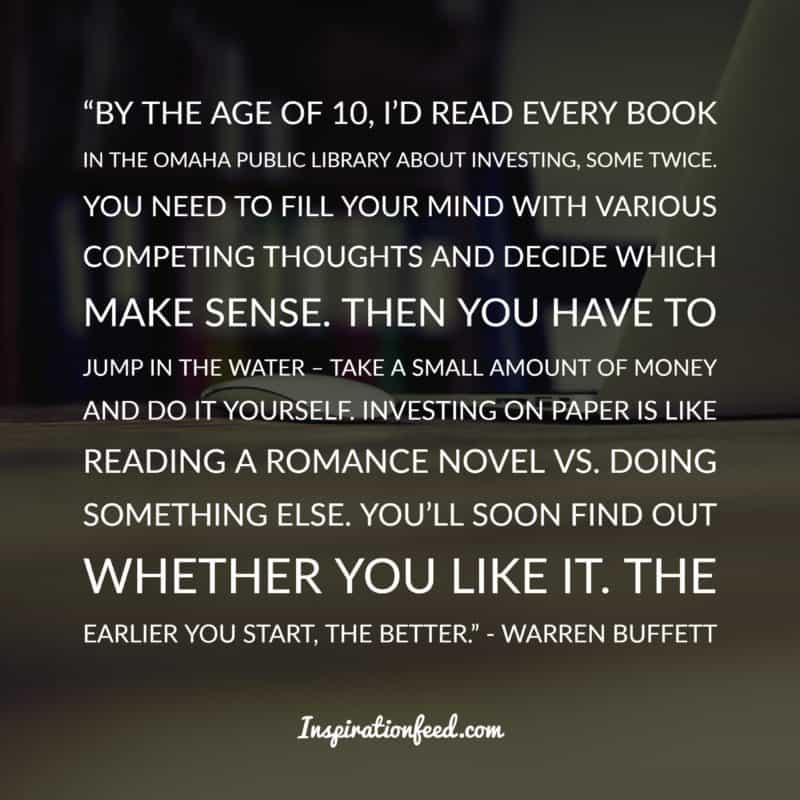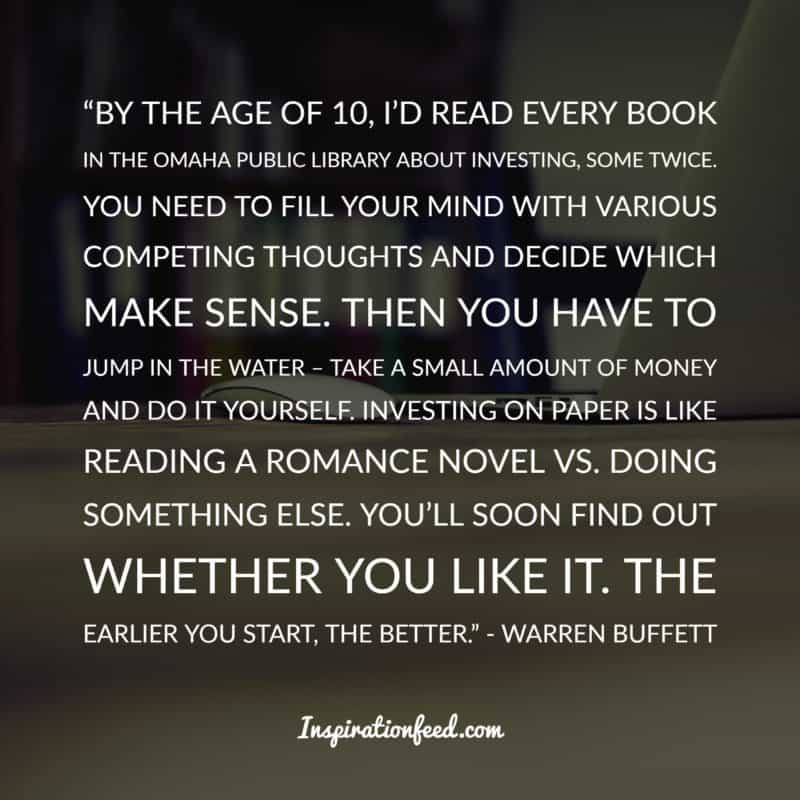 "By the age of 10, I'd read every book in the Omaha public library about investing, some twice. You need to fill your mind with various competing thoughts and decide which make sense. Then you have to jump in the water – take a small amount of money and do it yourself. Investing on paper is like reading a romance novel vs. doing something else. You'll soon find out whether you like it. The earlier you start, the better." – Warren Buffett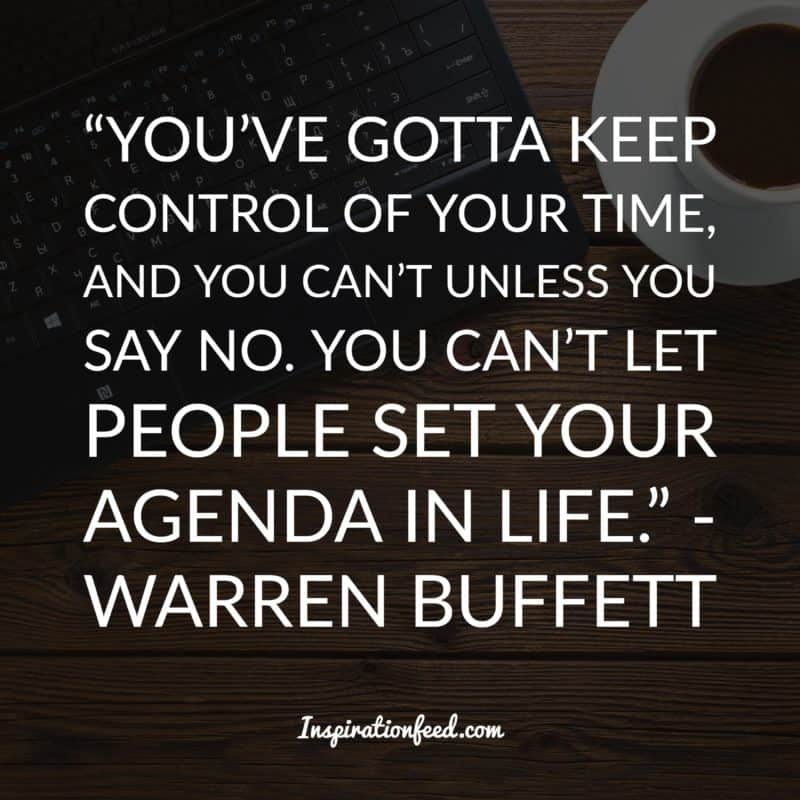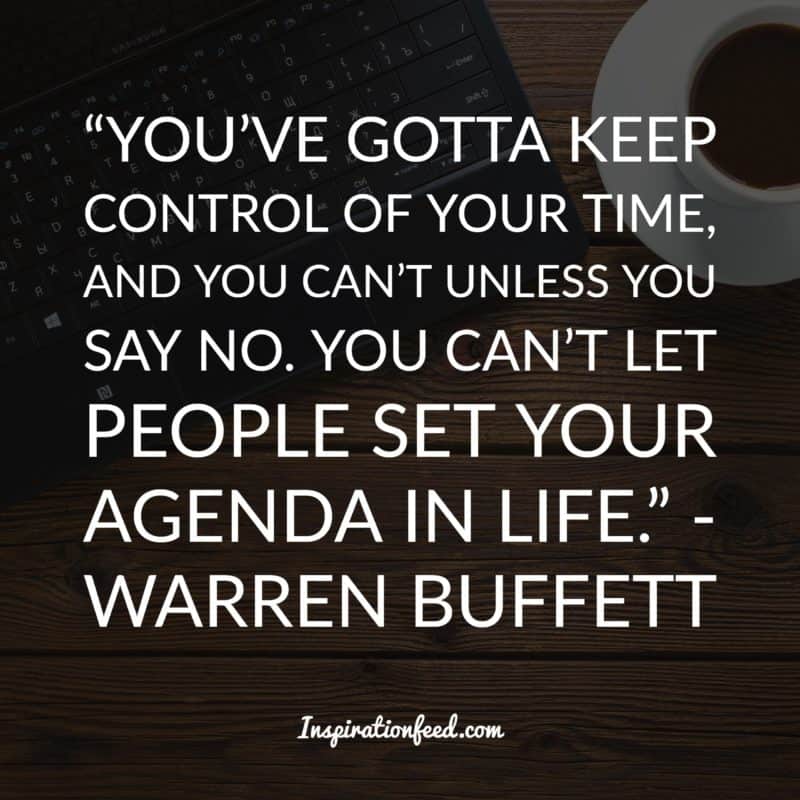 "You've gotta keep control of your time, and you can't unless you say no. You can't let people set your agenda in life." – Warren Buffett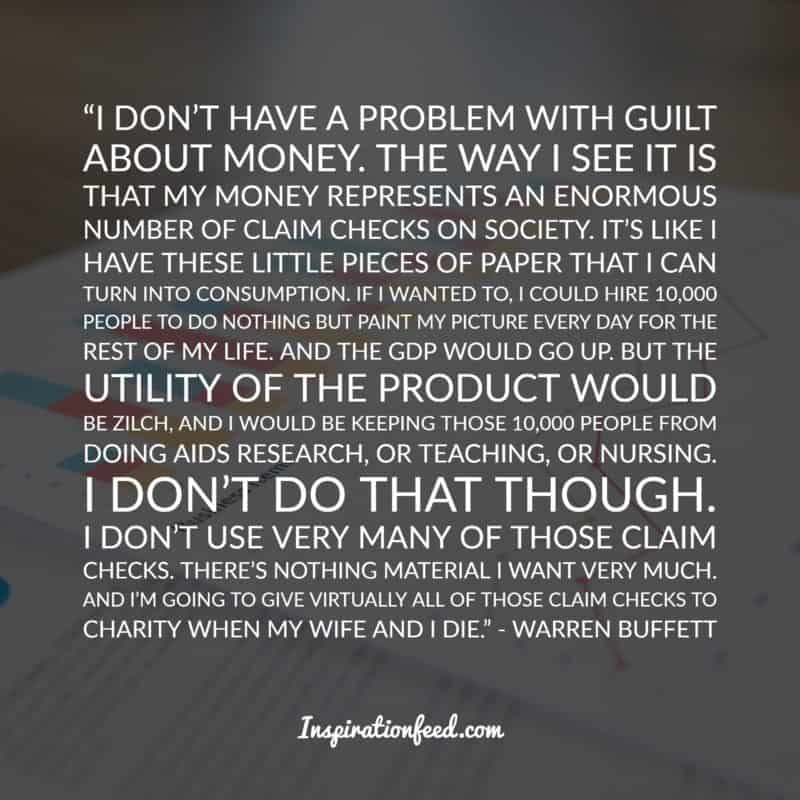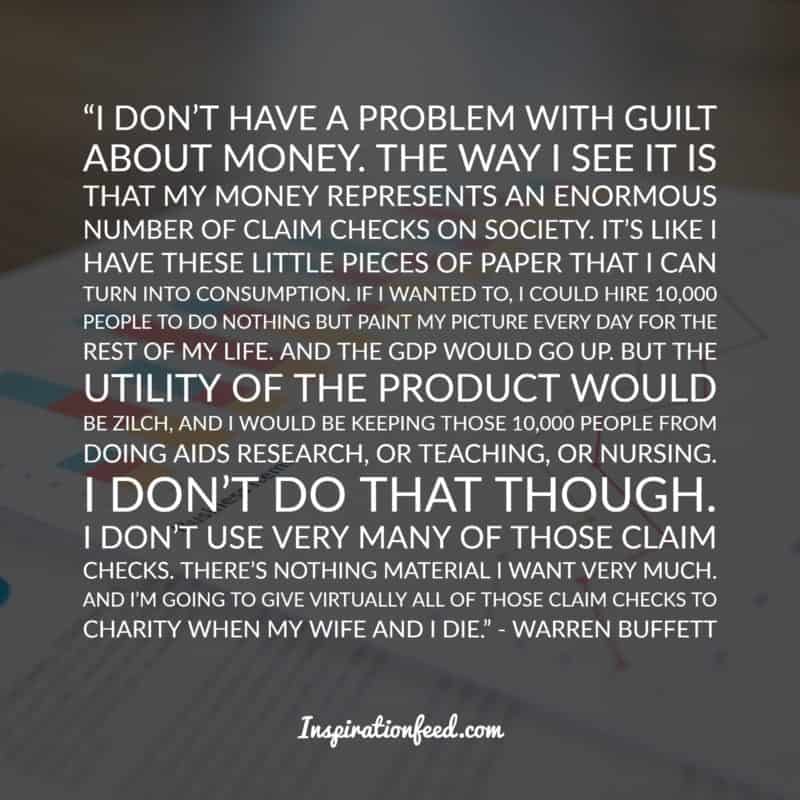 "I don't have a problem with guilt about money. The way I see it is that my money represents an enormous number of claim checks on society. It's like I have these little pieces of paper that I can turn into consumption. If I wanted to, I could hire 10,000 people to do nothing but paint my picture every day for the rest of my life. And the GDP would go up. But the utility of the product would be zilch, and I would be keeping those 10,000 people from doing AIDS research, or teaching, or nursing. I don't do that though. I don't use very many of those claim checks. There's nothing material I want very much. And I'm going to give virtually all of those claim checks to charity when my wife and I die." – Warren Buffett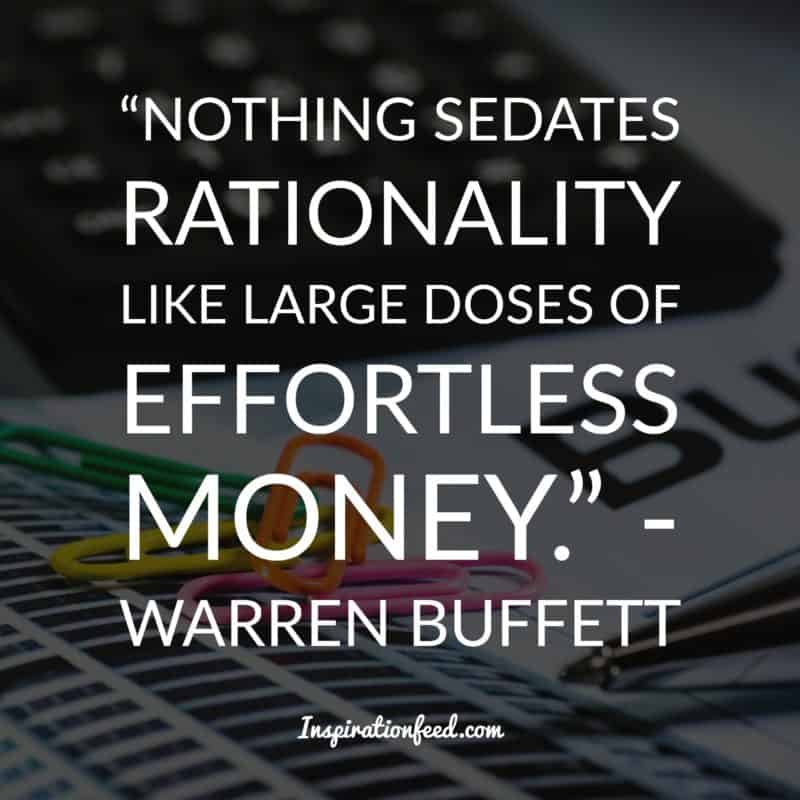 "Nothing sedates rationality like large doses of effortless money." – Warren Buffett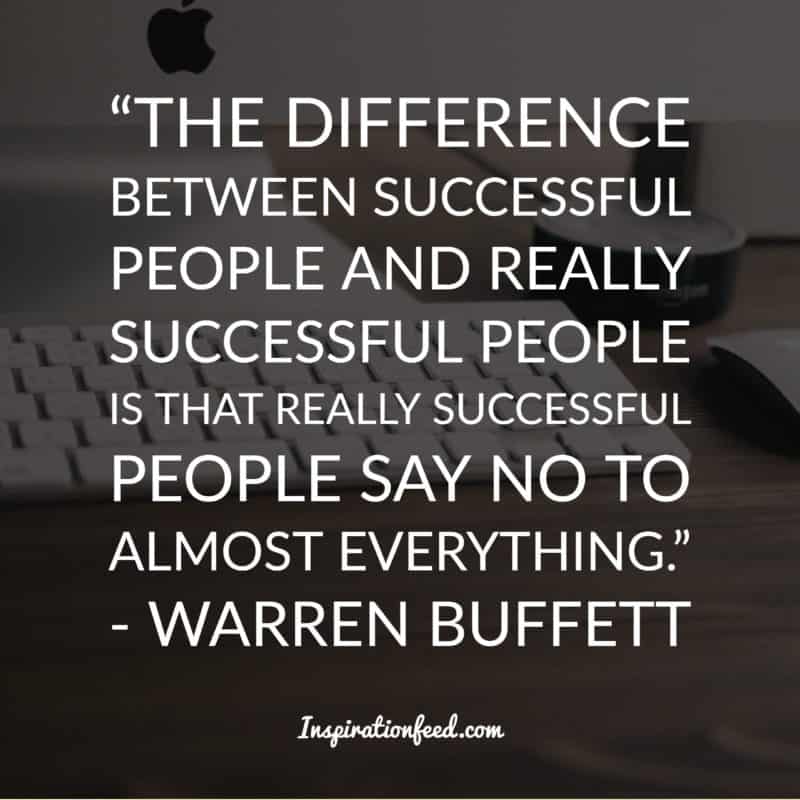 "The difference between successful people and really successful people is that really successful people say no to almost everything." – Warren Buffett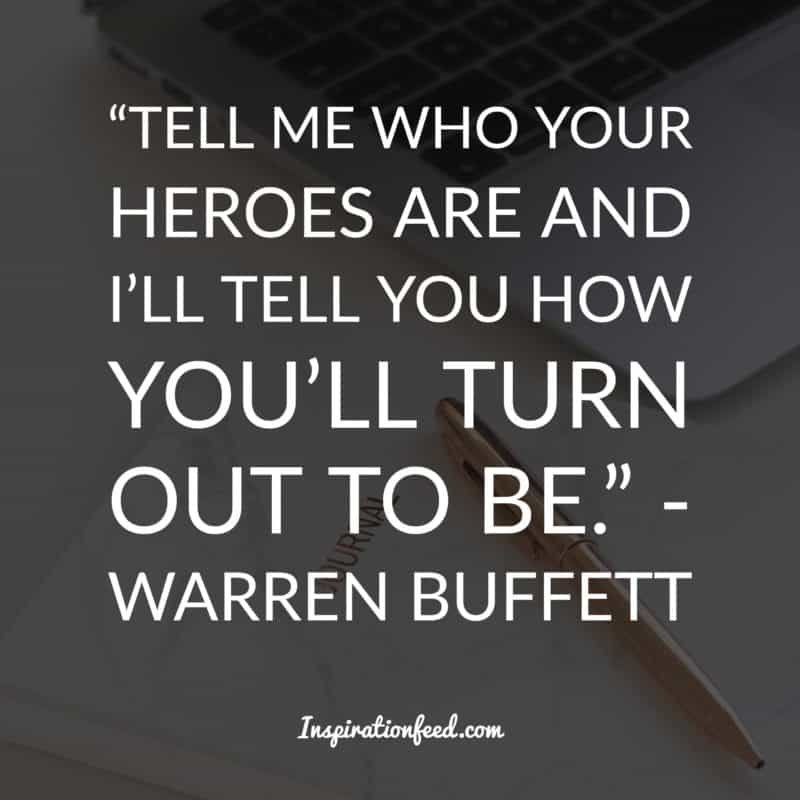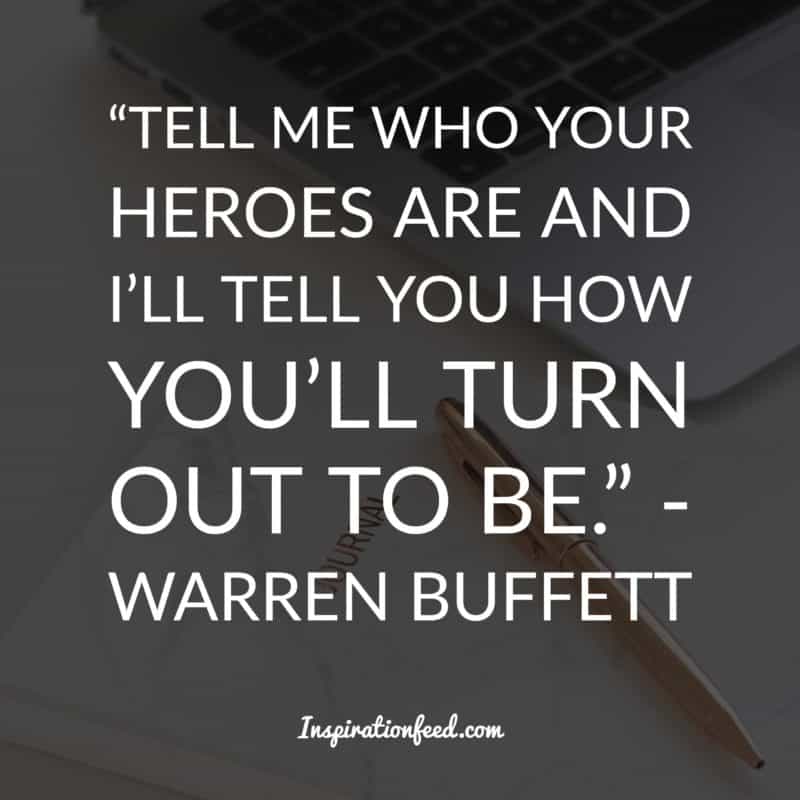 "Tell me who your heroes are and I'll tell you how you'll turn out to be." – Warren Buffett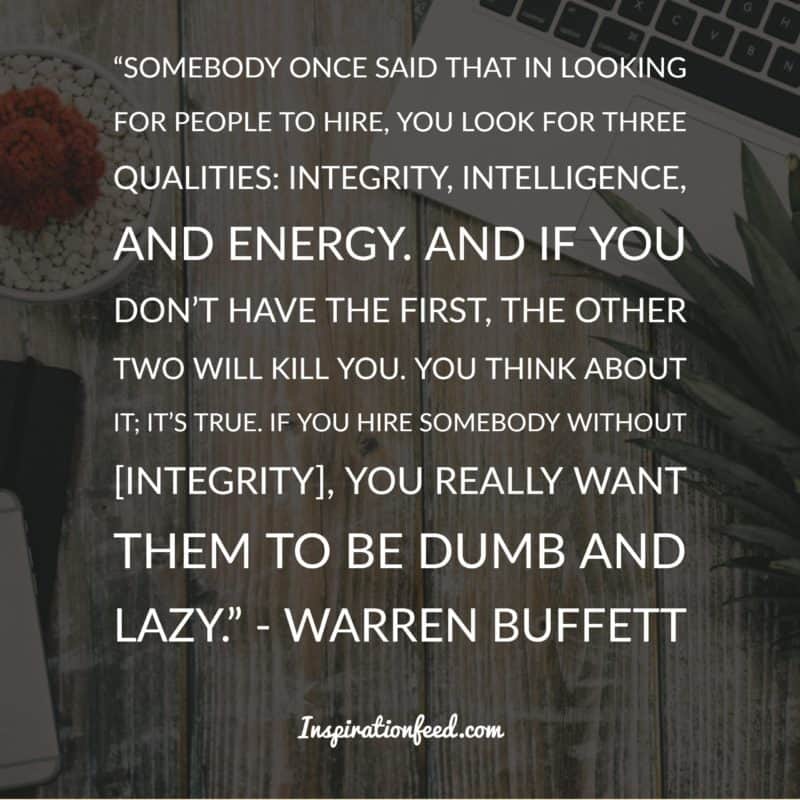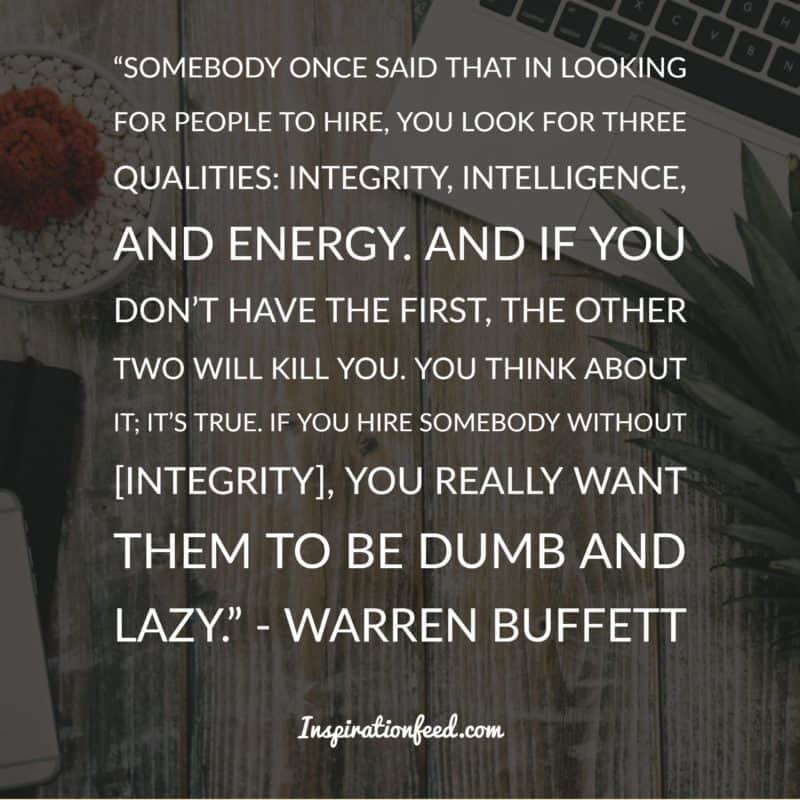 "Somebody once said that in looking for people to hire, you look for three qualities: integrity, intelligence, and energy. And if you don't have the first, the other two will kill you. You think about it; it's true. If you hire somebody without [integrity], you really want them to be dumb and lazy." – Warren Buffett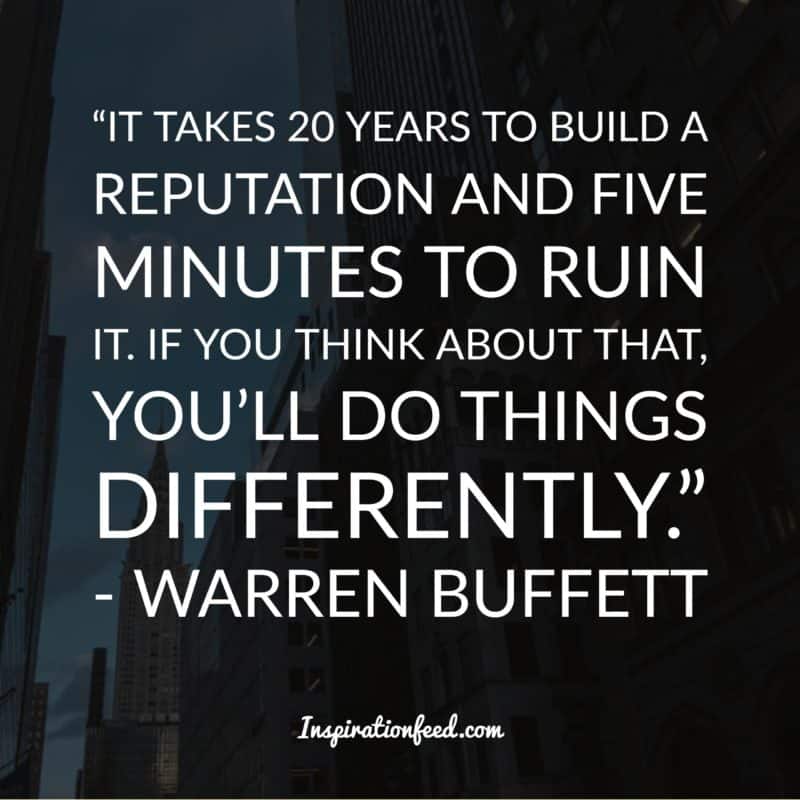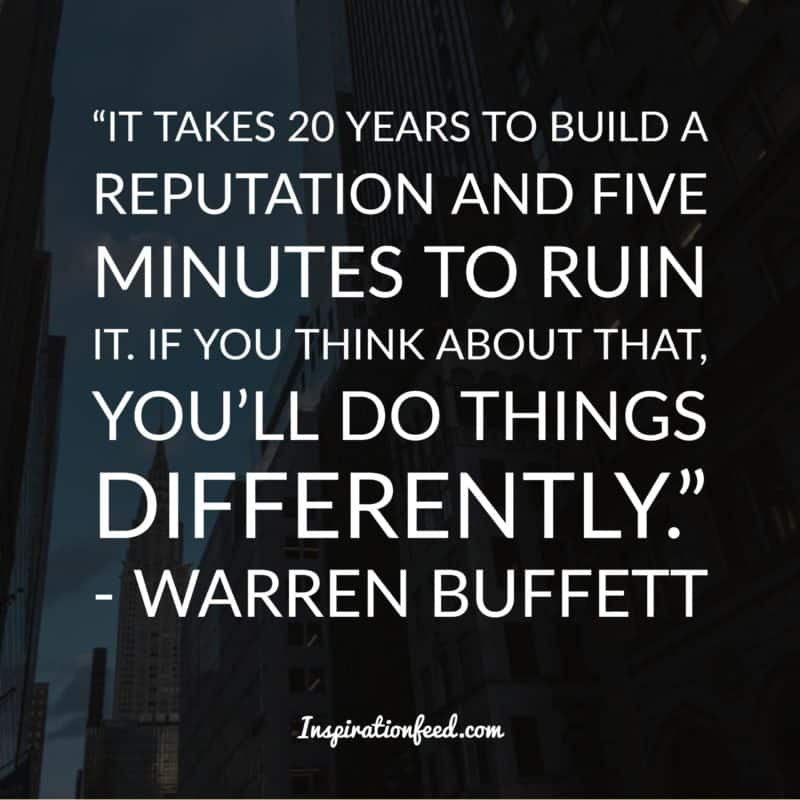 "It takes 20 years to build a reputation and five minutes to ruin it. If you think about that, you'll do things differently." – Warren Buffett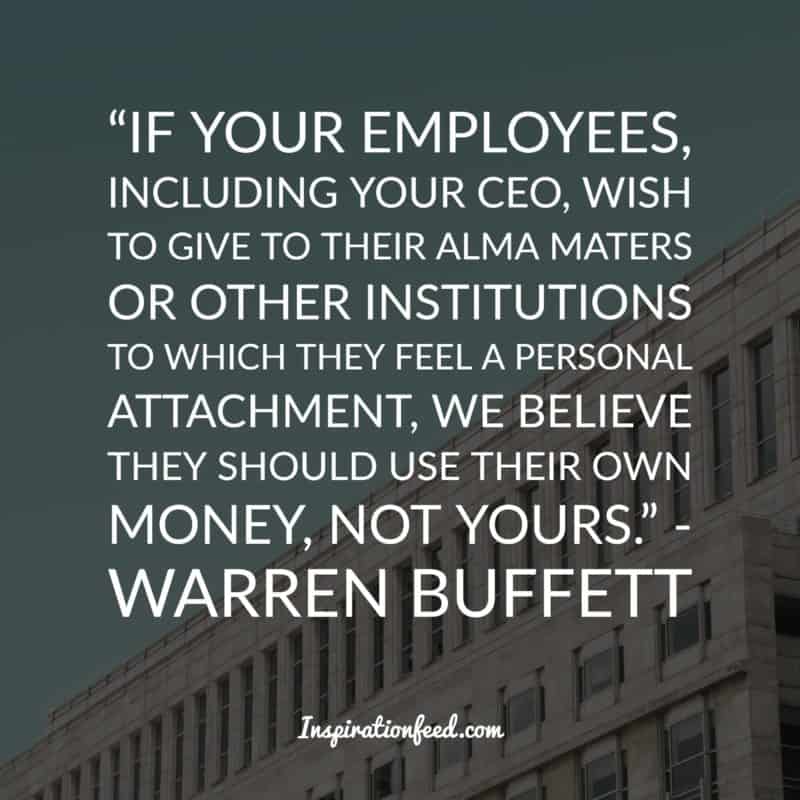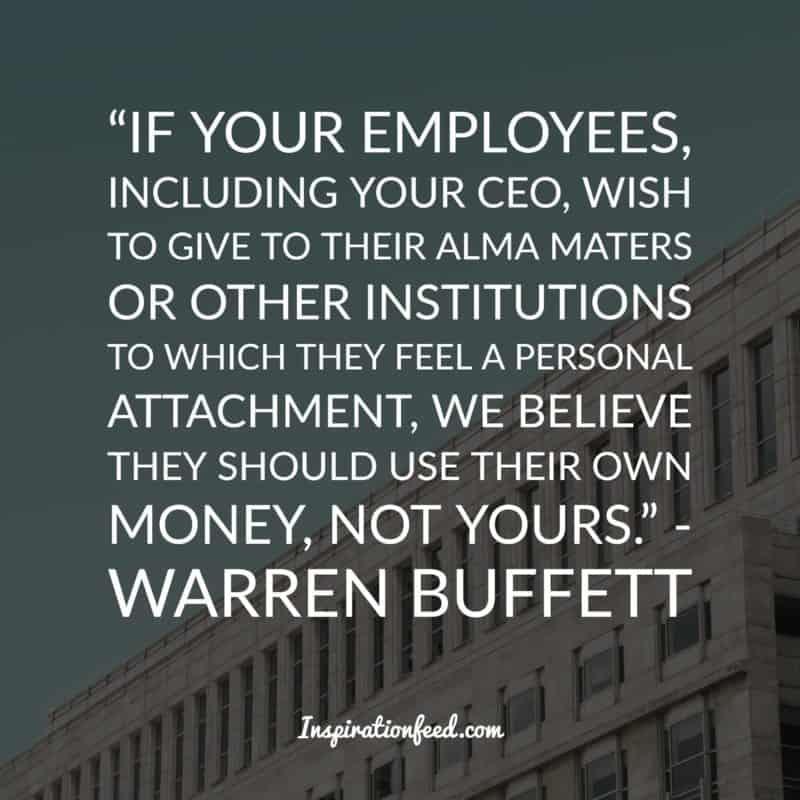 "If your employees, including your CEO, wish to give to their alma maters or other institutions to which they feel a personal attachment, we believe they should use their own money, not yours." – Warren Buffett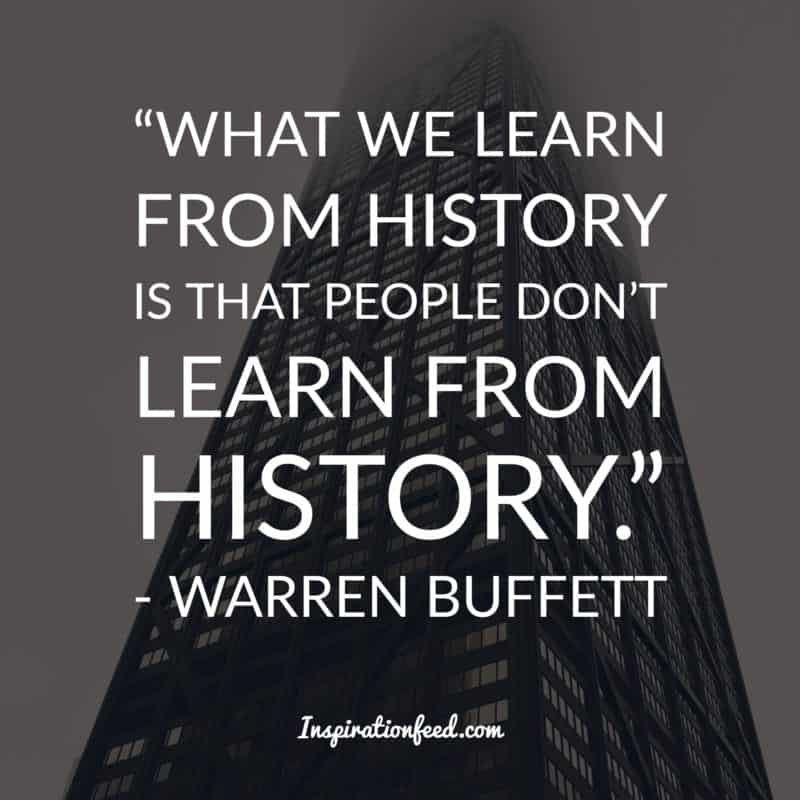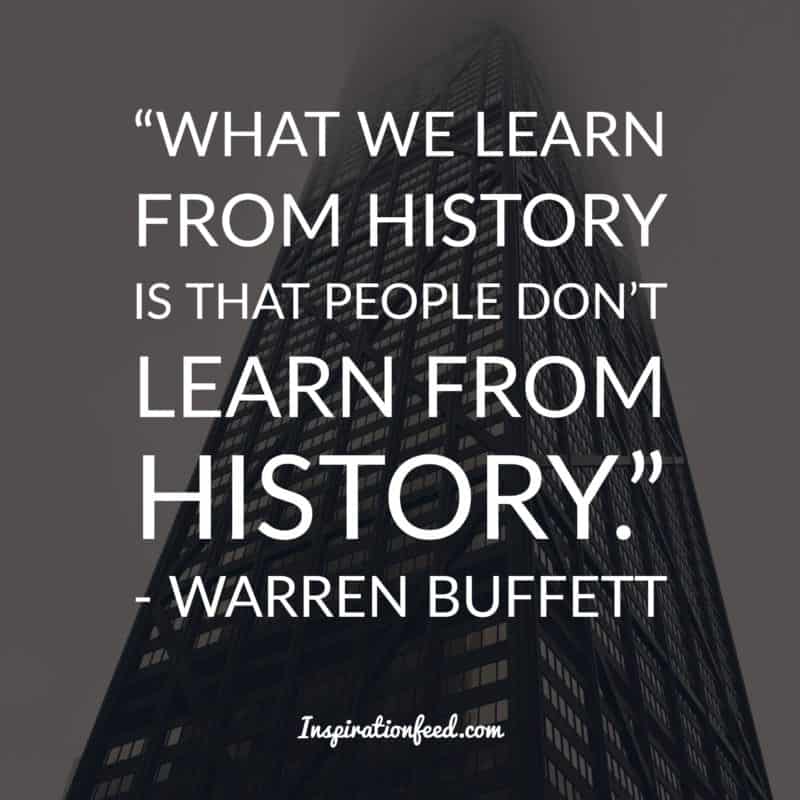 "What we learn from history is that people don't learn from history." – Warren Buffett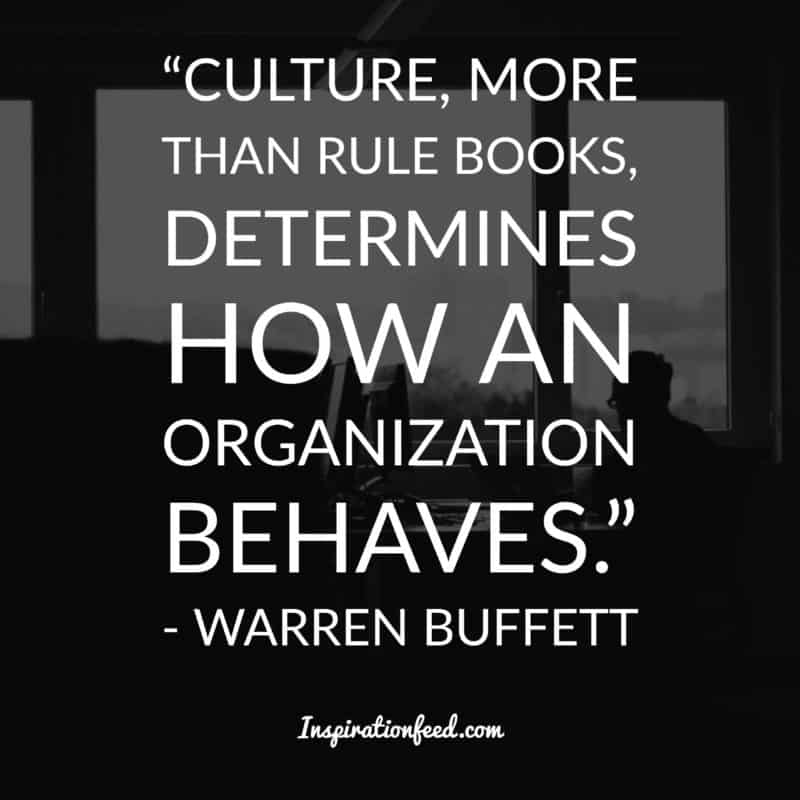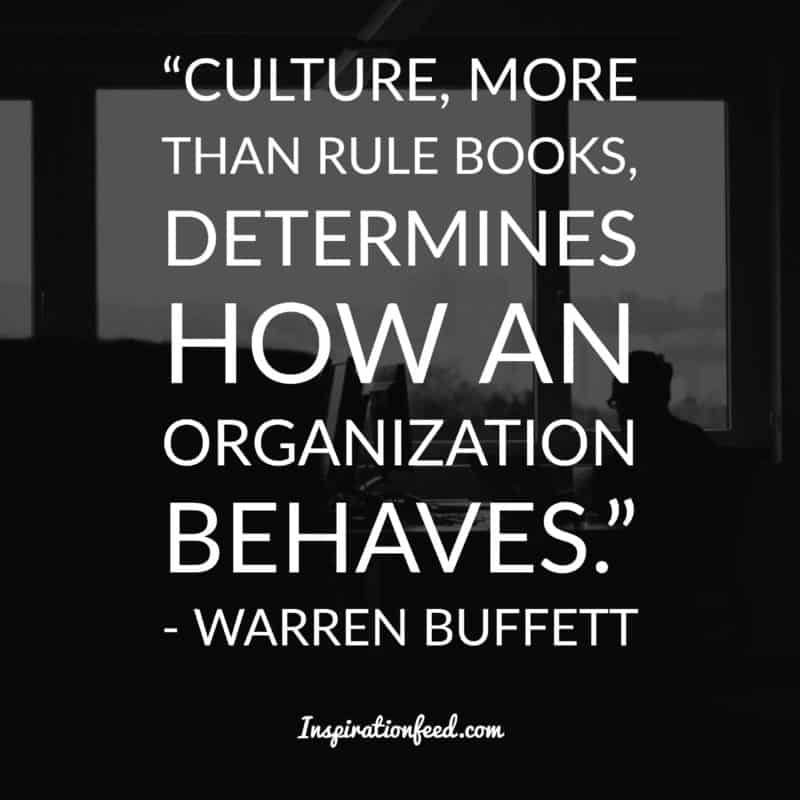 "Culture, more than rule books, determines how an organization behaves." – Warren Buffett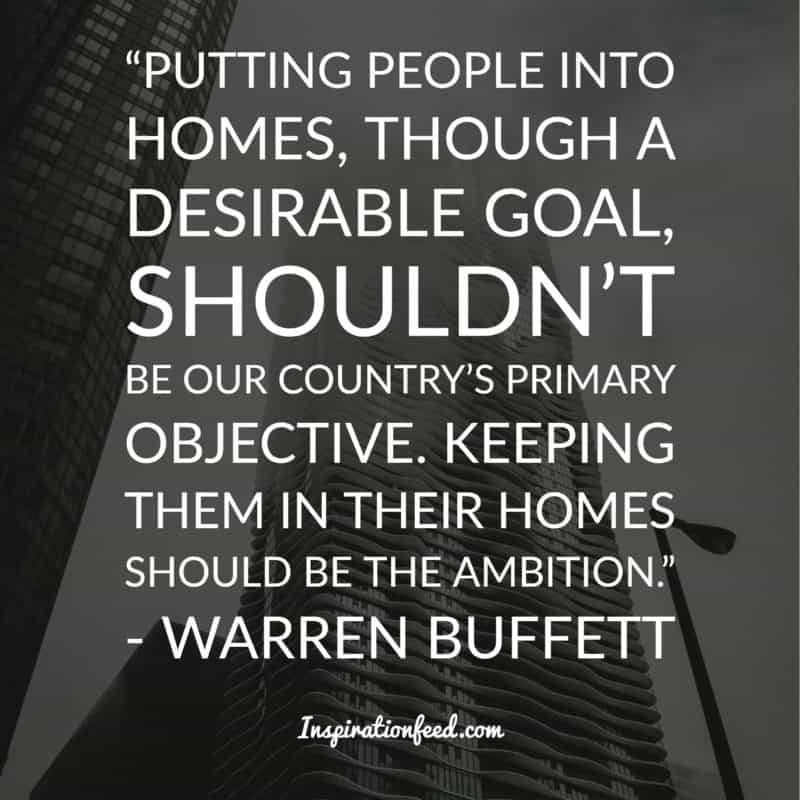 "Putting people into homes, though a desirable goal, shouldn't be our country's primary objective. Keeping them in their homes should be the ambition." – Warren Buffett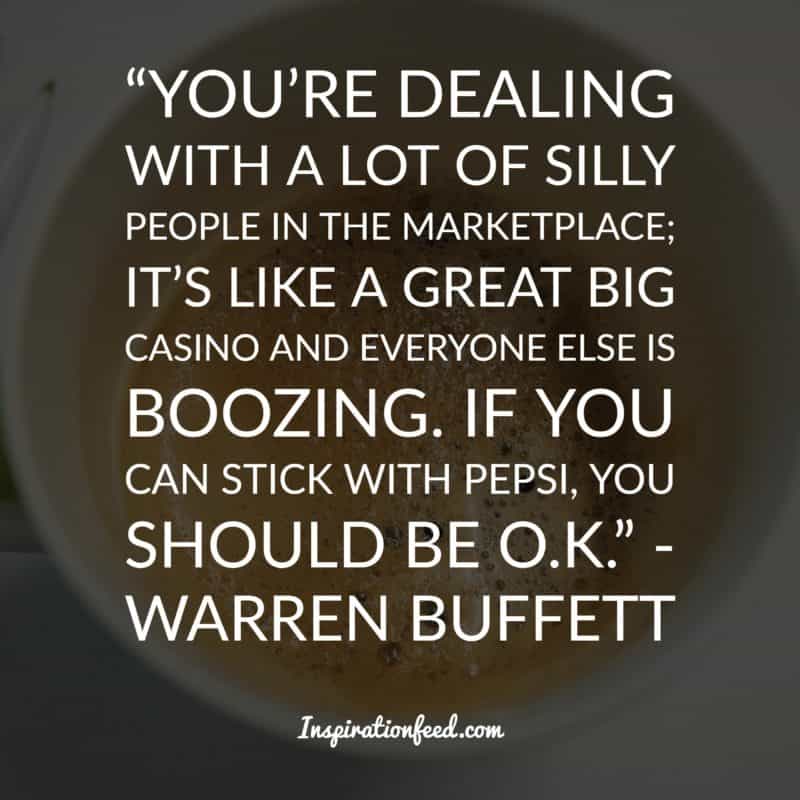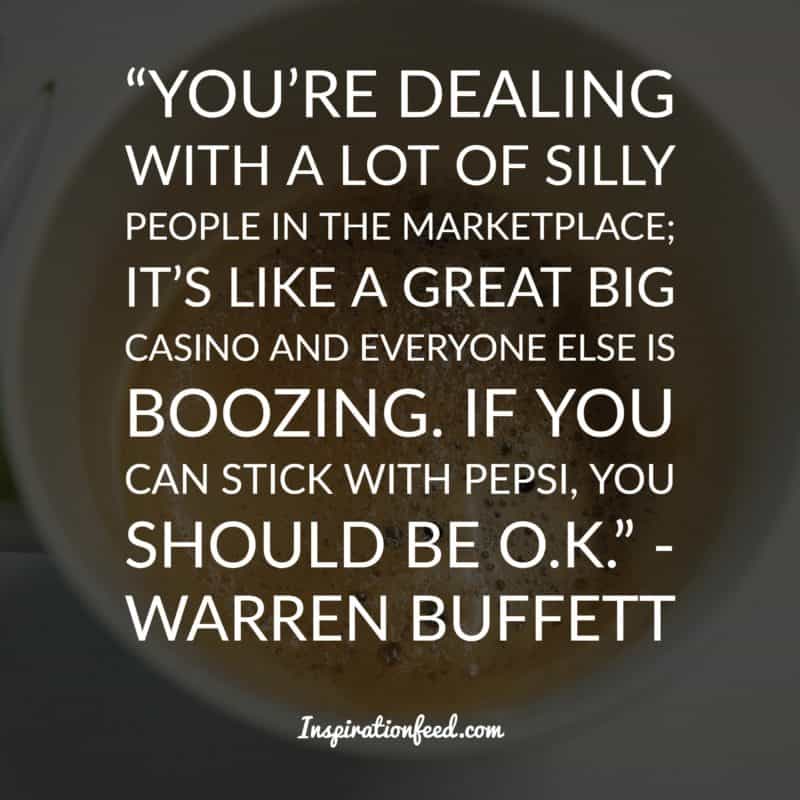 "You're dealing with a lot of silly people in the marketplace; it's like a great big casino and everyone else is boozing. If you can stick with Pepsi, you should be O.K." – Warren Buffett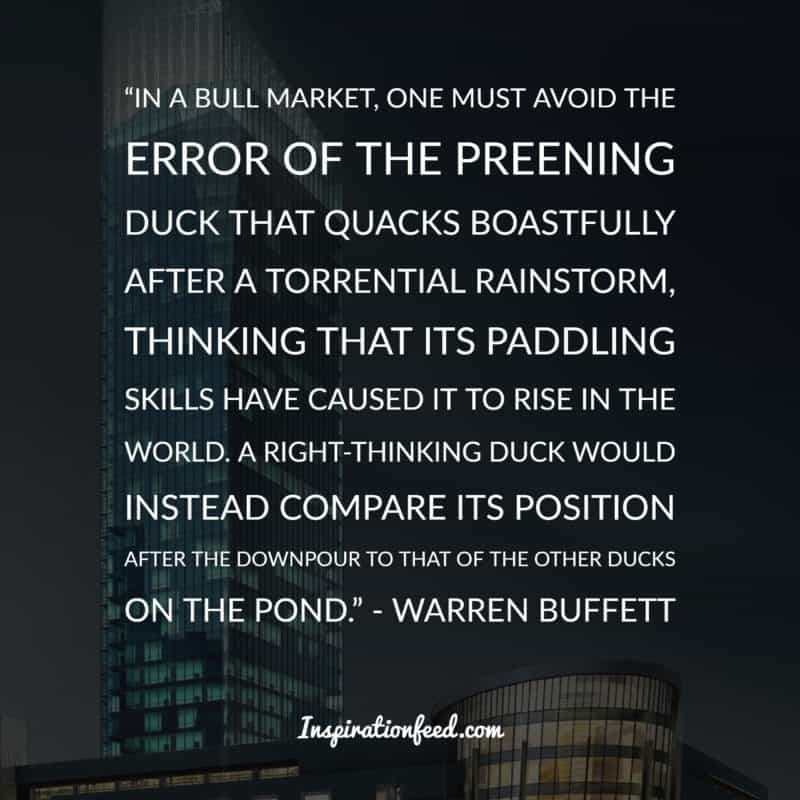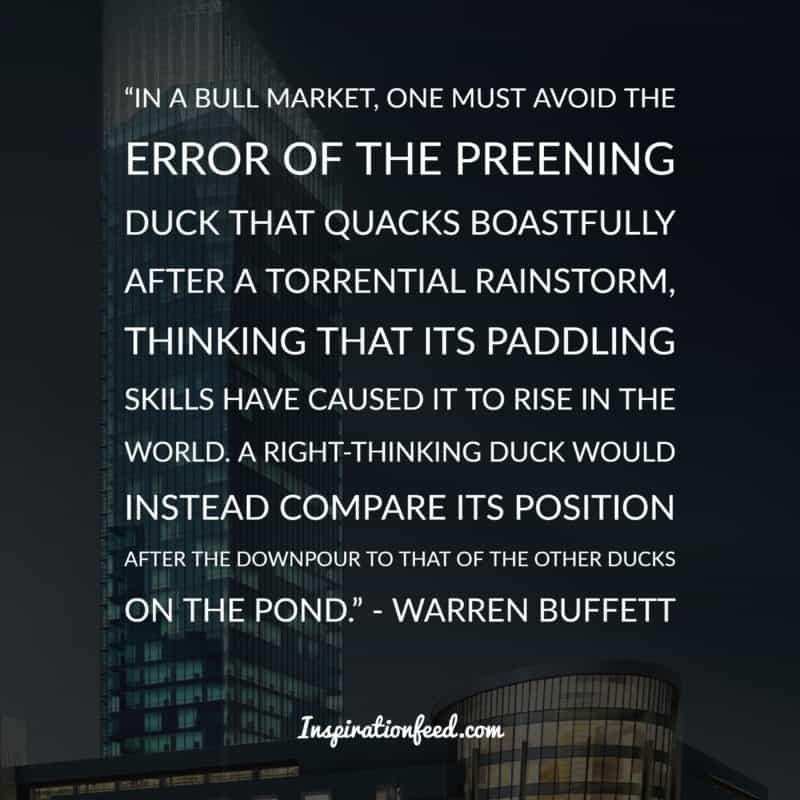 "In a bull market, one must avoid the error of the preening duck that quacks boastfully after a torrential rainstorm, thinking that its paddling skills have caused it to rise in the world. A right-thinking duck would instead compare its position after the downpour to that of the other ducks on the pond." – Warren Buffett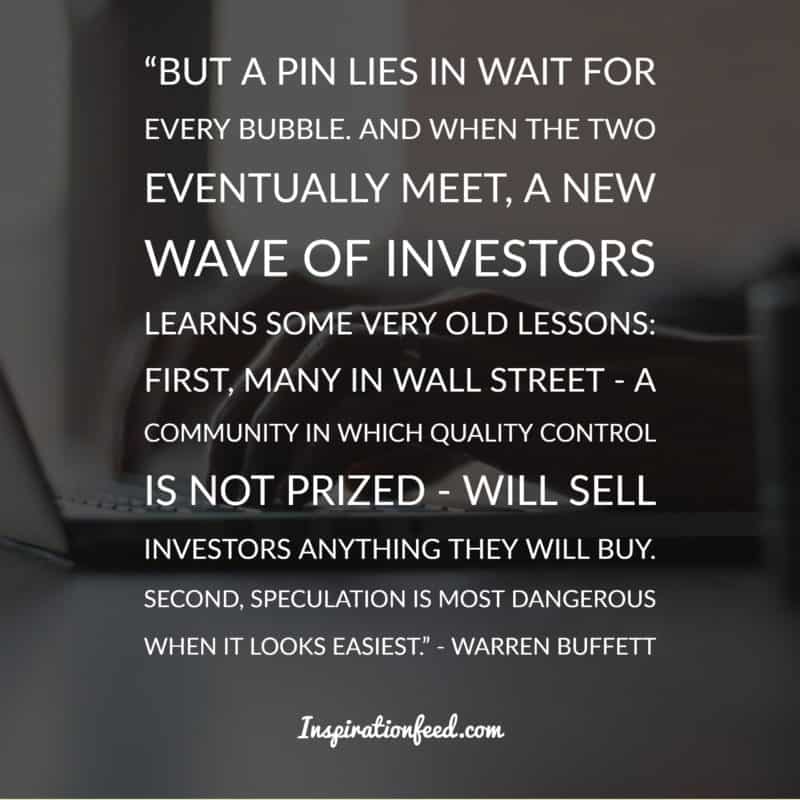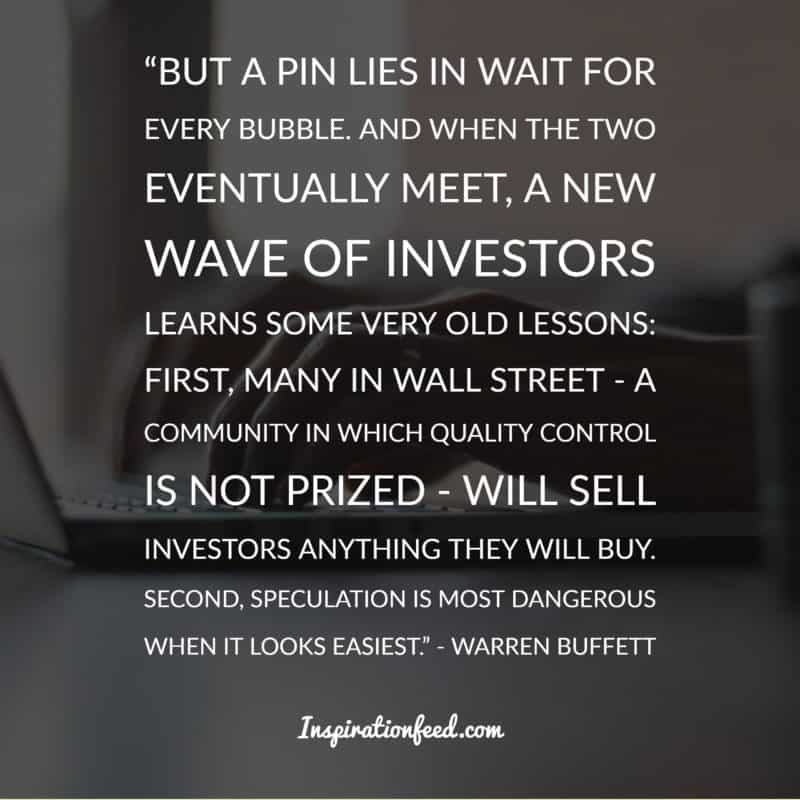 "But a pin lies in wait for every bubble. And when the two eventually meet, a new wave of investors learns some very old lessons: First, many in Wall Street – a community in which quality control is not prized – will sell investors anything they will buy. Second, speculation is most dangerous when it looks easiest." – Warren Buffett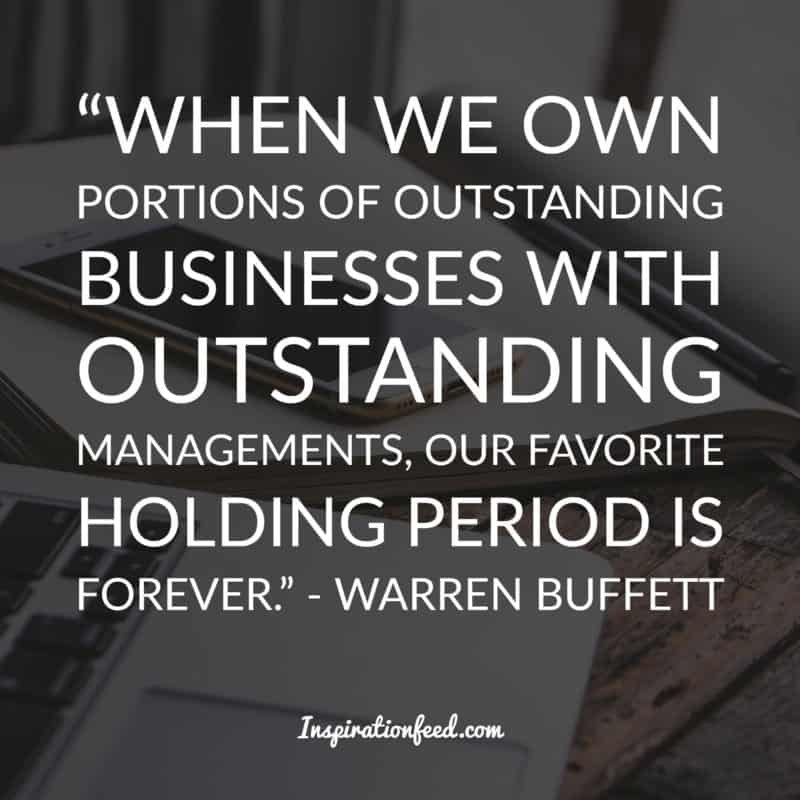 "When we own portions of outstanding businesses with outstanding managements, our favorite holding period is forever." – Warren Buffett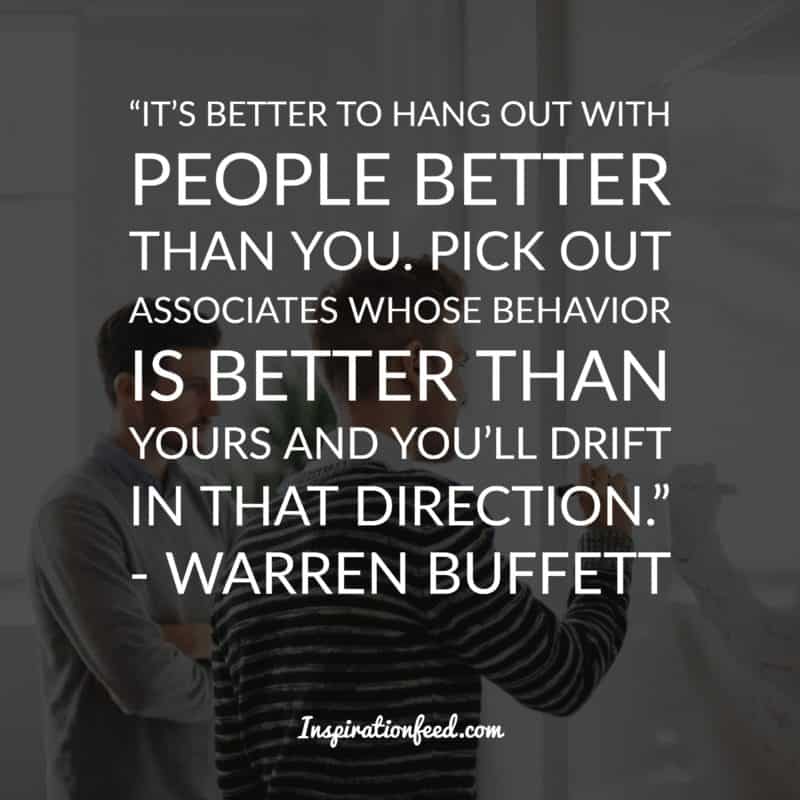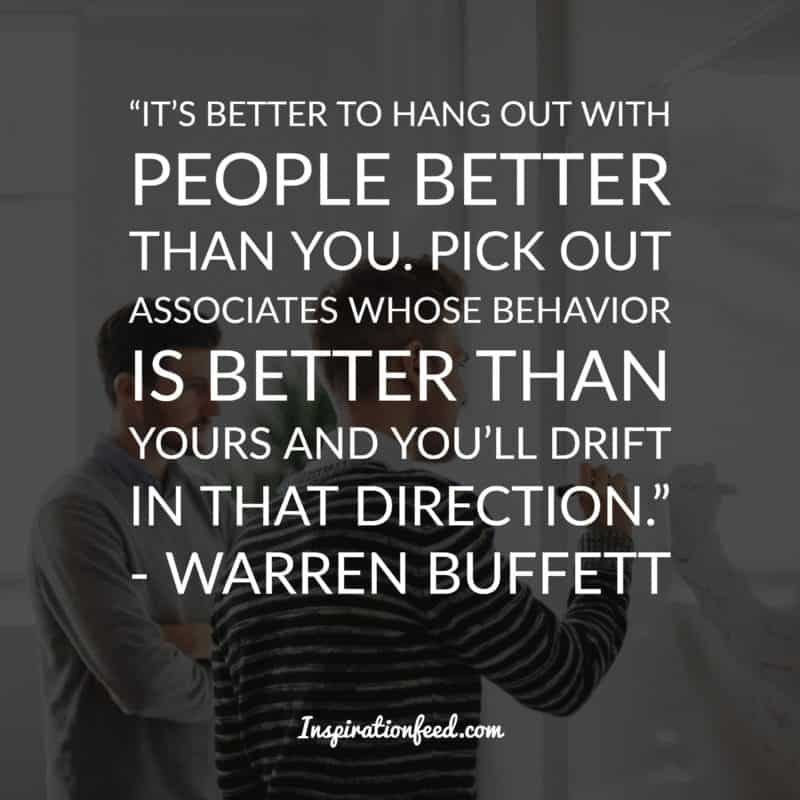 "It's better to hang out with people better than you. Pick out associates whose behavior is better than yours and you'll drift in that direction." – Warren Buffett