Last Updated on January 24, 2023
He is called by a couple of names, such as 'Honest Abe' and 'The Great Emancipator'. But he is most known as Abraham Lincoln, the 16th president of the United States. Lovingly remembered for his abolition of slavery, Lincoln's kind and gentle persona continues to set an example to this day.
Born into humble roots, he mostly taught himself and showed an ardent love for learning and reading. Abraham Lincoln suffered much loss during his lifetime. However, that did not deter his spirit nor did it cast doubt upon his beliefs. That's why he is considered to be the savior of the Union – as well as one of the great American heroes.
Abraham Lincoln: Younger Years
Abraham Lincoln was born on February 12, 1809 to parents Thomas and Nancy Hanks Lincoln in a simple log cabin in Kentucky. He had two other siblings: Sarah, his older sister, and a younger brother Thomas, who died during the early years of infancy. A land dispute forced the family to move from Kentucky to Indiana when Abe was only seven.
In 1816, they settled in Hurricane Township, Perry County. Abe's father, Thomas, tried different trades including working as a farmer, cabinetmaker, and carpenter. He was also able to secure acres of land, despite obvious financial struggles faced by the family. It was in Indiana that Abraham Lincoln would experience one of the first hardships in his life.
In 1818, his mother Nancy died of milk sickness, also known as tremetol poisoning. Milk sickness is a type of poisoning that happens when an individual consumes milk (or other dairy products) contaminated with tremetol that comes from the white snakeroot plant. About a year later, Abe's father married the widow, Sarah "Sally" Bush Johnston, with three children of her own.
As she was an affectionate woman, Abe grew fond of her, even calling her 'Mother'. It was she who encouraged Abraham Lincoln's love for reading. Though neighbors would criticize Abe for being 'lazy' because he preferred reading and writing, he persevered. A few of the books he had read in his youth included the King James Bible, Aesop's Fables, Pilgrim's Progress, Robinson Crusoe, and The Life of Washington.
As he grew to be rather tall and athletic, Abe also participated in wrestling matches. In fact, out of 300 matches, he was only defeated once. When the family moved to Illinois in 1830, he was able to get by on his own by making a living in manual labor. Eventually, Abraham Lincoln moved to New Salem where he worked as a shopkeeper, postmaster, and even general store owner.
Abraham Lincoln: Later Life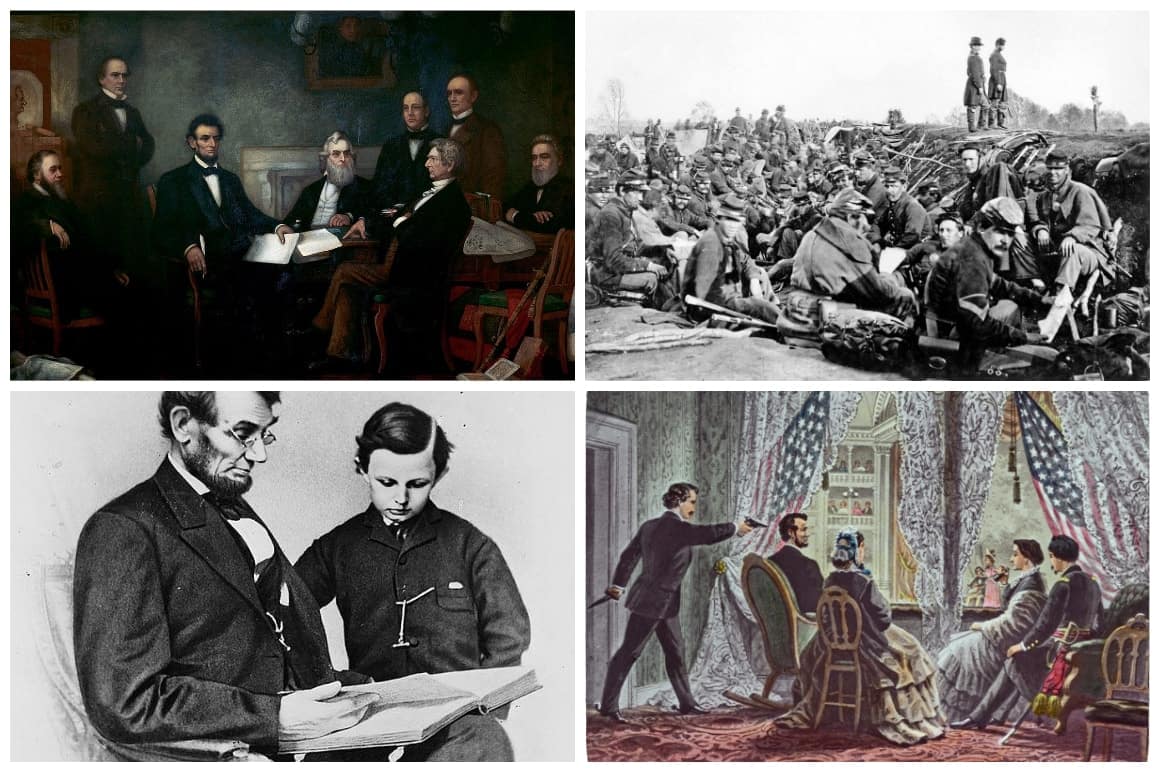 Working with different jobs and different people, Abraham Lincoln was able to practice his storytelling skills, making him popular to local folk. By the time that the Black Hawk War broke out in 1832, he was able to make important political connections. When he was elected to the Illinois state legislature, in 1834, he decided to become a lawyer and eventually practiced in the John T. Stuart law firm when he moved to Springfield, Illinois.
Abe had quite a few romantic relations in his younger years, but married Mary Todd in November 1842. She was a high-spirited woman from a wealthy Kentucky family. They had four children – but only one survived into adulthood: Robert Todd Lincoln.
When the Kansas-Nebraska Act was passed in 1854, Abraham Lincoln's stand on slavery was awakened once more. He joined the Republican Party in 1856. Despite some challenges in his political career, he was eventually elected president on November 6, 1860.
Unfortunately, his service to the country was cut short when he was assassinated by Confederate sympathizer, John Wilkes Booth. He was shot while attending a play at Ford's Theatre. Abraham Lincoln was pronounced dead on the morning of April 15, 1865.
Honest Abe's principles and strength of character is a great inspiration to anyone at any age. Through these powerful Abraham Lincoln quotes, may you find the same strength to withstand hardships and rise above challenges in life.
30 Powerful Abraham Lincoln Quotes on Democracy and Success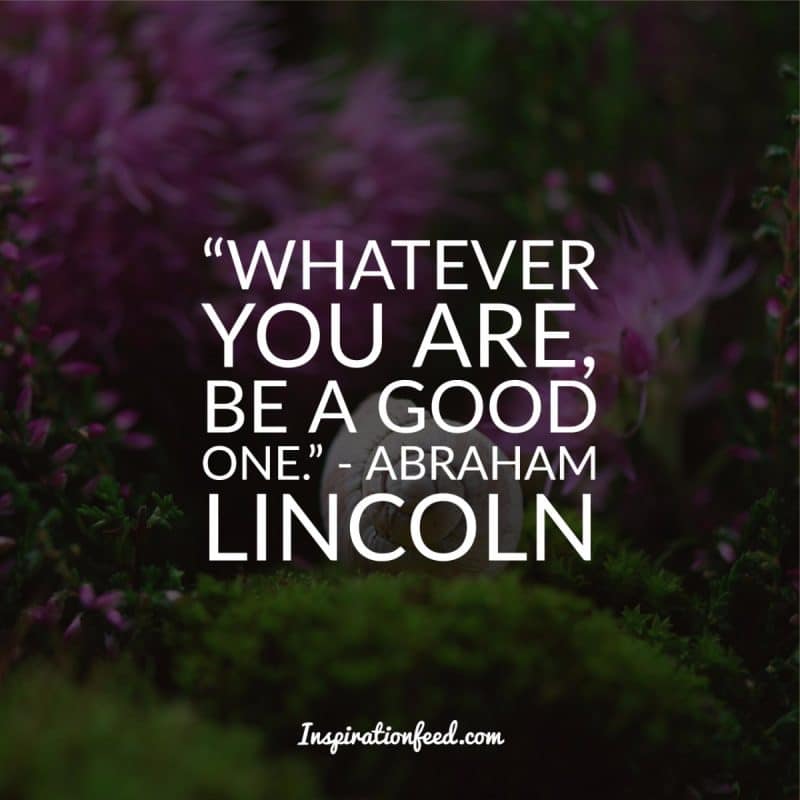 "Whatever you are, be a good one." – Abraham Lincoln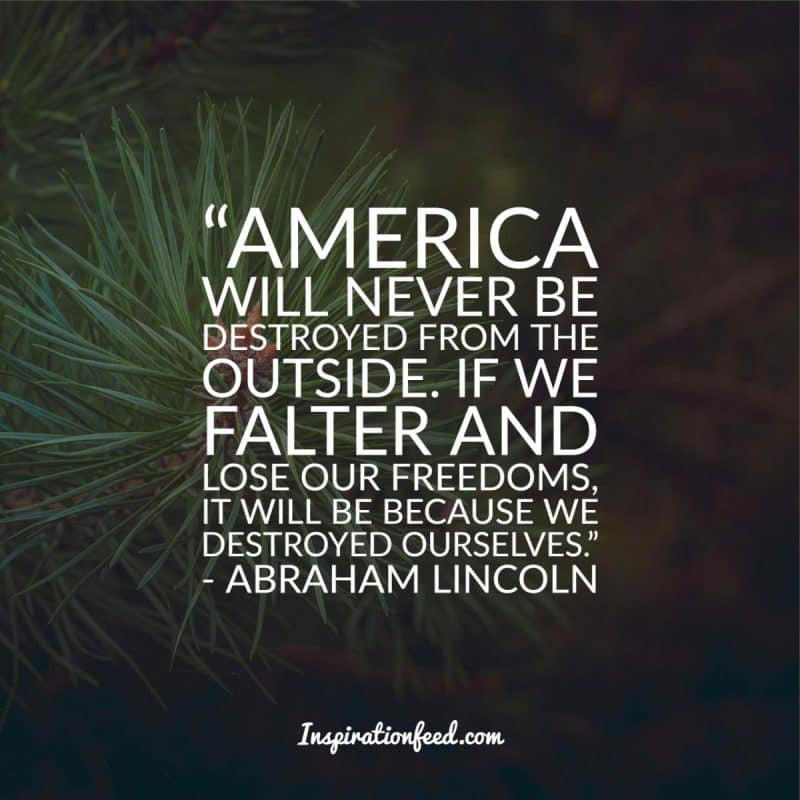 "America will never be destroyed from the outside. If we falter and lose our freedoms, it will be because we destroyed ourselves." – Abraham Lincoln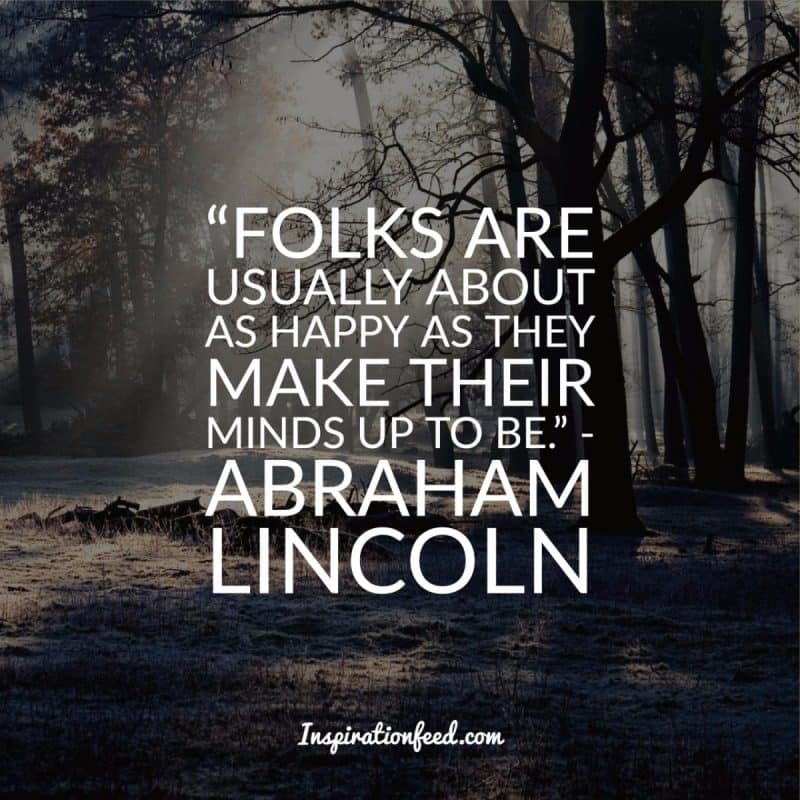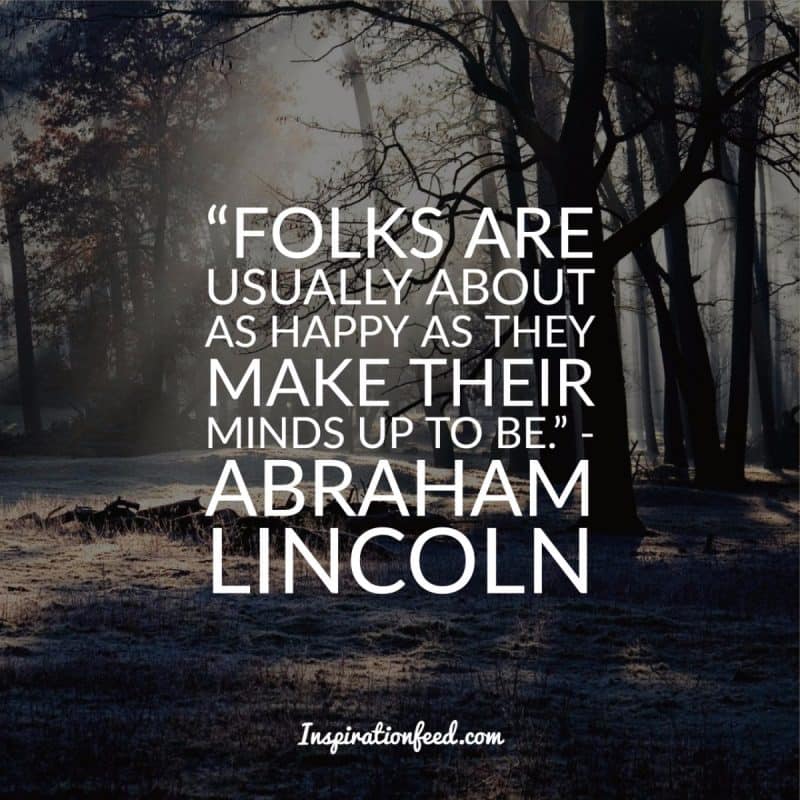 "Folks are usually about as happy as they make their minds up to be." – Abraham Lincoln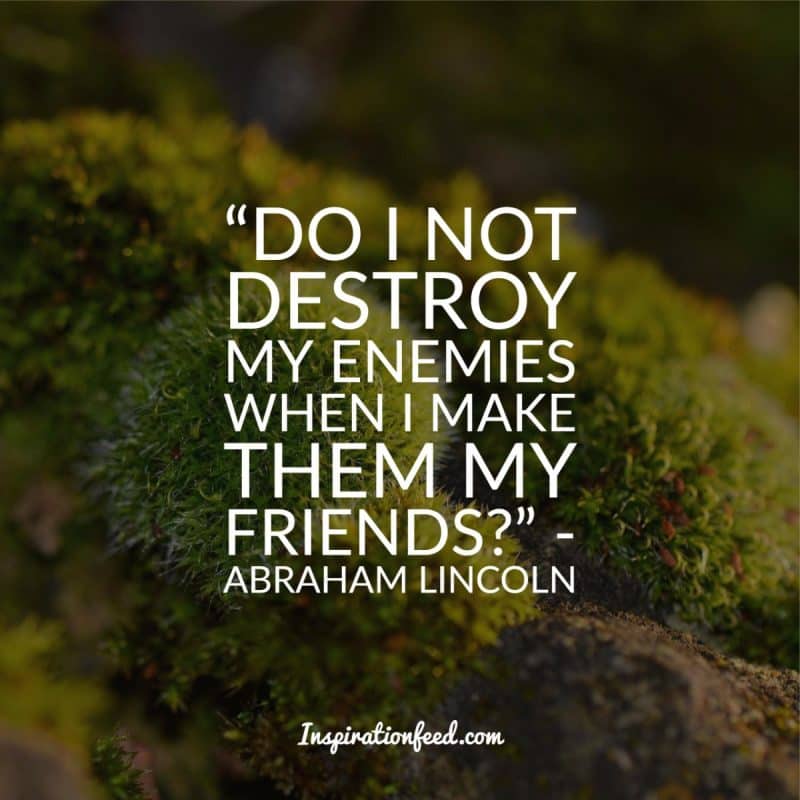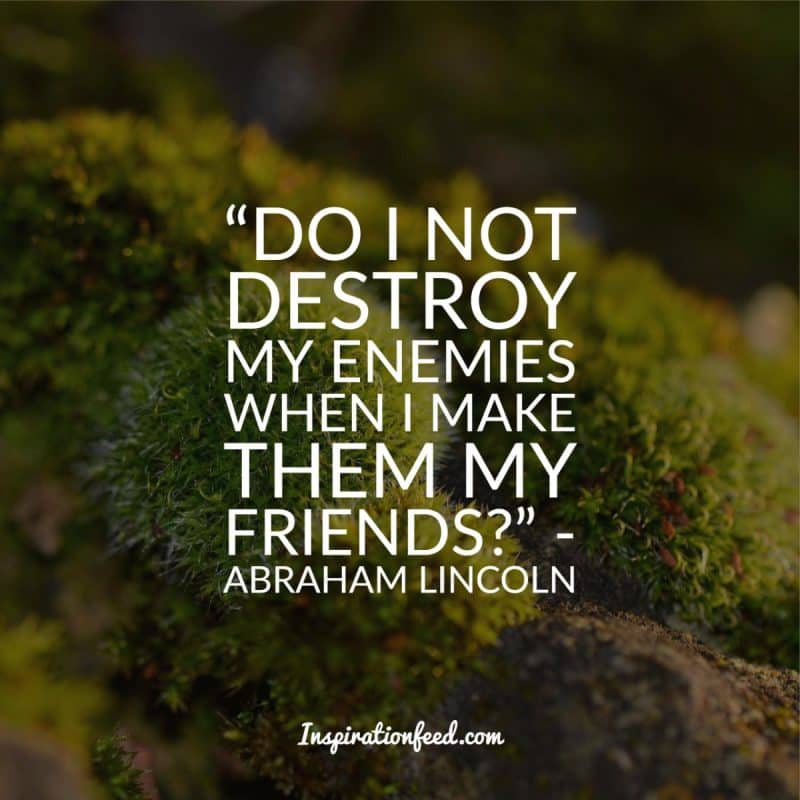 "Do I not destroy my enemies when I make them my friends?" – Abraham Lincoln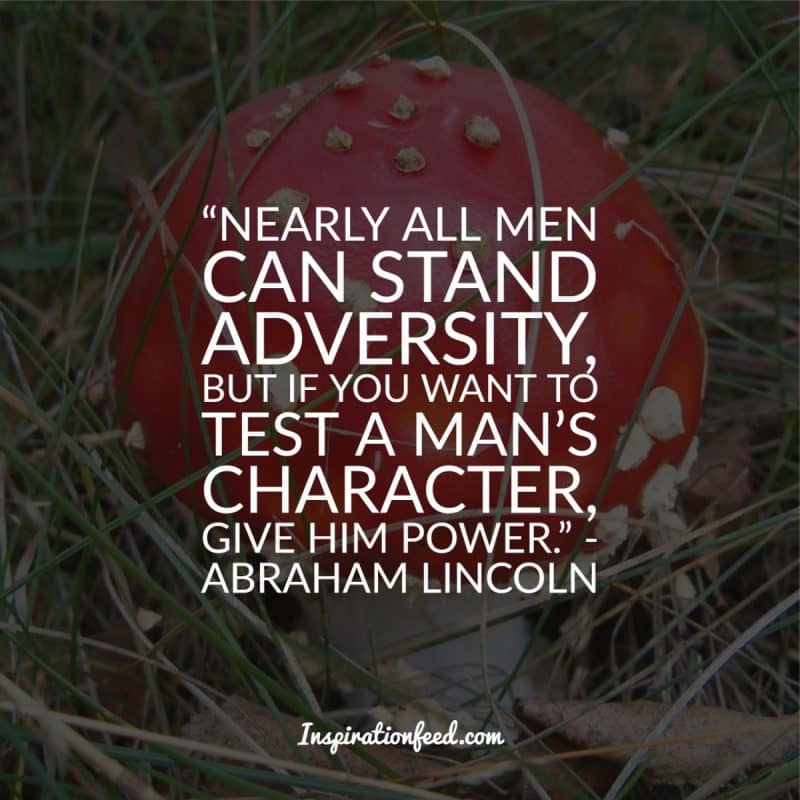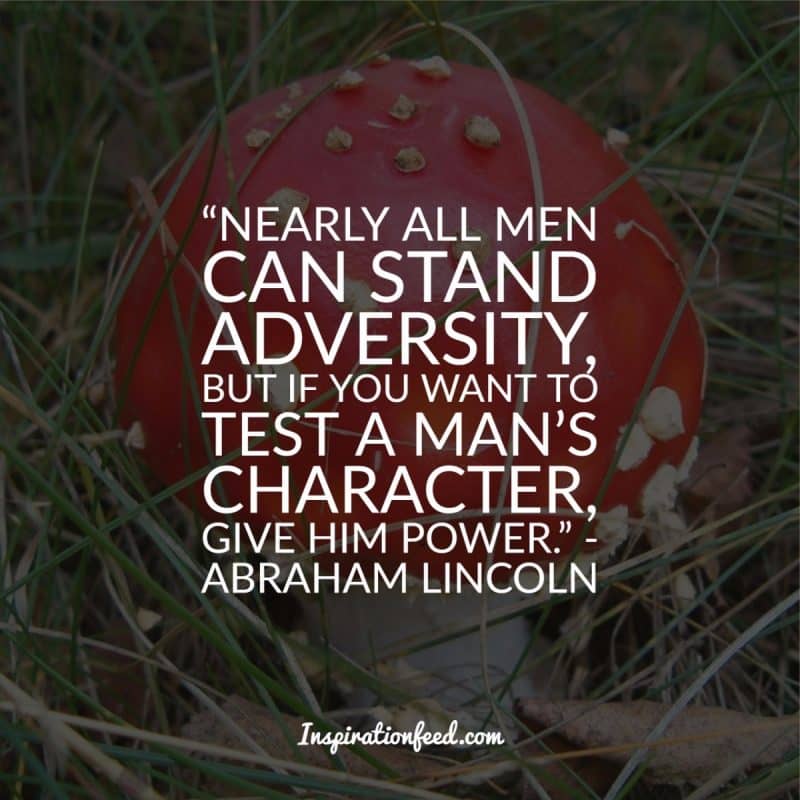 "Nearly all men can stand adversity, but if you want to test a man's character, give him power." – Abraham Lincoln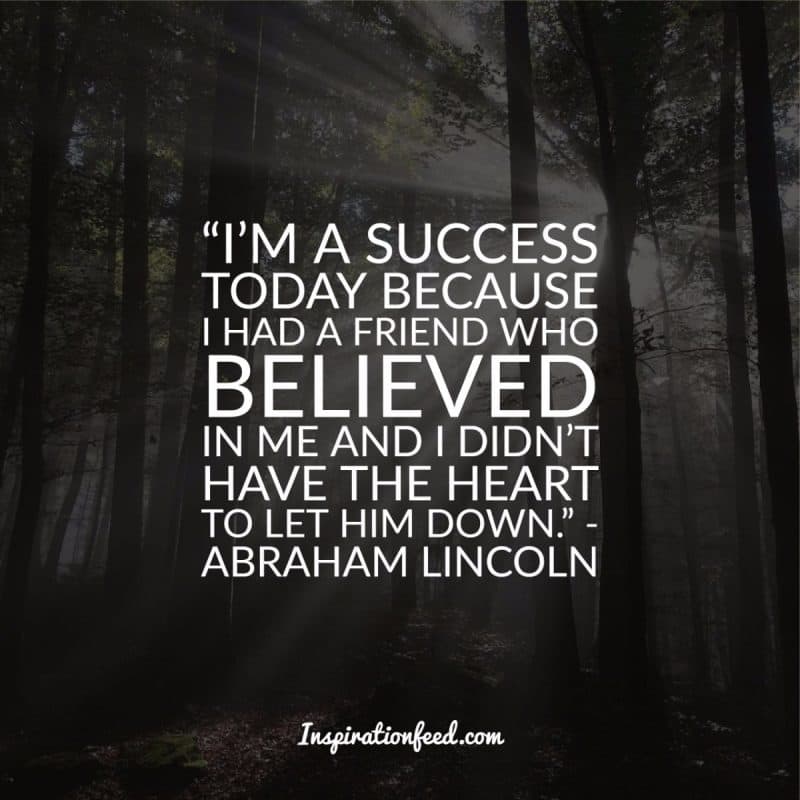 "I'm a success today because I had a friend who believed in me and I didn't have the heart to let him down." – Abraham Lincoln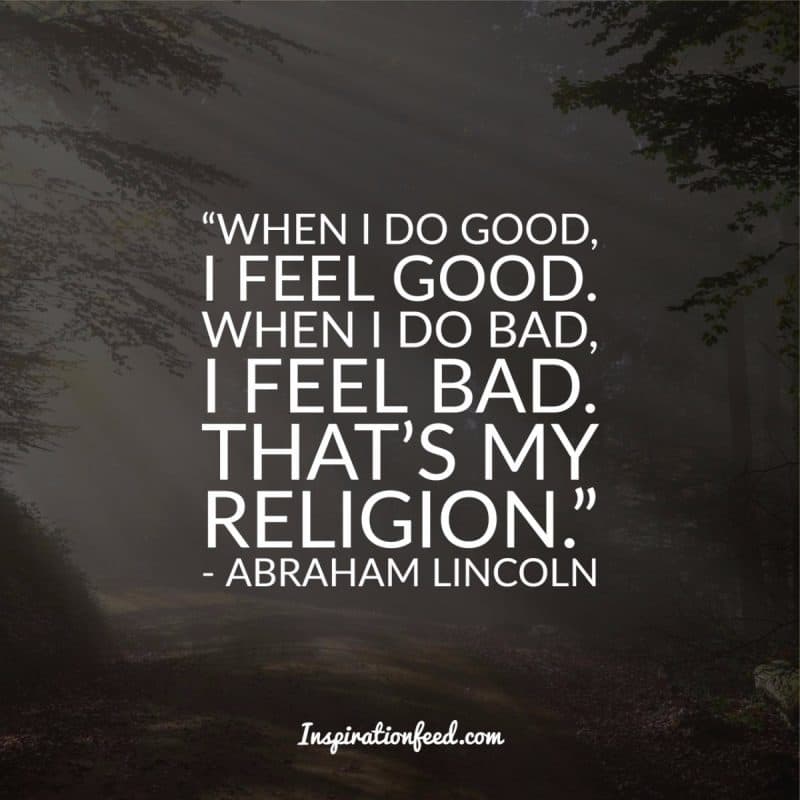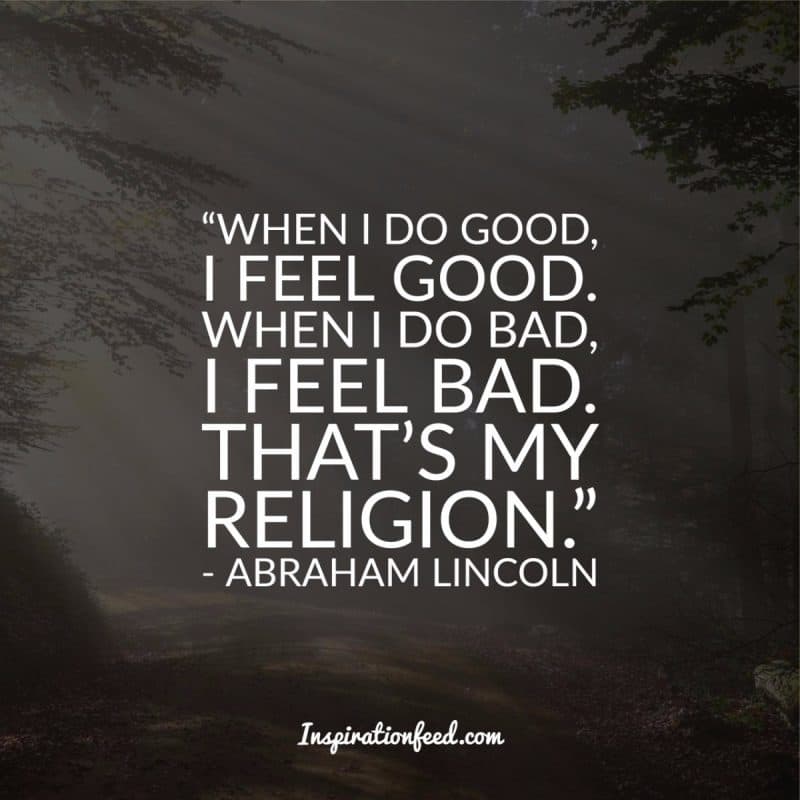 "When I do good, I feel good. When I do bad, I feel bad. That's my religion." – Abraham Lincoln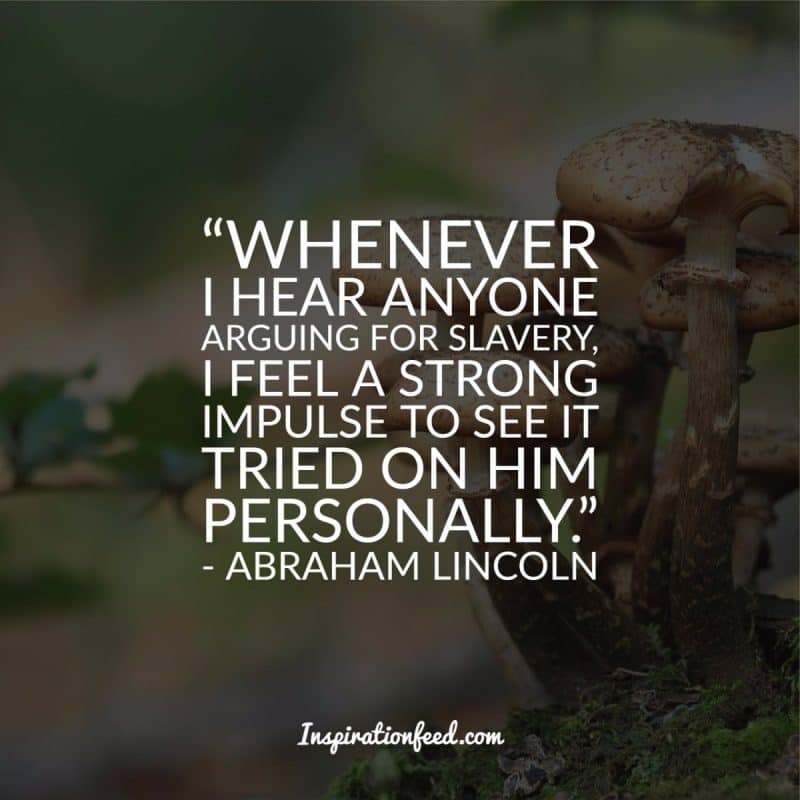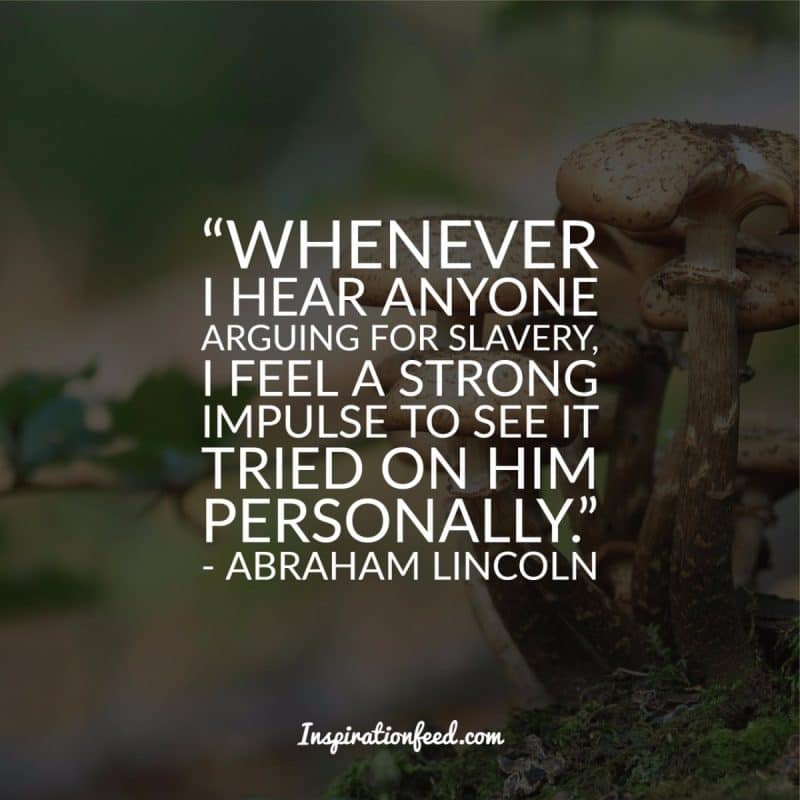 "Whenever I hear anyone arguing for slavery, I feel a strong impulse to see it tried on him personally." – Abraham Lincoln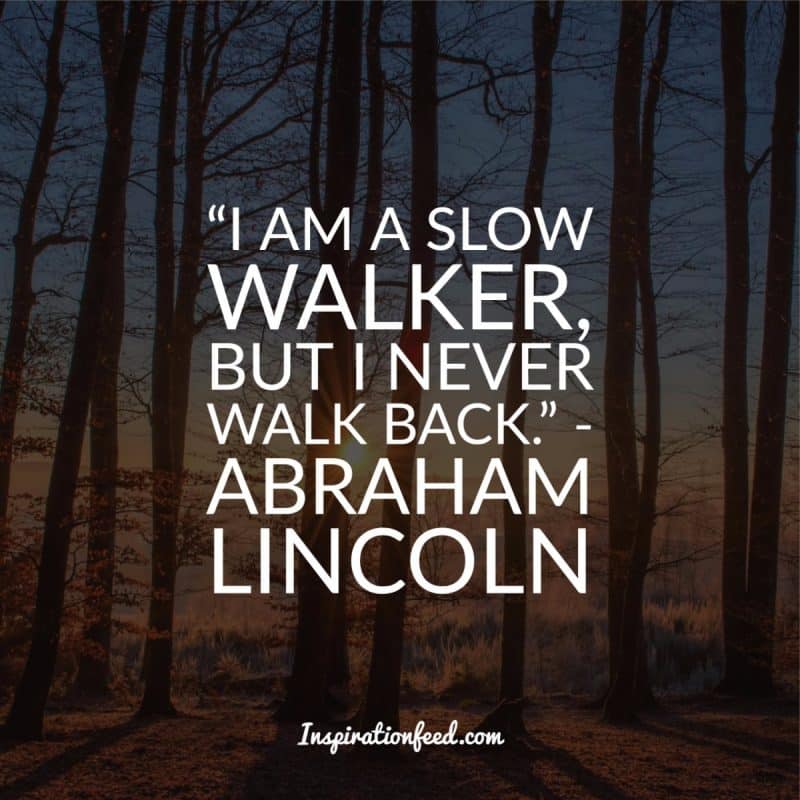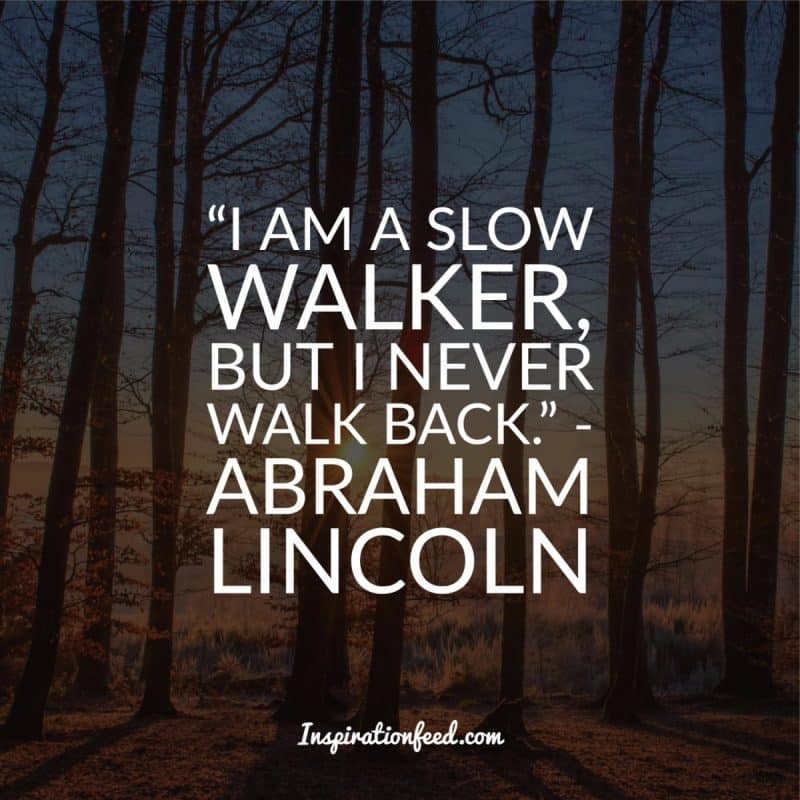 "I am a slow walker, but I never walk back." – Abraham Lincoln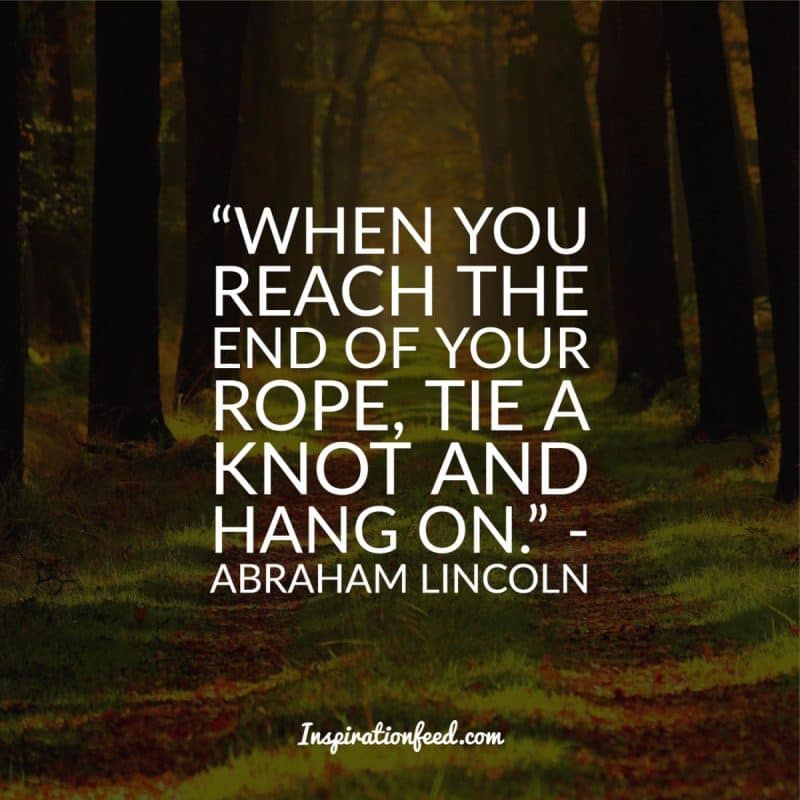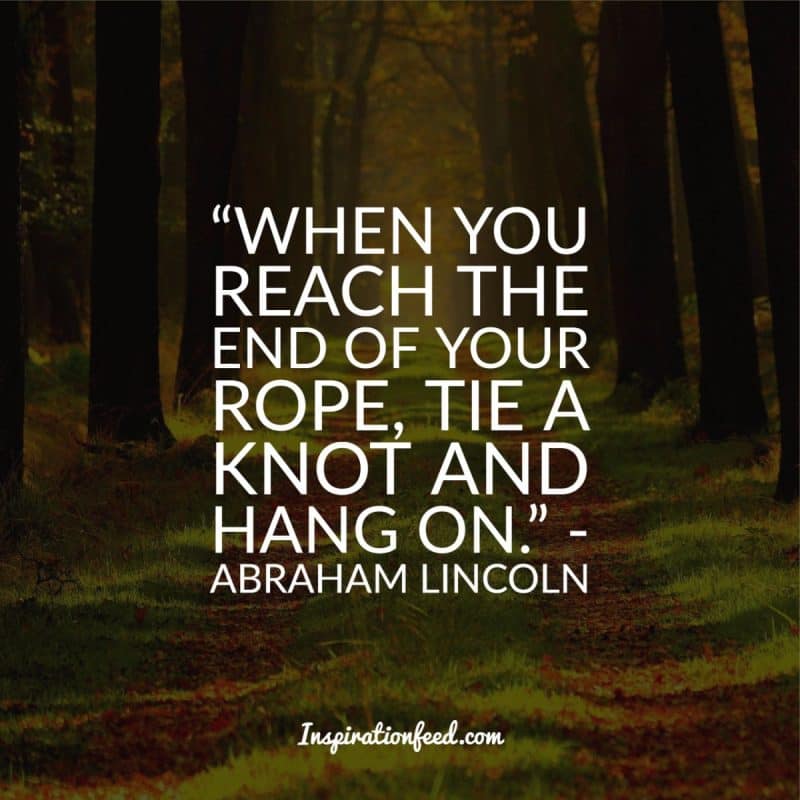 "When you reach the end of your rope, tie a knot and hang on." – Abraham Lincoln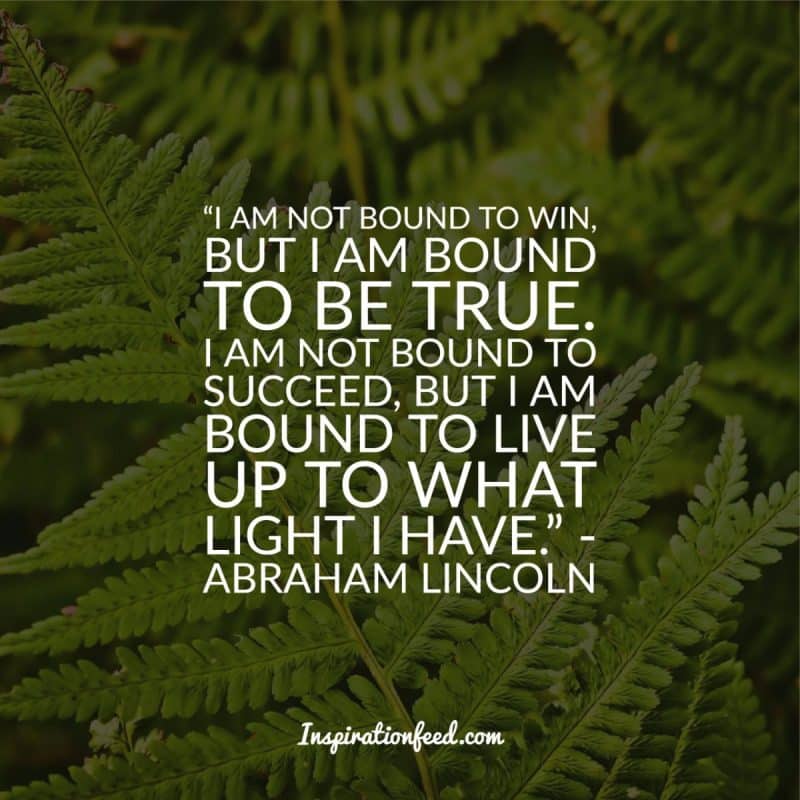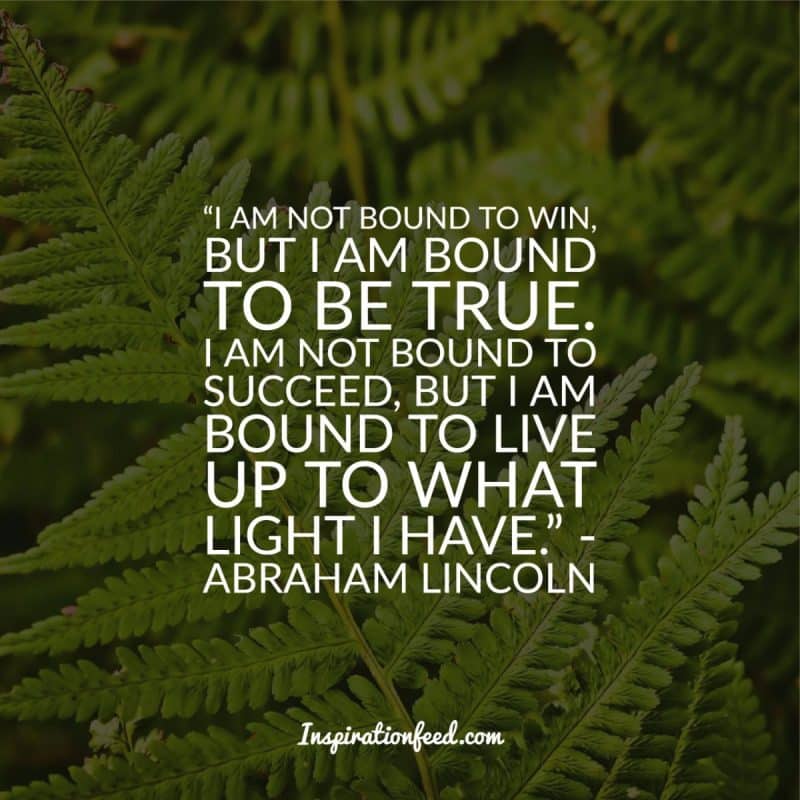 "I am not bound to win, but I am bound to be true. I am not bound to succeed, but I am bound to live up to what light I have." – Abraham Lincoln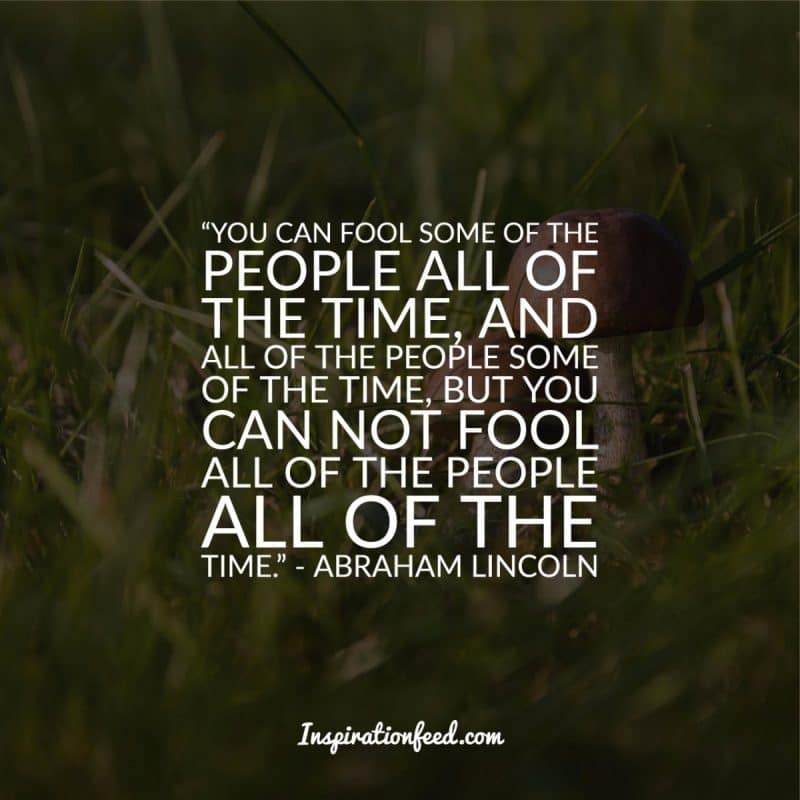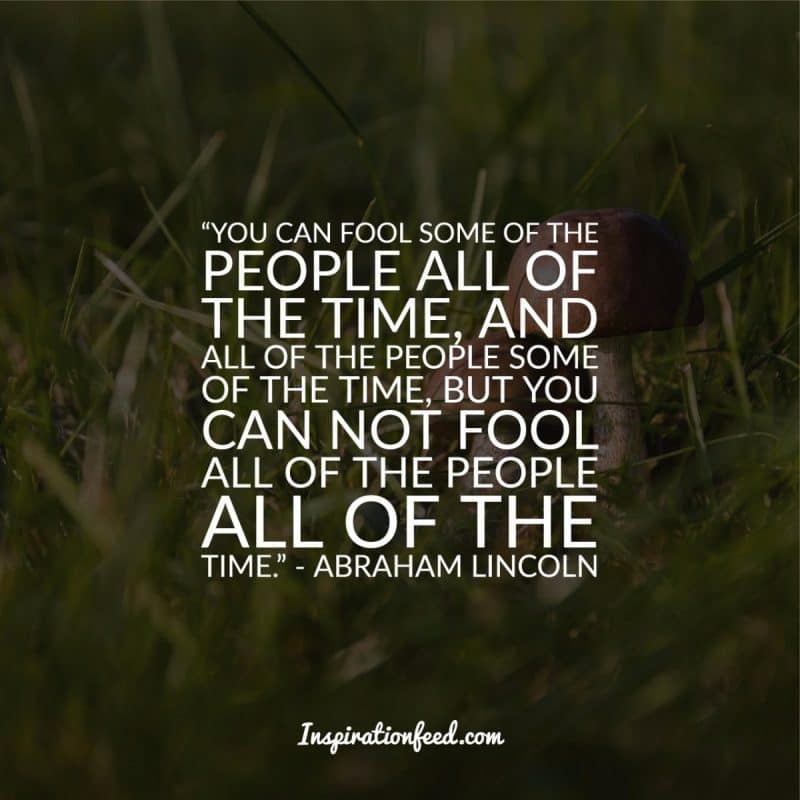 "You can fool some of the people all of the time, and all of the people some of the time, but you can not fool all of the people all of the time." – Abraham Lincoln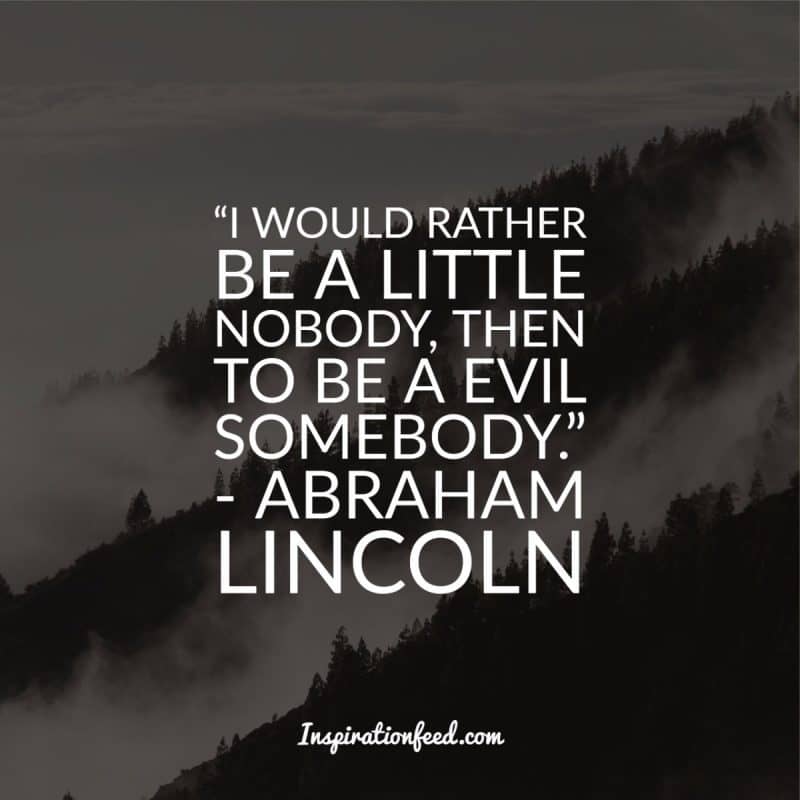 "I would rather be a little nobody, then to be a evil somebody." – Abraham Lincoln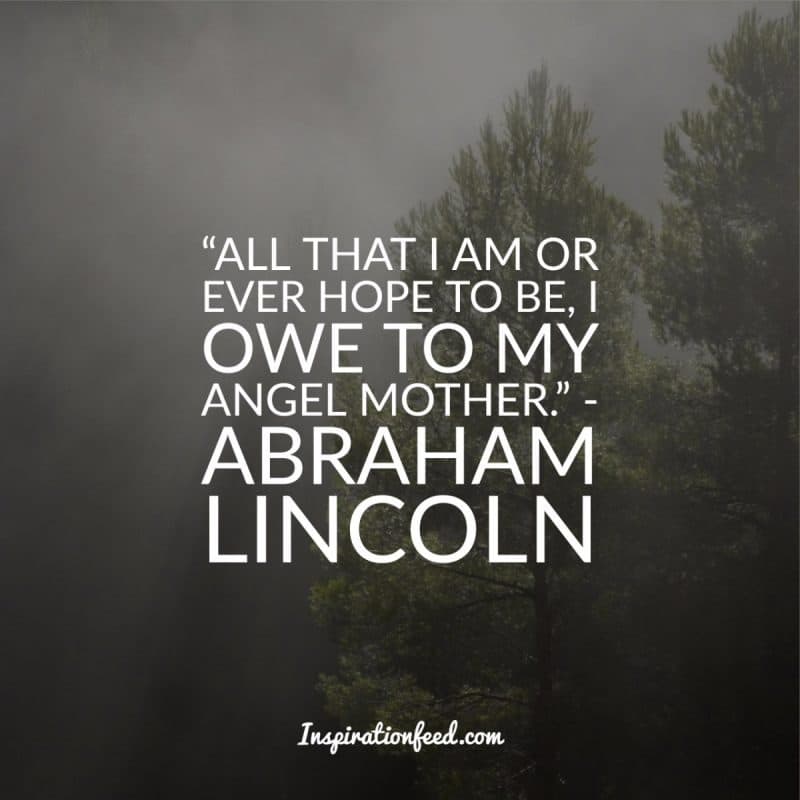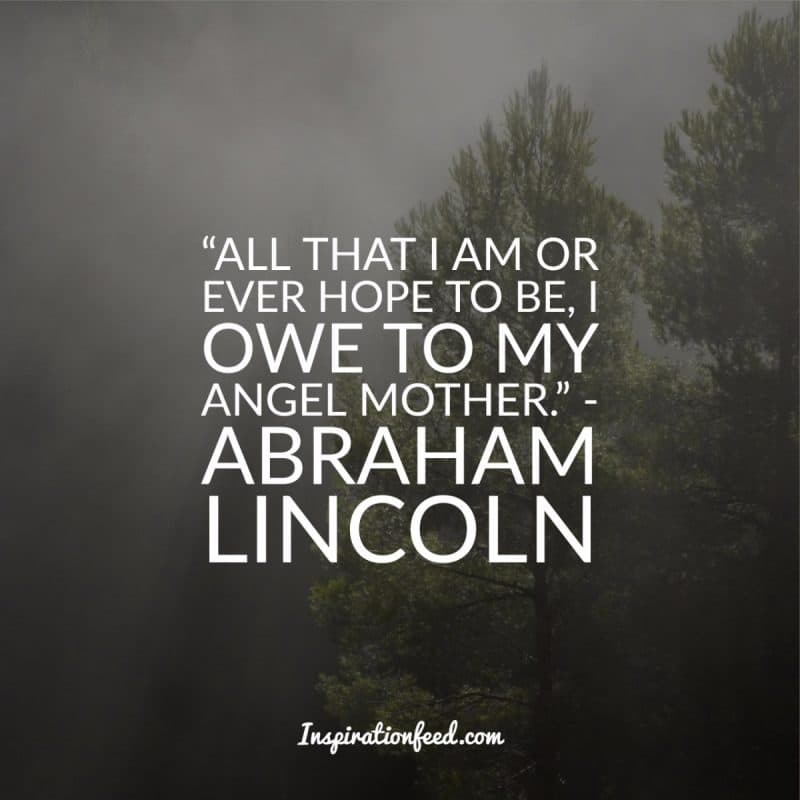 "All that I am or ever hope to be, I owe to my angel mother." – Abraham Lincoln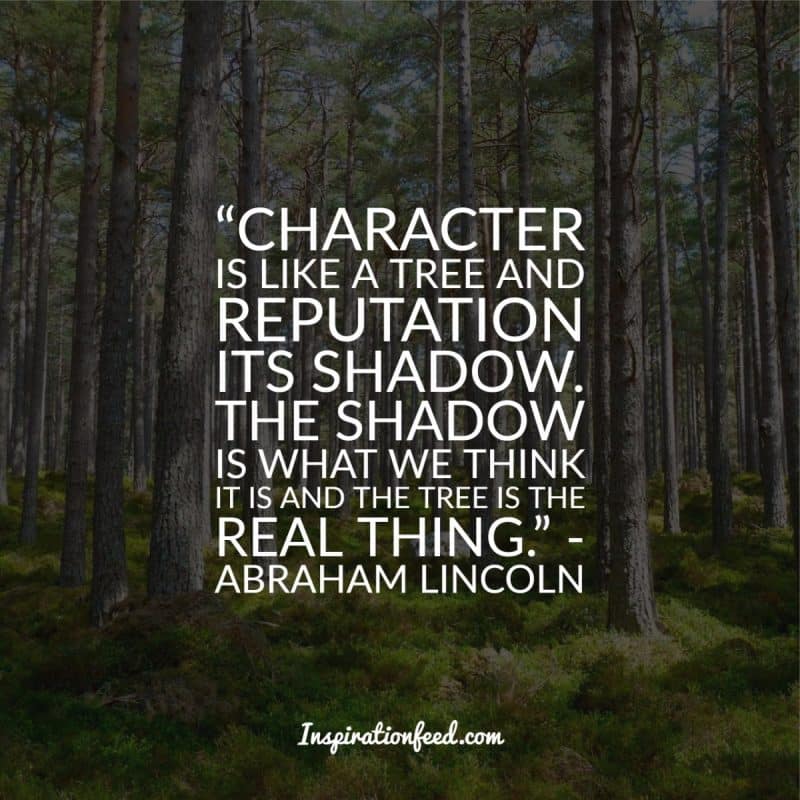 "Character is like a tree and reputation its shadow. The shadow is what we think it is and the tree is the real thing." – Abraham Lincoln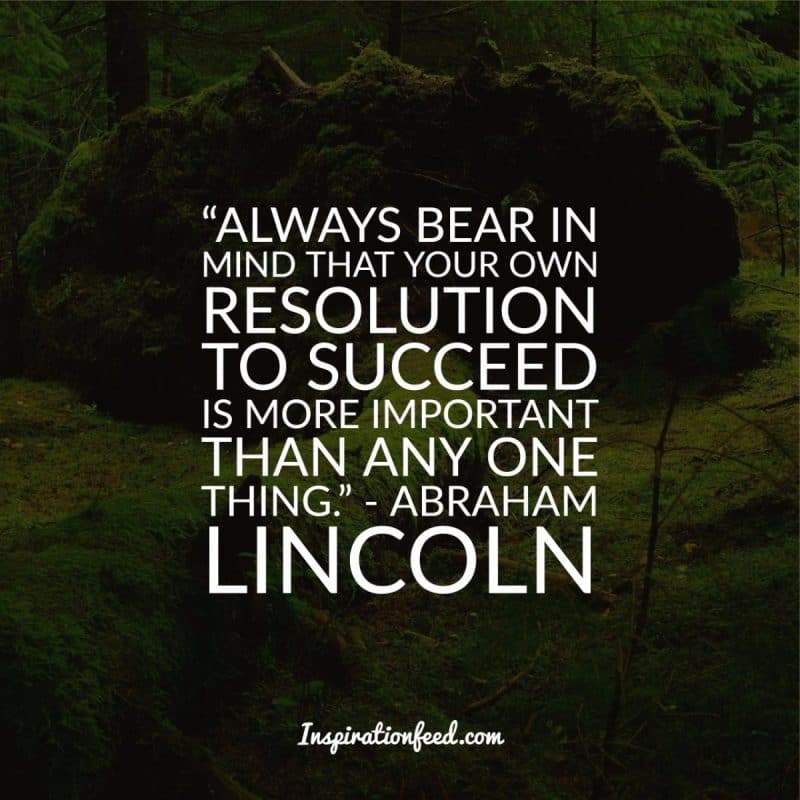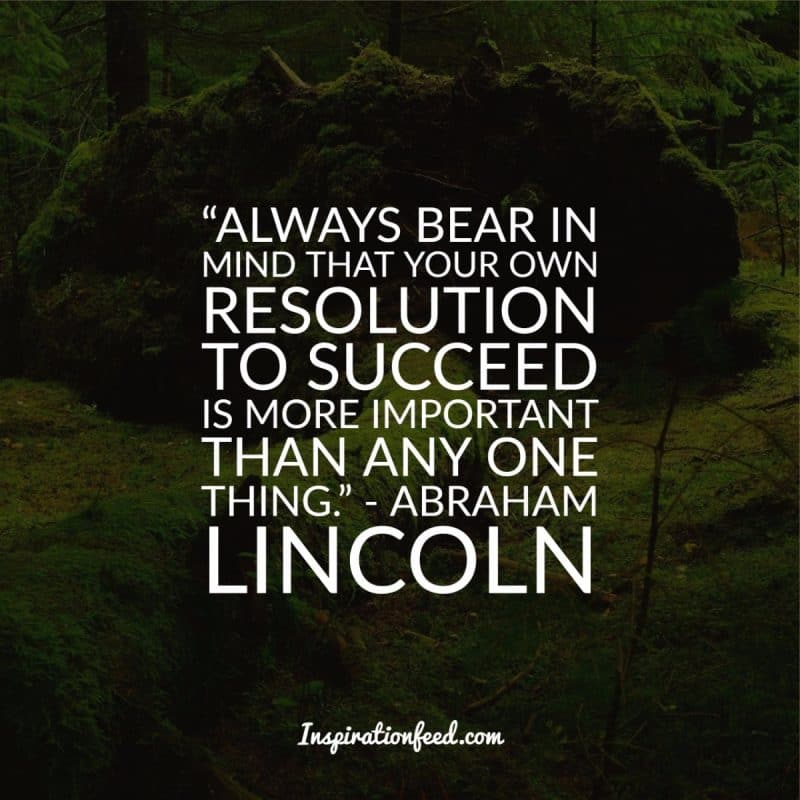 "Always bear in mind that your own resolution to succeed is more important than any one thing." – Abraham Lincoln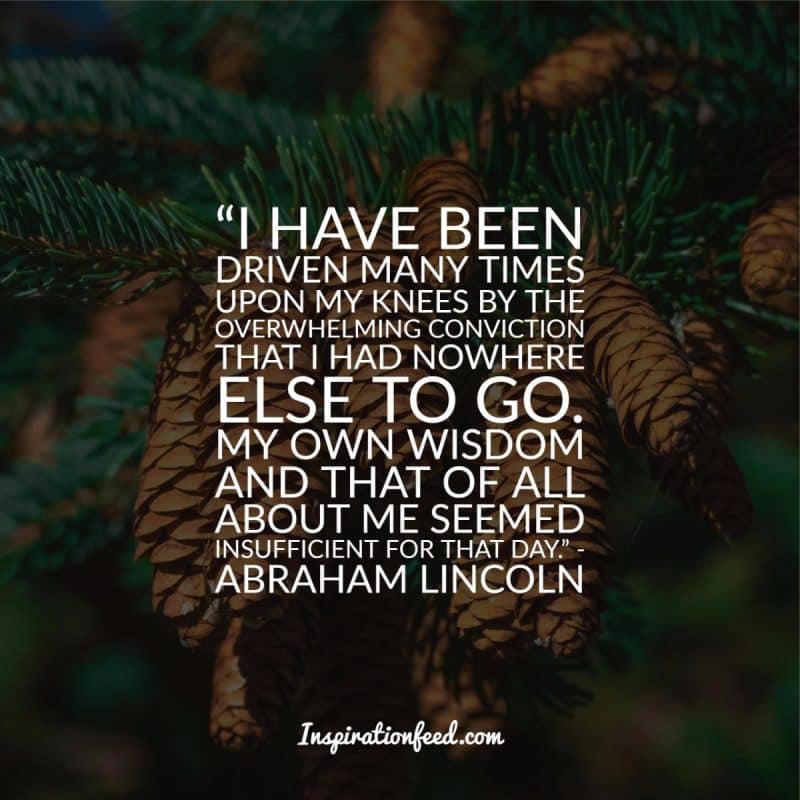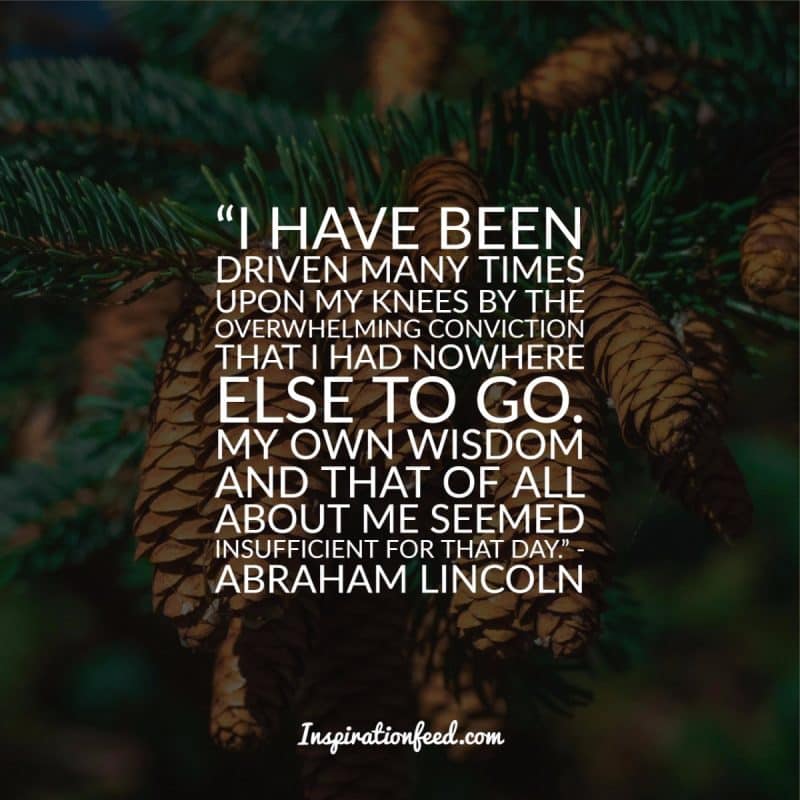 "I have been driven many times upon my knees by the overwhelming conviction that I had nowhere else to go. My own wisdom and that of all about me seemed insufficient for that day." – Abraham Lincoln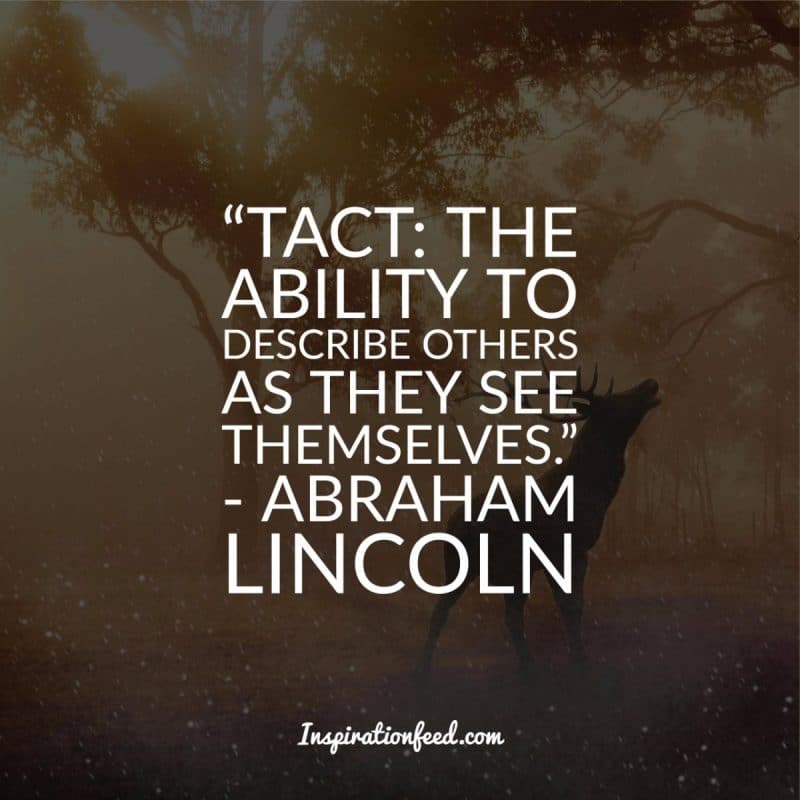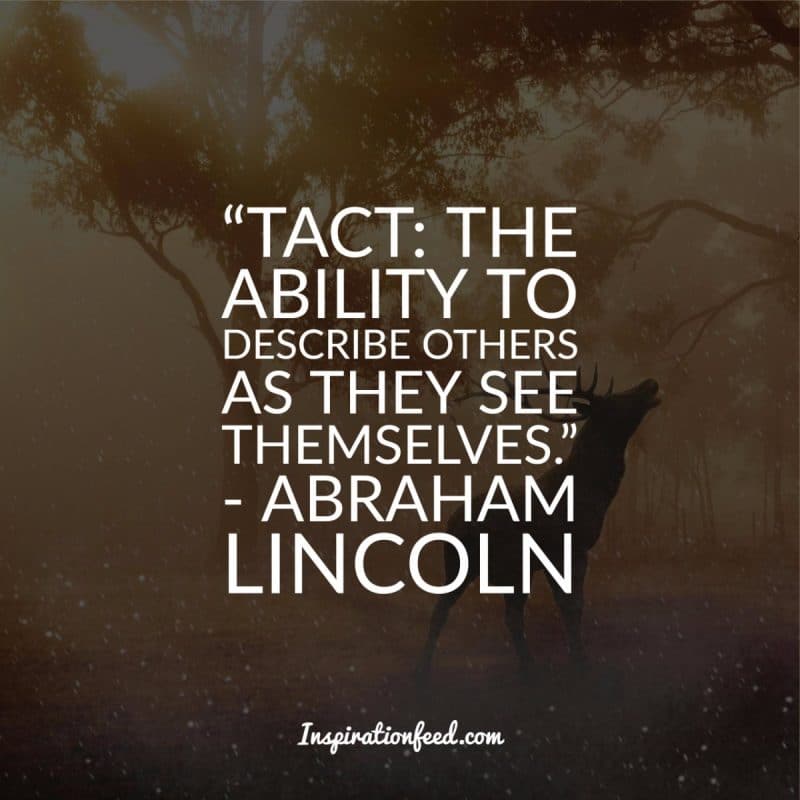 "Tact: the ability to describe others as they see themselves." – Abraham Lincoln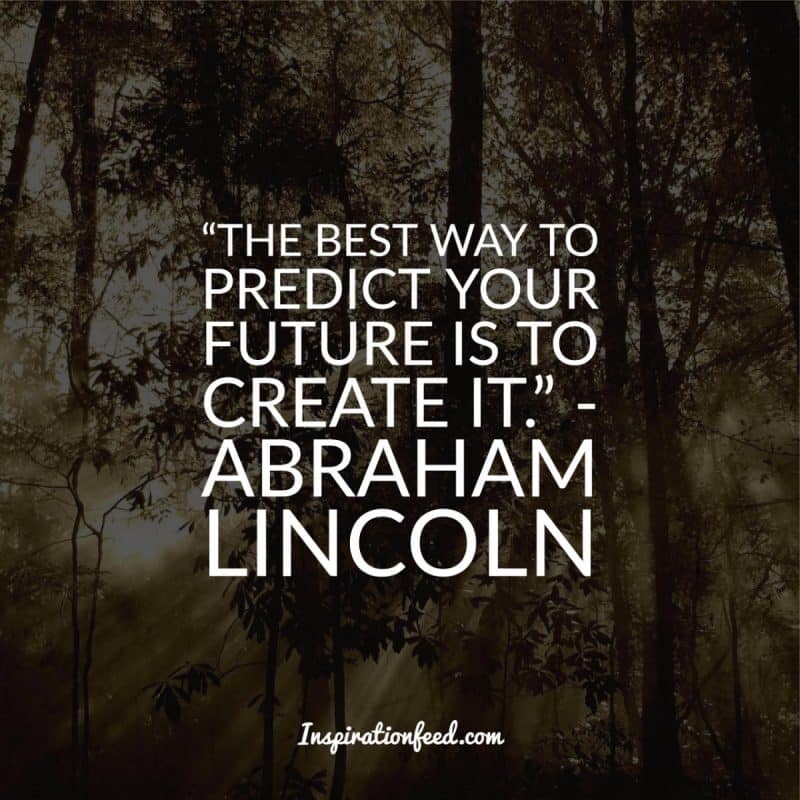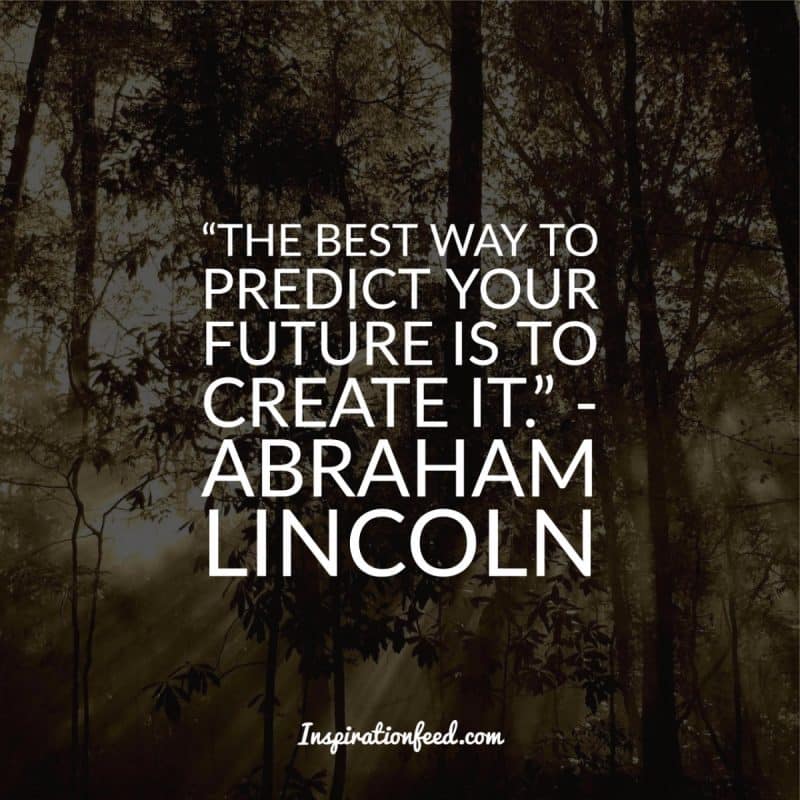 "The best way to predict your future is to create it." – Abraham Lincoln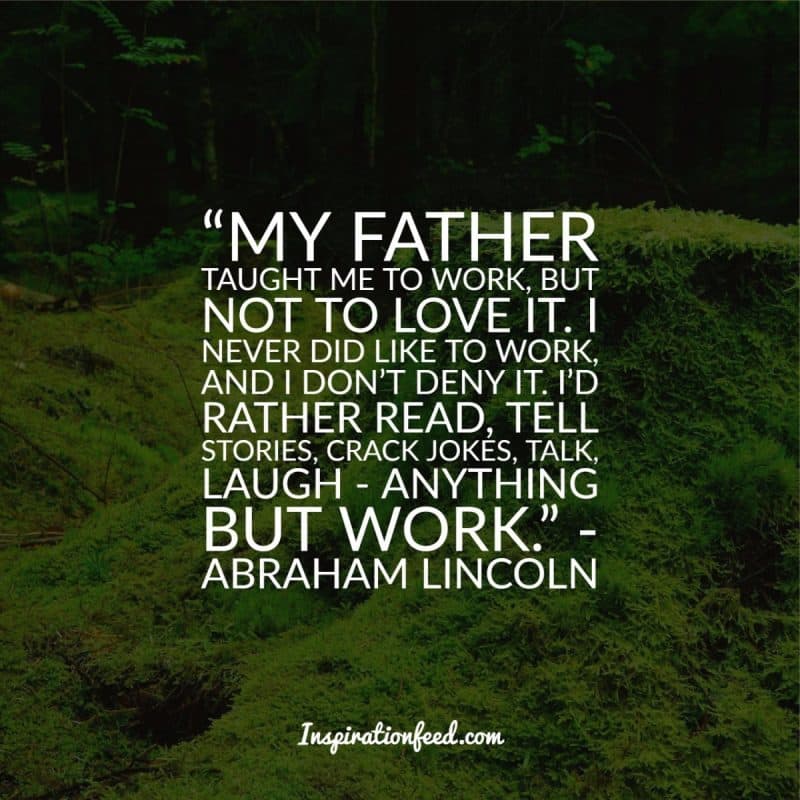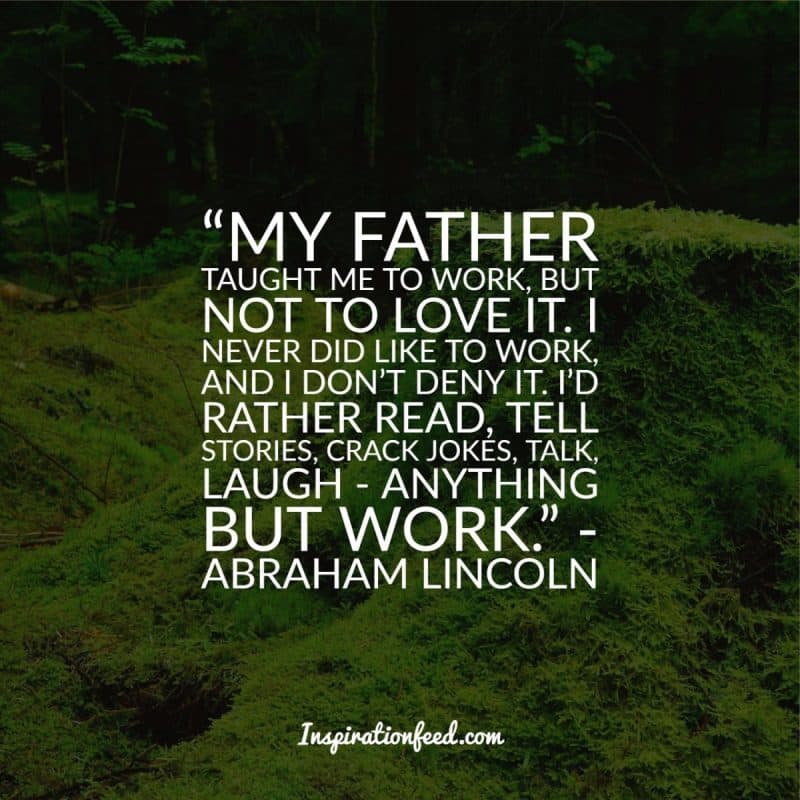 "My father taught me to work, but not to love it. I never did like to work, and I don't deny it. I'd rather read, tell stories, crack jokes, talk, laugh – anything but work." – Abraham Lincoln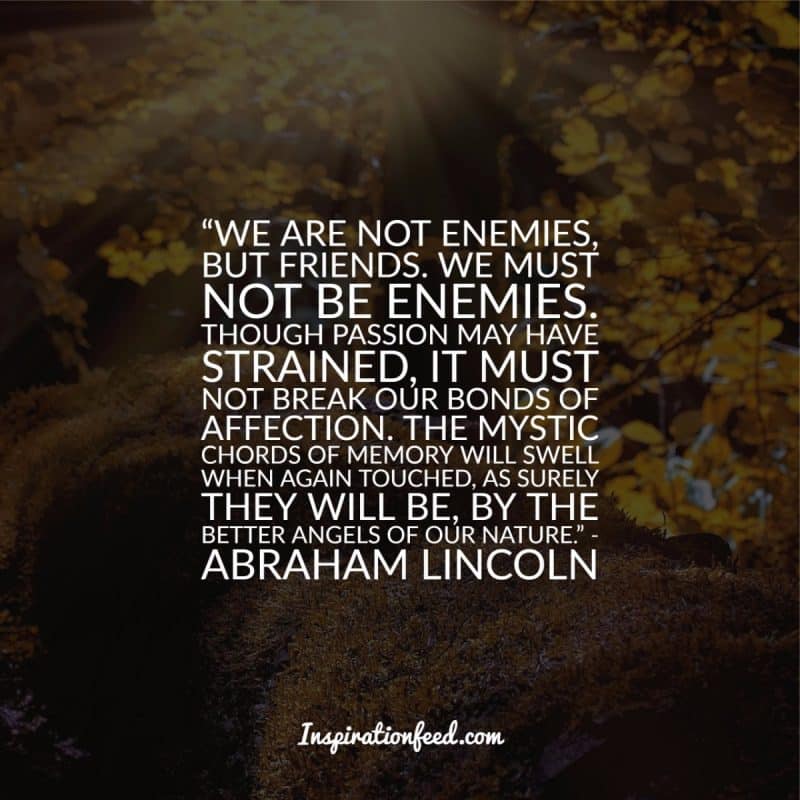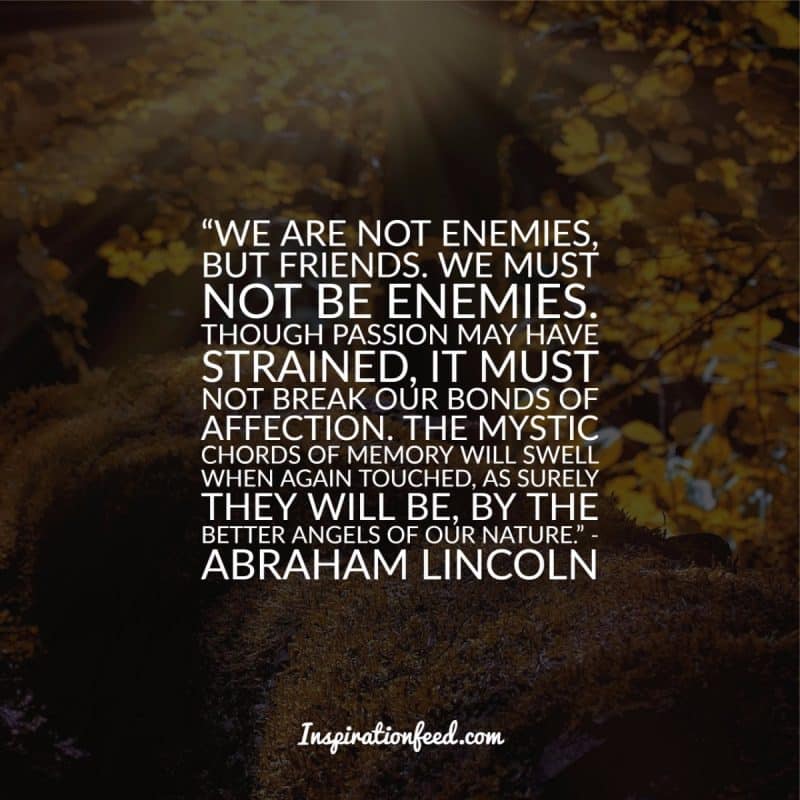 "We are not enemies, but friends. We must not be enemies. Though passion may have strained, it must not break our bonds of affection. The mystic chords of memory will swell when again touched, as surely they will be, by the better angels of our nature." – Abraham Lincoln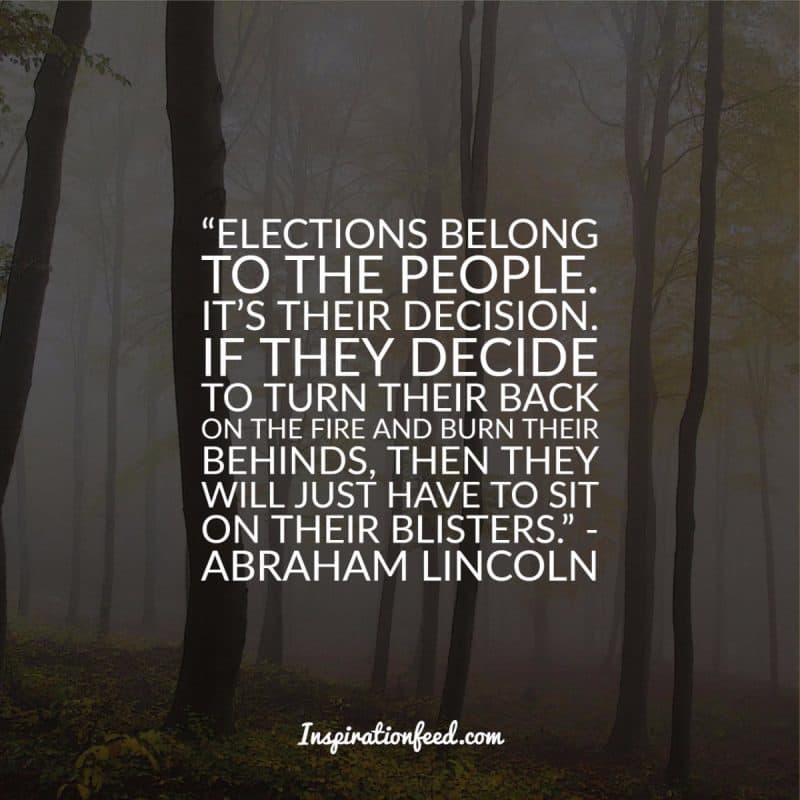 "Elections belong to the people. It's their decision. If they decide to turn their back on the fire and burn their behinds, then they will just have to sit on their blisters." – Abraham Lincoln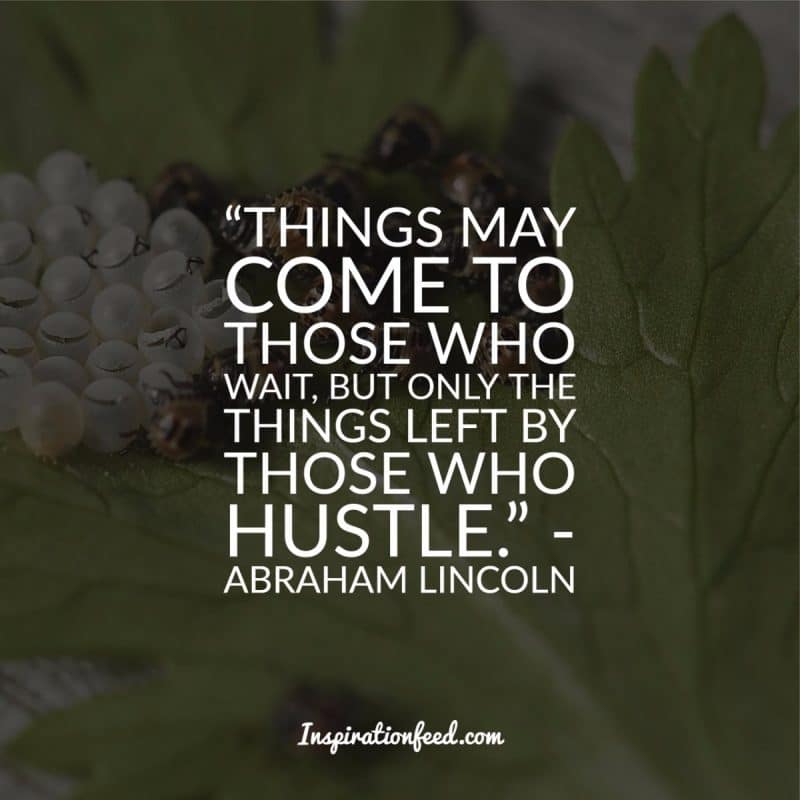 "Things may come to those who wait, but only the things left by those who hustle." – Abraham Lincoln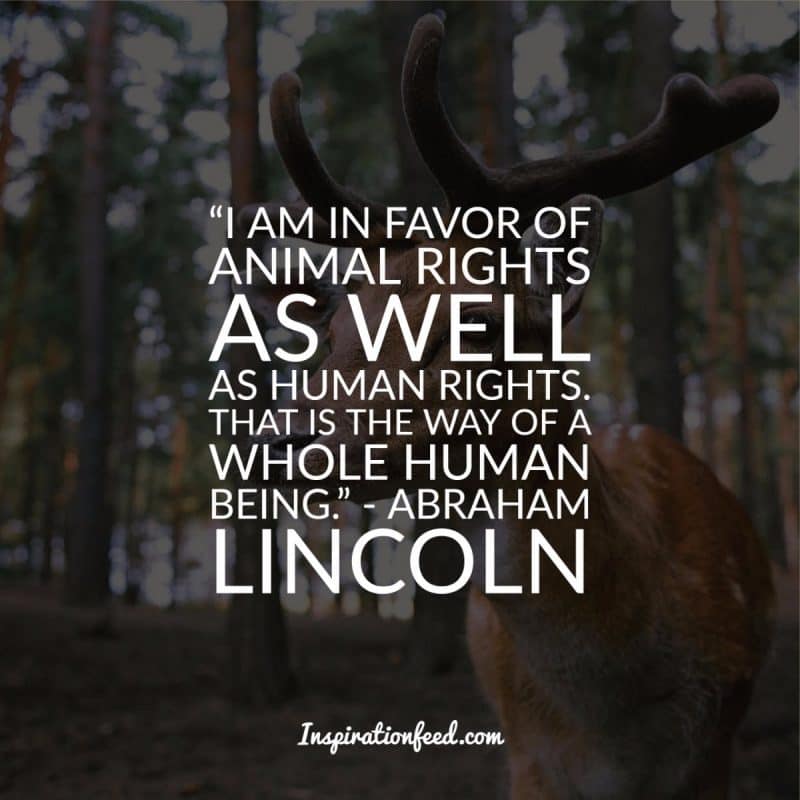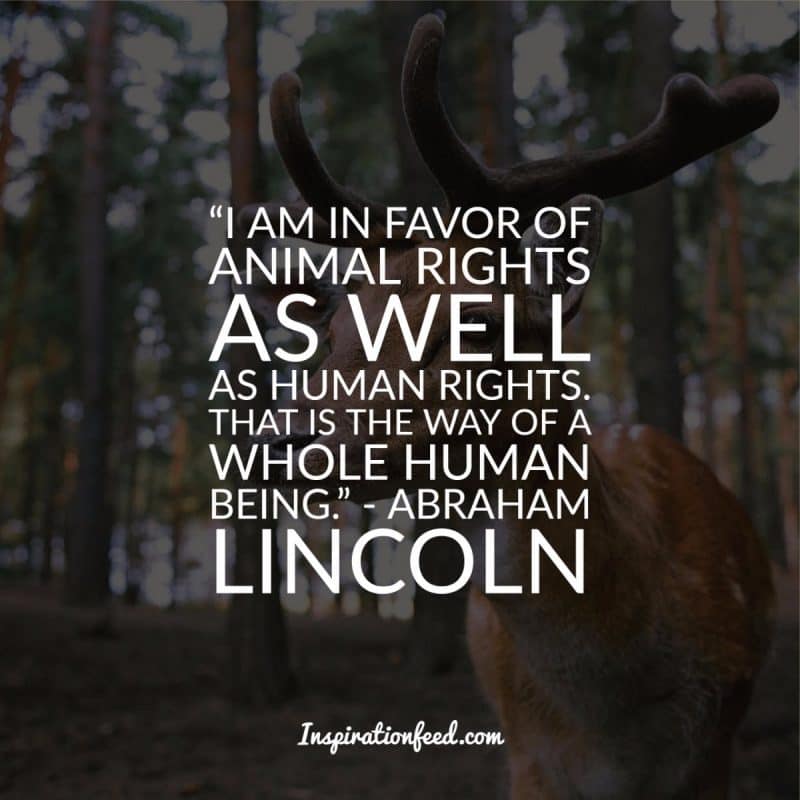 "I am in favor of animal rights as well as human rights. That is the way of a whole human being." – Abraham Lincoln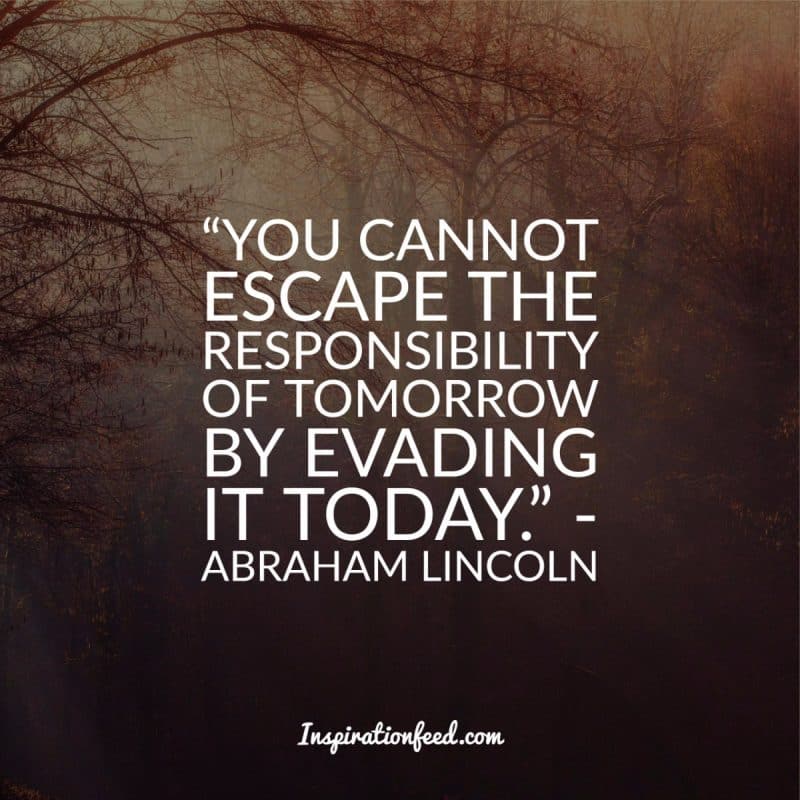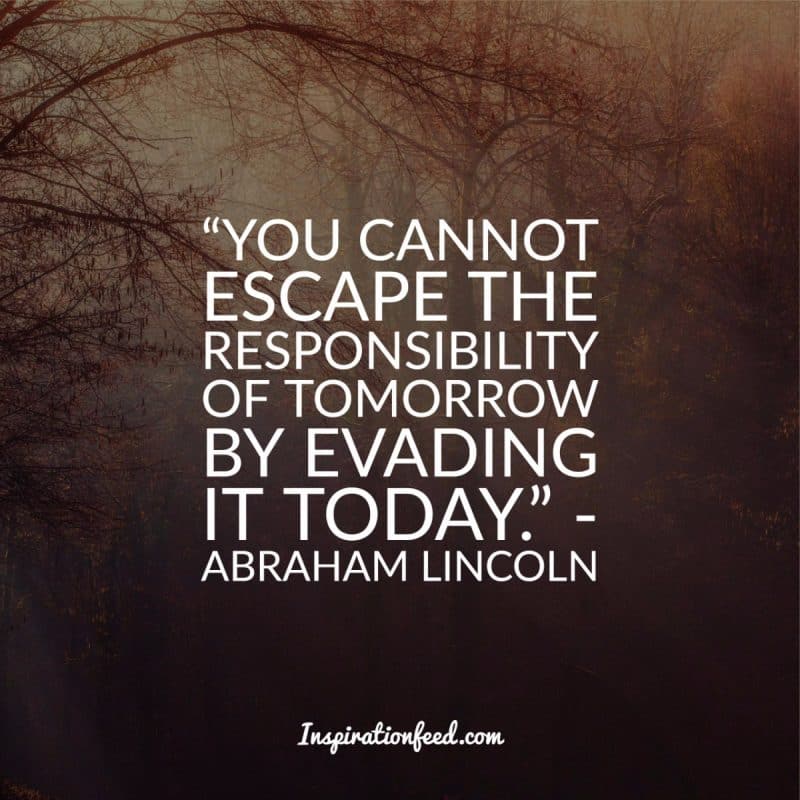 "You cannot escape the responsibility of tomorrow by evading it today." – Abraham Lincoln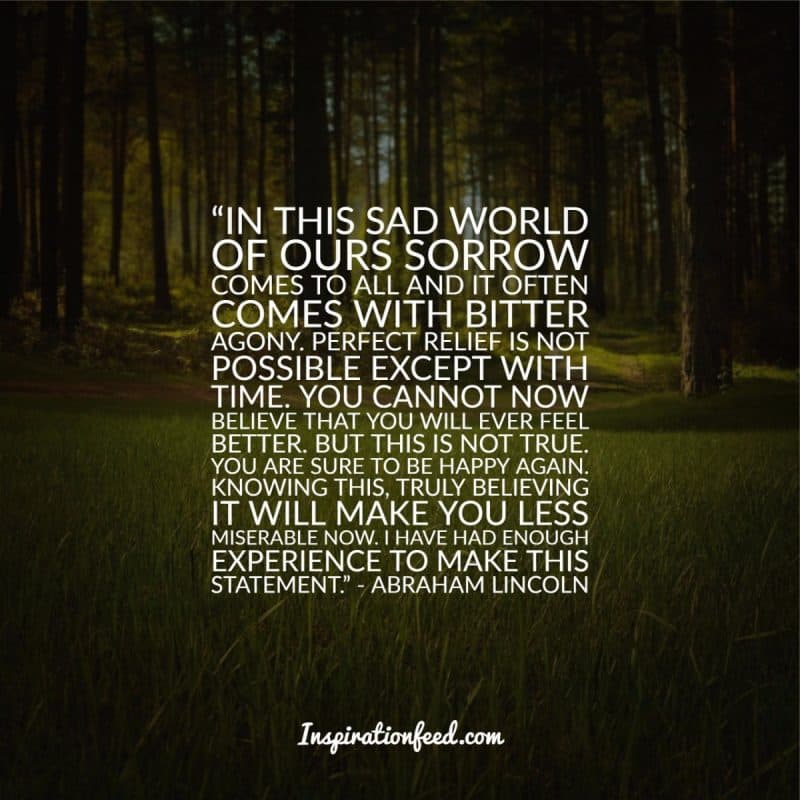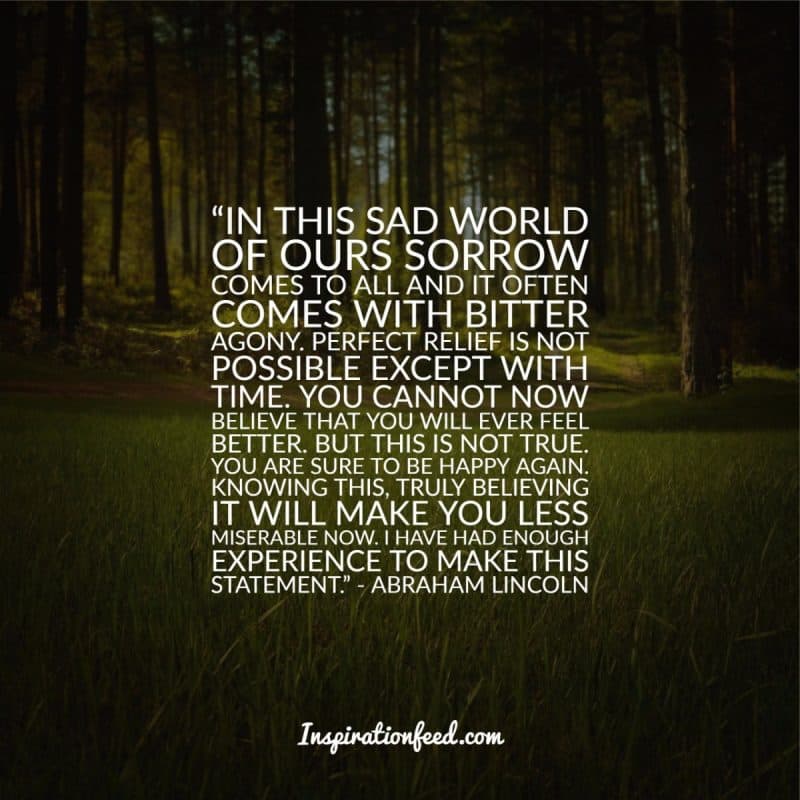 "In this sad world of ours sorrow comes to all and it often comes with bitter agony. Perfect relief is not possible except with time. You cannot now believe that you will ever feel better. But this is not true. You are sure to be happy again. Knowing this, truly believing it will make you less miserable now. I have had enough experience to make this statement." – Abraham Lincoln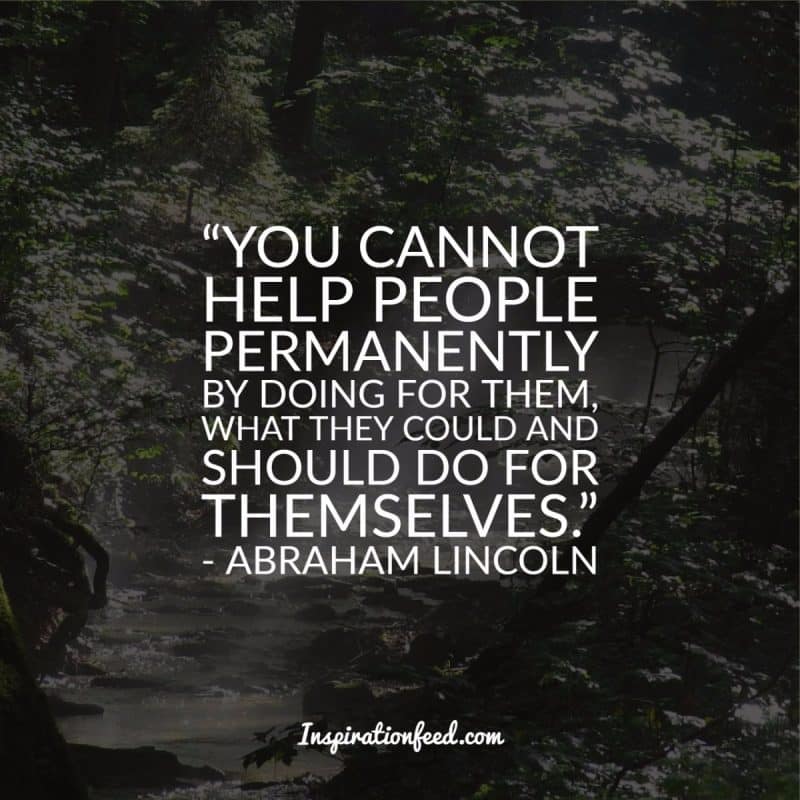 "You cannot help people permanently by doing for them, what they could and should do for themselves." – Abraham Lincoln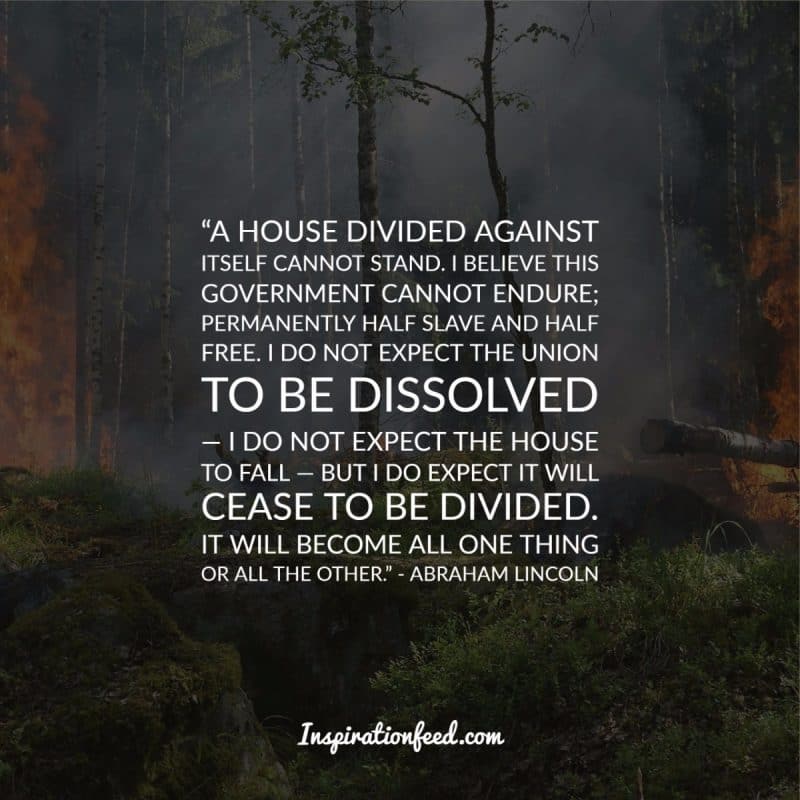 "A house divided against itself cannot stand. I believe this government cannot endure; permanently half slave and half free. I do not expect the Union to be dissolved — I do not expect the house to fall — but I do expect it will cease to be divided. It will become all one thing or all the other." – Abraham Lincoln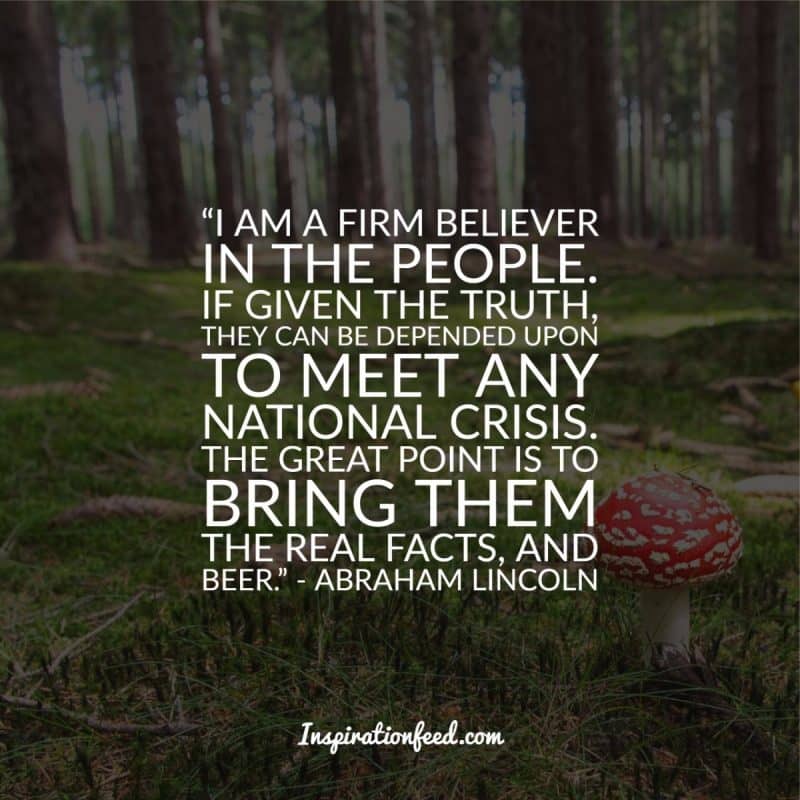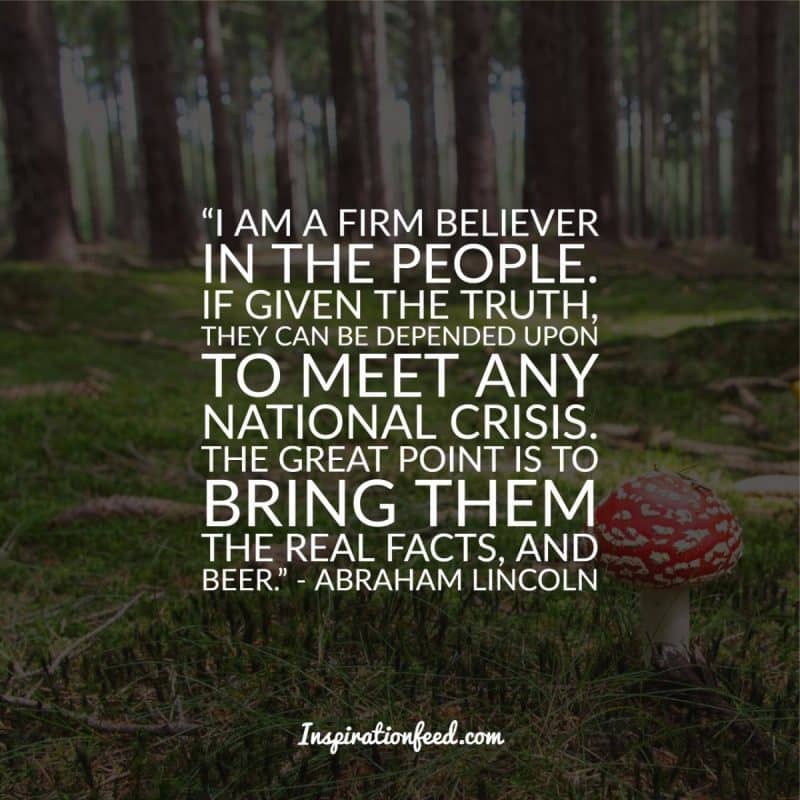 "I am a firm believer in the people. If given the truth, they can be depended upon to meet any national crisis. The great point is to bring them the real facts, and beer." – Abraham Lincoln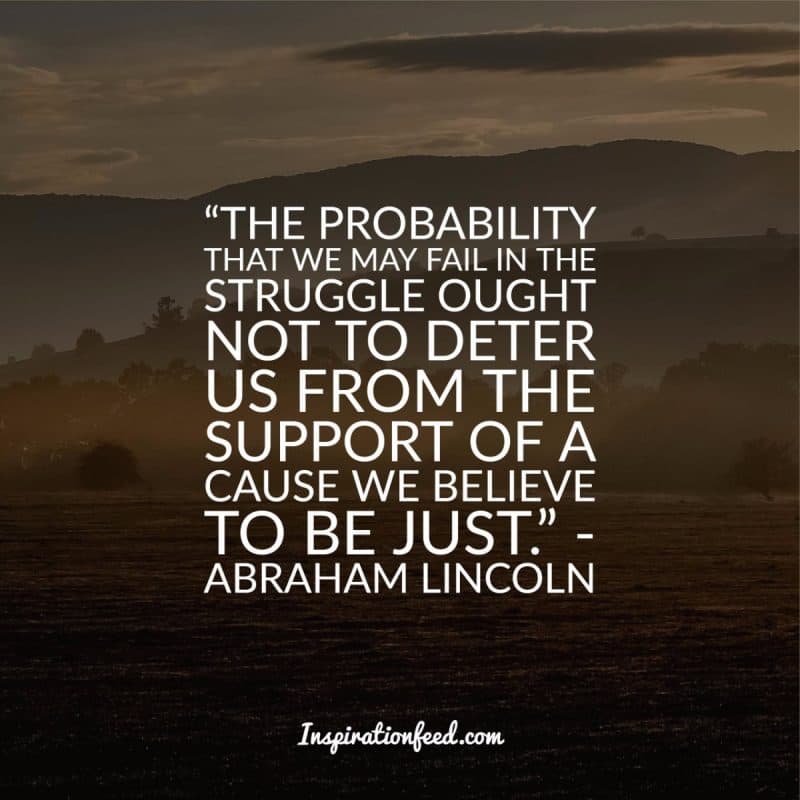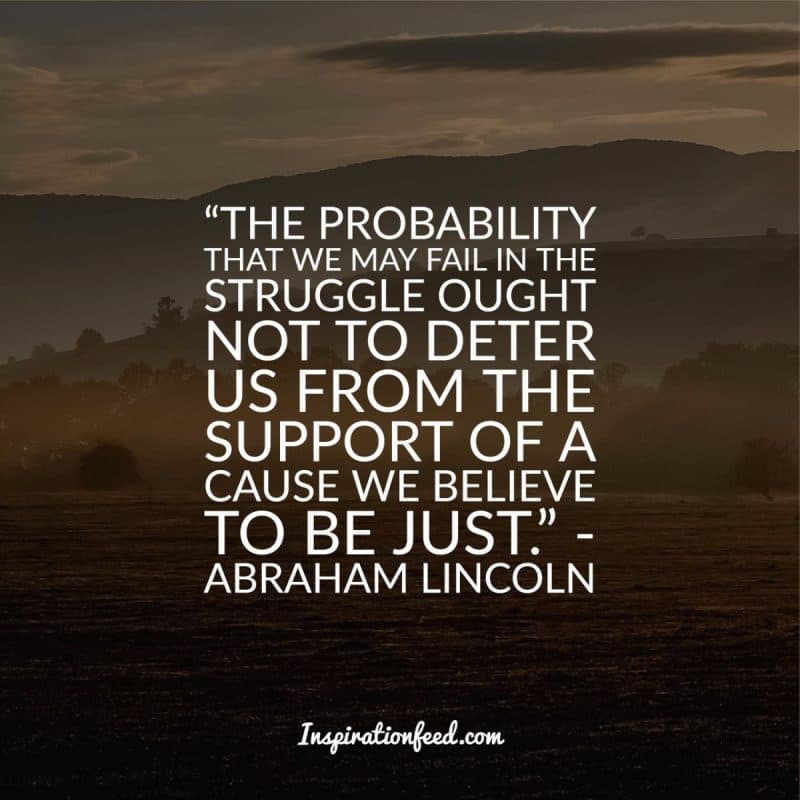 "The probability that we may fail in the struggle ought not to deter us from the support of a cause we believe to be just." – Abraham Lincoln