A domain name refers to the address through which internet users can access your site. In other words, a domain name is simply the name of your website. 
The practice of using domain names to access websites was introduced as a replacement to IP addresses, which were considered more difficult to grasp.  
Domain names comprise of two parts, namely, a Second Level Domain (SLD) and a Top Level Domain (TLD). A second-level domain is the name of your website while a top-level domain represents the domain extension, or anything that comes after your website's name. For instance, in the website address domain.com, a domain represents SLD while .com is the domain extension. 
Each domain name is unique, and most of them must be paid for. The price of a domain name typically runs from between $15-25 per year. To own and use a domain name, you must purchase and register it from a company. Such companies are known as domain name registers and shall be the focus of this post.
Best Sites to Register a Domain Name
GoDaddy is the most popular domain name register, boasting over 77 million domain names spread across some 18,000 customers. The company is ICANN-accredited, operates globally, and offers geo-specific domain extensions. Some of their top-level domains (TLDs) include .com, .net, .org, .co, .xyz, and .club. 
GoDaddy offers its members access to a website builder tool, a service that comes free for the first month, after which it costs $14.99 a month after. Besides, you can also access an online store module.
GoDaddy comes with a user-friendly interface where you can easily change the settings of your domain name. Their standard hosting services begin from $4.99 a month.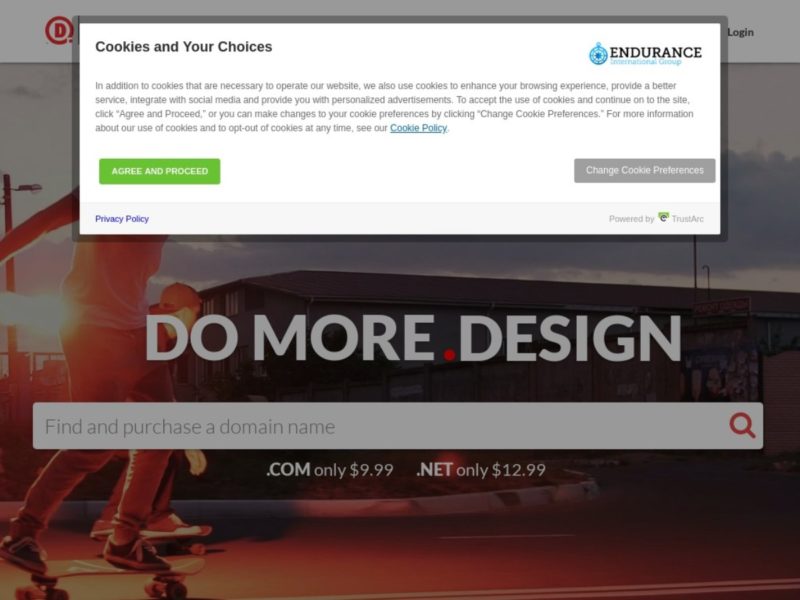 Domain.com comes with a wide range of TLDs, including .com, .net, and .co. This domain name register is most popular for its clean interface and ease of use, with no pesky ads or upsells. 
Domain.com offers its clients basic domain management tools, including WhoIs privacy protection, bulk registration, DNS management, email account, free WhoIs, to mention but a few. 
The company provides many other outstanding services, including its own Website Builder and highly-responsive customer support. 
However, domain names by Domain.com can only be purchased for two years. So, if you're looking to buy the name for a shorter period, you'll need to adjust that manually when registering for it.
Bluehost is most popular for selling hosting plans, but it also comes with amazing deals for people who're looking for domain names. 
Many website owners prefer Bluehost for its affordable packages. TLDs include .com, .org, .net, .tech, .co, and .website. The most expensive TLD, which is .net, costs a paltry $12.99 per year, while the least expensive, .website, costs $1.99 a year. 
Besides providing domain name registration services, Bluehost also offers web hosting, marketing, and web design services. Needless to mention, customer support is exemplary.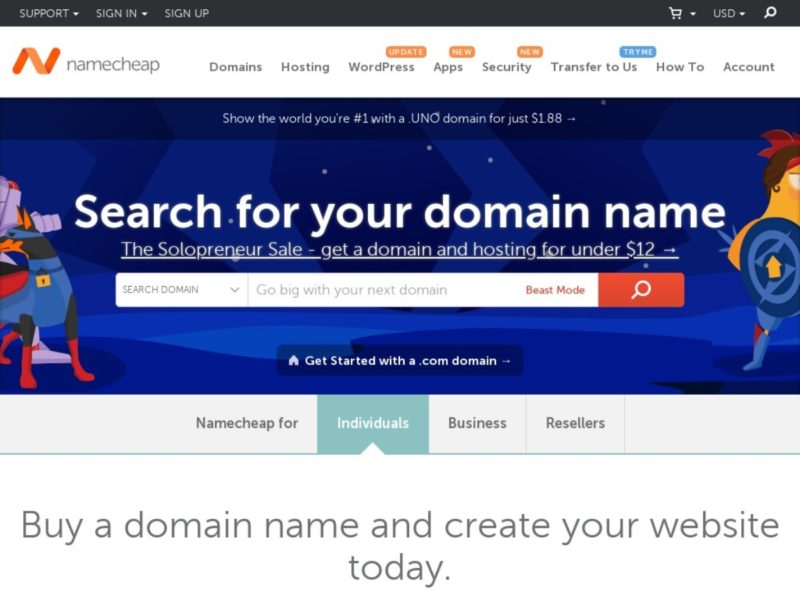 Namecheap prides itself as one of the oldest domain names registers out there, with a history dating back to 2000. The Phoenix-based company is ICANN-accredited and has won many awards, including the Best Domain Name Registrar in 2010 and the Most Popular Domain Name Register in 2012. 
Namecheap offers numerous domain extensions, including .info, .xyz, .club, .online, and many more. Other services by the company include email address, SSL certificates, domain transfers, and app integration.
What's more – you also get to enjoy live chat, email ticketing support, and a knowledge base that features lots of resourceful guides and tutorials. 
And besides providing domain name registration services, Namecheap is also a web hosting company, offering shared hosting, email hosting, reseller, and WordPress.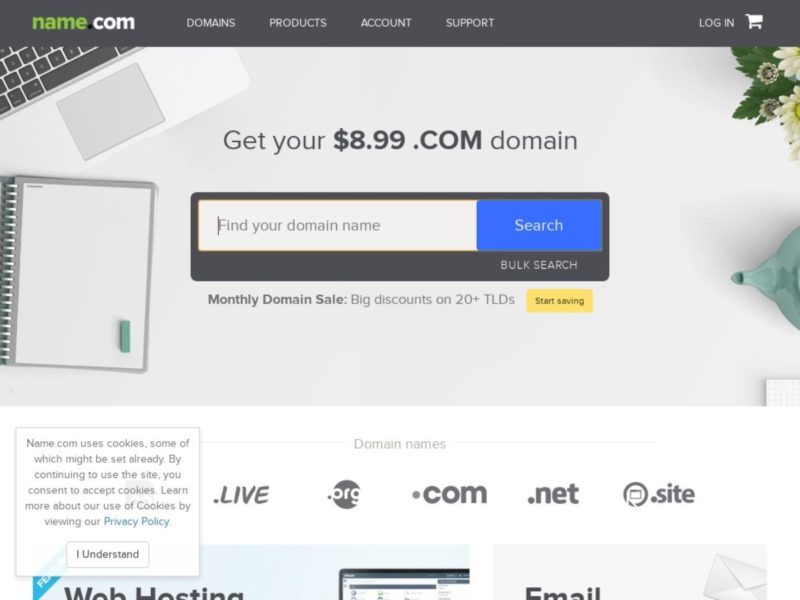 Name.com was established in 2003 and over the years, the company has earned itself a considerable market share, presently claiming over 16.5 domain names spread across 320,000 customers. 
Some of the company's outstanding features include SSL certificates, an email address, a website builder, domain transfers, and app integration. Name.com is famous for its affordable offers, where a free domain is included when you purchase any of the hosting plans.
There are three different plans; The Startup Plan that comes with one free website, the Name Builder Plan which supports 25 sites, and the Unbelievable Plan which supports an unlimited number of websites. 
Top domain extensions by Name.com include .com and .host. And in terms of customer experience, there's a live chat, a site contact form, and a knowledge base.
HostGator was established in 2002 and later purchased by Endurance International Group in 2012. The Houston, TX-based company comes with numerous hosting features, including WordPress, VPS, web, cloud, reseller, applications, dedicated, and Windows hosting. 
Domain name extensions include .co, .org, .net, .info, .biz, and you're entitled to at least one domain name regardless of the plan you choose. The various plans offered by the company are; Hatchling Cloud, Baby Cloud, and Business Cloud. 
Customer support is available through various options, such as live chat and email ticketing. There are also plenty of resources, including video tutorials and community forums.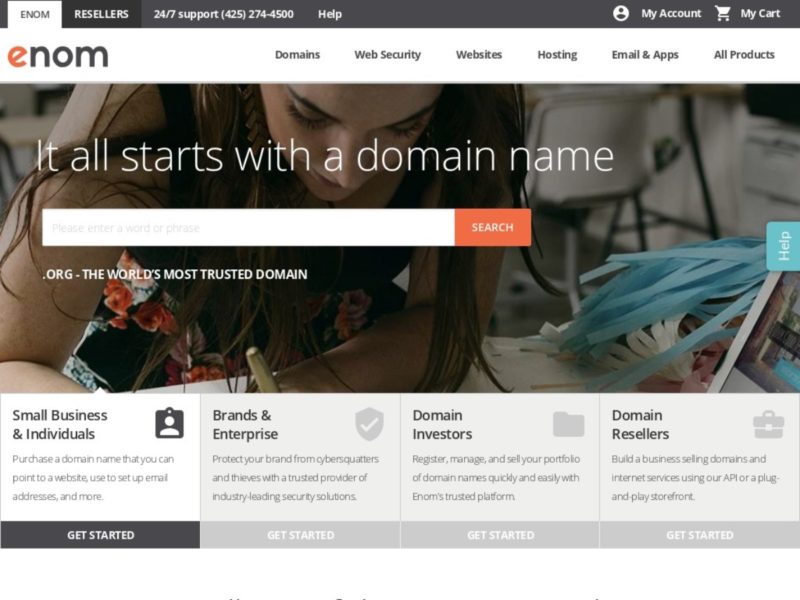 Enom presently commands 3.6% of the domain name market share, with over 12 million domain names to its name. The company is ICANN-accredited and operates globally. 
Examples of TLDs by Enom include .com, .net, .org, .co, .xyz, .club, and various generic domain extensions, such as .news, and .social. Enom is also famous for offering country-specific TLDs, although these are limited to a few countries. 
As a client with the company, you can also access a site builder with a package that starts from $5.99 per month. Other services include shared hosting, WhoIs privacy, SSL certificates, and G Suite from Google Cloud.
Hover may be a new entrant into the domain name marketplace, but the company strives to live by its motto – "Where the internet's best ideas get named". Some of the top domain extensions by Hover include .com, .org, and .net. 
The company's interface is one of the most simplistic and easiest to use, with no invasive ads or upsells. If you register for a domain name with this website, you also get a free email address. There are multiple customer support options, including email, phone, and live chat. 
And the best part is – the company provides a wide range of payment options, from PayPal to Apple Pay, and credit cards, to mention but a few.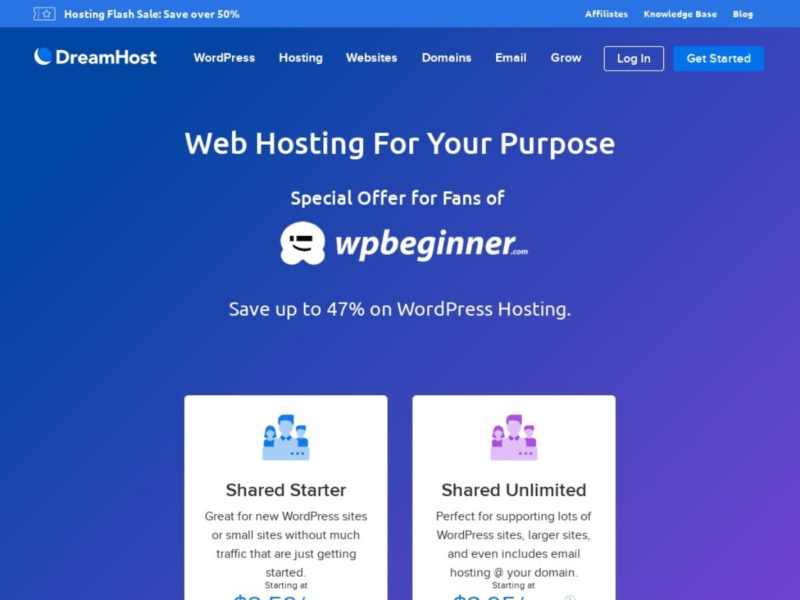 DreamHost is a domain name register and web hosting company, all rolled up into one. As a domain name register, DreamHost is an ICANN-accredited company and provides its clients a variety of domain extensions, such as .com, .net, .org, .co, .xyz., and .club. Besides, you also get a couple of generic and country-specific domain extensions. 
Customers can enjoy free basic hosting for every domain, as well as DreamHost's Remixer, which is a click-to-edit website builder. Shared WordPress hosting begins from $7.95 per month and depending on your package, you can also enjoy free WhoIs privacy.
Lastly, DreamHost supports free 'Let's Encrypt' SSL certificates and offers CDN services that start from 12¢ a GB.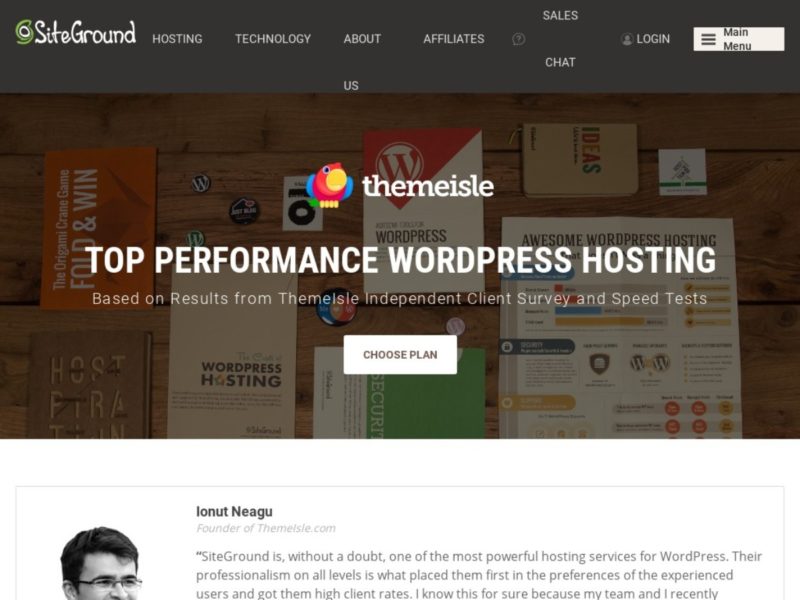 Like a few of the companies we've reviewed here, SiteGround mostly deals with web hosting, but also offers excellent domain name registration services. The website is ideal for people who wish to register for a domain name and host it on the same server. 
Although they don't offer some of the most affordable domain name registration packages, the company makes up for that by providing many redeeming features. For instance, the website is remarkably user-friendly, designed with an intuitive domain management panel. The company also offers round-the-clock support, which includes a live chat, phone, and ticket. 
And besides its web hosting and domain name registration services, SiteGround clients can also enjoy email hosting.
Wrap-Up
The domain names market teems with thousands of domain name registers. Choosing one register over the other comes down to your specific needs and the range of services offered.
However, the ten companies we've reviewed here have emerged as some of the most widely-sought domain name registers, and are a great place to start if you're looking for a website.