Last Updated on January 20, 2022
Sleep is one of the most important factors that influence the quality of our lives. It is impossible to be a healthy person with an active lifestyle if we do not get enough good-quality sleep. But all of us have experienced these situations: it's morning, you need to go to work, but you cannot wake up.
All you want to stay in a warm bed in sleep. If you have a problem waking up in the mornings, you have come to the right place. Using our top 10 advice, you will be able to change that once and for all.
Use comfortable pillow and matress
The reality is that most of us do not care about the quality of our sleep. We do not care what to fall asleep on and in what condition to wake up. The broken state the next morning is already considered something normal, which is fundamentally wrong.
This approach is a direct path to many diseases of the musculoskeletal system, insomnia, and stress.
The first and most important step towards healthy sleep is the purchase of a new mattress. Today it is not a problem, because there are so many amazing options on the market. Choose the right mattress with needed characteristics using the review on https://jonsguide.org/best-puffy-mattress-review/ and we guarantee your sleep will never be the same.
Find a reason to get up earlier
Before going to bed, plan your day so that you will have the most challenging tasks to do in the morning. You will feel more pleasant and easier for the rest of the day. Morning is the best time to efficiently and fruitfully cope with work affairs.
Forget about "another 10 minutes"
The alarm clock rang — get up! And do not feel sorry for yourself. Yes, you really want to sleep, and you're already feverishly starting to calculate that it's quite possible to save 15 minutes if you don't have breakfast.
This is the road to nowhere. You will want to sleep even more, and waking up will be much more difficult. That is why we do not recommend resetting the alarm clock for later. It can only result in being late.
Do not sleep less than 6 hours
This is one of the most important factors. To feel the energy in the morning and have less trouble getting up, a person needs to sleep at least 6 hours. Ideally, one should sleep for 8 hours.
Moreover, if you think you can go to bed at 2 a.m. and feel fine the next day — you are mistaken. It is also important to go to bed on time — before midnight. That way you will get a good sleep and feel better in the morning.
We also do not recommend eating something heavy right before going to bed. Your body will focus on digesting food instead of recovering.
If you woke up a little earlier — get up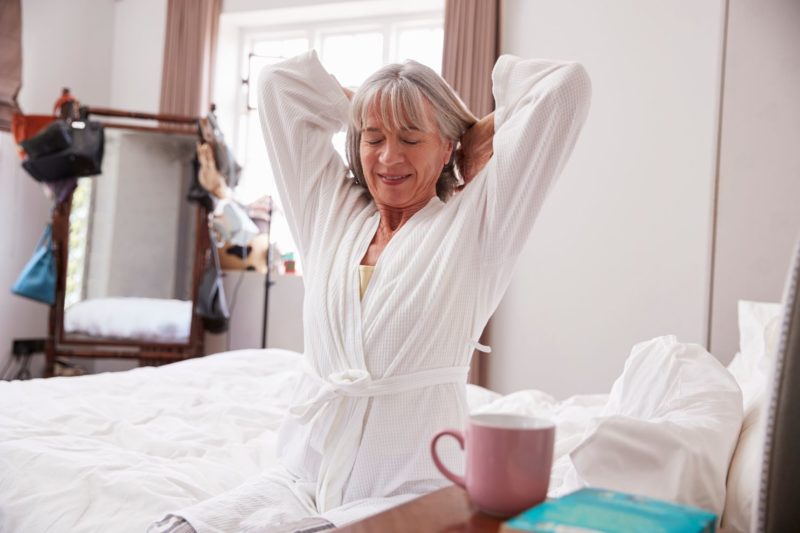 It is a shame when the alarm is set at 6:00, and you woke up at 5:40, for example. But if you've already woken up, it makes no sense to go to bed again. You will not be able to sleep well anyway.
It will only be more difficult getting up after these 20 minutes. Instead, rejoice that you now have an extra 20 minutes to yourself. Spend them drinking fresh tea or coffee and enjoy your breakfast for a little longer.
Get up at the same time on weekdays and weekends
It will be difficult only during the first few days. Then the body will get used to getting up at the same time. That is how you develop a habit.
Your body is confused when it has to wake up at 6 am 5 days a week, but on the weekend you sleep till noon. It is not the best strategy. It will only make it harder waking up on Monday.
The solution is simple: get up at the same time every day. Your body will get used to it soon. Besides, you will have at your disposal several few more free hours that you can spend doing things you like.
Jump and stretch
There is an effective exercise that will help you feel energetic in the morning — jumping.  After a couple of jumps, any traces of sleep will be long gone. A 5-minute jumping exercise will be useful to the lymphatic system — it will reduce the toxins in your body.
Moreover, you will feel more energetic and joyful.
Another great way of helping your body to wake up is stretching. You can even do it without getting out of bed. However, be careful during the exercise and avoid any sudden movements.
If you spend 5-10 minutes stretching in the morning, you will feel extreme strength and energy for the rest of the day.
Open the window
It is not enough to get out of bed — it is also important to wake up. We recommend opening the window first thing in the morning to allow the fresh air into the room. If you have a balcony and the weather is good, you should go there and stand for a few minutes.
Breathe in the fresh air and everything becomes clearer.
Drink a glass of water
Another helpful tip: drink a glass of room-temperature water after waking up. It will start your body and you will feel less sleepy. To intensify the effect of this method, you can add a slice of lemon and a spoonful of honey.
After this drink, you will no longer want to sleep.
Eat something tasty
One of the reasons many people look forward to getting up is eating a tasty breakfast. That is why we recommend always treating yourself with a tasty meal in the morning. But try to avoid foods saturated with fat, oil or sweet syrups.
They can cause heaviness in the stomach and drowsiness. Breakfast should be light, tasty and healthy. Let it be a great start of the day.