Last Updated on January 24, 2023
Considered as one of the greatest 20th century American novelists, Ernest Hemingway is remembered mostly for his literary contributions, such as "The Old Man and the Sea" and "A Moveable Feast". But the Pulitzer and Nobel Prize winner was more than a writer.
Know more about the man behind Ernest Hemingway with these snippets from his early life and legacy to the world.
Ernest Hemingway: Early Years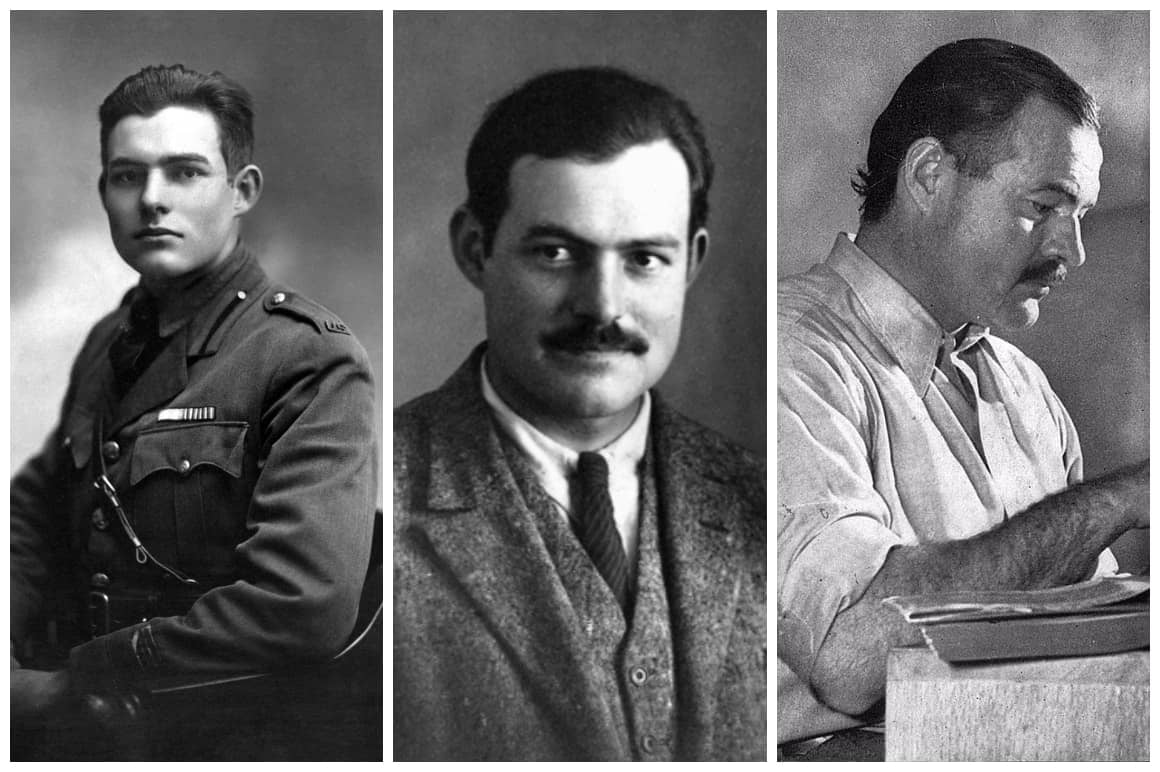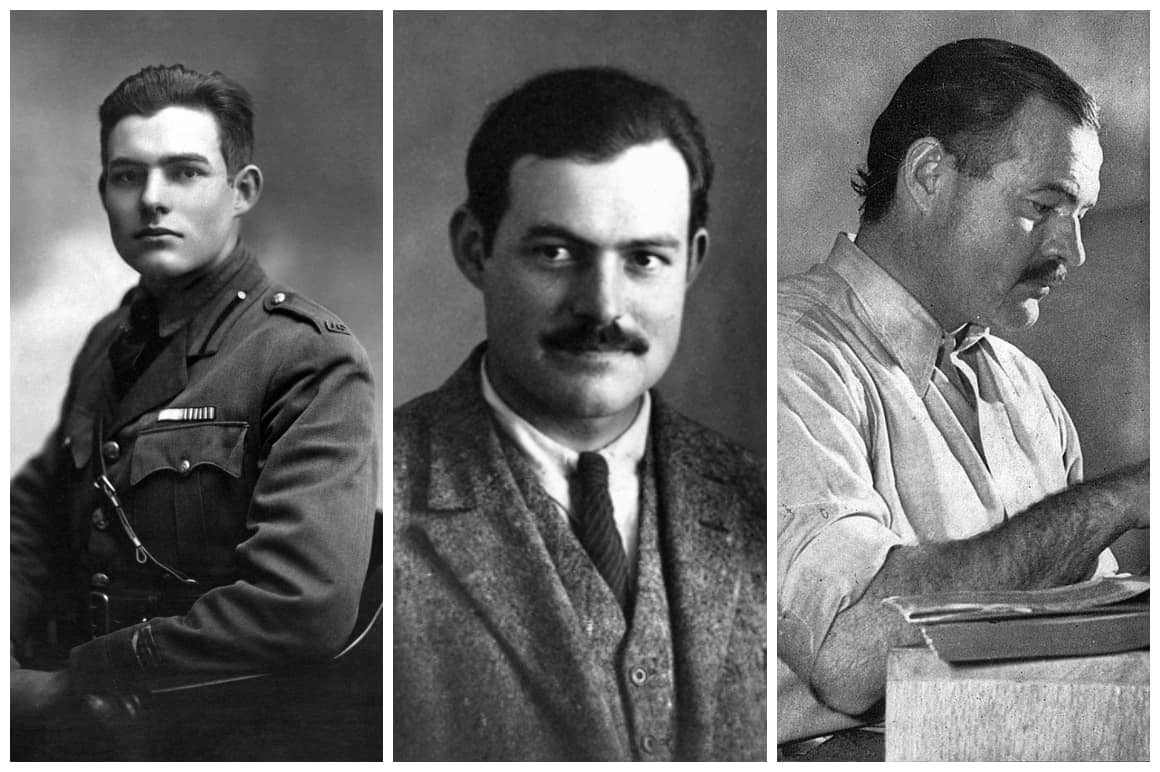 On July 21, 1899, in Oak Park, Illinois, the future American novelist, short story writer, and journalist Ernest Miller Hemingway was born. He was the firstborn son of Clarence Edmonds Hemingway, a physician, and Grace Hall Hemingway, a musician. Hemingway was said to have been named after his mother's father Ernest Hall.
Growing up, it was his father, Clarence Edmonds, who would instil in him a sense of adventure by teaching him how to hunt and fish. His mother also tried to teach him music, which caused conflict between them. However, Hemingway would later find these music lessons useful when he would write "For Whom the Bell Tolls".
Ernest Hemingway lived a full life: he traveled, joined the Red Cross during WWI, became a journalist, and fell in love – several times in fact. His first romance was Agnes von Kurowsky, a Red Cross nurse seven years his senior. Sadly, she left him for another man, just a couple of months after they agree to marry.
His first marriage was with Hadley Richardson. They lived and worked in Paris, where Hemingway met the likes of Gertrude Stein, James Joyce, and Ezra Pound. Three more marriages would follow soon after, with his last and fourth wife being Mary Welsh.
It was Hemingway's style to finish his writings during his travels. So it shouldn't be a surprise that one of his most famous works, "A Moveable Feast" was the result of him finding old scribbles he did from his time in Paris in 1928. When he and his wife decided to move back to the United States from Finca Vigia in Cuba, it was believed that Hemingway left manuscripts, books, and art (expropriated by the Cuban government) in a vault in Havana.
Ernest Hemingway suffered from depression and sickness during the last years of his life. After suffering from accidents (a car accident and two plane crashes) and attempting to work in other places (like New York), he finally moved to Idaho.
His nagging worries, the death of fellow writers he considered friends, as well as later diagnoses that would reveal he had mental illness, perhaps all contributed to his death on the morning of July 2, 1961. On that day, Ernest Hemingway reportedly shot himself with his favorite shotgun.
The Legacy of Ernest Hemingway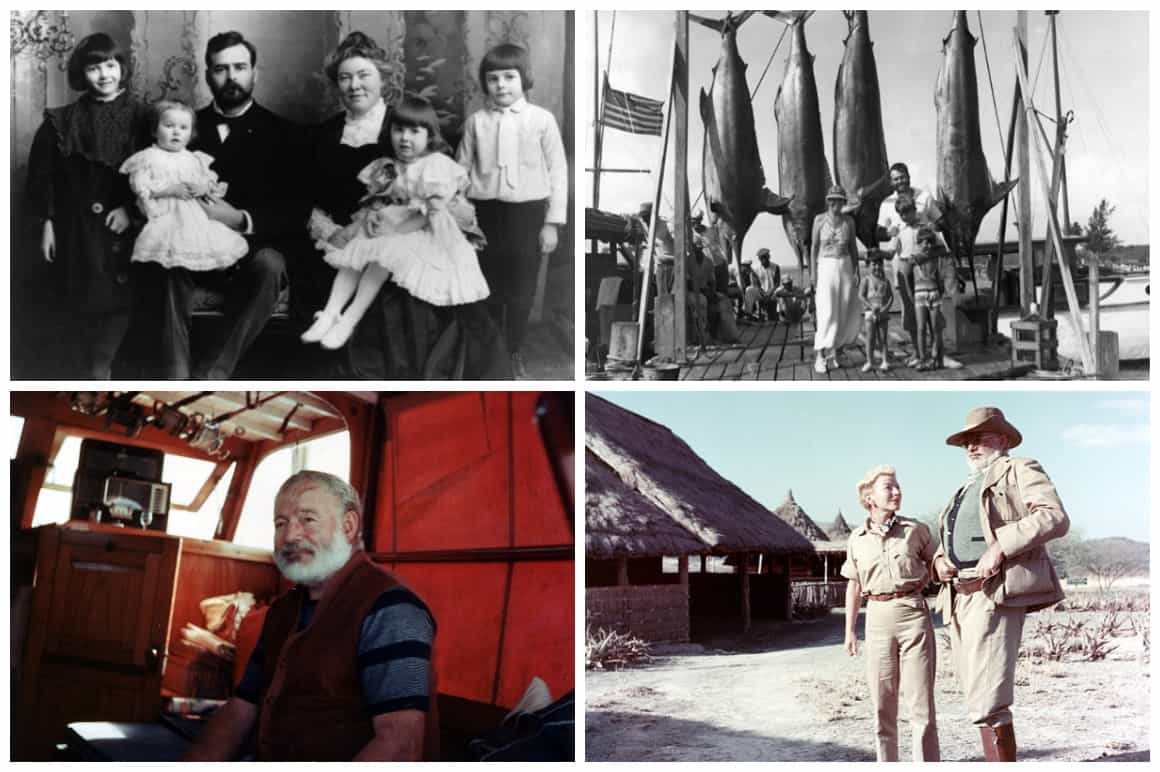 It could be said that Ernest Hemingway and his style of writing heavily influenced what American writing is to this day and age. His short, lean narrative delivers the story in one of the best ways it could be – straightforward. It was his mastery of this style (and his work on "The Old Man and the Sea") that won him the Nobel Prize for Literature in 1954.
Hemingway was by no means a perfect man – but he made his mark in history forever. His stories are now regarded as classics. Whether you're a writer or you simply love words, his writing is a classic go-to for inspiration. For more ideas (and maybe a dash of motivation), check out these quotes from Ernest Hemingway.
Inspirational Ernest Hemingway Quotes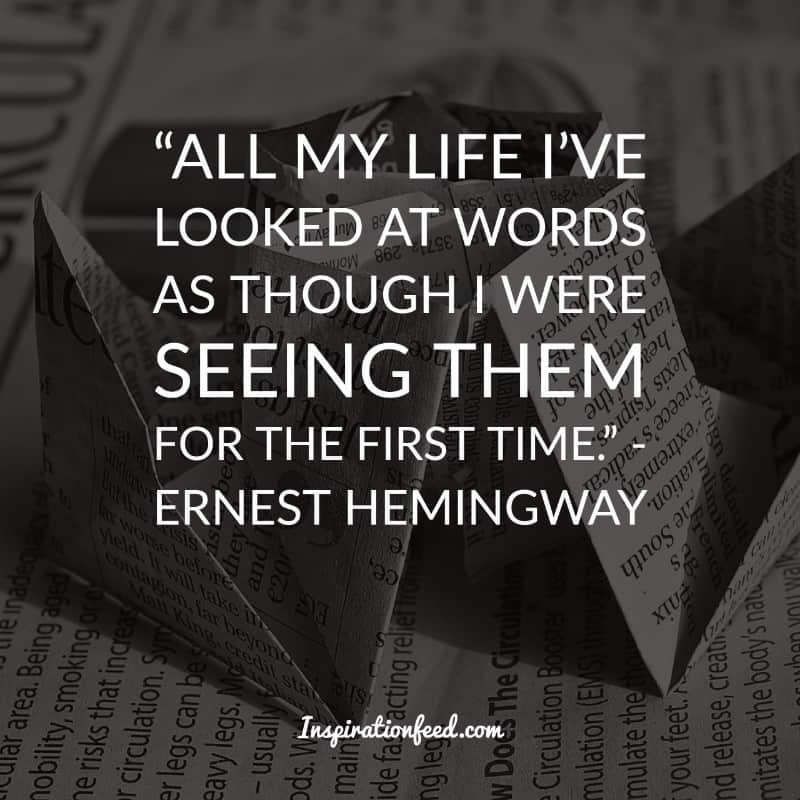 "All my life I've looked at words as though I were seeing them for the first time." – Ernest Hemingway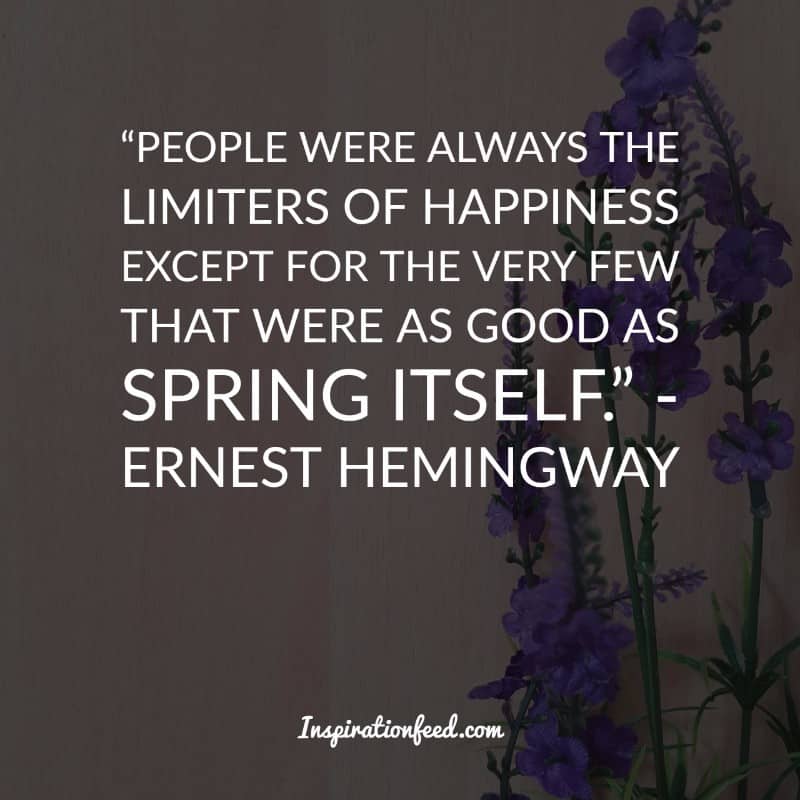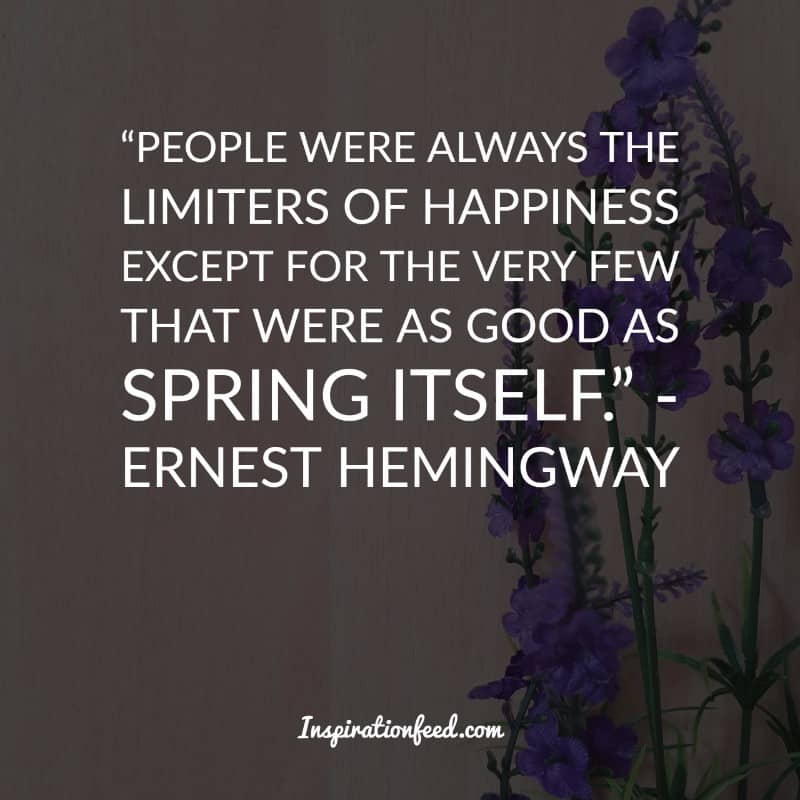 "People were always the limiters of happiness except for the very few that were as good as spring itself." – Ernest Hemingway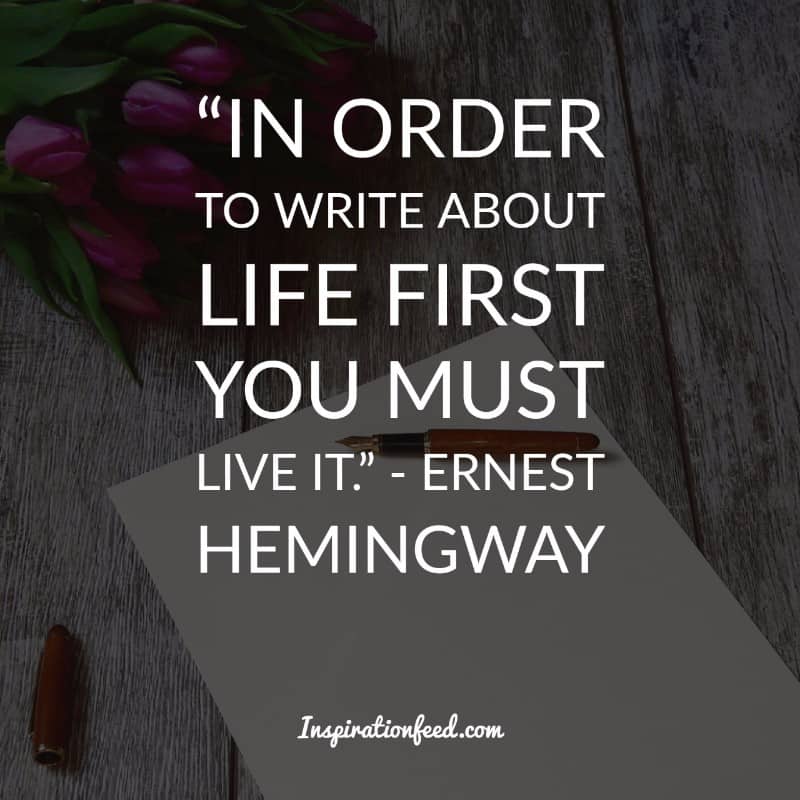 "In order to write about life first you must live it." – Ernest Hemingway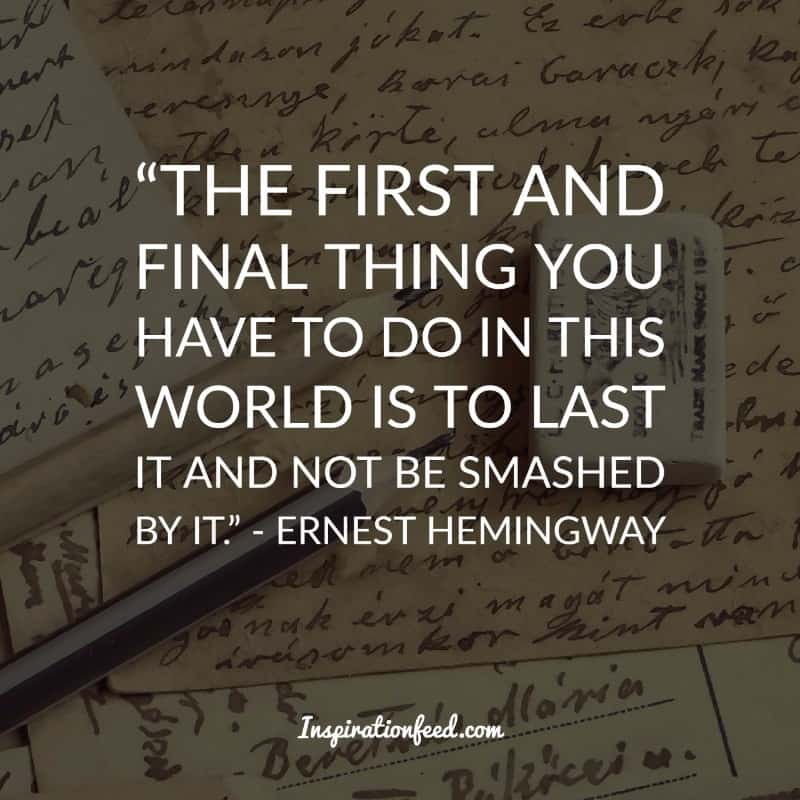 "The first and final thing you have to do in this world is to last it and not be smashed by it." – Ernest Hemingway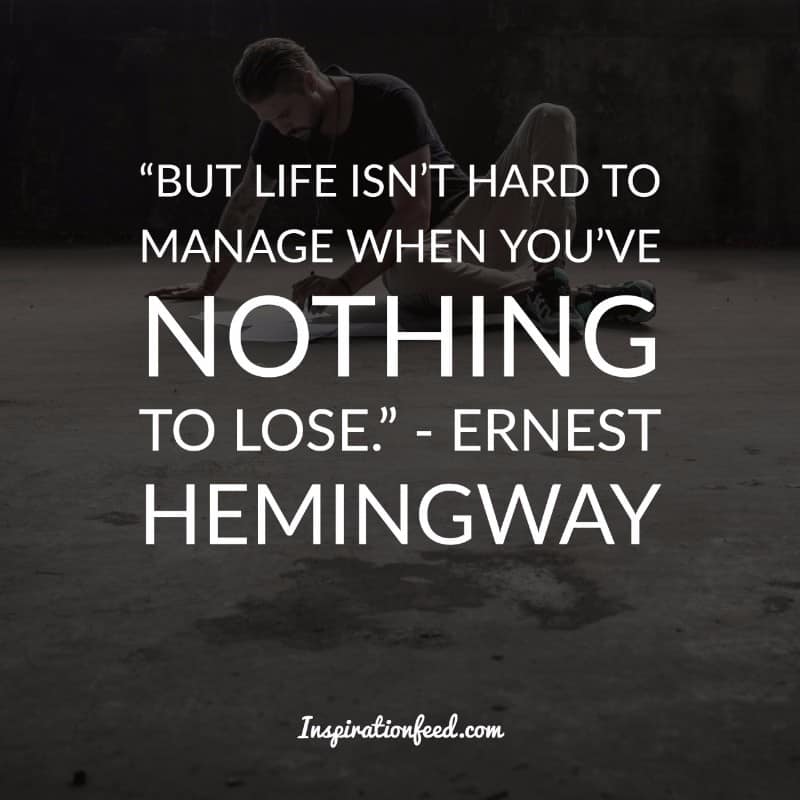 "But life isn't hard to manage when you've nothing to lose." – Ernest Hemingway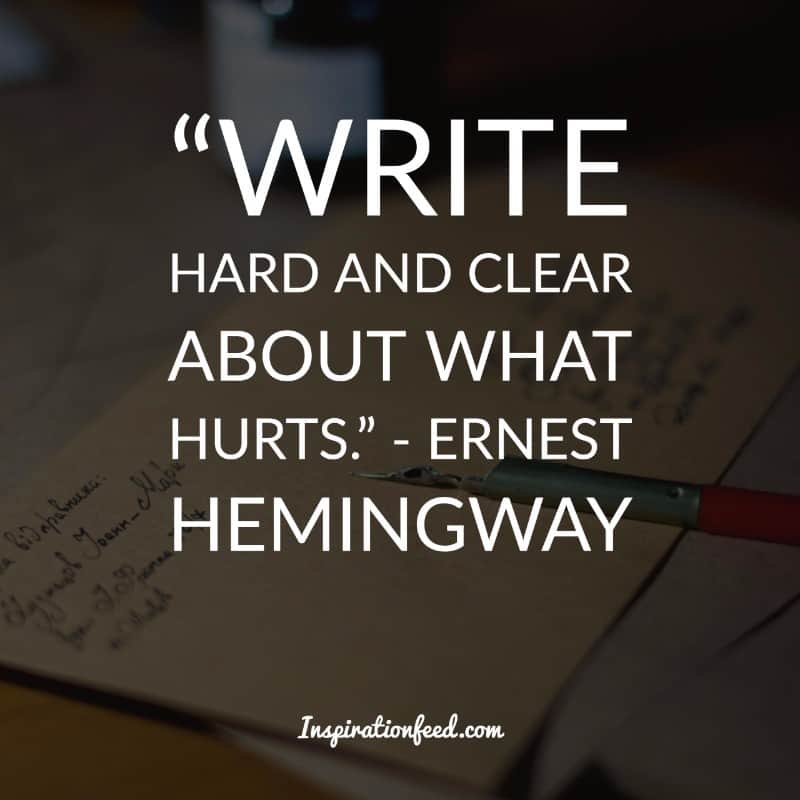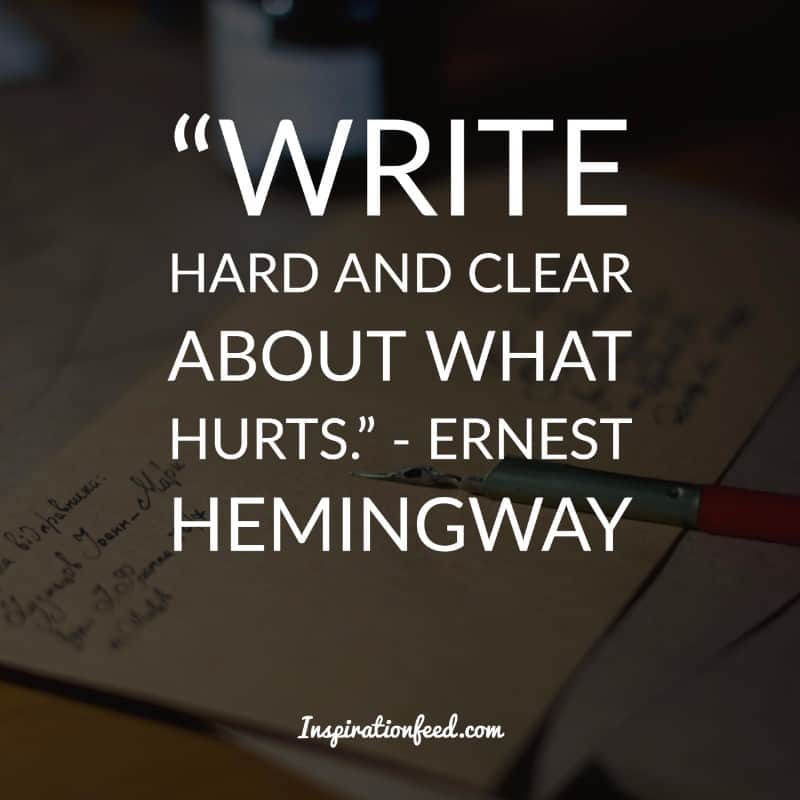 "Write hard and clear about what hurts." – Ernest Hemingway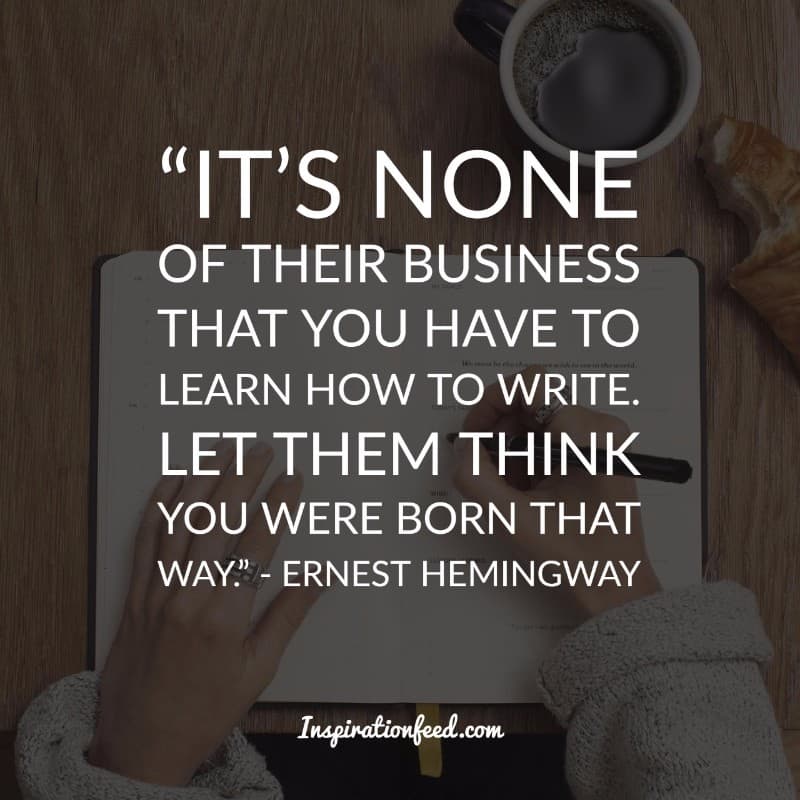 "It's none of their business that you have to learn how to write. Let them think you were born that way." – Ernest Hemingway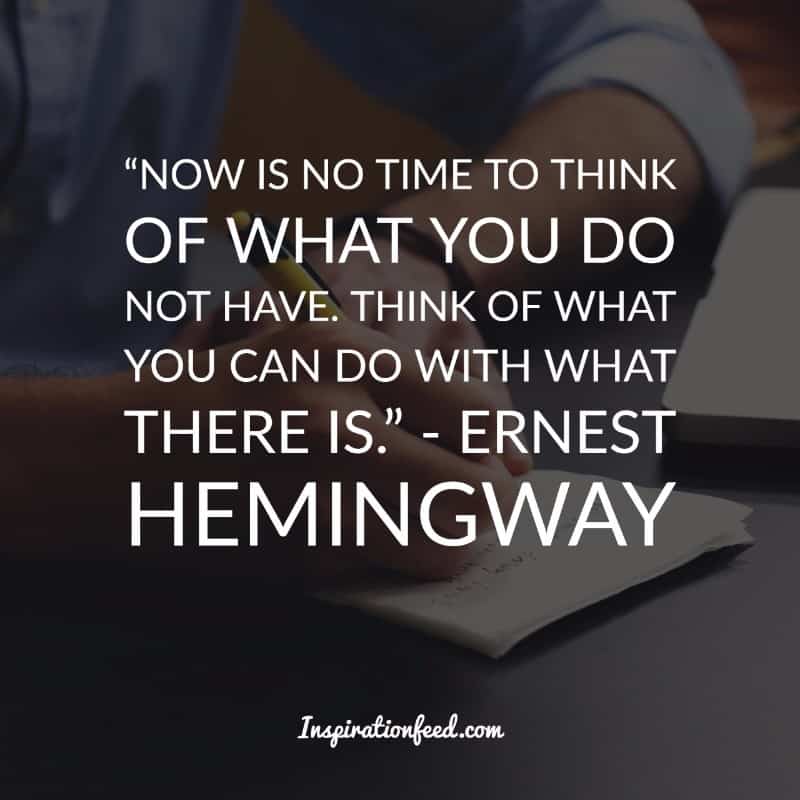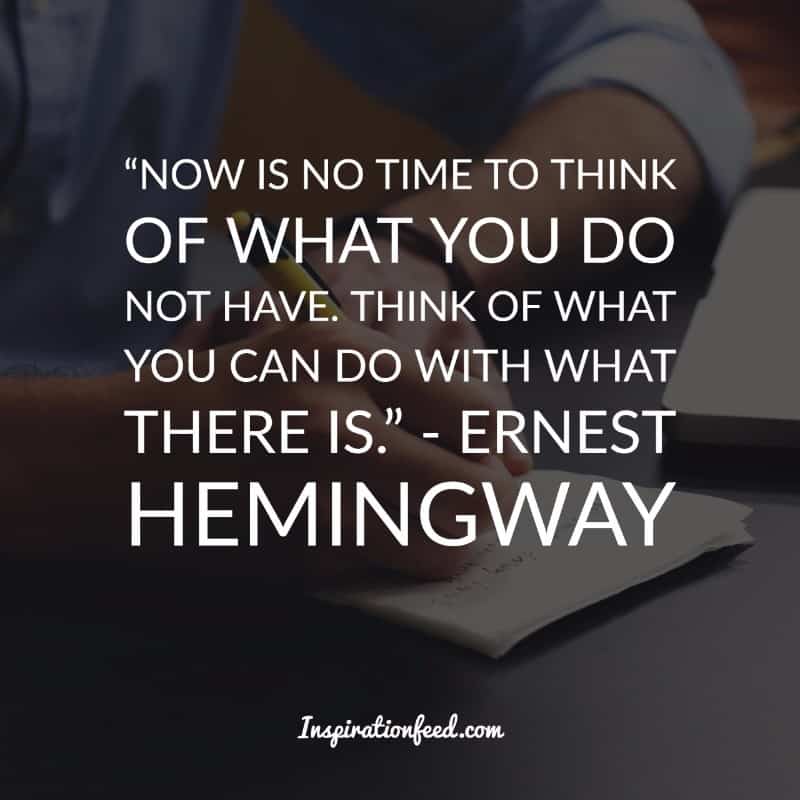 "Now is no time to think of what you do not have. Think of what you can do with what there is." – Ernest Hemingway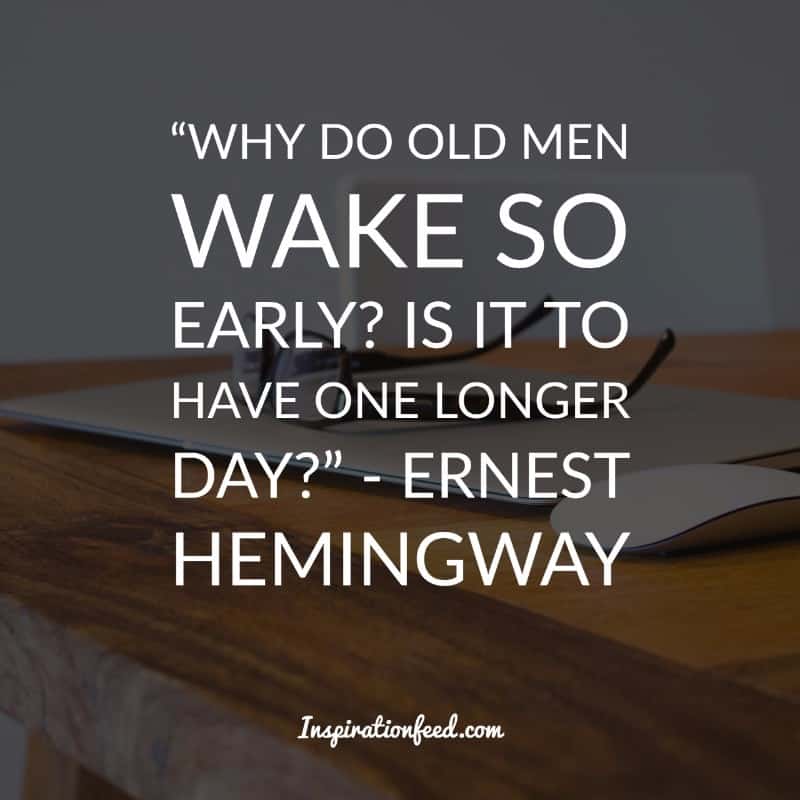 "Why do old men wake so early? Is it to have one longer day?" – Ernest Hemingway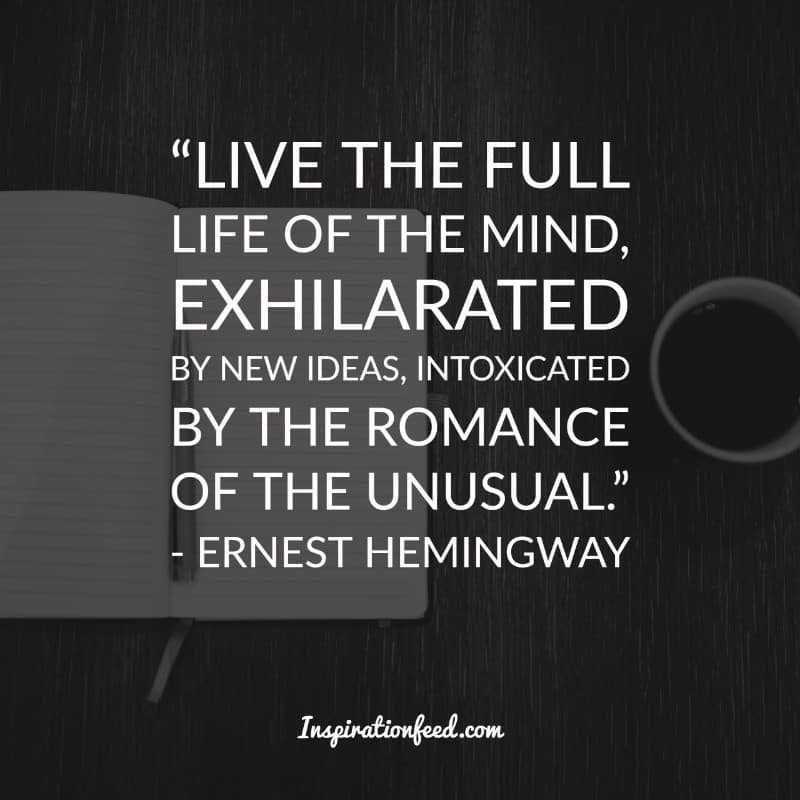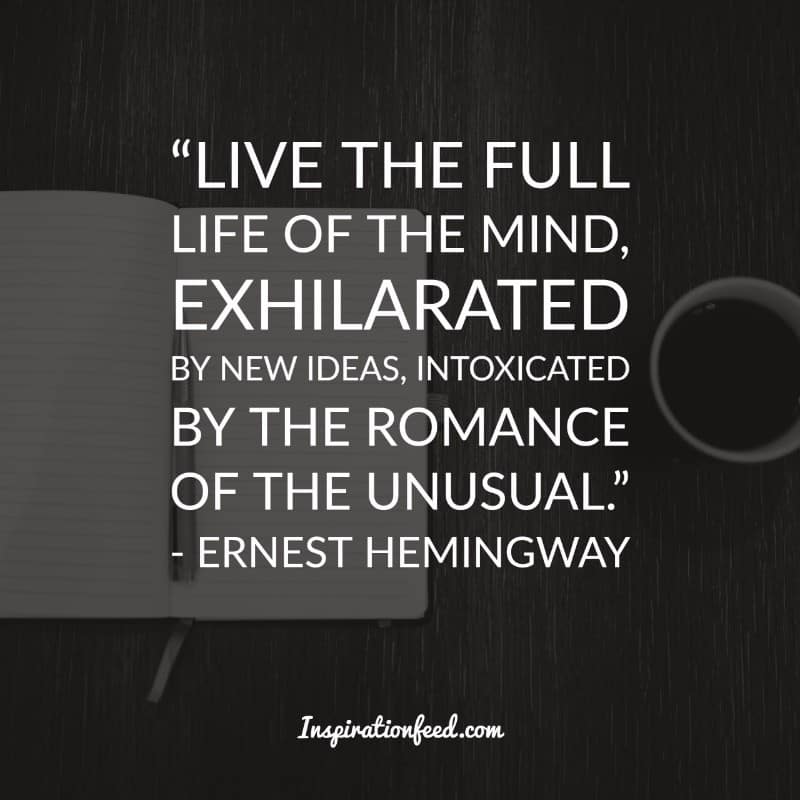 "Live the full life of the mind, exhilarated by new ideas, intoxicated by the Romance of the unusual." – Ernest Hemingway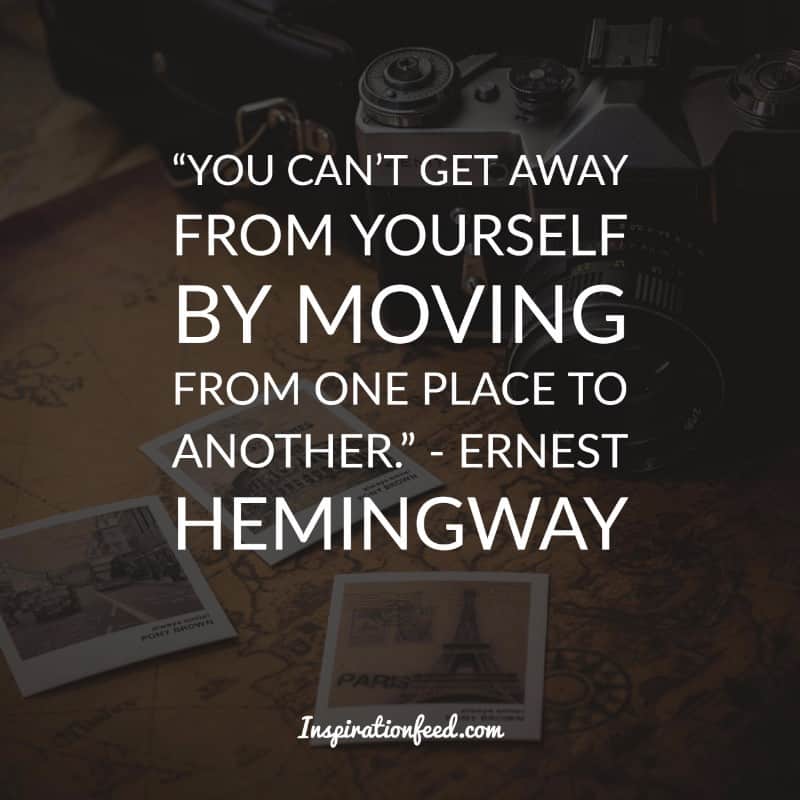 "You can't get away from yourself by moving from one place to another." – Ernest Hemingway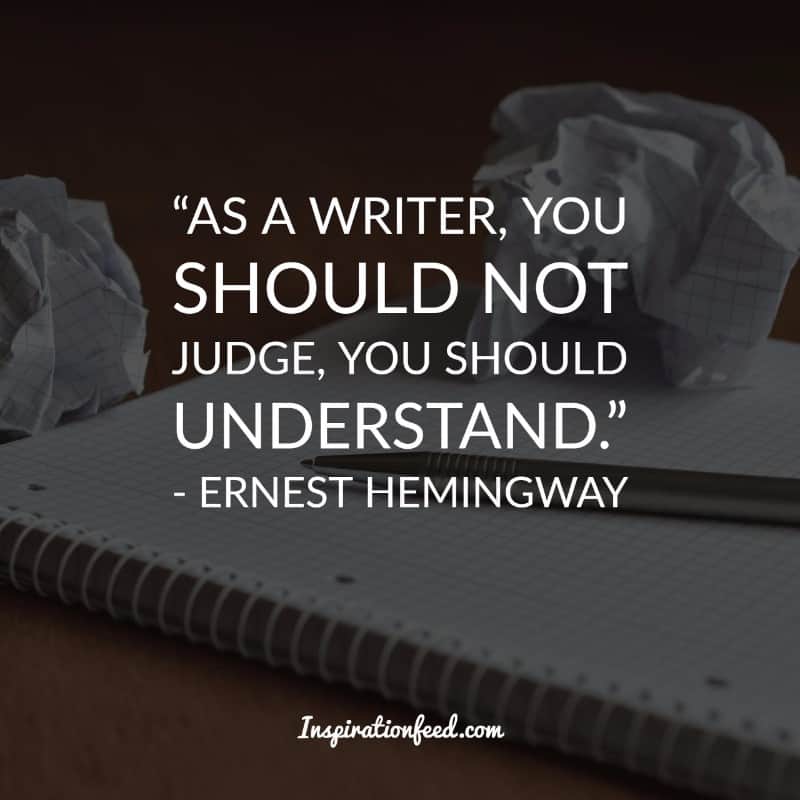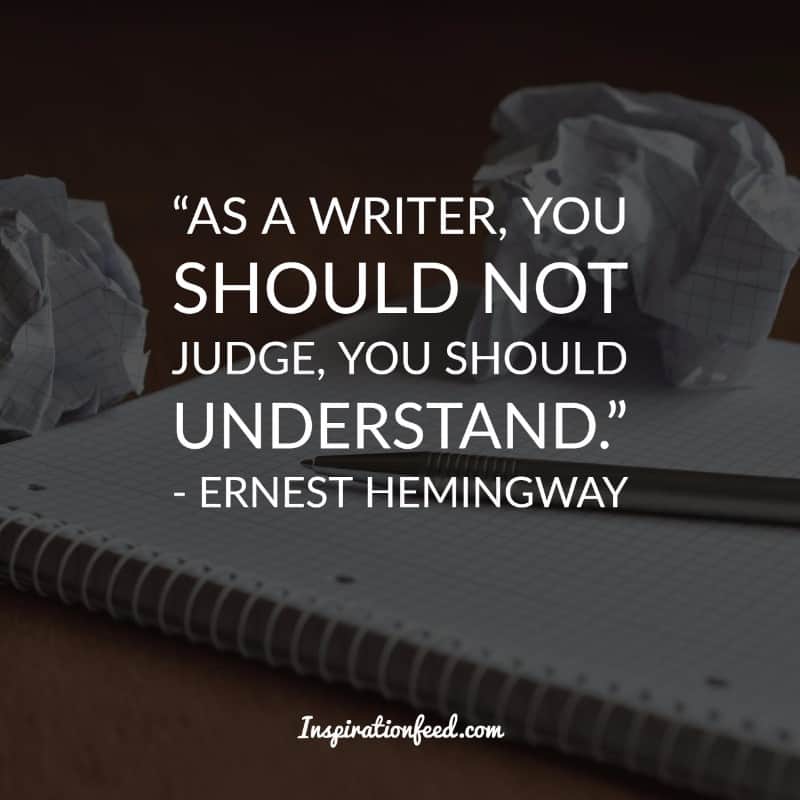 "As a writer, you should not judge, you should understand." – Ernest Hemingway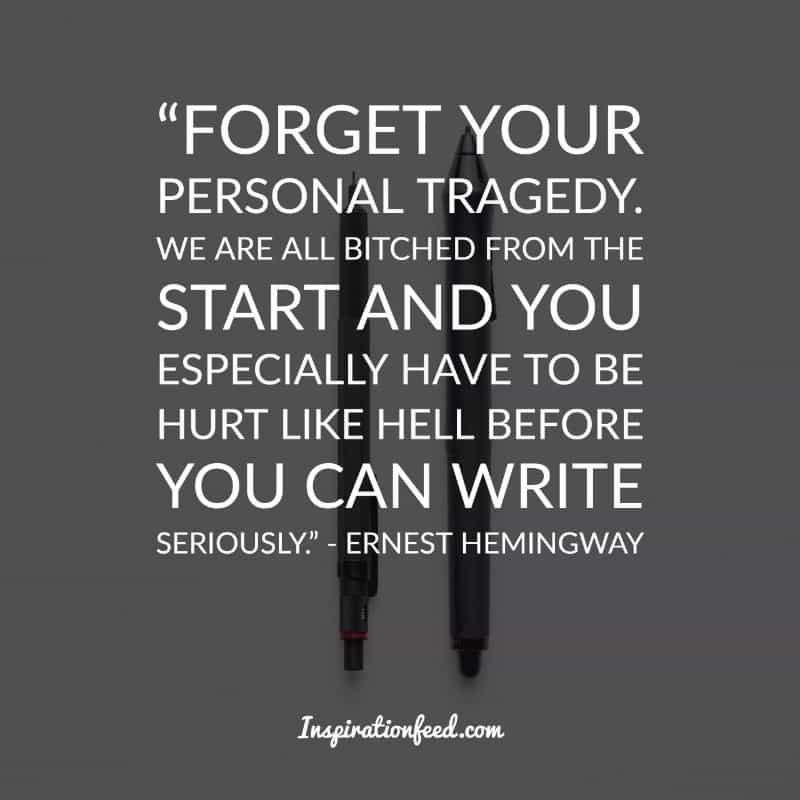 "Forget your personal tragedy. We are all bitched from the start and you especially have to be hurt like hell before you can write seriously." – Ernest Hemingway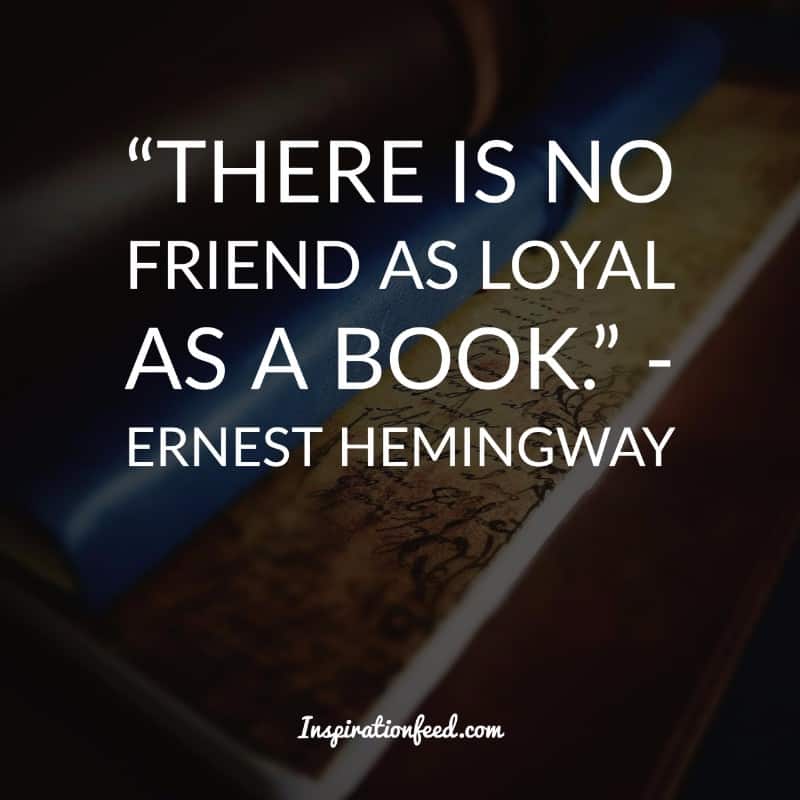 "There is no friend as loyal as a book." – Ernest Hemingway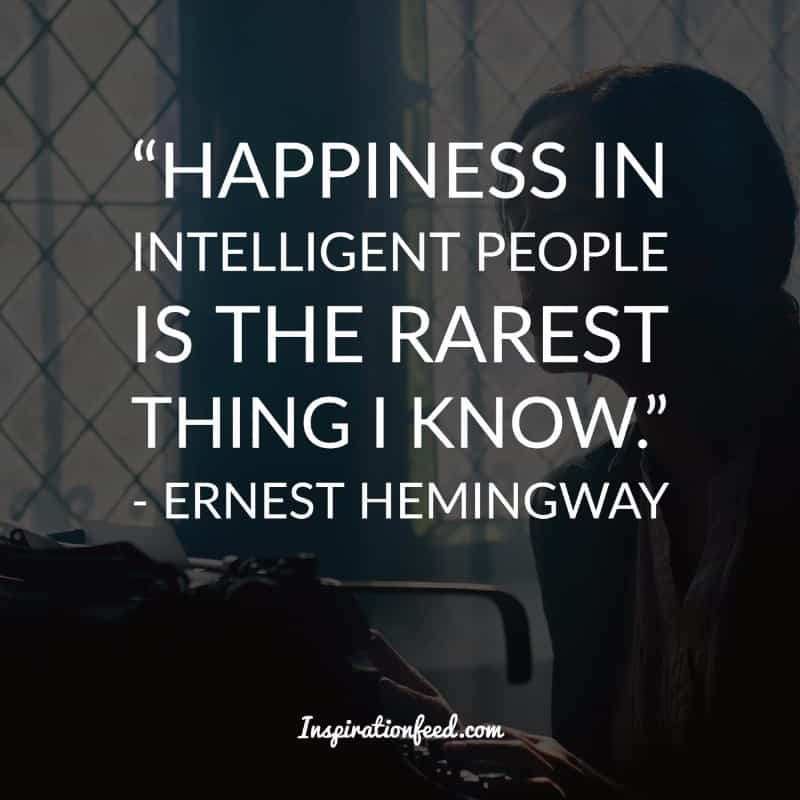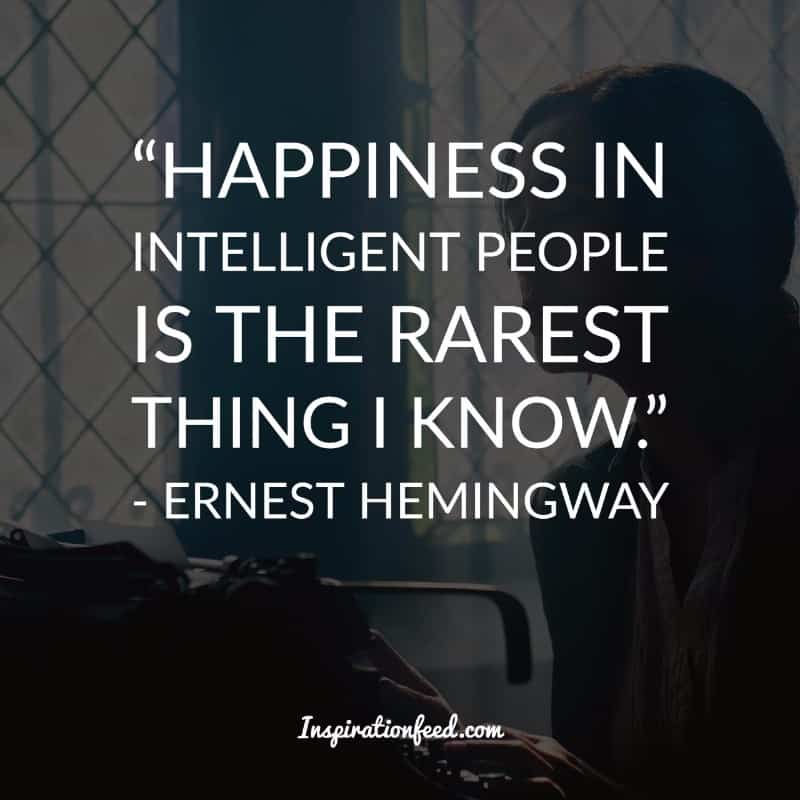 "Happiness in intelligent people is the rarest thing I know." – Ernest Hemingway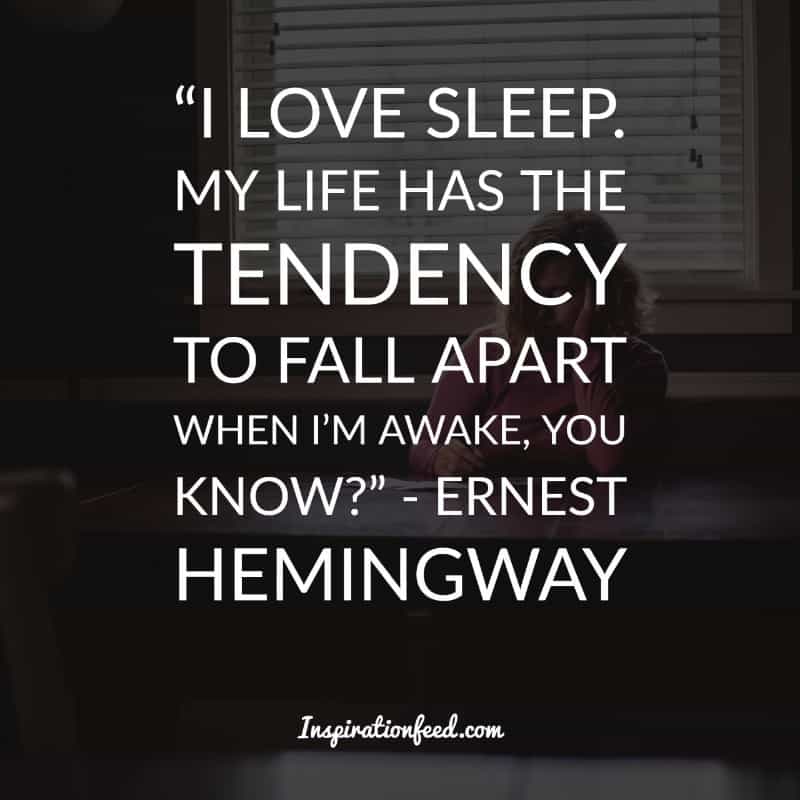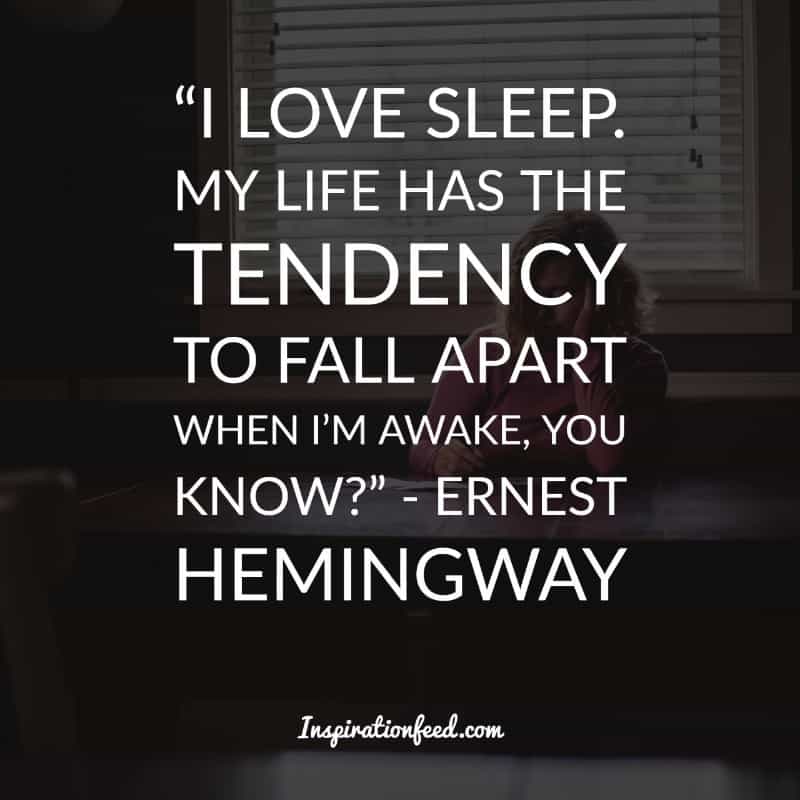 "I love sleep. My life has the tendency to fall apart when I'm awake, you know?" – Ernest Hemingway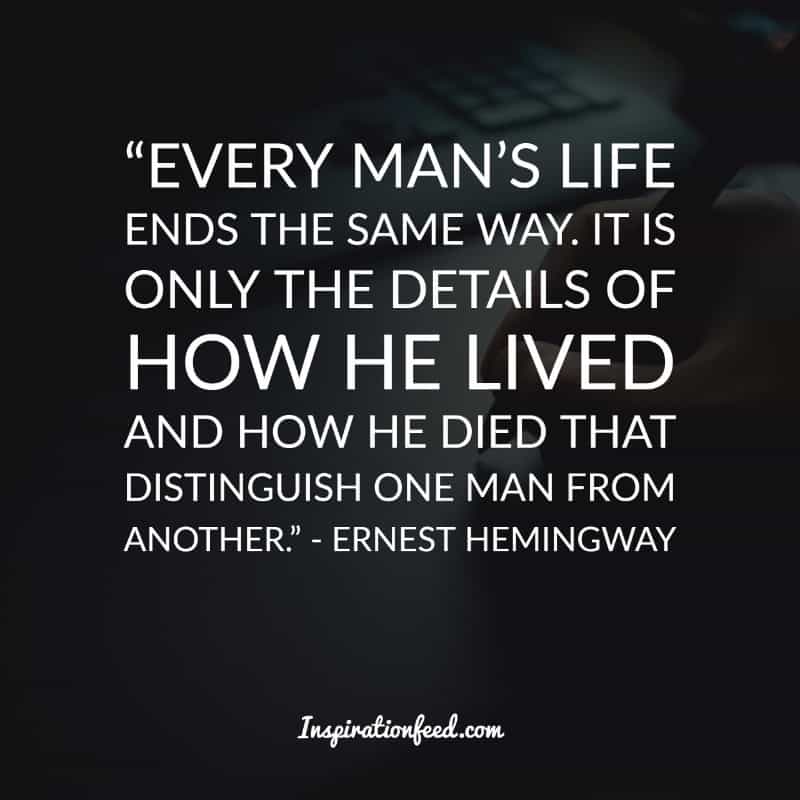 "Every man's life ends the same way. It is only the details of how he lived and how he died that distinguish one man from another." – Ernest Hemingway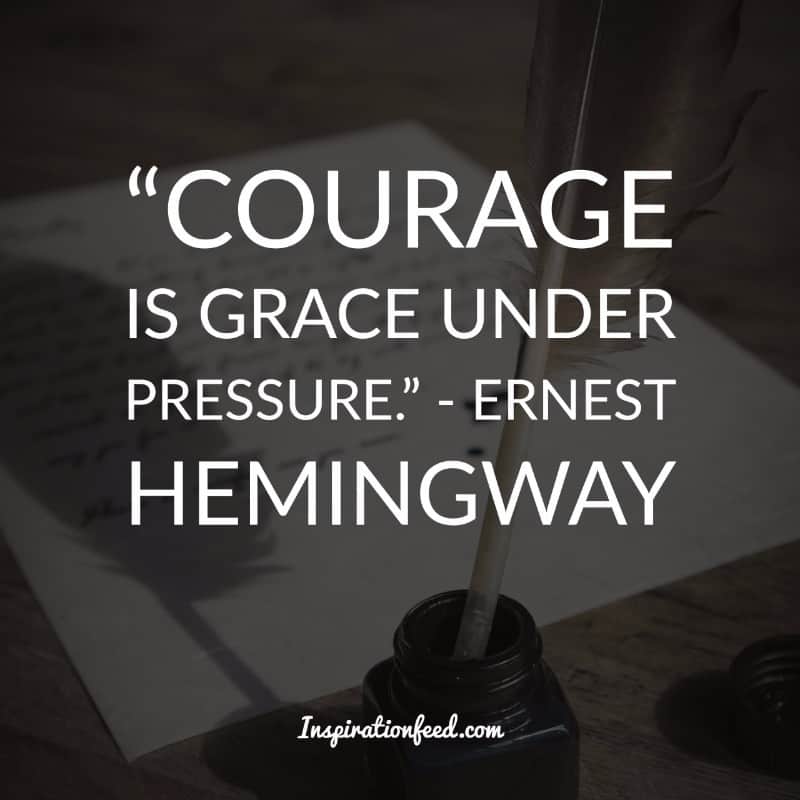 "Courage is grace under pressure." – Ernest Hemingway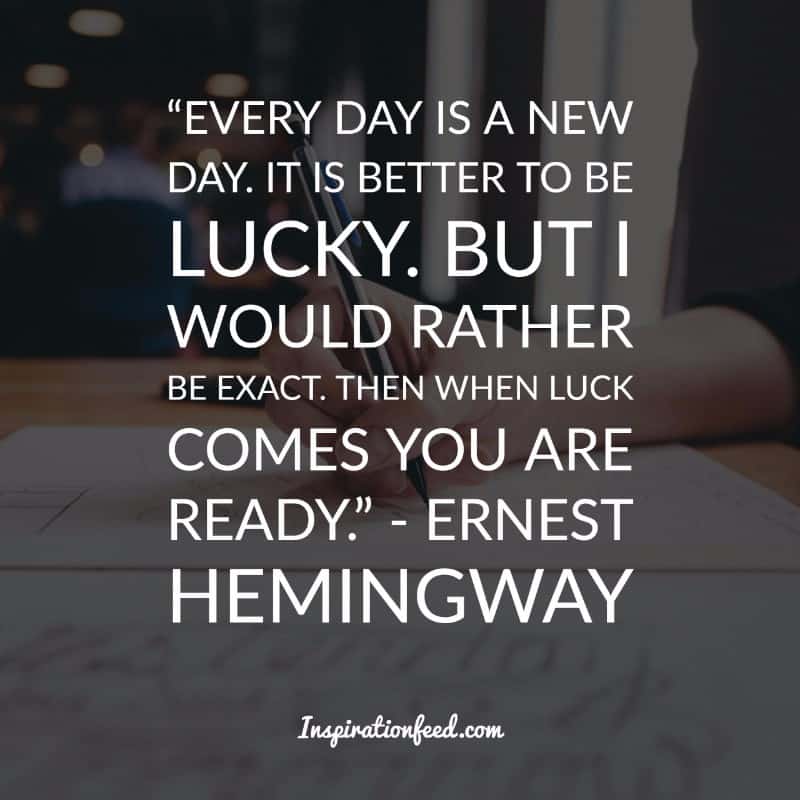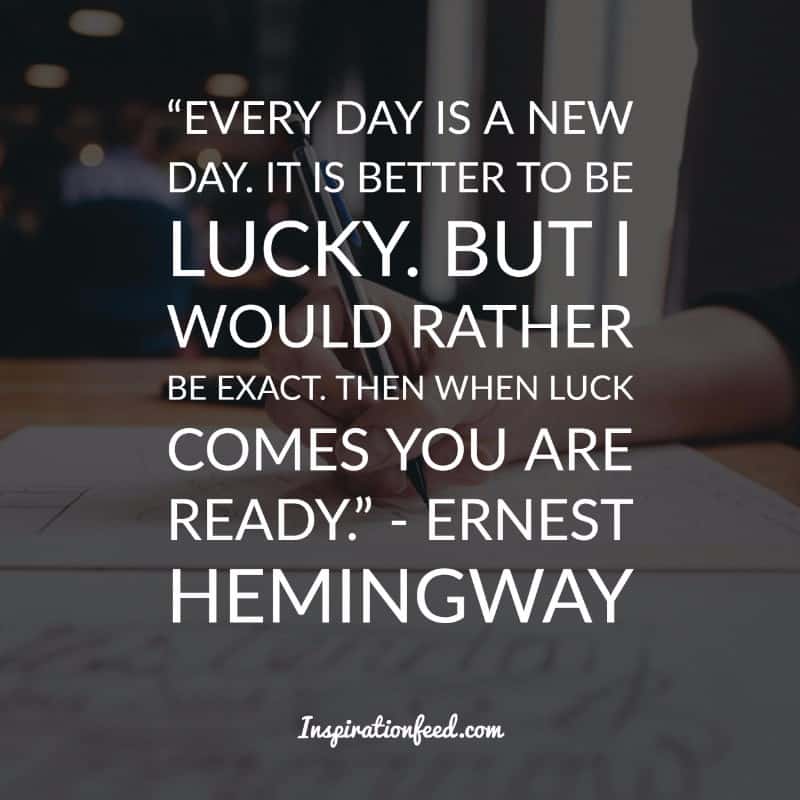 "Every day is a new day. It is better to be lucky. But I would rather be exact. Then when luck comes you are ready." – Ernest Hemingway
"There is nothing noble in being superior to your fellow man; true nobility is being superior to your former self." – Ernest Hemingway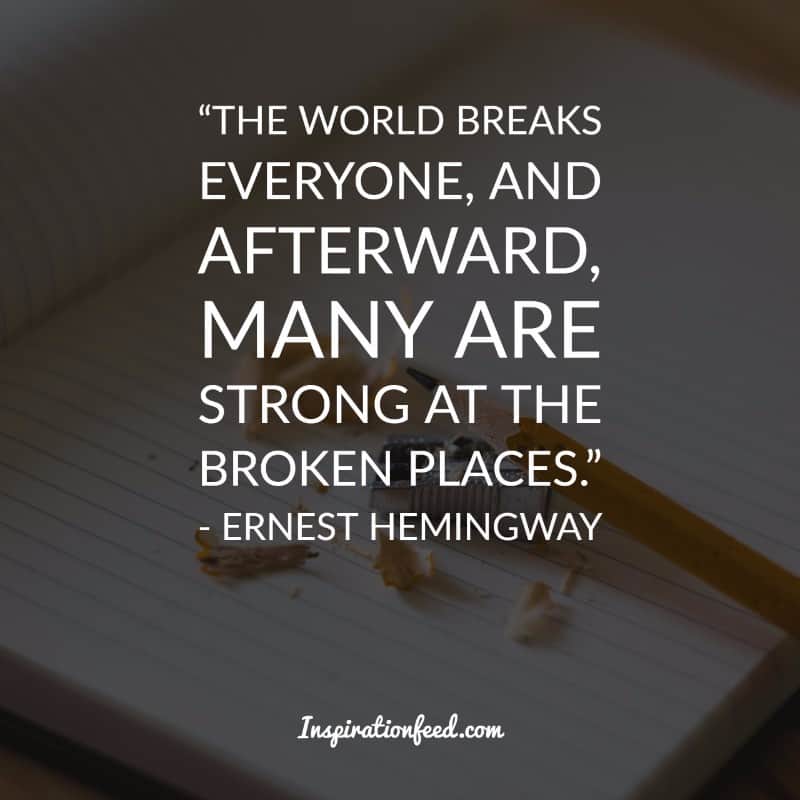 "The world breaks everyone, and afterward, many are strong at the broken places." – Ernest Hemingway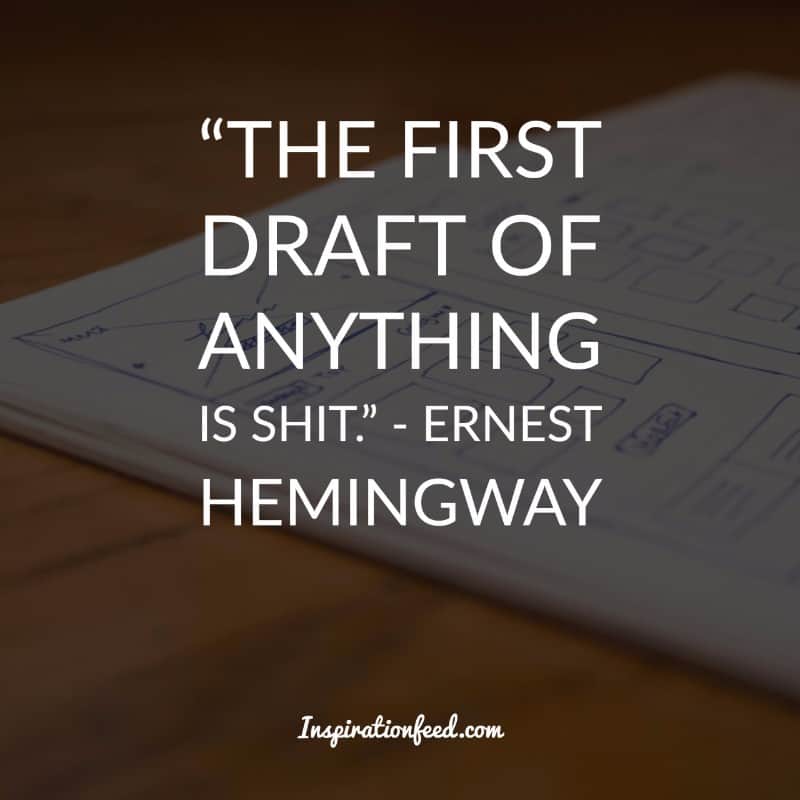 "The first draft of anything is shit." – Ernest Hemingway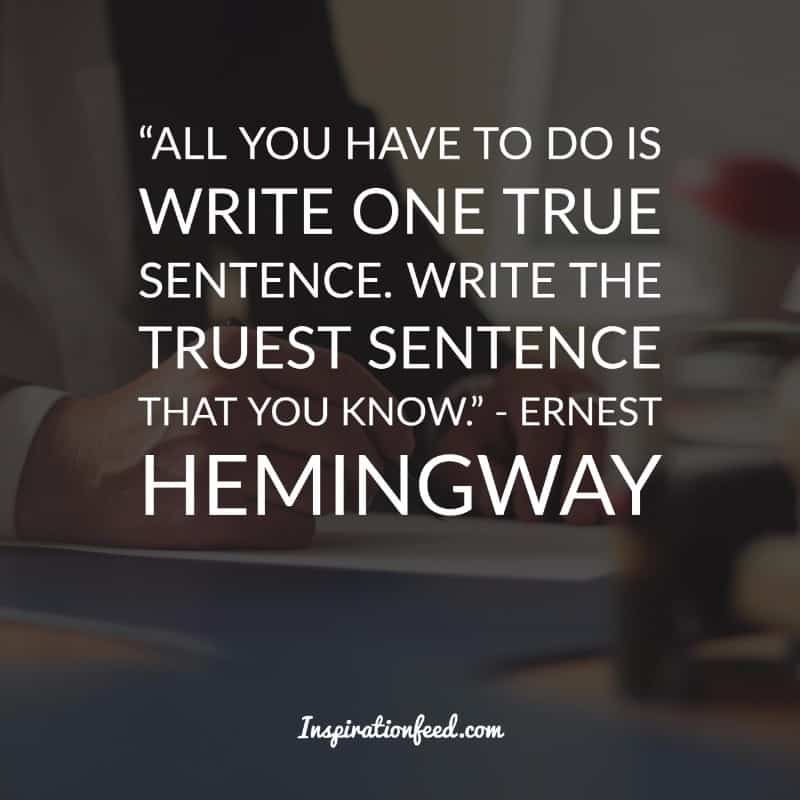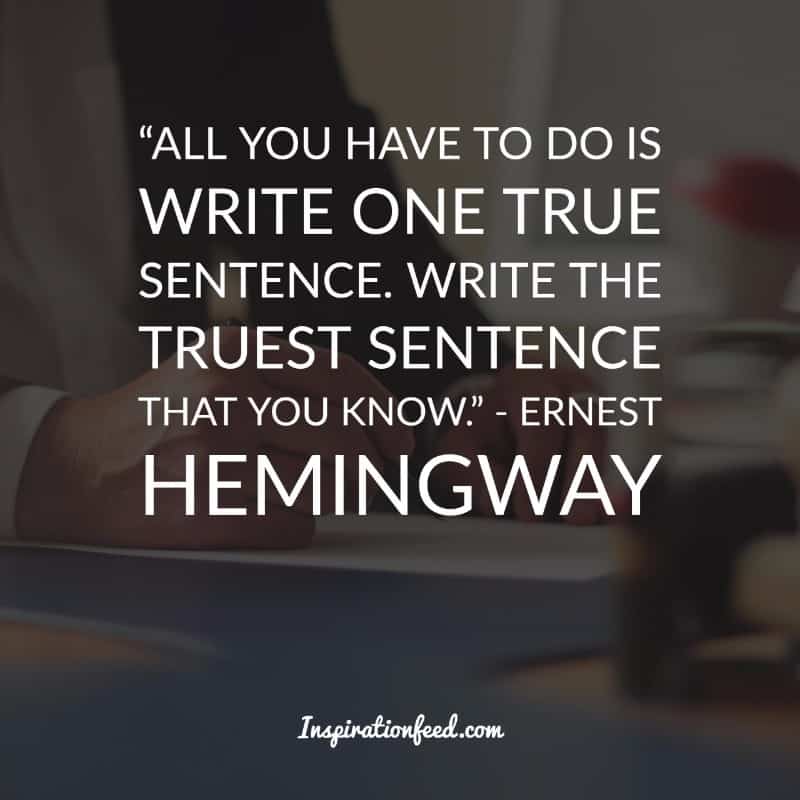 "All you have to do is write one true sentence. Write the truest sentence that you know." – Ernest Hemingway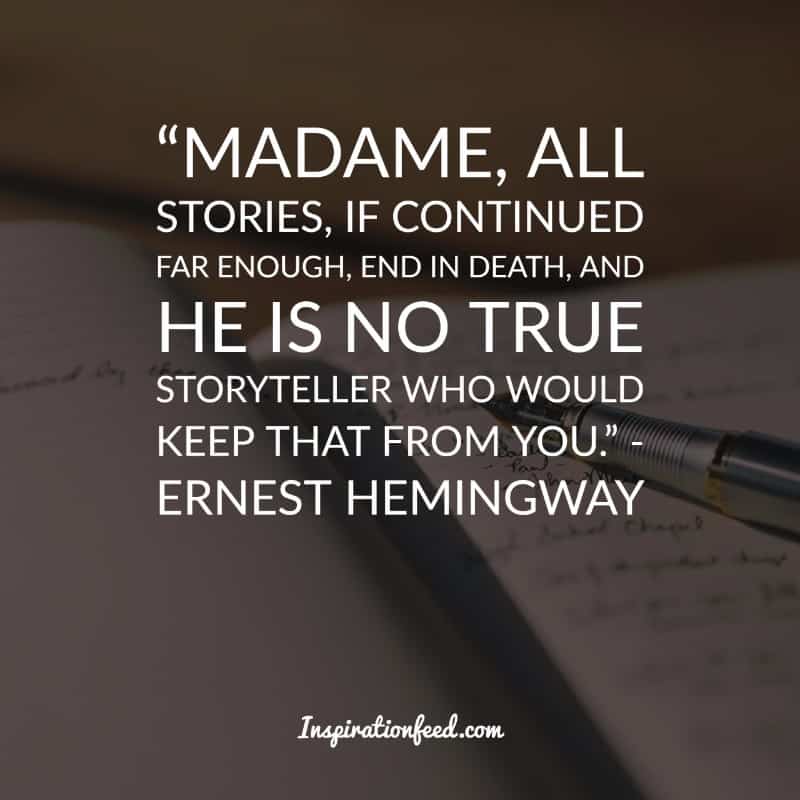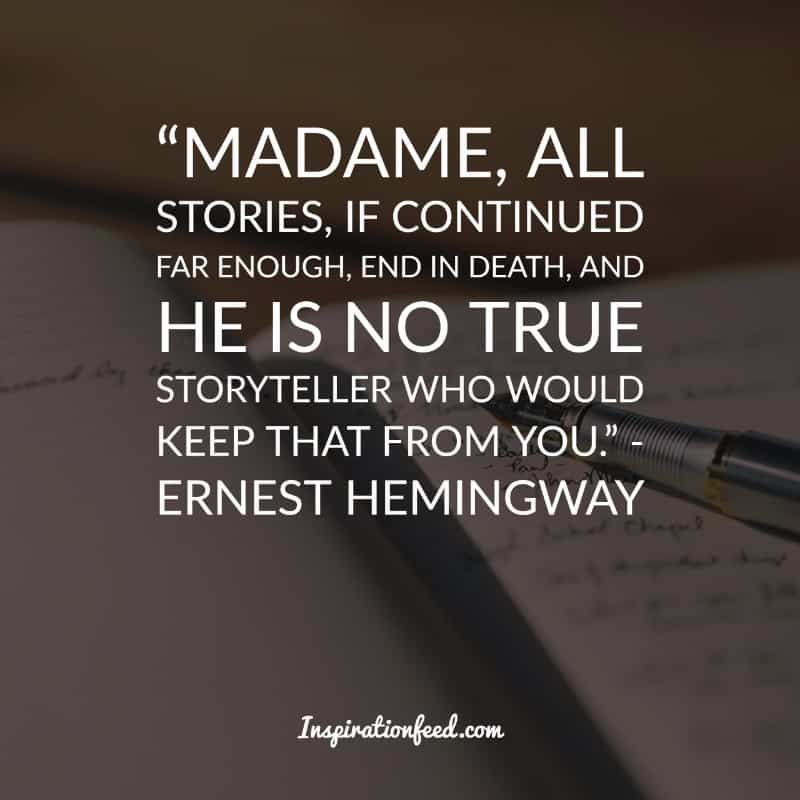 "Madame, all stories, if continued far enough, end in death, and he is no true storyteller who would keep that from you." – Ernest Hemingway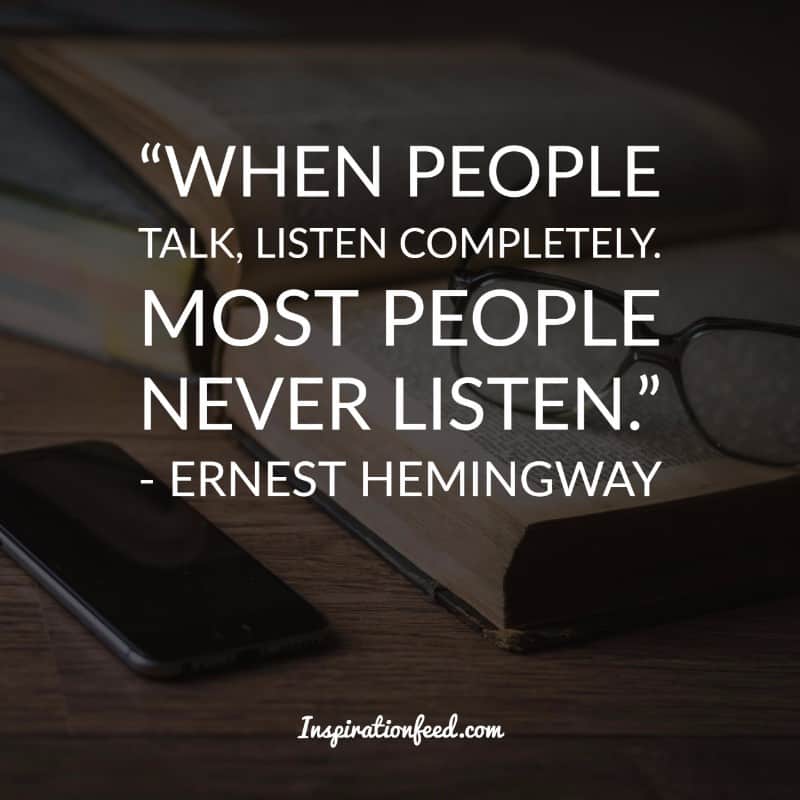 "When people talk, listen completely. Most people never listen." – Ernest Hemingway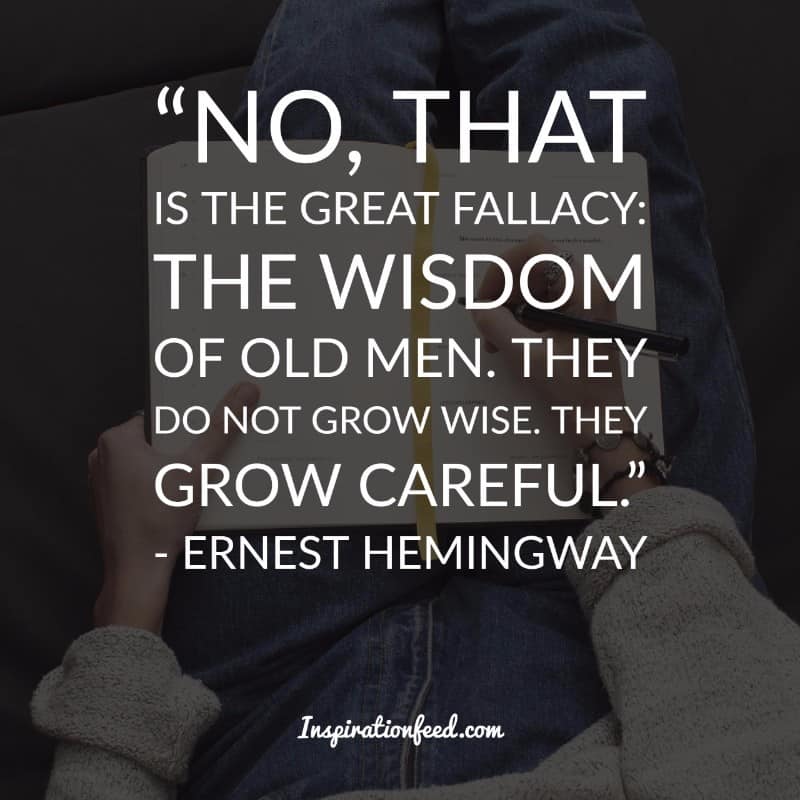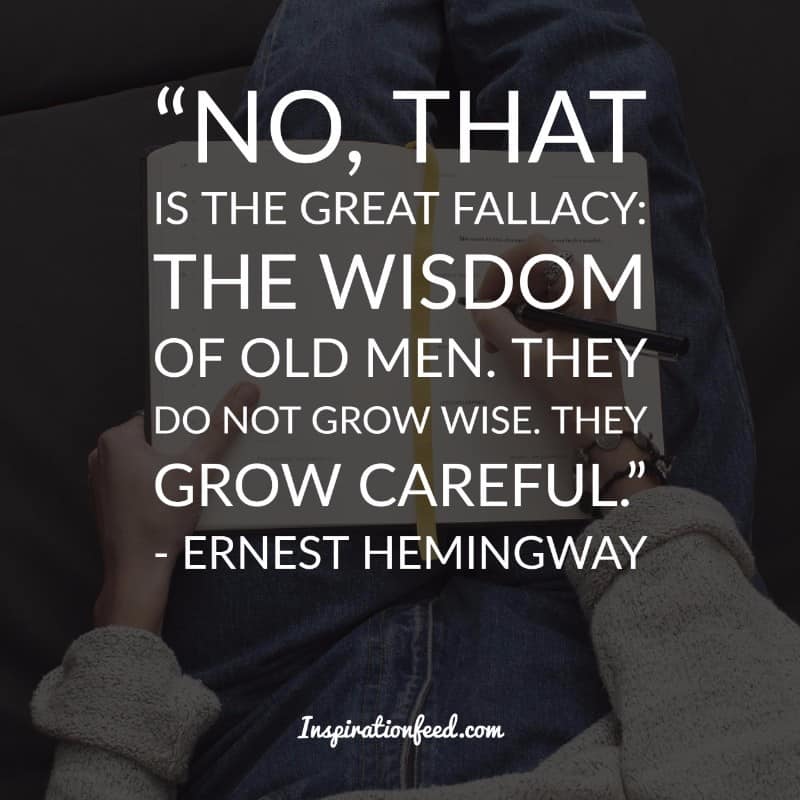 "No, that is the great fallacy: the wisdom of old men. They do not grow wise. They grow careful." – Ernest Hemingway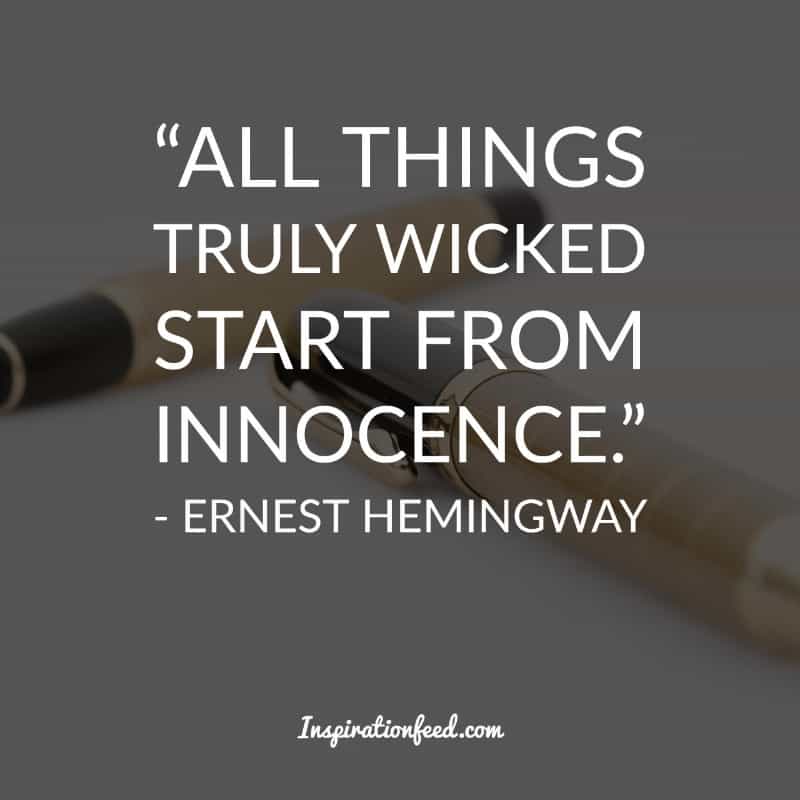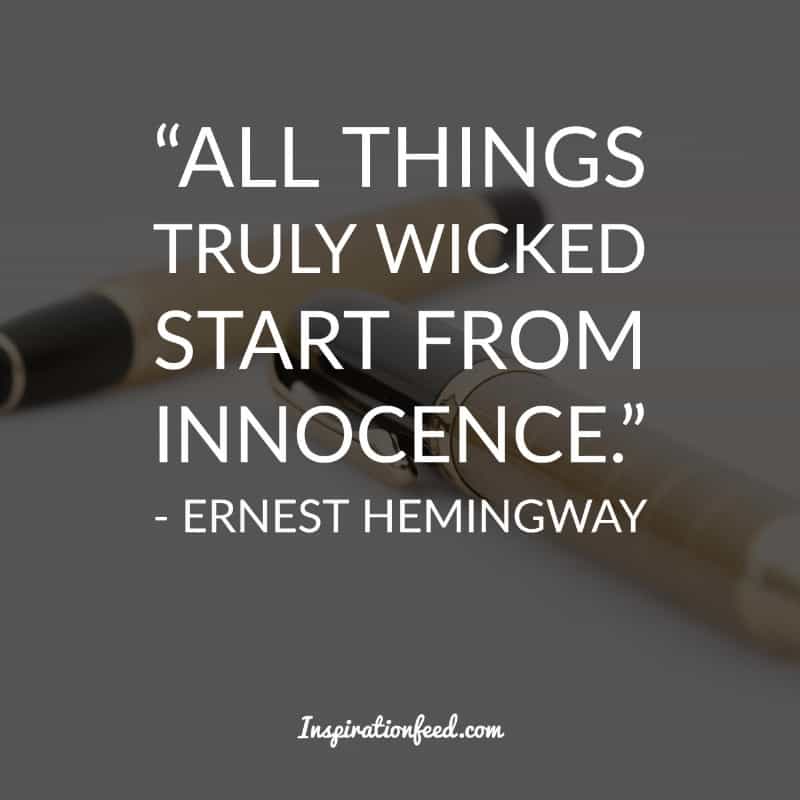 "All things truly wicked start from innocence." – Ernest Hemingway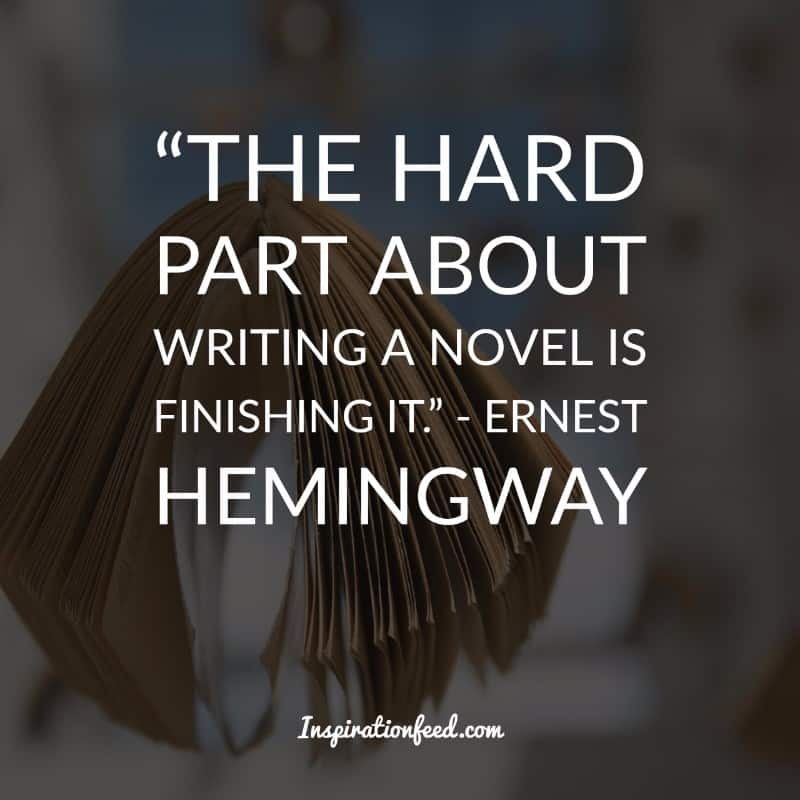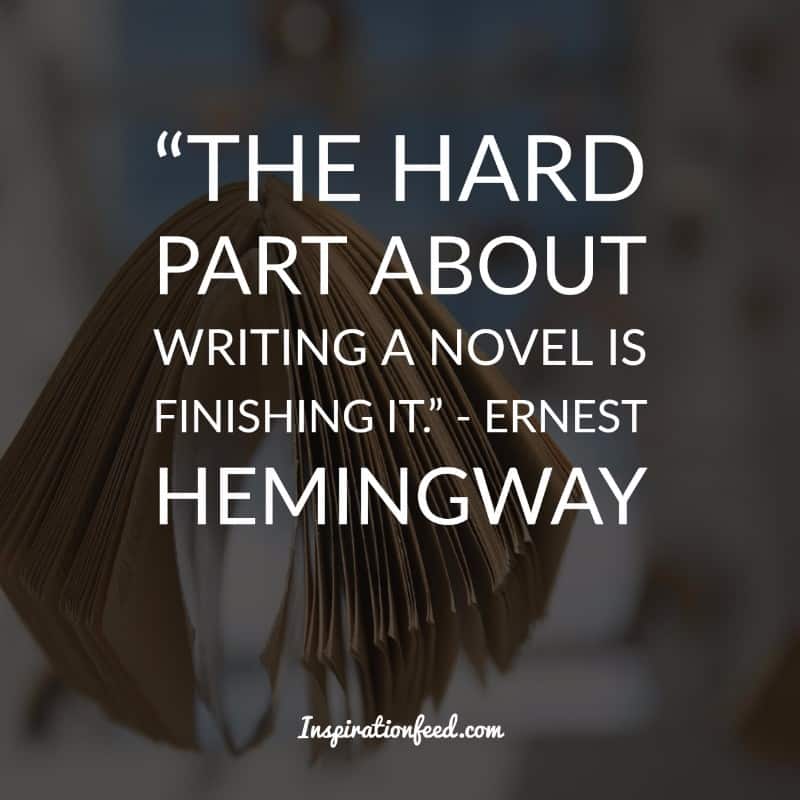 "The hard part about writing a novel is finishing it." – Ernest Hemingway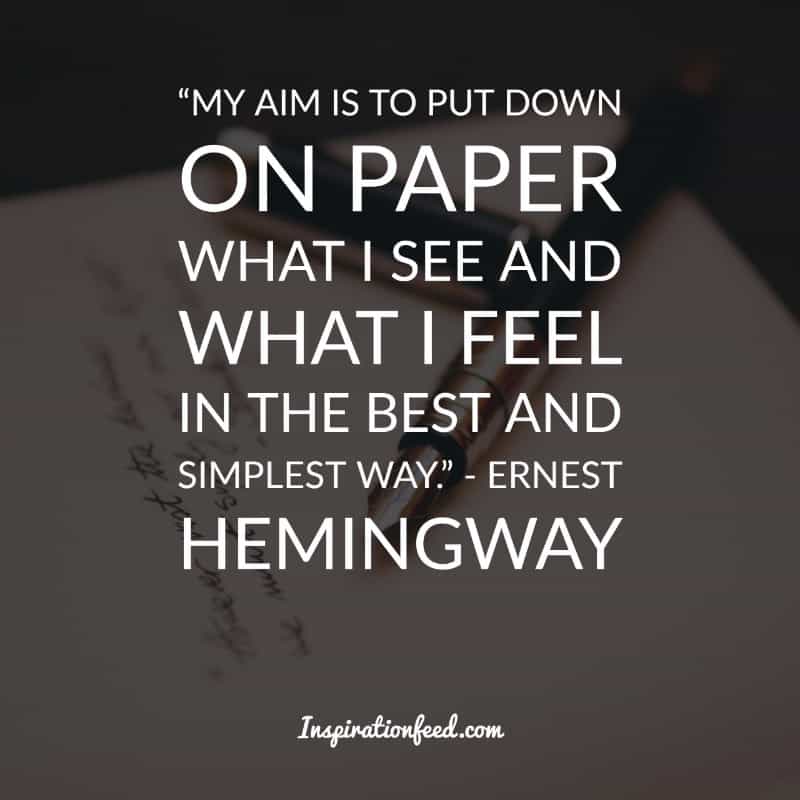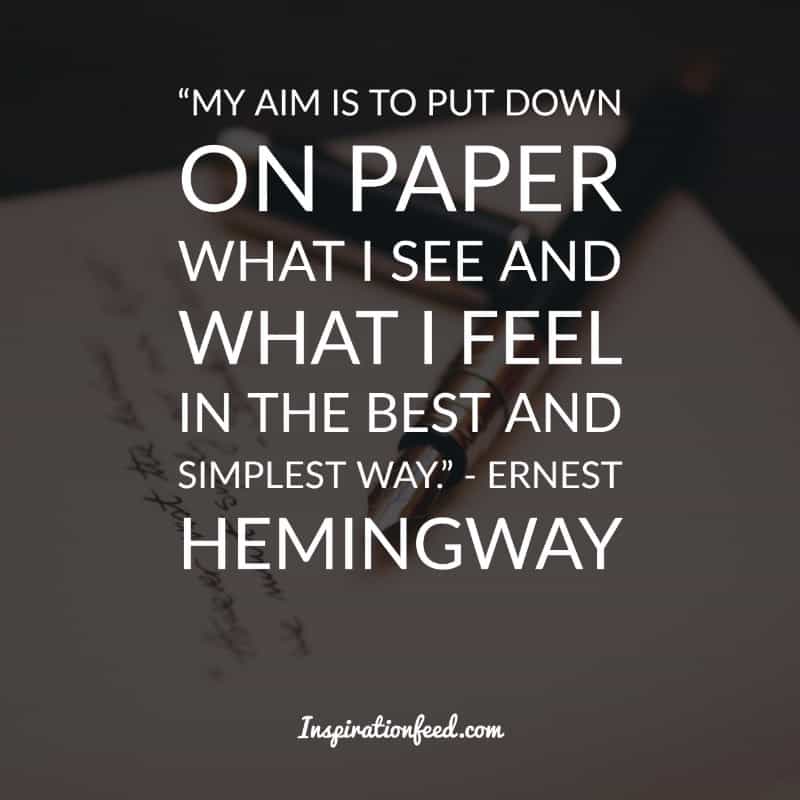 "My aim is to put down on paper what I see and what I feel in the best and simplest way." – Ernest Hemingway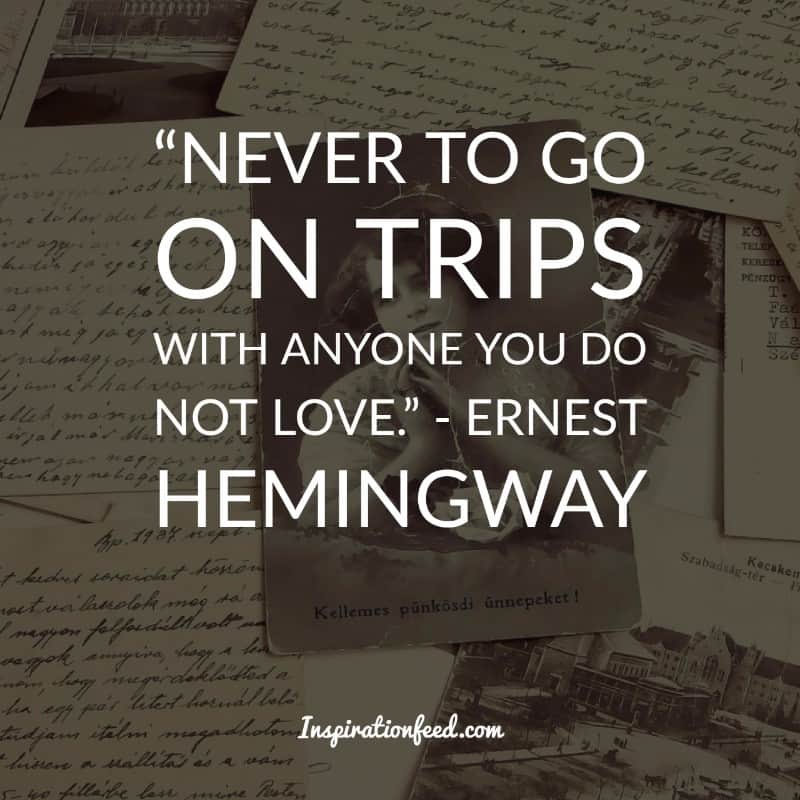 "Never to go on trips with anyone you do not love." – Ernest Hemingway