If you're a frequent reader of our website, you've probably noticed that we use stock photos on a regular basis. I try my best to find relevant images which will benefit your reading experience. I've recently received emails from people asking me where they could find 100% free stock photos for their projects.
Today we gathered a solid collection of royalty free image websites. As bloggers, designers, students, teachers, and business owners we need stock images to make our life easier. Paying every single time you need a royalty free image is a pain in the butt.
Fortunately there are tons of online resources that allow you to save money while receiving some of the best stock photos on the web. They say 'The best things in life are free.' I absolutely agree.
Before jumping into the list, I must say that search.creativecommons.org is very helpful for beginners. If you don't want to worry about bookmarking or keeping track of the websites listed below, then by all means go ahead and use this as your number one tool for finding free photos for commercial use.
To help you find royalty free images, we've collected a few prominent resources you should consider visiting. Every single site mentioned below allows you to use their images 100% free for personal projects. If you're planning to use an image for commercial purposes, be sure to fully read the license and rules the author of the photo provides.
Public Domain Images
All public domain images can be used for commercial purposes. Please be careful not to use photos containing logos and products which you have no rights to.
Here are some great public domain photo websites.
Note: 
During my research, I came across many 'free-stock-photo' sites. Not wanting to confuse you with 40-100 different websites, I decided to eliminate the low quality resources and only mention the best websites. I hope you'll find this collection useful, good luck!
Vecteezy offers a huge selection of free stock photos, 4K videos, and vectors. One of the key ways that Vecteezy stands out is by offering free images with signed model releases. This provides a level of legal protection to users that's uncommon with free photos. The search and filtering capabilities also exceed what's typical with free photo sites, making it easier to find what you want.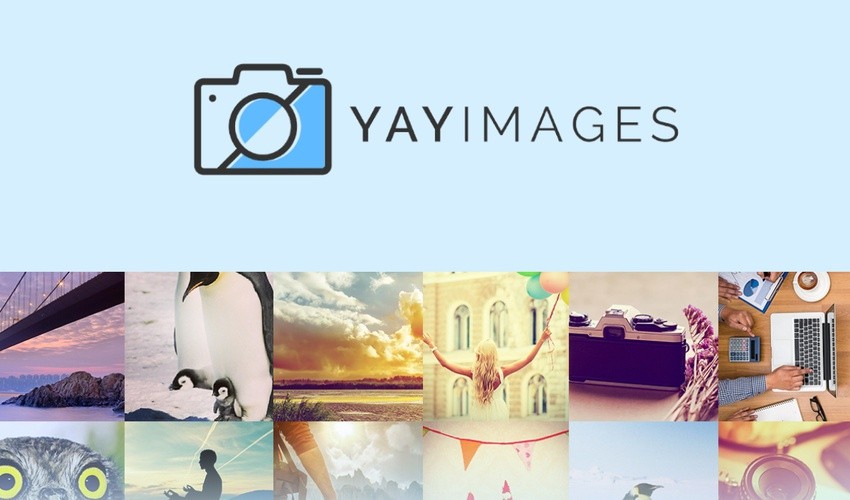 When starting your startup, the last thing you want to worry about is your stock media rights and usage. This is where Yayimages comes in. Their industry leading and flexible licensing allows you to download high resolution images without any worries.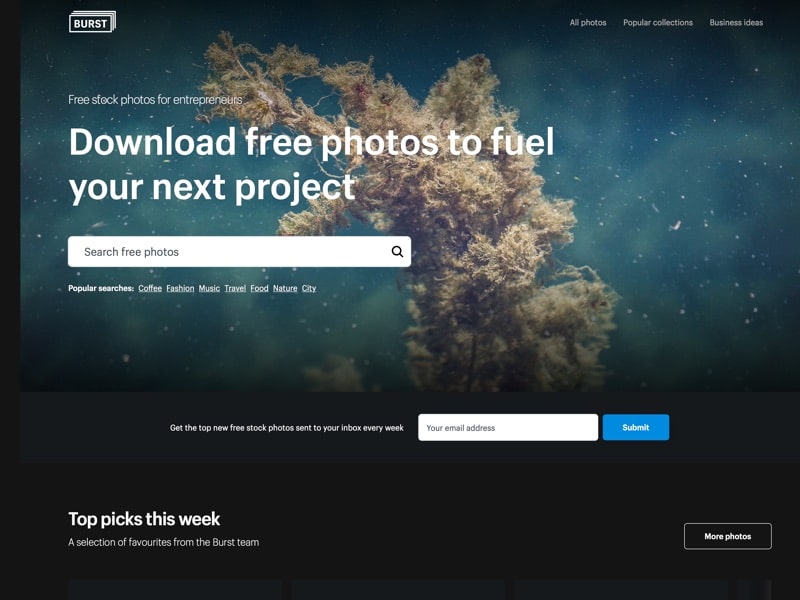 Burst is the stock photo site of choice for entrepreneurs. Powered by Shopify, Burst provides free stock photos for business owners. All photos are offered under the Creative Commons Zero (CCO) license, which means you can use the photos for any purpose, business included. Images can be used for your business website, blog, online store, social media campaigns, client work, and even school projects.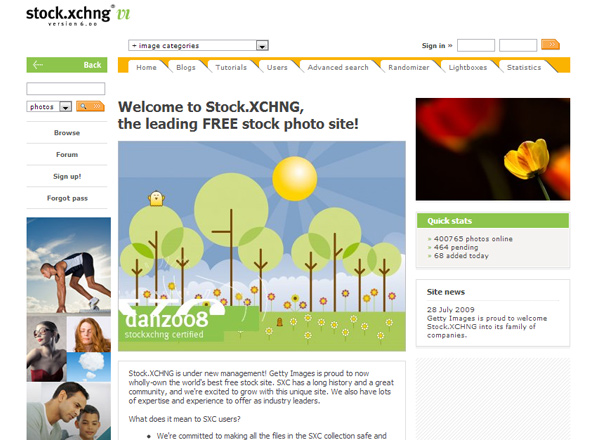 Stock.xchng is probably the most talked about resource for downloading royalty free images. Nonetheless from time to time, people ignore the fact that you have to read the license terms presented with the images. The license usage is located in the right sidebar in the 'Photo details' widget. What I love most about SXC, is that it's fast, stable, and secure. Searching for images is fairly straightforward and their unique community is constantly active. The website contains over 350,000 quality stock photos from 30,000+ photographers.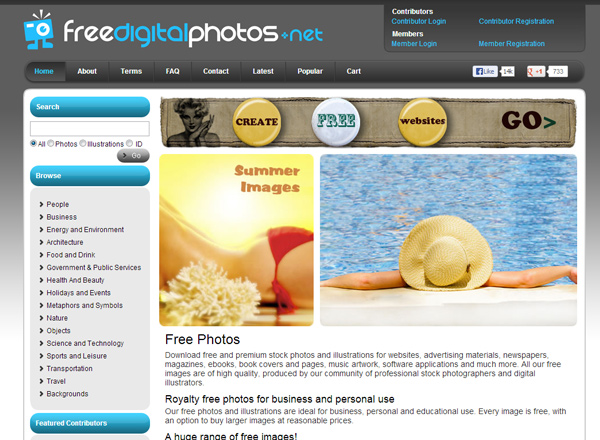 Freedigitalphotos.net provides free and premium stock photos. Their free image download requires you to acknowledge that the image you're using is from them. The free image sizes usually range from 400 x 250-400px. Technically their domain name is misleading. However if you're running a website and need small thumbnails for your website, Freedigitalphotos.net is a great resource.
Pixabay is your worry free source for high quality free images. They only publish public domain images. This means that whenever you download an image from their website, you don't have to worry about reading licenses. Every single image on the website can be used in digital and printed format, for personal and commercial use, without attribution.
Compfight is a bit different. Compfight is an image search engine using the Flickr API. It's ideal for people who are searching for inspiration based on keywords. I searched for cars, and received a visually pleasing page of results. If you wish to download images free for commercial use, you can easily do so by clicking on the commercial tag in the left sidebar. I found that most of the images require an attribution.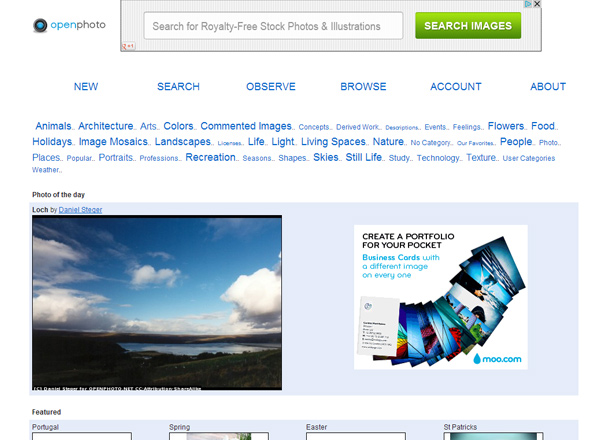 Created in 1998 by Michael Jastremski, Openphoto is a niche photo platform for artists, developers, teachers, and students. Every single image on the site has some sort of Creative Commons licensing. Be sure to read the usage conditions before you download.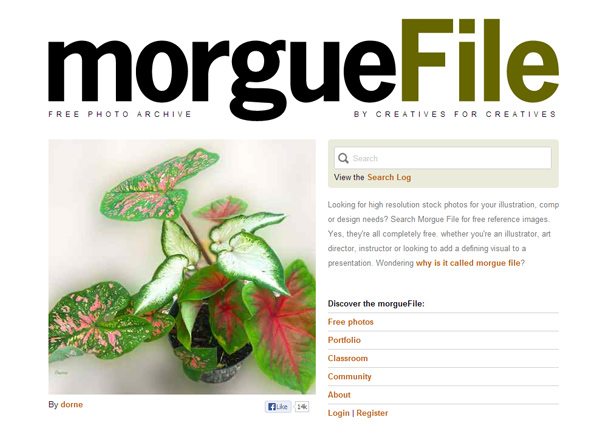 Morguefile was created by Michael Connors in 1996. The website contains over 216,558 free photos. Just like Pixabay, Morguefile allows you to download royalty free images to use in creative projects. Please keep in mind that their portfolio section contains copyrighted images, so be sure to only use the free photo section. If you do decide to download from the portfolio section, you must read the creative commons license.
Deathtothestockphoto.com is a project by Allie Lehman and David Sherry. They've teamed up together to provide free monthly photos for creatives. You can use these photos for commercial and personal purposes. All you have to do is sign up to their mailing list and you will receive a .ZIP file every month packed with fresh images.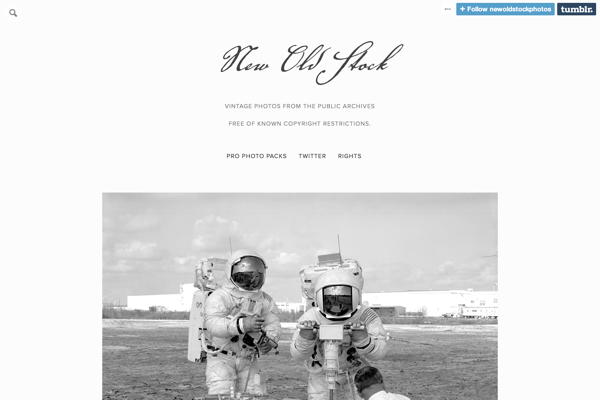 Created by Cole Townsend, New Old Stock is your number one souce for vintage photos. Every single picture you see on the site is free of copyright restrictions.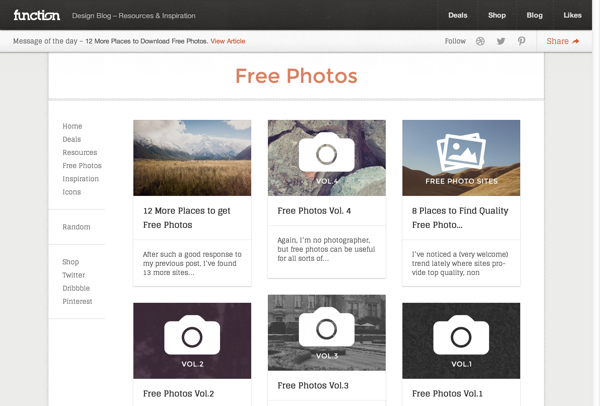 The beautiful photos you'll find on this site are 100% free. You can do whatever you want with them.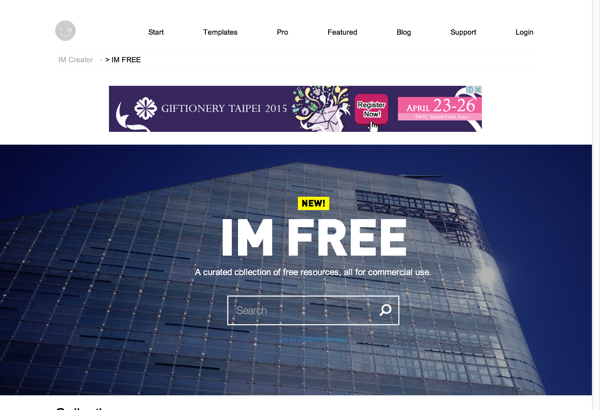 Imcreator.com allows people to create simple and elegant websites with their stress free builder. To help their users even more, they decided to launch a dedicated section of free resources. Apart from templates and icons, most of those resources are high quality photos. You can use these photos for commercial purposes, however most of their images require an attribution.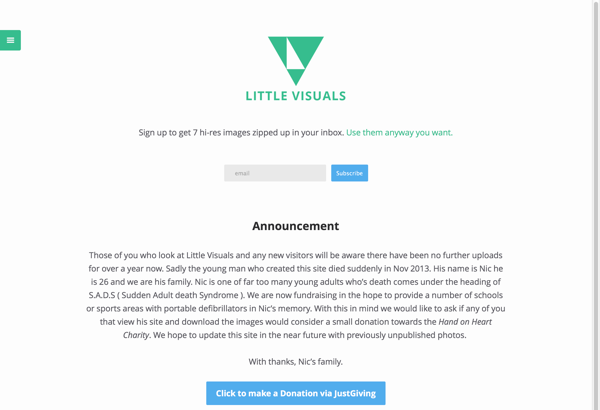 Little Visuals is a minimal website that provides 7 free images every 7 days.
Superfamous is an LA based design studio of Dutch designer Folkert Gorter. The photos you will find on his website are all under the Creative Commons Attribution 3.0 license. As long as you provide credit you can use the images for commercial and personal purposes.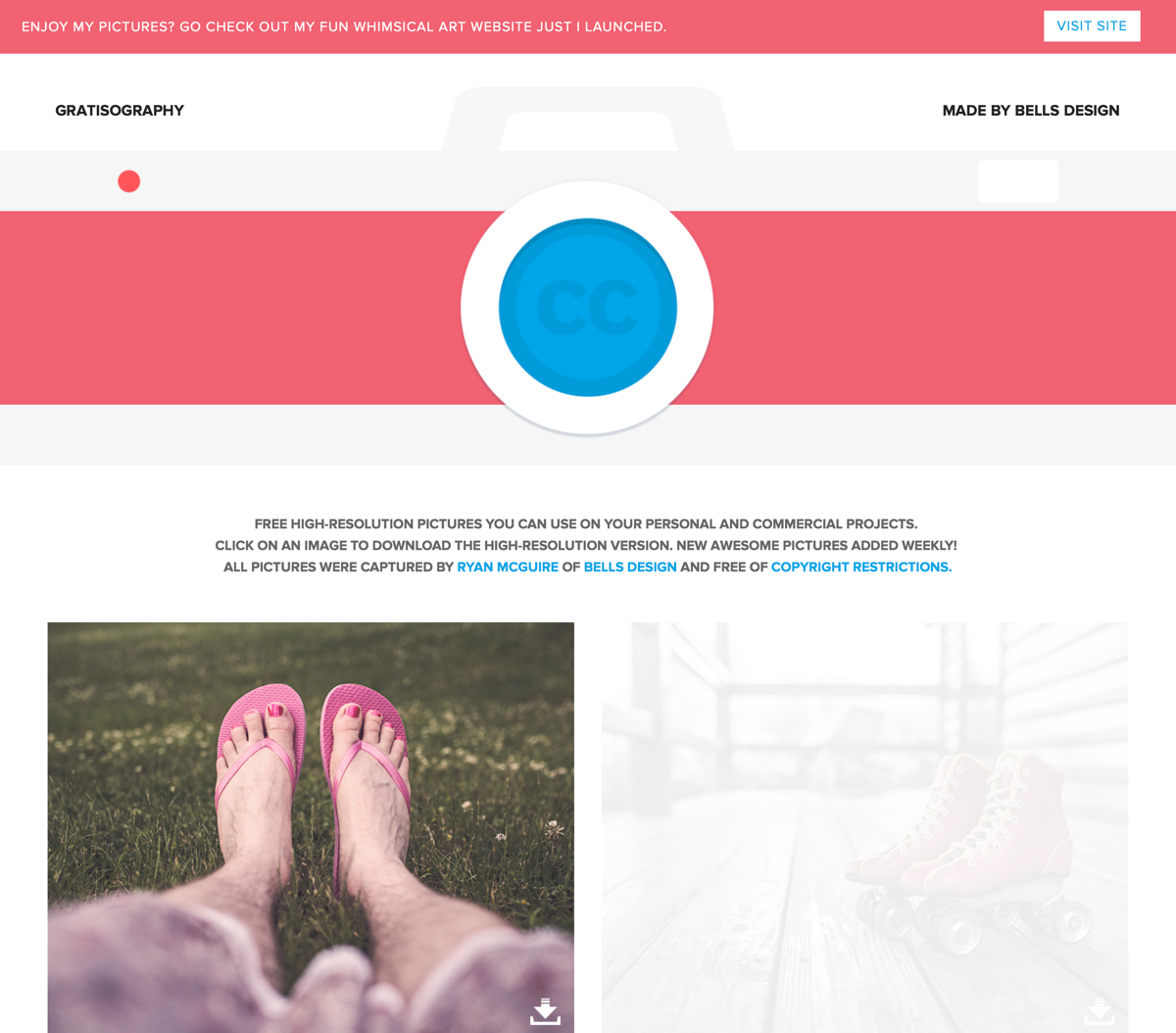 Gratisography provides free high-res images for your personal and commercial projects. New images are usually added on a weekly basis, so be sure to check back often.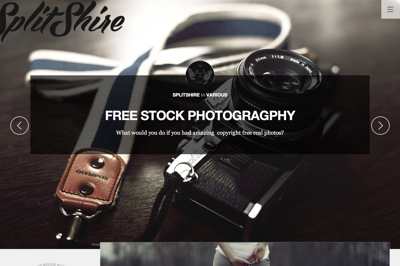 Splitshire provides delicious stock photos for personal and commercial use. The site is managed by graphic designer and photographer Daniel Nanescu.
The Pattern Library was created by Tim Holman and Claudio Guglieri. The goal of this website is to provide you with breath taking patterns to use freely in your designs.
Snapographic was created by Thomas Muhl to offer public domain photos to the world. You can download each image individually, or if you wish to save time, you can download all of the images in a single .ZIP file for a price of a coffee.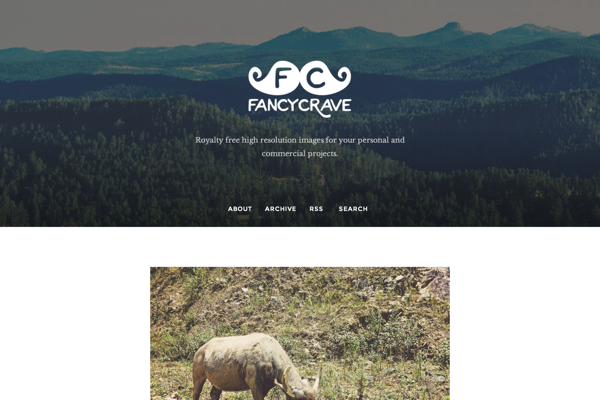 I recently started Fancy Crave to give away some of my images. I will be updating this site on a weekly basis, so be sure to check back often. You can use there images for your personal and commercial projects. No strings attached. If you can, and attribution would be nice. I hope you'll find them useful. Cheers!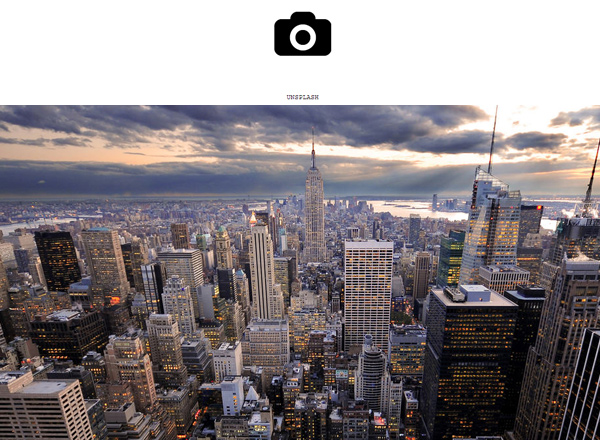 Unspash was created by pickcrew.com, which is an online marketplace for creative talent. On the website you will be able to download high resolution images and do whatever you want with them. They tend to publish 10 new photos every 10 days. I've been using a few of their images for some of our articles on the site.
22. Jay Mantri – Jay Mantri offers 7 new photos every Thursday. You're free to do anything with the images.
23. Lifeofpix – Free high resolution photos free of copyright restrictions. New images are added weekly.
24. Lock and Stock Photos – Created by Aj Montpetit, Lock & Stock Photography aims to provide free images under the Creative Commons License ShareAlike 4.0.
25. Good Free Photos – Good Free Photos is a gallery of thousand of free public domain photos. All of the photos are neatly categorized to make your life easier.
26. Authenticsnaps – Get 50 authentic, high quality photos in your inbox every month.
27. Goodstock – A collection of free photos for you to use anywhere for anything. No fees. No credits. No limits.
28. Startupstockphotos – Free startup stock photos.
29. Pexels – A website that aggregates the best free stock photos in one place.
30. Freedigitalphotos – Download tons of great free stock photos & illustrations. They only charge for larger images.
31. Hiresstock – Free and premium photos for designers.
32. RGBstock – Huge number of high quality free stock photos.
33. Goodfreephotos – Thousands of unique and free public domain stock photos.
34. Picturefrog – Download free photos for your personal and commercial projects.
35. Pjrvs – A pack of 20 high resolution photos from Paul Jarvis.
36. Magdeleine – Free high resolution photo every day.
37. Foodiesfeed – Free high resolution images of food.
38. Freepix – Free photos for blogs and websites.
39. Raumrot – Free stock photos from Markus Spiske.
40. Isorepublic – Free high quality photos for creatives.
41. Albumarium – The best place to find & share beautiful images
42. Thestocks – The best royalty free stock photos in one place.
43. Streetwill – Free vintage photos to use any way you want.
44. Kaboompics – Free Photos for personal and commercial usage.
45. Beststockphotofree – A collection of free images licensed under Creative Commons. Interesting and useful images.
46. Freeepy – Free photo for comercial use. Use them anyway you want.
47. Flickr CC-Search – Explore images licensed under creative commons.
48. MMT – Free for commercial use stock photos by Jeffrey Betts.
49. Wikimedia Commons – A database of 24,528,924+ freely usable media files
50. Fromoldbooks – Great collection of vintage book pictures.
51. Photoeverywhere – Free to use travel photos.
52. Freerangestock  – Download high-quality, high- resolution free stock photos and free textures.
53. Designerspics – Hi-Res photos for your personal & commercial use. Attribution not required.
54. Camarama – Free public domain images and free stock photography. New images every week.
55. Stokpic – High-resolution pictures for personal and commercial projects.
56. SnapwireSnaps – 7 free snaps every 7 days.
57. Getrefe – Free real life photos.
58. Jeshoots – Cool free photos for your personal and professional use.
59. Google Images – Google with the Advanced Search set to the right Creative Commons and large images gives great results. (Use at your own risk, many are labeled incorrectly.)
60. Tookapic – Free stock photos by Pawel Kadysz.
61. Stock Image Point – Free stock photos for personal and commercial use.
62. Foter – Search over 228,860000 free stock photos.
63. Epicantus – Free to use photos from Daria Nepriakhina.
64. Crowthestone – Free photos to use any way you want.
65. Moveast – A journey of a portuguese guy moving east who decided to give away every photo.
66. Bucketlistly – A free creative common collection of travel photos anyone can use.
67. Travelcoffeebook – Sharing beautiful travel moments. 10 new photos every 10 days.
68. Nilssonlee – A photographer's treat by Jonas Nilsson Lee
69. Epicva – Totally free images.
70. Freegoodiesfordesigners – Free photo packs for designers.
71. Graphicburger – Free high quality photos.
72. Realisticshots – Free stock photos (high resolution) for personal and commercial use. 7 new photos every week.
73. Dribbble – Tons of freebies including free photos.
74. Visualdrift – A collection of completely free to use images. Four new shots are added every Friday.
75. Dreamstime – Free stock images.
76. Pickupimage – The largest collections of free photographs.
77. Healthyfoodphotos – Free foor stock photos.
78. Freenaturestock – Royalty-free nature stock photos by Adrian Pelletier.
79. Splashbase – Search and discover free, hi res photos and videos.
80. Skitterphoto – License free photos for anyone to use.
81. Beststockphotofree – A collection of free images licensed under Creative Commons. Interesting and useful free stock photos.
82. Barnimages – Free high-resolution stock photos from Roman Drits.
83. Free Stock Photos Subreddit – This new subreddit is solely dedicated to providing you with free high quality stock photos. So if you've got some good photos to giveaway, you should post them here.