Last Updated on January 24, 2023
Making content viral is a unique challenge in that the results are often unpredictable. After all, everyone wants to go viral. So what's to say that your posts will be "the chosen one"? While there is no way to guarantee that your content will be taken over by the flood of viewers liking and sharing, there are some principles that will help you get there.
Best content requires a company to have an effective social media marketing campaign in place to promote their products or services. And, this is a lot more complex than spending the cash on extensive digital ads. Rather, viral posts that disrupt require some extensive planning (and a bit of luck), and should always be the goal when posting.
Here are some industry best practices that can help you achieve viral content flaming across the web directly into the scope of your target market.
Select the right platform
There are a variety of platforms to utilize in order to attain the coveted position of viral content. However, not all social media platforms lend themselves to this type of marketing. Some of the most notorious for viral content include:
Facebook
Twitter
Instagram
Here are some insights to a few major platforms, and recommendations for viral content in each. Learn what principles should be incorporated, and some that should be avoided.
Facebook
Facebook has over 1.69 billion active users, so naturally there is an opportunity to have a massive audience view an advertisement. At the same time, with this large potential following comes steep competition for those eyeballs. In the world of social media marketing the audience is everything and if something is going to go viral then people have to see it and want to share it.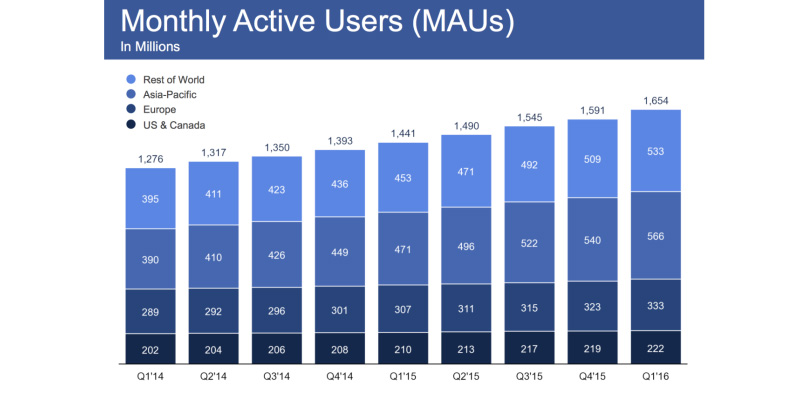 Image Source: techcrunch.com
In order to achieve viral content on this platform, posts must be sharable. Consider less what you like, and more what your consumer might like and want to share with their friends and connections.
Twitter
Twitter is an interesting social media platform to monitor. With their introduction of an analytics app for top influencers and SMM agencies, the San Francisco-based company is trying to give their brand some new blood. Membership numbers have been plateauing, and according to our friend's at Statista, Twitter only gained five million followers from quarter four of 2015 through quarter one of 2016. Although the platform may be experiencing slower-than-normal growth that does not mean it doesn't have the ability to support viral posts. In fact, Twitter allows brands to interact with their fans in an easy and conversational way.
The freedom of expression on Twitter allows the platform to be an effective vehicle for viral marketing. It allows for brands to express their personalities and have direct conversations with their fans. This in turn can lead to many people sharing and favoring the tweet, which then makes it easy for users who do not follow the profile to see your content.
The only downside to this is that this often lends itself to some less-than-positive tweets going viral which can easily have the opposite desired effect.
The takeaway for Twitter – while ensuring your content is sharable, also remember your subscriber's tweets may be as likely to go viral as yours. Maintaining a positive brand image is especially important. For generating posts of your own that have the potential to go viral, create sharable tweets incorporating 1-2 hashtags for increased engagement.
Instagram
Instagram's visual focus and better-than-life filters appeal to a great number of people, and a carefully curated Instagram page can really have an impact on your brand. Although it only has a fraction of Facebook's active users, Instagram's over 300 million daily users is nothing to shirk off. And its user base is what truly sets it apart. The engagement rate of Instagram's users with a brand's post is much higher than Facebook or other platforms as can be seen in the chart below.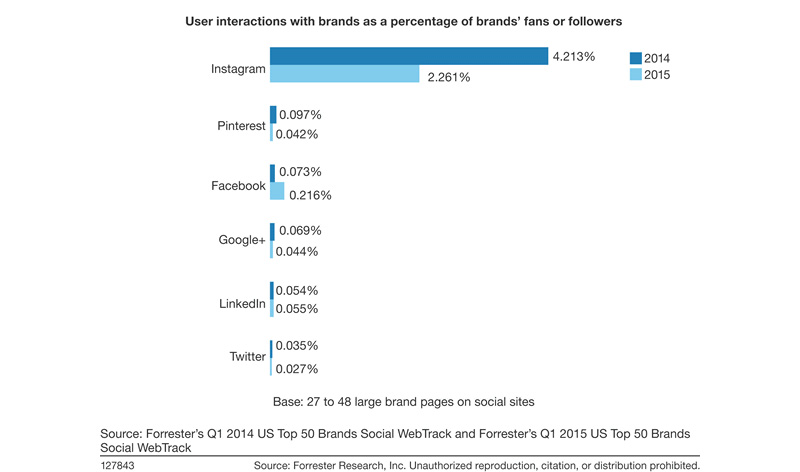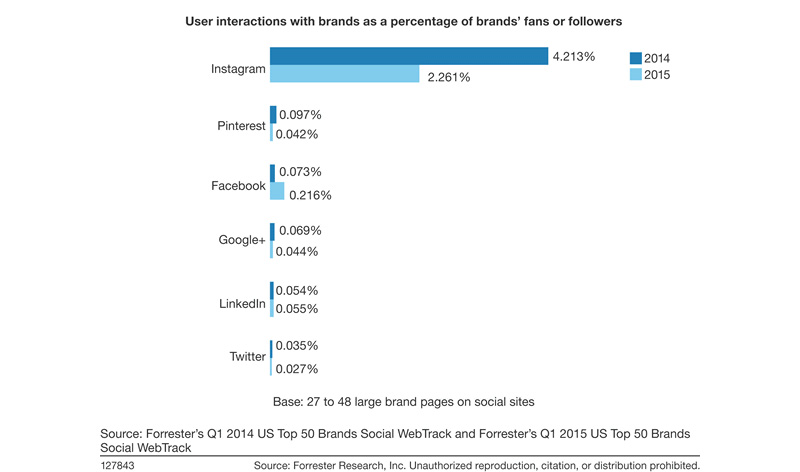 Image Source: blogs.forrester.com
Due to the high engagement rate, Instagram becomes a great platform for viral content. The difference here – there is no way to "share" posts which is key for viral interactions. Instead, the number of eyes reached depends largely on each individual themselves rather than the mob-mentality of sharing multiplying on top of sharing.
To achieve viral status on Instagram, the strategy must instead be to produce highest quality images which will appeal to the masses of Instagram's users on an individual basis. Incorporate targeted hashtags to achieve the "top" placements in the hashtag search to increase the time your image appears at the top of the search feed, greatly increasing your chances to go viral.
Share-able Content
What's one trend seen commonly amongst all platforms? In order to go viral, a post must receive a high degree of engagement, and it needs to have a life of its own, which means people need to see it and then want to share it with their friends. In social media marketing it is about finding the correct target audience. Hashtags and geo locations allow users to find brands or posts that interest them easily and conveniently. The more targeted eyes on your media, the higher chances of producing viral content.
Paid advertisements
Many social platforms implement paid advertisements on in the forms of banner ads or sponsored posts. As stated above, paid advertisements are not the easy way out for achieving viral content, and rarely produce viral content on their own. However, they can help give you a boost.
There are a variety of statistics that can help gauge how well an advertisement attracts consumers on these platforms. Click through rates (CTR) are measurements of a percentage of people who "click" or access an advertisement. On Facebook the CTR is .84%. Now, the statistic by itself does not mean much; it only becomes relevant when put into context with another social media platform.
Instagram, (which of course is owned by Facebook), has a 1.5% CTR. What this means is that an ad on Instagram has a greater chance to pass a consumer to a company's website than Facebook. Remember, if more people engage with an ad, it has a greater chance to go viral.
For paid advertisement success, select a platform which is ad-friendly delivering best results. Then select the "boost" option over banner ads. Paid banners can't be shared. It's your own original content on your page that must become viral content through the liking and sharing of your target audience base.
Conclusion
Social media marketing can be complex due to the many factors involved in making a successful campaign, and viral content is next level challenging. However, leveraging these best practice principles can help you get there:
Post on Viral-Friendly Platforms
Create Consumer-Centric Shareable Content
Boost with Paid Advertisements
Everyone wants to go viral. That is an important fact to remember, so don't try too hard. The best posts will come from a combination of the creator's vision and the emotional response from your audience. Capture the heart of your audience and they will do the heavy lifting for you. Subsequently, with hard work, a little bit of luck, and a strong connection with your audience – you can truly achieve viral content.