Last Updated on March 8, 2022
Who Is John Cena?
John Felix Anthony Cena Jr., popularly known as John Cena, is an American professional wrestler, rapper, actor, and television presenter.

Cena's career as a wrestler goes back to 1999 after he successfully debuted for the Ultimate Pro Wrestling (UPW). His popularity rose when he signed with the World Wrestling Federation (WWF) in 2001.
Quick Facts
| | |
| --- | --- |
| Full Name: | John Felix Anthony Cena Jr. |
| Popular Name: | John Cena |
| Gender: | Male |
| Birth Date: | April 23, 1977 |
| Age: | 44 years |
| Parents: | John Felix Anthony Cena Sr. and Carol Cena |
| Siblings: | Steve Cena, Matt Cena, Dan Cena, and Sean Cena |
| Birth Place: | West Newbury, Massachusetts |
| Nationality: | American |
| Ethnicity: | Italian, English, and French-Canadian |
| Education: | Central Catholic High School in Lawrence, Massachusetts, Cushing Academy in Ashburnham, Massachusetts, and Springfield College in Springfield, Massachusetts |
| Marital Status: | Divorced. Previously married to Elizabeth Huberdeau (from 2009 to 2012) |
| Sexual Orientation: | Straight |
| Wife/Spouse: | N/A |
| Children: | None |
| Dating: | N/A |
| Net Worth: | USD 75 million (as of August 1, 2021) |
| Source of Wealth: | Wrestling, Acting, Rapping, Television Presenting, Endorsement Deals, and Other Ventures |
| Height: | 6′ 1″ (1.85 m) |
| Weight: | 114 kg; In pounds: 251 lbs. |
Early Life and Career Information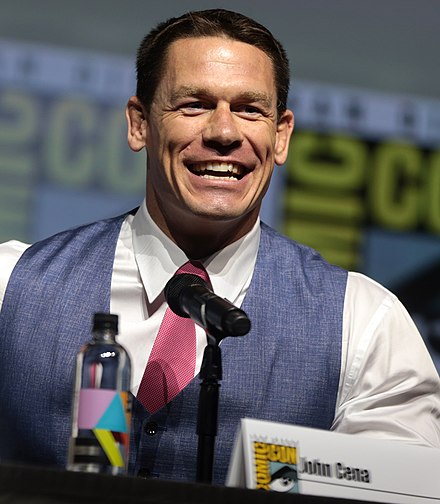 John Cena was born on April 23, 1977, in West Newbury, Massachusetts, to John Felix Anthony Cena Sr. and Carol Cena. Cena kicked off his professional wrestling career in 1999 after enrolling in the California-based Ultimate Pro Wrestling academy.

In April 2000, John Cena emerged UPW Heavyweight Champion and in October the same year, he made his WWF debut in a SmackDown match but lost. Impressed by his performance, WWF granted him another chance in January 2001. Not only did Cena win the match this time round, but he also signed a developmental deal with the federation. Cena continued to work on his wrestling abilities and over the next few years, he became one of the most iconic wrestlers in the history of WWF.

As of the time of writing, John Cena has won the World Wrestling Championship a record 16 times and the United States Championship five times. He is also a 4-time winner of the World Tag Team Championship, a 2-time winner of a Royal Rumble match, and a 1-time winner of Money in the Bank match.

In addition to wrestling, Cena has also ventured into acting and music. He made his acting debut in the 2015 film, Trainwreck. He has also appeared in Sisters (2015), Blockers (2018), and Bumblebee (2018), as well as lent his voice to Surf's Up 2: WaveMania (2017), Ferdinand (2017), and Dolittle (2020).

John Cena's musical projects include his 2005 album, You Can't See Me. Some of his songs have been used as soundtracks for WWE. In addition to his solo projects, Cena has also appeared in songs with rapper Wiz Khalifa.
John Cena's Net Worth
John Cena has a net worth of $75 million, as of August 1, 2021. While he is known for his remarkable wrestling abilities, wrestling isn't the only way Cena made his millions. He also earns from various other ventures, such as acting, rapping, television presenting, and endorsements deals.
1. John Cena's Earnings from Wrestling
It's unclear how much John Cena has earned throughout his wrestling career. But going by his 2018 salary, it's safe to conclude that the wrestler has netted some huge paychecks from his efforts in the ring.

In 2018, Cena emerged the second-highest-paid WWE star, finishing after Brock Lesnar with a salary of $8 million.
2. John Cena's Earnings from Acting and Music
In 2019, John Cena wasn't part of the WWE roster, which suggests that he has his eyes fixed on other things. But even during his active years as a wrestler, Cena was still engaged in a couple of big-screen gigs. He has landed several movie roles both as a star and a supporting act.

One of Cena's most financially successful films is the 2018 comedy Blockers. The movie grossed $21.4 million during its opening weekend, which was an exceptional achievement for any R-rated comedy. Other successful movies that John Cena has appeared in include Trainwreck, Bumblebee, and Sisters.

Cena has also been cast in several upcoming movies, including Fast &Furious 9 and the next Suicide Squad sequel. Considering the remarkable success of these films' previous installments, Cena might be smiling his way to the bank when the movies are finally released.

In addition to acting, John Cena's other big-screen gig includes television hosting. He hosts Nickelodeon's Are You Smarter than A 5th Grader.

As a musician, John Cena is credited for his 2005 album, titled You Can't See Me. The album was a commercial success, selling about 150,000 copies globally. It was also certified gold by the Recording Industry Association of America.
3. John Cena's Earnings from Endorsement Deals
John Cena has been earning hefty paychecks from endorsement deals even before he turned professional wrestler, mostly appearing in commercials for Gold's Gym. Cena has continued earning from endorsement deals even during his years as a wrestler.

He endorsed YJ Stinger and has appeared in commercials for the energy drink brand since October 2003. Other brands that John Cena has endorsed include Subway, Gillette, Fruity Pebbles, and Wonderful Pistachios.
4. John Cena's Real Estate Portfolio
Cena's primary residence is a 3,704 square-foot mansion located within a gated community in Land O' Lakes, Florida. He acquired the property in January 2005 for $525,000, after which he embarked on a series of renovation projects. In addition to his primary residence, Cena owns another property in Mission Hills, San Diego.
How does John Cena spend his money?
Besides investing his earnings in other profitable ventures, John Cena is also a car collector in his own right. His collection includes rare, custom-made, and vintage automobiles.

Some of the automobiles in the collection include:

• A 1966 Dodge Hemi Charger,
• A 1969 AMC AMX,
• A 1969 Dodge Daytona,
• A 1970 AMC Rebel Machine, and
• A COPO Chevrolet Camaro
Life Lessons from John Cena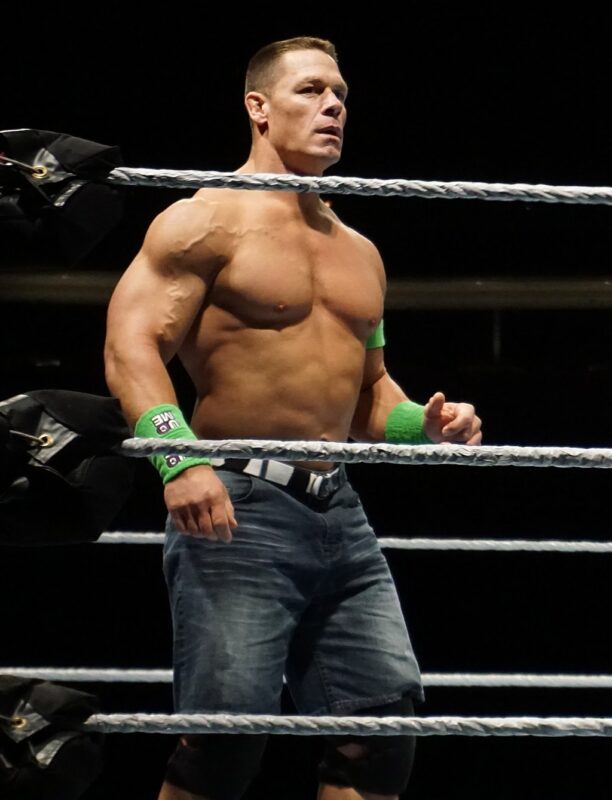 1. Never give up

After losing his first SmackDown match, it would have been convenient for Cena to give up. But he didn't and when he was granted a second chance, he proved himself in the ring and even went on to sign a record with WWF.

2. Be consistent

Cena has been the face of professional wrestling since he signed with WWF. That speaks to his remarkable consistency.

3. Give back

Cena has financially supported numerous causes throughout his professional career. In June 2020, he donated $1 million to Black Lives Matter as part of the #MatchAMillion initiative.
Famous Quotes by John Cena
"Going from Lucifer after Dead Man in a casket…Don't mess with me, I'll put you to Hell in a hand basket."
"I admire the military. I guess in a world of villains and heroes, they're my heroes. Their dedication, their commitment, their discipline, their code of ethics."
"I shook her (Lita) hand last week and she gave me gonorrhea."
"Newsflash…Half the people out there think I suck!"
"Welcome to Smackdown, this is where the franchise plays…That's Tazz, he's a thug, and that's Michael Cole, he's gay."
Conclusion
John Cena is unarguably one of the greatest wrestlers of all time. But he didn't achieve that feat overnight. It has taken years of hard work and consistency to emerge as the iconic wrestler that we know of him today.