Last Updated on January 24, 2023
America during the 1950s held a promising and confident future filled with peace and prosperity. After World War II ended, America was surrounded by postwar booms that helped its people move past the war.
One of the things that helped the people recover was show business. At the time, the movie industry had just met its greatest foe – the television. However, crowd favorites, such as Marilyn Monroe, helped the movie industry take back its audience.
You might remember Marilyn Monroe best as an American actress with an iconic subway grate photo where her skirt fluttered in the wind, but people from the 1950s would beg to differ. Marilyn was the embodiment of femininity and sensuality. She had style and grace that inspired women of the 50s and the generations to come.
But while she captured the hearts of many, Marilyn Monroe had deep-seated emotions that eventually caused her downfall. She was a deeply unhappy actress who hid her monsters from her fans. Despite that, she always made sure to put on a charming smile in front of her fans.
Struggles during Her Early Life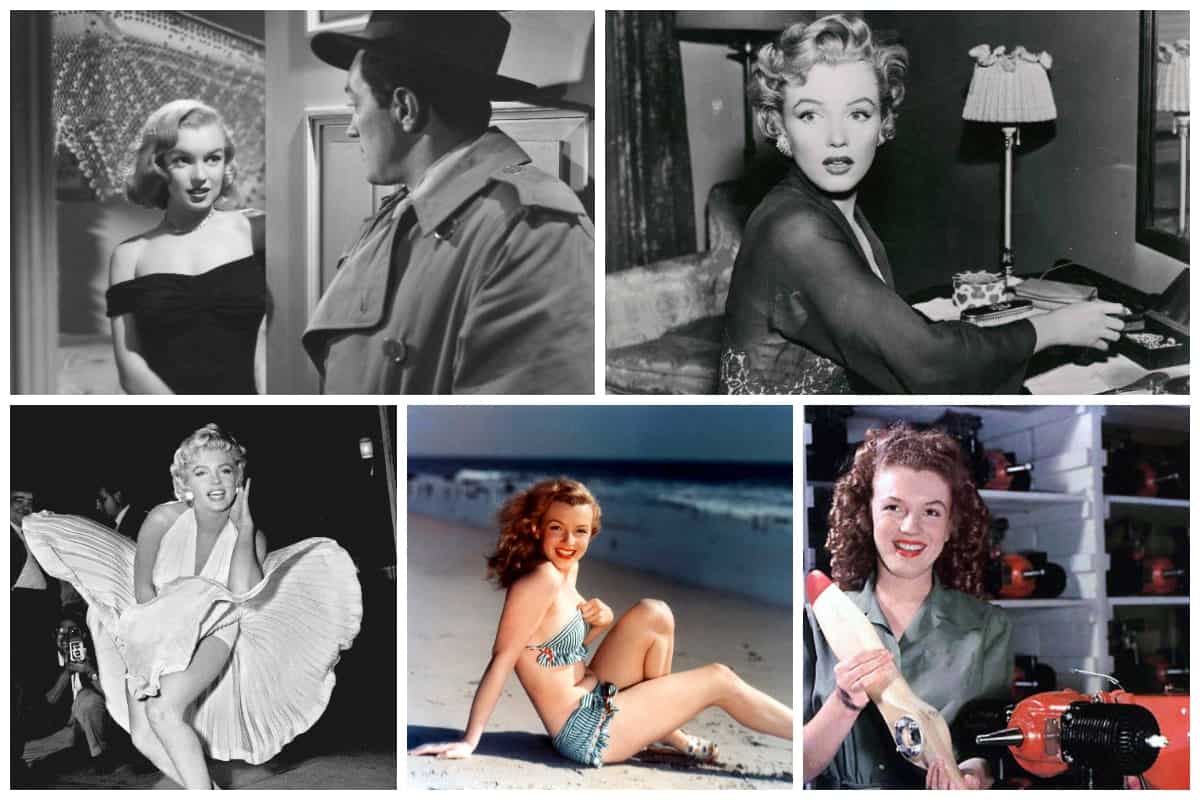 Marilyn Monroe was born Norma Jeane Mortenson on June 1, 1926. She was a top-billed American actress during the 1950s, famous for portraying the role of a comically dumb blonde in movies. Marilyn tragically passed away due to barbiturate overdose on August 5, 1962 at the age of 36.
You'll find several articles about Marilyn Monroe and her struggle with depression. Even though she had several critics that attacked her career, she remained as a top-billed actress. This is because Marilyn, for several years, persevered and followed her dreams. She was an inspiration to everyone who strived to overcome personal obstacles in order to achieve their goals.
Marilyn Monroe grew up amidst a challenging situation and a troubled childhood. Her mother had psychiatric problems and was put into a mental institution. In fact, Marilyn suffered a troubling memory of her mother pushing a pillow into her face while she was young.
The problematic state of her mother's mental health is the reason Marilyn moved from one orphanage to another. You might think her early personal struggles ended there, but Marilyn constantly had trouble with the foster families she ended up with. At one point, Marilyn was sexually assaulted by her foster father at the age of seven.
But she never would've thought that her love for film would stem from a terrible experience with one of her foster families. They would send her to the movies alone and let her sit the night away in theaters. That's when Marilyn discovered her love for film.
Marilyn Monroe's career started when a photographer featured her as a swimsuit model for his work. She started as a model before reaching stardom as an actress. Her fluctuating mental state may have made her feel she was alone, but she had a fighting spirit unlike any other.
Embracing Your Flaws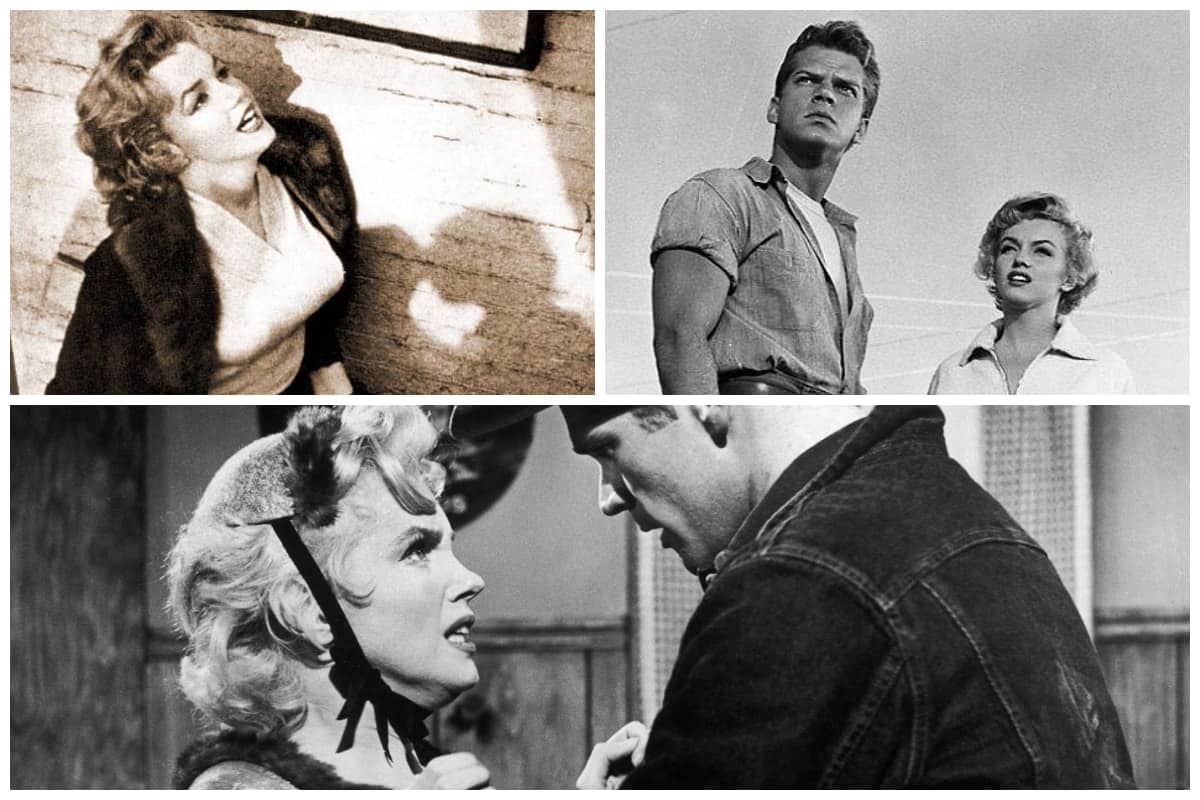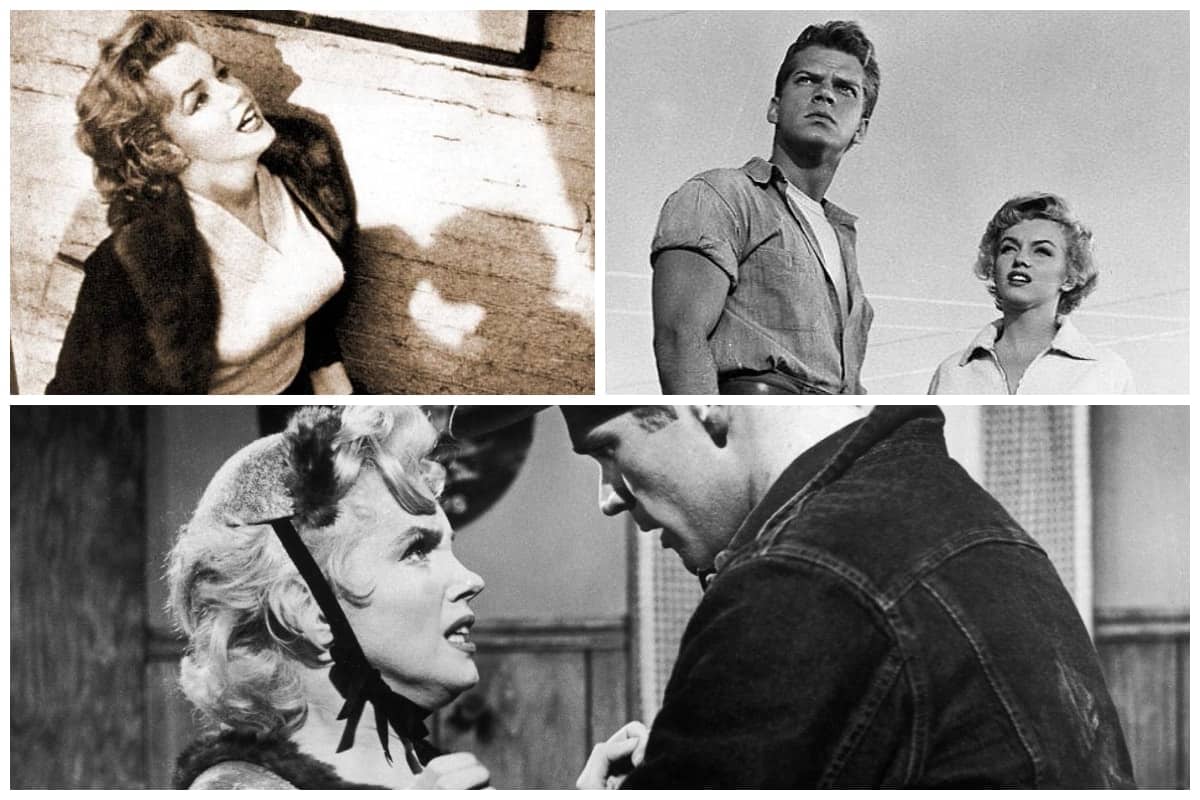 A lot of people misjudged Marilyn's work because her fame revolved around her beauty. Others might even go as far as saying she's the epitome of vanity, but they're absolutely wrong. She was best known as a Hollywood sex symbol in the 50s, but she was so much more than that.
She was independent, open-minded, creative, and witty. She would go on to defy a lot of her own limitations and the belief of several critics. To date, there are over 600 books written about Marilyn Monroe, all because of her confidence and determination.
In fact, several critics said she never had the talent for acting. But Marilyn would go on to prove all of them wrong. She hired professional coaches to help her improve her acting. It was her eagerness to do her best that helped her blossom into a figure that would go on to inspire women all over the world.
You'll probably find several movies where Marilyn Monroe would play the role of a comical blonde, but in truth, she embraced knowledge and was always eager to learn. In fact, Marilyn had a personal library that shelved over 400 books with a variety of topics from history to philosophy, art, literature, and poetry.
She made no effort in trying to change who people thought she was, because the only person she needed to believe in her was herself. She has gone down in history as an influential figure because that's exactly who she was.
She embraced the flaws that critics made her believe she had, and went on to prove all of them wrong. Today, people continue to be inspired by Marilyn Monroe and her ability to aim for the sky.
So if you need a little inspiration as you face humongous challenges in your life right now, don't fret. Here are 30 Marilyn Monroe quotes that can help you aim for the sky.
Marilyn Monroe's Last Interview
Marilyn Monroe Quotes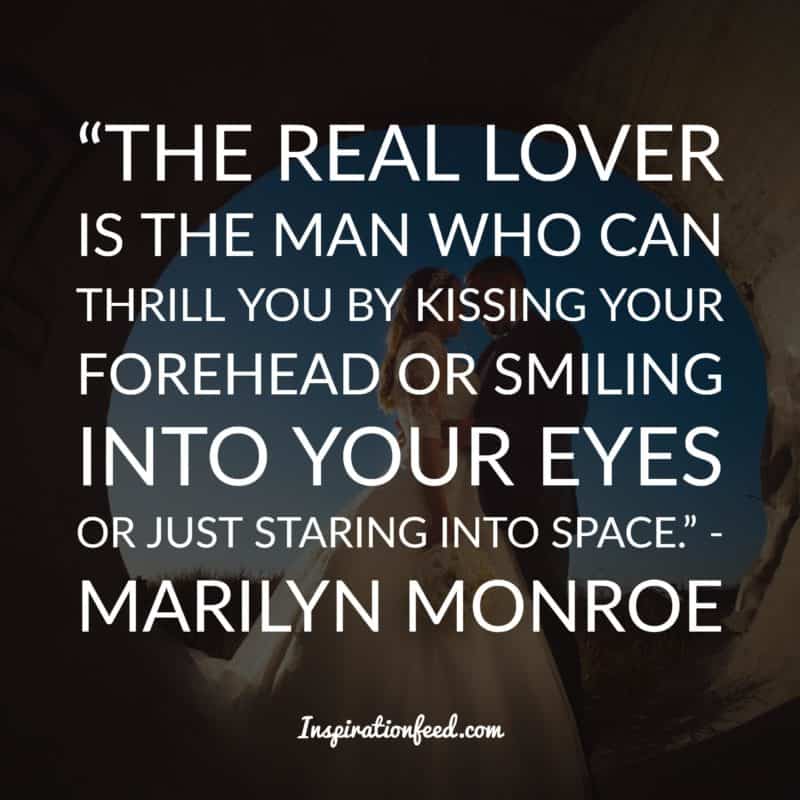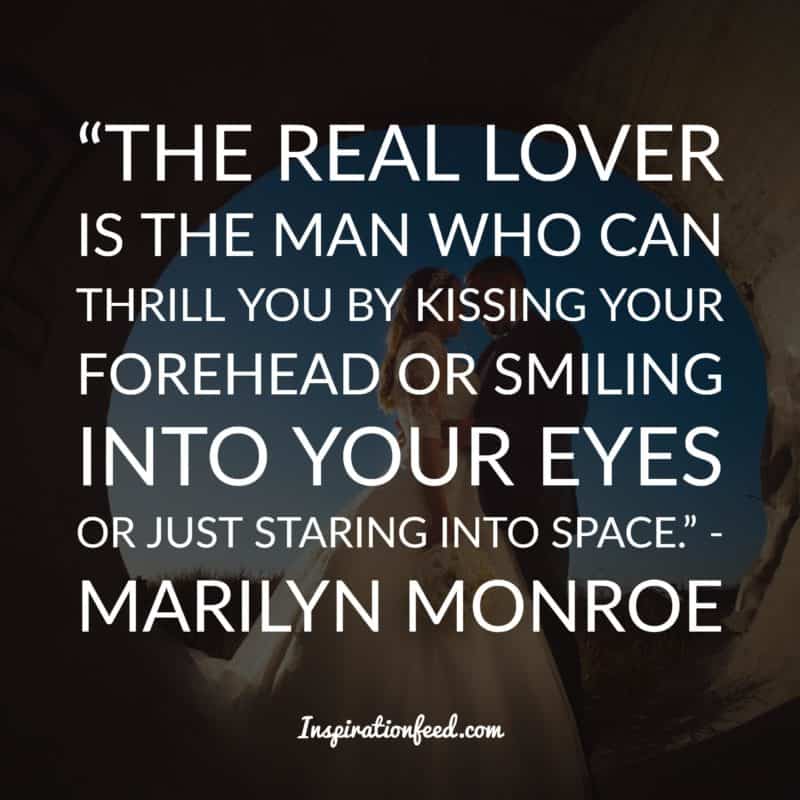 "The real lover is the man who can thrill you by kissing your forehead or smiling into your eyes or just staring into space." – Marilyn Monroe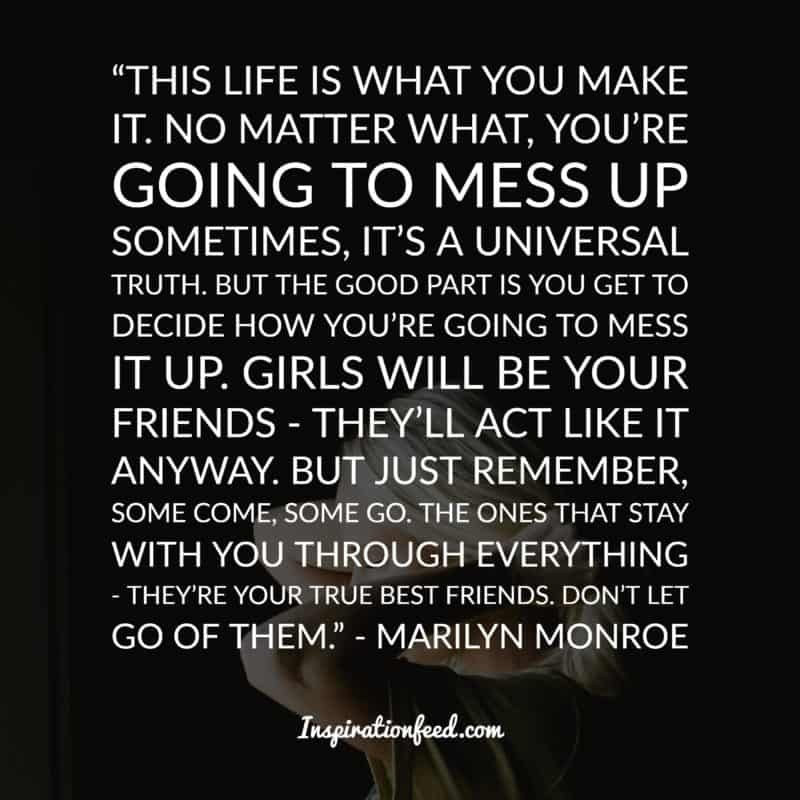 "This life is what you make it. No matter what, you're going to mess up sometimes, it's a universal truth. But the good part is you get to decide how you're going to mess it up. Girls will be your friends – they'll act like it anyway. But just remember, some come, some go. The ones that stay with you through everything – they're your true best friends. Don't let go of them." – Marilyn Monroe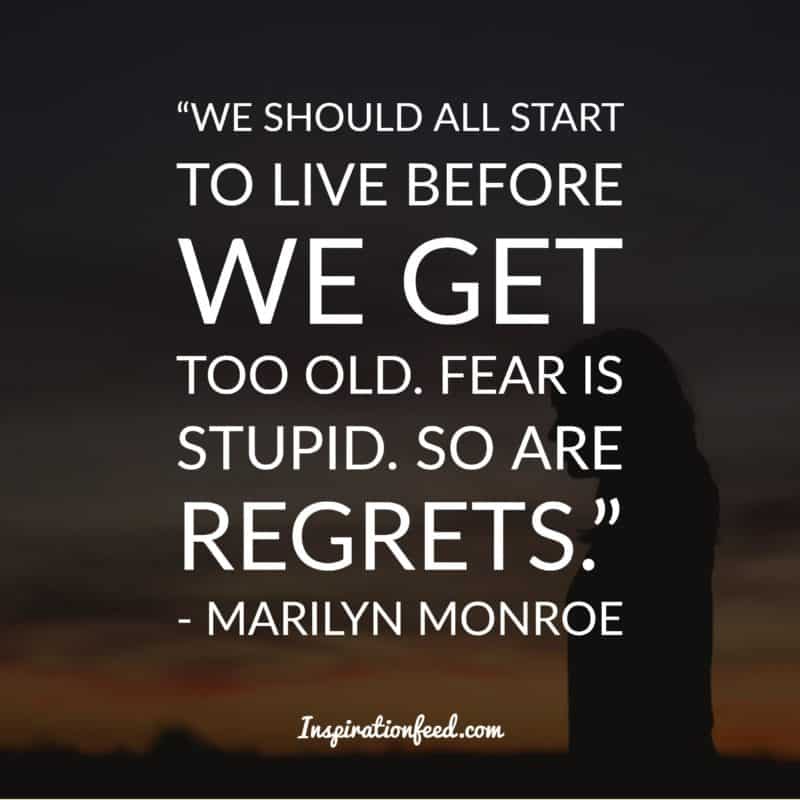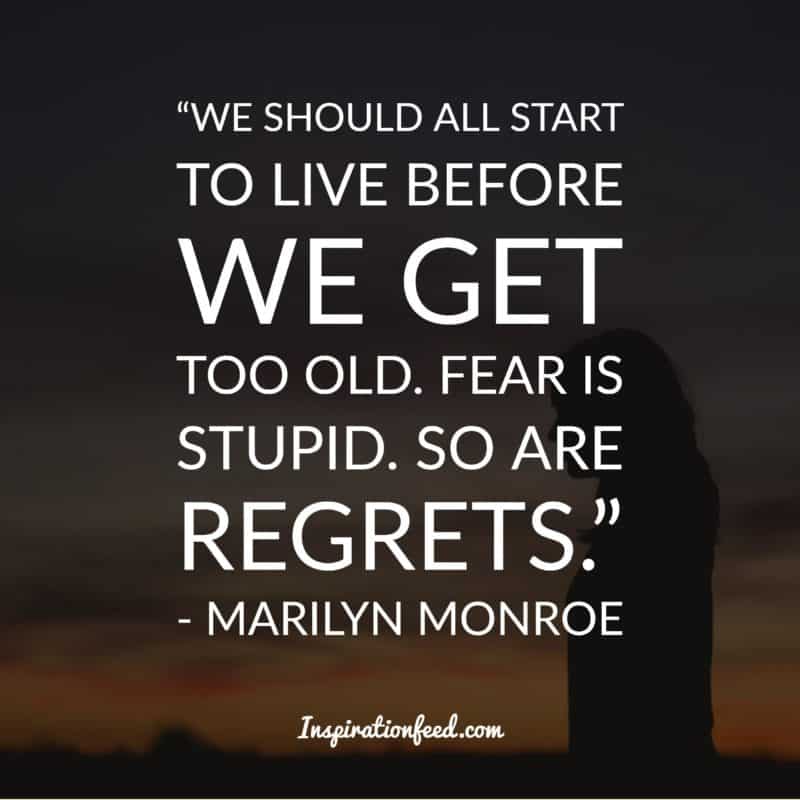 "We should all start to live before we get too old. Fear is stupid. So are regrets." – Marilyn Monroe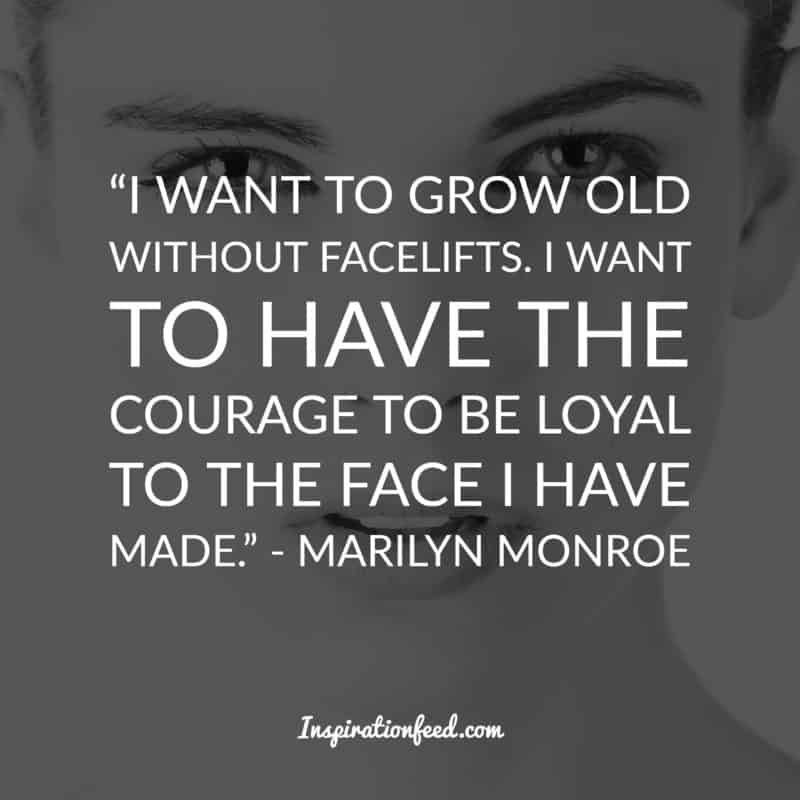 "I want to grow old without facelifts. I want to have the courage to be loyal to the face I have made." – Marilyn Monroe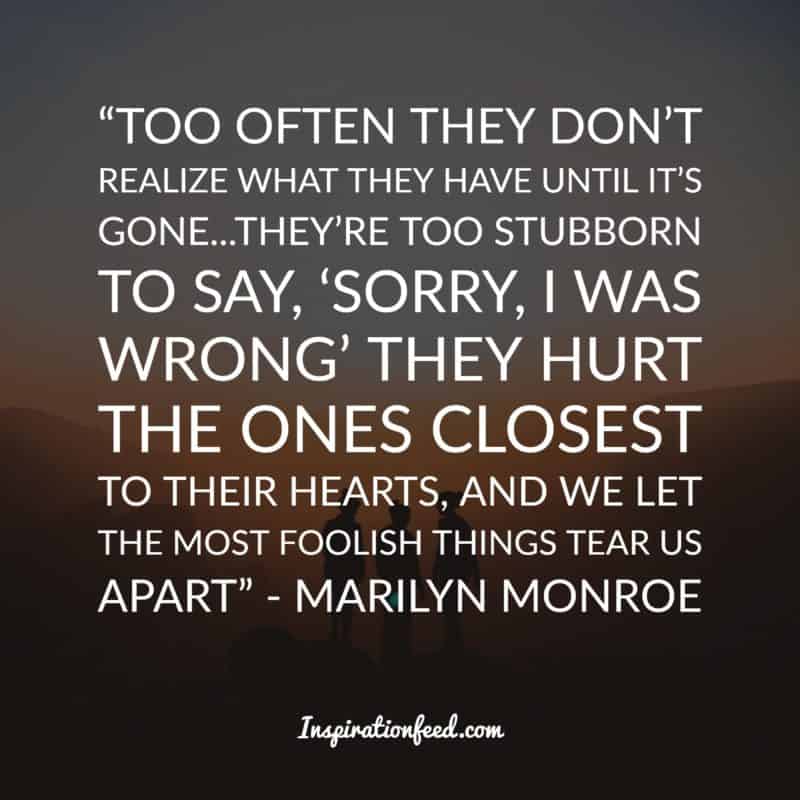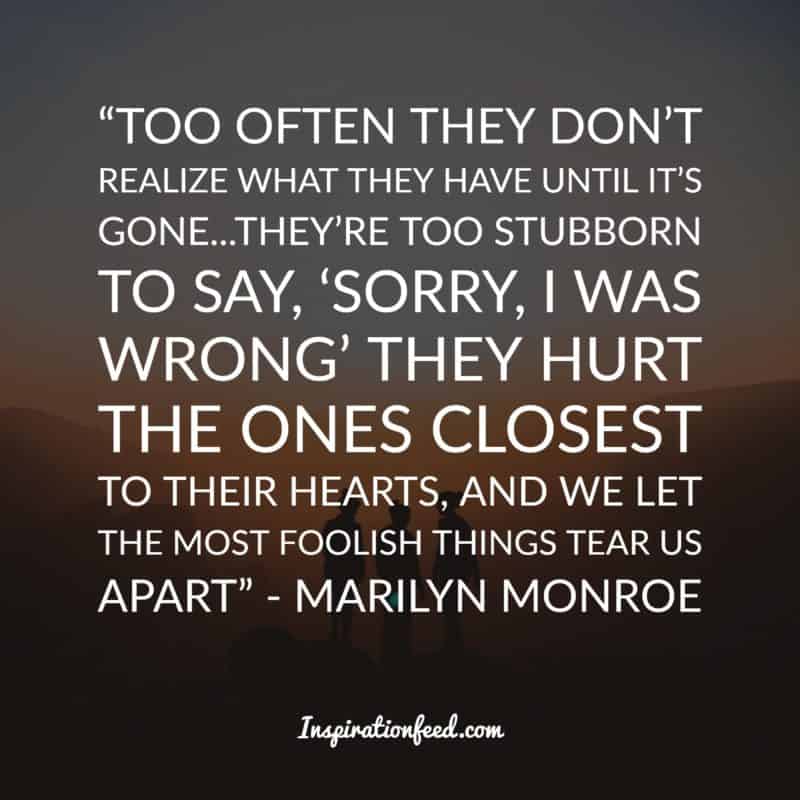 "Too often they don't realize what they have until it's gone…they're too stubborn to say, 'Sorry, I was wrong' they hurt the ones closest to their hearts, and we let the most foolish things tear us apart" – Marilyn Monroe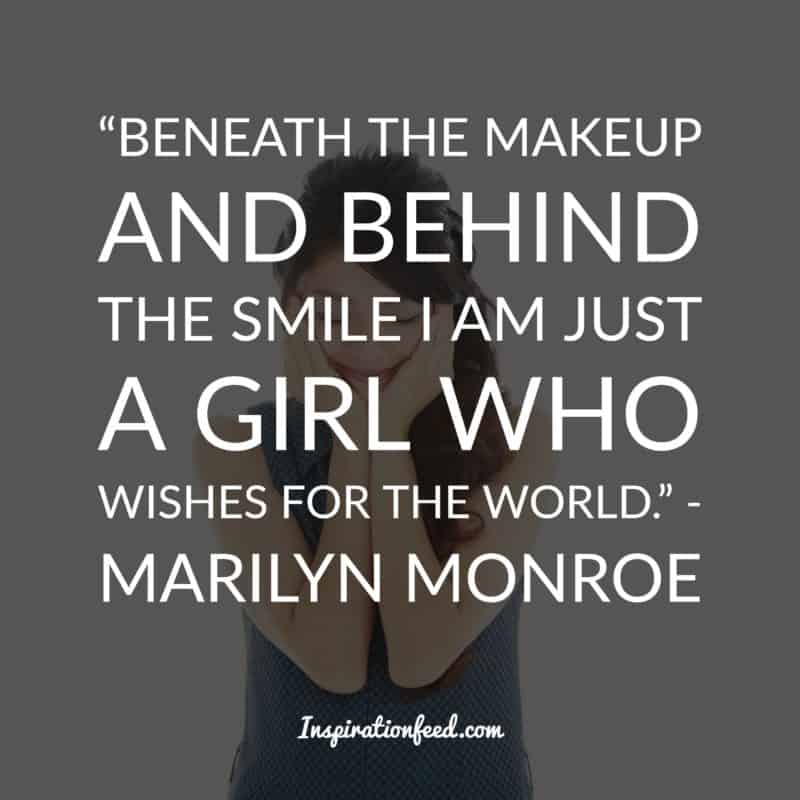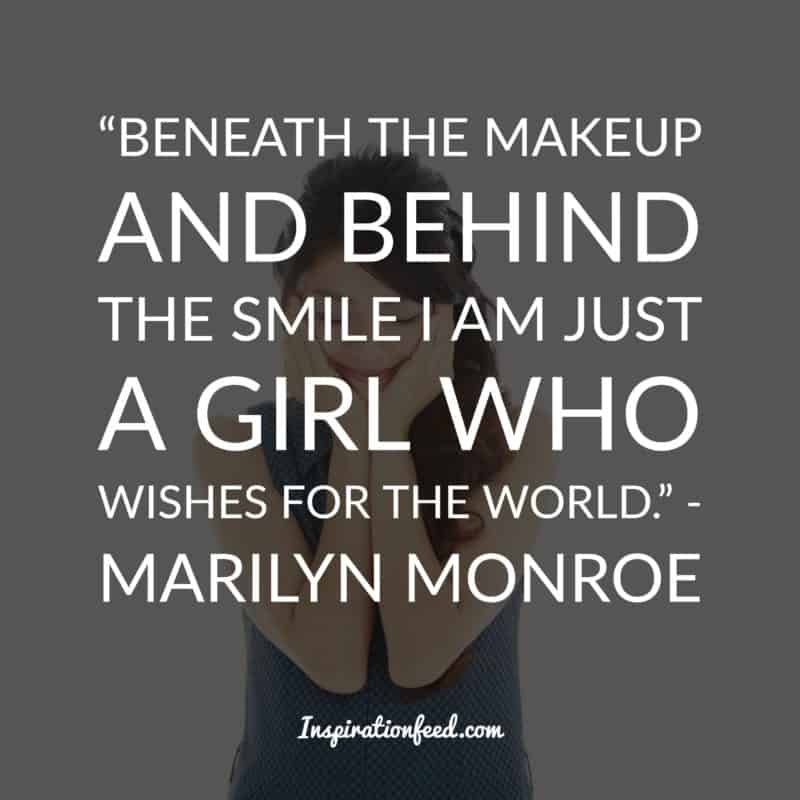 "Beneath the makeup and behind the smile I am just a girl who wishes for the world." – Marilyn Monroe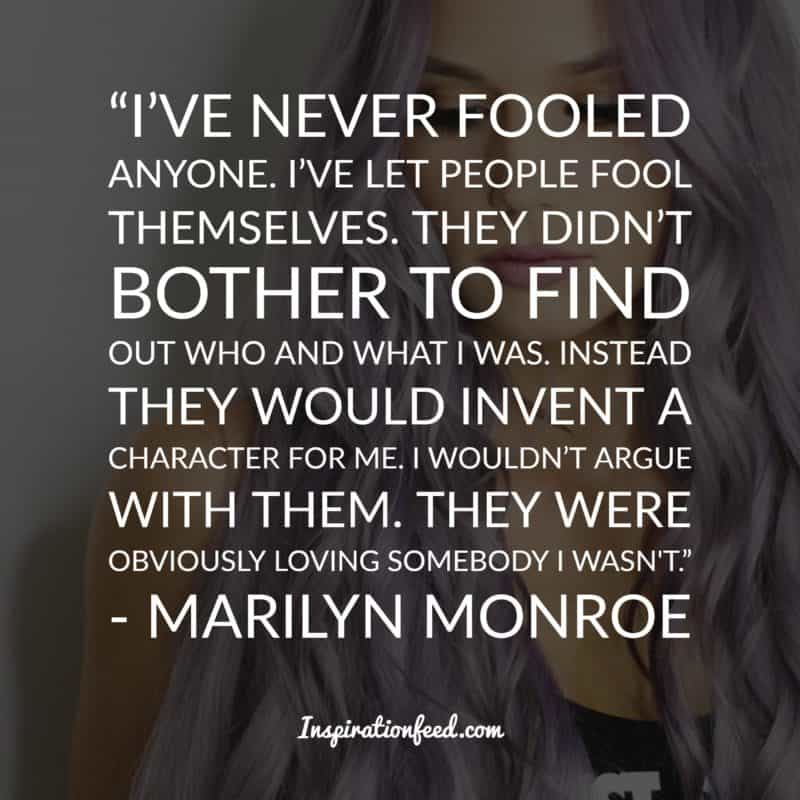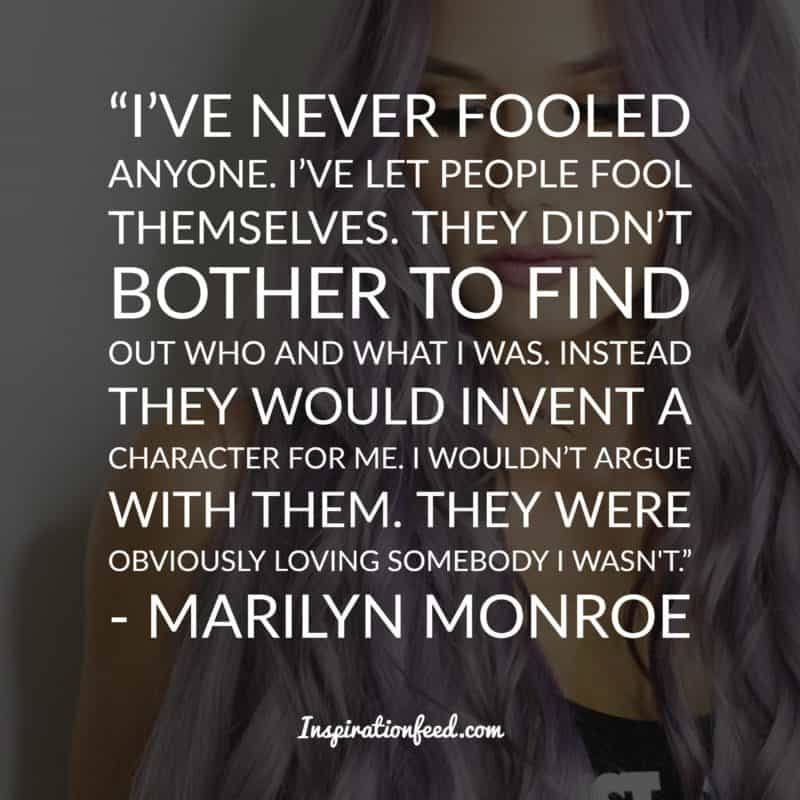 "I've never fooled anyone. I've let people fool themselves. They didn't bother to find out who and what I was. Instead they would invent a character for me. I wouldn't argue with them. They were obviously loving somebody I wasn't." – Marilyn Monroe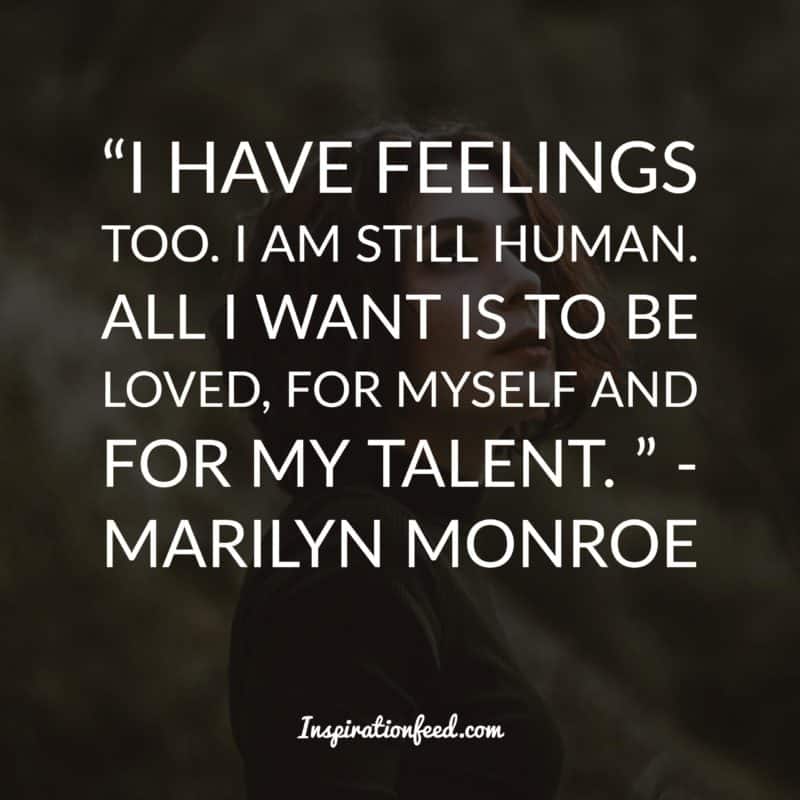 "I have feelings too. I am still human. All I want is to be loved, for myself and for my talent. " – Marilyn Monroe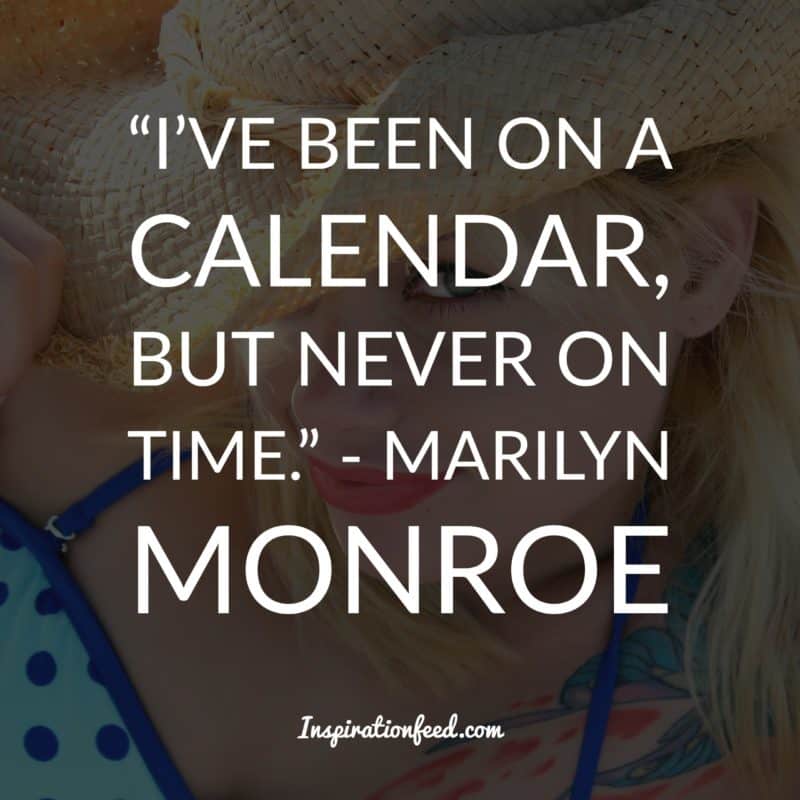 "I've been on a calendar, but never on time." – Marilyn Monroe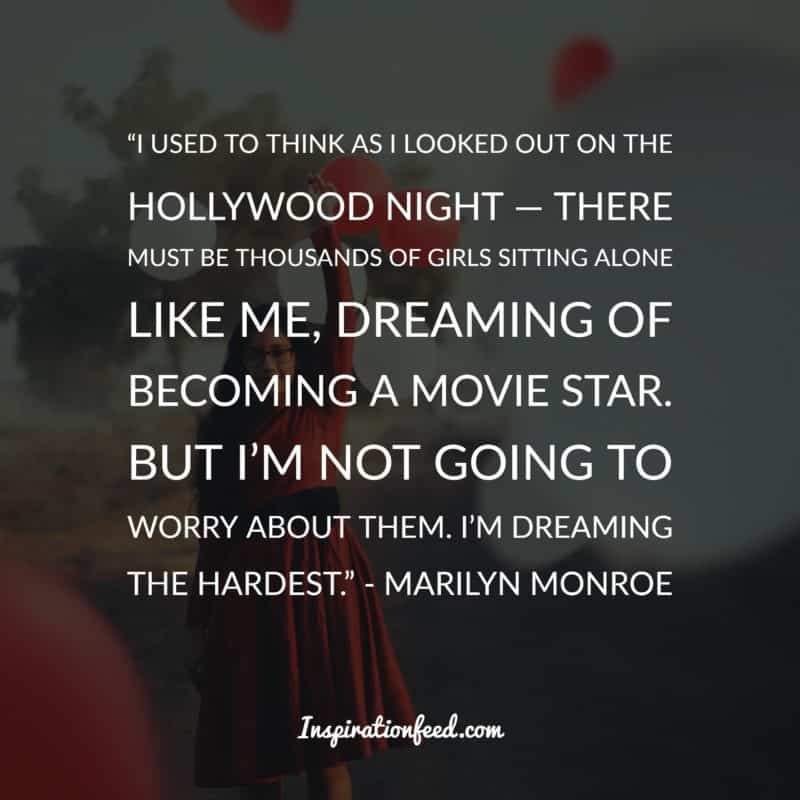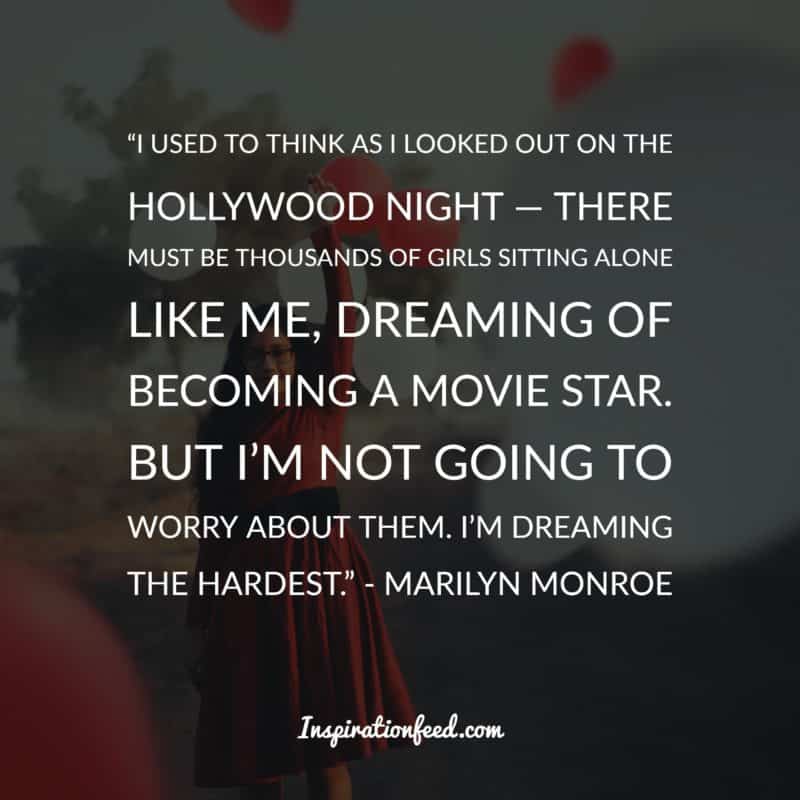 "I used to think as I looked out on the Hollywood night — there must be thousands of girls sitting alone like me, dreaming of becoming a movie star. But I'm not going to worry about them. I'm dreaming the hardest." – Marilyn Monroe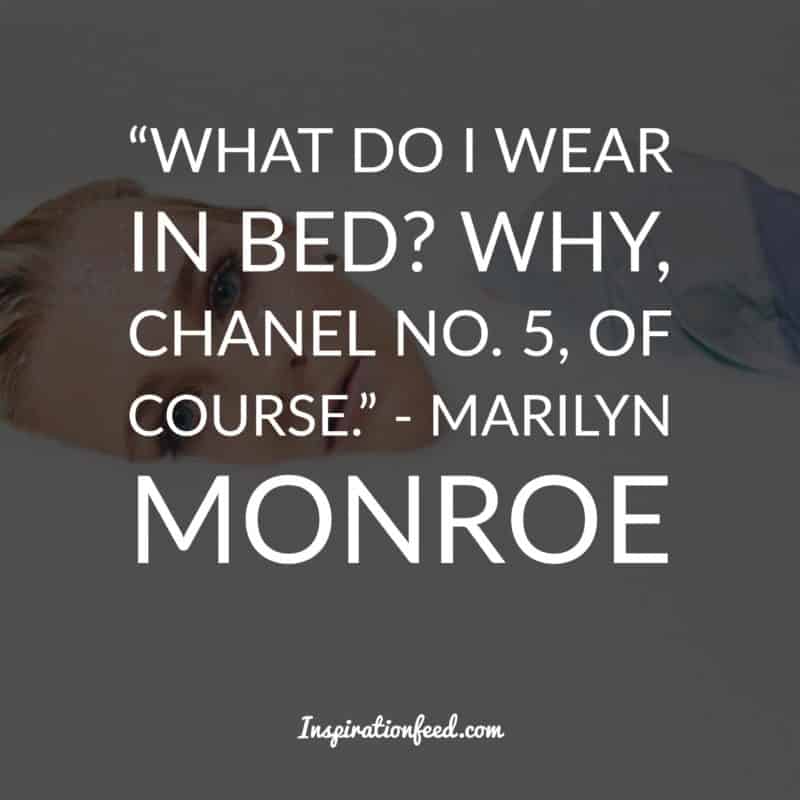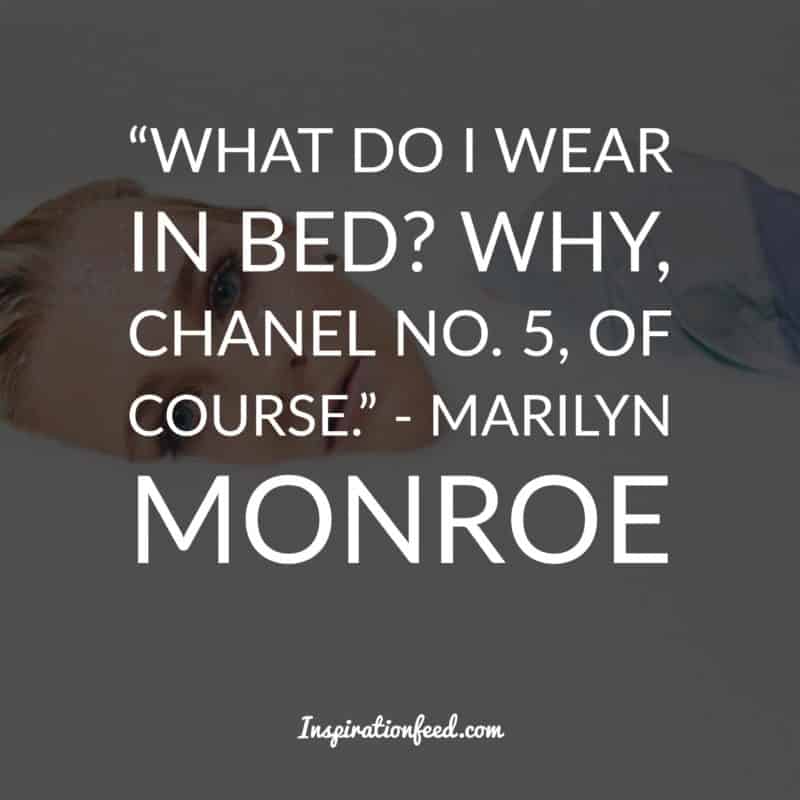 "What do I wear in bed? Why, Chanel No. 5, of course." – Marilyn Monroe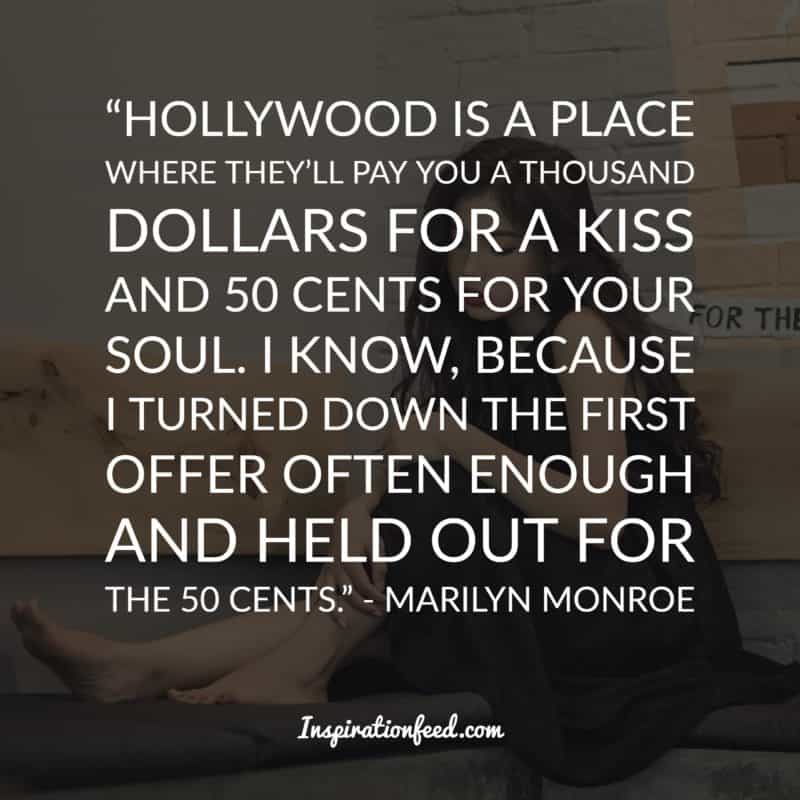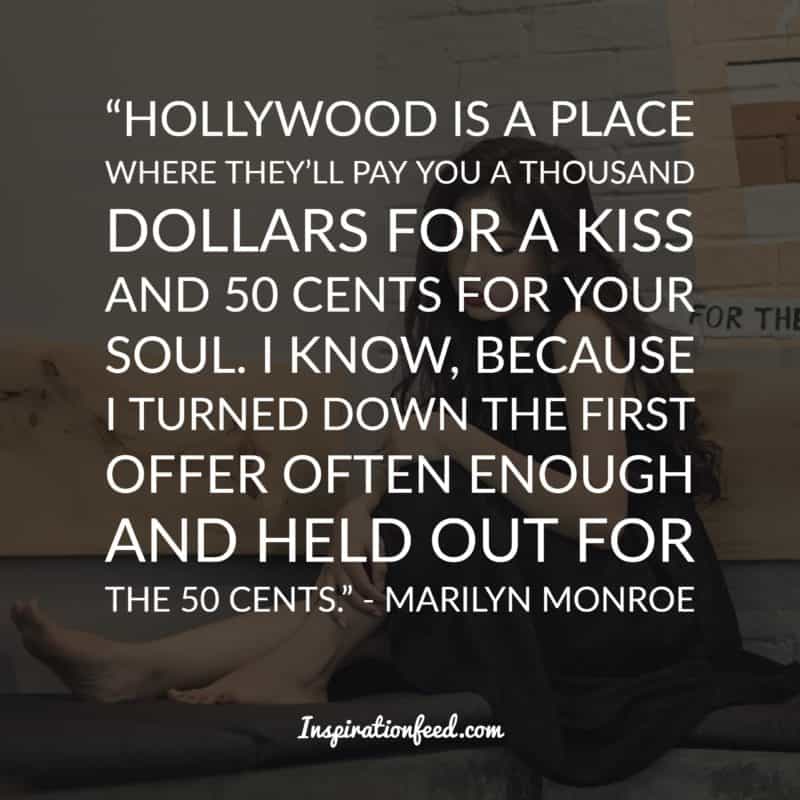 "Hollywood is a place where they'll pay you a thousand dollars for a kiss and 50 cents for your soul. I know, because I turned down the first offer often enough and held out for the 50 cents." – Marilyn Monroe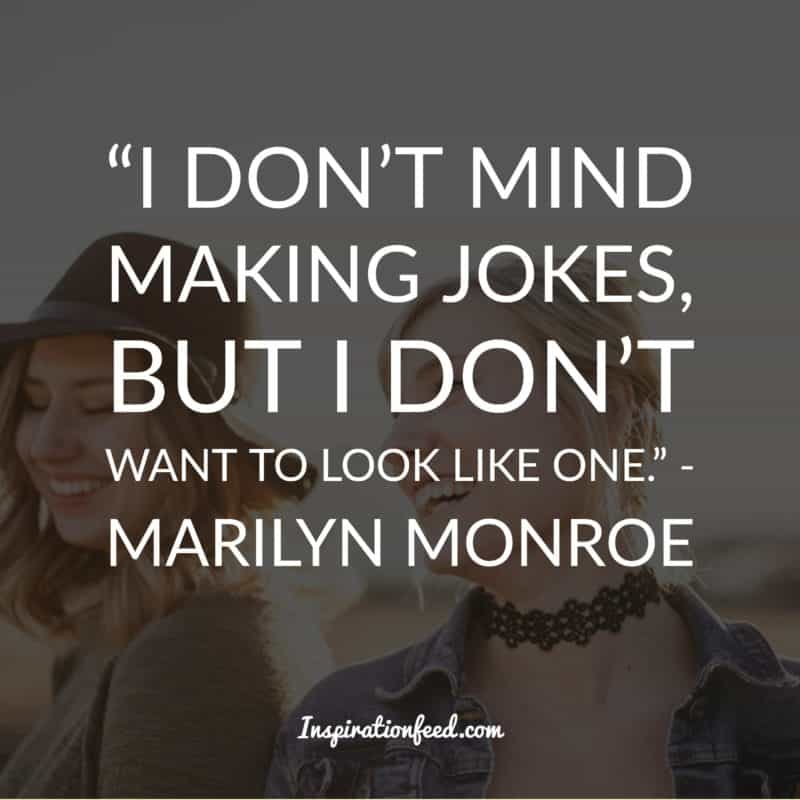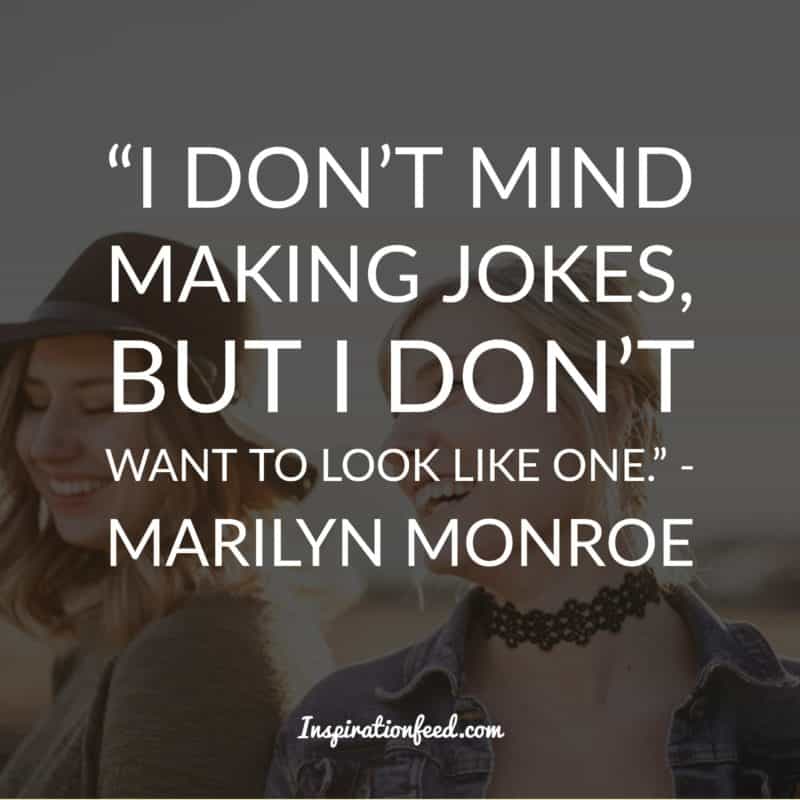 "I don't mind making jokes, but I don't want to look like one." – Marilyn Monroe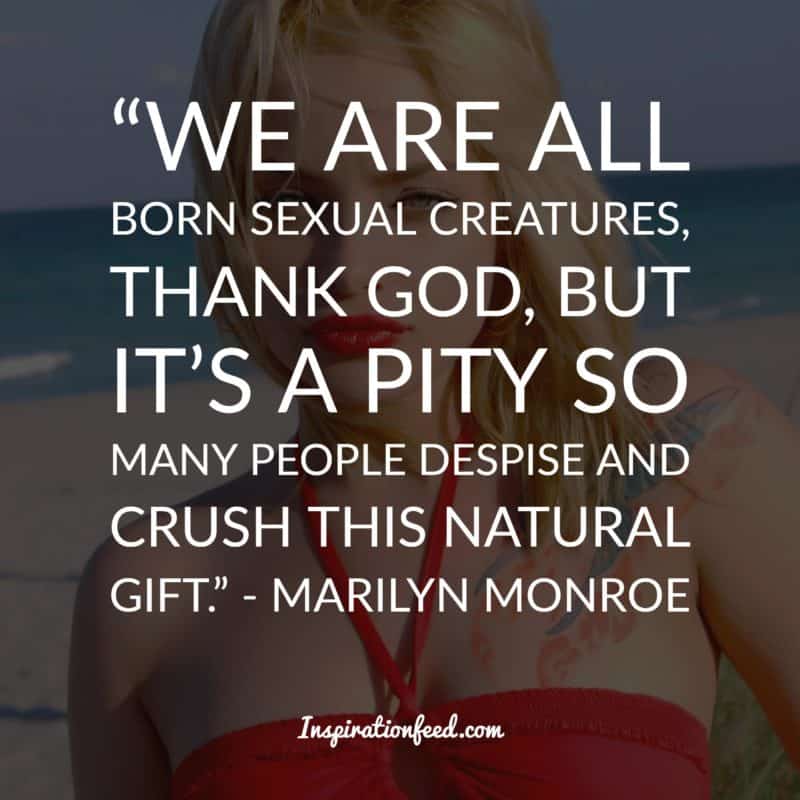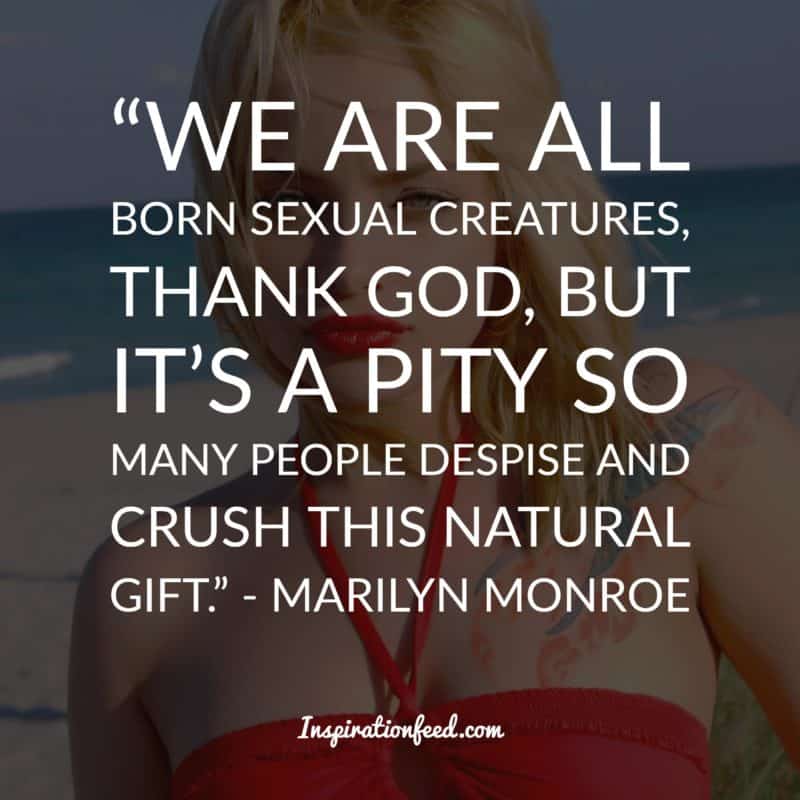 "We are all born sexual creatures, thank God, but it's a pity so many people despise and crush this natural gift." – Marilyn Monroe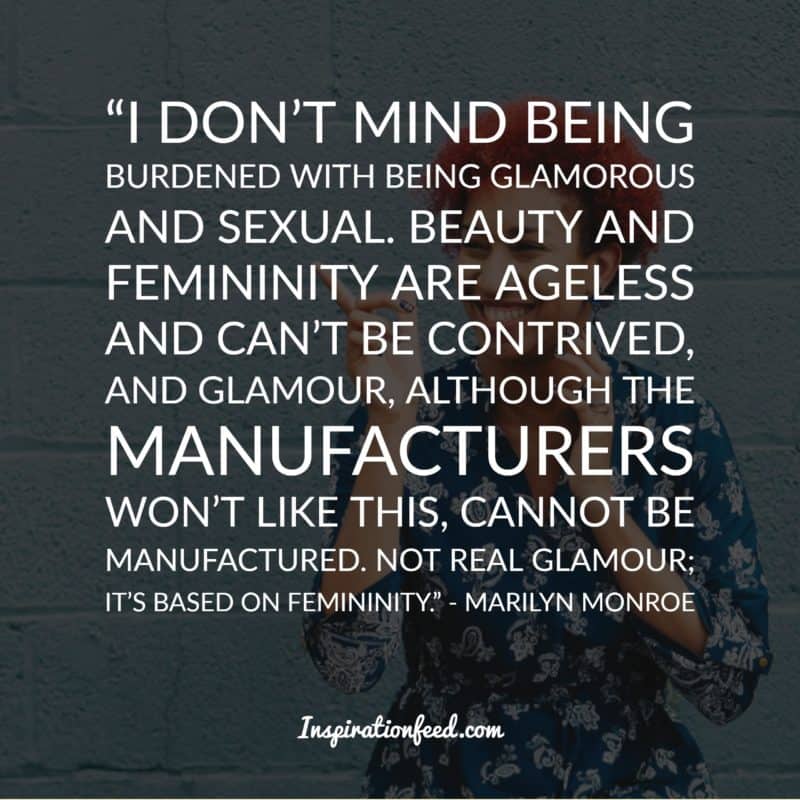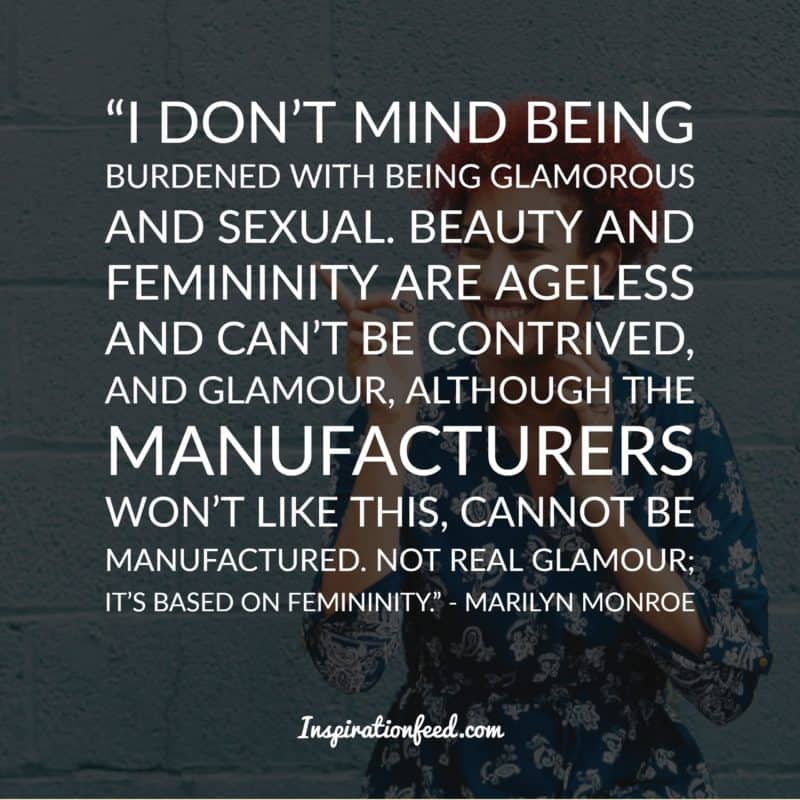 "I don't mind being burdened with being glamorous and sexual. Beauty and femininity are ageless and can't be contrived, and glamour, although the manufacturers won't like this, cannot be manufactured. Not real glamour; it's based on femininity." – Marilyn Monroe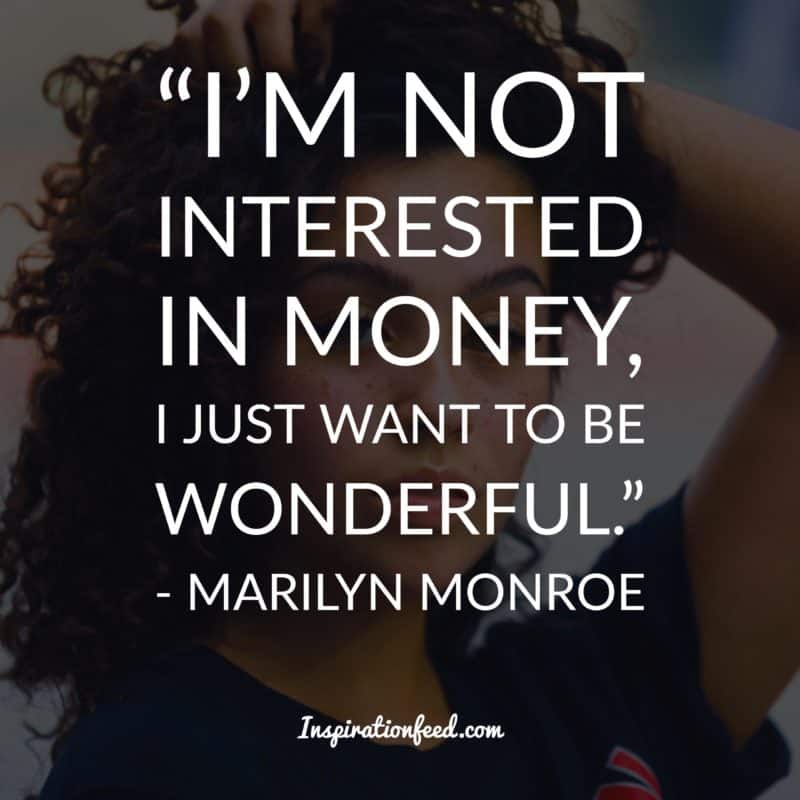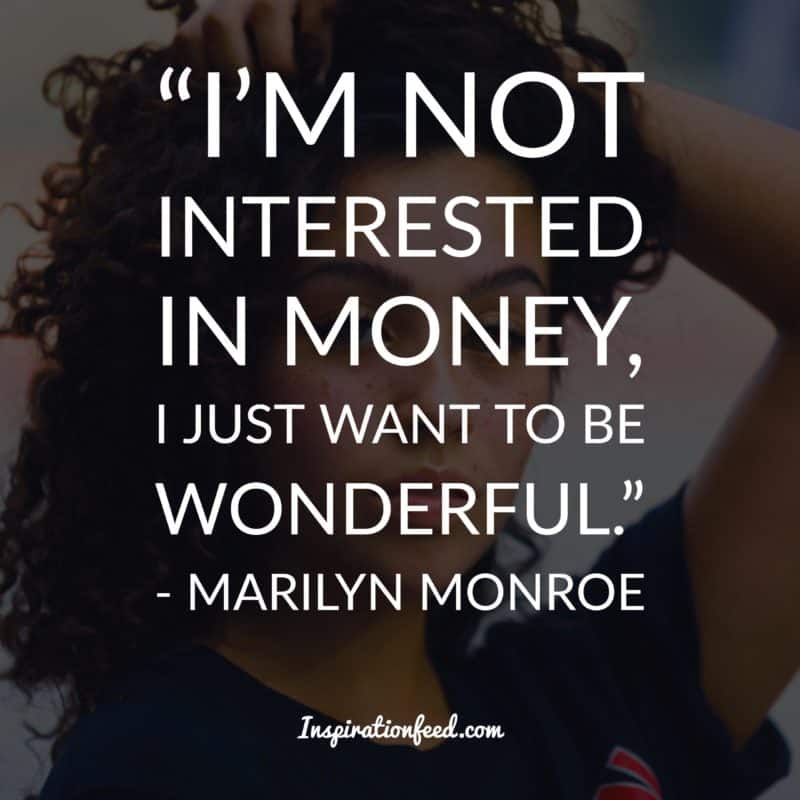 "I'm not interested in money, I just want to be wonderful." – Marilyn Monroe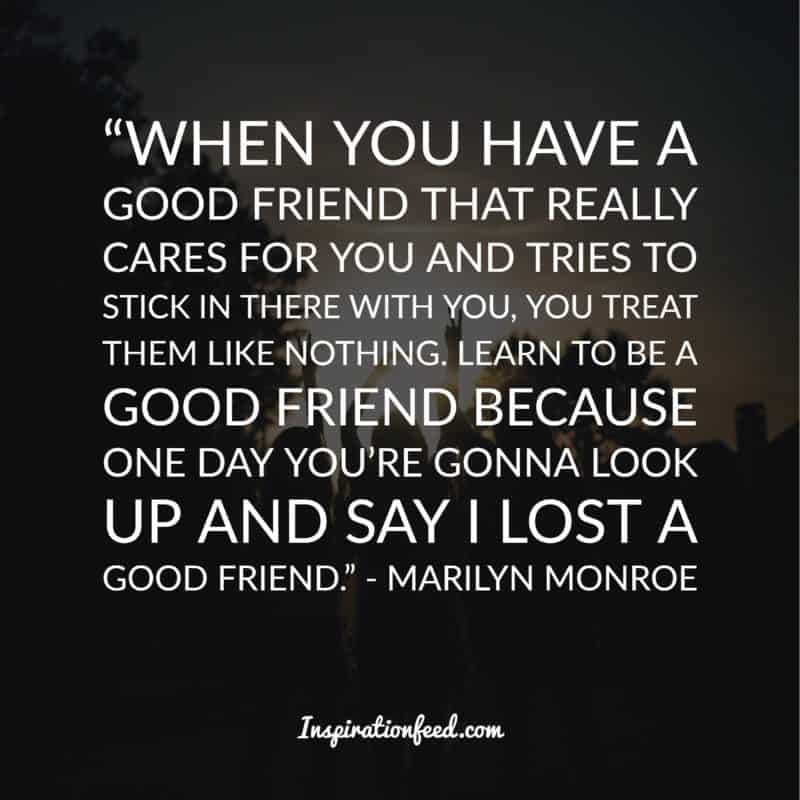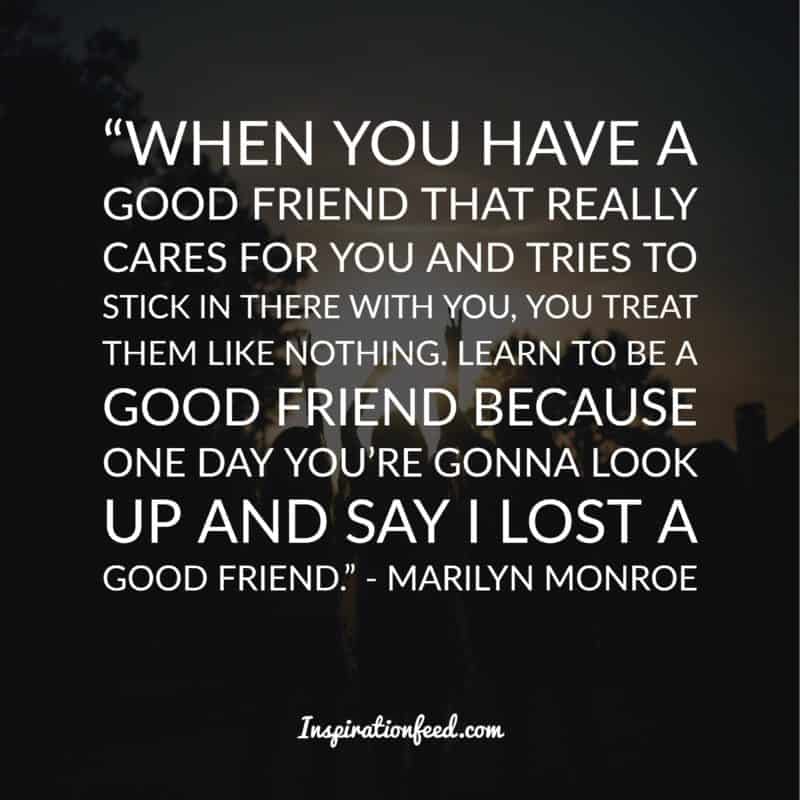 "When you have a good friend that really cares for you and tries to stick in there with you, you treat them like nothing. Learn to be a good friend because one day you're gonna look up and say I lost a good friend." – Marilyn Monroe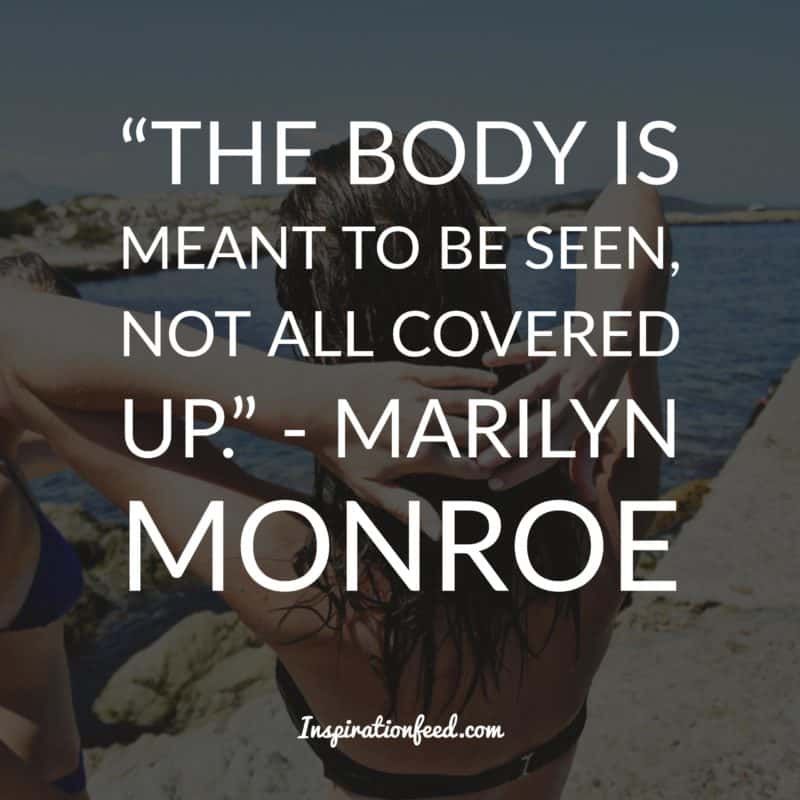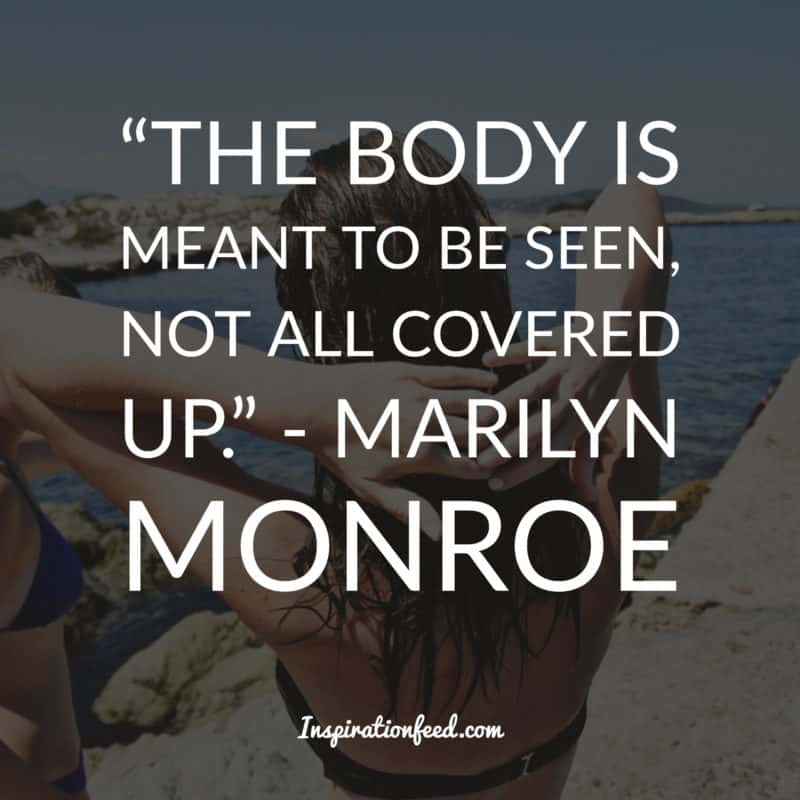 "The body is meant to be seen, not all covered up." – Marilyn Monroe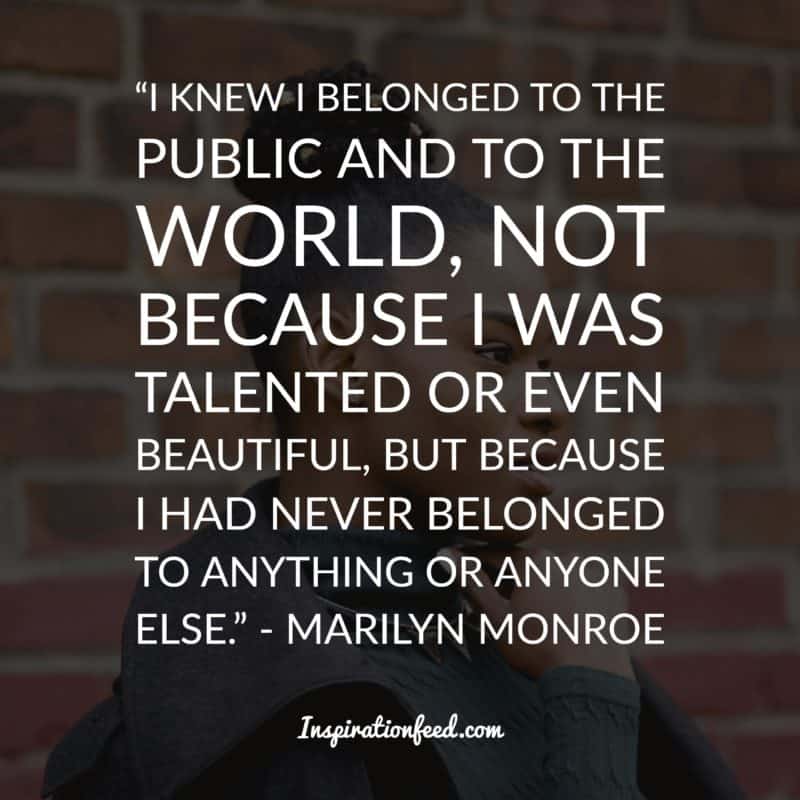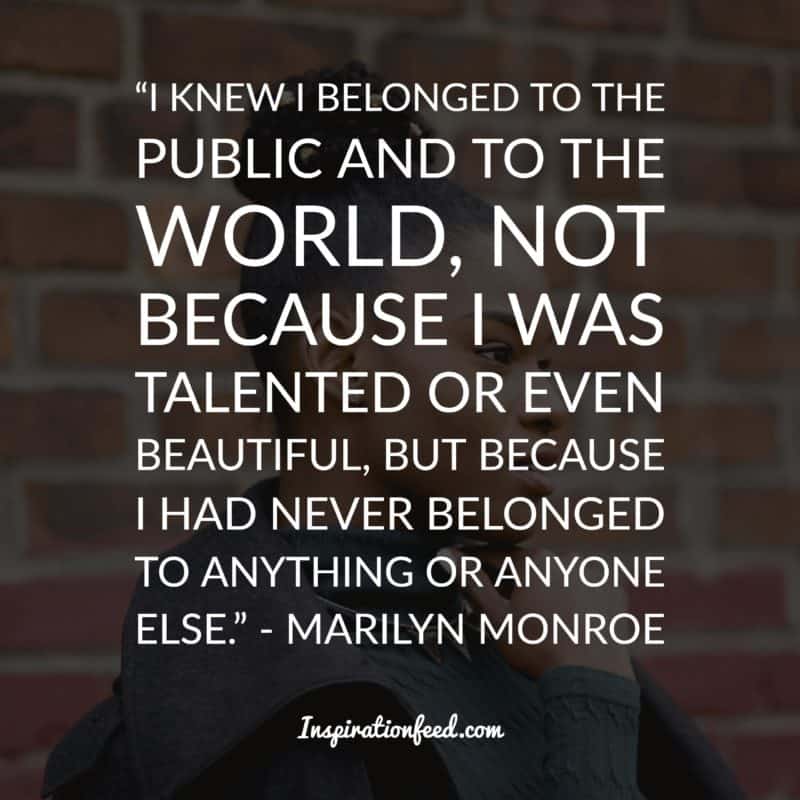 "I knew I belonged to the public and to the world, not because I was talented or even beautiful, but because I had never belonged to anything or anyone else." – Marilyn Monroe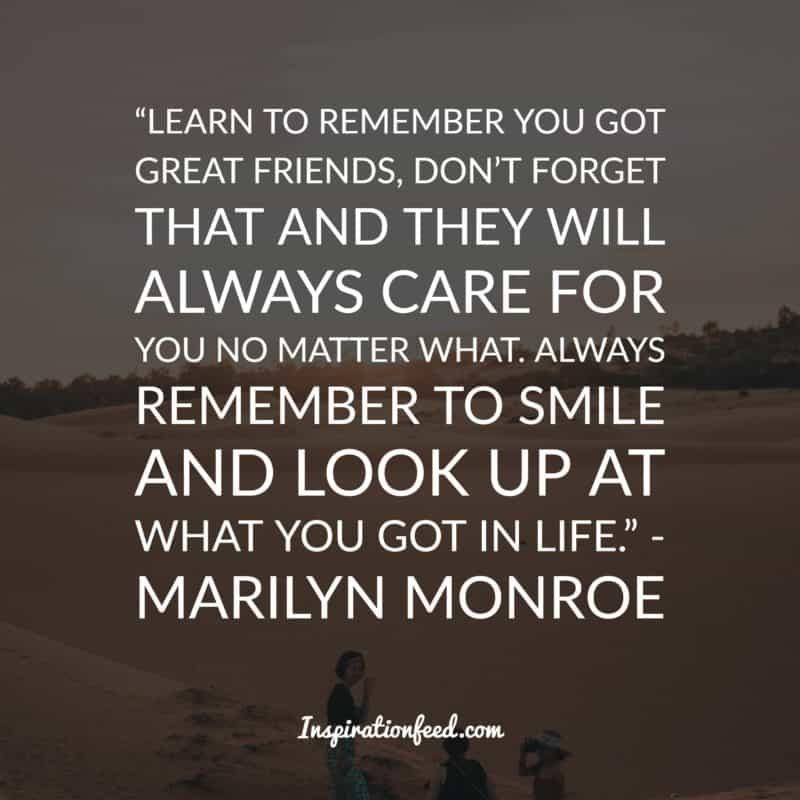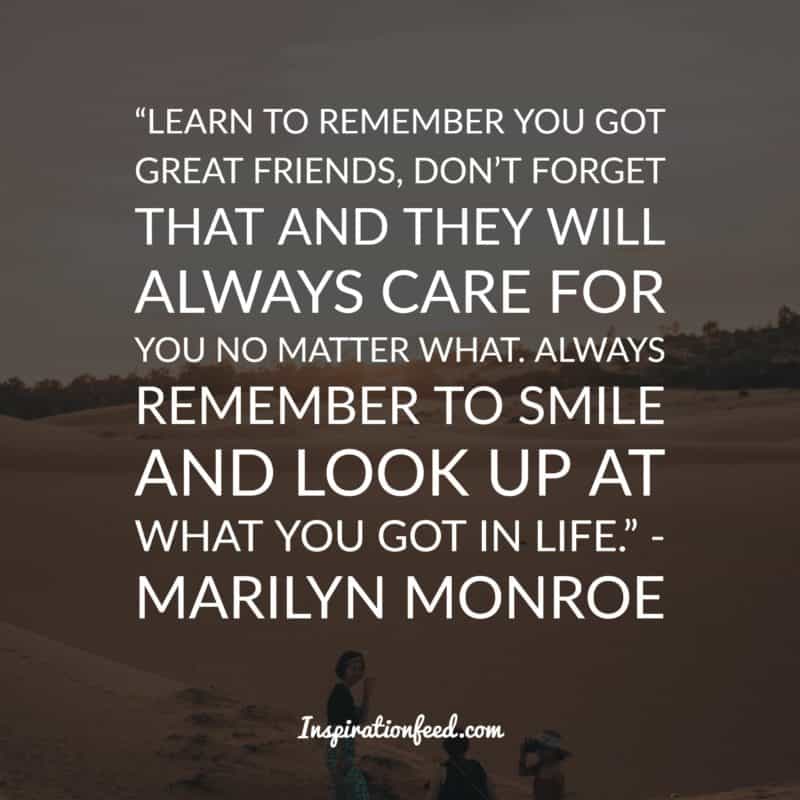 "Learn to remember you got great friends, don't forget that and they will always care for you no matter what. Always remember to smile and look up at what you got in life." – Marilyn Monroe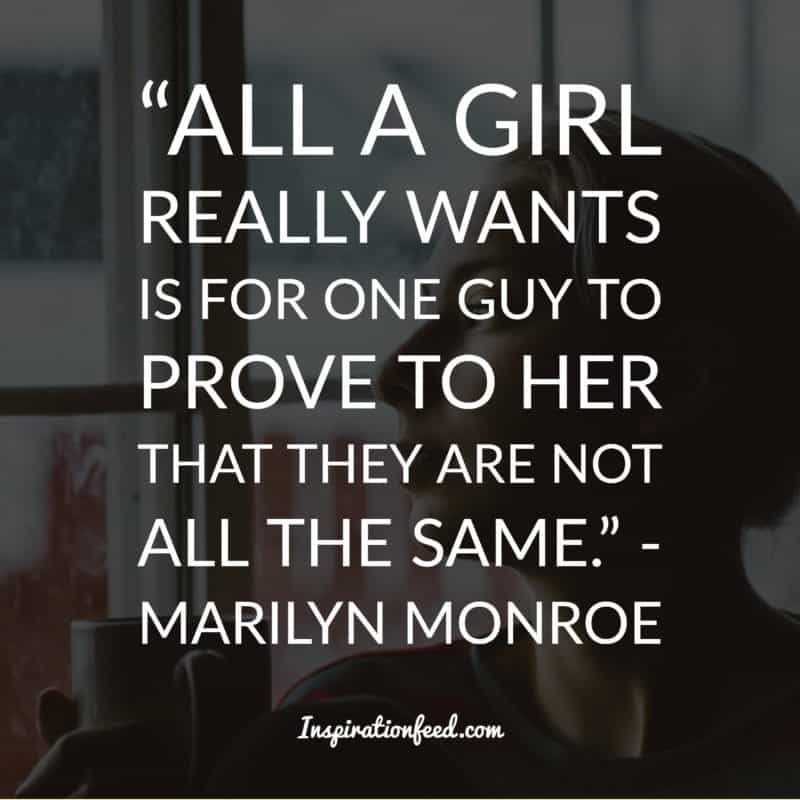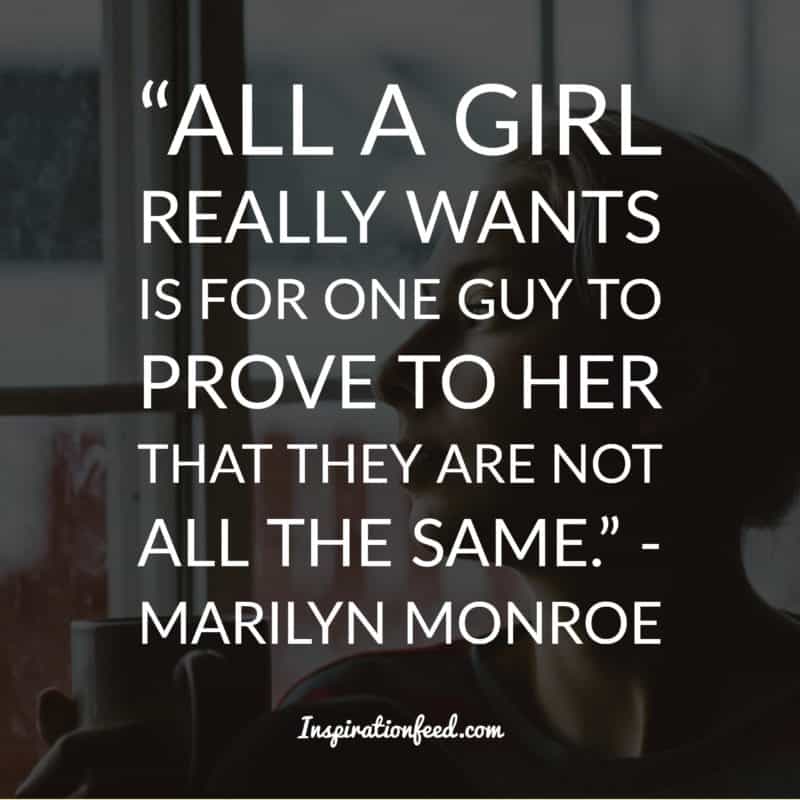 "All a girl really wants is for one guy to prove to her that they are not all the same." – Marilyn Monroe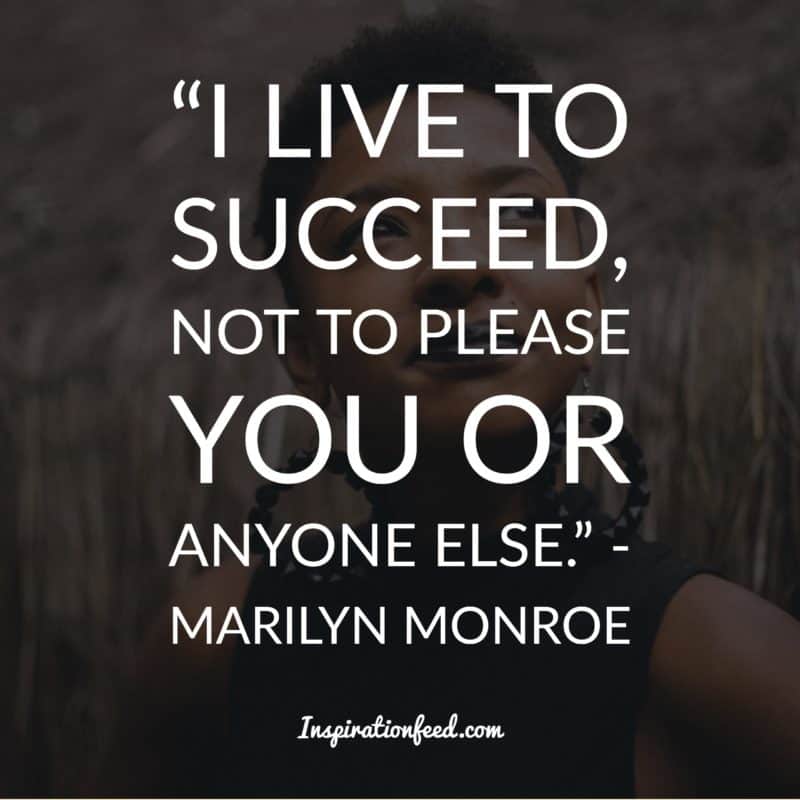 "I live to succeed, not to please you or anyone else." – Marilyn Monroe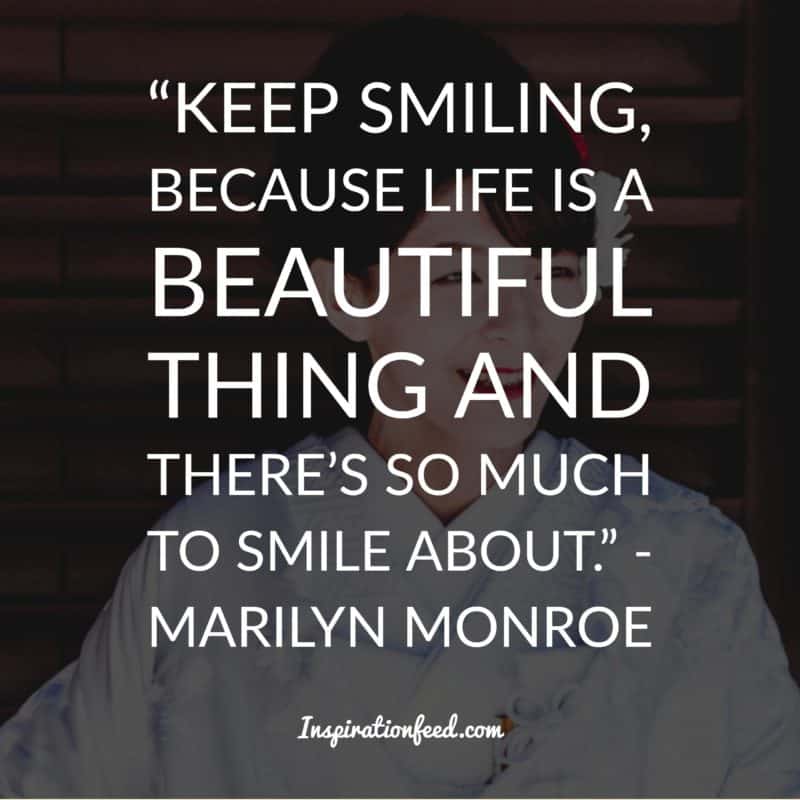 "Keep smiling, because life is a beautiful thing and there's so much to smile about." – Marilyn Monroe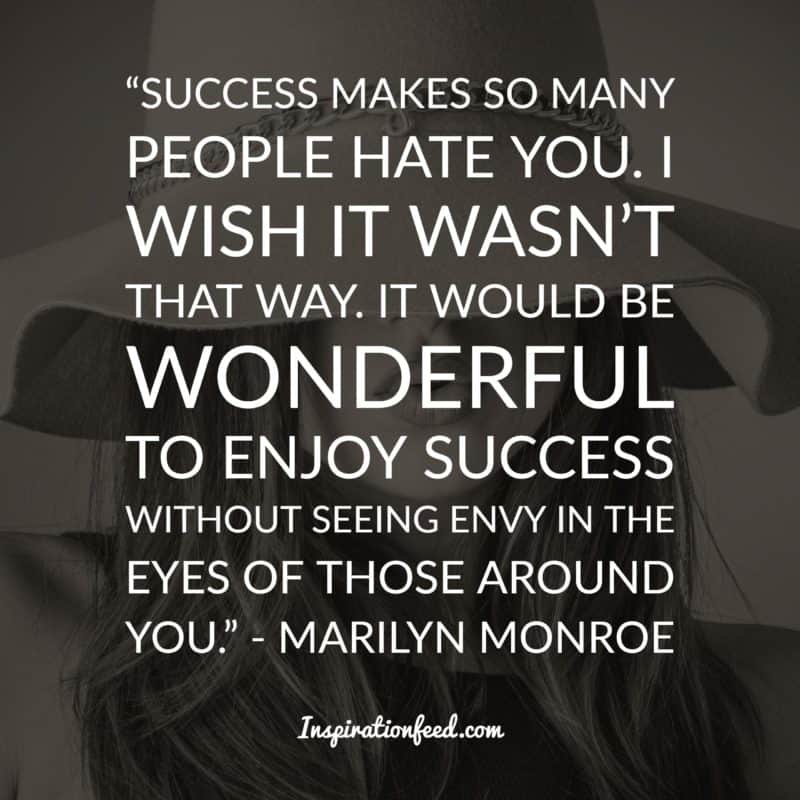 "Success makes so many people hate you. I wish it wasn't that way. It would be wonderful to enjoy success without seeing envy in the eyes of those around you." – Marilyn Monroe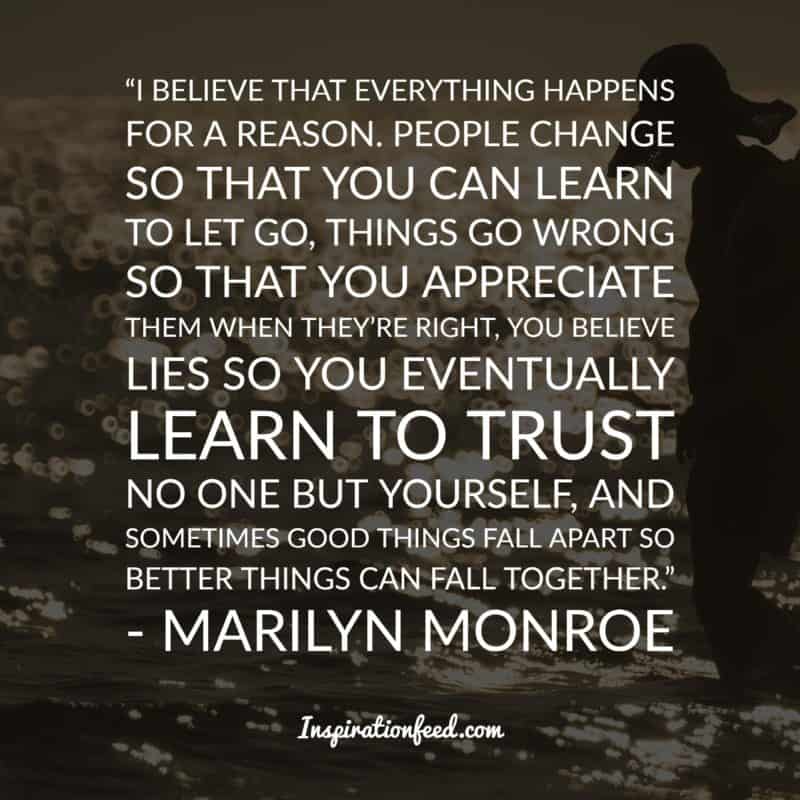 "I believe that everything happens for a reason. People change so that you can learn to let go, things go wrong so that you appreciate them when they're right, you believe lies so you eventually learn to trust no one but yourself, and sometimes good things fall apart so better things can fall together." – Marilyn Monroe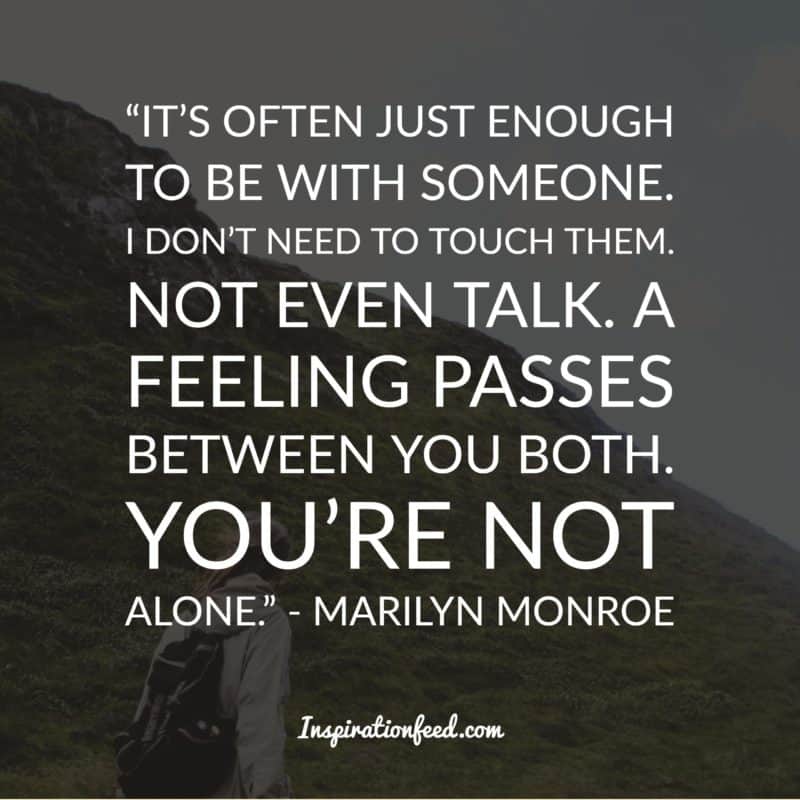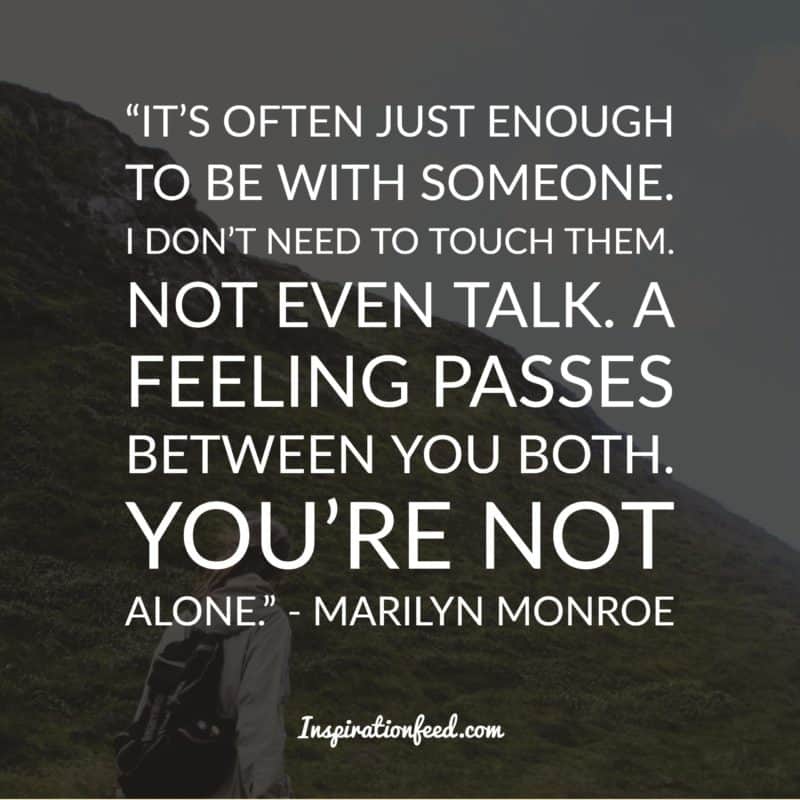 "It's often just enough to be with someone. I don't need to touch them. Not even talk. A feeling passes between you both. You're not alone." – Marilyn Monroe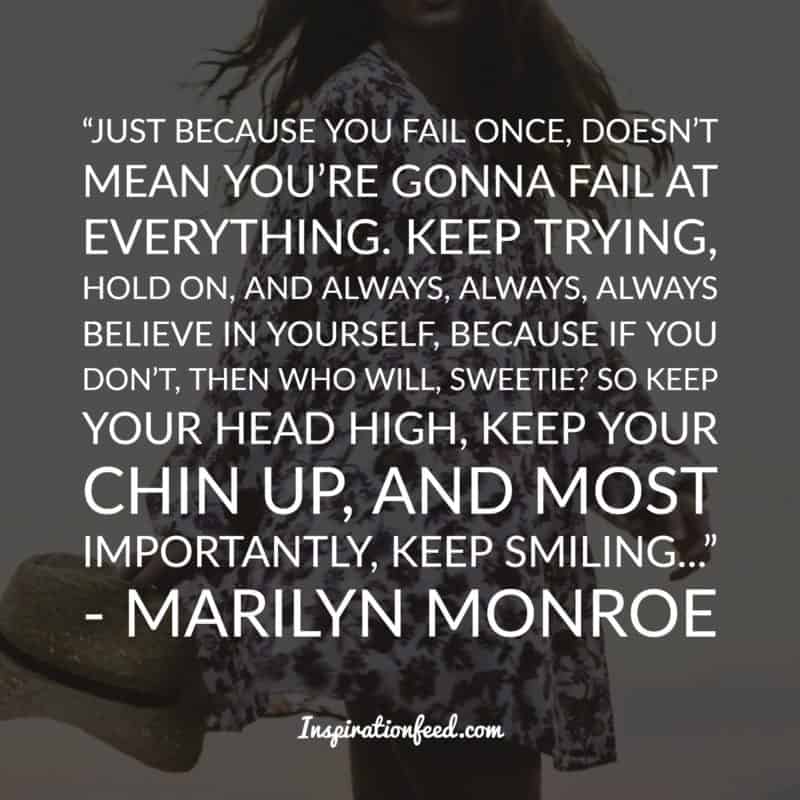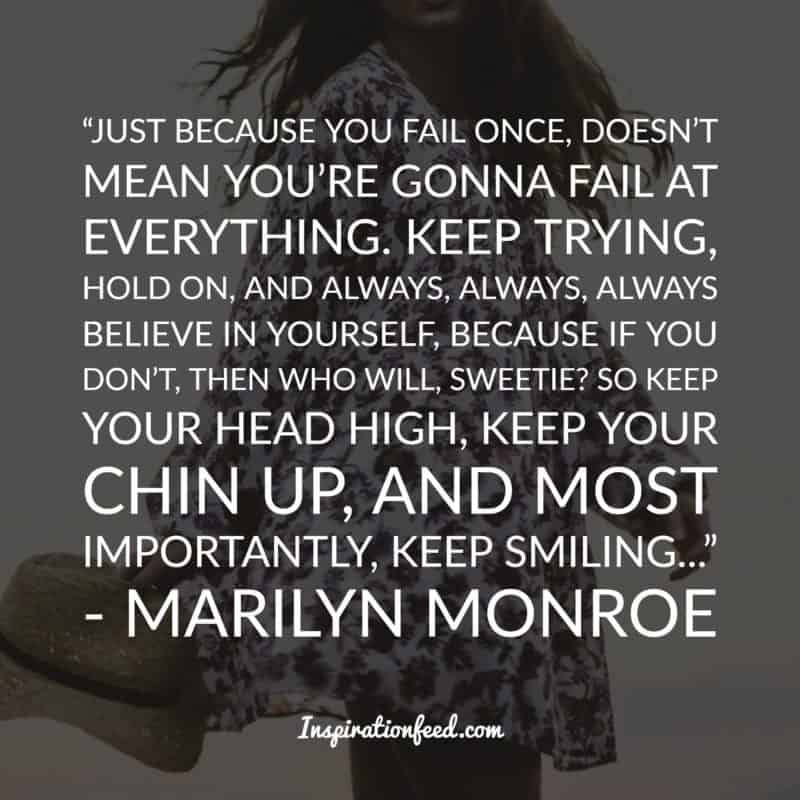 "Just because you fail once, doesn't mean you're gonna fail at everything. Keep trying, hold on, and always, always, always believe in yourself, because if you don't, then who will, sweetie? So keep your head high, keep your chin up, and most importantly, keep smiling…" – Marilyn Monroe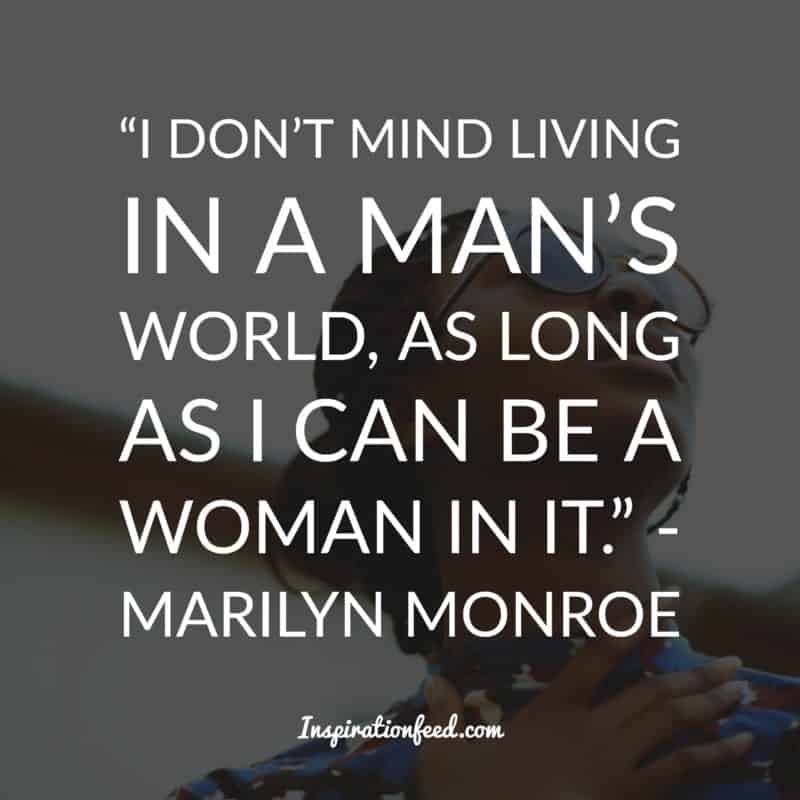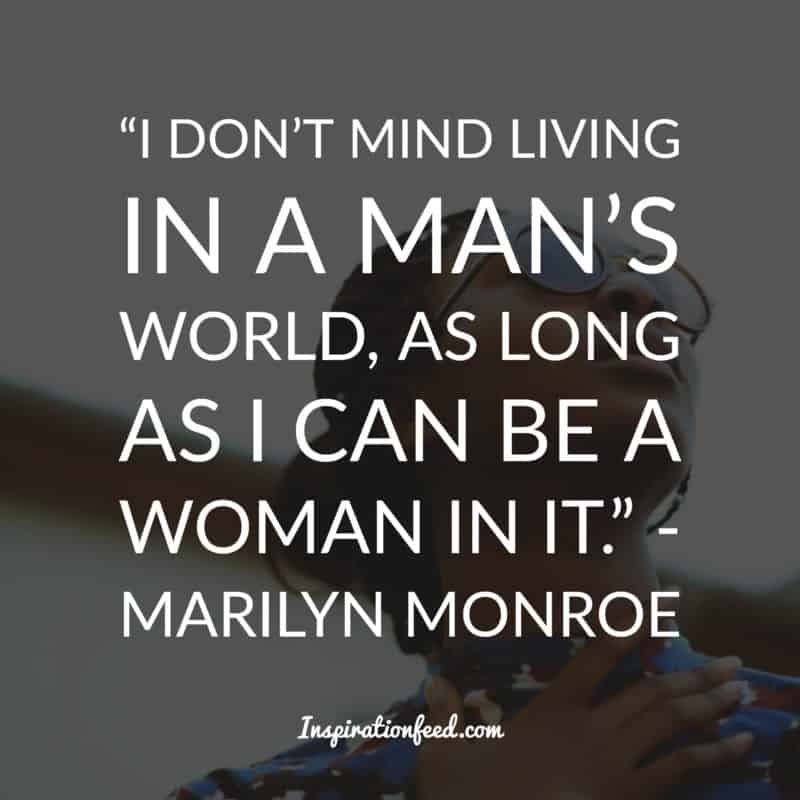 "I don't mind living in a man's world, as long as I can be a woman in it." – Marilyn Monroe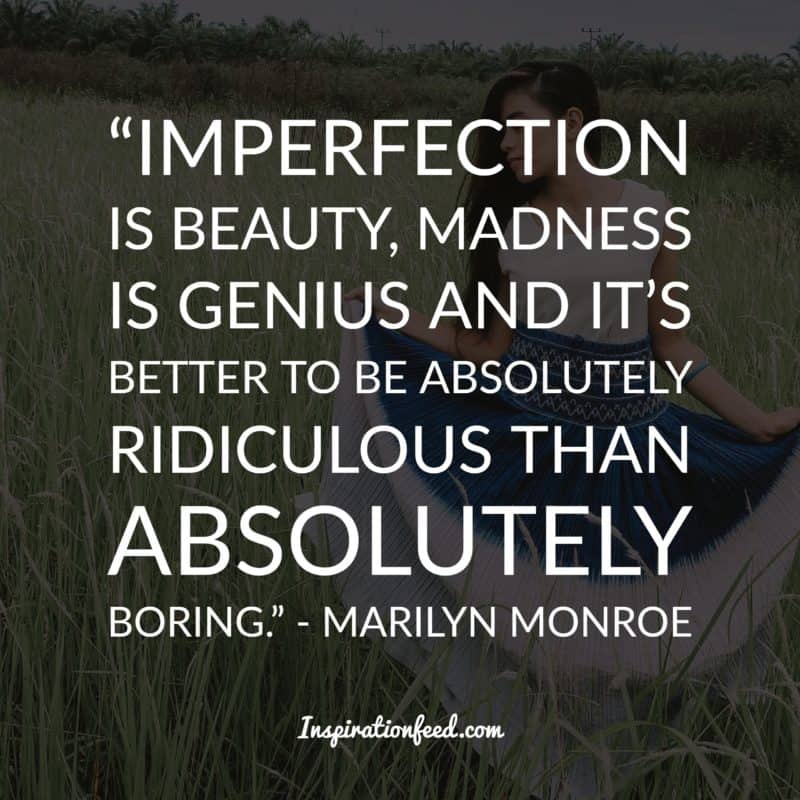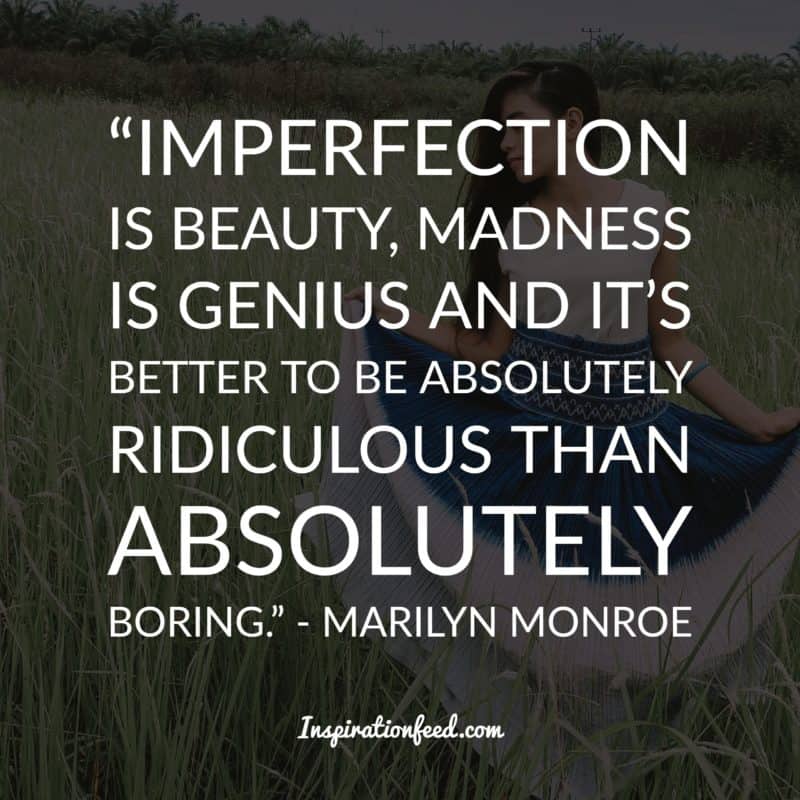 "Imperfection is beauty, madness is genius and it's better to be absolutely ridiculous than absolutely boring." – Marilyn Monroe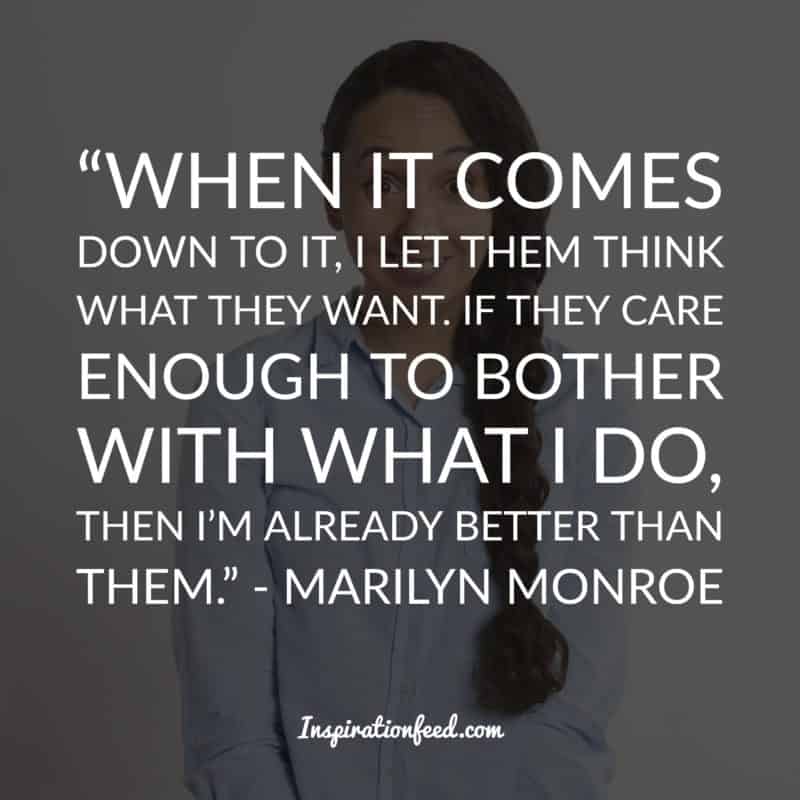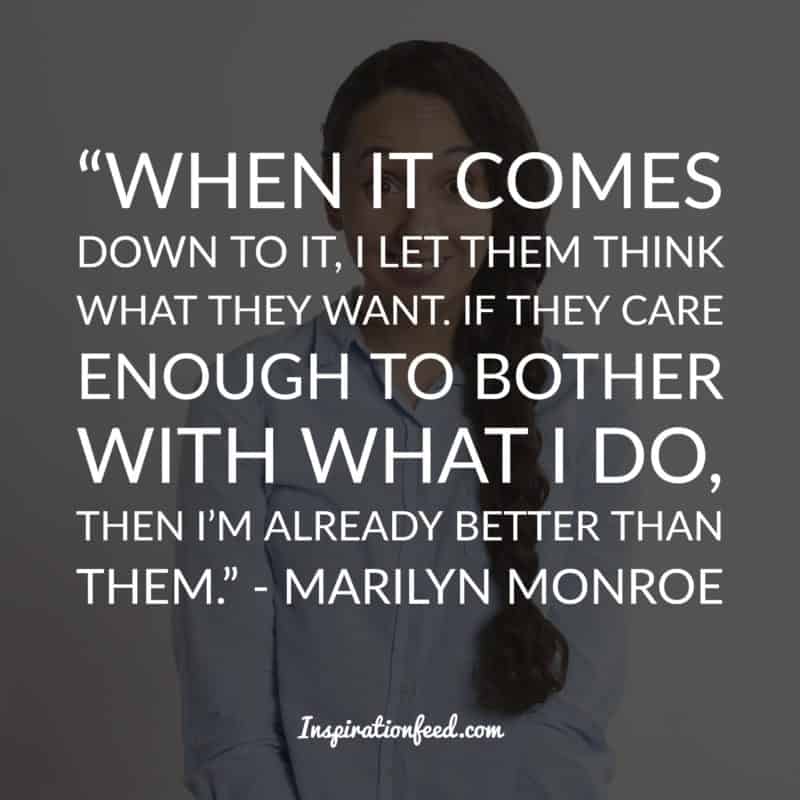 "When it comes down to it, I let them think what they want. If they care enough to bother with what I do, then I'm already better than them." – Marilyn Monroe