Last Updated on March 8, 2022
Are you on a tight budget and want to enter the web space?
Or are you a blogger who wants to begin an online presence?
Do you want the best and inexpensive web hosting service? Or you long for only a free web hosting company?
Well, you definitely need to try Hostinger which is the most popular and powerful web hosting services company established in the year 2004 and has grown exponentially since then.
Hostinger.com has also topped the charts of various independent forums and tech websites and stood at #1 from the last two years.
Confused whether to go for Hostinger or other web hosting companies? Here is a detailed analysis and comprehensive review of what you get at Hostinger to help you decide the winner:
Some Quick Facts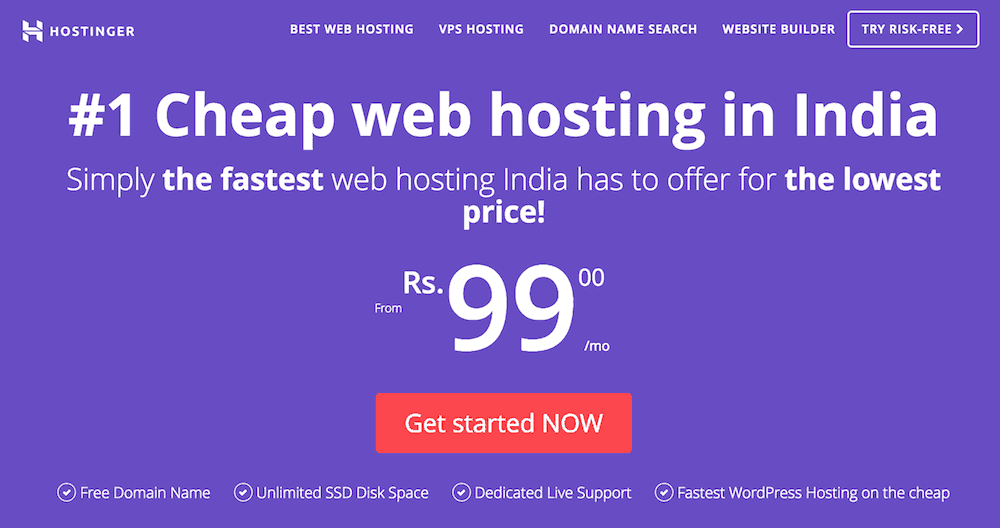 Web Hosting at Cheapest Cost
With Hostinger, you get the best value for money when it comes to web hosting at the lowest price and highest quality! Their monthly subscription plans are as cheap as 80 cents a month given the limited period offer going on currently on their website. More than a decade of expertise has enabled them to provide premium web hosting services at the lowest cost thus giving all the benefits you need to run your website smoothly.
99.9% Uptime Guarantee
Hostinger is among many companies that claim 99.9% server uptime, but it is the ONLY brand which actually gives you 99.9% uptime in real.
This is because Hostinger uses dedicated servers to provide the support to your website. In reality, your website might go down for only about half an hour.
No wonder why Hostinger is so popular among people in business, bloggers, learners, professionals, professors, and the entire web hosting industry in general!
Domain Name @ Zero Cost
Hostinger is certified by ICANN and one of the cheapest and most popular domain registrars. What makes this company unique is that you get a custom domain name with unlimited web hosting by paying only for the hosting services.
Please note that free domains are available in all the Premium and Business web hosting plans.
Web Hosting With No Limits
You get almost unlimited disk space coupled with unlimited bandwidth to support the operation of your website. This is very essential as in the online world there are thousands of customers visiting your website at once and you need to have a robust bandwidth and disk space to support so many clicks on your page per second. This will further enhance user experience and give a boost to your SEO and ranking.
Dedicated Live Support
What sets Hostinger apart from any other company is its dedicated professional live support which has built a long-standing customer relationship.
If you run into any trouble, you can simply contact their customer support to resolve your issue which is available any time, any day, and at any moment.
Thus, it gives you a sense of security and comfort as far as the technicalities of web hosting are concerned. There is a dedicated team of well-trained professionals always available to help you.
The Free Website Builder
Nowadays you don't need to have coding knowledge to create a website.
Gone are the days when website building involved learning complex coding languages and compiling all of them to run your program. Hostinger has ridiculously made it so easy that you need to choose quick drag and drop option to build your website within a few minutes.
You can choose from hundreds of professionally designed website templates & launch a fully working and catchy website without spending a single dollar! Check out the free website builder to experience the madness now!
WordPress Hosting
Do you want to host WordPress?
Do not worry as Hostinger provides easy integration of WordPress at the lowest price in the industry.
The cloud-based infrastructure allows the highest speed and unbeatable performance. NGINX and latest PHP7 technologies are all supported along with premium WordPress performance!
PHP, MySQL & FTP Support
A complex fully functional website may involve several coding languages integrated together for web hosting.
As such, Hostinger has kept up with the latest developments and fully supports MySQL, FTP & PHP so that you always have the flexibility to design the website as you want.
Free SSL Security and other features
You save a lot and get the maximum benefits with this company compared to any other.
As mentioned earlier all premium and business subscription plans include custom domain names absolutely free of charge!
Additionally, your security concerns are also taken care of through free SSL secured certificates exclusively for Business Plans. Thus, you can keep your websites secured and get best SEO rankings.
Exceptional VPS Hosting
Virtual Private Servers are a great way to ensure security and privacy along with providing seamless access to the content your customers want on your website.
You also get protected from hackers trying to access your trade secrets and intellectual property.
Additionally, Hostinger gives you dedicated server space, full SSH root, cloud infrastructure, and resource scalability all at the price of shared web hosting.
Bottom Line
No matter what your requirements are, there is something for everyone provided by Hostinger which remains a reliable choice for many customers across the globe. It is truly advertisement free and as the company says on its website "You pay for the technology. Not for the marketing".
Hostinger empowers you with cutting edge technology to serve your purpose and provides you with seamless web hosting services that are not only affordable but also secure. This website is meant for amateurs and professionals alike. Before you decide on web hosting company, you must decide your purpose first.
Hostinger has the requisite established brand image, trust, reliability, and satisfaction that you have been looking for! You do not need to furnish any of your credit cards or debit card information, and the entire subscription process is completely transparent.
So go ahead and get your website hosted via Hostinger now!