American Founding Father Thomas Jefferson was among the key people who would later write the mission statement for a revolution and a new nation. Aside from becoming the third United States President, he was also involved in the Lewis and Clark expedition, created assimilation policies with American Indians, and help found the University of Virginia.
Many can learn from Thomas Jefferson and his many interests. Here are just some key facts about one of the men behind the Declaration of Independence.
Thomas Jefferson: Early Years, the American Revolution, and Presidency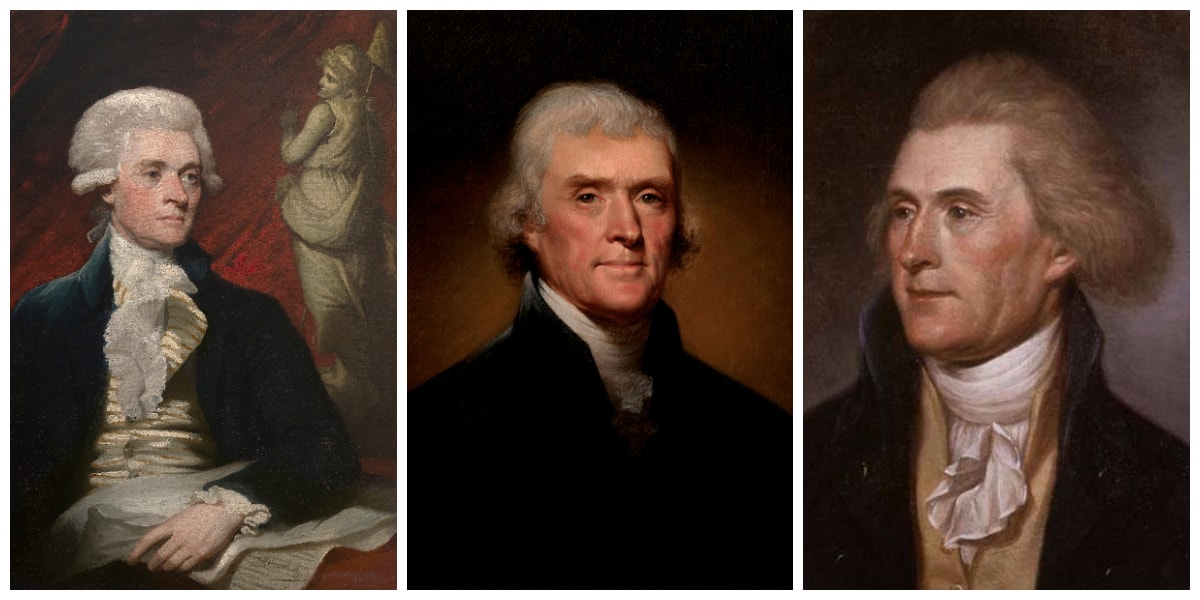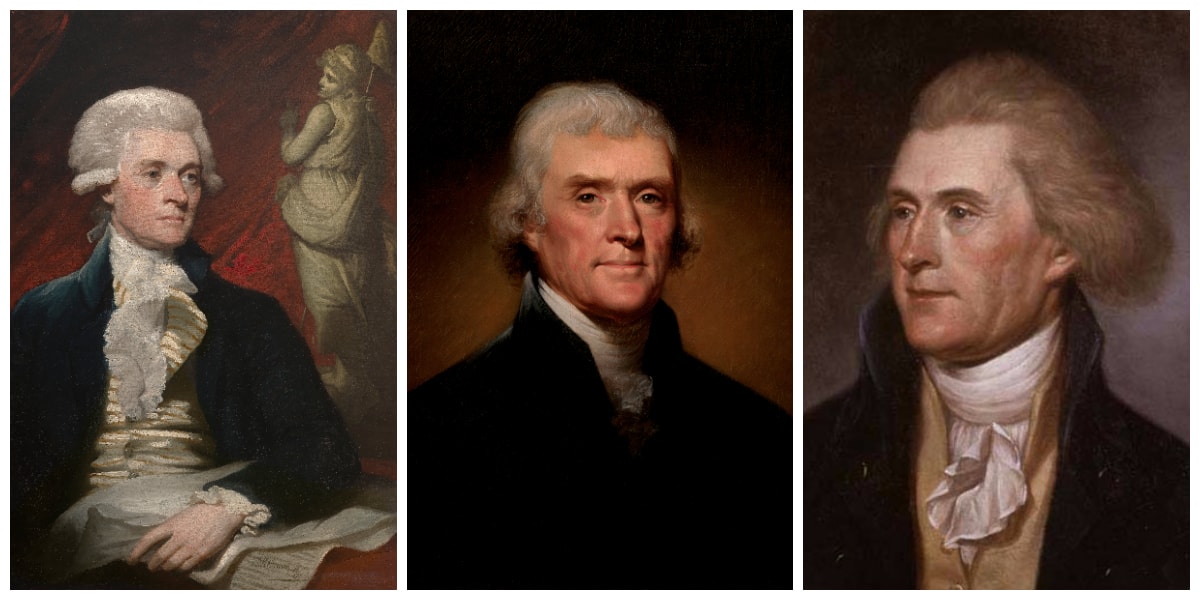 Thomas Jefferson was born on April 13, 1743, at Shadwell near present-day Charlottesville, Virginia. His father was Peter Jefferson, a planter and surveyor; his mother was Jane Randolph, daughter of a prominent Virginia family.
Even as a young child, Jefferson showed tremendous enthusiasm for learning. He enjoyed studying for hours on end, and then playing the violin for more hours afterward. He would later work as a lawyer after learning law from an esteemed Virginia attorney.
When his father died, Thomas Jefferson assumed the Shadwell property and prepared it for his "Monticello" – an elegant brick mansion he designed in great detail. When he turned 29, he married his third cousin Martha Wayles Skelton. They moved to the Monticello where they had six children, only two of which would survive into adulthood.
As a gifted writer, Thomas Jefferson was asked to draft the Declaration of Independence in 1775 as a selected delegate to the Second Continental Congress. From 1779 to 1781 he served as governor of Virginia, and succeed Benjamin Franklin as U.S. minister to France in 1785.
Jefferson wouldn't run for presidency until 1796, against John Adams. Adams got the most votes then, making Jefferson vice president. He tried again in 1800 – this time with the House of Representatives breaking the tie between him and Aaron Burr. Thomas Jefferson was sworn into office on March 4, 1801.
During his inauguration, he broke tradition by walking to and from the ceremony instead of riding in a horse-drawn carriage. One of the first – and most significant – things Jefferson did during his term was the purchase of the Louisiana Territory from France.
Thomas Jefferson ran for a second term in 1804, but received negativity from his execution of the Embargo Act (the closing of U.S. ports to foreign trade). He decided not to run for a third term and instead spent his remaining years at the Monticello.
The Legacy of Thomas Jefferson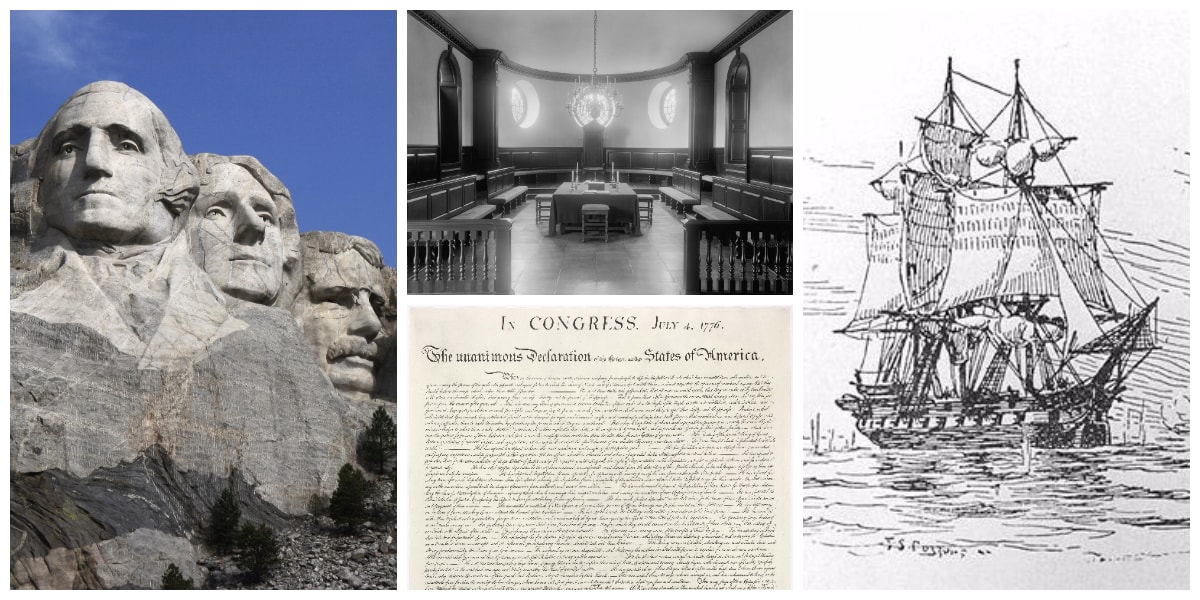 Despite his many contributions to society, one of the contradictory issues in his life was slavery. While Jefferson believed in "equality for all", he himself owned more or less 600 slaves during his lifetime. Historians wrote of his benevolence towards his slaves (i.e. giving them log cabins as quarters, allowing them longer holiday periods, etc.), but he freed only a small portion of them in his will.
Thomas Jefferson died on his beloved Monticello on July 4, 1826 – exactly on the 50th anniversary of the signing of the Declaration of Independence. He was also buried there. Monticello has been open for public viewing and tours since 1954.
Jefferson's contributions to the freedom enjoyed by the people of the United States are unquestionable. Learn of more of his values from these inspiring Thomas Jefferson quotes and letters.
Inspirational Thomas Jefferson Quotes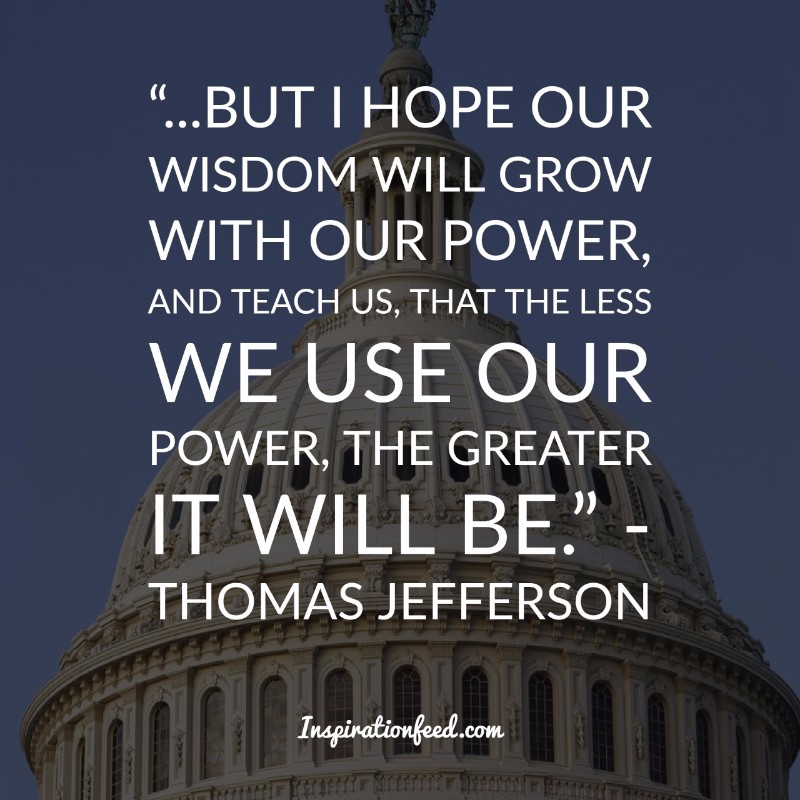 "…But I hope our wisdom will grow with our power, and teach us, that the less we use our power, the greater it will be." – Thomas Jefferson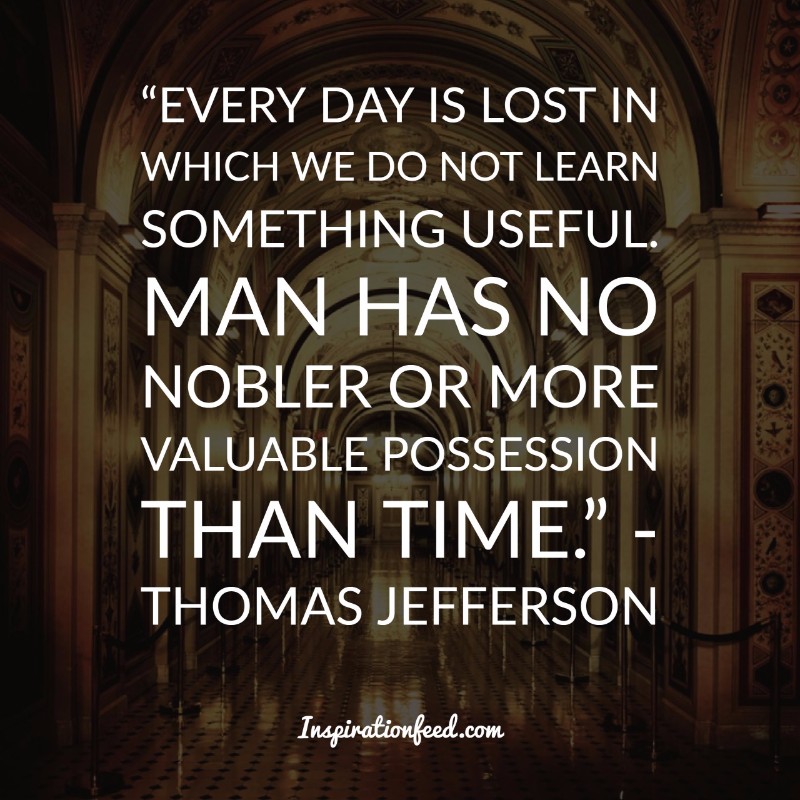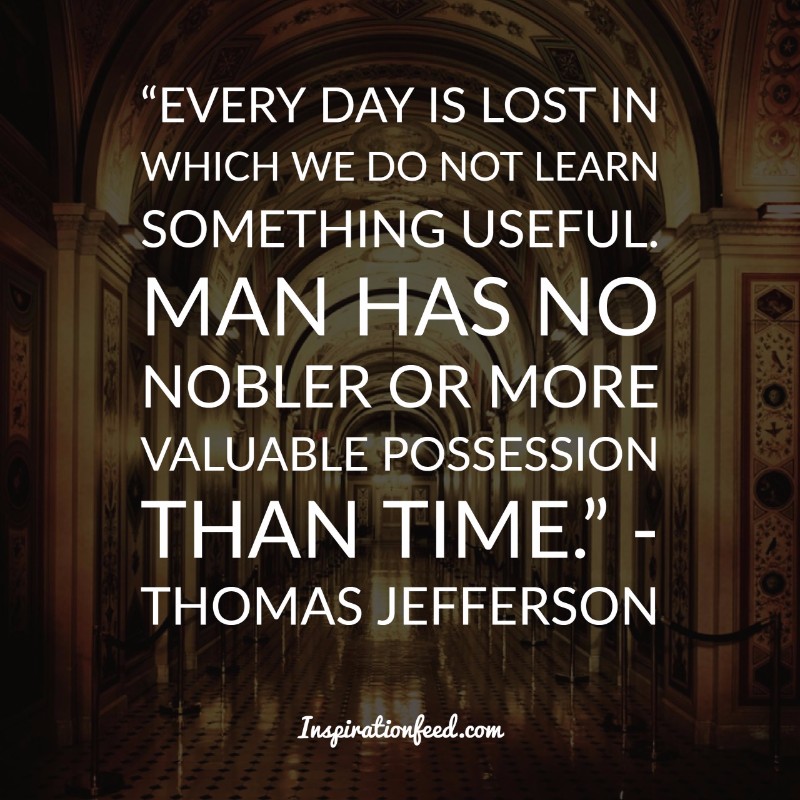 "Every day is lost in which we do not learn something useful. Man has no nobler or more valuable possession than time." – Thomas Jefferson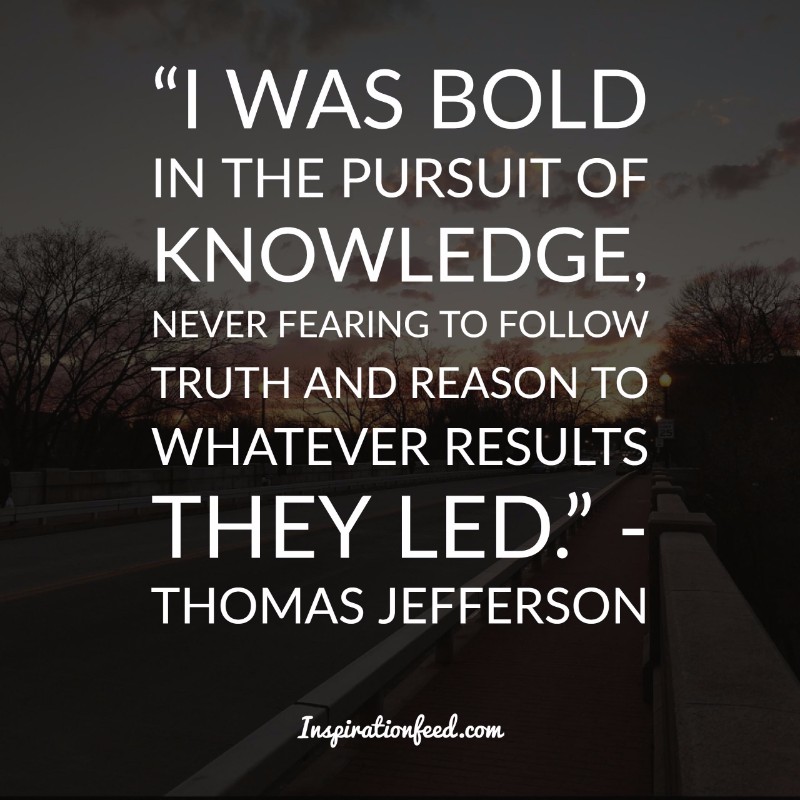 "I was bold in the pursuit of knowledge, never fearing to follow truth and reason to whatever results they led." – Thomas Jefferson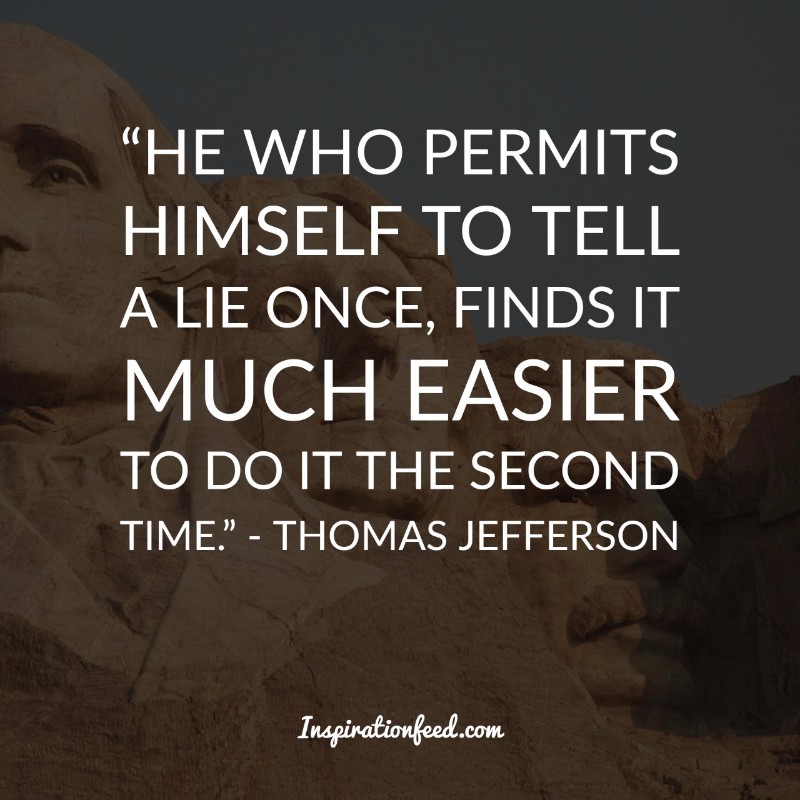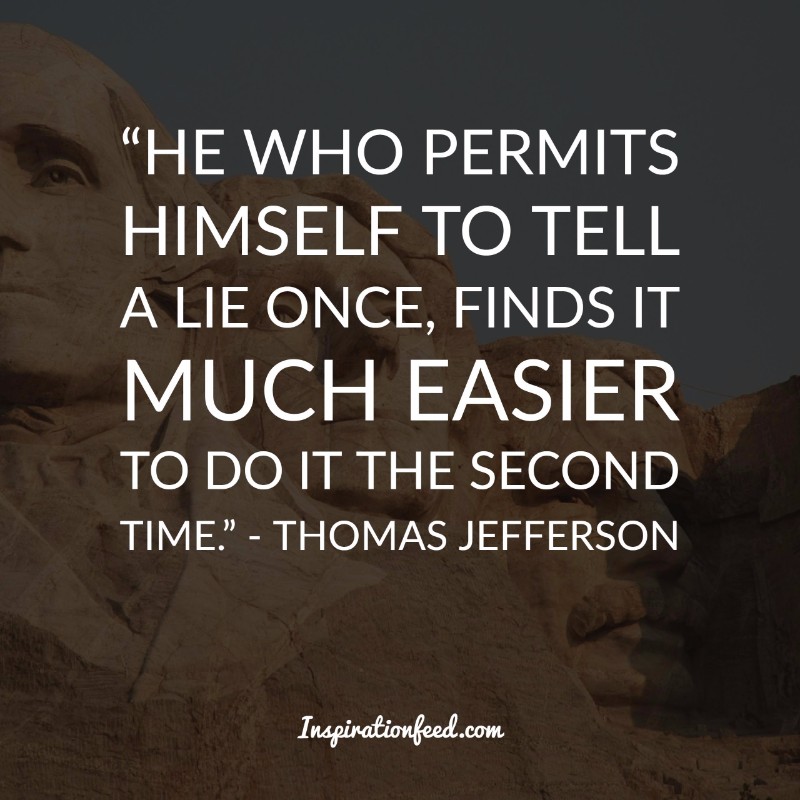 "He who permits himself to tell a lie once, finds it much easier to do it the second time." – Thomas Jefferson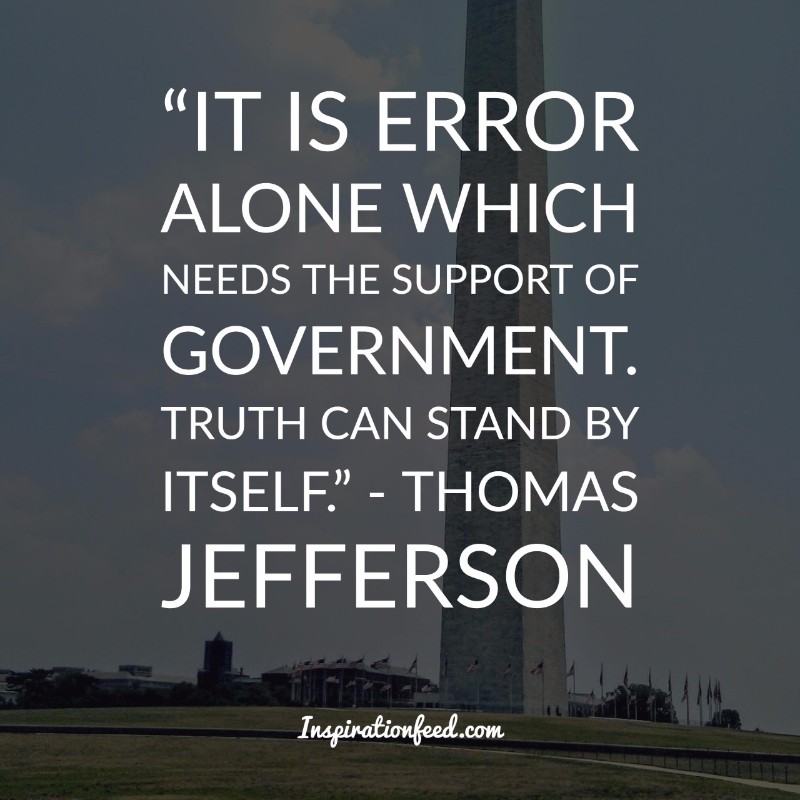 "It is error alone which needs the support of government. Truth can stand by itself." – Thomas Jefferson
"I have no ambition to govern men; it is a painful and thankless office." – Thomas Jefferson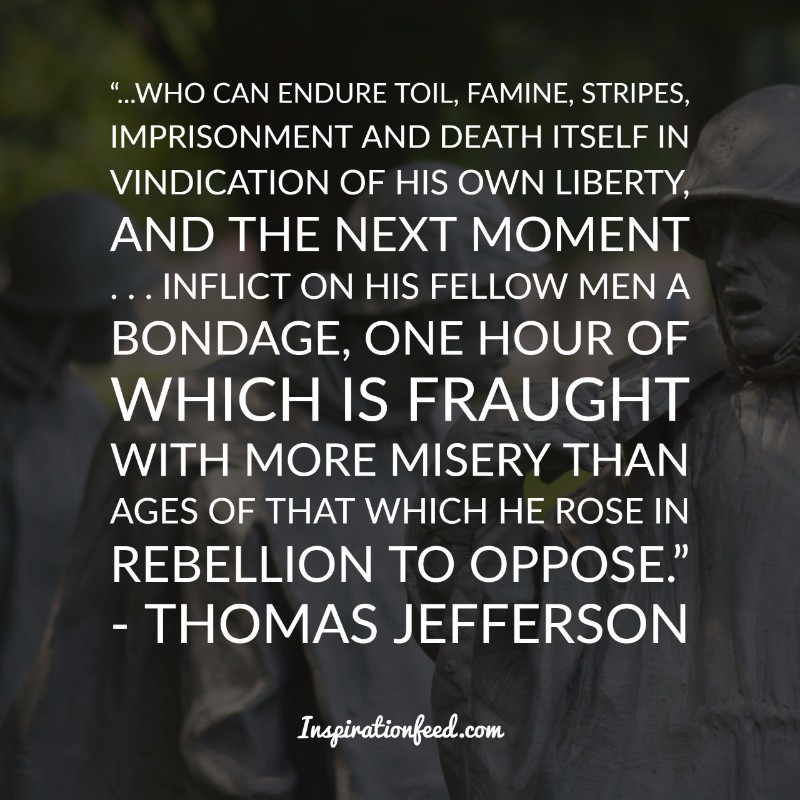 "…Who can endure toil, famine, stripes, imprisonment and death itself in vindication of his own liberty, and the next moment . . . inflict on his fellow men a bondage, one hour of which is fraught with more misery than ages of that which he rose in rebellion to oppose." – Thomas Jefferson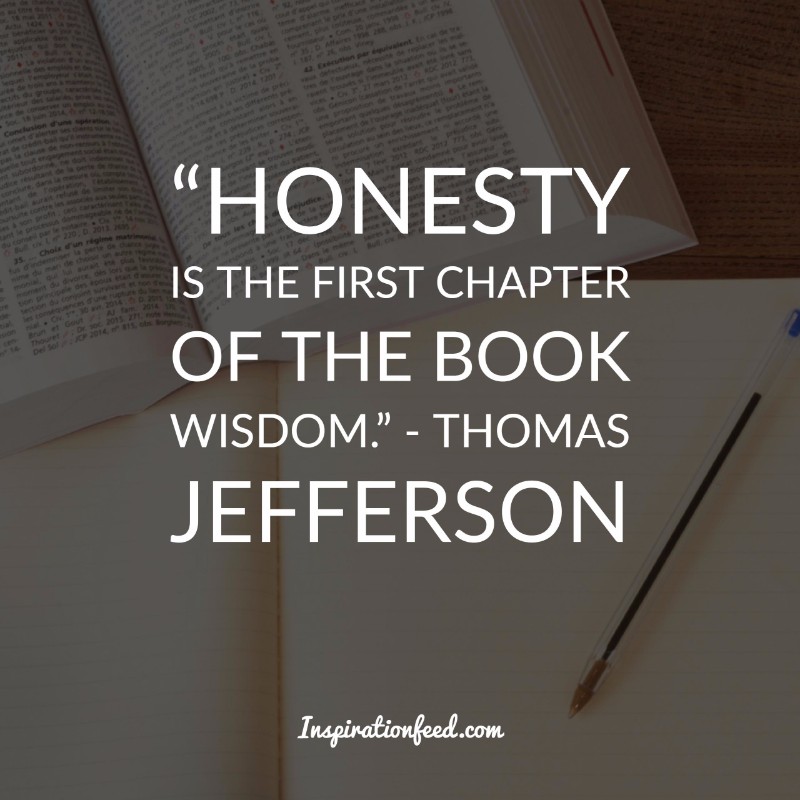 "Honesty is the first chapter of the book wisdom." – Thomas Jefferson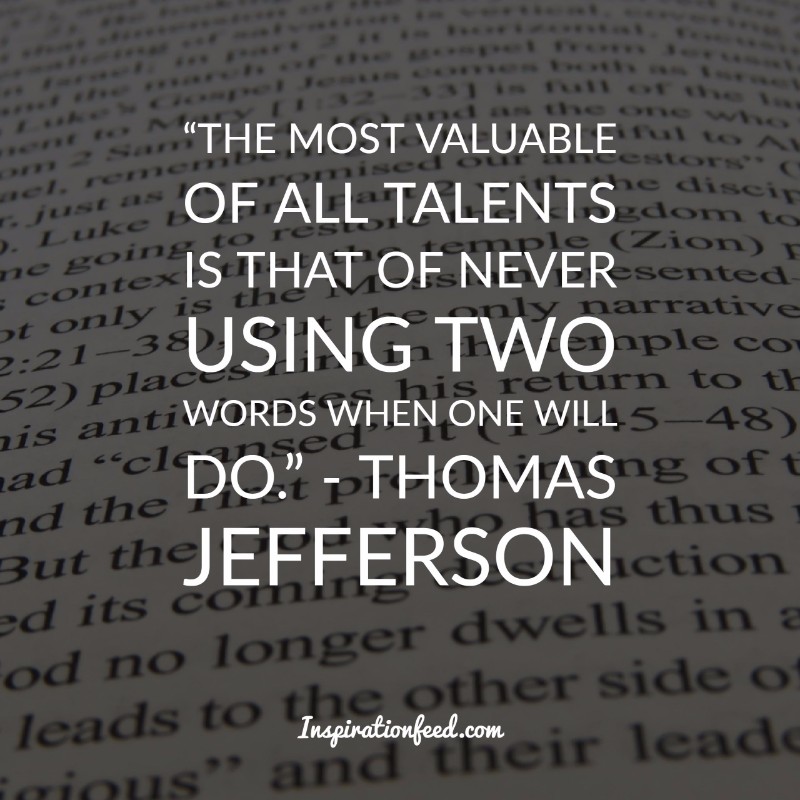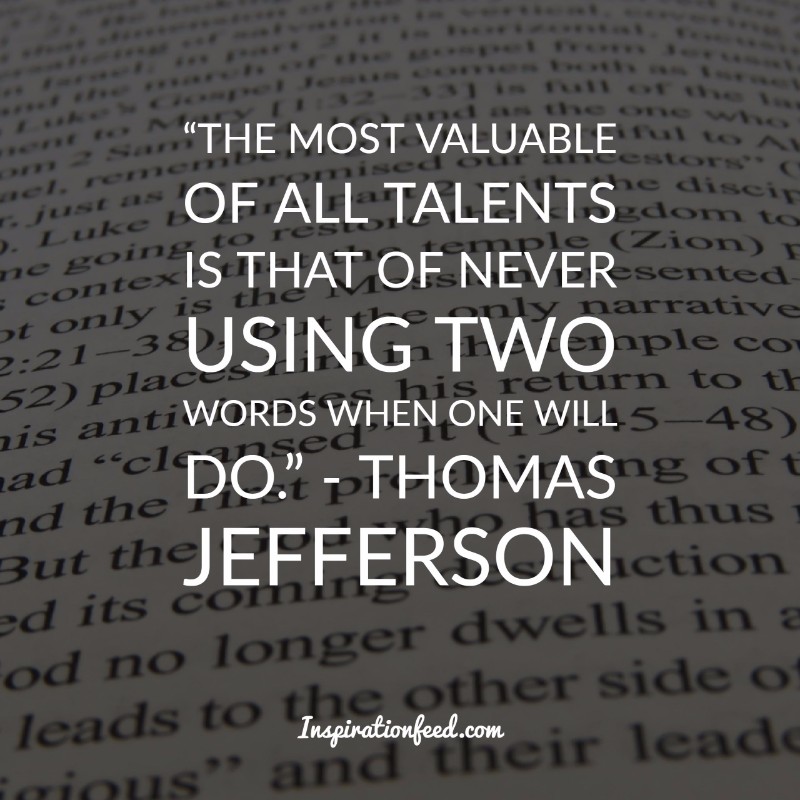 "The most valuable of all talents is that of never using two words when one will do." – Thomas Jefferson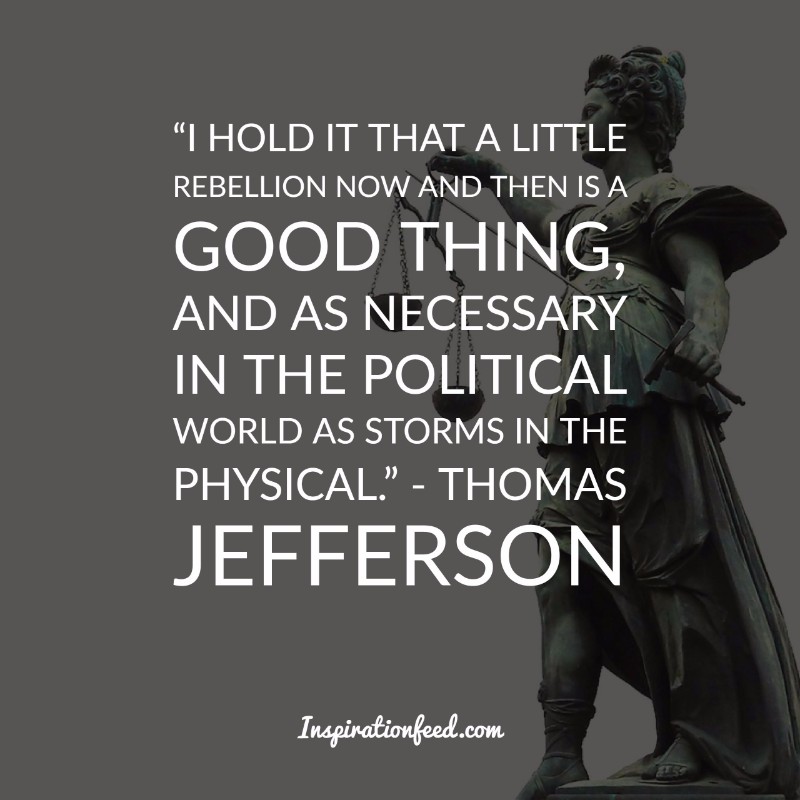 "I hold it that a little rebellion now and then is a good thing, and as necessary in the political world as storms in the physical." – Thomas Jefferson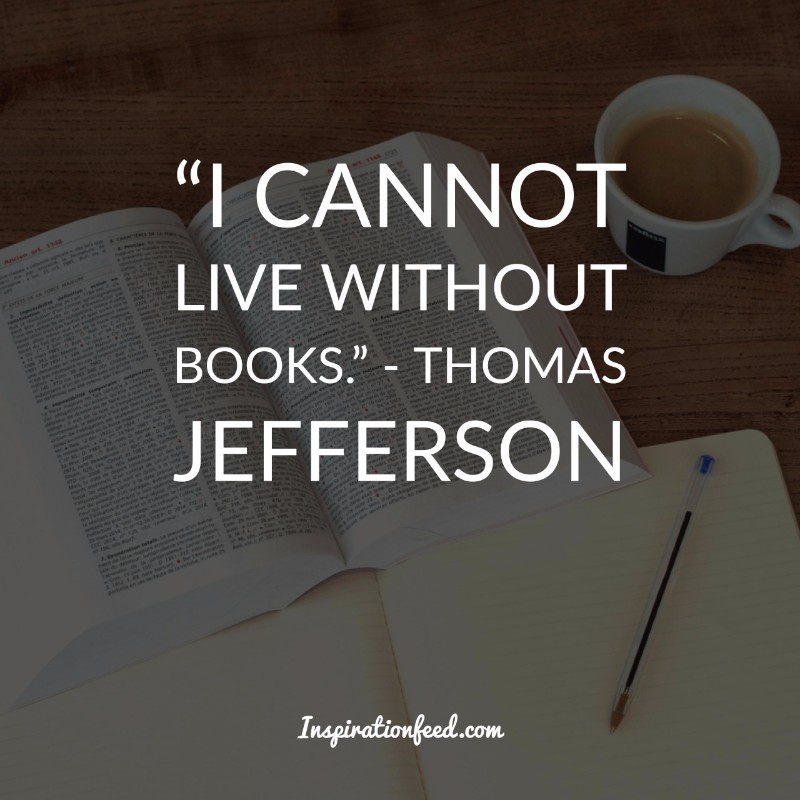 "I cannot live without books." – Thomas Jefferson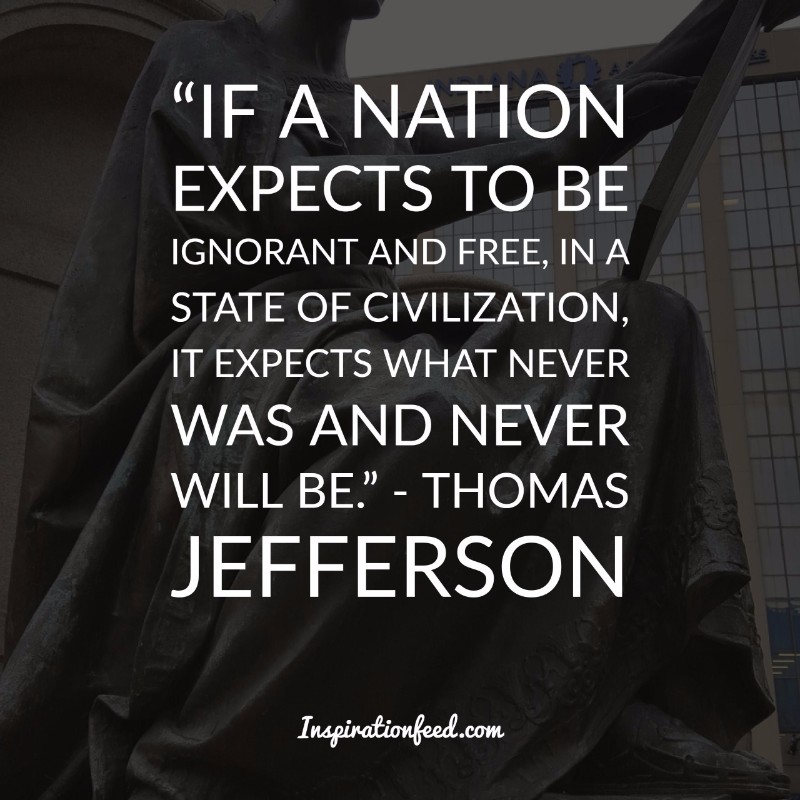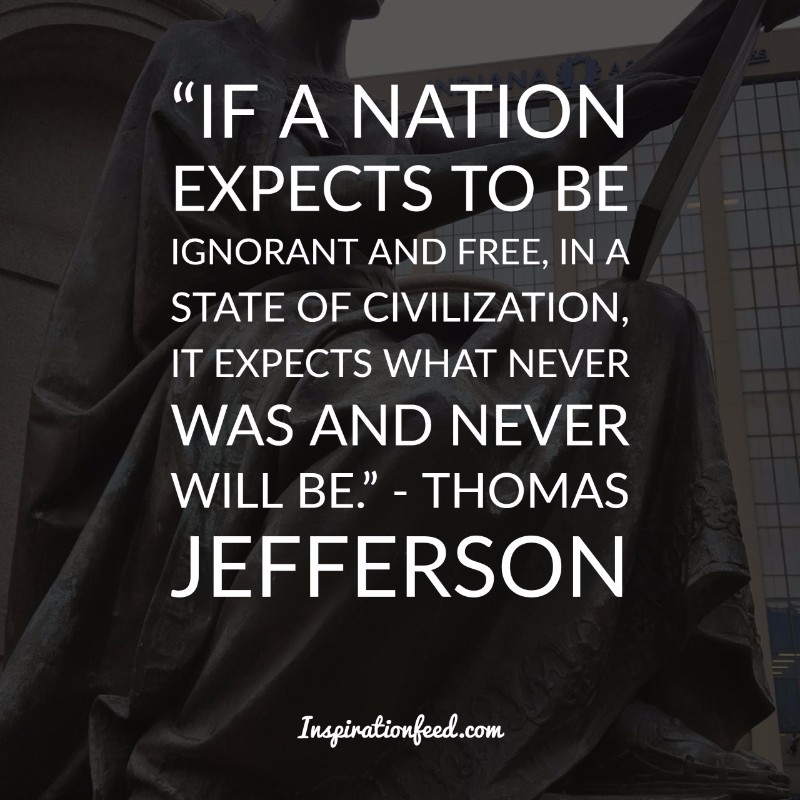 "If a nation expects to be ignorant and free, in a state of civilization, it expects what never was and never will be." – Thomas Jefferson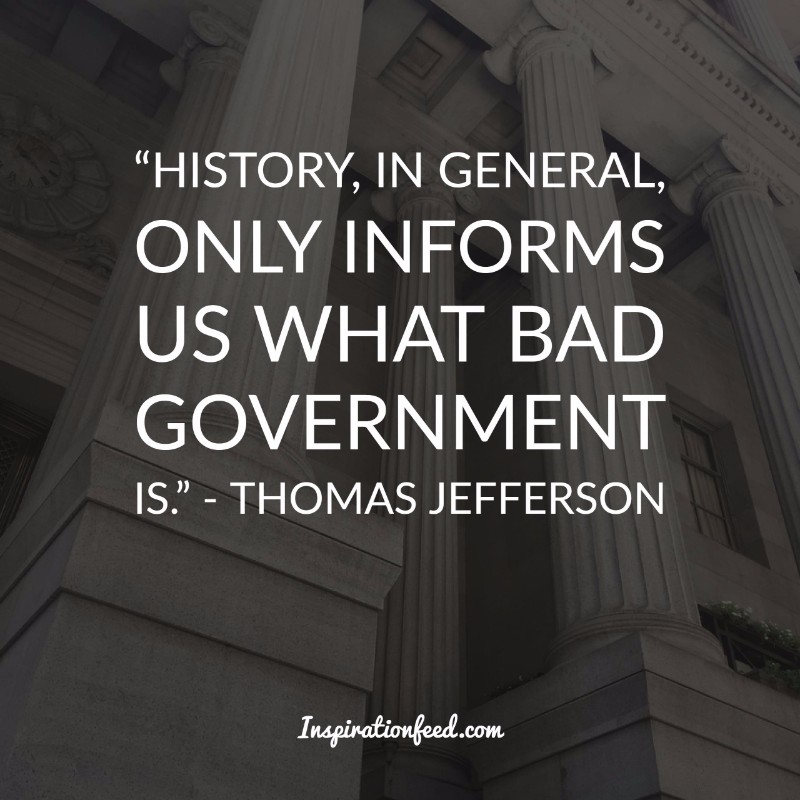 "History, in general, only informs us what bad government is." – Thomas Jefferson
"Nothing gives one person so much advantage over another as to remain always cool and unruffled under all circumstances." – Thomas Jefferson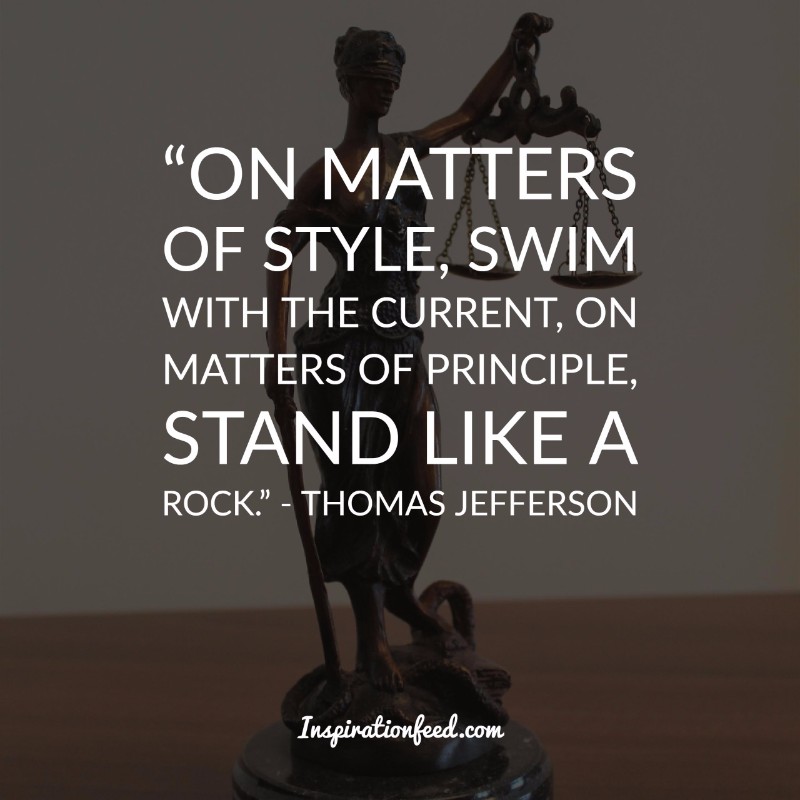 "On matters of style, swim with the current, on matters of principle, stand like a rock." – Thomas Jefferson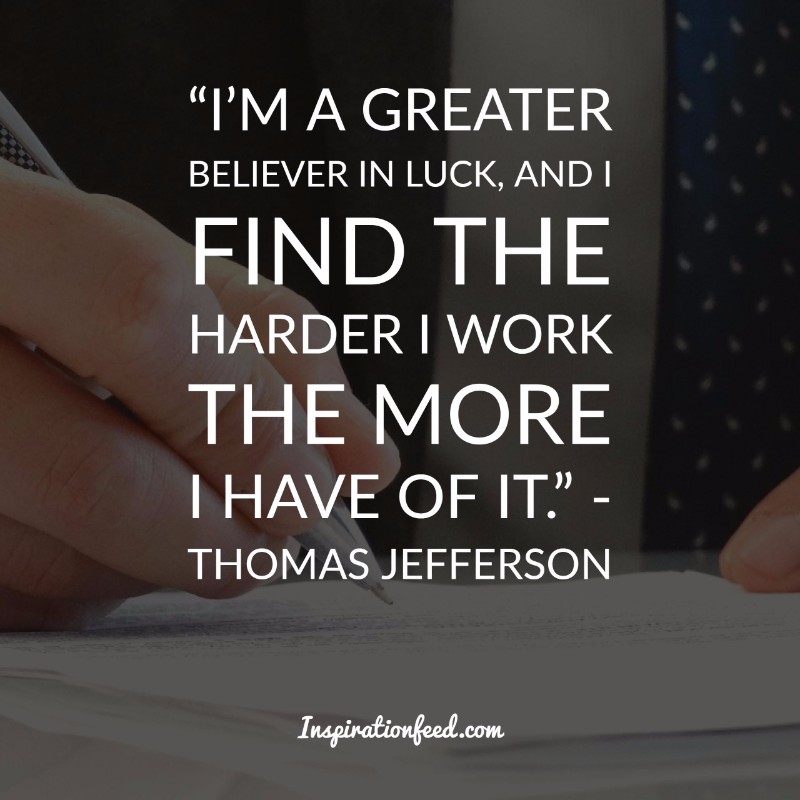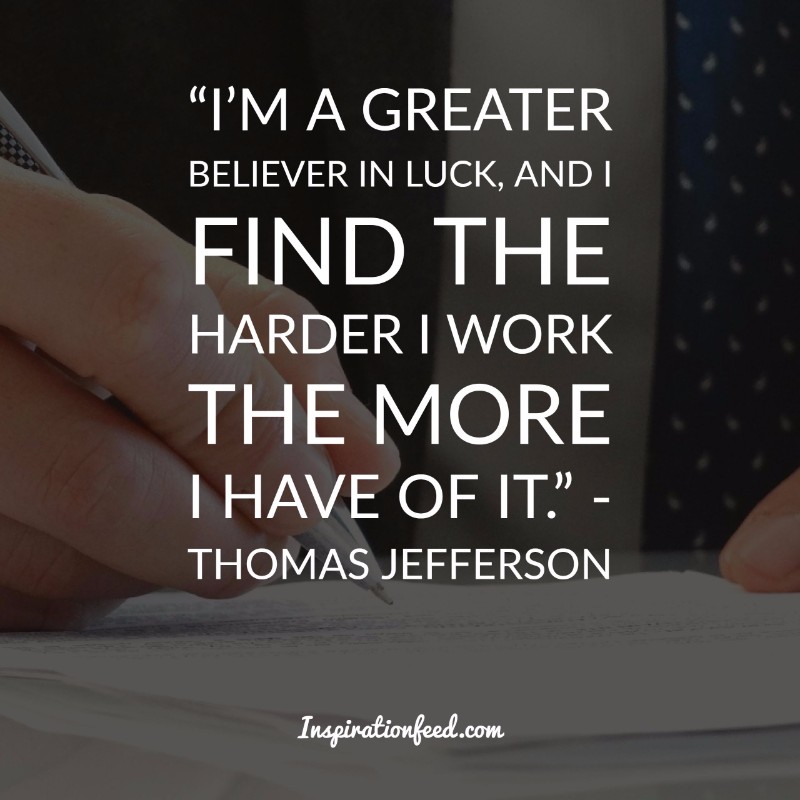 "I'm a greater believer in luck, and I find the harder I work the more I have of it." – Thomas Jefferson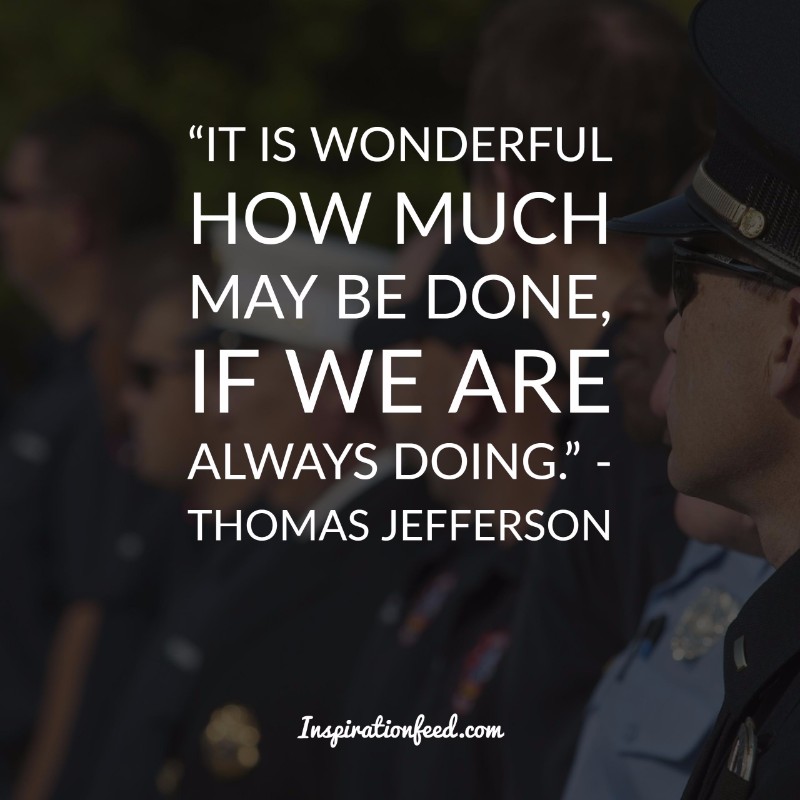 "It is wonderful how much may be done, if we are always doing." – Thomas Jefferson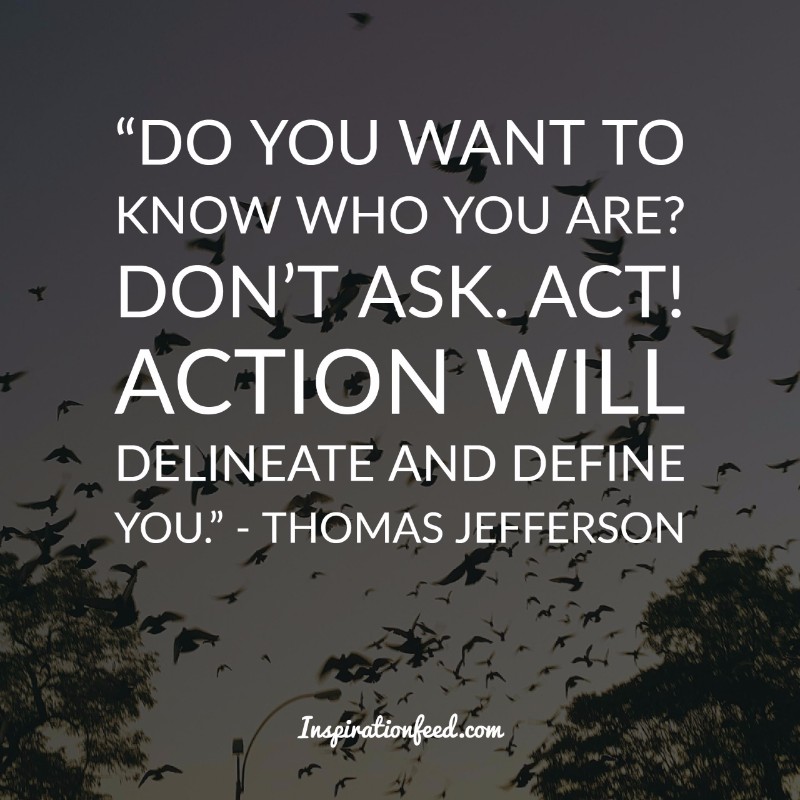 "Do you want to know who you are? Don't ask. Act! Action will delineate and define you." – Thomas Jefferson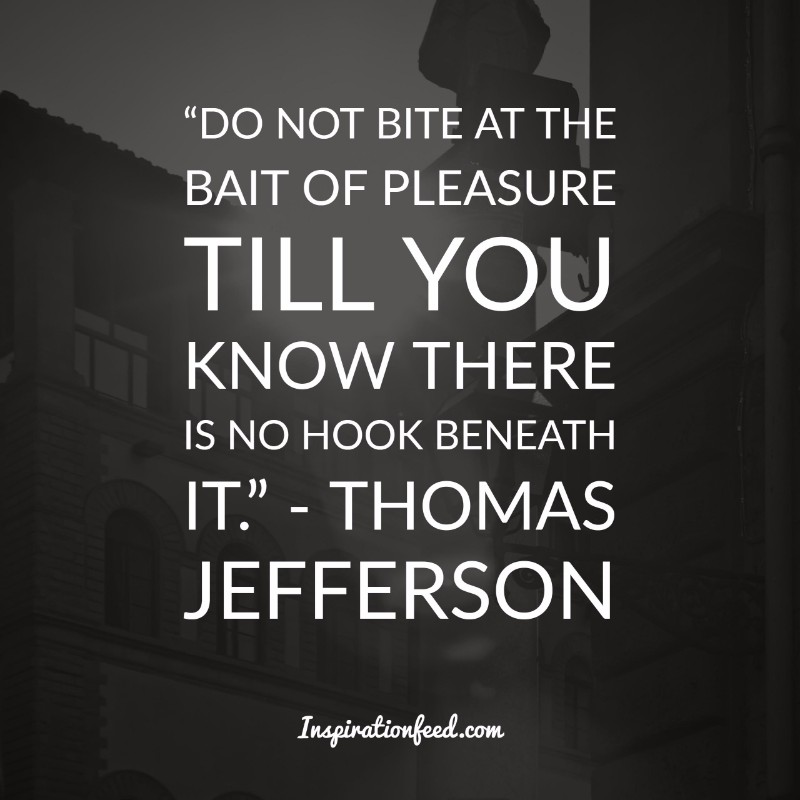 "Do not bite at the bait of pleasure till you know there is no hook beneath it." – Thomas Jefferson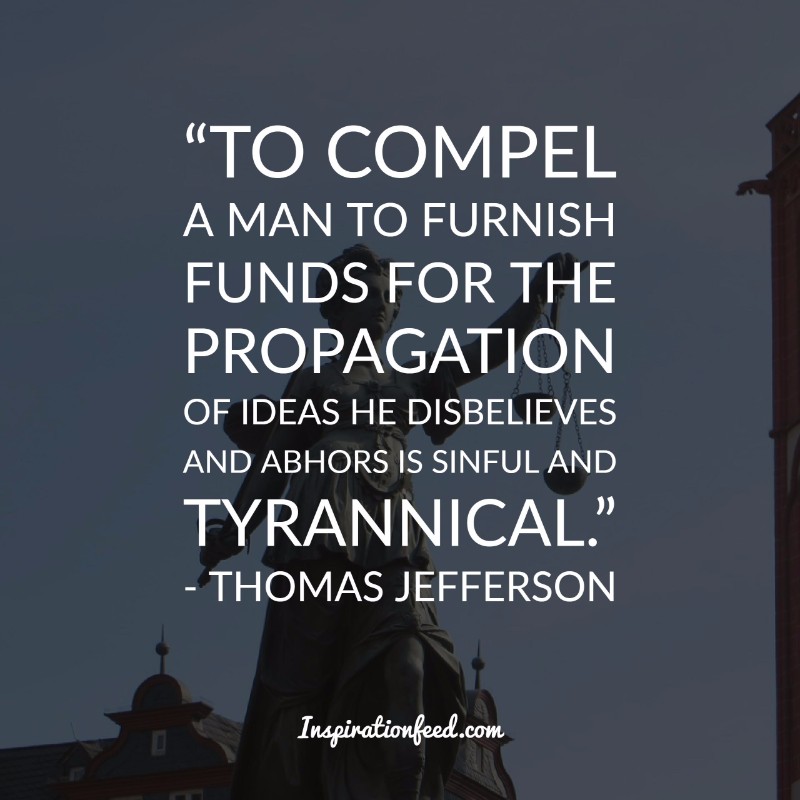 "To compel a man to furnish funds for the propagation of ideas he disbelieves and abhors is sinful and tyrannical." – Thomas Jefferson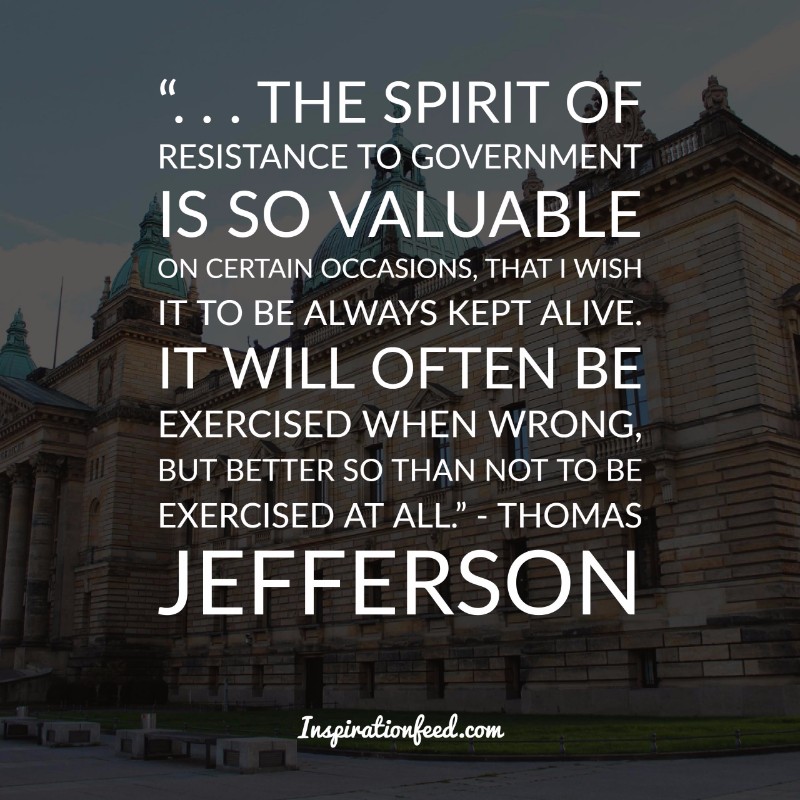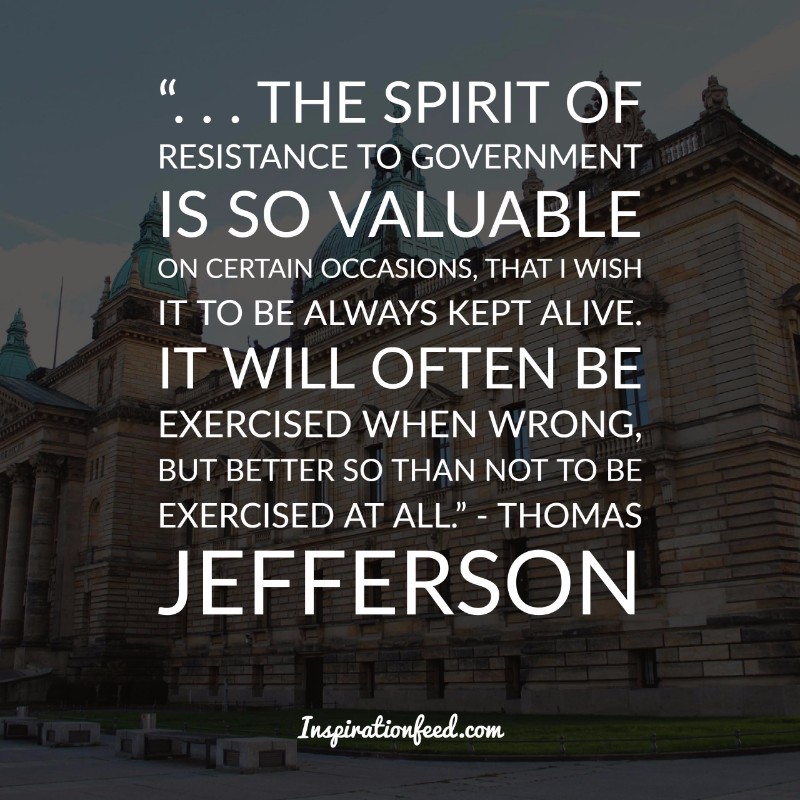 ". . . The spirit of resistance to government is so valuable on certain occasions, that I wish it to be always kept alive. It will often be exercised when wrong, but better so than not to be exercised at all." – Thomas Jefferson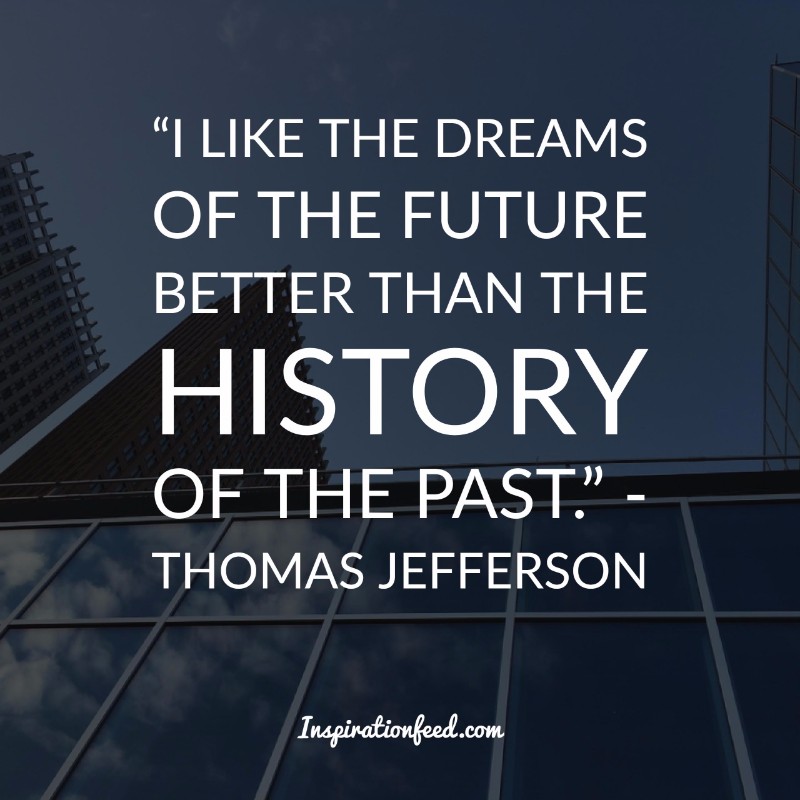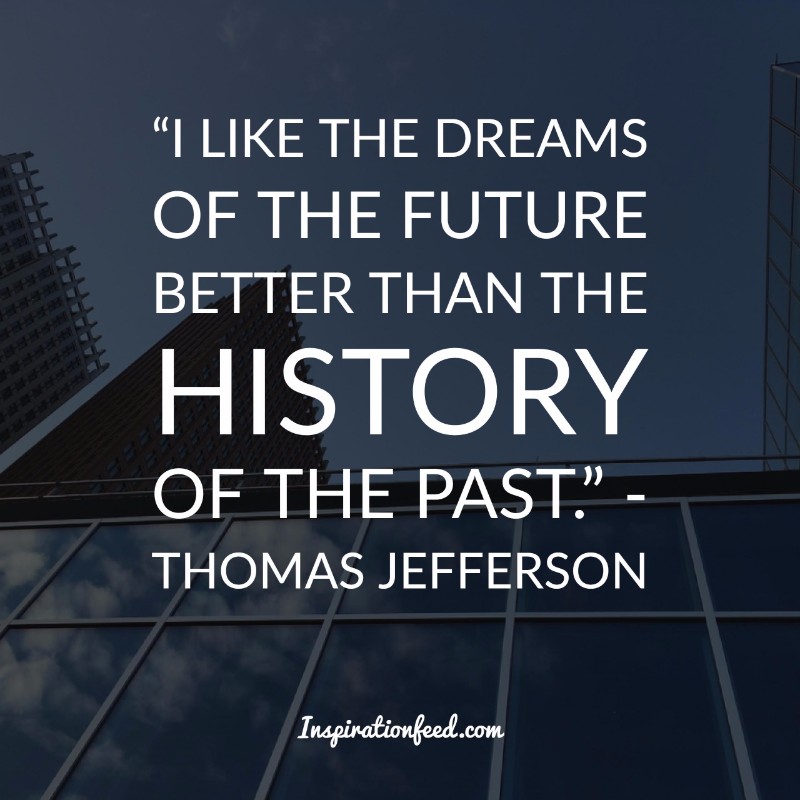 "I like the dreams of the future better than the history of the past." – Thomas Jefferson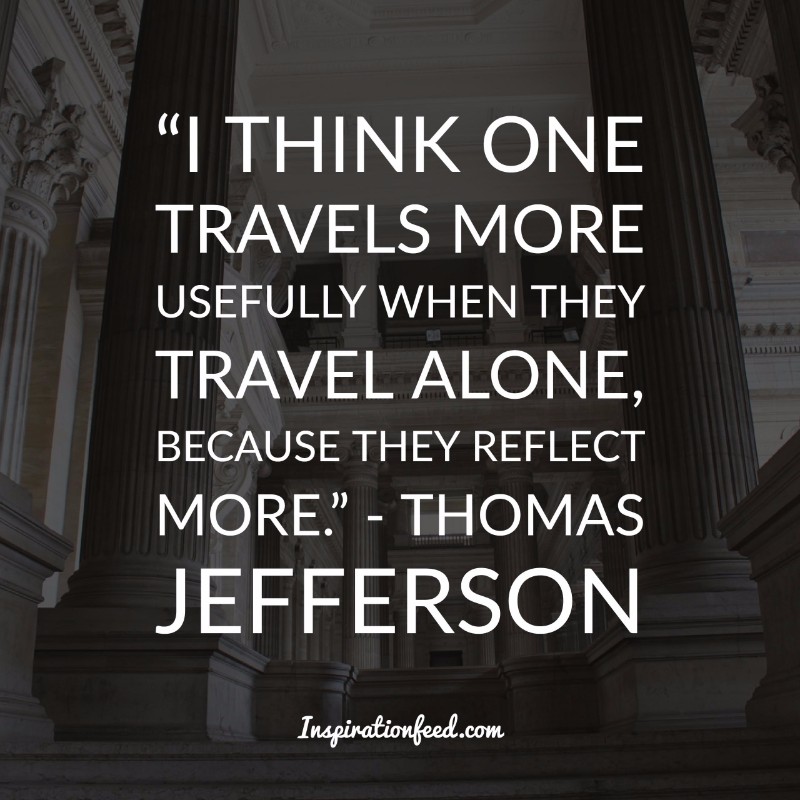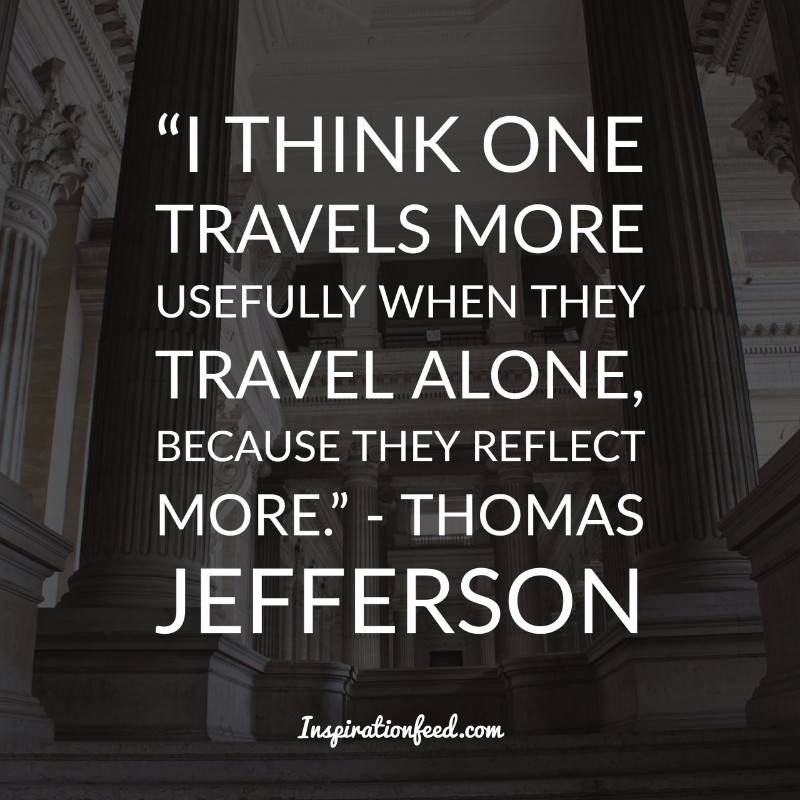 "I think one travels more usefully when they travel alone, because they reflect more." – Thomas Jefferson
"I am not an advocate for frequent changes in laws and Constitutions. But laws and institutions must go hand in hand with the progress of the human mind." – Thomas Jefferson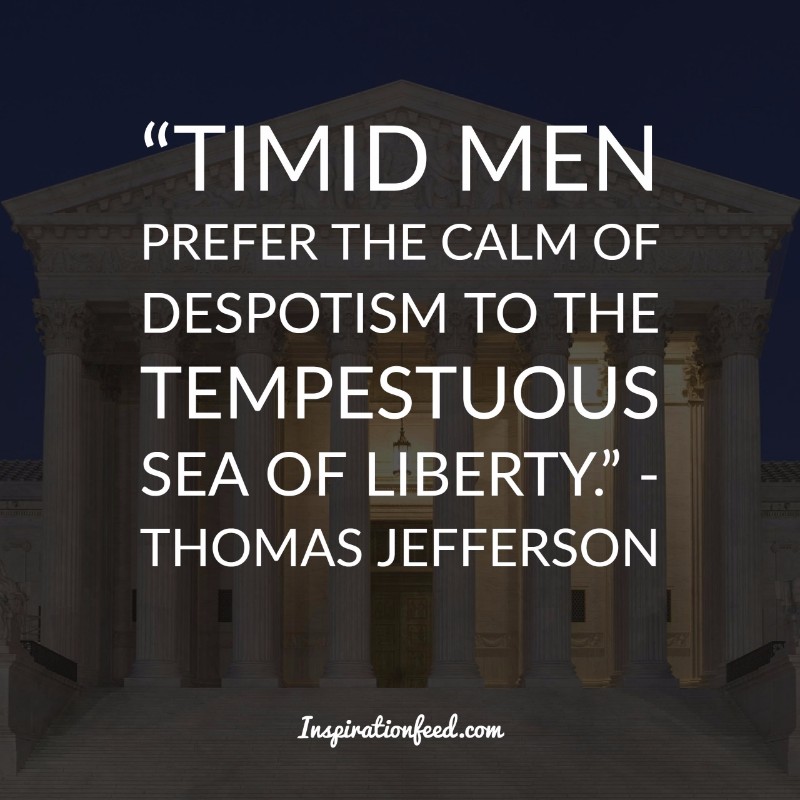 "Timid men prefer the calm of despotism to the tempestuous sea of Liberty." – Thomas Jefferson
"And to preserve their independence, we must not let our rulers load us with perpetual debt." – Thomas Jefferson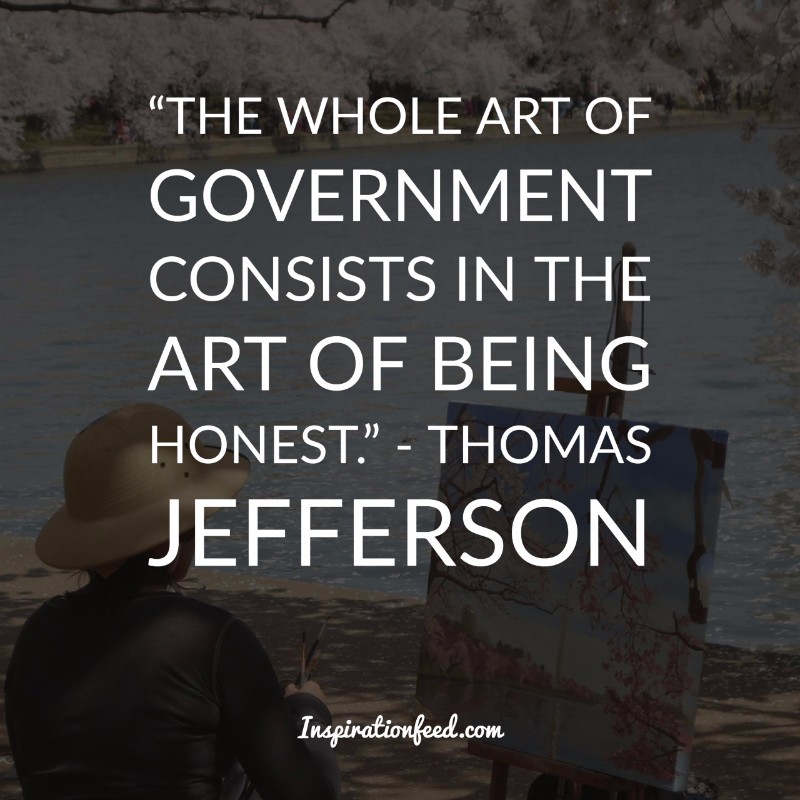 "The whole art of government consists in the art of being honest." – Thomas Jefferson
"But friendship is precious, not only in the shade but in the sunshine of life; and thanks to a benevolent arrangement of things, the greater part of life is sunshine." – Thomas Jefferson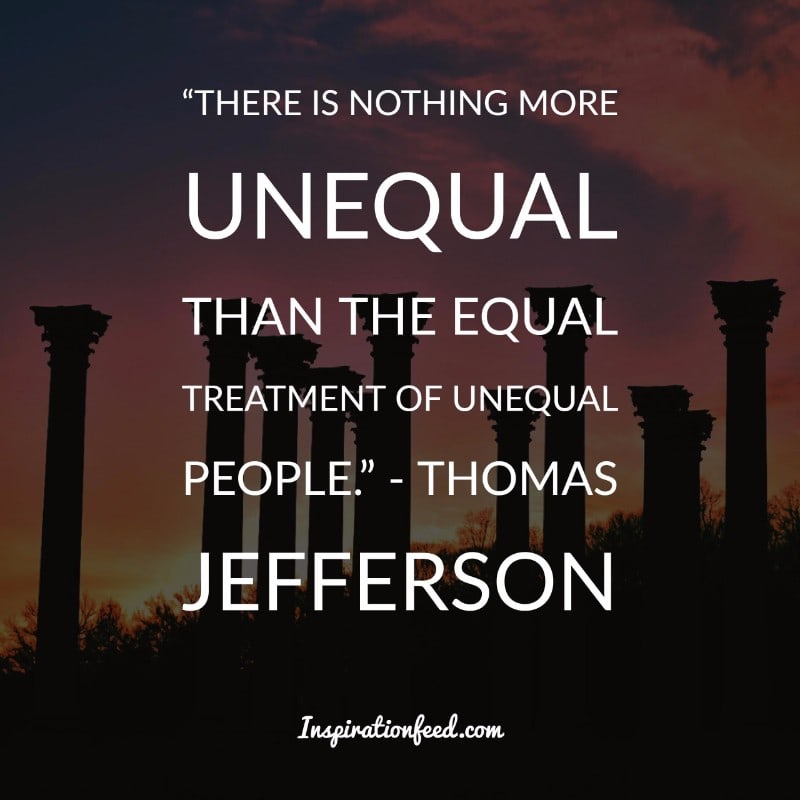 "There is nothing more unequal than the equal treatment of unequal people." – Thomas Jefferson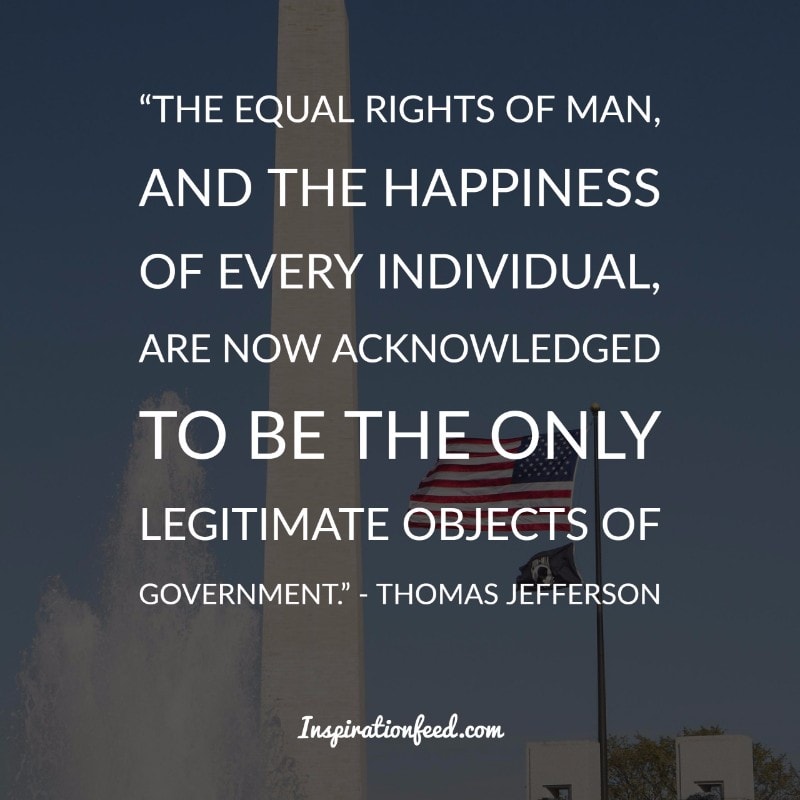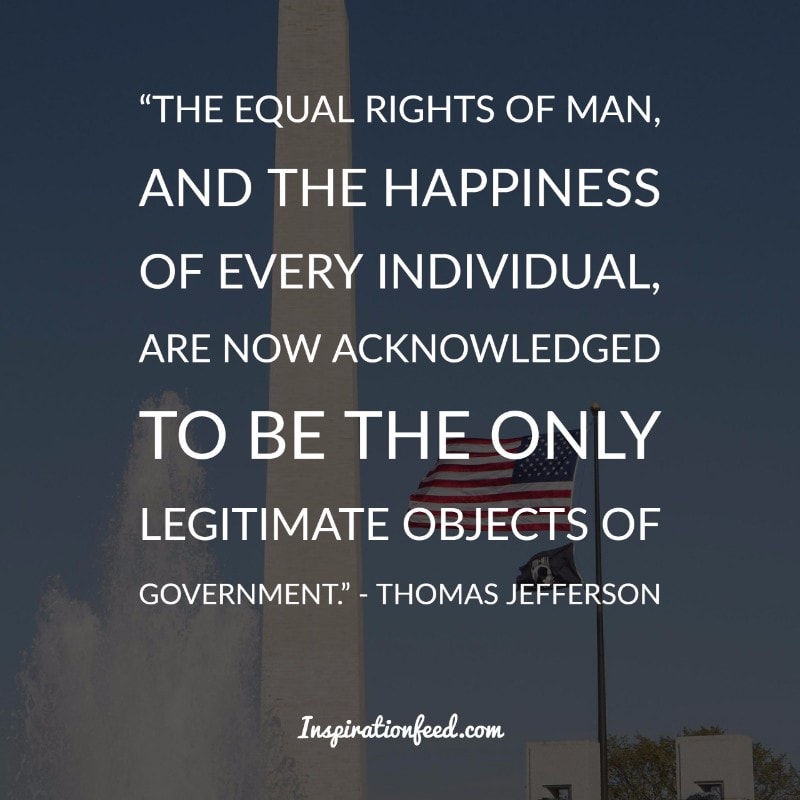 "The equal rights of man, and the happiness of every individual, are now acknowledged to be the only legitimate objects of government." – Thomas Jefferson