The '90s was a glorious decade filled with widespread fads that had endearing, yet questionable, attributes. Hats were best worn backwards, denim looked better on denim, and chokers were part of every girl's outfit.
But if you're a diehard '90s fan like me, you'd remember a certain self-destructive star. Tupac Shakur was a dynamic and influential American rapper who had critical success with his music, and carried his notoriety even after a tragic death.
Tupac's music was best known for articulating injustices endured by many African-Americans. After his music received several acclaims and support, Tupac also started gaining ground as a spokesperson for equality.
He spoke and fought for his own and others' struggle for equality. But Tupac's biggest battle was always with himself. His success was greatly overshadowed by legal and personal entanglements that blurred the lines between life and death.
Tupac Shakur: Early Life and Struggles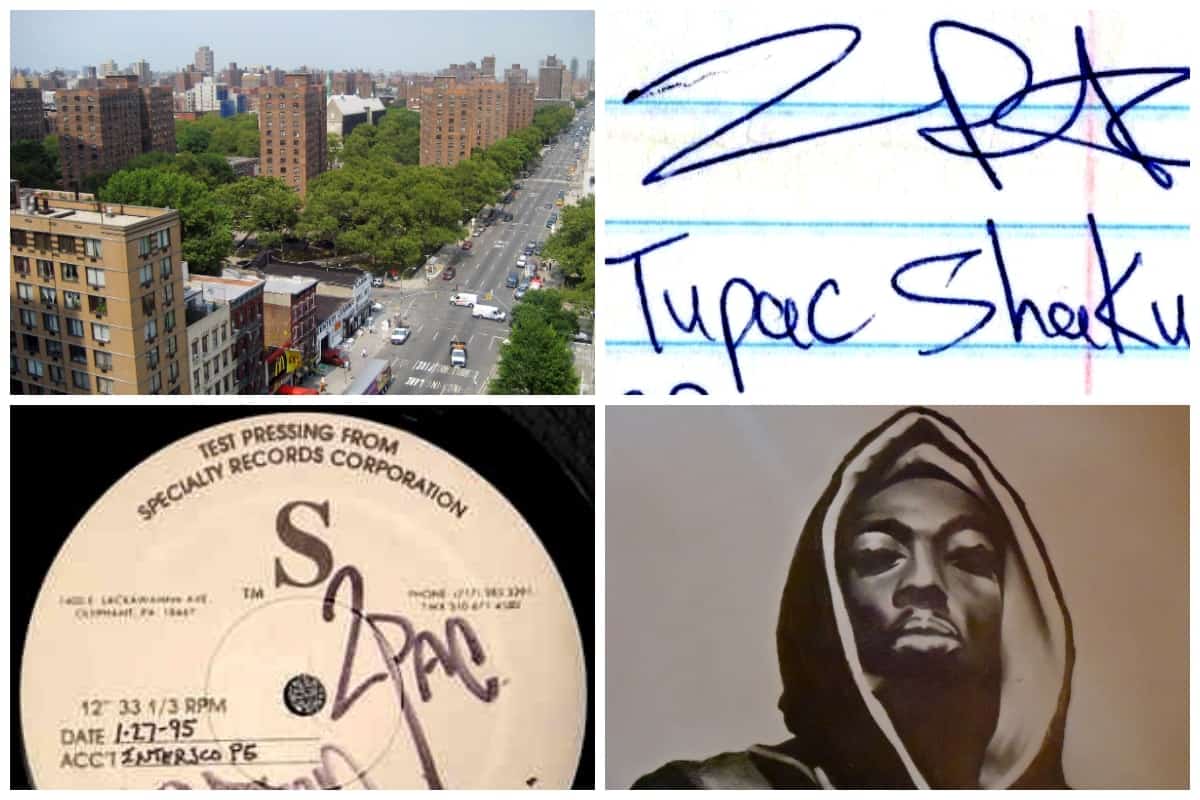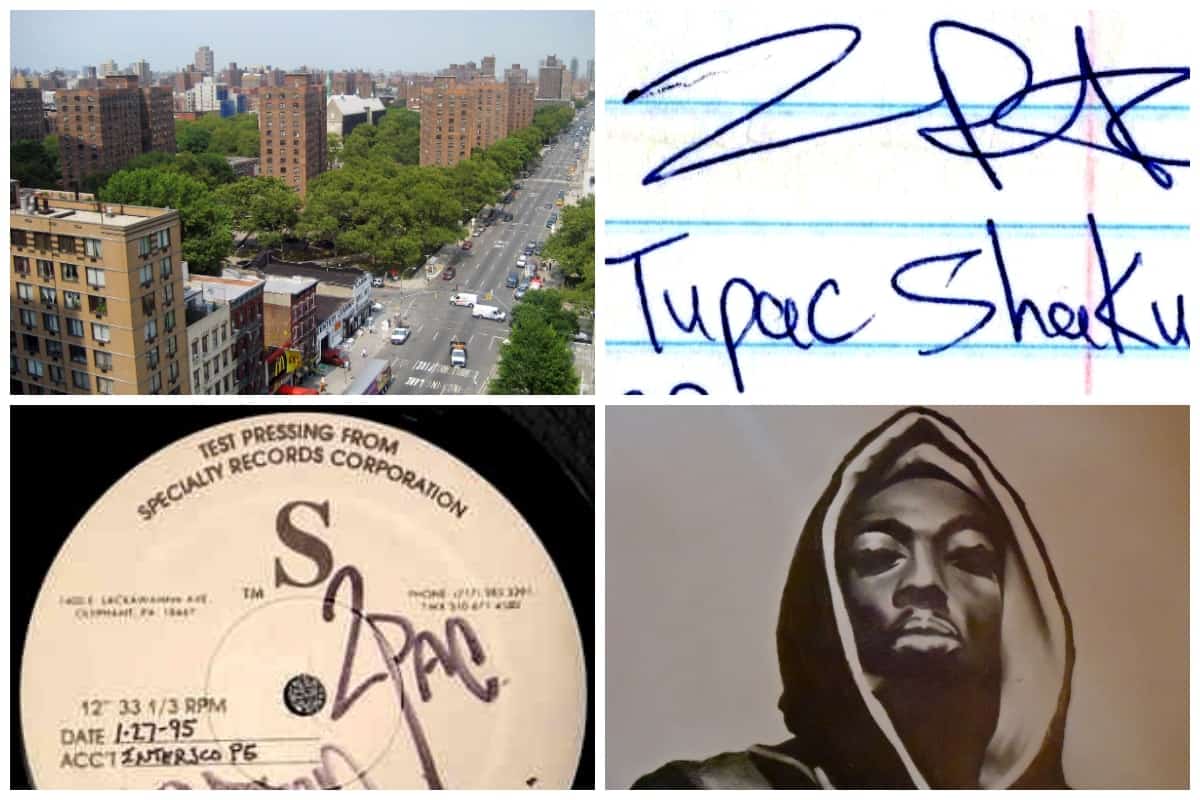 Tupac Shakur was the son of a former Black Panther activist named Afeni Shakur. He was born on June 16, 1971 as Lesane Parish Crooks before his fans came to know him as Tupac or 2pac. Tupac spent his earliest years in New York neighborhoods – Bronx and Harlem.
Before he became one of the world's most influential rappers, he first focused on building an acting career. At age 13, he auditioned for several theatre productions and successfully landed a role in a production of A Raisin in the Sun for Jesse Jackson's 1984 presidential campaign.
This jumpstarted his desire to pursue the arts, a desire which Tupac would continue to fulfill for several more years to come.
Shortly after his first acting debut, Tupac went on to attend the Baltimore School of the Arts. However, at age 17, Tupac dropped out of the school and settled in Marin County, California.
One of Tupac's earliest struggles is his relationship with his mother, Afeni Shakur. Afeni was in jail for charges of bombing multiple city landmarks while pregnant with Tupac. She was a reformed drug addict, and battled against her dependence on crack and cocaine while raising Tupac.
She was extremely thankful to the 127th Street Ensemble that Tupac joined when he was 13 and homeless with Afeni. They welcomed Tupac and his talent, and helped him discover his passion for the arts.
This is one of the reasons why Afeni was inspired to start the Tupac Amaru Shakur Foundation – an arts program for the youth. She built this foundation in the hopes of helping other troubled youth find their purpose in the arts.
A Tragic Death
As a renowned gangster, Tupac was entangled in several disputes with rival gangs. Tupac's music and his dogmatic and assertive personality often became the reasons for these disputes.
During his prime, he was often at the center of several controversies. His life was filled with stark contradictions that eventually led to tragic consequences.
On September 7, 1996, Tupac was on the passenger side of Suge Knight – co-founder and former CEO of Death Row Records. Tupac and Knight were gunned down in a drive-by shooting while they were headed to Club 662 in Las Vegas for a gig.
Knight survived the shooting while Tupac suffered four shots in the chest, arm, and thigh. He was immediately taken to the University Medical Center of Southern Nevada where he was heavily sedated for the gunshot wounds.
He was placed on life-support machines before ultimately passing due to internal bleeding. Several doctors attempted to revive him, but to no avail.
The InfluenceTupac Shakur Left to the World
On September 13, 2016, the world celebrated (and grieved) the 20th anniversary of Tupac's death. It was clear that the rapper's legacy is still felt by everyone around the world. Although he is no longer with us, his songs remain to inspire everyone who's struggling with their upbringing and heritage.
After all these years, Tupac's fans remain faithful to his music and legacy. In fact, the Rolling Stones published an article on the 20th anniversary of his death to commemorate how Tupac changed the world with his music.
It's clear that no other hip-hop artist comes close to Tupac Shakur's music. His music was deeply acclaimed for standing up to several issues such as violence, racism, and social injustice. Tupac is deeply loved by his fans due to his unwavering determination to vocalize his advocacy for the poor.
Although a lot of critics argued that Tupac's fixation to help everyone around him caused him his downfall, no one can argue that Tupac's legacy left a positive impact. His legacy continues to spark a ripple effect that changes lives. In his own way, he was a revolutionary figure that caused people to seek social change.
Even now, his bold statements are being passed on throughout the world. And if you need a little inspiration to spark a change in you today, read these 30 Tupac Shakur quotes that can change your life.
Tupac Shakur Quotes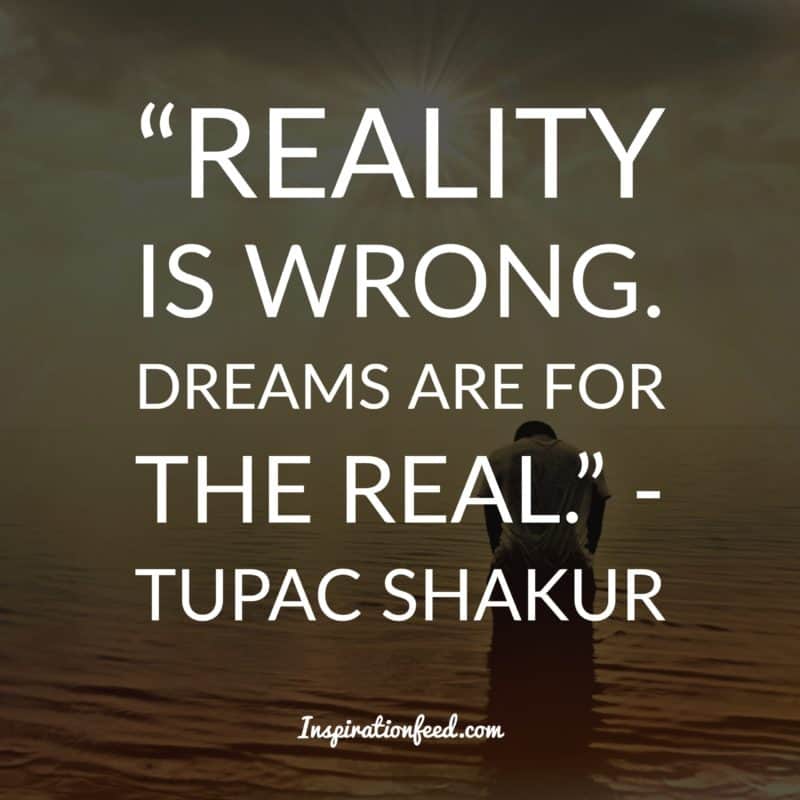 "Reality is wrong. Dreams are for the real." – Tupac Shakur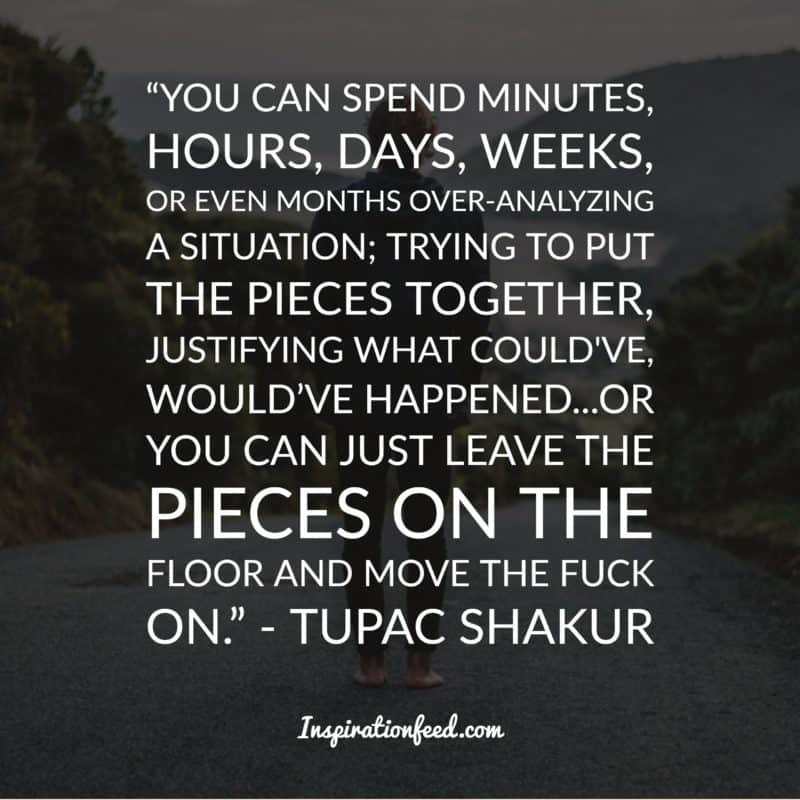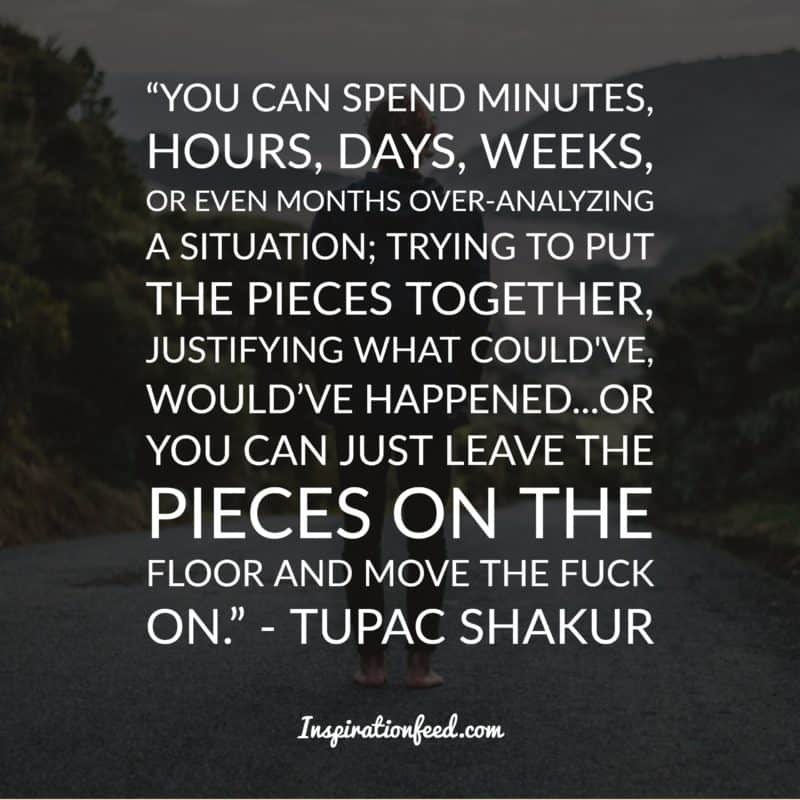 "You can spend minutes, hours, days, weeks, or even months over-analyzing a situation; trying to put the pieces together, justifying what could've, would've happened…or you can just leave the pieces on the floor and move the fuck on." – Tupac Shakur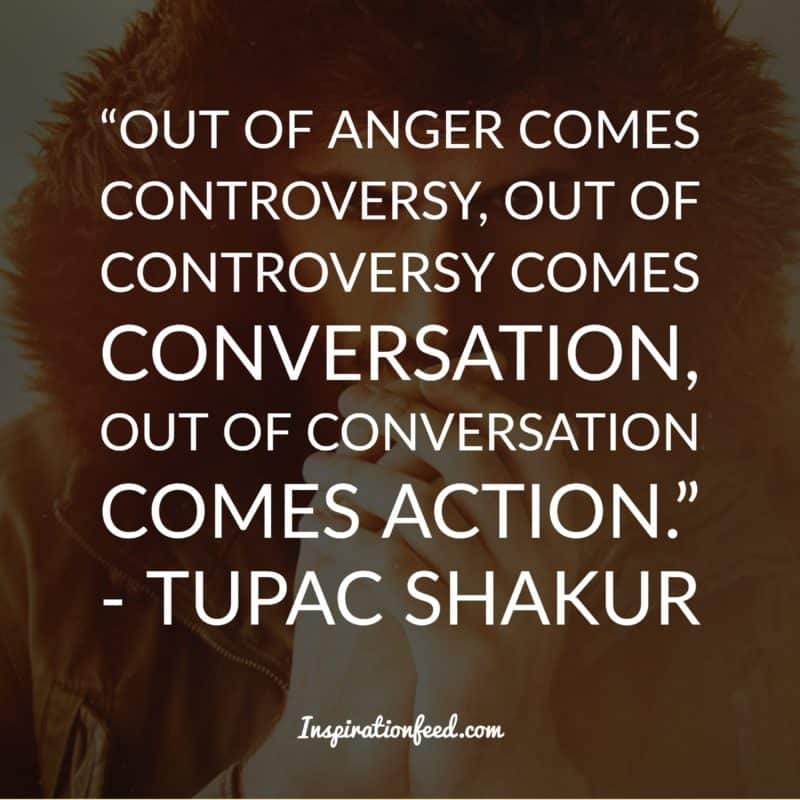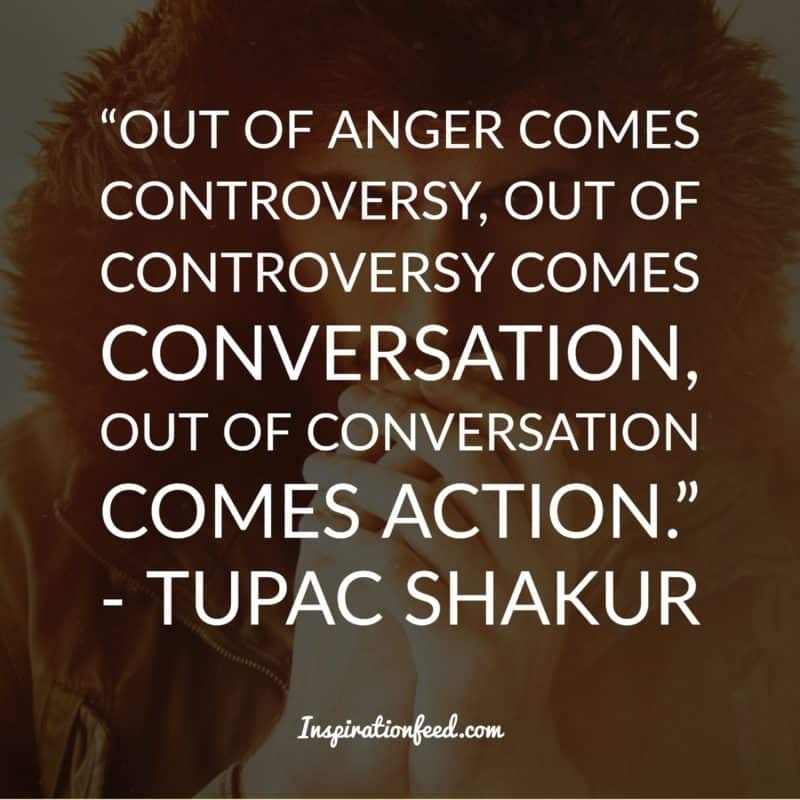 "Out of anger comes controversy, out of controversy comes conversation, out of conversation comes action." – Tupac Shakur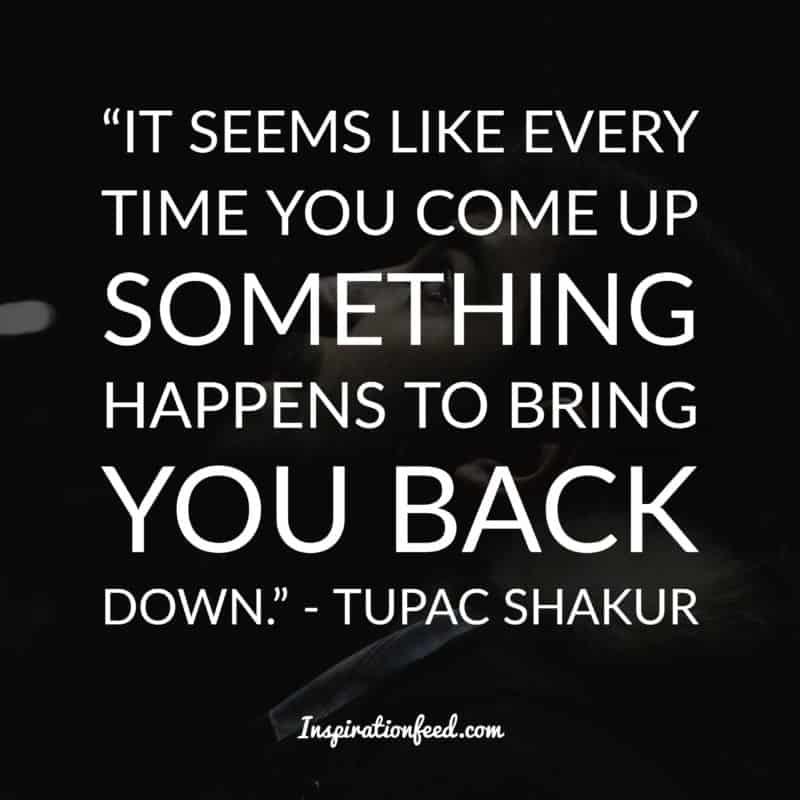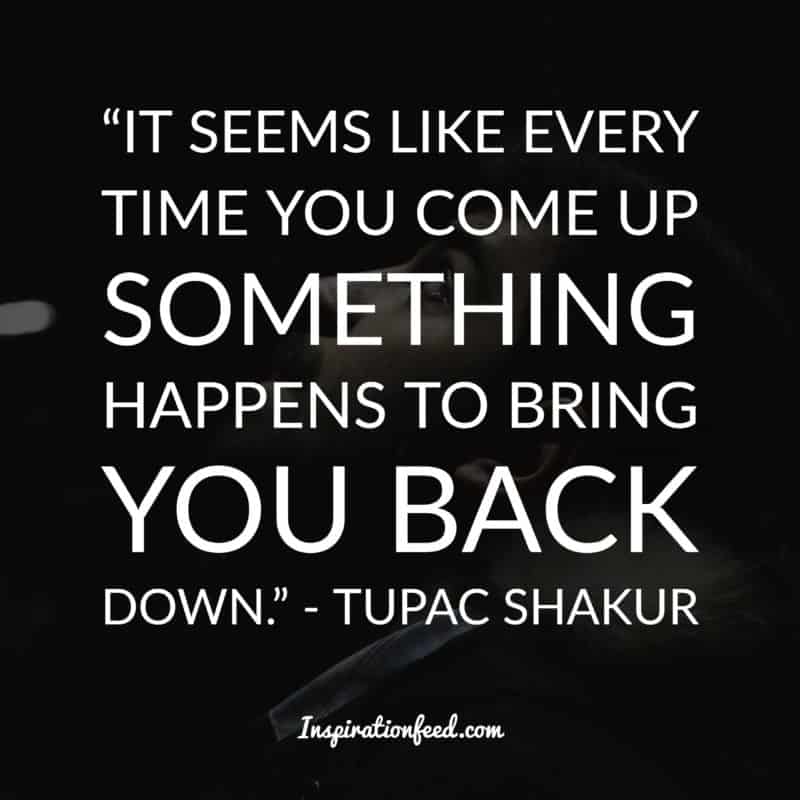 "It seems like every time you come up something happens to bring you back down." – Tupac Shakur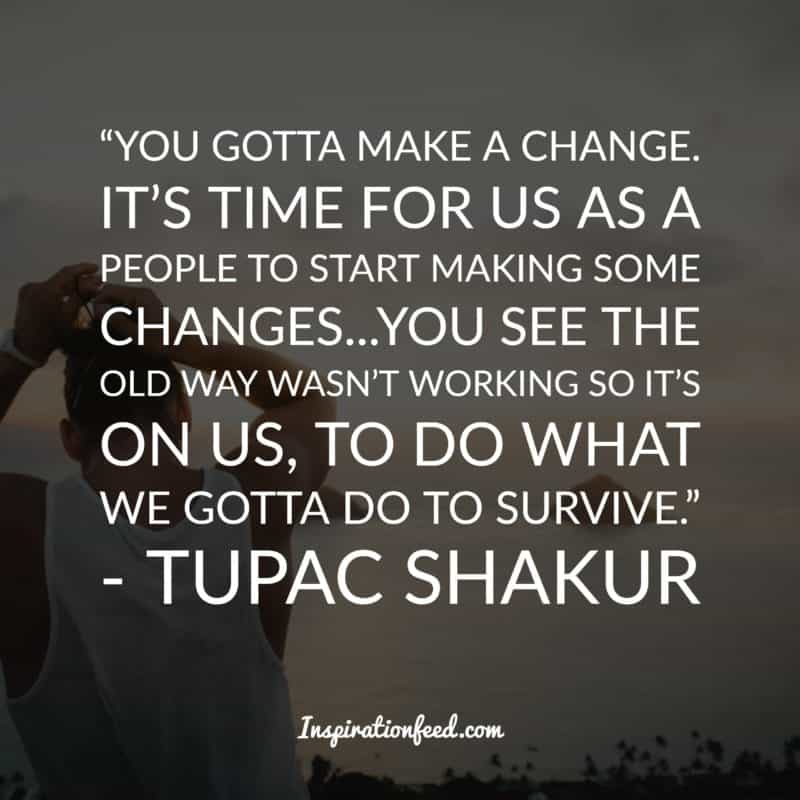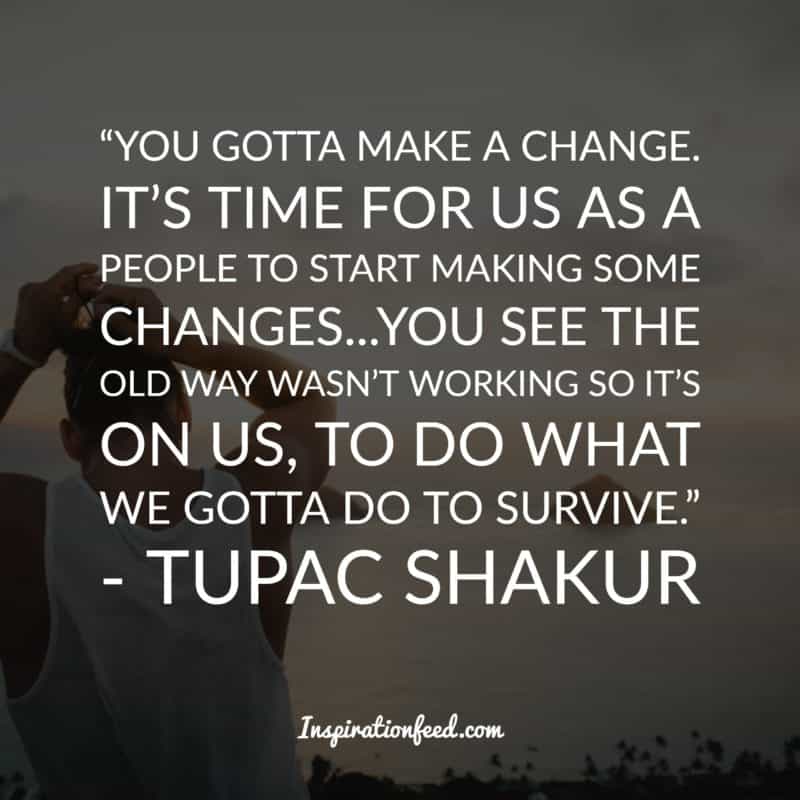 "You gotta make a change. It's time for us as a people to start making some changes…You see the old way wasn't working so it's on us, to do what we gotta do to survive." – Tupac Shakur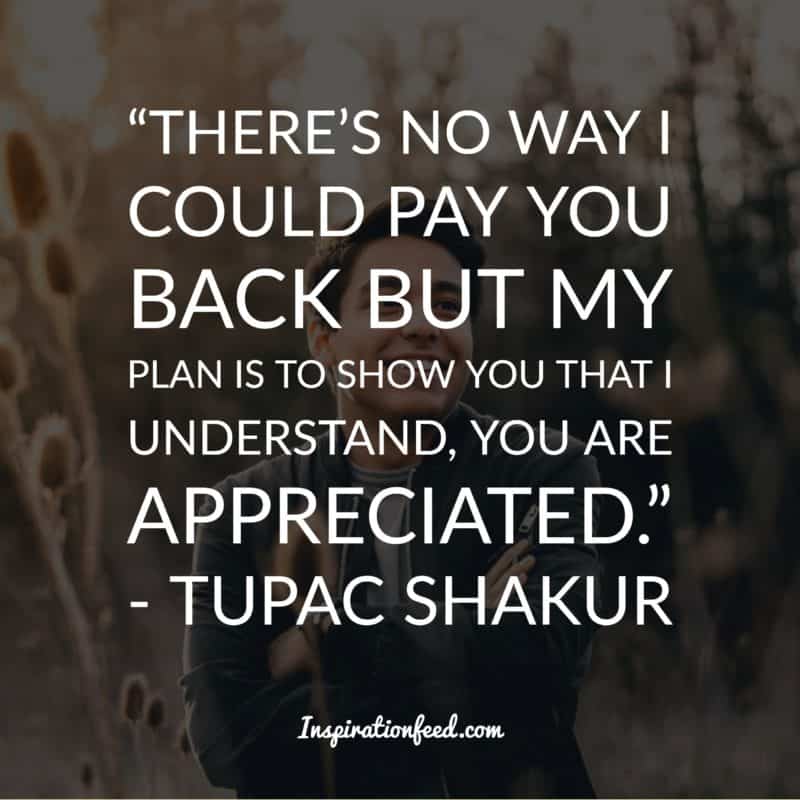 "There's no way I could pay you back but my plan is to show you that I understand, you are appreciated." – Tupac Shakur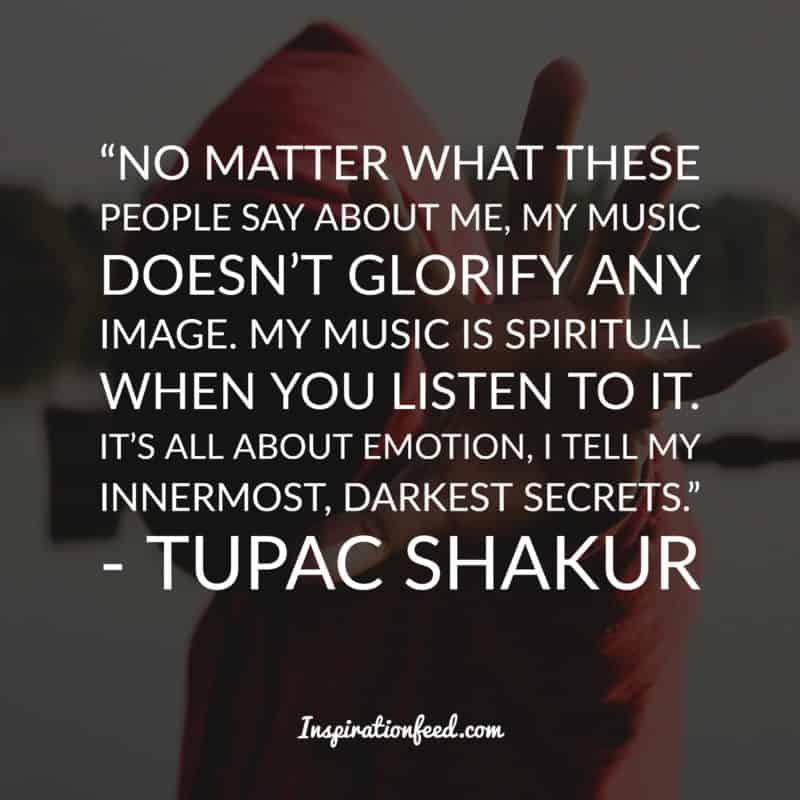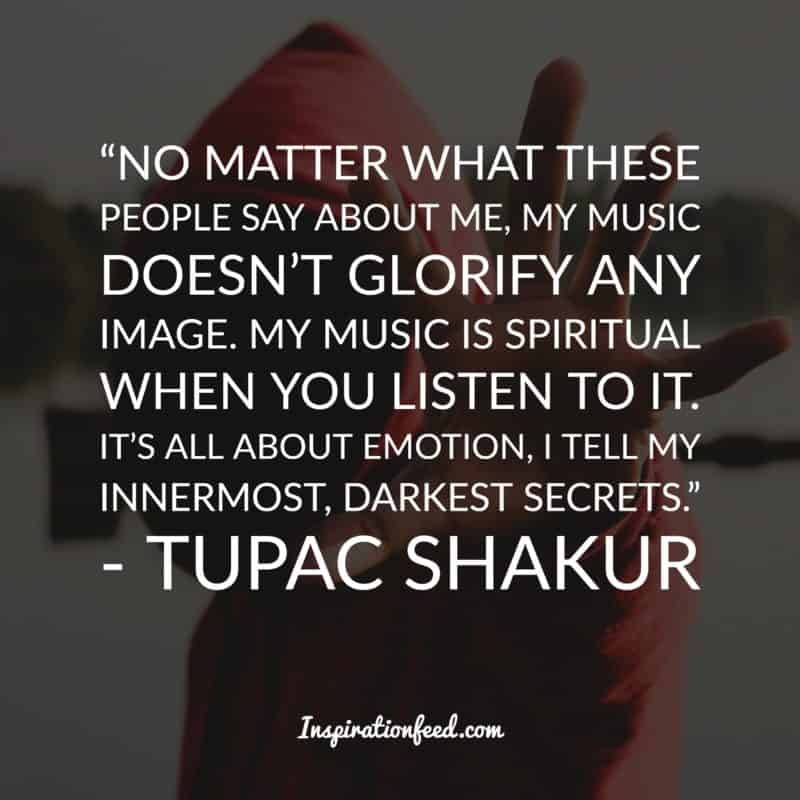 "No matter what these people say about me, my music doesn't glorify any image. My music is spiritual when you listen to it. It's all about emotion, I tell my innermost, darkest secrets." – Tupac Shakur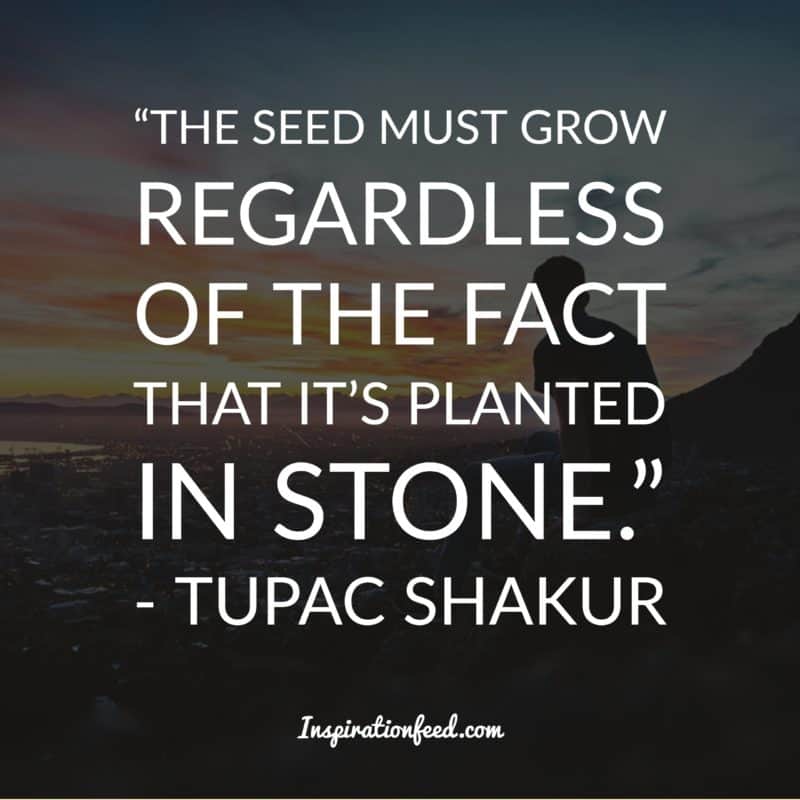 "The seed must grow regardless of the fact that it's planted in stone." – Tupac Shakur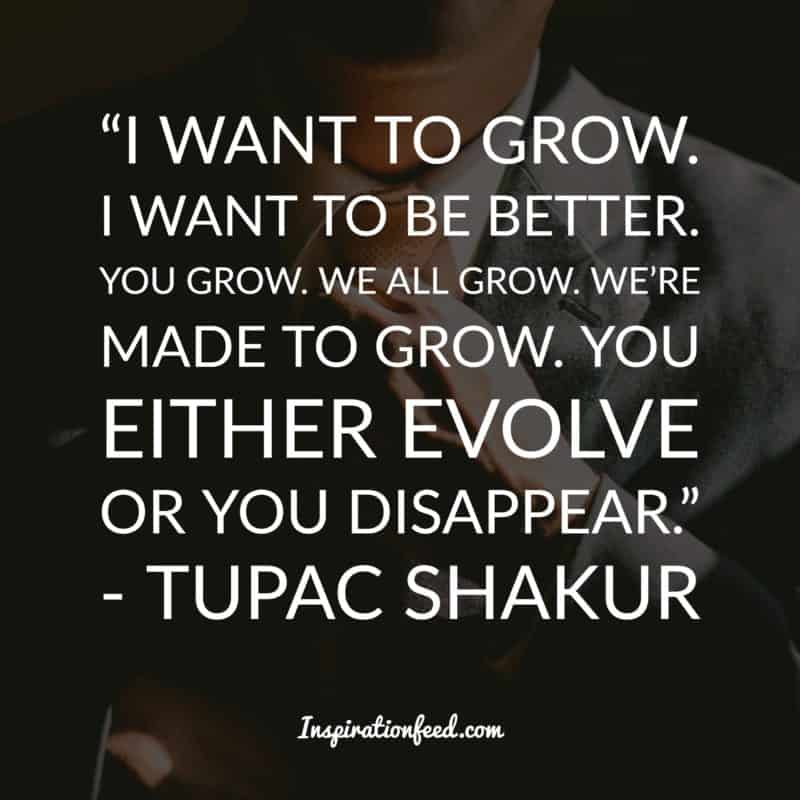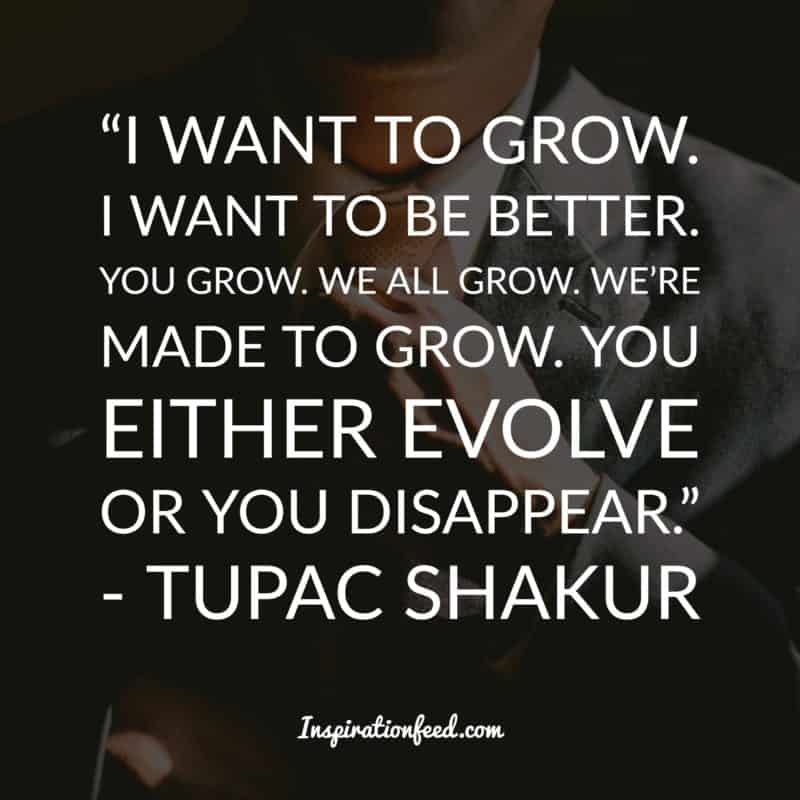 "I want to grow. I want to be better. You grow. We all grow. We're made to grow. You either evolve or you disappear." – Tupac Shakur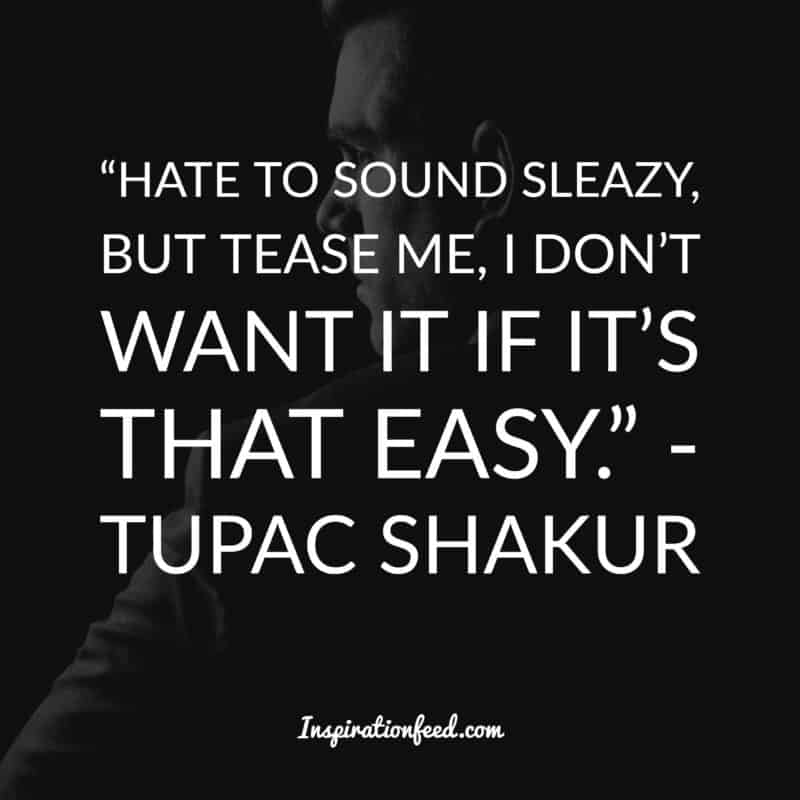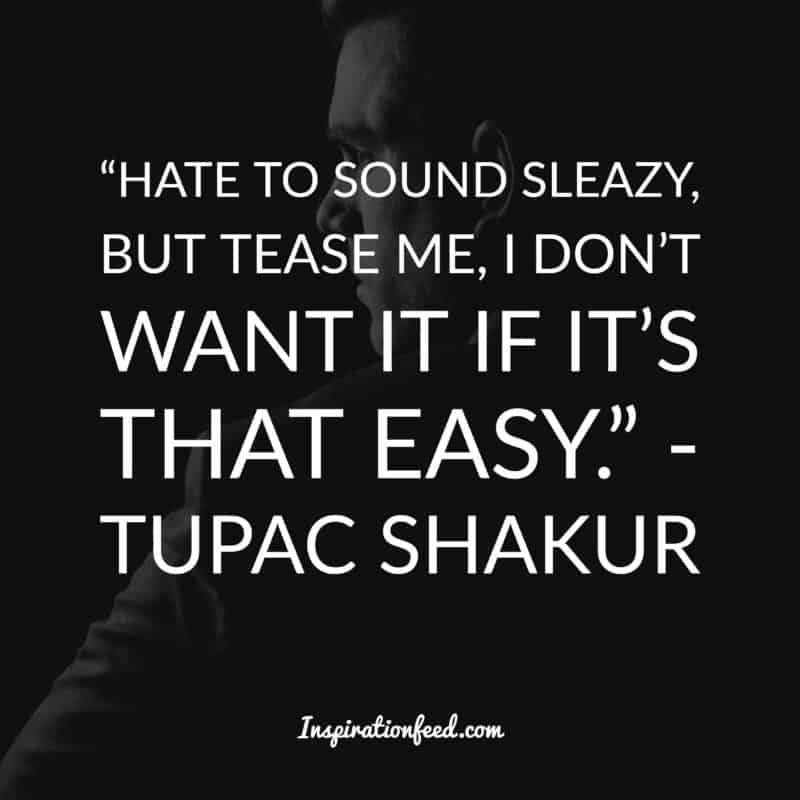 "Hate to sound sleazy, but tease me, I don't want it if it's that easy." – Tupac Shakur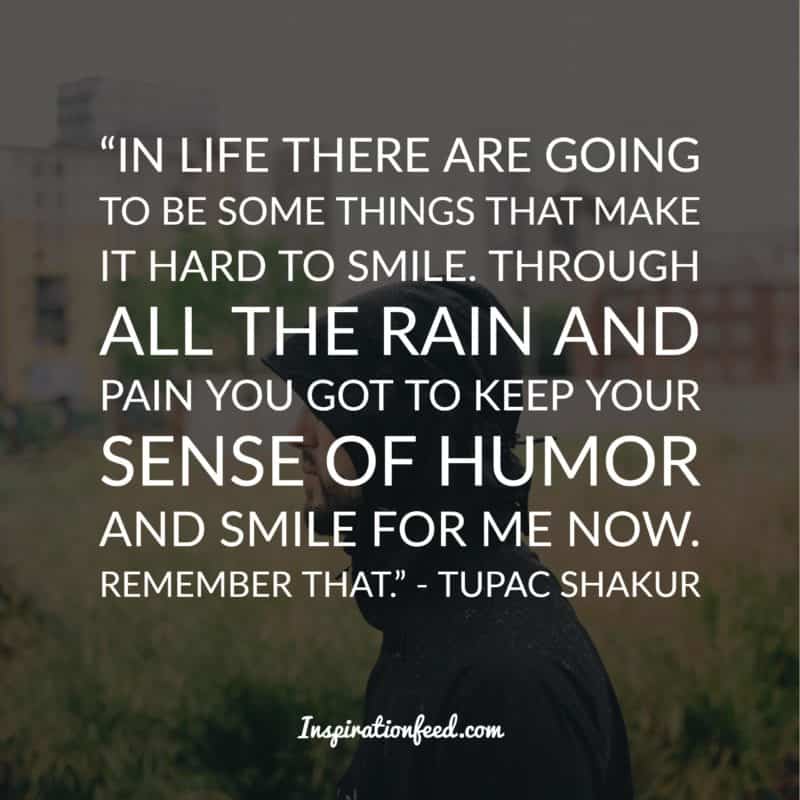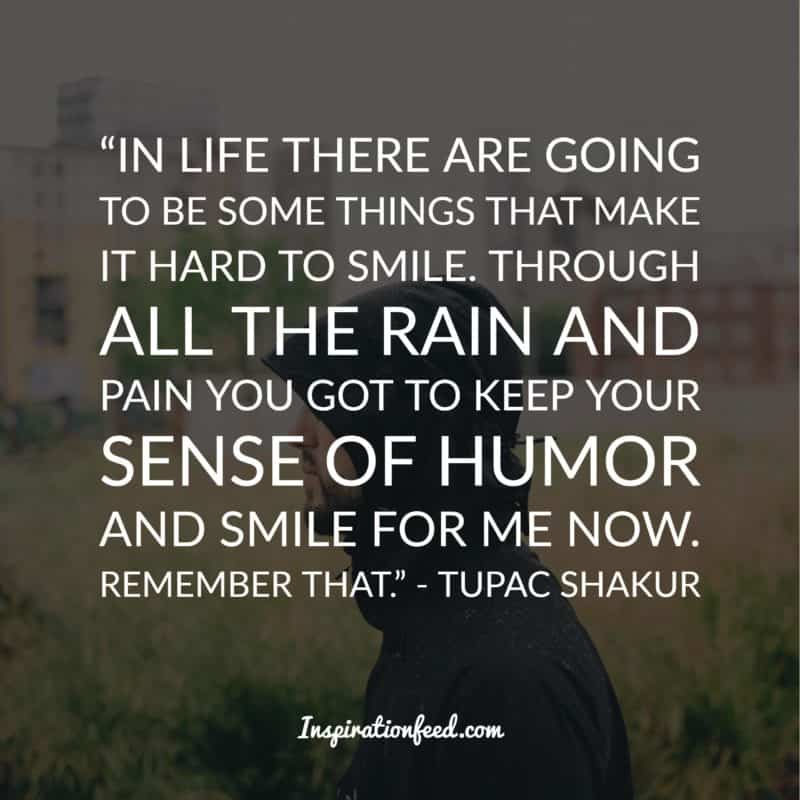 "In life there are going to be some things that make it hard to smile. Through all the rain and pain you got to keep your sense of humor and smile for me now. Remember that." – Tupac Shakur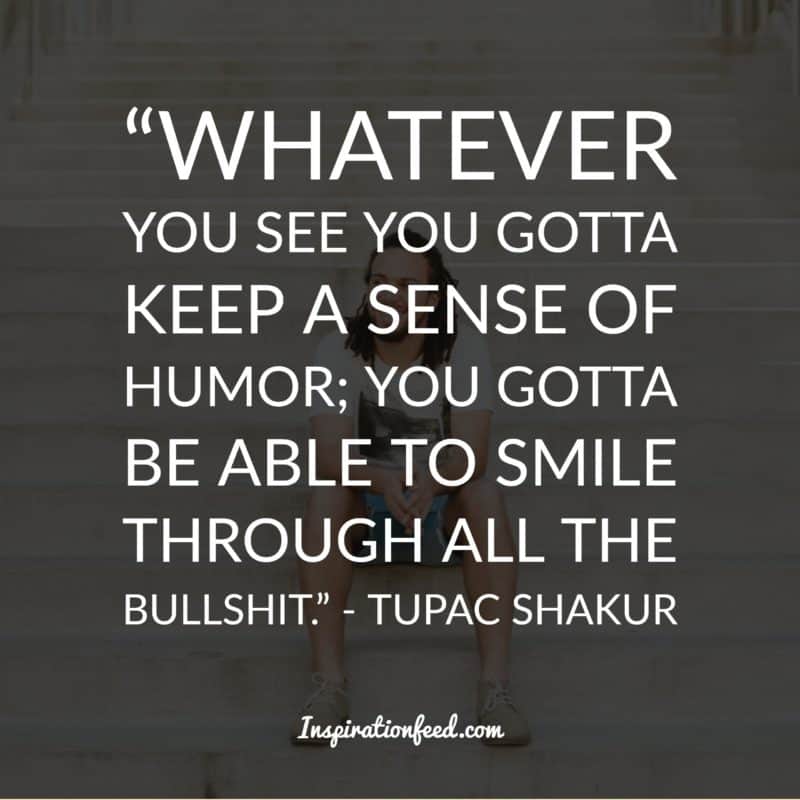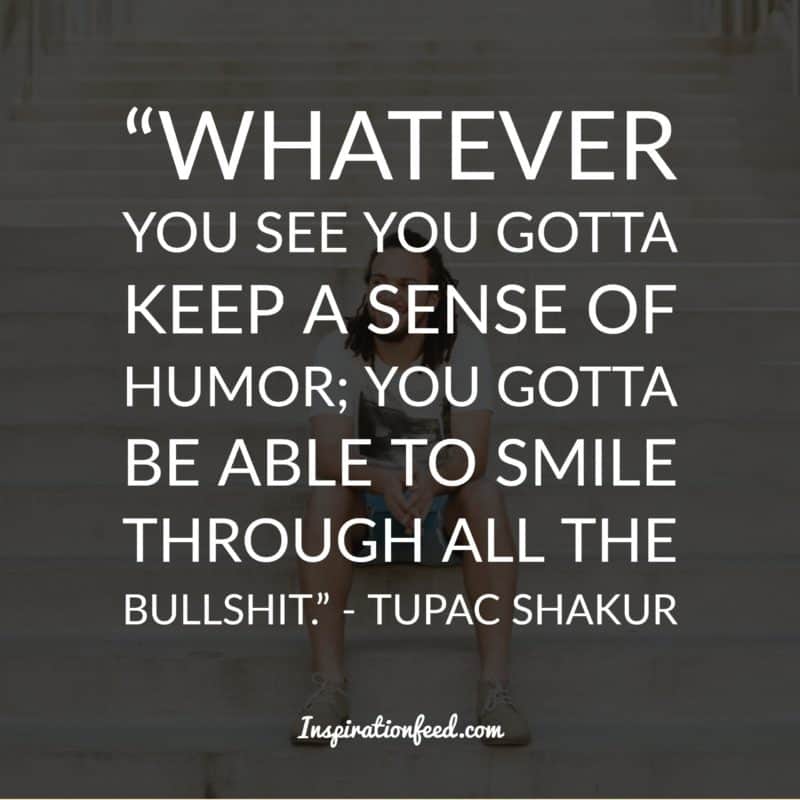 "Whatever you see you gotta keep a sense of humor; you gotta be able to smile through all the bullshit." – Tupac Shakur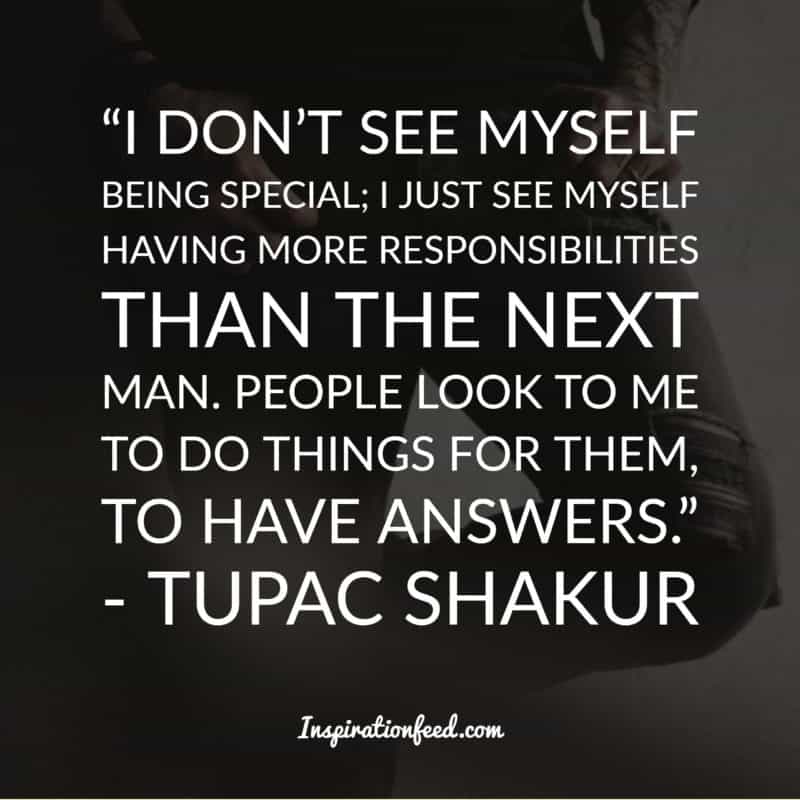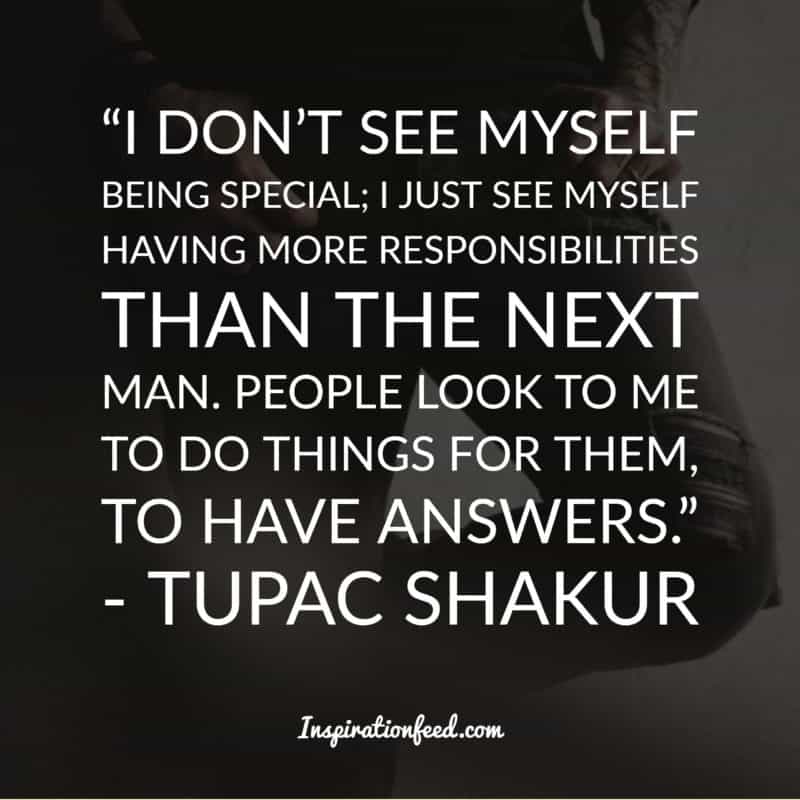 "I don't see myself being special; I just see myself having more responsibilities than the next man. People look to me to do things for them, to have answers." – Tupac Shakur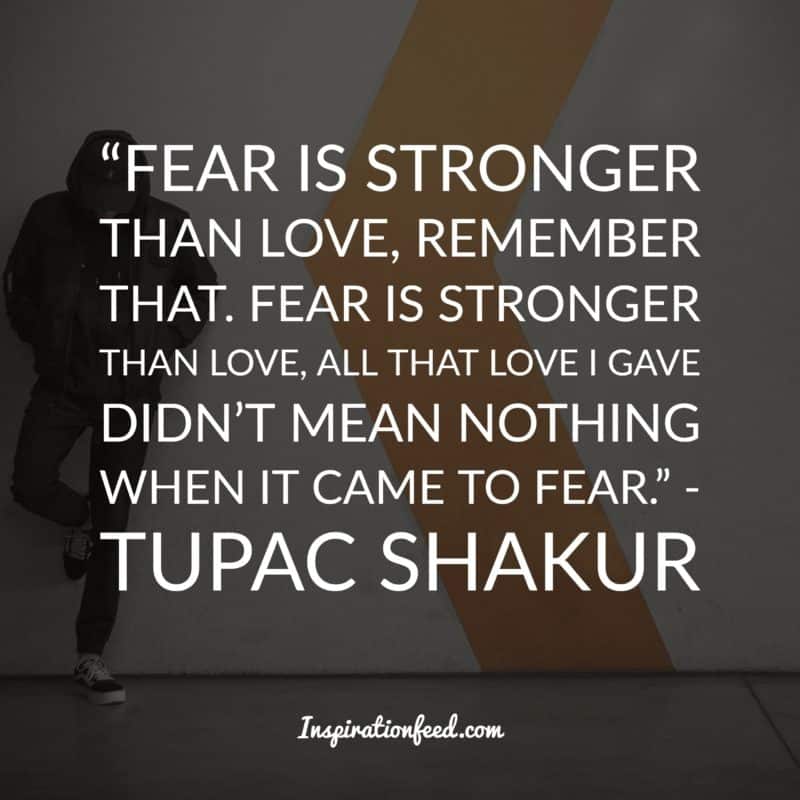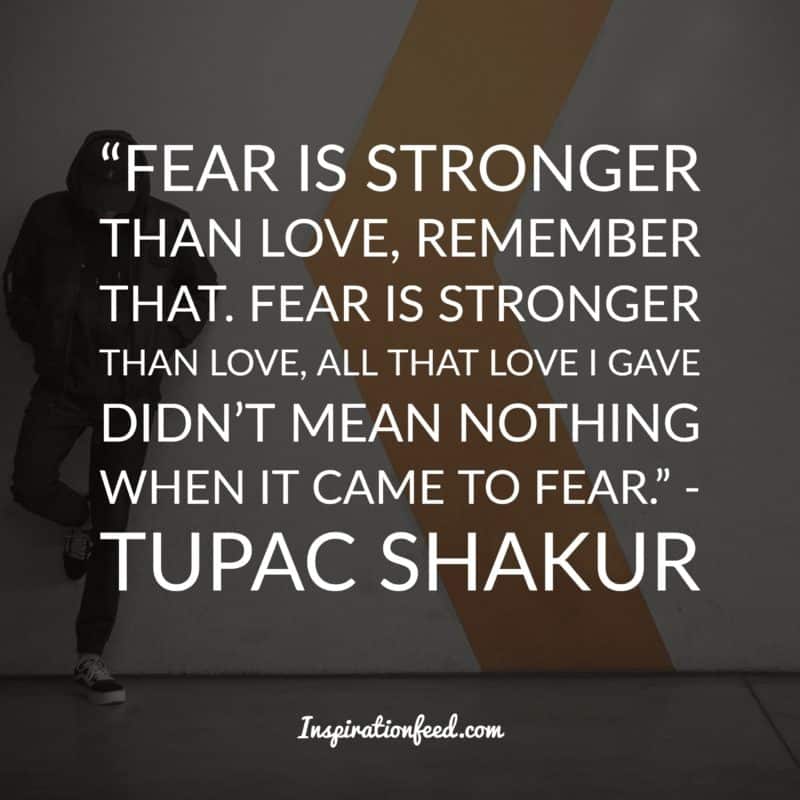 "Fear is stronger than love, remember that. Fear is stronger than love, all that love I gave didn't mean nothing when it came to fear." – Tupac Shakur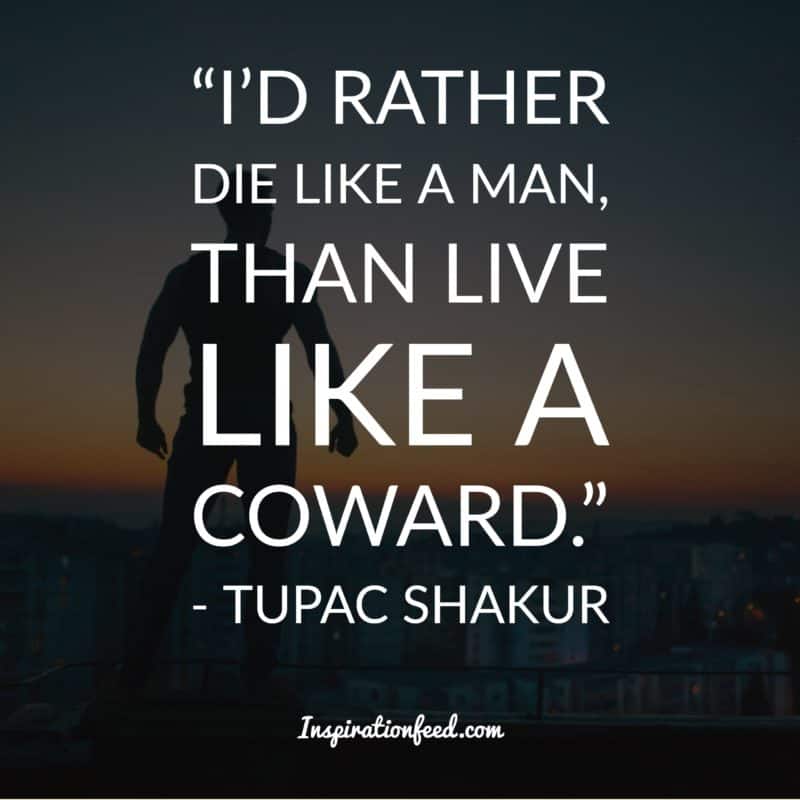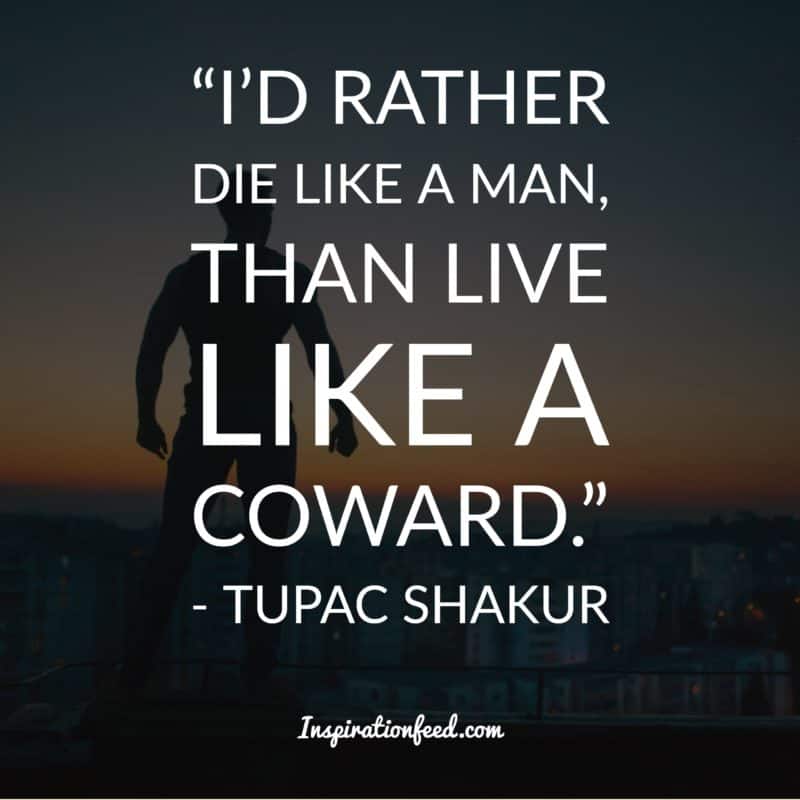 "I'd rather die like a man, than live like a coward." – Tupac Shakur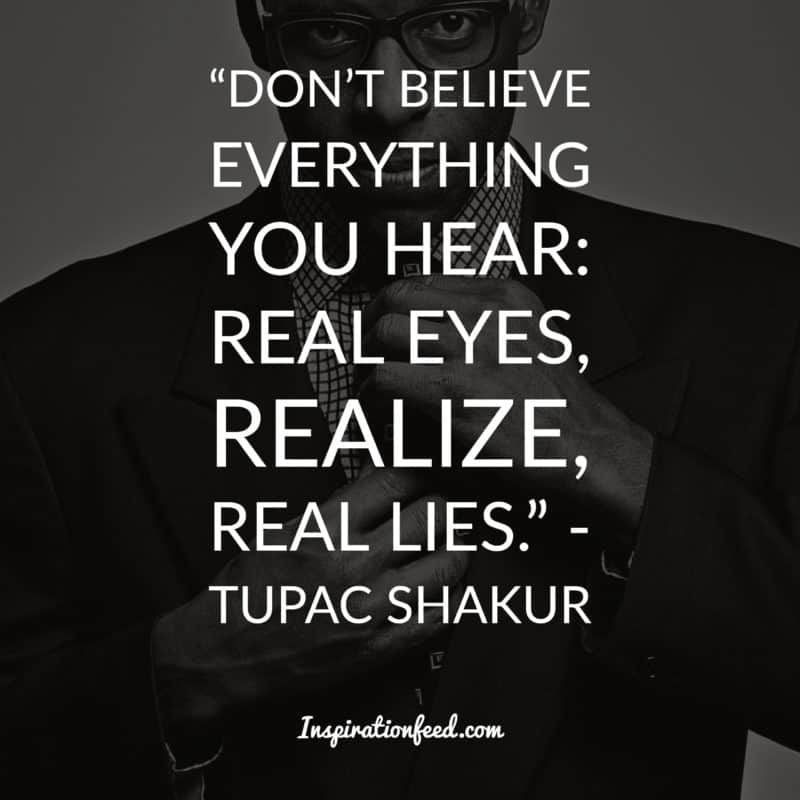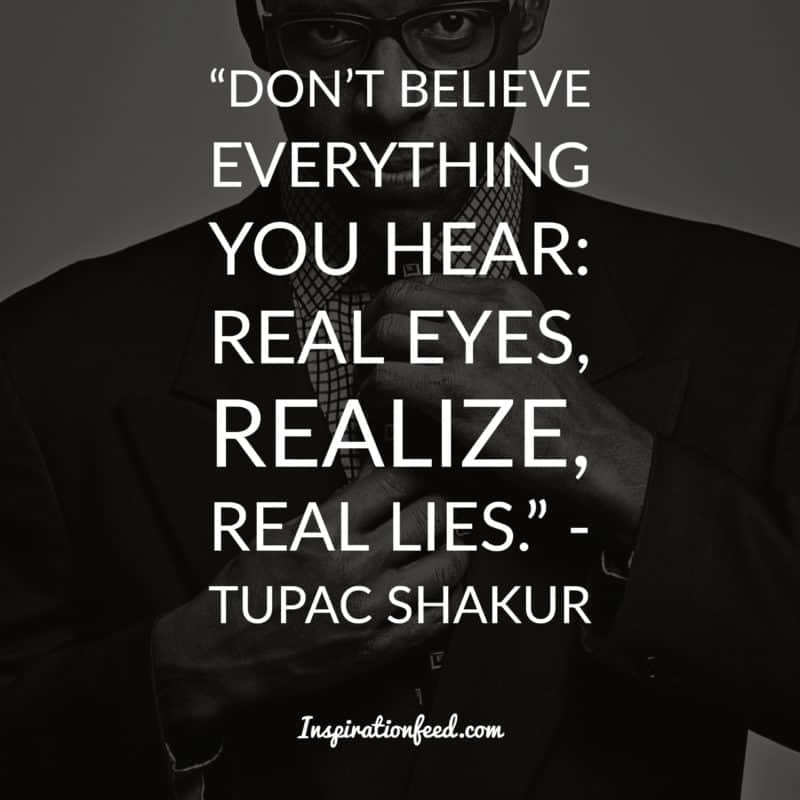 "Don't believe everything you hear: real eyes, realize, real lies." – Tupac Shakur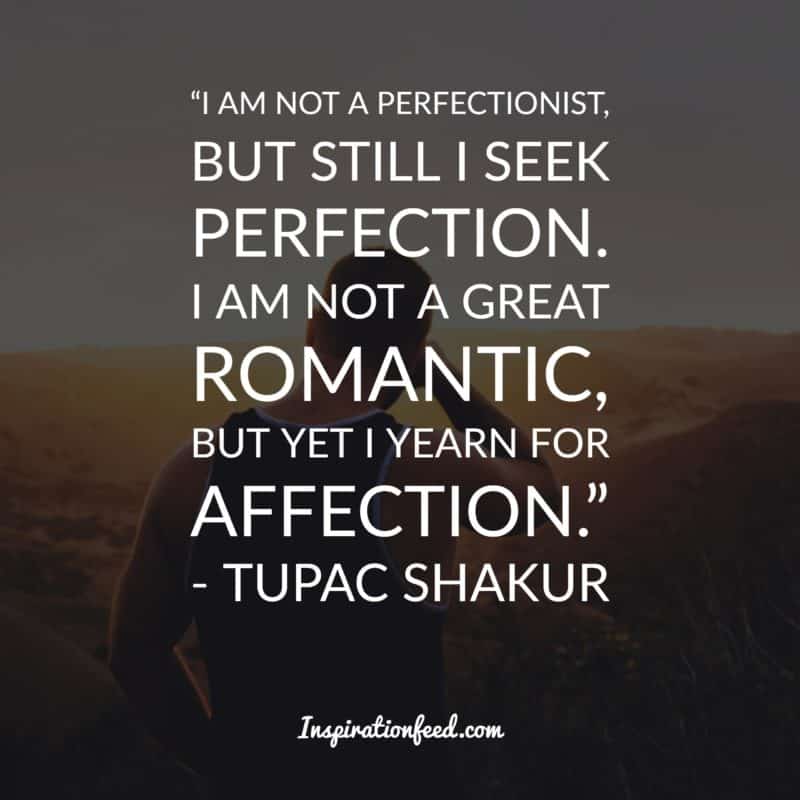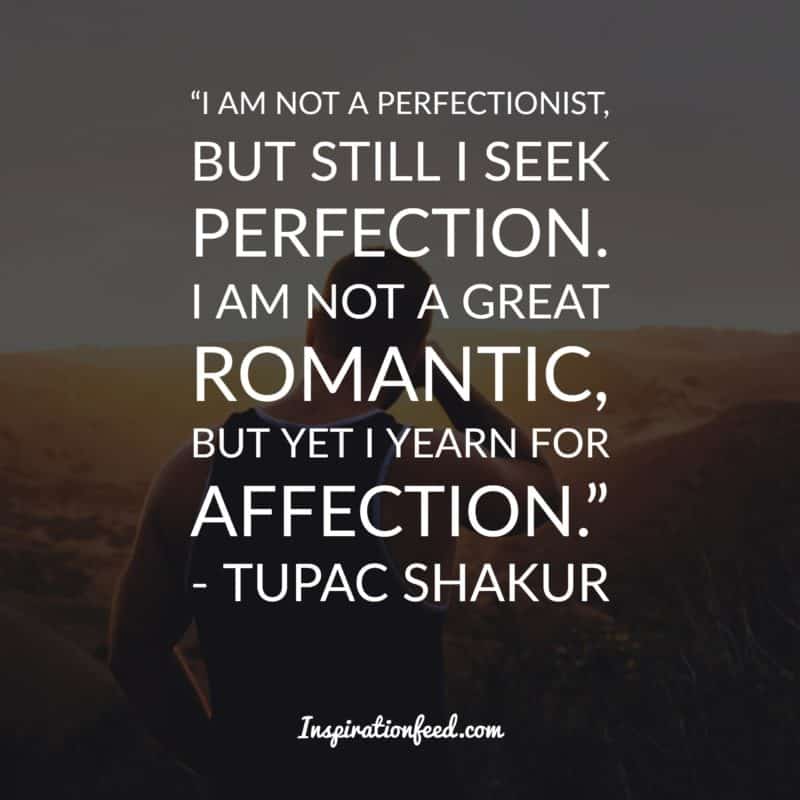 "I am not a perfectionist, but still I seek perfection. I am not a great romantic, but yet I yearn for affection." – Tupac Shakur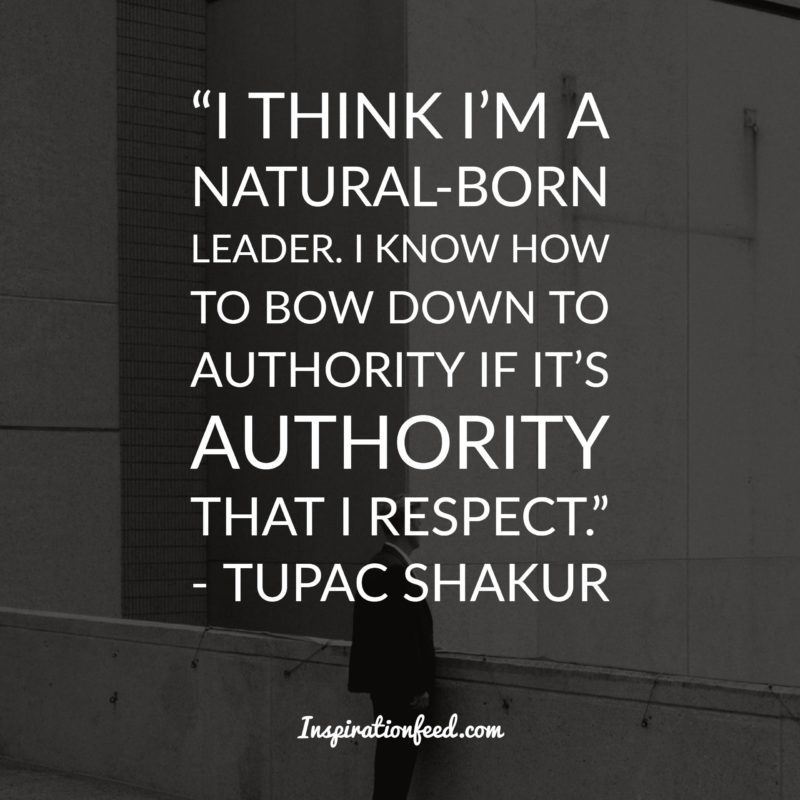 "I think I'm a natural-born leader. I know how to bow down to authority if it's authority that I respect." – Tupac Shakur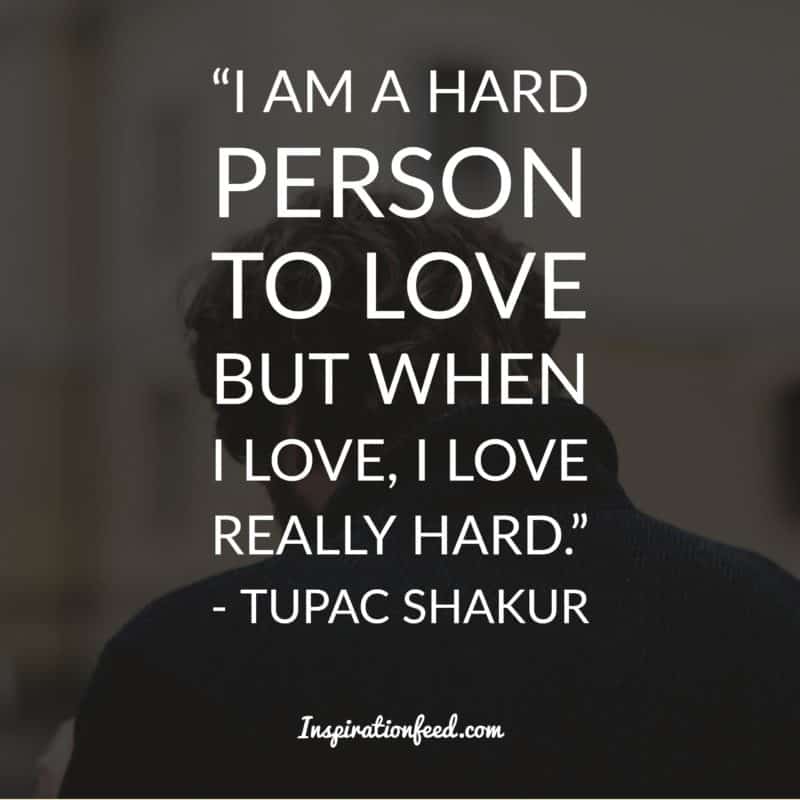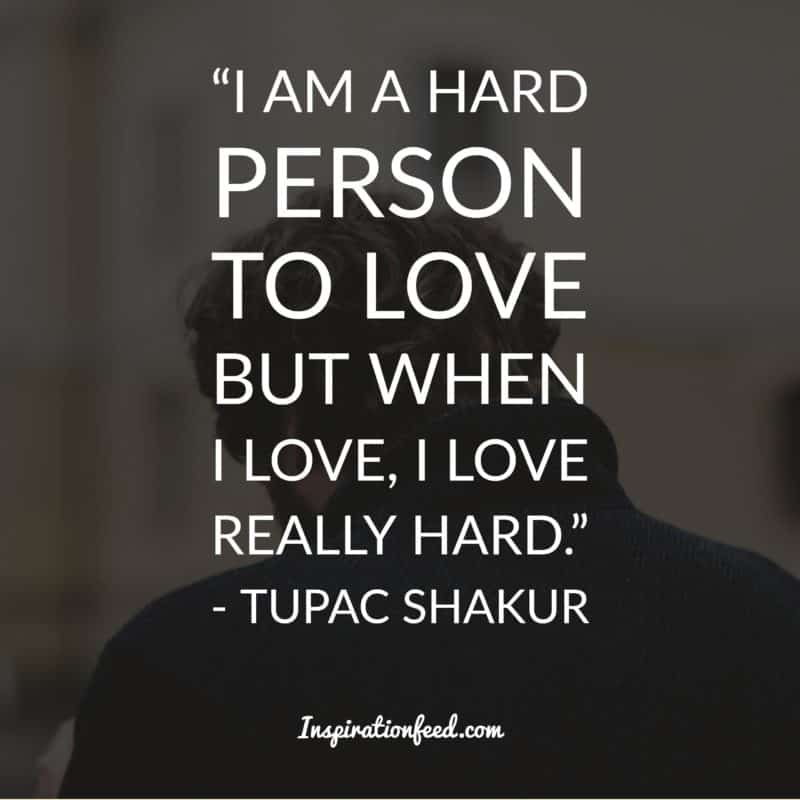 "I am a hard person to love but when I love, I love really hard." – Tupac Shakur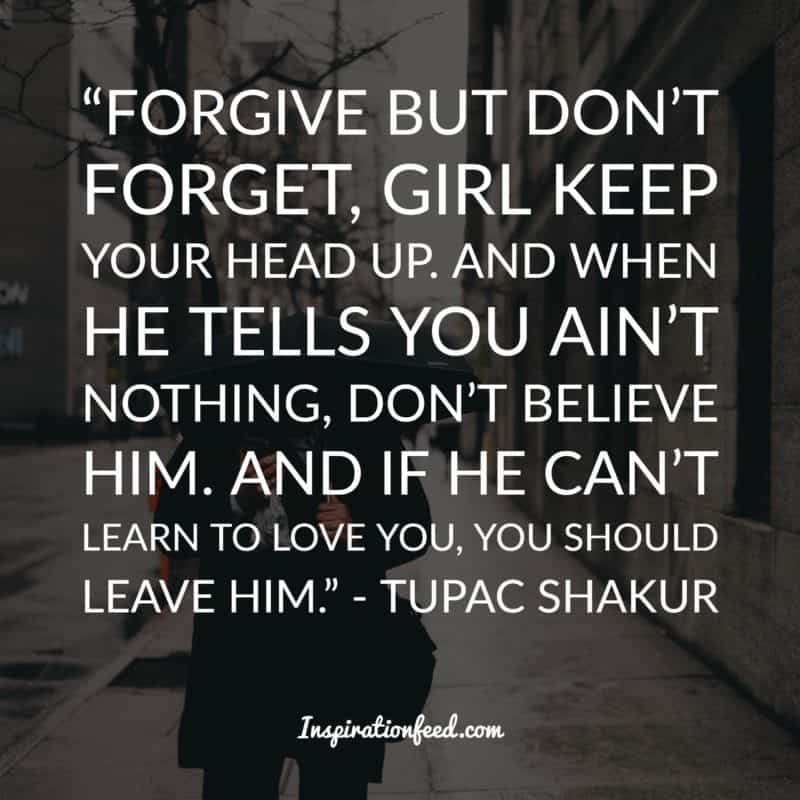 "Forgive but don't forget, girl keep your head up. And when he tells you ain't nothing, don't believe him. And if he can't learn to love you, you should leave him." – Tupac Shakur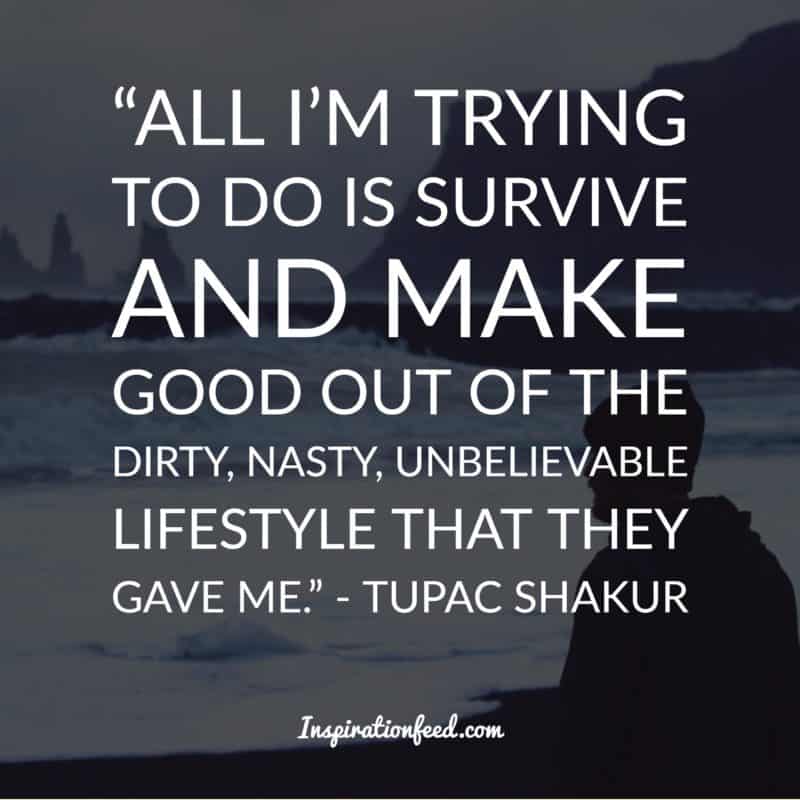 "All I'm trying to do is survive and make good out of the dirty, nasty, unbelievable lifestyle that they gave me." – Tupac Shakur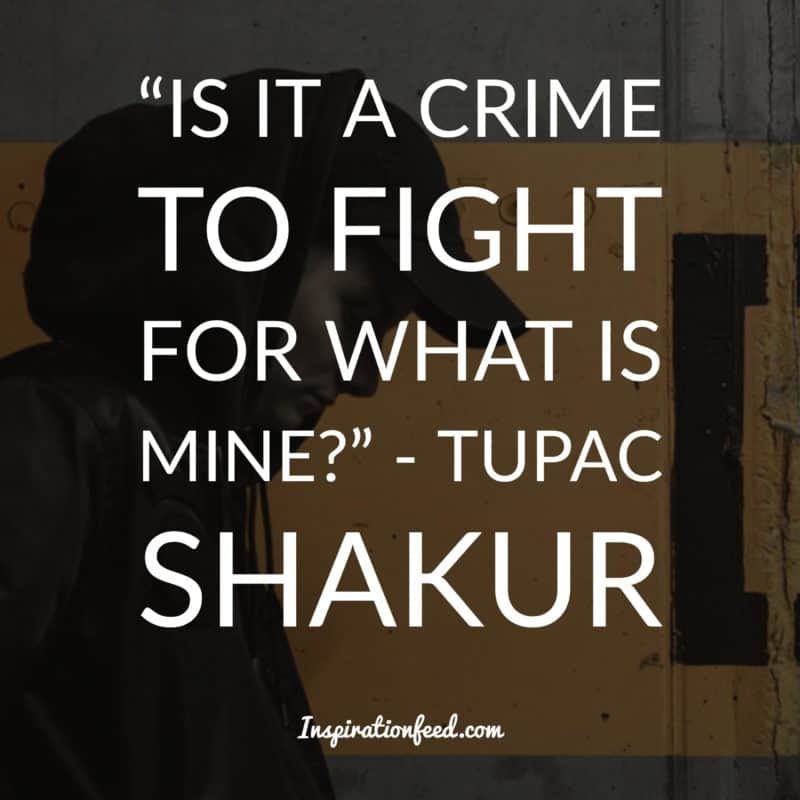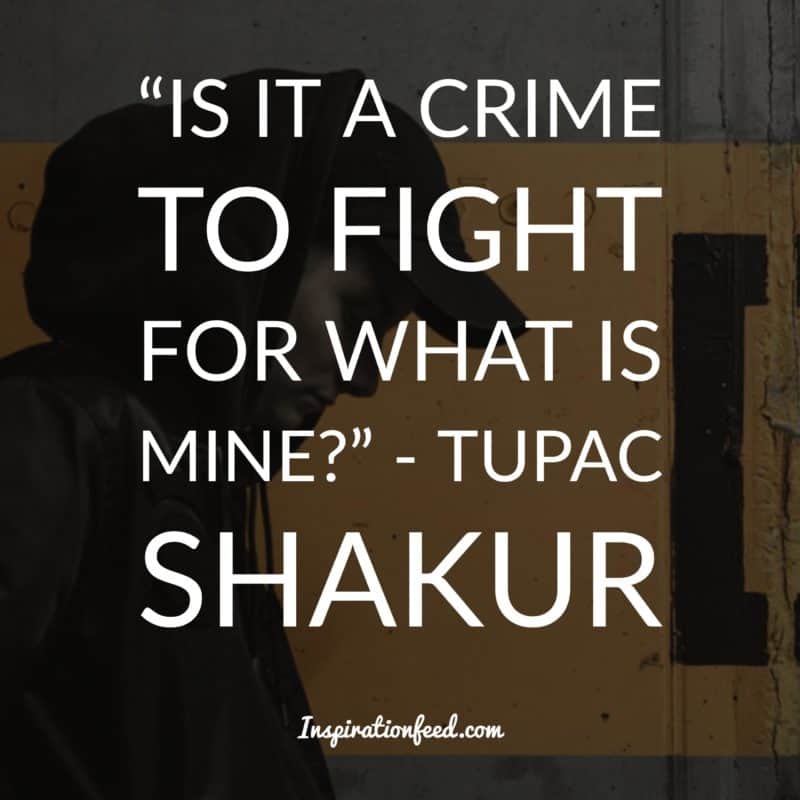 "Is it a crime to fight for what is mine?" – Tupac Shakur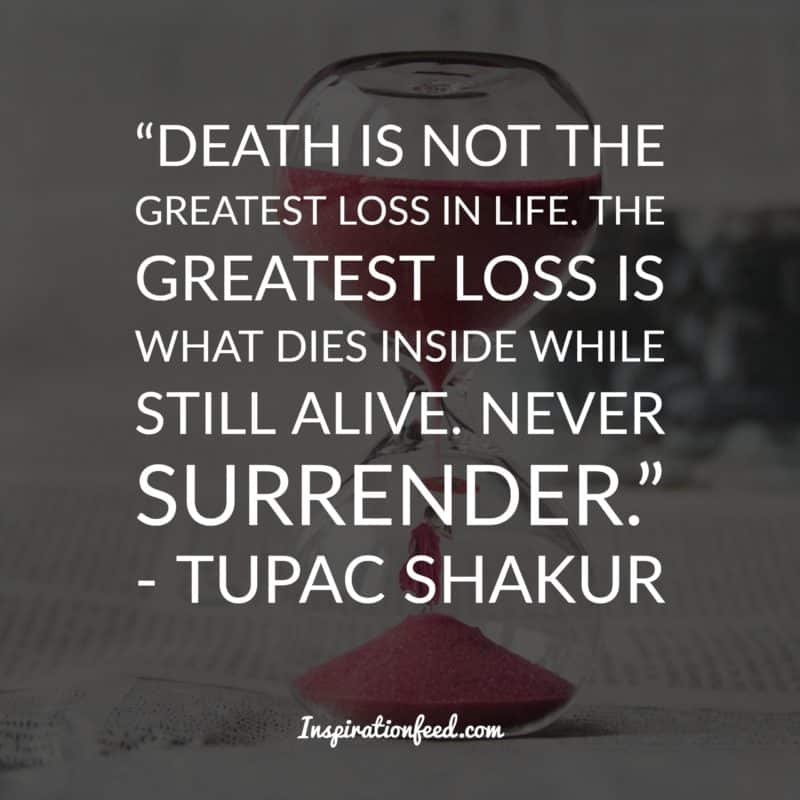 "Death is not the greatest loss in life. The greatest loss is what dies inside while still alive. Never surrender." – Tupac Shakur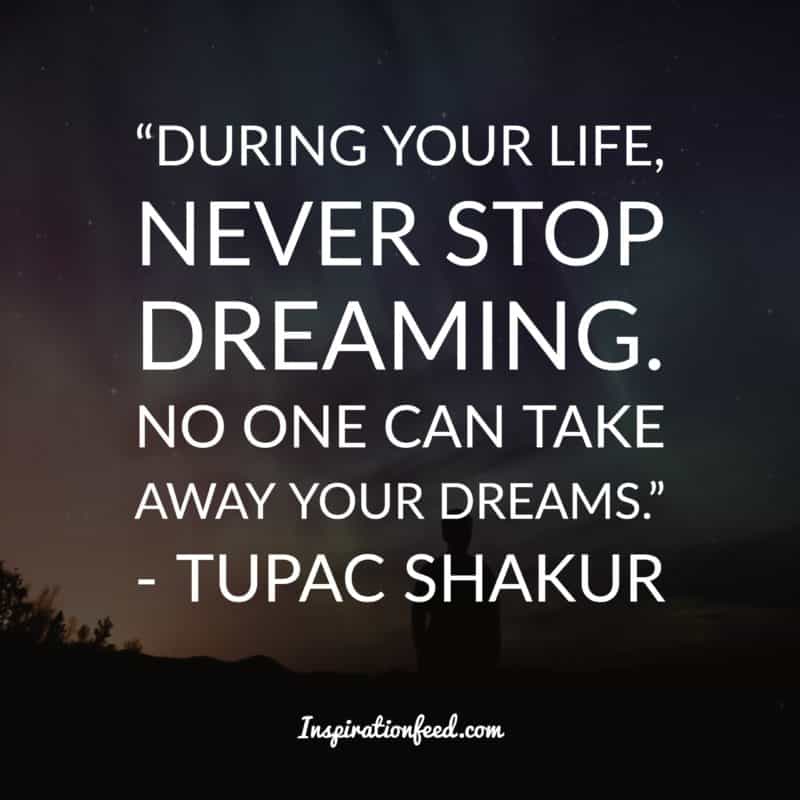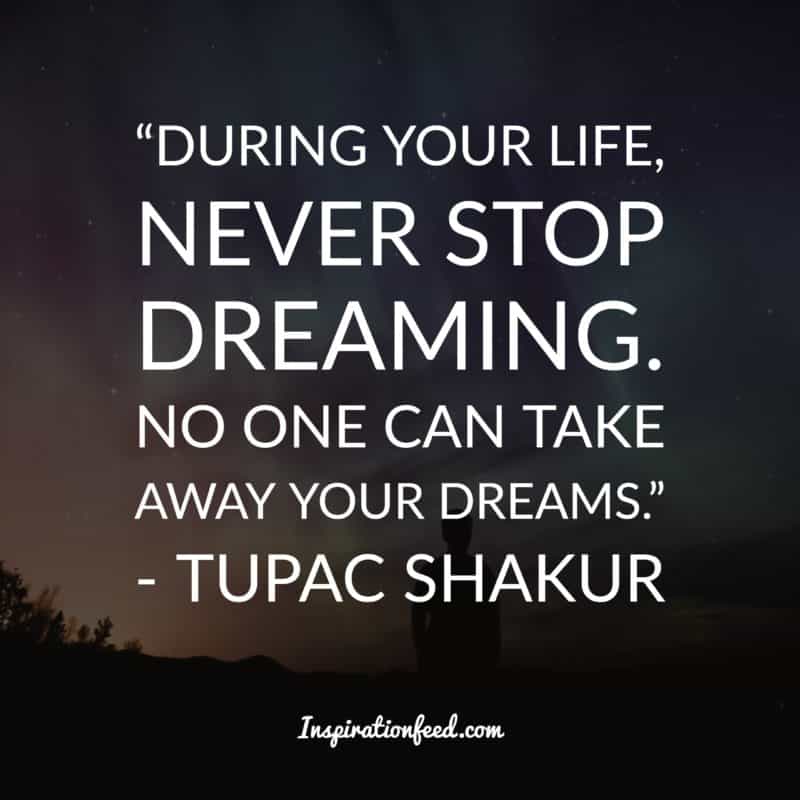 "During your life, never stop dreaming. No one can take away your dreams." – Tupac Shakur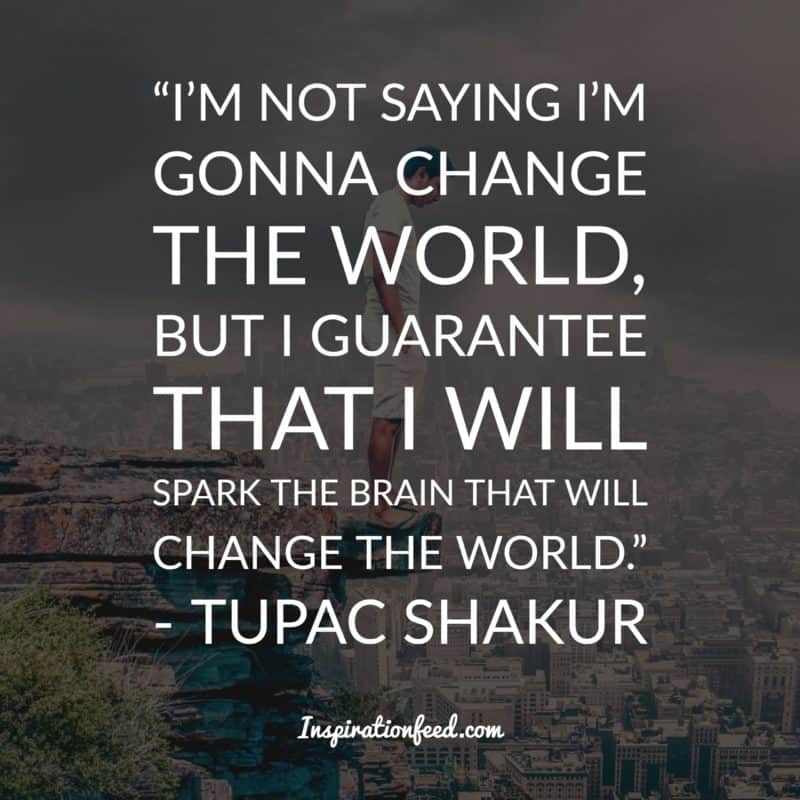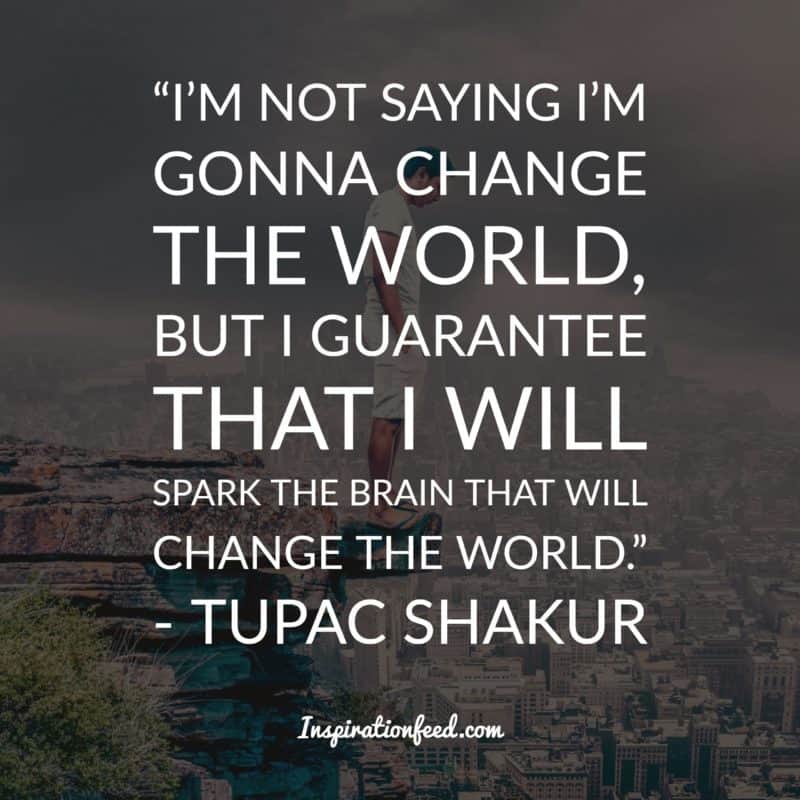 "I'm not saying I'm gonna change the world, but I guarantee that I will spark the brain that will change the world." – Tupac Shakur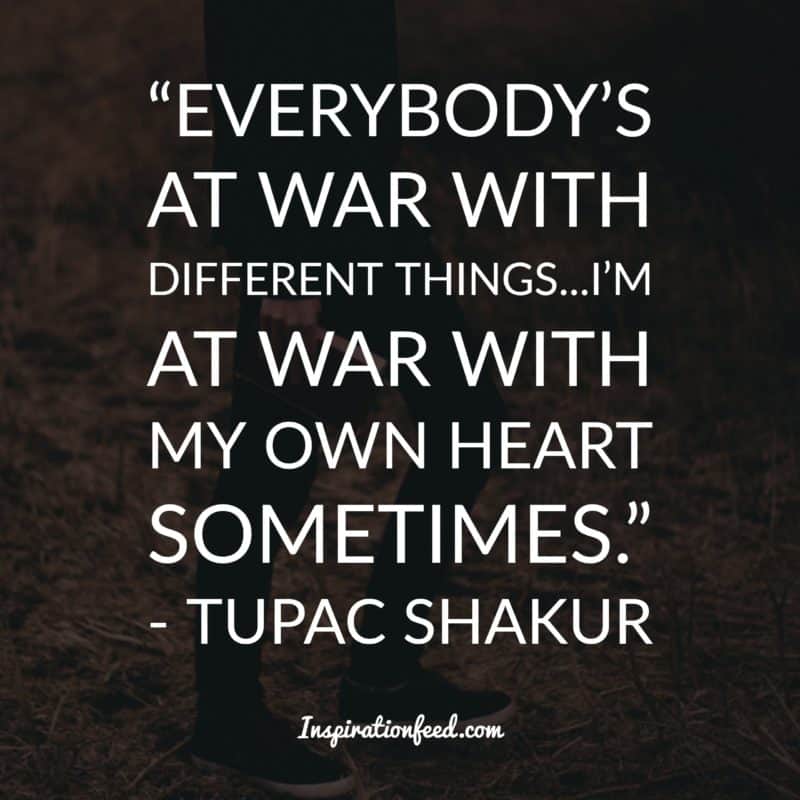 "Everybody's at war with different things…I'm at war with my own heart sometimes." – Tupac Shakur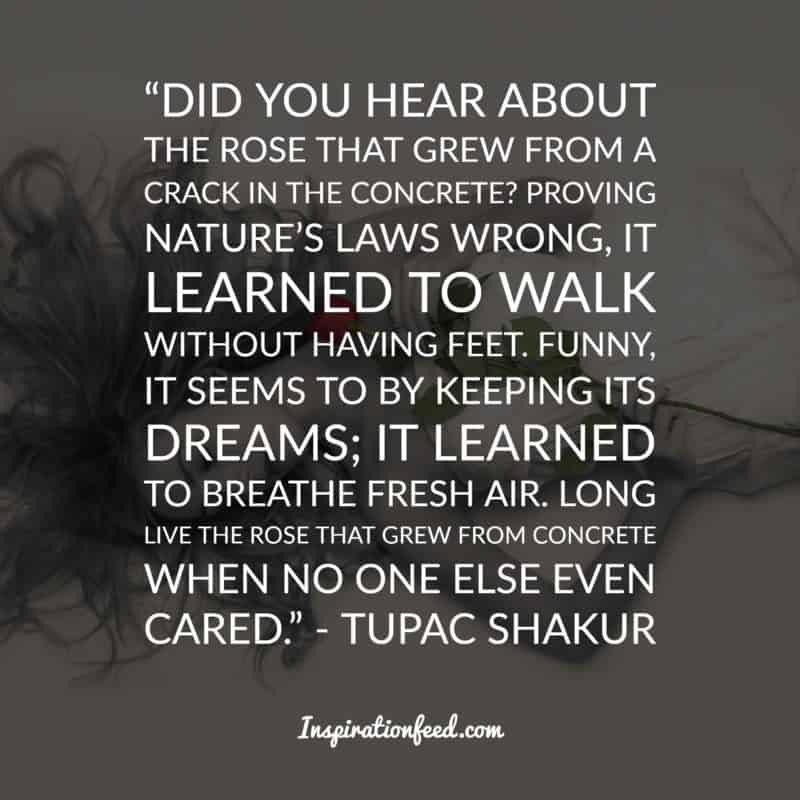 "Did you hear about the rose that grew from a crack in the concrete? Proving nature's laws wrong, it learned to walk without having feet. Funny, it seems to by keeping its dreams; it learned to breathe fresh air. Long live the rose that grew from concrete when no one else even cared." – Tupac Shakur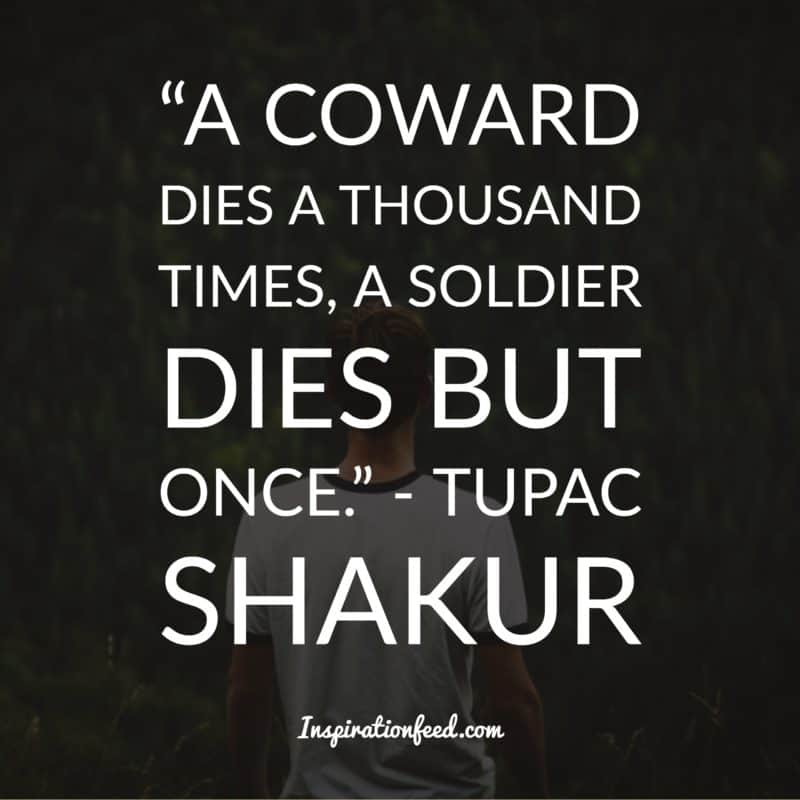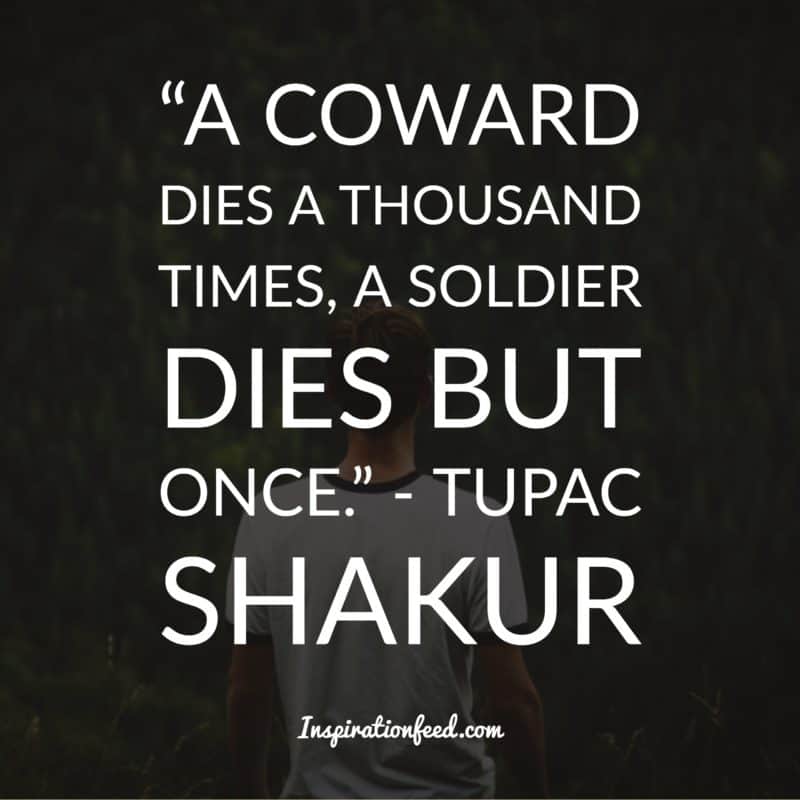 "A coward dies a thousand times, a soldier dies but once." – Tupac Shakur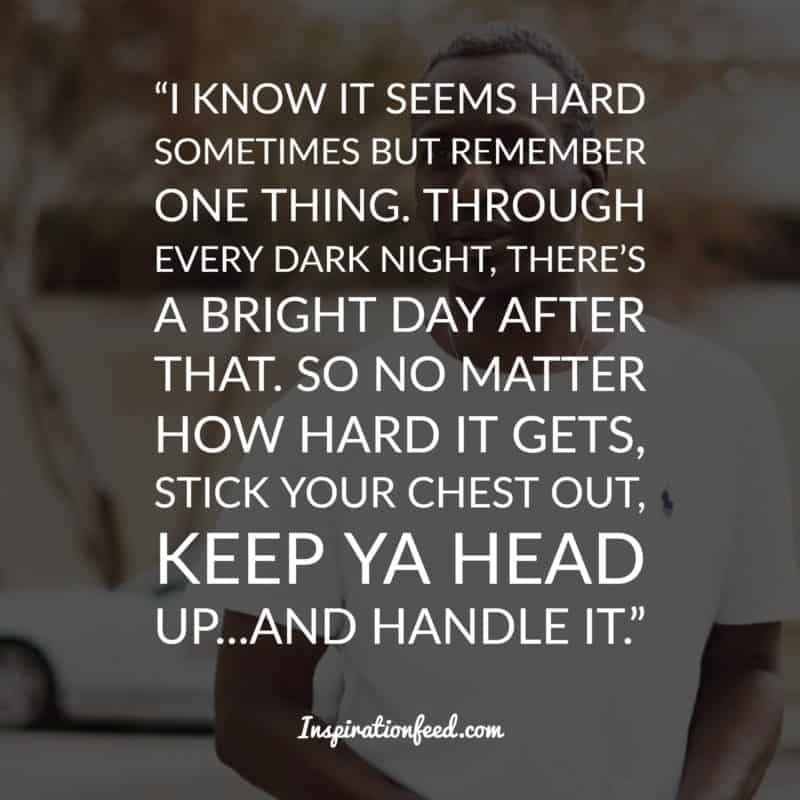 "I know it seems hard sometimes but remember one thing. Through every dark night, there's a bright day after that. So no matter how hard it gets, stick your chest out, keep ya head up…and handle it." – Tupac Shakur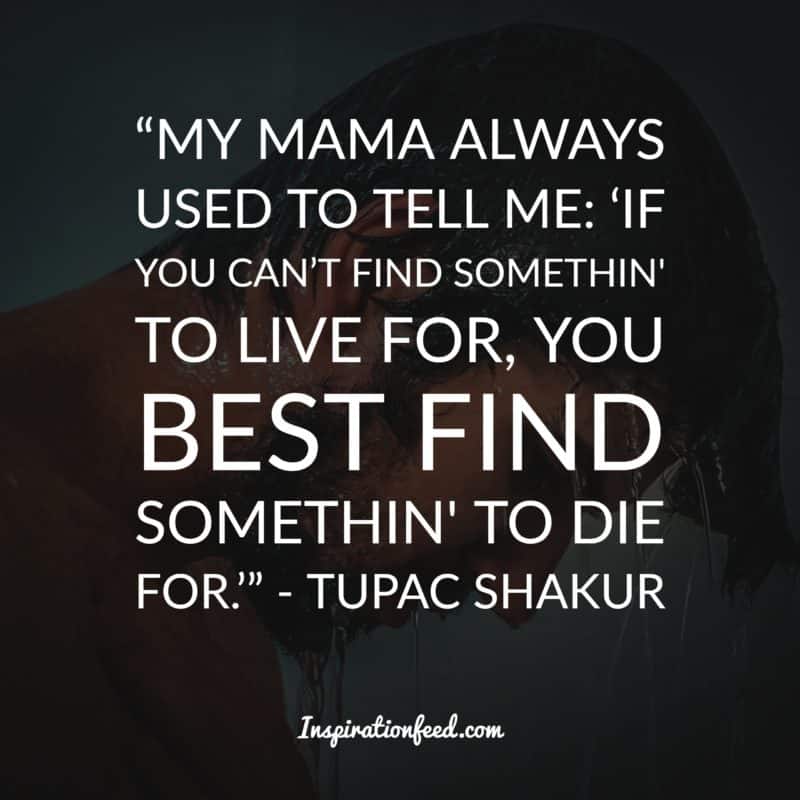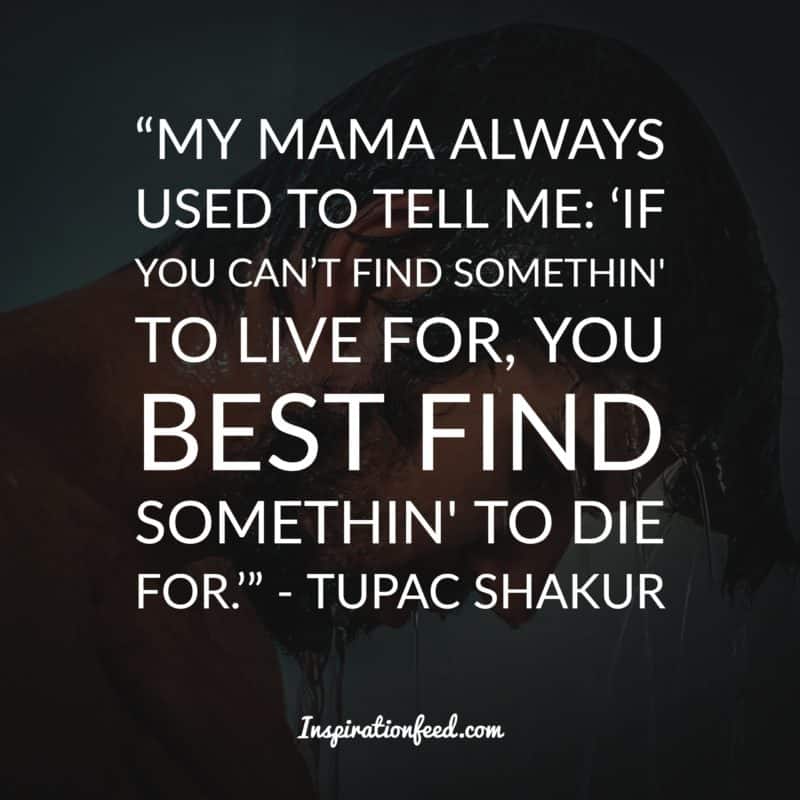 "My mama always used to tell me: 'If you can't find somethin' to live for, you best find somethin' to die for.'" – Tupac Shakur
20 More impactful Quotes by Tupac Shakur
"I'm not saying I'm gonna change the world, but I guarantee that I will spark the brain that will change the world."
"Only God can judge me."
"The only thing that comes to a sleeping man is dreams."
"I don't see myself being special; I just see myself having more responsibilities than the next man. People look to me to do things for them, to have answers."
"My mama always used to tell me: 'If you can't find something to live for, you best find something to die for.'"
"I'm a reflection of the community."
"I don't have no fear of death. My only fear is coming back reincarnated."
"I'm trying to right my wrongs, but it's funny, these same wrongs helped me write this song."
"I'm 23 years old. I might just be my mother's child, but in all reality, I'm everybody's child. Nobody raised me; I was raised in this society."
"Ain't a woman alive that could take my mama's place."
"It's the game of life. Do I win or do I lose? One day they're gonna shut the game down. I gotta have as much fun and go around the board as many times as I can before it's my turn to leave."
"All I'm trying to do is survive and make good out of the dirty, nasty, unbelievable lifestyle that they gave me."
"I'm not a killer, but don't push me."
"I would rather have been shot straight-up in cold blood-but to be set up? By people who you trusted? That's bad."
"We wouldn't ask why a rose that grew from the concrete for having damaged petals, in turn, we would all celebrate its tenacity, we would all love its will to reach the sun. Well, we are the roses, this is the concrete, and these are my damaged petals."
"I want to grow. I want to be better. You grow. We all grow. We're made to grow. You either evolve or you disappear."
"I have not brought violence to you. I have not brought 'thug life' to America. I didn't create 'thug life'; I diagnosed it."
"My life was lived through falling rain, so call on me if there be pain."
"I'm a hustler. I just want you to know that nobody can stop me."
"It's the game of life. You gotta play the game and keep the faith. And whatever happens, happens."