The only name that stands above all other names in the world of hockey is Wayne Gretzky. He is called the Great One, the man who showed exceptional agility, full control, and unparalleled insight, making him the greatest genius this sport has ever known.
Gretzky drove fans crazy each time he was behind the net because he always made a goal. This led to the hockey term "Gretzky's office," which is the area behind the net where Wayne usually sets up and scores goals. If you want to get into playing hockey, we recommend you check Hockey Pursuits website.
Growing into Greatness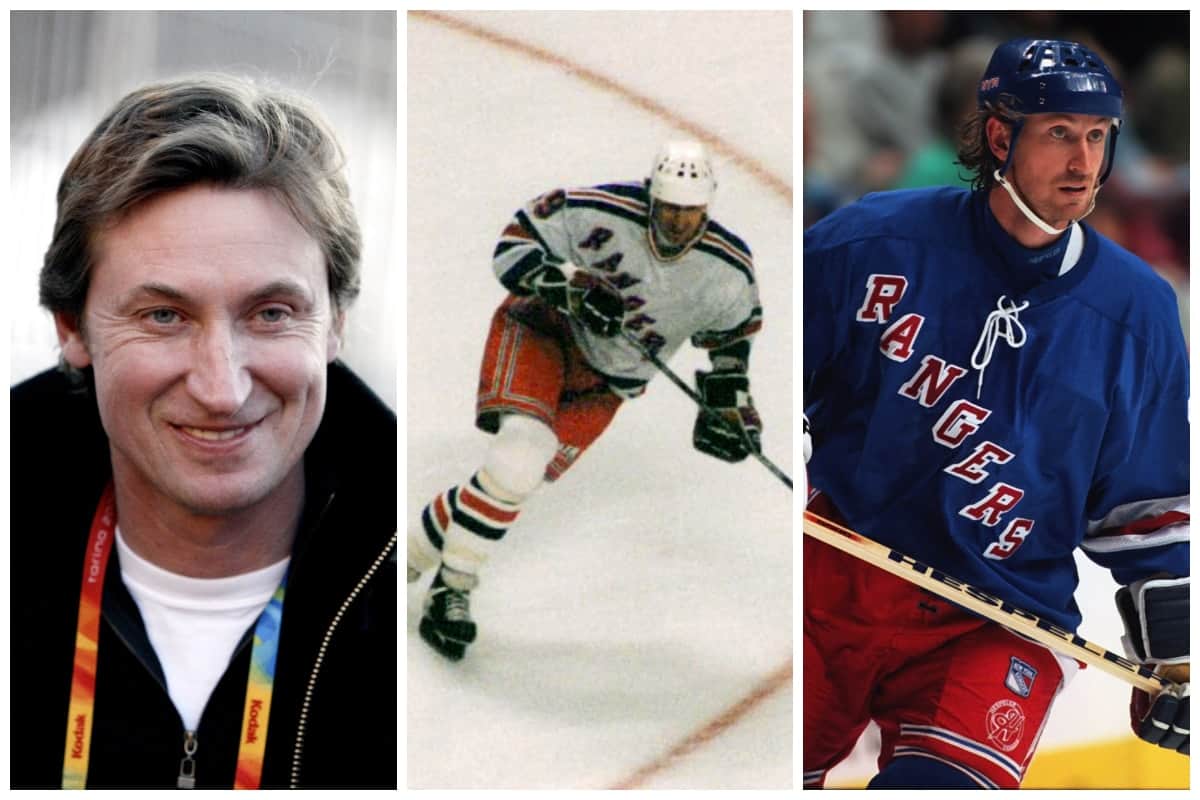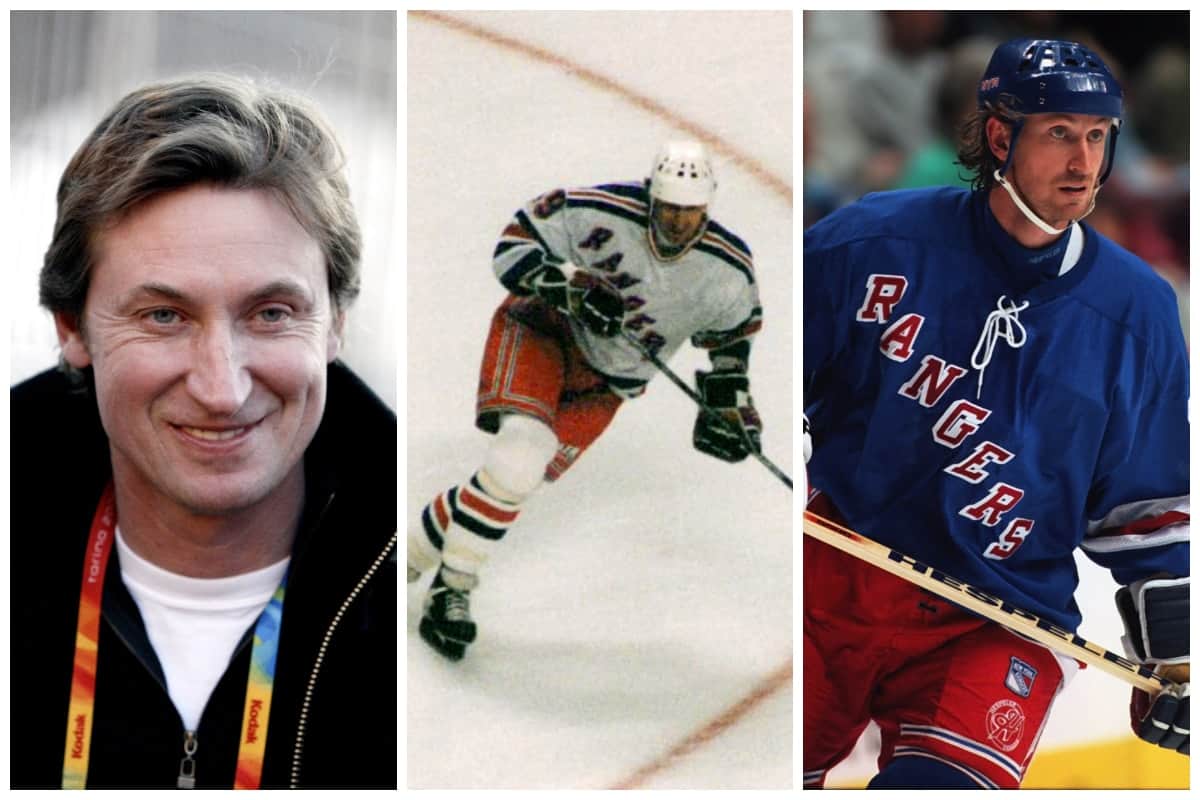 Wayne Gretzky was born in January 26, 1961 and was raised in a small Canadian town in Brantford, Ontario. He was born on the same day the hockey legend, Gordie Howe, led the Detroit Red Wings' league with an all-time scoring mark, catapulting his National Hockey League career at the Detroit Olympia Stadium.
Wayne, the first-born child of Walter and Phyllis Gretzky, grew up together with his four younger siblings (Brent, Keith, Glen, and Kim) watching hockey from their television set at home, or attending hockey games in stadiums while cheering for their favorite team.
At the early age of two, Wayne began to wear his first ever pair of skates, thanks to his father whose passion for hockey eventually caught Wayne's budding interest in the sport. The backyard rink of their home in Ontario became his first hockey playground.
Under his father's guidance, he would practice balancing his weight on his skates by gliding around empty detergent containers that served as obstacles, all the while making sure he wouldn't fall on all fours.
When he was 5-years-old, his exceptional skills in ice skating had become so apparent that he'd effortlessly skate circles around players twice his age and height. He joined the Brantford Atom League the following year at age six. Four years later, he'd already garnered an amazing 378 goals and 120 assists in just 85 games.
Although known for his short stature in the rink, Wayne Gretzky grabbed everyone's attention by making it impossible for his opponents to take the puck once he'd had it. By this time, it was impossible for the league not to notice him.
Consequently, the 10-year-old became a popular hockey sensation in the media, with countless interviews queuing for him as fans swarmed the arena to ask for his autograph.
Up to the Challenge
With his undeniably growing fame even at the age of 10, Wayne began to gain so much appreciation from his fans as well as a growing sense of hate and jealousy from his detractors – mostly from parents of his opponents.
Eventually, upon his family's advice – especially his father's – he eventually moved to Toronto, where he continued playing hockey. There, he began to play Junior B hockey with the Vaughan Nationals of the Metropolitan Toronto League, all the while trying to live a normal life away from the spotlight such as the one he experienced back home. Wayne's classmates didn't even know that he was a renowned hockey player.
Around the same time that he played for the Vaughan Nationals, Wayne also played against boys who were four years older than him. After the first season, he was awarded Rookie of the Year by the same league after garnering 27 goals and 33 assists.
At 16, Gretzky's scoring goals reached 1,000. In 1978, he officially joined the Indianapolis Racers in the World Hockey Association. He became the youngest player to join a major league sport, and took it by storm at the age of 17.
Gretzky's first hockey number was 11 but was later changed to 9 in honor of his hockey hero, Gordie Howe. But it turned out someone else already had the number, so he was given the number 99 instead.
In February 24, 1984, Wayne made history once more, this time with the Edmonton Oilers. With only three seconds left, the 17-year-old slapped the puck past the goalie and put it right into the net, breaking the NHL scoring record. He was awarded both the Hart Trophy as the league's most valuable player, and the Lady Byng Trophy for his sportsmanship and skill.
His career continued to soar when he broke two professional hockey players' records during his first National Hockey League season: Phil Esposito's record against his stunning 164 points, and Bobby Orr's assist record against his 109 record. Overall, he scored 50 goals in just 39 games.
In the world of hockey, the number 99 represents the world's most respected hockey number, thanks to Wayne Gretzky. In poker, a pair of nines is often known as a "Gretzky."
His successful career paved the way for him to play in the United States and sign up with the Kings in 1993. He defeated the Detroit Red Wings and drew 13,000 fans on his first game. Due to the Kings' financial strains and his being disengaged from the team, he was traded to the St. Louis Blues.
It was with the New York Rangers that he made his last stop on his journey in professional hockey.
As a leading scorer, he helped the team advance as far as the Conference Finals. He finally retired at the age of 38.
Now at 56, he has become a successful businessman and philanthropist. He is married to Janet Jones. Both of them live in Canada with their five children.
Here are the best Wayne Gretzky quotes to inspire you to greatness as well.
Wayne Gretzky Quotes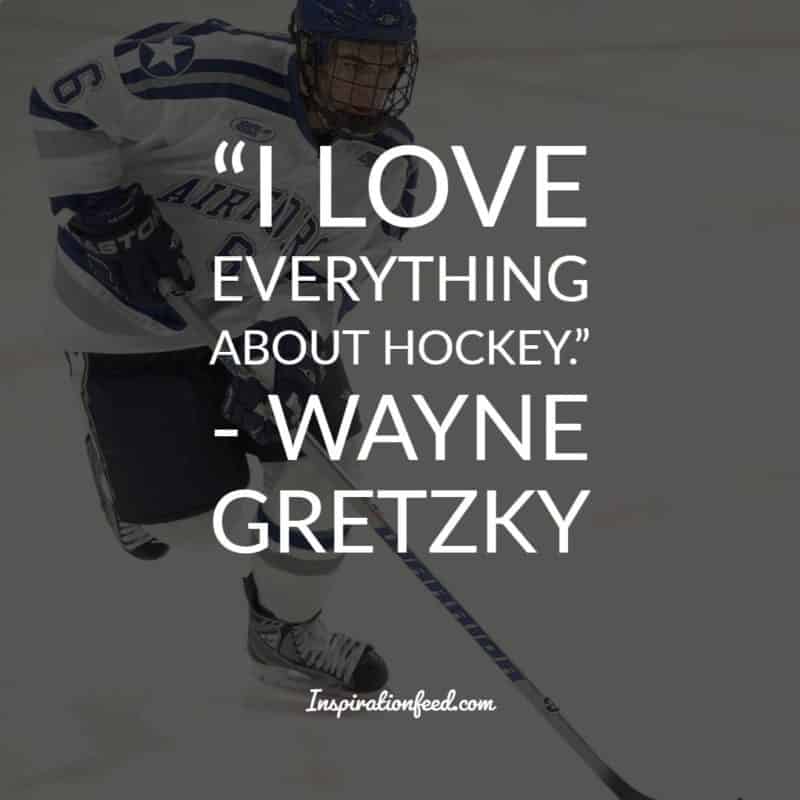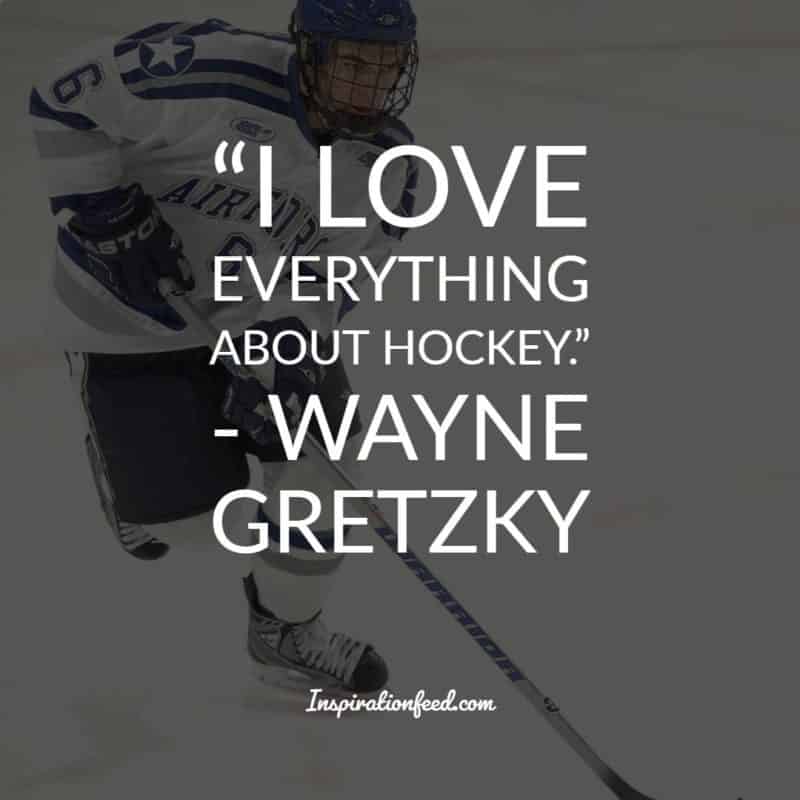 "I love everything about hockey." – Wayne Gretzky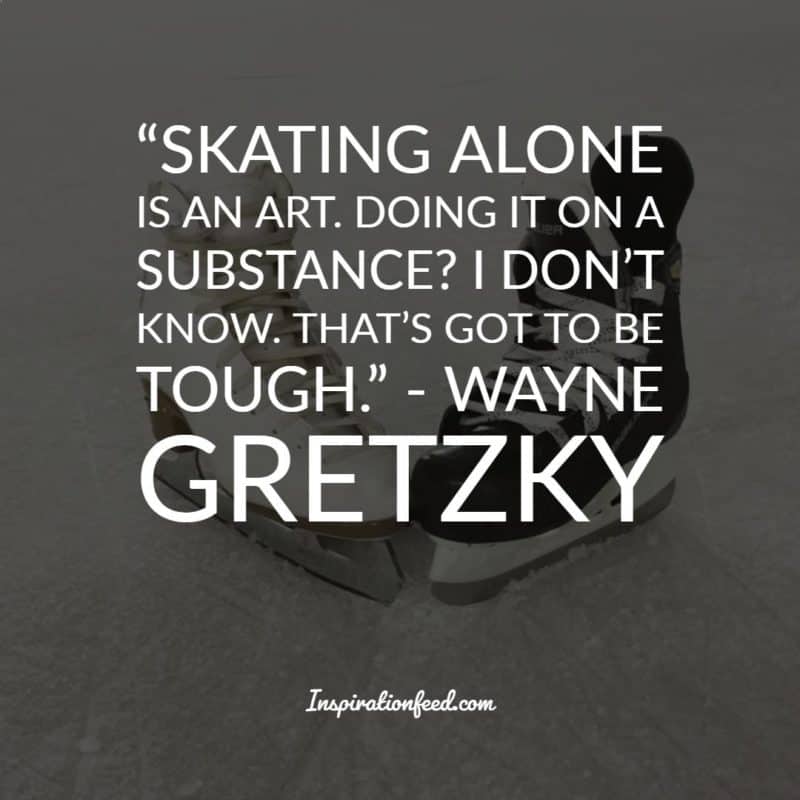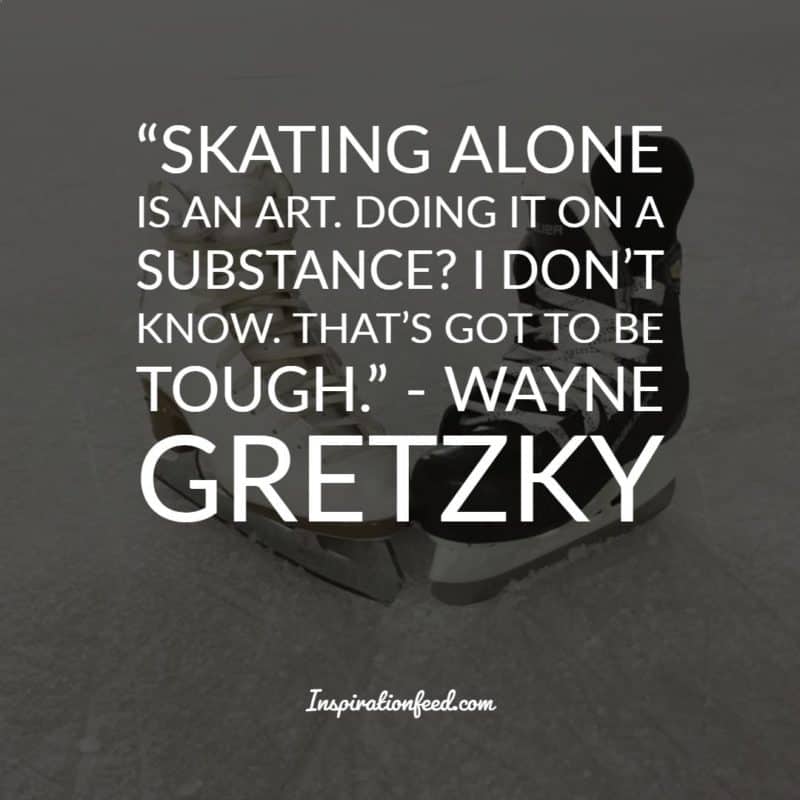 "Skating alone is an art. Doing it on a substance? I don't know. That's got to be tough." – Wayne Gretzky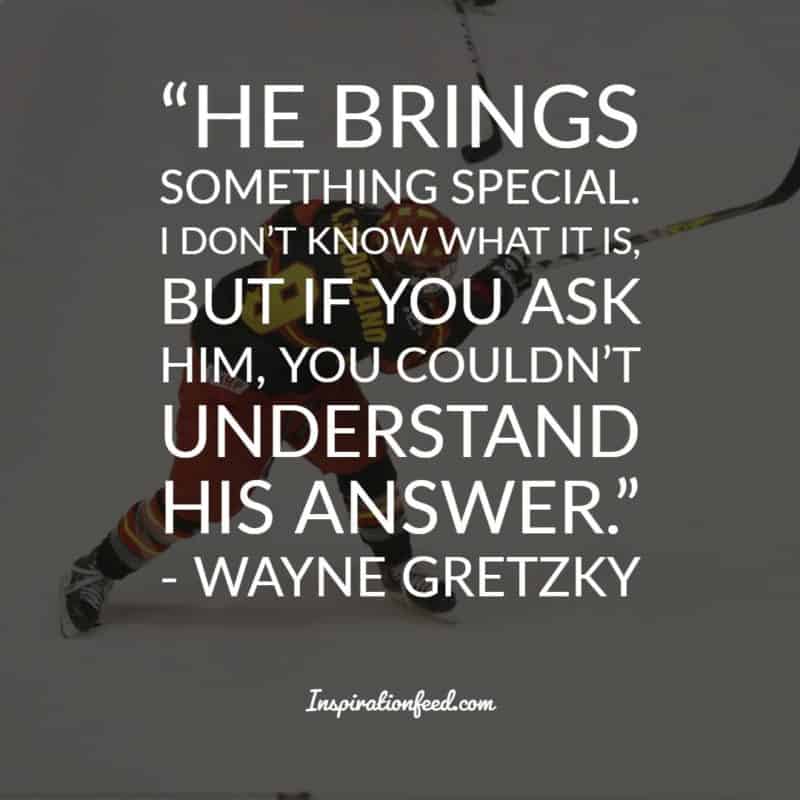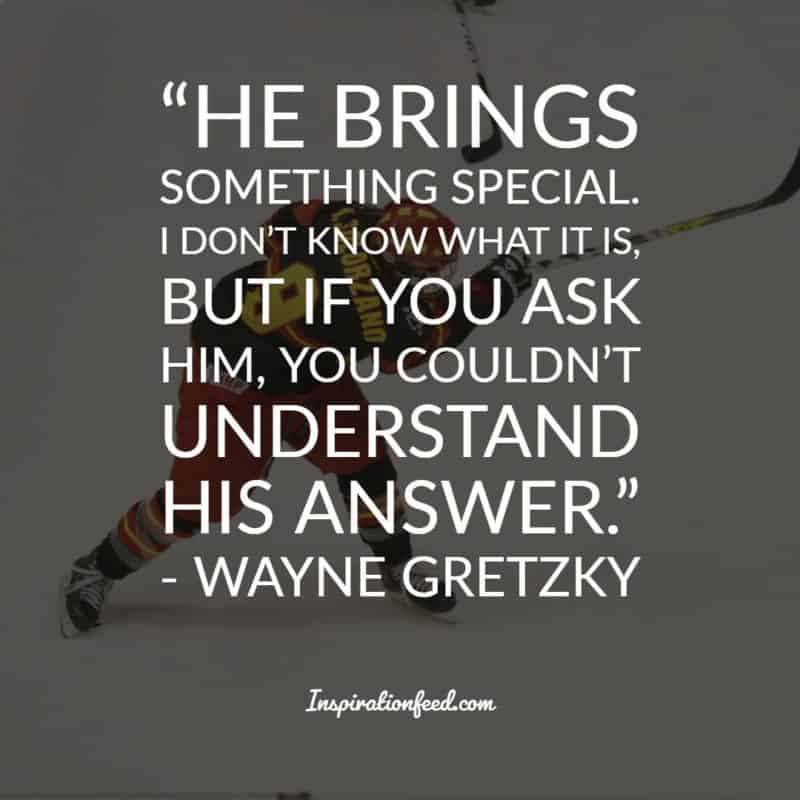 "He brings something special. I don't know what it is, but if you ask him, you couldn't understand his answer." – Wayne Gretzky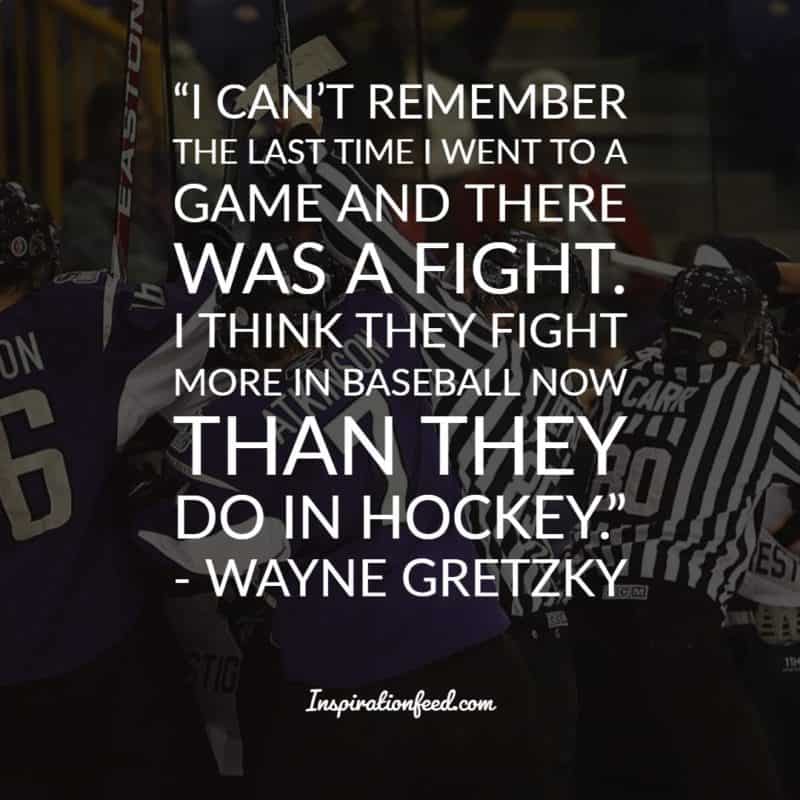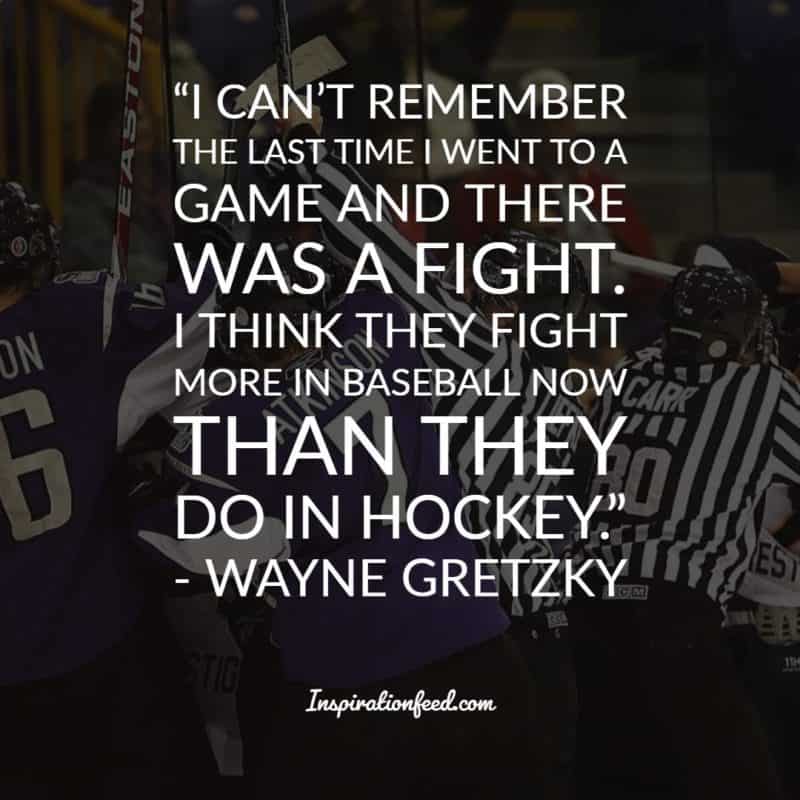 "I can't remember the last time I went to a game and there was a fight. I think they fight more in baseball now than they do in hockey." – Wayne Gretzky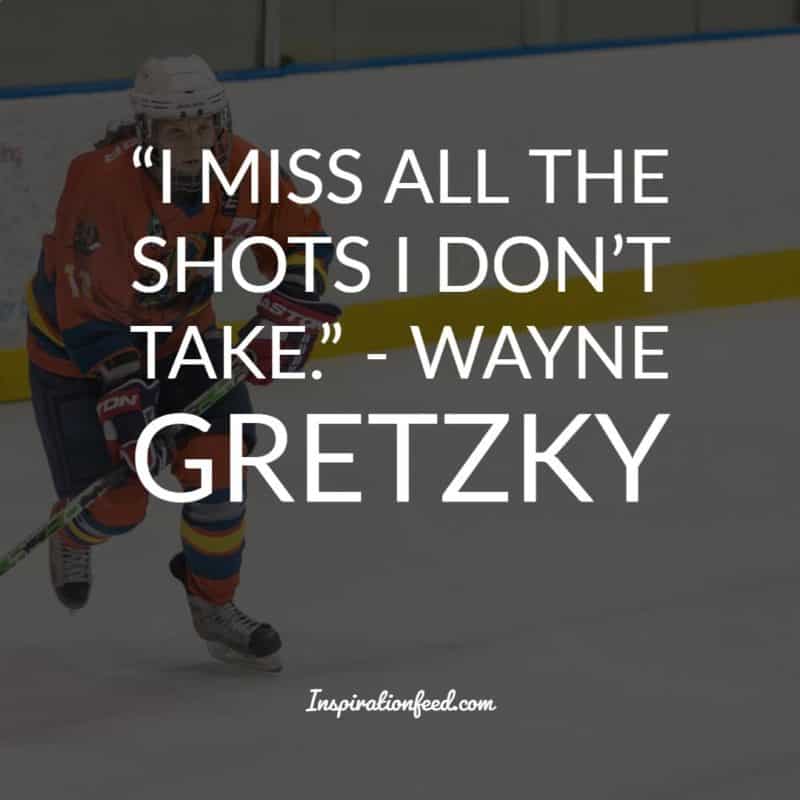 "I miss all the shots I don't take." – Wayne Gretzky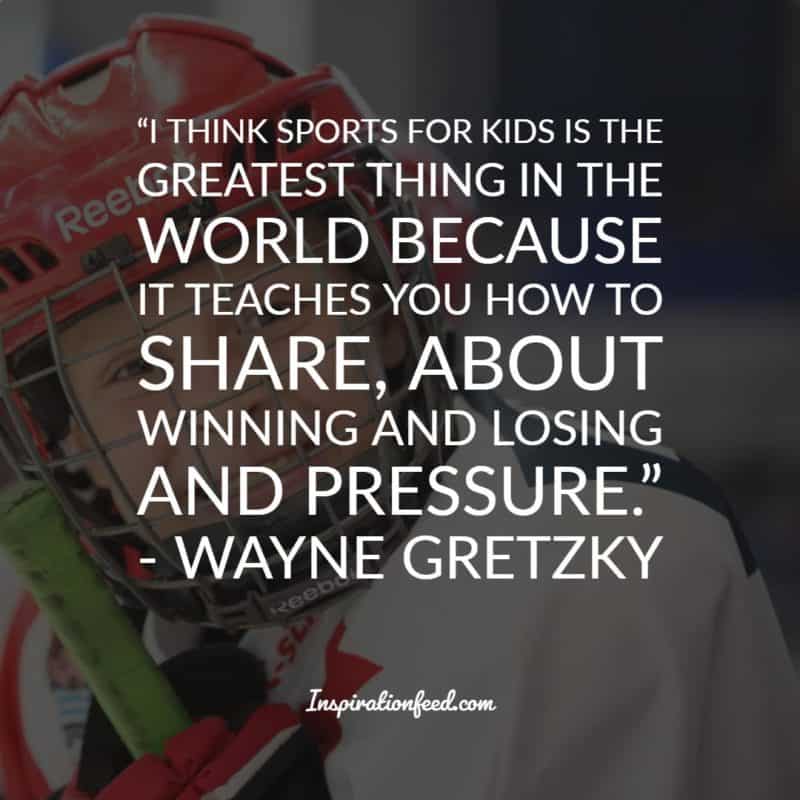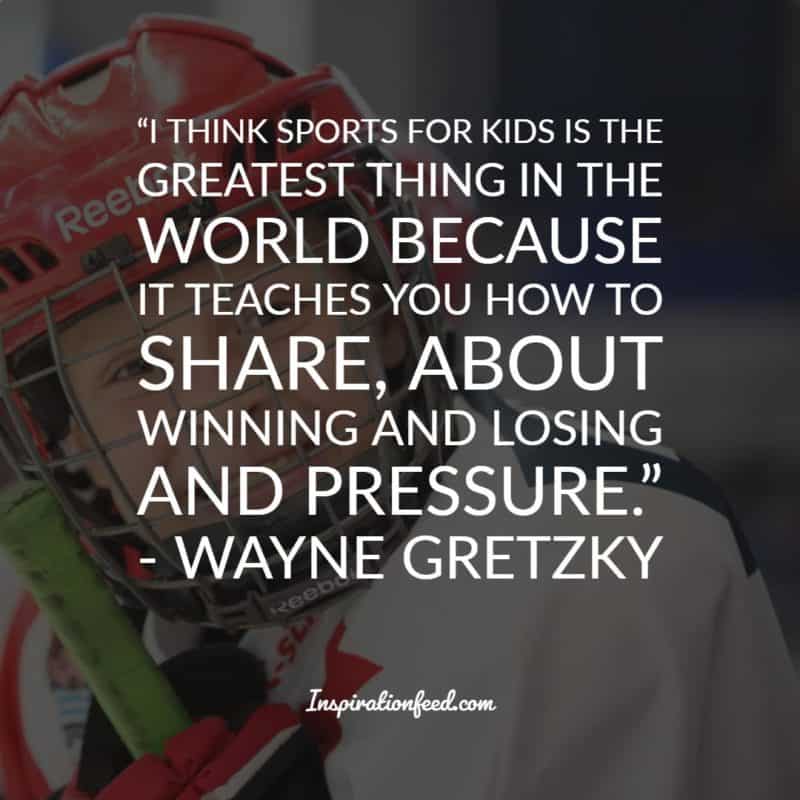 "I think sports for kids is the greatest thing in the world because it teaches you how to share, about winning and losing and pressure." – Wayne Gretzky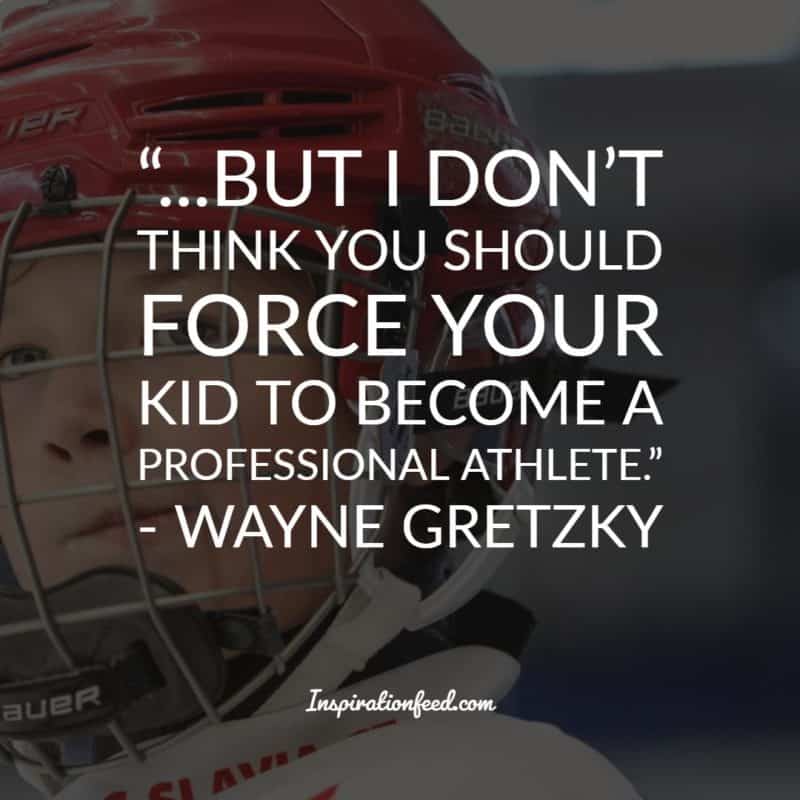 "…But I don't think you should force your kid to become a professional athlete." – Wayne Gretzky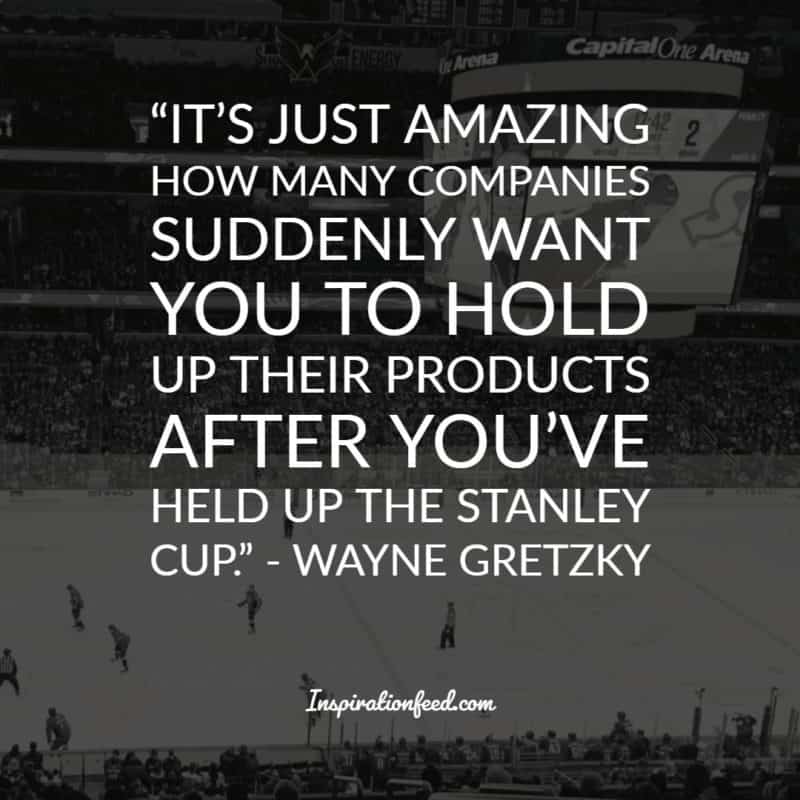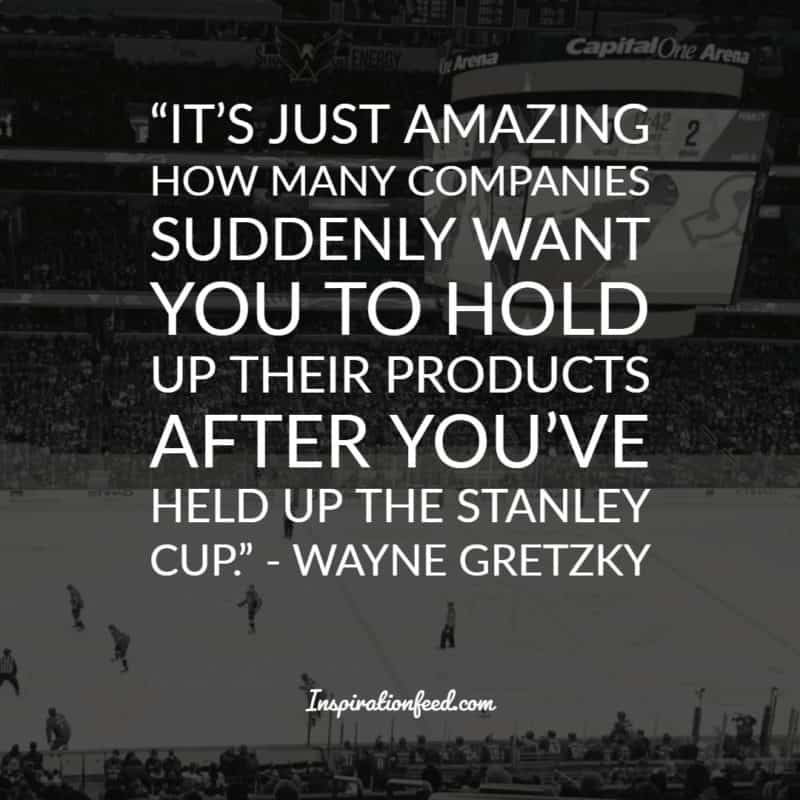 "It's just amazing how many companies suddenly want you to hold up their products after you've held up the Stanley Cup." – Wayne Gretzky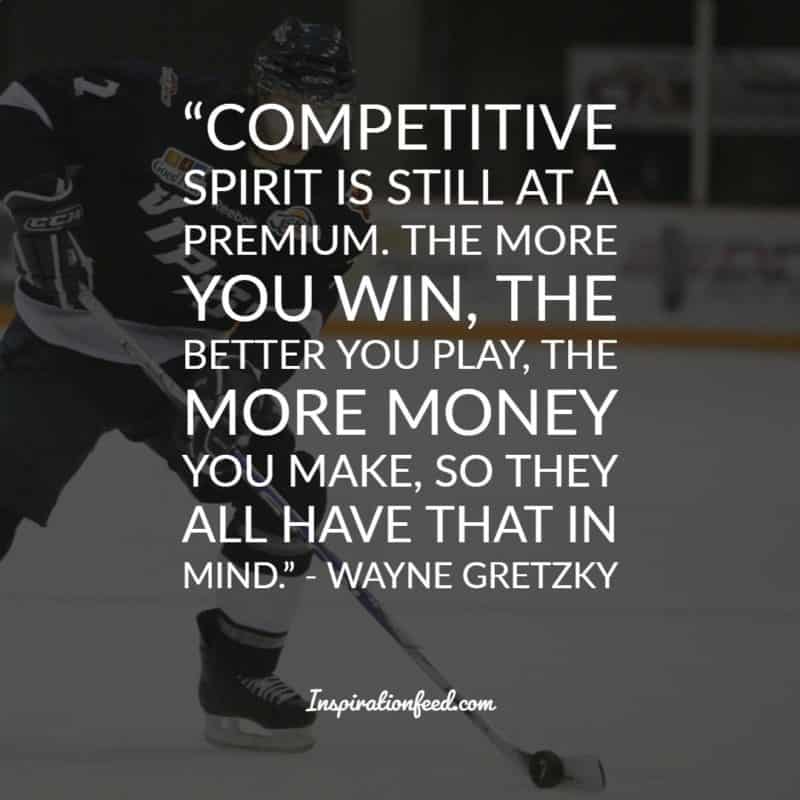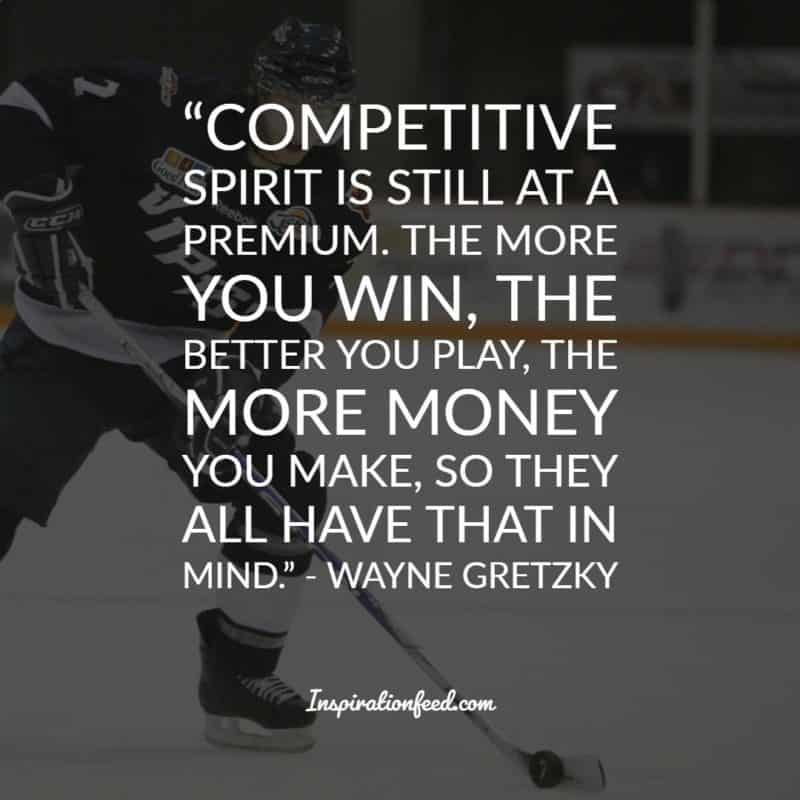 "Competitive spirit is still at a premium. The more you win, the better you play, the more money you make, so they all have that in mind." – Wayne Gretzky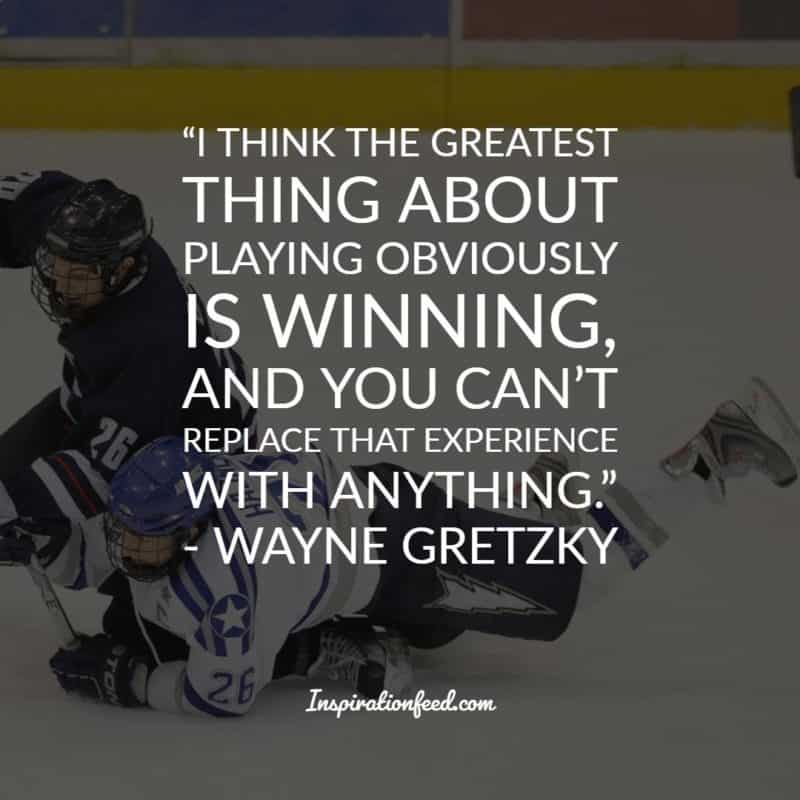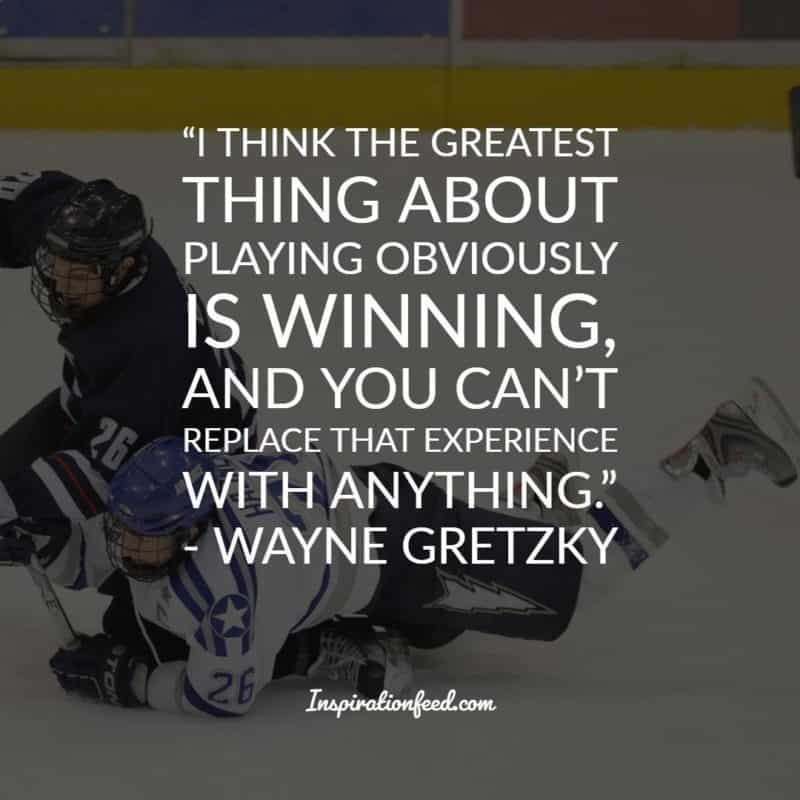 "I think the greatest thing about playing obviously is winning, and you can't replace that experience with anything." – Wayne Gretzky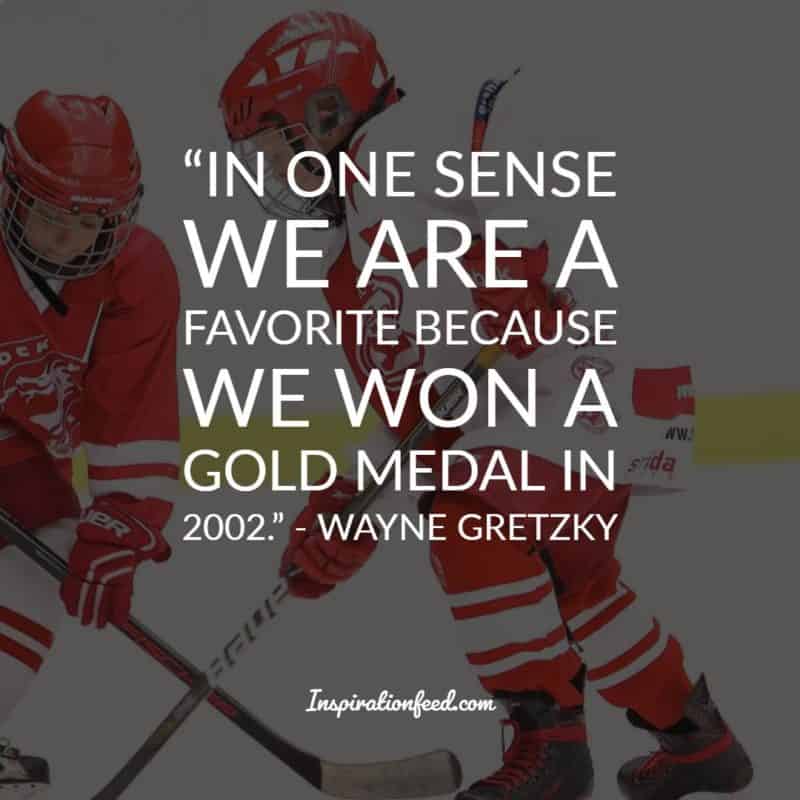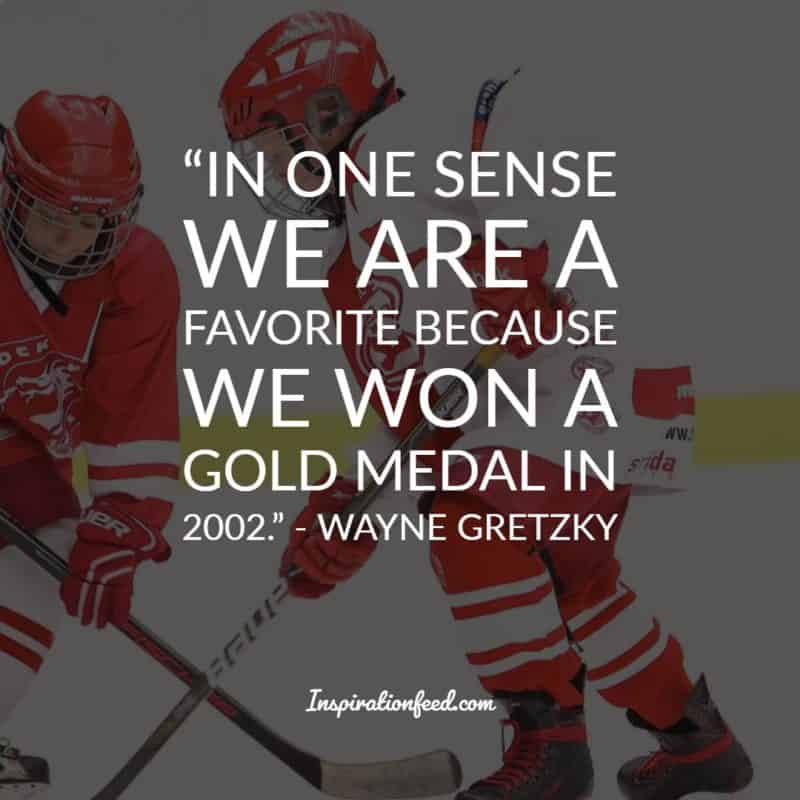 "In one sense we are a favorite because we won a gold medal in 2002." – Wayne Gretzky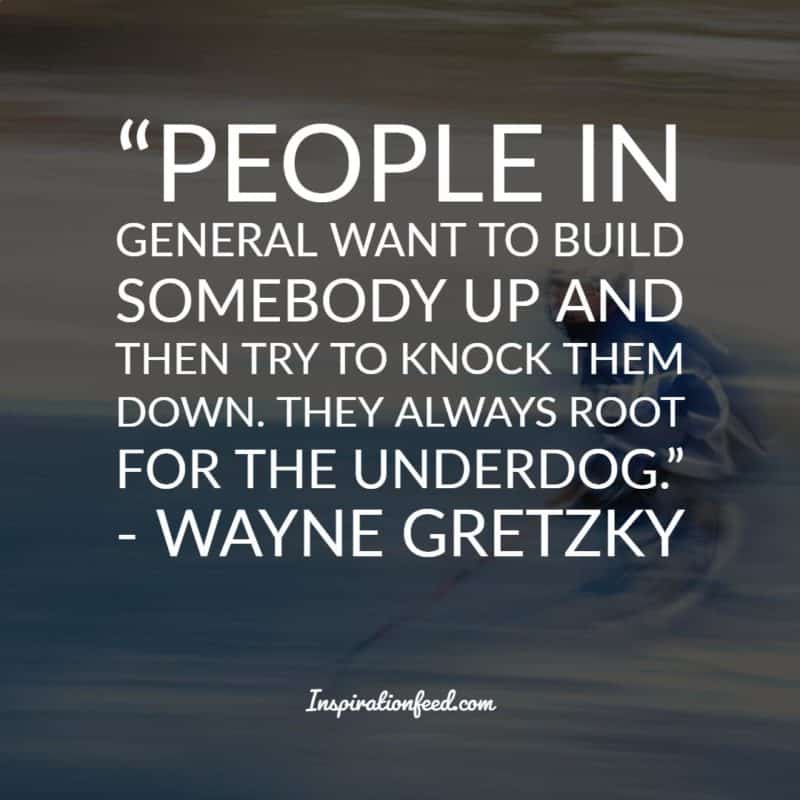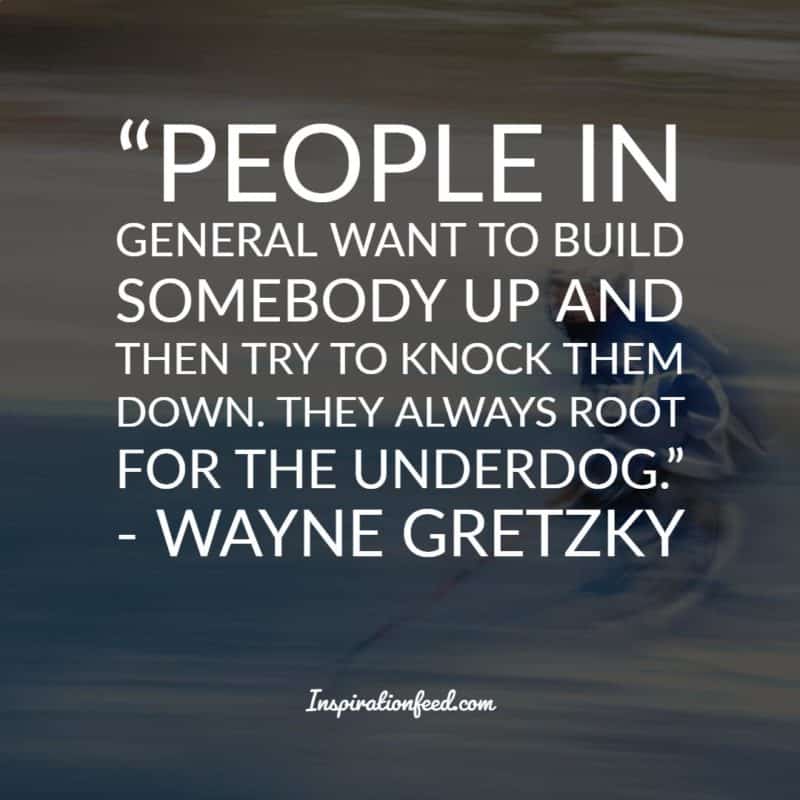 "People in general want to build somebody up and then try to knock them down. They always root for the underdog." – Wayne Gretzky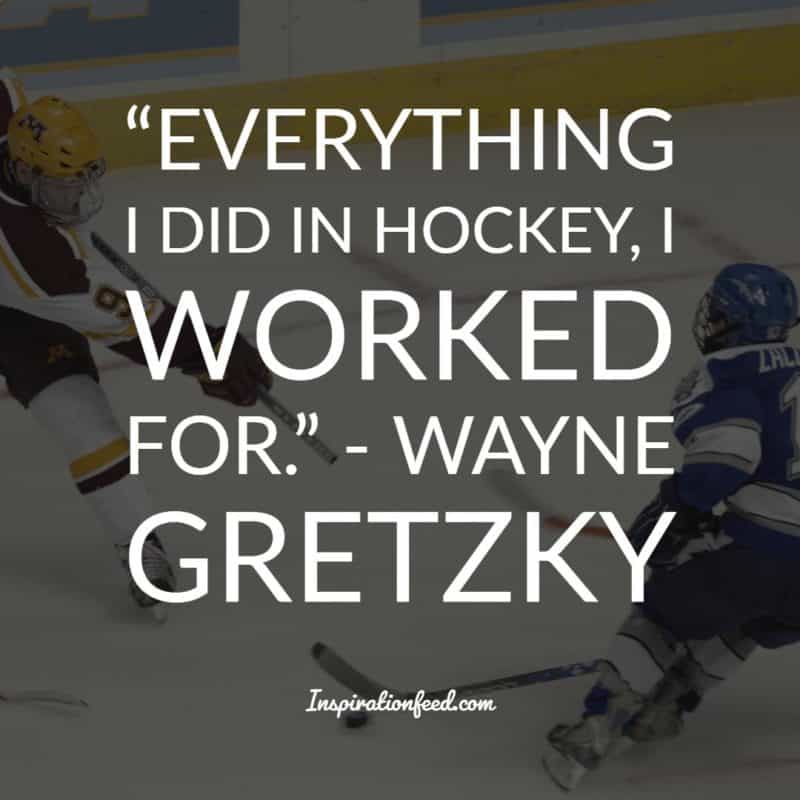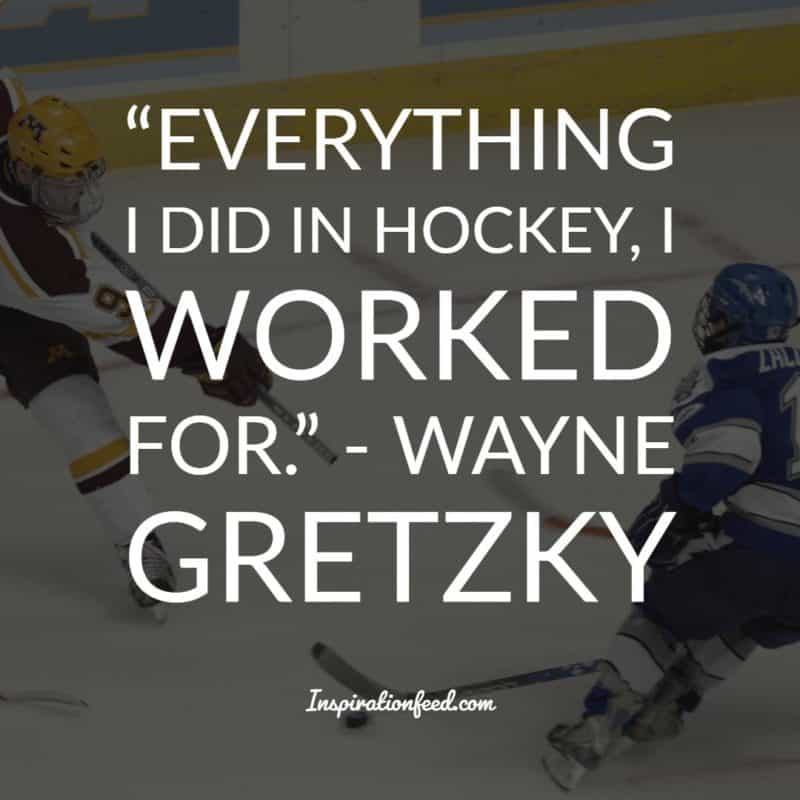 "Everything I did in hockey, I worked for." – Wayne Gretzky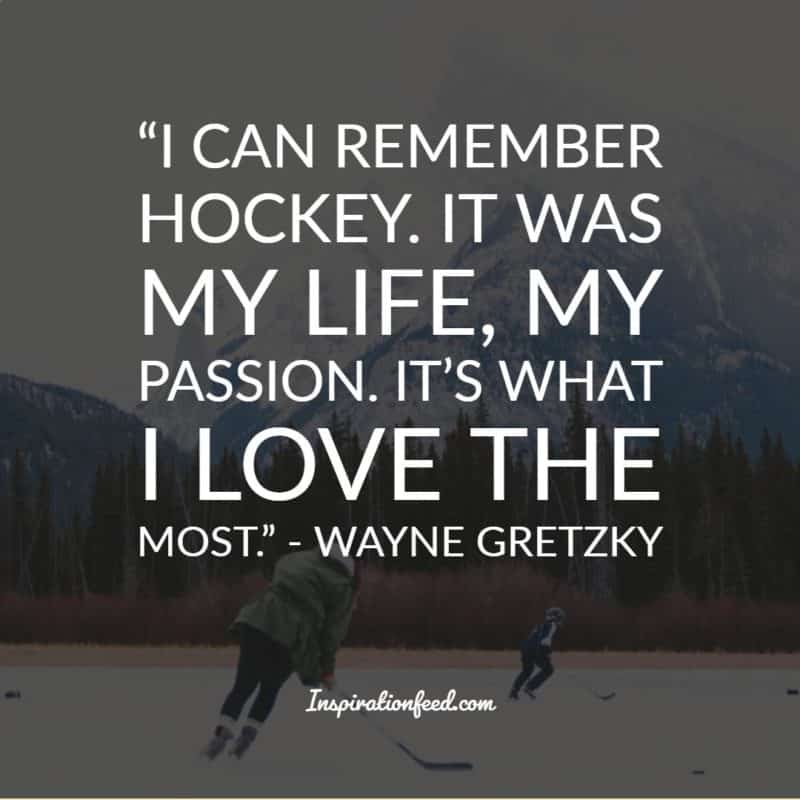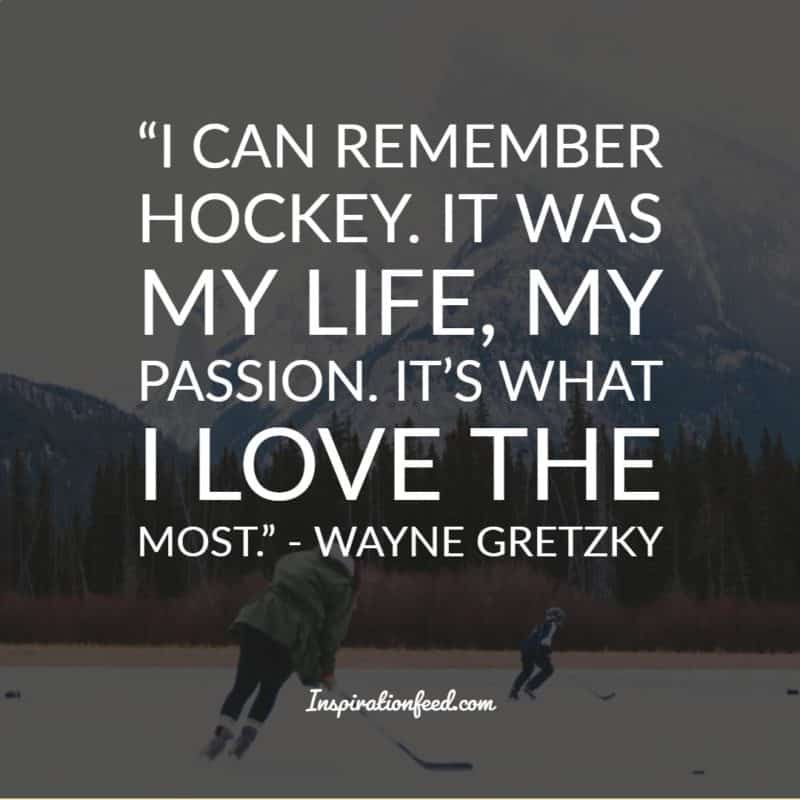 "I can remember hockey. It was my life, my passion. It's what I love the most." – Wayne Gretzky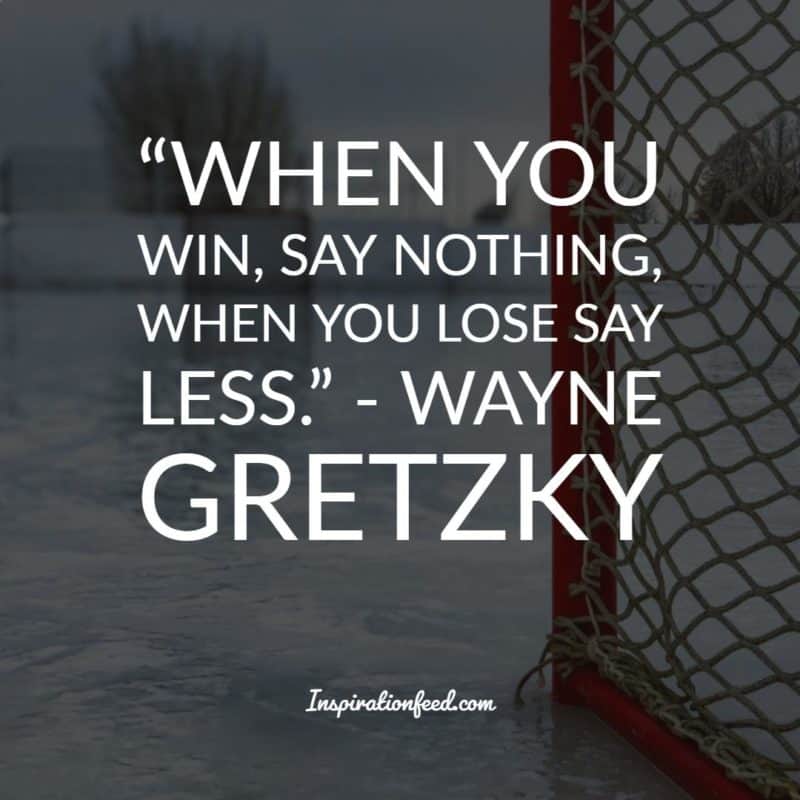 "When you win, say nothing, when you lose say less." – Wayne Gretzky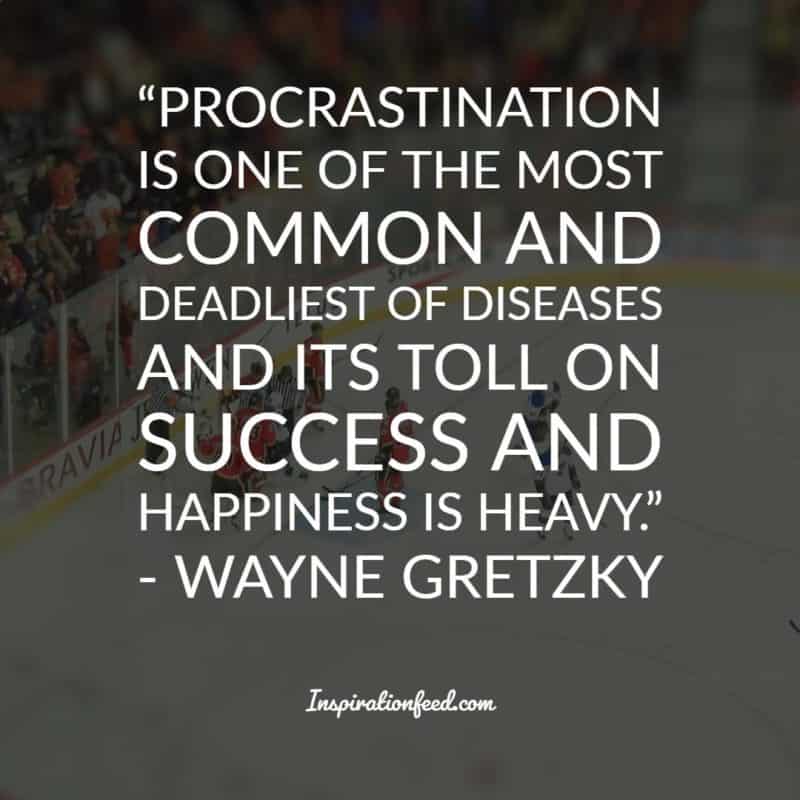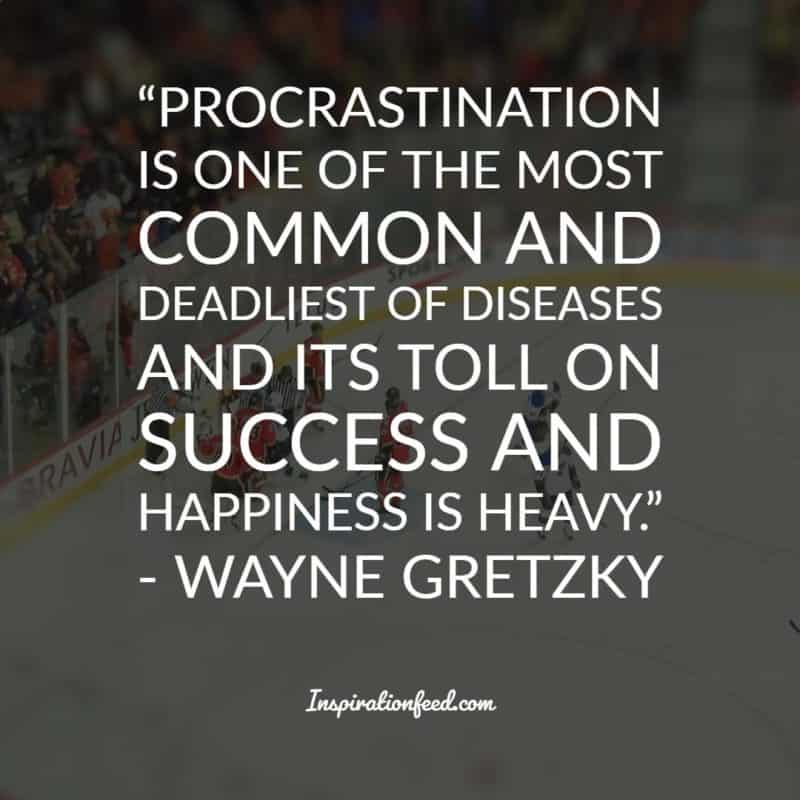 "Procrastination is one of the most common and deadliest of diseases and its toll on success and happiness is heavy." – Wayne Gretzky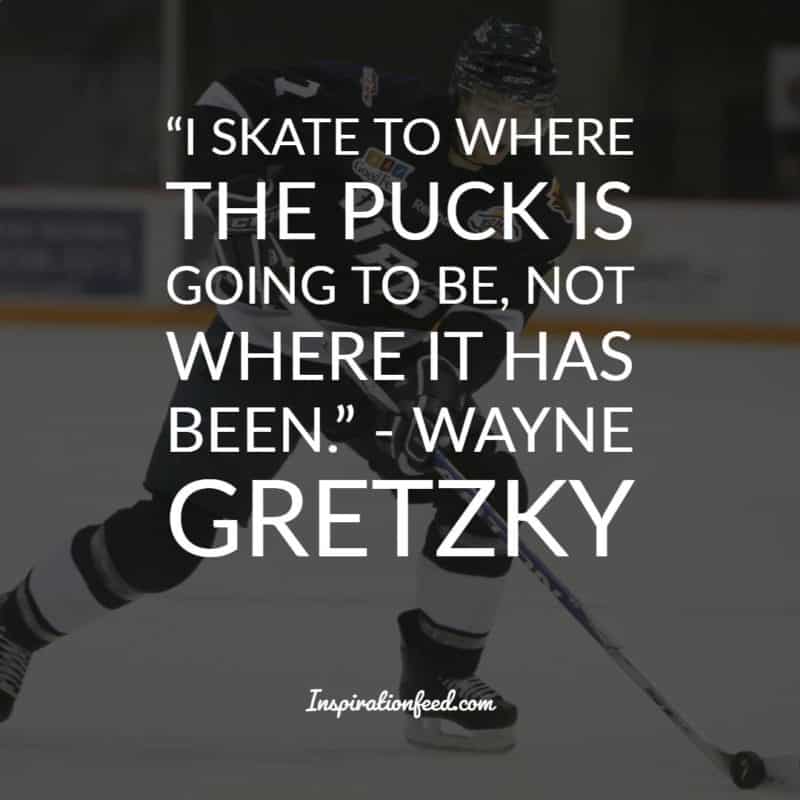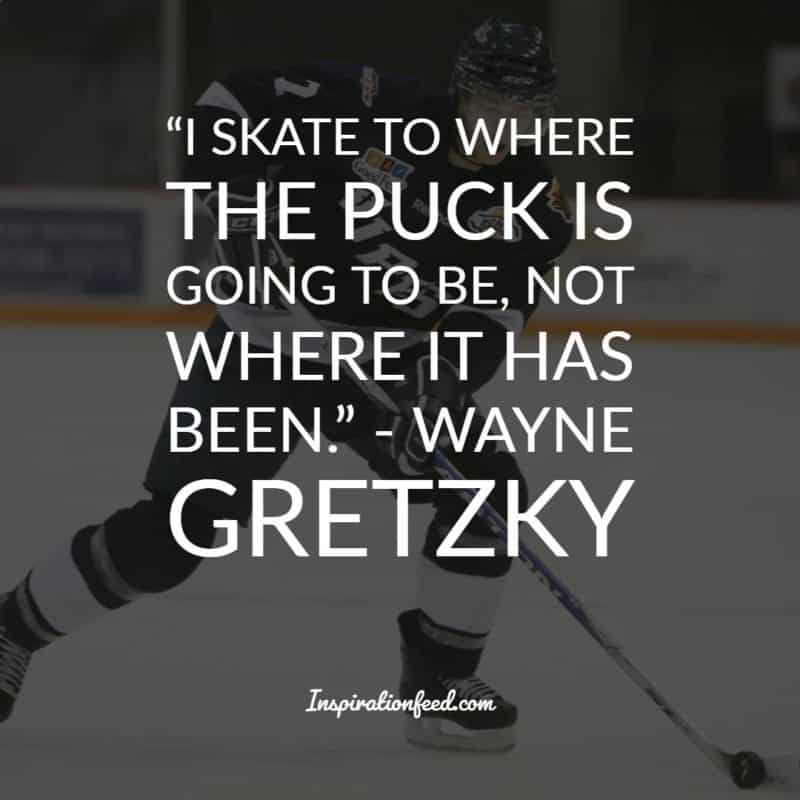 "I skate to where the puck is going to be, not where it has been." – Wayne Gretzky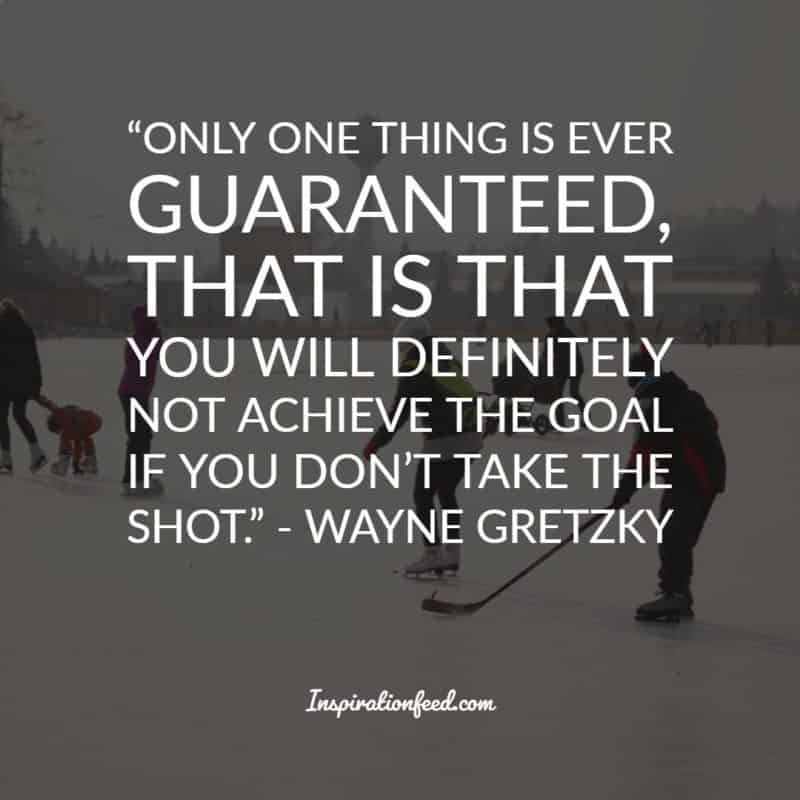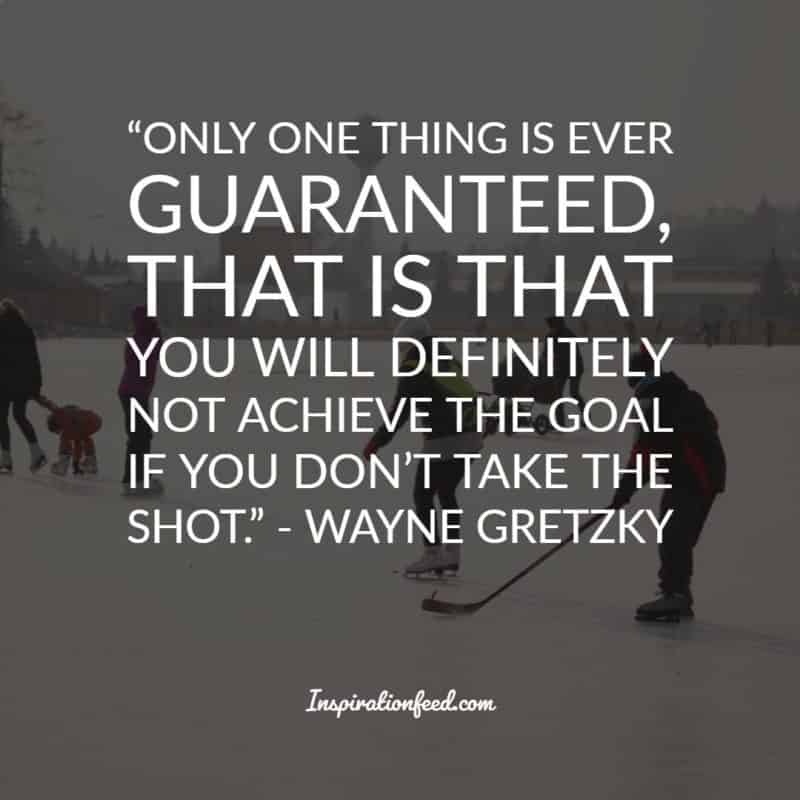 "Only one thing is ever guaranteed, that is that you will definitely not achieve the goal if you don't take the shot." – Wayne Gretzky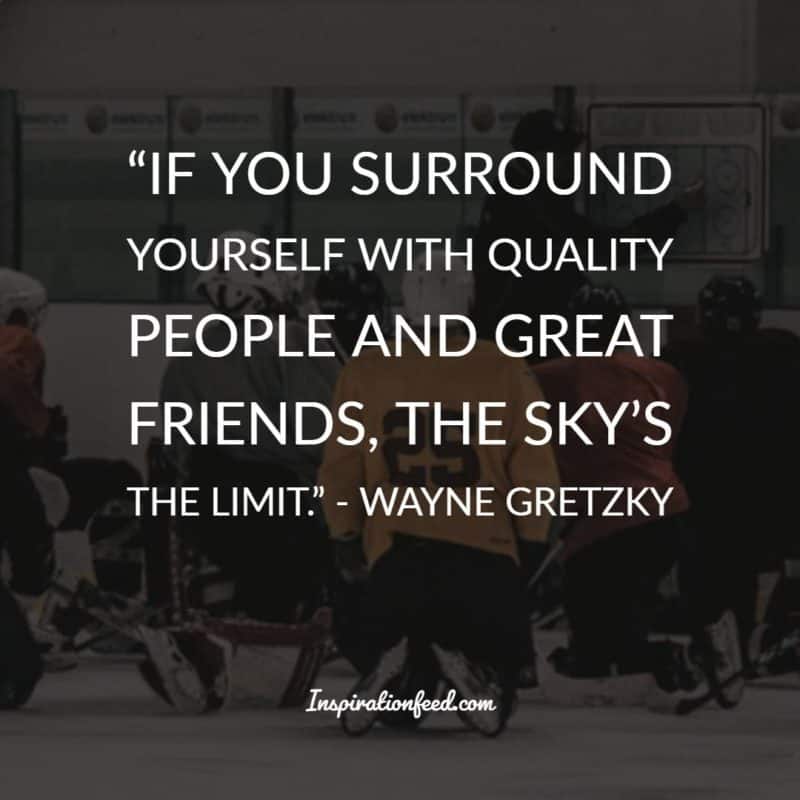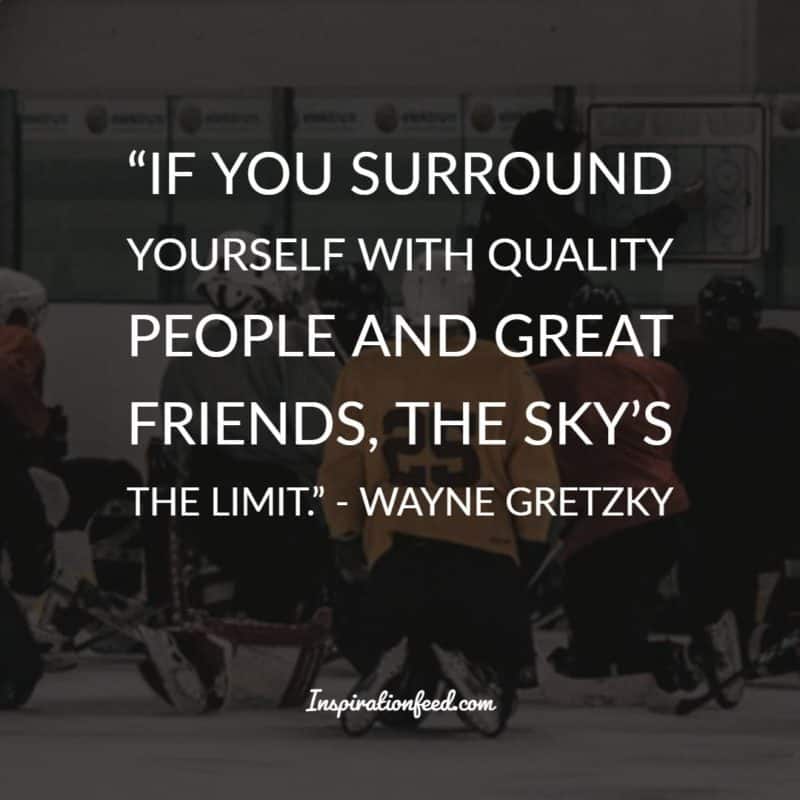 "If you surround yourself with quality people and great friends, the sky's the limit." – Wayne Gretzky
"Not doing it is certainly the best way to not getting it." – Wayne Gretzky