Last Updated on March 8, 2022
The ability to test a design early and often, and the opportunity to collaborate easily with other project stakeholders, are but two of the benefits a prototyping approach offers.
Early testing, together with peer reviews and feedback, tends to speed up rather than hinder the design process, plus ensuring that design errors or omissions will not migrate into the final design and negatively impact user experience.
These benefits and others can be easily achieved by selecting the best prototyping tools and adhering to the well-established best practices outlined here.
Three Best Practices that Produce Superior Outcomes
To get the best outcome from any prototyping project, there are certain techniques that need to be employed. These three are among the most important, if not the most important prototyping practices you need to keep in mind:
User Flows – If you don't know what you're doing, don't do too much of it. That is true for software development projects and for prototyping as well. User flows are roadmaps. They indicate how a website (prototype) should be set up to meet the owner's business needs, and they indicate the steps a visitor needs to follow to meet his or objectives. Construct these roadmaps as your first step.
Test the Prototype – A major prototyping benefit is the ability to test your design early and often. Errors that are not caught early due to a lack of testing can become embedded in the design, and difficult to fix later on. A design error that is detected in a lo-fidelity prototype is usually easy to fix. If it is allowed to migrate into code, the remedy can be difficult, expensive, or both.
Collaborate – Collaboration can also be used as a means of testing. Independent testing, which includes feedback from team members and clients, is an excellent form of testing. Collaborating is also a team building activity, and of even greater importance it is a knowledge-sharing activity. The best tools offer collaborative features. Take advantage of them.
Five Excellent Prototyping Tools
One or more of the tools described here should definitely fit your needs, whether you are looking for an online or a standalone tool, one that is especially suitable for app design, or one that fits nicely with PowerPoint. Each one effectively supports team collaboration and early and frequent usability testing.
Proto.io is one of the most powerful design prototyping tools on the market. With it, you can not only author screens from scratch as you would in Sketch or Photoshop, but also import your own assets.
This web-based tool can provide the solution you are looking for if your objective is to create a high-fidelity prototype whose features are barely distinguishable from the end product. One of the more advantageous features of Proto.io is its ability to test your prototype on any of the popular devices, while faithfully simulating the gestures and transitions that contribute so much to mobile devices' user experience.
Proto.io enjoys an impressive user base, ranging from countless individual designers and small teams to several large corporations. Business owners and executives make wide use of this tool to create prototype designs prior to committing resources to full-scale design and development efforts.
You will find the large UI and design element library extremely useful. Excellent support, ranging from documentation and online video tutorials to a friendly and helpful staff is there for you as well. Proto.io is worth considering if your objective is perfect simulation of an end-product design.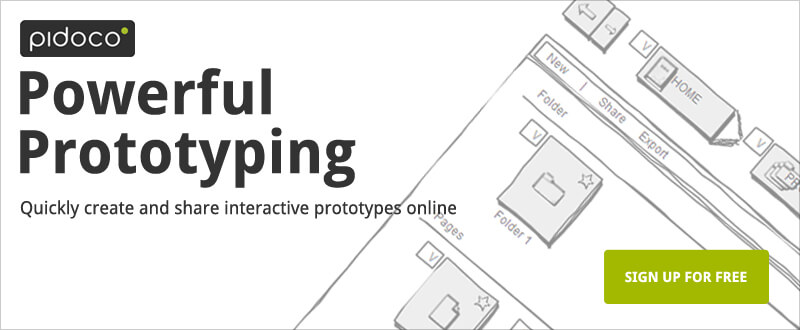 Pidoco is also a web-based tool. It is noted for its global layer feature, which highlights the ability to easily insert common mockup elements into multiple pages, and also it's 400+ design element library.
Its defining feature however is its ability to foster a collaborative environment that makes a difference. Several designers can work together in real time, and manipulate a prototype design in the knowledge that version history and version control is being maintained throughout the working session, and from one session to the next.
A visit to Pidoco's website, and viewing their excellent video, will give you a good idea as to the ease in which designers and developers in over 50 countries have found this tool to work with. Another benefit this tool provides is the easy access to users for their participation in usability testing via an easy commenting mechanism.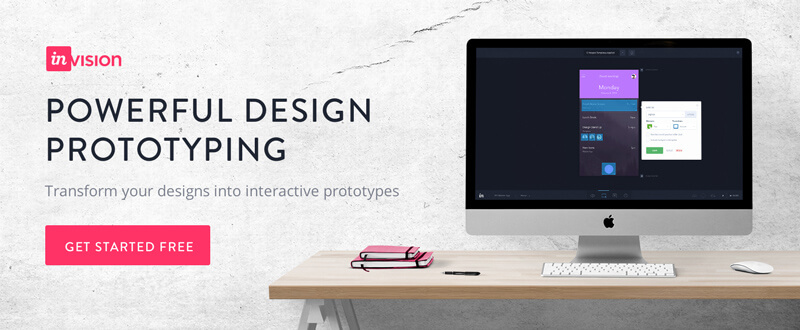 Advertised as the world's most powerful prototyping, design collaboration, and workflow platform, InVision continues to add and improve its innovative features. One of those is LiveShare, a presentation tool that lets teams collaborate in real-time. Just select a point on a wireframe you'd like feedback on, and LiveShare keeps track of comments for future reference. Plus, it maintains a version history of iterations so teams can easily stay up to speed on a project's status.
Soon to be released by InVision: Motion, which will make it easy for designers to quickly create advanced animations right inside InVision without any coding.
Communication and collaboration are key when you're designing—especially if you're working with a dispersed team. Use InVision for seamless communication and a faster, more efficient design process.
Just as you would expect from a professional tool, HotGloo makes prototyping and project coordination a snap. Quickly review your work and gather feedback or make changes on the fly – in real time. This tool is not only a real time saver, because it enables you to focus on the website/app architecture, it will also deliver a picture-perfect blueprint of your website or app. HotGloo is an ideal tool when it comes to prototyping in the browser.
If you are a PowerPoint user, your search for the ideal prototyping tool might come to an end right here. PowerMockup should fit your needs exactly, as it is a Microsoft PowerPoint add-on. As such, you can combine the features it has to offer with many of the powerful features PowerPoint brings to the table.
The 800+ UI elements and icons are constructed entirely from PowerPoint shapes. An instant search feature makes individual elements easy to find, after which they can be added to a PowerPoint slide by drag and drop. Nothing complicated, no coding is necessary, and you can sign up for a free trial.
Select One of These Tools, Keep Best Practices in Mind, and You Are Good to Go!
As you can see, while each of the above tools has its unique strengths, any one of them would be an excellent choice. They all have strong collaboration and version control features, and they are all capable of delivering high-fidelity prototypes. Visit the websites, view the demonstration videos, and sign up for the free trials that several have to offer.
Once you've made your choice and you are ready to put your new top-of-the-line tool to work, keep the best practices in mind. By doing so, you will benefit even more from the features and capabilities these tools provide.