Last Updated on March 8, 2022
Spotify is a fantastic entertainment platform that has recently grown in popularity as a well-known live streaming service. The audio tracks are of excellent quality. Spotify is the ideal app to keep you entertained while you're online if you enjoy music.
Most Spotify users choose to listen to their favorite tunes when offline. This procedure can be carried out in a variety of ways. To get the desired high-quality results, you must choose an effective program. Here you'll find the best Spotify music converter, AudFun Spotify Music Converter, which works well on the Spotify platform for speedy downloads of your favorite soundtracks.
Part 1. Spotify: More You'll Know
Spotify is the most popular streaming service, allowing users to listen to music online comfortably. You may listen to your favorite songs and albums that are only available through this app. Around 20 million songs and several genre categories are available on this app. Users may listen to songs, tracks, and more from various artists.
You may easily make your playlists of songs and listen to individual tracks. You may also discover a radio option on this app on this streaming service. Spotify is available on a variety of platforms, including Android and iOS.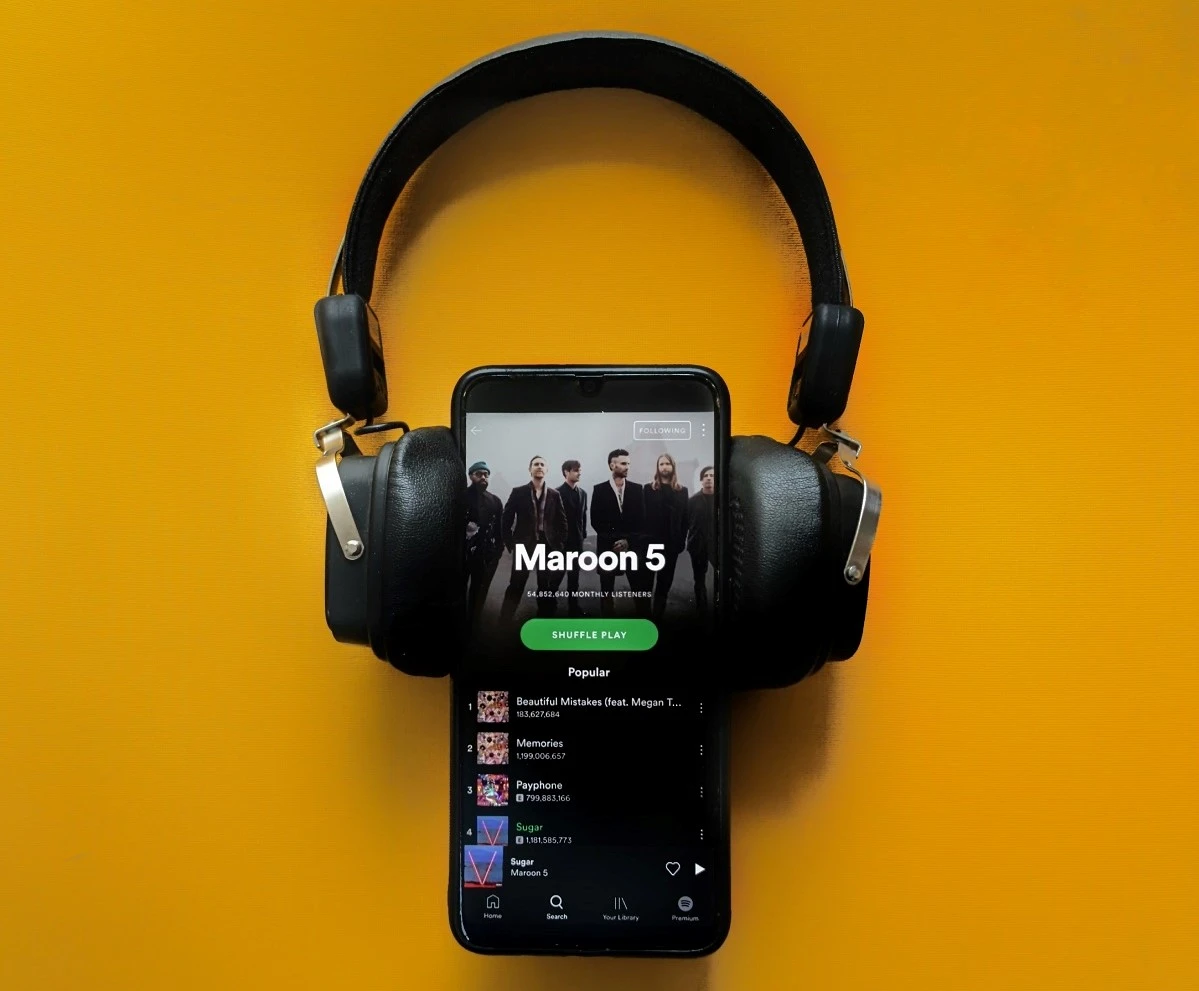 Spotify music may be listened to on several different devices. It may be used on Windows, Android, iOS, and Mac computers. To listen to music, one either download the Spotify app or use the online web player.
Yet, the songs you discovered on Spotify are copyrighted and cannot be downloaded or shared. As a result, one must convert them to MP3 format to download and share them with others. If you want to convert Spotify songs to MP3, you'll need to search for the best Spotify converter.
Part 2. Can You Use Spotify Music Offline?
Spotify offers the right for its premium users to listen to Spotify offline. Yet, Spotify premium customers may experience difficulties playing downloaded tracks on the Spotify app as they cannot use Spotify music offline. Below are some of the reasons:
You haven't used the Spotify app in the past 30 days.

You haven't given the Spotify app the appropriate rights.

Your device's Spotify app isn't working properly.

You've downloaded your music to more than five different devices.

For battery optimization, the Spotify app has been activated.

Your mobile device's SD card isn't operating correctly.

While playing the downloaded tracks, you haven't activated the offline mode.
While for Spotify free users, you can't use Spotify offline. So, is there any way for all Spotify users to enjoy Spotify music offline without any limit? Sure. You can find the solution below.
Part 3. AudFun Spotify Music Converter Overview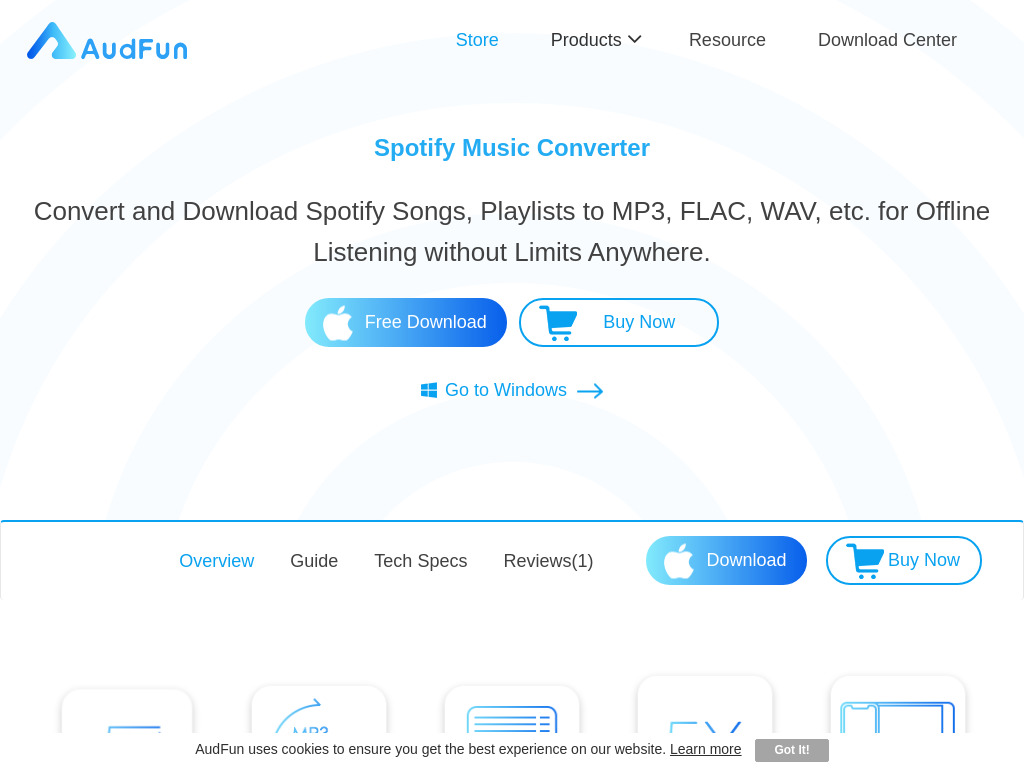 It's a creative method to store your favorite music for offline listening by converting your whole Spotify playlist to MP3 format. Sure, you can use Spotify's offline saving function to listen to music while you're not connected to the Internet with Spotify premium. 
But what if you want to listen to it on other devices or media players without having to install Spotify? We'll need third-party software to convert Spotify sounds into desired formats because there isn't a built-in utility like Spotify converter that downloads the music as MP3. Here AudFun Spotify to MP3 Converter is the best tool to download Spotify music. 
Part 4. AudFun Spotify Music Converter Features
Below are some of the key features of AudFun Spotify Music Converter, you can check them out.
Spotify may be used on a variety of devices and players
AudFun Spotify Playlist Converter combines many of the greatest features of music converters to allow you to download popular Spotify tracks offline, almost like magic. Then Spotify material may be used and played on any of your devices, including MP3 players, gaming consoles, and more.
Up to 5X faster conversion
AudFun Spotify Song Downloader uses the most advanced acceleration technology to boost converting efficiency. It offers the ability to download Spotify playlists in batches at up to a 5X faster conversion speed. It can quickly amass a sizable Spotify music library.
A high degree of compatibility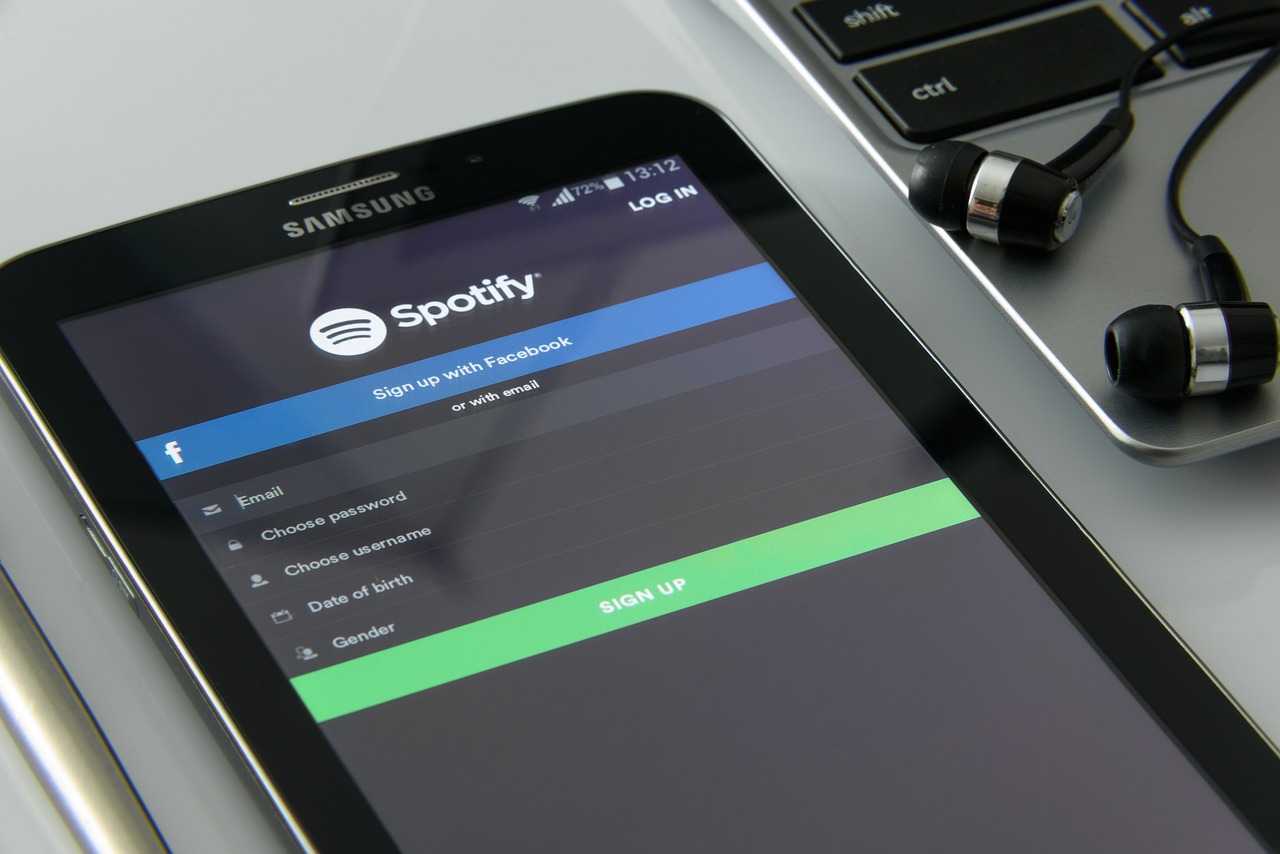 From macOS 10.8 to macOS 12, from Windows XP to Windows 11, AudFun Spotify MP3 Converter covers both Mac and Windows operating systems. It's also updated to operate with the most recent applications.
Updates and support for the rest of your life
AudFun Software will update it periodically to optimize speed and support the newest Spotify desktop client. After you've purchased it, you'll have access to free upgrades and technical support for the rest of your life.
UI that is simple to utilize
With AudFun Spotify Song Downloader's simple and easy-user interface, downloading Spotify tracks with only a few clicks has never been easier. There are no technical skills required.
Part 5. How to Use AudFun Spotify Music Converter to Download Spotify Music for Free
Follow the below-mentioned guide to use AudFun Spotify Music Converter to convert and download music from Spotify for use offline.
Step 1: Add and convert your favorite Spotify songs, playlists, and albums
Download and then install the AudFun program. Then please use the pop-up Spotify desktop client to search songs that you'd like to convert to MP3 in the first place. Then tap the item once you've discovered it and select Share > copy Spotify URL, use the Copy Spotify Link option.
The AudFun Software interface has an address bar. Just paste the link here and press the Add button to load them. You may just drag and drop songs from different playlists or albums into this tool if you have a few to convert.
Step 2: Customize Spotify's audio output parameters
Return to the AudFun Menu bar and select Preferences > Convert from the drop-down menu to open the setting window. Spotify's output format may now be changed to MP3, FLAC, M4B, WAV, M4A, or AAC. You can choose to convert Spotify to MP3 or other plain audio formats.
You may also configure additional output characteristics such as bit rate, sampling rate and categorize output recordings by artists or albums for a better music listening experience.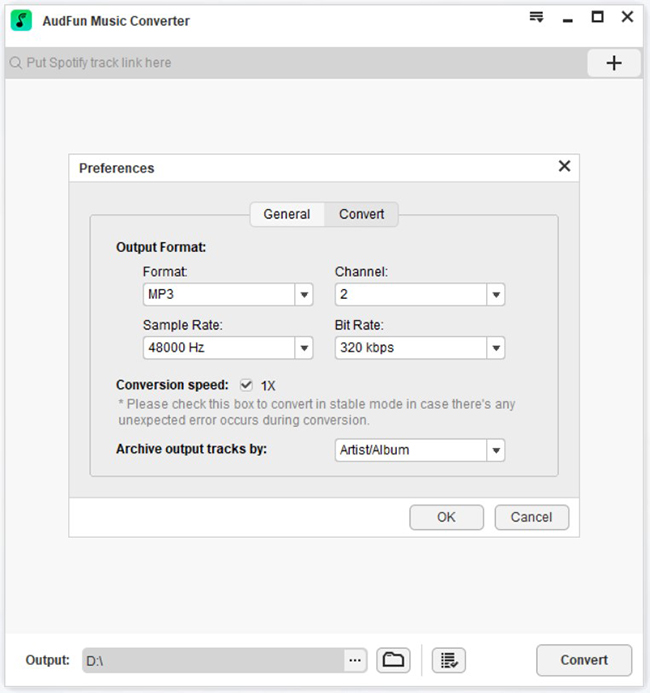 Step 3: Download and convert Spotify songs to MP3 format for free
Please hit the OK button to confirm all of the changes you've made so far. To begin the converting process, click the large Convert button in the bottom-right corner of this software. According to your preferences, it will download and convert any Spotify tracks you've added to the target files.
After conversion, it can locate all offline Spotify music on your computer's target folder. You may download them to any device and listen to them while you're not connected to the Internet.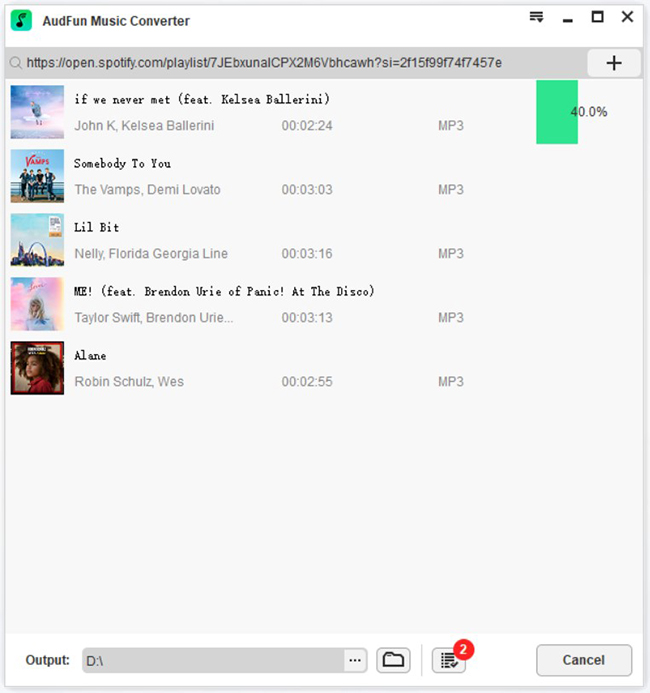 Part 6. AudFun Spotify Music Converter: Pros and Cons
Pros:
A professional music converter and downloader for all Spotify user 

Download all Spotify songs with both free and premium Spotify account

Convert Spotify to several audio formats, including MP3, FLAC and more

Download Spotify songs with lossless audio quality and full ID3 tags

Enable you to listen to Spotify music offline on all devices while on the road
Cons:
Part 7. AudFun Spotify Music Converter: Pricing Details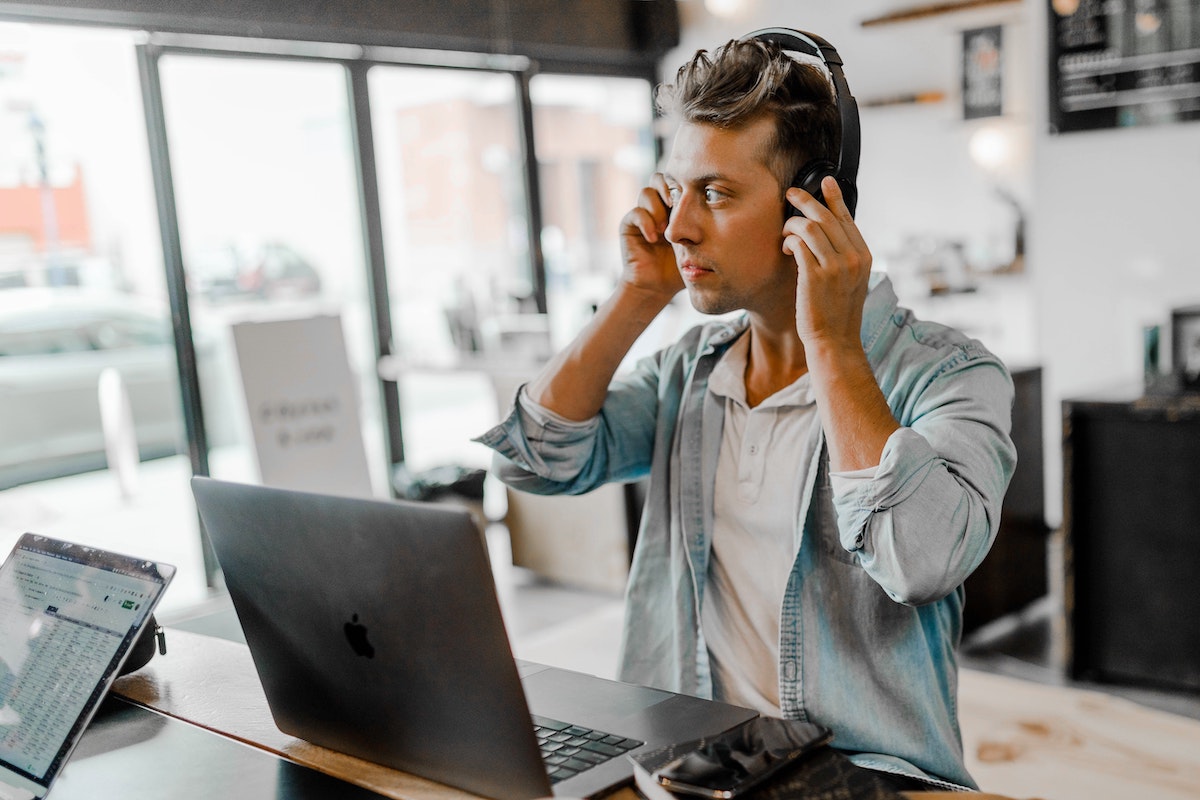 The application is available in two versions: paid and free. Paid contains all of the features and has no restrictions. While the free version has significant limitations, it is still useful.
Paid version:
In terms of cost, it is a cost-effective program. There are no download limits with the premium edition, whether a song or a playlist. Furthermore, you do not need to be concerned if you encounter any problems with the application as it includes free lifetime support and updates.
1-Month License: $14.95; 1-month license for 1 PC; You can cancel the subscription anytime; It offers 1-month free update and support.

Single License: $45.95 for 1 PC/lifetime

Family License: $69.95 for 5 PCs/lifetime
Both single license and family license supports lifetime free update and support.
Free version:
For the free version of AudFun Spotify Music Converter, you can get it from its official website and use it to download Spotify songs. Yet, it only allows you to download the first 1-minute of each Spotify track, not a full song.
Conclusion
With the aid of AudFun Spotify Music Converter, you may listen to Spotify music offline without being a Spotify subscriber. You may use it to download your favorite soundtracks from Spotify and listen to them on any media device of your choice. 
In a word, the AudFun Spotify Music Downloader software is the best way to get the most out of Spotify's music tracks. Choose the AudFun Spotify Converter tool and use it with the Spotify app to get the songs you want to listen to now.