Last Updated on March 8, 2022
Some WordPress websites take 10 seconds to load, while others load in just one or two seconds. Some look simple and load slowly, while there are those that look fancy yet still load quickly. But why does this happen? Is it true that a theme can make such a huge difference?
To find out, I started a personal project. The idea was to deploy different techniques of design and host different kinds of content in order to figure out what makes a website fast, responsive, and draws traffic best.
I knew I had to pick a theme for each; but there were so many options available, I just couldn't decide. A lot of free themes I found online didn't really feel that great, and some of the premium themes were way too expensive for what they looked like in practice.
Keeping factors like cost, page loading speed, ease of viewing, quality of code, and responsiveness in mind, I had a tough time deciding which to choose. Several hundred dollars and coffees later, I finally settled on a few that suited my requirements.
Picking the right theme is a crucial factor for running a successful website, and is an important investment indeed. However, since we all have different requirements, it can be really difficult to pick the one best WordPress theme for your website.
That's why – instead of telling you what themes I think are best – I am going to tell you about the best theme providers for WordPress websites.
WordPress Theme providers to look out for in 2019
1. DIY themes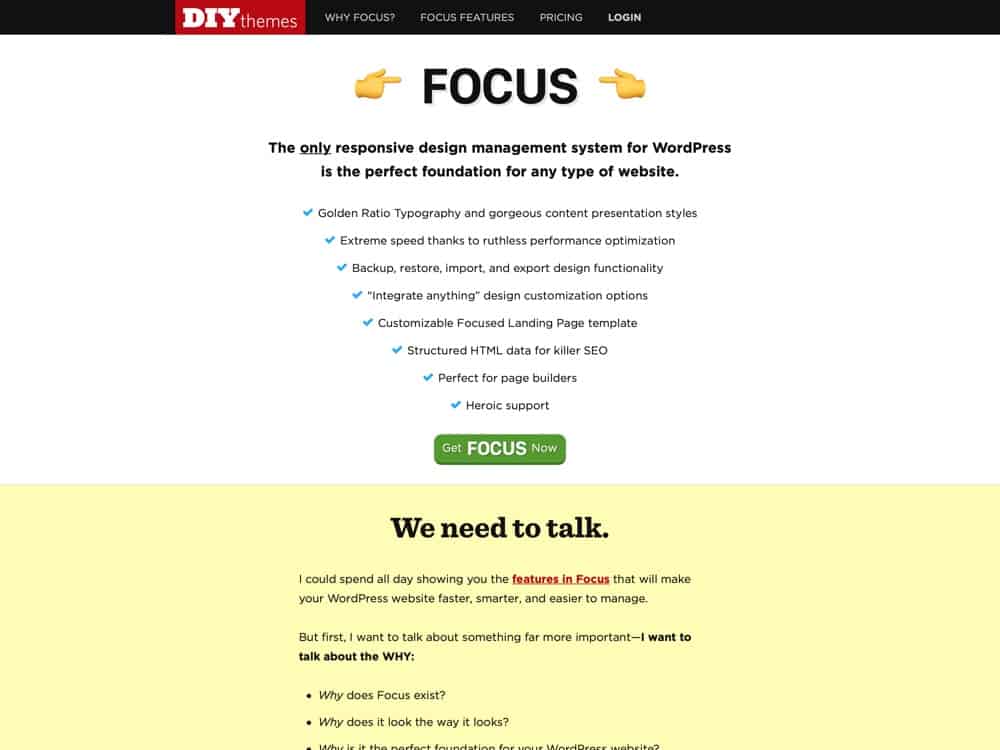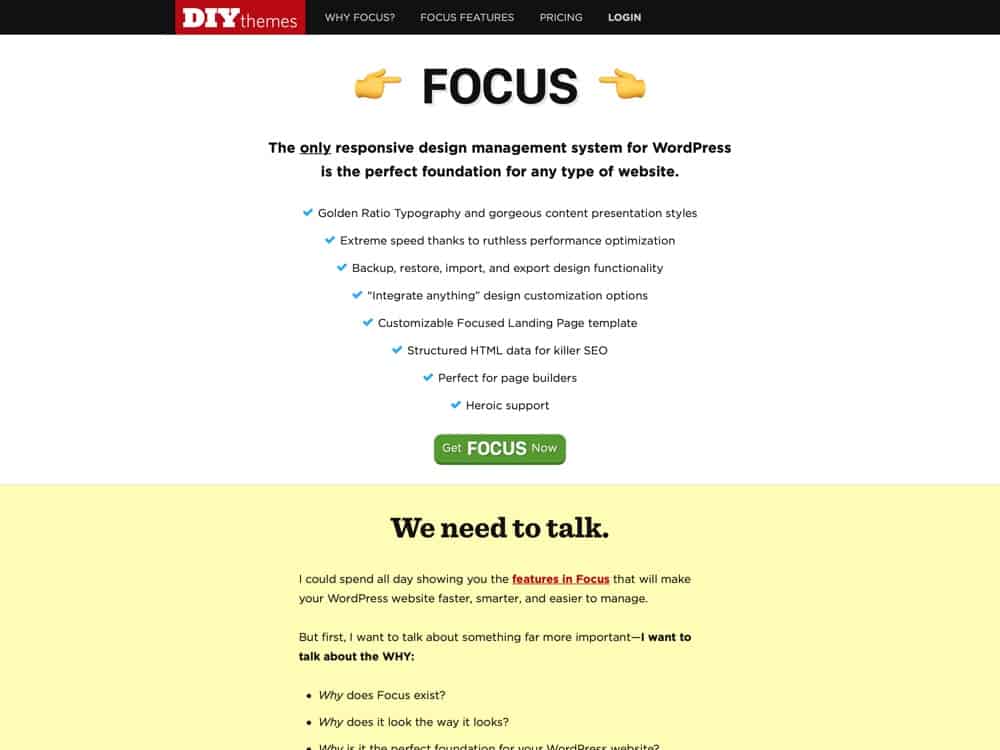 To be featured in the Top 10 results of Google search requires you to do a lot of things right. DIYthemes, one of the best theme providers in the market, can help you in this aspect through their design customization options that allow you to 'integrate anything' into your page.
DIYThemes first made its mark when it launched Thesis and focused more on the WP operating system. It quickly became popular with bloggers as it was easy to manage, had a lot of skins, and site tools to optimize website performance.
The latest version is Thesis 2.1.9

They have a broad range of themes to choose from and use structured HTML data for killer SEO. DIYthemes also claims to be the only responsive design management system for WordPress.
Note: The latest, newly designed themes are easily supported on devices such as mobiles, laptops, and desktops.
Features : 
Their idea of 'Focus' serves as the key foundation for WP themes. It helps to provide functionalities such as:
Quick loading Speed

SEO optimization

Drag-and-drop feature
Basically, you can customize your entire website without any complications and deploy email forms, sales pitches, calls-to-action, or whatever else you need on any page.
You also get excellent support and regular updates from the developers, ensuring your website is optimized for SEO, speed, and ease of maintenance.
The best part is, Focus comes with built-in GoogleAuthor and Schema integration.
Pricing :
The subscription comes with different free templates and includes Focus (along with Thesis) for a year and automatic WP updates for all your sites. It costs $100 for an annual subscription.
If you're worried that it's expensive, don't be. There are plenty of deals created by DIYThemes at any given time. Simply wait until they offer the product you want at a more reasonable price.
2. AppThemes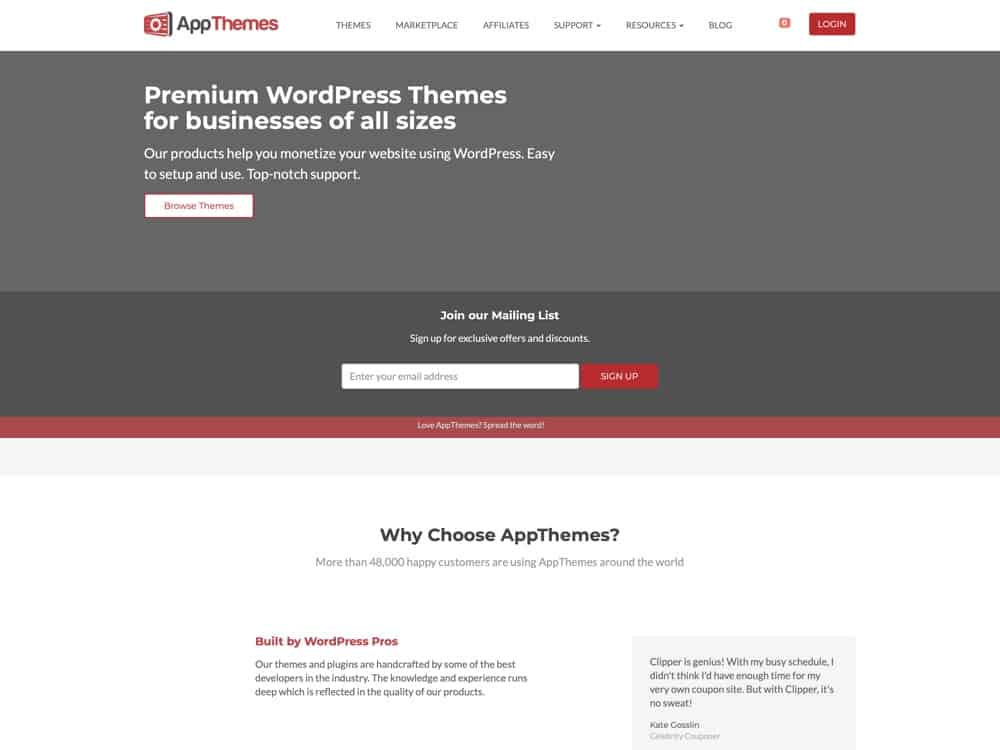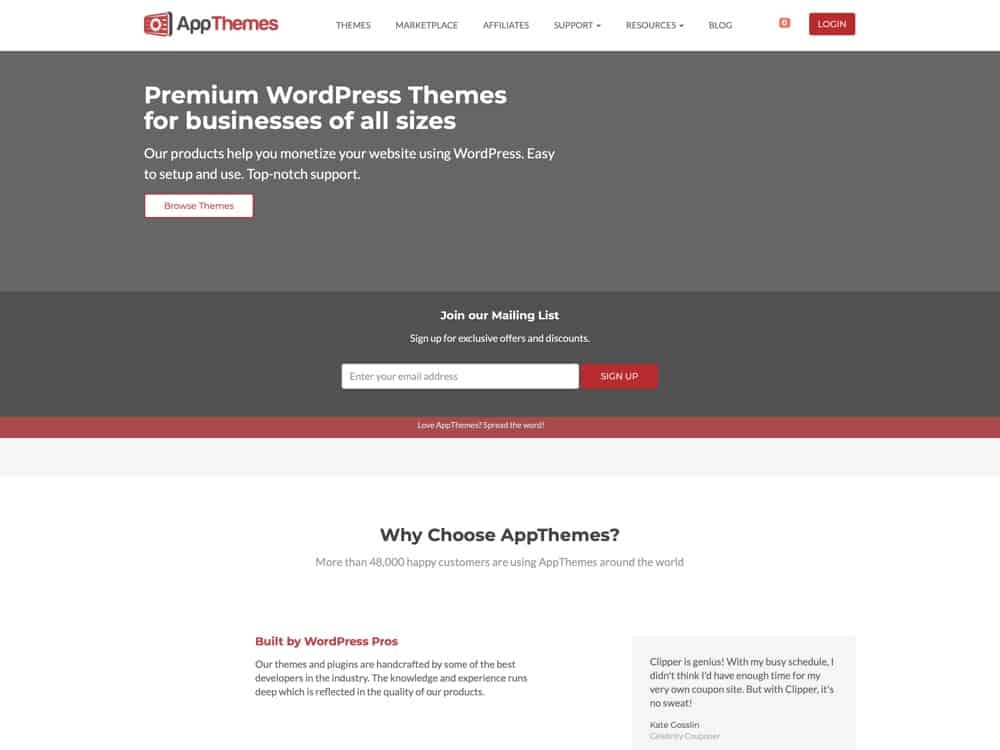 Every website owner would want to monetize their content at some point. If you would like to as well, I'm sure you'll find it reassuring that AppThemes is built to help you monetize your website.
Appthemes provides powerful, feature-rich and user-friendly themes built by WordPress pros that come with round-the-clock support, vouched for by more than 45,000 satisfied users.
You get many extra features for no added cost like in-house add-ons, child themes, and plugins that you can use to improve the functionality of your website. They also have awesome add-ons from several third party developers that are compatible with your themes.
The only disadvantage is that, you may find customization difficult without in-depth knowledge, so replacing or changing themes can feel complicated at times.
Premium Themes by AppThemes:
AppThemes has six premium themes that are currently available in the market:
ClassiPress

Vantage


Clipper

JobRoller

Taskerr

HireBee
Each of these themes has its own unique feature and focuses on a specific commercial niche, with pricing in four levels:
Single Theme Standard – This will cost you $69 for one theme, for one year.
Single Theme Developer – This is $159 for one theme for one year, plus basic plan features along with editable Photoshop (.psd) files.
AppThemes Club Developer – This subscription costs $199 and gives you access to all themes for free along with 20+ marketplace items for $199.
AppThemes Club Developer – This subscription includes all the above plans and will cost you $349.
If you find this a bit too expensive for your taste, there is a limited period offer where you can get all the premium themes at $69 each or $199 for all! I'd say AppThemes is your go-to if you want to make your business faster and better.
3. Elegant Themes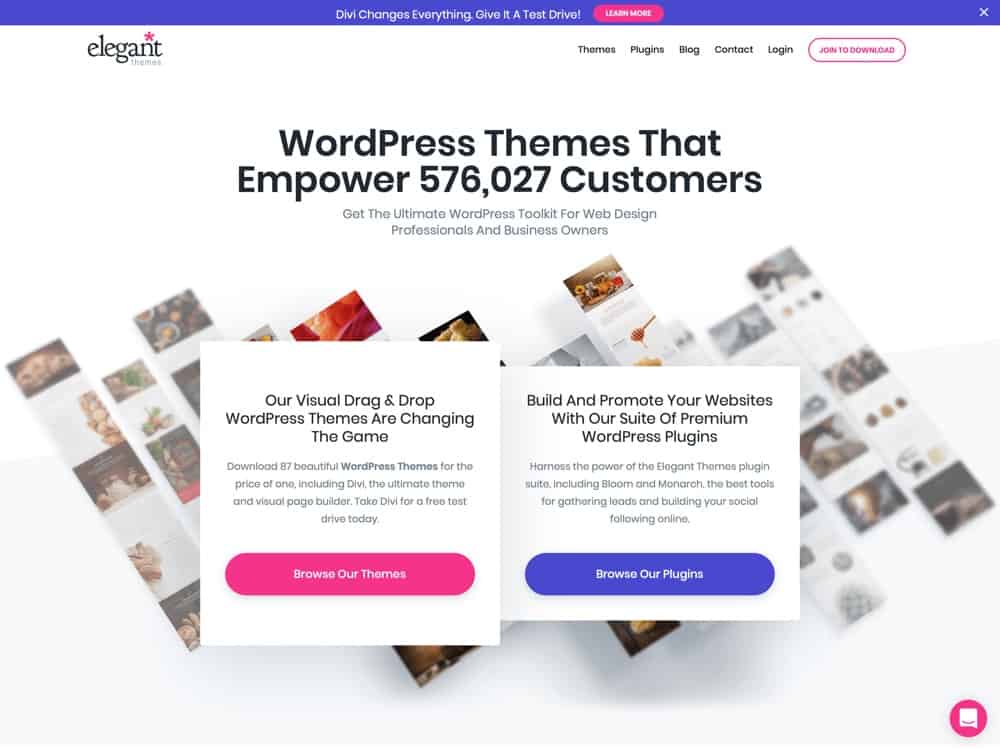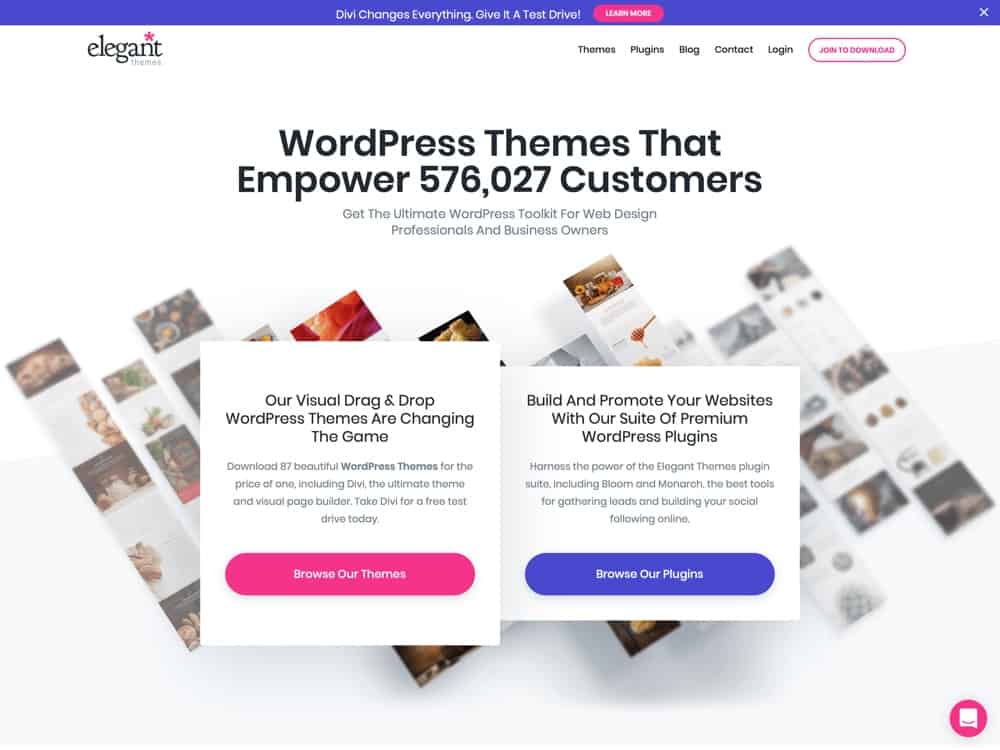 One of the highest-rated WordPress theme providers in the industry, Elegant Themes offers you 87 themes for the price of one, including Divi, an amazing theme and visual page builder.
With their Drag-and-Drop WordPress Themes, you can immediately see what your theme will look like and change it as desired. They also offer premium portfolio themes and plugins, which include  Divi Builder, Divi, and Extra.
Unlike other WordPress themes, Divi is a building framework that makes it possible to design beautiful websites without ever touching a single line of code, or needing to re-configure dozens of plugins.
Features in the Elegant themes:
Simple configuration options

Built-in SEO option(Advanced)
Easy to hide items in the frontend

Export and Import Library Data Into any of your website

High-quality collapse builder chunks

Friendly support staff
Pricing:
The Elegant business team works hard to keep prices attractive and offer a huge collection of WordPress Themes and plugins to users. They have two membership plans:
The first one is an annual plan that gives you unlimited access to anything available on Elegant Themes for

$8 a year

.

The second one gives you Lifetime Access to all the themes and plugins they have. This costs

$249 one time.
If you sign-up to become a Premium member, then you get five more additional plugins: Divi Builder, Monarch, Bloom, HandHeld, and Anticipate. ElegantThemes offers a 30-day money back guarantee if you are not satisfied with their product, and an additional 25 percent off on the Lifetime Access plan.
In short, Elegant Themes is a complete package for a person who is looking for professional and attractive website designs with the best available plugins.
4. StudioPress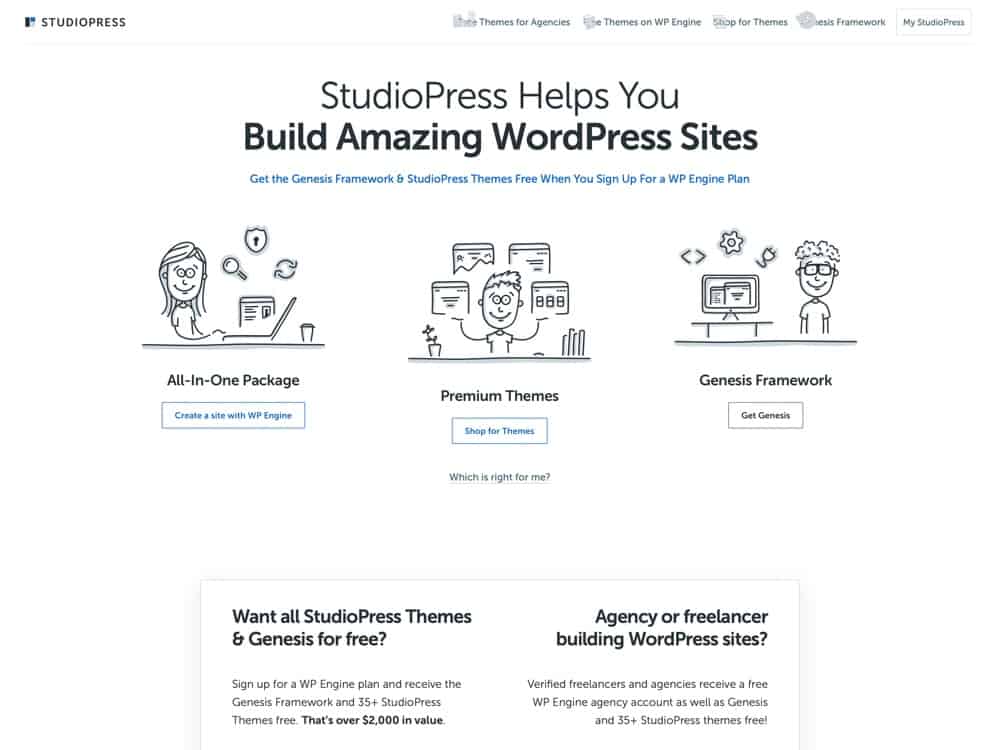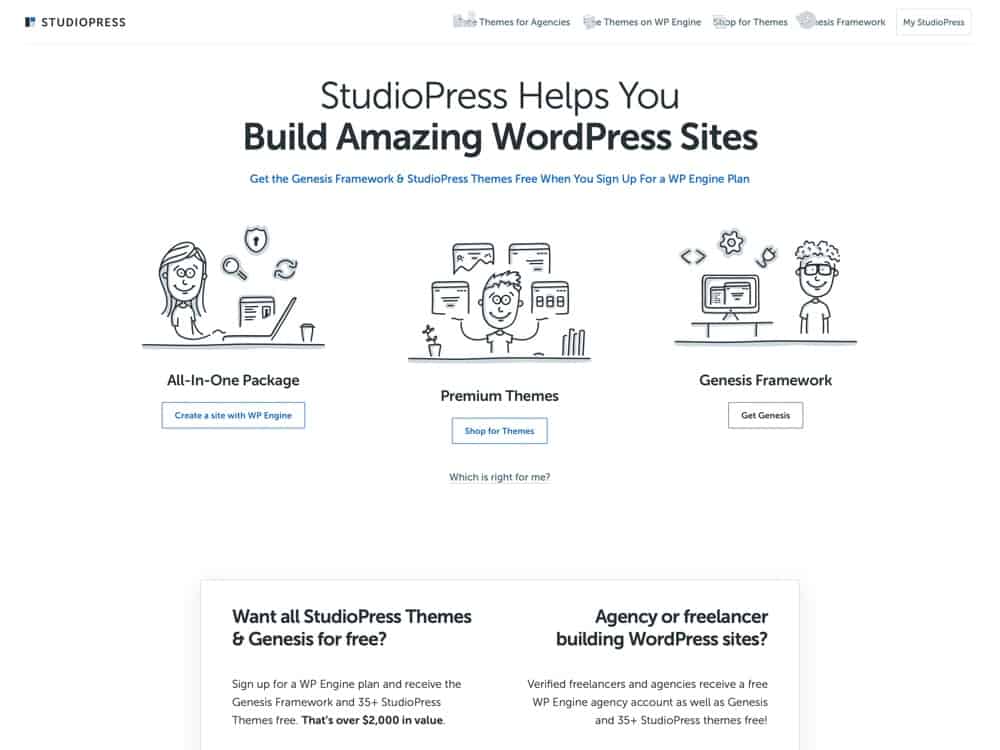 StudioPress is one of the best-known providers for themes and design frameworks. According to a survey, they have 170,000+ WordPress websites powered by StudioPress themes and over 80 templates for you to choose from.
The popular Genesis Framework created by StudioPress is the most popular framework for WordPress and is used by many celebrity entrepreneurs. With StudioPress, you can even create free child themes for the Genesis framework.
Some of my favorite StudioPress themes are Altitude Pro, Digital Pro, AgentPress Pro, Cafe Pro, and Workstation Pro.
Features of StudioPress:
When it comes to StudioPress features, they boast of things like hosting, framework, and more. At the core, SP helps you to focus on how well your business sells. Let's take a look at some of the important features it comes with:
Industry standard design framework (

Genesis Framework

)

Rock solid security features (Latest security standards)
It's a mobile optimized HTML-5 design

Fast loading performance

Easy to maintenance of plugins and themes

SEO friendly functionality
Apart from those, StudioPress also has a friendly support team to assist you when you're facing any issues.
Pricing:
Curious about StudioPress pricing? Don't worry – you get StudioPress themes for free. Since WPEngine has taken over Studiopress, purchase of the WPEngine hosting will give you the Genesis framework and all StudioPress themes for free.
StudioPress also has a Pro Plus All-Theme Package that costs $499.95. With this, you get unlimited access to everything the brand has to offer. If you're thinking of buying a StudioPress theme then this is the right time, because StudioPress coupon provides you up to 70 percent off on StudioPress Pro Plus. Don't miss this opportunity, grab your theme now!!!
5. MythemeShop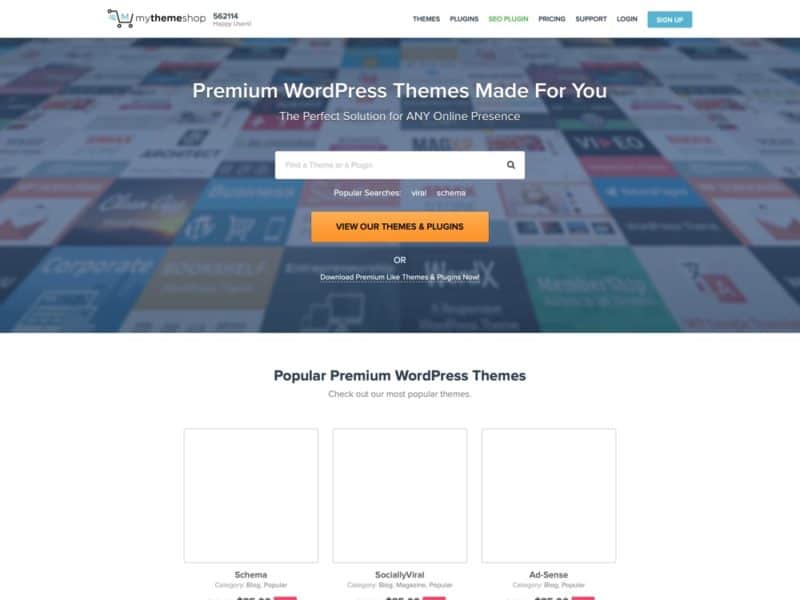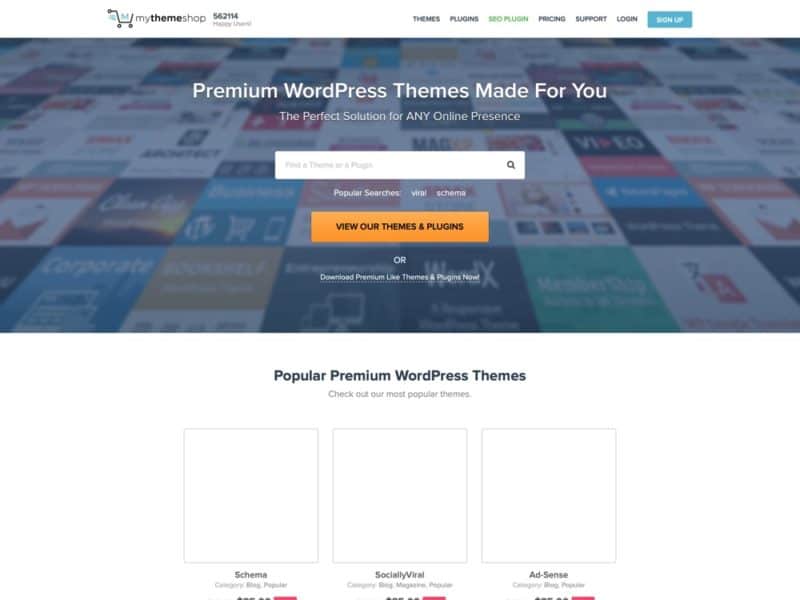 We all judge the popularity of a new company by the number of customers they get. Happy customers mean a strong business. And MyThemeShop has accumulated more than 74,000 of them in a short time, making them a massive success.
MythemeShop has over 99+ themes with 25+ plugins in their catalog. The themes are split into four categories:
Blog Theme

Magazine Themes
Business Themes

WooCommerce themes
MythemeShop is designed in such a way that you can concentrate more on your business because it's been coded properly, and has amazing features – you just won't need to worry much  at all.
Top experts like Matthew Woodward and Jeremy ShoeMoney are using MythemeShop because it's fast and helps convert their businesses into revenue. If your website is not doing well, then you must give this brand a shot.
Here's a list of some high rated themes available at MythemeShop:
SocialMe Theme

Sensational Theme

SociallyViral Theme

PointPro Theme

Best Theme
Features of MythemeShop:
MyThemeShop themes are designed to have top-notch features like marketing theme options panel, where you can manage the theme settings and dive into a lot of custom options.
Here are some other important features of MythemeShop:
It delivers ultra-responsive designs

All themes come with

Shortcode
Unlimited Color Options for your themes and Background options

Themes has great In-Built Ad Management

Easy to compact with any devices and browsers

All themes are Mobile friendly

Themes are developed by HTML-5 and CSS3 Markup

Design makes your site load faster
Pricing:
MythemeShop has three plans:
The most popular one is the Extended Membership, a perfect choice for developers and agencies at the cost of $9/month.
Single Product

is the best option for individuals with prices varying from $29 to $59 each year.

Free Theme

is perfect for startups. Here you get limited access for few functionalities.
Final Thoughts
No theme is perfect, but choosing one that suits your needs most will help your website be successful, especially if you're running an online business. So before you decide on a specific theme, take the time to review important factors like responsiveness, user ratings, loading speed, customizations, plug-in support, etc.
Keep in mind that free themes don't come with support; whereas most premium themes come with one year of support and regular updates, too. Finally, review your site once you're done uploading all the content and making tweaks.
This way, you can make any changes, if required, and be on your way to becoming a successful online business.