Last Updated on January 24, 2023
Who Is Martin Lawrence?
Martin Fitzgerald Lawrence is an American actor, standup comedian, film producer, television personality, singer, talk show host, and author. Lawrence is best known for starring in his own television series called Martin.
He has also starred in scores of critically acclaimed movies like the Bad Boys franchise, Nothing to Lose (1997), Blue Streak (1999), and Big Momma's House (2000).
Quick Facts
| | |
| --- | --- |
| Full Name: | Martin Fitzgerald Lawrence |
| Popular Name: | Martin Lawrence |
| Gender: | Male |
| Birth Date: | April 16, 1965 |
| Age: | 57 years |
| Parents: | John Lawrence and Chlora Bailey Lawrence |
| Siblings: | Ursula Lawrence, Rae Proctor, and Robert Lawrence |
| Birth Place: | Frankfurt, Germany |
| Nationality: | American |
| Ethnicity: | African-American |
| Education: | Thomas G. Pullen School of Creative and Performing Arts, Fairmont Heights High School, Eleanor Roosevelt High School, and Friendly High School |
| Marital Status: | Divorced. Previously married to Patricia Southall (from 1995 until their divorce in 1997) and Shamika Gibbs (from 2010 until their divorce in 2012) |
| Sexual Orientation: | Straight |
| Wife/Spouse: | N/A |
| Children: | Jasmine Page Lawrence (from his first marriage) and Iyanna Faith Lawrence and Amara Trinity Lawrence (from his second marriage) |
| Dating: | N/A |
| Net Worth: | USD 120 million |
| Source of Wealth: | Acting, Comedy, Film Production and Directing, Screenwriting, Talk Show Hosting, Singing, and Other Ventures |
| Height: | 5′ 7″ (1.71 m) |
| Weight: | 77 kg; In pounds: 170 lbs. |
Early Life and Career Information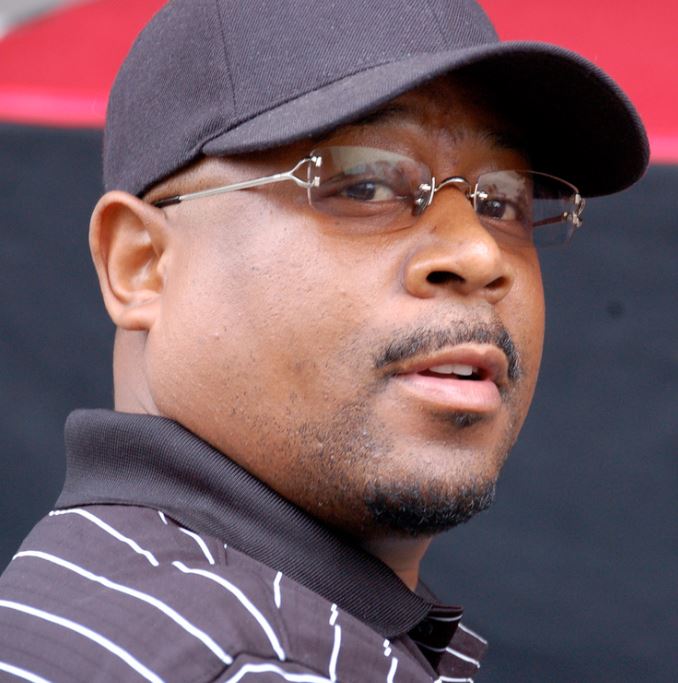 Martin Lawrence was born on April 16, 1965, in Frankfurt, Germany, to John Lawrence and Chlora Bailey Lawrence. Lawrence's father served in the U.S military when he was born.
When Martin Lawrence was seven years old, his father left the military and moved back with his family to the United States.
Lawrence began doing stand-up comedy before venturing fully into the film industry. He made his debut acting appearance in the What's Happening Now! show (1987-1988). When the show ended, Lawrence accepted minor film and television roles before eventually landing his breakout role in 1989's Do the Right Thing.
Following the success of his first major Hollywood film, Martin Lawrence went on to feature in a series of other acclaimed movies in the early 90s. Examples include House Party (1990), Talking Dirty After Dark (1991), and Boomerang (1992).
In 1992, Lawrence became the host of the Def Comedy Jam series. He split his time between hosting Def Comedy Jam and his own sitcom on Fox known as Martin.
The Martin sitcom was a hit from 1992 to 1997, after which it went off air. After the sitcom ended, Lawrence established himself as one of the most sought-after comedy actors.
The following are other noteworthy movies that he has appeared in to date:
• Nothing to Lose (1997),
• Life (1999),
• Blue Streak (1999),
• Big Momma's House (2000),
• Black Knight (2001),
• National Security (2002),
• Bad Boys II (2003),
• Open Season (2006),
• Wild Hogs (2007), and
• Death at a Funeral (2010)
Martin Lawrence's Net Worth
As of 2023, Martin Lawrence had a net worth of $120 million. He has built his million-dollar empire from his long and successful acting and comedy career.
Bad Boys II (2003) remains one of Lawrence's most commercially successful movies, with a worldwide gross of $$273 million. Wild Hogs (2007) and Open Season (2006) were also a tremendous success, grossing $253 million and $191 million worldwide, respectively.
The following are some of Martin Lawrence's most notable movie salaries over the years:
• Nothing to Lose (1997) – Earned $6 million
• Life (1999) – Earned $8.5 million
• What's the Worst That Could Happen? (2001) – Earned $13 million
• Black Knight (2001) – Earned $16.5 million
• National Security (2003) – Earned $20 million
• Bad Boys II (2003) – Earned $20 million
Martin Lawrence's career in the film industry also includes film production and directing. The television show, Martin, is his greatest production credit so far. He served as the show's executive producer from 1995 to 1997.
Lawrence is also credited for producing Big Momma's House (2000), Black Knight (2001), and the television series 1st Amendment Stand Up. He also has one director credit to his name, the 1996 movie A Thin Line Between Love and Hate.
In addition to acting and standup comedy, Martin Lawrence's other income-generating ventures include television production, talk show hosting, singing, and writing.
As a musician, Lawrence released his debut album in 1993, title Martin Lawrence Live Talkin' Shit. He followed up with his second album two years later, called Funk It.
Martin Lawrence has also flipped several real estate properties over the years. For several years, Lawrence and his former wife Gibbs, owned a luxurious mansion in Beverly Park, Beverly Hills. The mansion was the couple's official wedding venue.
After their divorce, the mansion became available for rent, attracting a monthly rental fee of $200,000 as of June 2012. In 2013, the property was listed for sale for $26.5 million but was eventually sold for $17.2 million to renowned Los Angeles realtor Bruce Makowsky. After selling the mansion, Lawrence purchased a property in Encino, California, at a cost of $6.63 million. He is also associated with a farm located near Purcellville, Virginia.
Lessons from Martin Lawrence
1. Nothing comes on a silver platter
In his early days as a comedian in Washington, D.C., Martin Lawrence accepted several odd jobs to support his acting career.
2. Be passionate about your job
Lawrence has been around since 1987. At the height of his career, he could star in as many as three Hollywood blockbusters in a single year. It takes passion to achieve that feat.
3. No one is immune from hardships
Martin Lawrence has experienced a couple of life-threatening violent outbursts throughout his acting career, with some episodes happening during the filming of a movie.
Famous Quotes by Martin Lawrence
"I don't want to sound facetious, but humor is the key to the soul. You know what I mean?"
"If somebody pisses me off and I understand it ain't personal then I'll go to another place and I'll meditate."
"If you don't believe in yourself, then who will believe in you? The next man's way of getting there might not necessarily work for me, so I have to create my own ways of getting there."
"I'm most proud of the blessings that God has bestowed upon me, in my life. He's given me the vision to truly see that you can fall down, but you can still get back up. Hopefully I'll learn from my mistakes and have the opportunity to strengthen and improve the next thing I do."
"No one is immune to the trials and tribulations of life."
Final Word
Martin Lawrence is one of the most gifted comedians and actors ever to have come out of Hollywood. His passion for his job has seen him command the spotlight for over three decades, as well as rack up millions of dollars in movie earnings.