Last Updated on June 21, 2022
About two and a half millennia ago lived a man by the name of Siddhartha Gautama. This man would later be known as the Buddha—"the awakened one." He would live, teach, inspire, and give rise to the religion that is now known as Buddhism.
Early Life
Siddhartha was born sometime between 400 BCE and 600 BCE. His birthplace is in what we now know as Nepal, according to Buddhist accounts.
Siddhartha's father was a great king, Suddhodana, who built three beautiful palaces for him. The king would shield young Siddhartha from the outside world, because he did not want the prince to learn of human suffering and many different religious teachings.
Prince Siddhartha was kept inside the kingdom for about 29 years. He was provided with everything that he wanted and needed.  When he was 16, his father had him marry his cousin, and they had a son. In his early years, Siddhartha lived a healthy and luxurious life.
Despite his father's efforts to keep it from him, Siddhartha would still hear of news from the outside world. He learned of suffering, as he encountered people that grew old, got sick, and died.
This experience made him rethink his beliefs, and he realized that material wealth was not the meaning of life. Thus, he left the kingdom to gain knowledge and grow. He sought to learn the meaning of life.
In his search for meaning, Siddhartha discovered the teachings of Asceticism. He lived with dedication and discipline, relying on the words of various ascetic teachers as his guide.
In line with the teachings of Asceticism, he disconnected himself from worldly pleasures, because they served as a distraction from achieving inner liberation. He begged for money and food to keep himself alive. He studied, fasted and meditated, but he still couldn't find the answers to his questions. He still was not satisfied.
One day, he met a young girl who saw how thin and sickly he looked. She offered him milk and rice pudding. He accepted the gifts and ate. On this day, he realized that depriving oneself of the pleasures of the world was not the answer. He decided to follow a path of balance—avoiding both extreme indulgence and extreme self-denial.
Awakening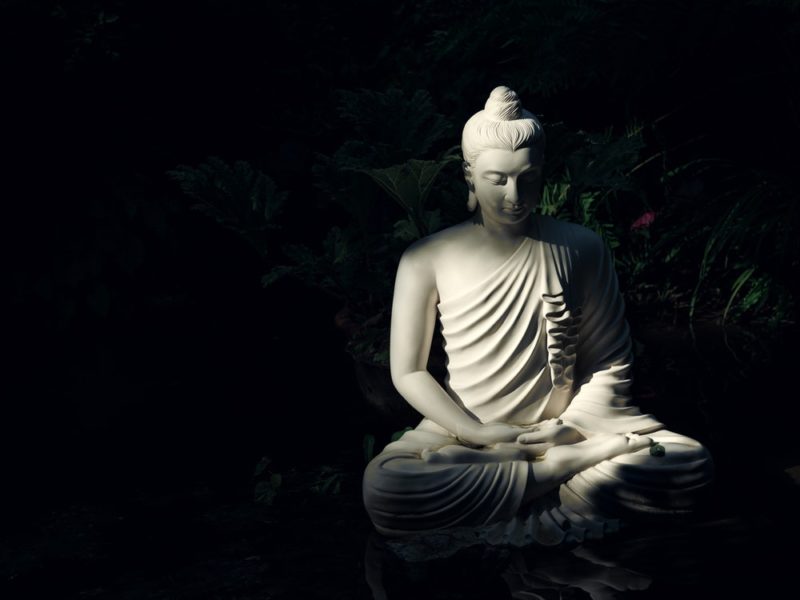 Siddhartha carefully considered what he had experienced that day. He vowed to himself that he would find the answers to his questions on life. After his encounter with the young girl, he decided to sit under a Bodhi tree to meditate.
He swore that until he discovered the truths that were hidden from him, he wouldn't abandon his state of meditation. He pondered for days. According to Buddhist accounts, he saw his entire life—as well as his previous lives—during this time of heavy meditation.
He soon found what he was looking for—the meaning of life, and the knowledge of the universe. Through this experience, he was changed and became enlightened. He transcended from Siddhartha Gautama, the prince, to the Buddha, "the awakened."
Teachings of Buddha
After his awakening, Buddha spent his remaining years spreading his word. He explained the core values of his teachings: The Three Universal Truths, The Four Noble Truths, and The Eightfold Path. The goal of his teachings was to reach Nirvana, a term meaning "end to suffering."
He gained many disciples during his time. He created a Sangha, a travelling community of monks, nuns, and followers who listened to his teachings as he wandered the lands. This Sangha served as a refuge for people aspiring to reach Nirvana.
They accepted anyone, regardless of that person's past, gender, class, or race. They named the Buddha's teachings as the Dharma. The Buddha used the rest of his time to teach the Sangha. When he died, he told his disciples that they shouldn't blindly follow any leader.
The Sangha continued to practice the Dharma even after the Buddha's death. They frequently recited his teachings to reaffirm their sense of purpose. This eventually gave rise to Buddhism, a religion with ancient teachings and beliefs that are still alive today.
The Buddha has left an astounding mark in history. His faith and philosophies have spread all over the world and are part of many cultures. Here are a few quotes from this historical giant.
Related:
40 Hi-Res Buddha Photos That Will Amaze and Inspire You
Buddha Quotes
"The mind is everything. What you think you become." – Buddha
"Health is the greatest gift, contentment the greatest wealth, faithfulness the best relationship." – Buddha
"Nothing ever exists entirely alone; everything is in relation to everything else." – Buddha
"To enjoy good health, to bring true happiness to one's family, to bring peace to all, one must first discipline and control one's own mind. If a man can control his mind he can find the way to Enlightenment, and all wisdom and virtue will naturally come to him." – Buddha
"What we think, we become." – Buddha
"In the end, only three things matter: how much you loved, how gently you lived, and how gracefully you let go of things not meant for you." – Buddha
"Imagine that every person in the world is enlightened but you. They are all your teachers, each doing just the right things to help you." – Buddha
"Do not dwell in the past, do not dream of the future, concentrate the mind on the present moment." – Buddha
"Three things cannot be long hidden: the sun, the moon, and the truth." – Buddha
"Just as a candle cannot burn without fire, men cannot live without a spiritual life." – Buddha
"We are shaped by our thoughts; we become what we think. When the mind is pure, joy follows like a shadow that never leaves." – Buddha
"Your worst enemy cannot harm you as much as your own unguarded thoughts." – Buddha
"Even death is not to be feared by one who has lived wisely." – Buddha
"To keep the body in good health is a duty… otherwise we shall not be able to keep our mind strong and clear." – Buddha
"It is better to travel well than to arrive." – Buddha
"Those who are free of resentful thoughts surely find peace." – Buddha
"Peace comes from within. Do not seek it without." – Buddha
"Hatred does not cease by hatred, but only by love; this is the eternal rule." – Buddha
"Better than a thousand hollow words, is one word that brings peace." – Buddha
"He who gives away shall have real gain. He who subdues himself shall be free; he shall cease to be a slave of passions. The righteous man casts off evil, and by rooting out lust, bitterness, and illusion do we reach Nirvana." – Buddha
"It is a man's own mind, not his enemy or foe, that lures him to evil ways." – Buddha
"Happiness does not depend on what you have or who you are. It solely relies on what you think." – Buddha
"The foolish man conceives the idea of 'self.' The wise man sees there is no ground on which to build the idea of 'self;' thus, he has a right conception of the world and well concludes that all compounds amassed by sorrow will be dissolved again, but the truth will remain." – Buddha
"You, yourself, as much as anybody in the entire universe, deserve your love and affection." – Buddha
"It is better to conquer yourself than to win a thousand battles. Then the victory is yours. It cannot be taken from you, not by angels or by demons, heaven or hell." – Buddha
"Embrace nothing: If you meet the Buddha, kill the Buddha. If you meet your father, kill your father. Only live your life as it is, not bound to anything." – Buddha
"There is nothing so disobedient as an undisciplined mind, and there is nothing so obedient as a disciplined mind." – Buddha
"Remember to take care of yourself. You can't pour from an empty cup." – Buddha
"Do not overrate what you have received, nor envy others. He who envies others does not obtain peace of mind." – Buddha
"Unity can only be manifested by the Binary. Unity itself and the idea of Unity are already two." – Buddha
"With fools, there is no companionship. Rather than to live with men who are selfish, vain, quarrelsome, and obstinate, let a man walk alone." – Buddha
"You only lose what you cling to." – Buddha
"Virtue is persecuted more by the wicked than it is loved by the good." – Buddha
"A jug fills drop by drop." – Buddha
"Work out your own salvation. Do not depend on others." – Buddha
"Whatever words we utter should be chosen with care for people will hear them and be influenced by them for good or ill." – Buddha
"I never see what has been done; I only see what remains to be done." – Buddha
"If your compassion does not include yourself, it is incomplete." – Buddha
"He who loves 50 people has 50 woes; he who loves no one has no woes." – Buddha
"An idea that is developed and put into action is more important than an idea that exists only as an idea." – Buddha
"Chaos is inherent in all compounded things. Strive on with diligence." – Buddha
"To live a pure unselfish life, one must count nothing as one's own in the midst of abundance." – Buddha
"You cannot travel on the path until you become the path itself." – Buddha
"There are only two mistakes one can make along the road to truth; not going all the way, and not starting." – Buddha
"All wrong-doing arises because of mind. If mind is transformed can wrong-doing remain?" – Buddha
"Without health life is not life; it is only a state of langour and suffering – an image of death." – Buddha
"If you knew what I know about the power of giving you would not let a single meal pass without sharing it in some way." – Buddha
"Learn this from water: loud splashes the brook but the oceans depth are calm." – Buddha
"Happiness is a choice, not a result. Nothing will make you happy until you choose to be happy. No person will make you happy unless you decide to be happy. Your happiness will not come to you. It can only come from you." – Buddha
"The past is already gone, the future is not yet here. There's only one moment for you to live." – Buddha
"If you find no one to support you on the spiritual path, walk alone. There is no companionship with the immature." – Buddha
"Believe nothing, no matter where you read it, or who said it, no matter if I have said it, unless it agrees with your own reason and your own common sense." – Buddha
"The tongue like a sharp knife. Kills without drawing blood." – Buddha
"There is no path to happiness: happiness is the path." – Buddha
"Thousands of candles can be lit from a single candle, and the life of the candle will not be shortened. Happiness never decreases by being shared." – Buddha
"Meditation brings wisdom; lack of meditation leaves ignorance. Know well what leads you forward and what holds you back, and choose the path that leads to wisdom." – Buddha
"No one saves us but ourselves. No one can and no one may. We ourselves must walk the path." – Buddha
"Rule your mind or it will rule you." – Buddha
"Wear your ego like a loose fitting garment." – Buddha
"In the sky, there is no distinction of east and west; people create distinctions out of their own minds and then believe them to be true." – Buddha
"Anger will never disappear so long as thoughts of resentment are cherished in the mind. Anger will disappear just as soon as thoughts of resentment are forgotten." – Buddha
"Your body is precious. It is our vehicle for awakening. Treat it with care." – Buddha
"Nothing can harm you as much as your own thoughts unguarded." – Buddha
"Those who have failed to work toward the truth have missed the purpose of living." – Buddha
"One should strive to understand what underlies sufferings and diseases – and aim for health and well-being while gaining in the path." – Buddha
"There has to be evil so that good can prove its purity above it." – Buddha
"The whole secret of existence is to have no fear. Never fear what will become of you, depend on no one. Only the moment you reject all help are you freed." – Buddha
"What you think, you become. What you feel, you attract. What you imagine, you create." – Buddha
"Everything that has a beginning has an ending. Make your peace with that and all will be well." – Buddha
"True love is born from understanding." – Buddha
"A man is not called wise because he talks and talks again; but is he peaceful, loving and fearless then he is in truth called wise." – Buddha
"You cannot travel the path until you have become the path itself." – Buddha
"The only real failure in life is not to be true to the best one knows." – Buddha
"Your work is to discover your world and then with all your heart give yourself to it." – Buddha
"However many holy words you read, However many you speak, What good will they do you If you do not act on upon them?" – Buddha
"If we could see the miracle of a single flower clearly, our whole life would change." – Buddha
"You are the community now. Be a lamp for yourselves. Be your own refuge. Seek for no other. All things must pass. Strive on diligently. Don't give up." – Buddha
"When words are both true and kind they can change the world." – Buddha
"It is ridiculous to think that somebody else can make you happy or unhappy." – Buddha
"A disciplined mind brings happiness." – Buddha
"People with opinions just go around bothering one another." – Buddha
"Hatred does not cease through hatred at any time. Hatred ceases through love. This is an unalterable law." – Buddha
"There is no fire like passion, there is no shark like hatred, there is no snare like folly, there is no torrent like greed." – Buddha
"Purity or impurity depends on oneself, no one can purify another." – Buddha
"There is nothing more dreadful than the habit of doubt. Doubt separates people. It is a poison that disintegrates friendships and breaks up pleasant relations. It is a thorn that irritates and hurts; it is a sword that kills." – Buddha
"Every experience, no matter how bad it seems, holds within it a blessing of some kind. The goal is to find it." – Buddha
"If the problem can be solved why worry? If the problem cannot be solved worrying will do you no good." – Buddha
"Remembering a wrong is like carrying a burden on the mind." – Buddha
"Just as a snake sheds its skin, we must shed our past over and over again." – Buddha
"The Way is not in the sky; the Way is in the heart." – Buddha
"Long is the night to him who is awake; long is a mile to him who is tired; long is life to the foolish who do not know the true law." – Buddha
"Holding on to anger is like grasping a hot coal with the intent of throwing it at someone else; you are the one who gets burned." – Buddha
30 Must-Know Buddha Quotes
If you are ever going to learn any quotes from Buddha, then we think that these are the absolute top picks. Each quote teaches you to be mindful of yourself and others in different ways, so don't be afraid to learn them, and try them out! There will also likely be a moral element and/or a hidden meaning within the quotes, so see if you can unlock them as you read on.
"No one saves us but ourselves. No one can and no one may. We ourselves must walk the path."
"All that we are is the result of what we have thought."
"If we fail to look after others when they need help, who will look after us?"
"Wear your ego like a loose-fitting garment"
"There is nothing so disobedient as an undisciplined mind, and there is nothing so obedient as a disciplined mind"
"Even death is not to be feared by one who has lived wisely."
"Drop by drop is the water pot filled. Likewise, the wise man, gathering it little by little, fills himself with good."
"If you knew what I know about the power of giving, you would not let a single meal pass without sharing it in some way."
"If you find no one to support you on the spiritual path, walk alone."
"People with opinions just go around bothering each other."
"Just as the great ocean has one taste, the taste of salt, so also this teaching and discipline have one taste, the taste of liberation."
"Endurance is one of the most difficult disciplines, but it is to the one who endures that the final victory comes."
"Long is the night to him who is awake; long is a mile to him who is tired; long is life to the foolish who do not know the true law."
"An idea that is developed and put into action is more important than an idea that exists only as an idea."
"A jug fills drop by drop."
"The tongue like a sharp knife… Kills without drawing blood."
"Just as a mother would protect her only child with her life, even so let one cultivate a boundless love towards all beings."
"Let us rise up and be thankful, for if we didn't learn a lot today, at least we learned a little, and if we didn't learn a little, at least we didn't get sick, and if we got sick, at least we didn't die; so, let us all be thankful."
"He is able who thinks he is able"
"What we are today comes from our thoughts of yesterday, and our present thoughts build our life of tomorrow: Our life is the creation of our mind."
"The one who has conquered himself is a far greater hero than he who has defeated a thousand times a thousand men."
"If with a pure mind a person speaks or acts happiness follows him like his never-departing shadow."
"Happiness comes when your work and words are of benefit to yourself and others"
"Set your heart on doing good. Do it over and over again, and you will be filled with joy."
"Looking deeply at life as it is in this very moment, the meditator dwells in stability and freedom."
"Do not turn away what is given you, nor reach out for what is given to others, lest you disturb your quietness."
"Those who are free of resentful thoughts surely find peace."
"The true master lives in truth, in goodness and restraint, non-violence, moderation, and purity."
"Life is like the harp string, if it is strung too tight it won't play, if it is too loose it hangs, the tension that produces the beautiful sound lies in the middle."
"The wise ones fashioned speech with their thought, sifting it as grain is sifted through a sieve."