Last Updated on July 18, 2022
The rise of the digital era has paved the way for so many opportunities online that almost every traditional business imaginable can be converted into a digital one.
And who can blame the audiences for wanting to buy and sell different products, services and ideas online? It's convenient, and sometimes, cheaper than the prices you would see on any traditional storefront. 
Selling Your Online Business
But when you're starting to get tired of your online business, do you close it up just like any other physical store? When you feel that you have maximized its potential and think that it's time for you to move onto the next project, what do you do?
Some also feel that their online business isn't giving them the kind of profit they were hoping to get from it. In cases like these, one of the best options you have is to sell your online business.
You can choose to sell the domain name, or if you already have an existing e-commerce site, you can also turnover all access to the person you're selling your business to.
It's all up to you! The point here is for you to get at least a portion of what you invested into the online business before you turn it over to someone else. 
Buying an Online Business
From the buyer's perspective, this could be a great chance to finally start an online business without having to worry about the usual basics. Starting an online business takes a lot of time and effort, after all. You would have to think about a concept, then think of a catchy name for it. You have to register a domain and hire an entire team to set the website up.
When you buy an existing online business, you get to tick off a lot of these from the list. You even get whatever existing audience that the business has. And once you have full control of that domain or website, you can always add your own flavor to it and tweak it any way you want to. Whatever you believe would make that business sell, you can do.
Where to Buy and Sell Online Businesses
Here are a few places where you can buy and sell online businesses:
Investors Club is a members-only marketplace that works harder to help buyers and sellers profit. No need to pay insane fees to lazy brokers. You can sell your website with them and keep a handsome profit. They take incredible care of buyers and sellers.
I've personally purchased a website Investors Club in 2021. The entire process was very smooth and they took care of me. Unlike other marketplaces where there is a high possibility of getting scammed, they use Escrow so you're protected 110%. Based on my experience, I will be purchasing website from them in the future.
Main Features:
100% Exclusive Listings
No Buyer Fees
Done-for-you Legal Documents
No-fee transfer, inspection, and Escrow
Deeper due diligence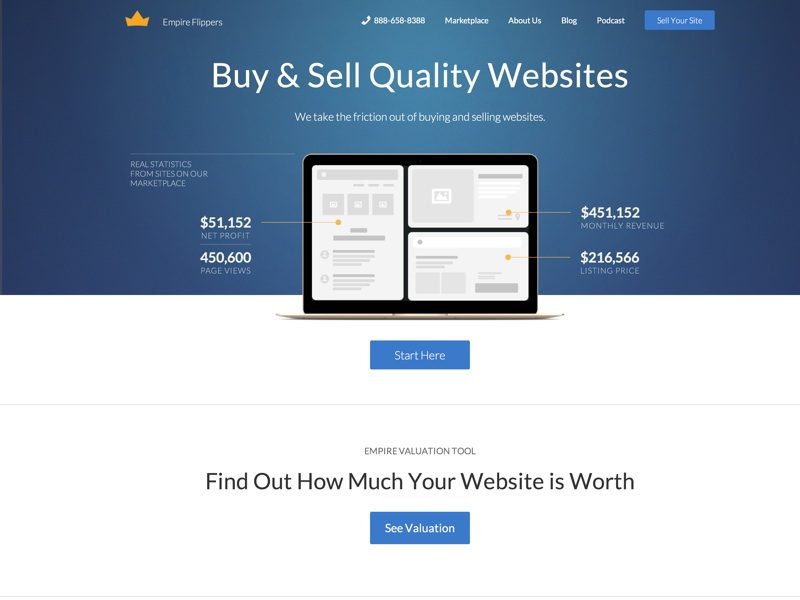 Empire Flippers is another place where you can buy and sell websites, this time, through the use of valuable statistics. Every single buyer is given information on what each website is worth, how many page views it receives on a regular basis, and how much profit one can earn from it.
As for the sellers, the website comes with a valuation tool that ensures you are selling your website for its actual current value – no more, no less.
If you have a EU website or know someone who does, and are looking for an easy way to sell it on the internet then we've got just what you need. Fortunebrokers is a new marketplace site that allows sellers to list their websites for sale with no fees! They're here to make your life easier and more profitable.
If you are looking for a new investment opportunity in European websites, the marketplace has been designed with the investor in mind, so it should provide an easier way to invest in EU websites. If estabblished European websites with income interests you or if you want to diversify your portfolio, then check out the listings now!
Fortunebrokers offers affiliate program as well. Just register and you'll be paid for completed sales.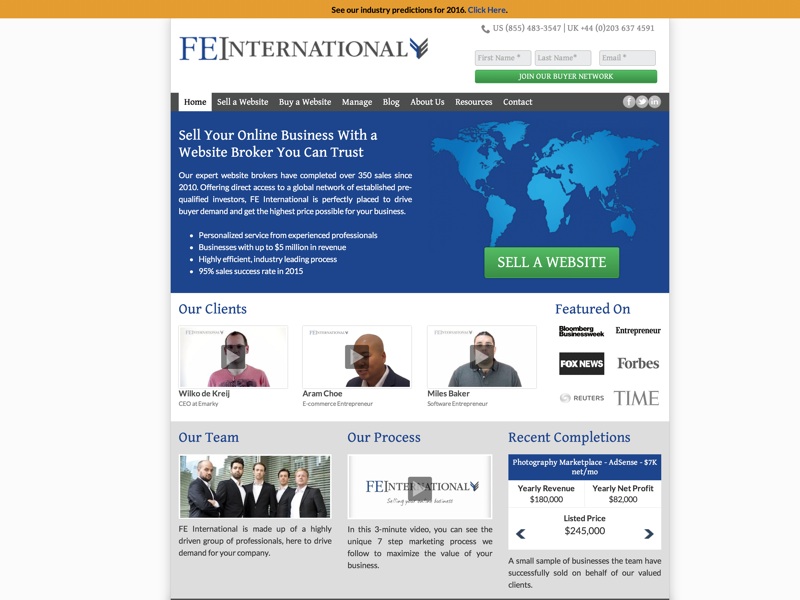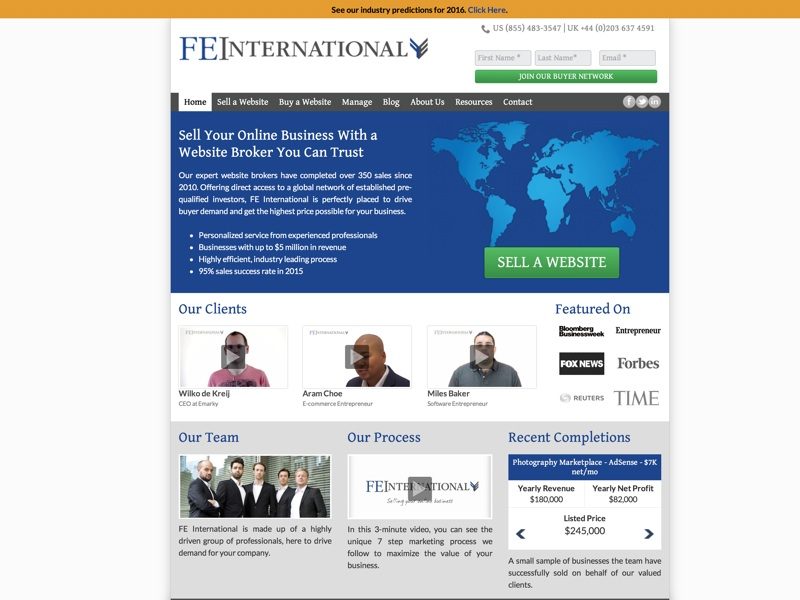 You have real estate brokers, insurance brokers and stock brokers. But in the digital realm, you also have website brokers. Founded in 2010, FE International allows you to get the highest possible price for your business through the help of brokers who can help you find buyers for it.
With sales experts on your side, you can definitely get the most out of business you're selling. If you're a buyer, you can make sure that your website broker has assessed every possible risk and opportunity, allowing you to make the best buying decision you can make no matter what happens.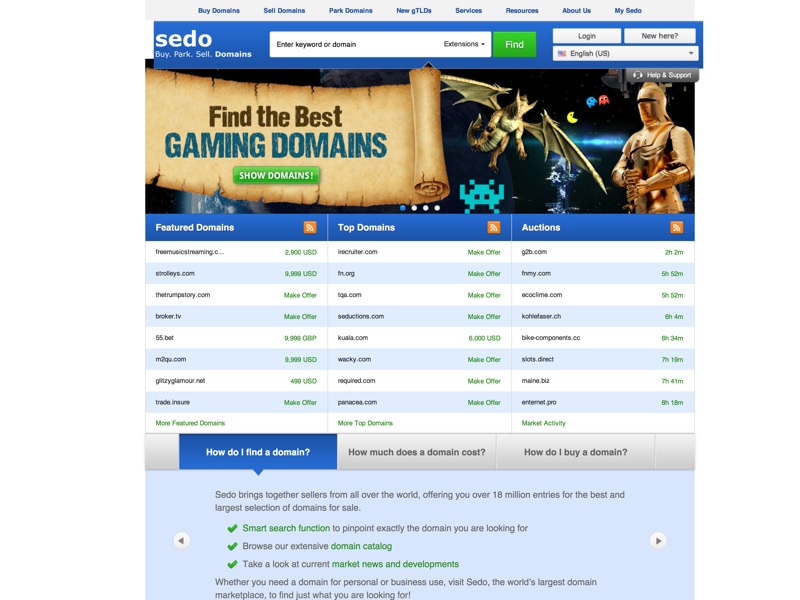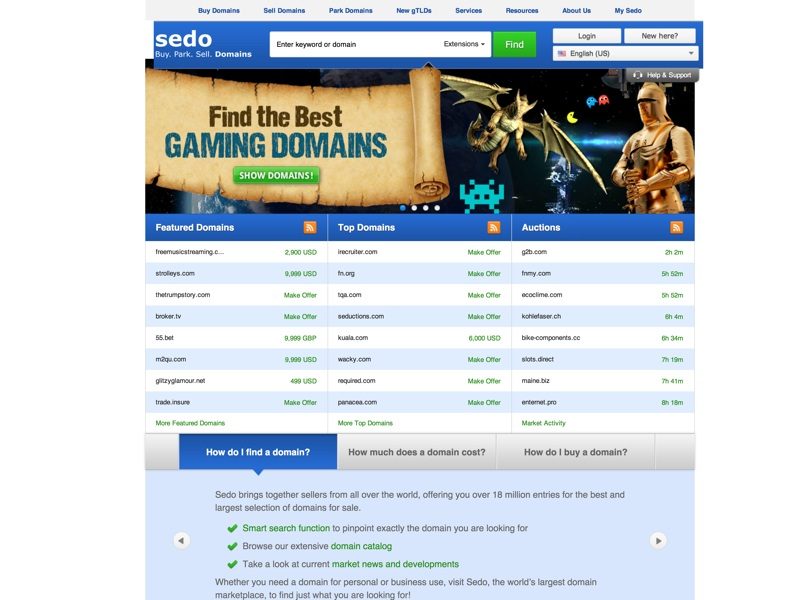 Sedo is a place for you to buy or sell domains. We all know how valuable domains can actually be. One domain you might have previously bought for a super low price could triple or quadruple its value as the demand for the name increases.
It's all about having the foresight and imagination that would help you see what kind of potential each name could have. One of the best parts of buying or selling domains on Sedo is the auction.
This means that when you're buying a domain, you can actually get great domains for prices lower than what you expect them to be, as long as no one challenges you for it. In the same way, sellers have the opportunity to get more than what they initially hope to get through these auctions.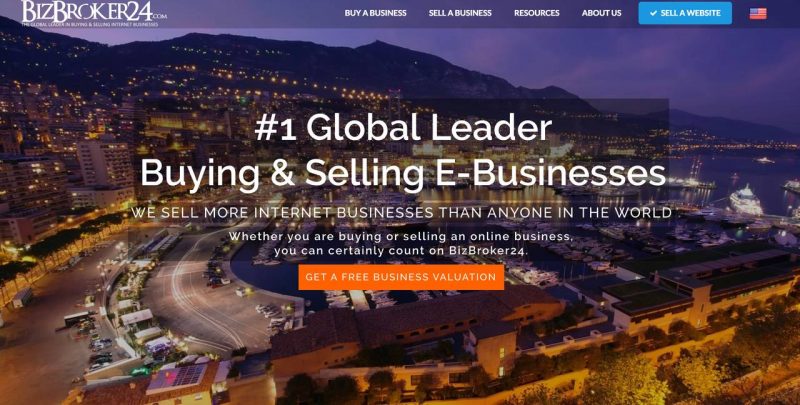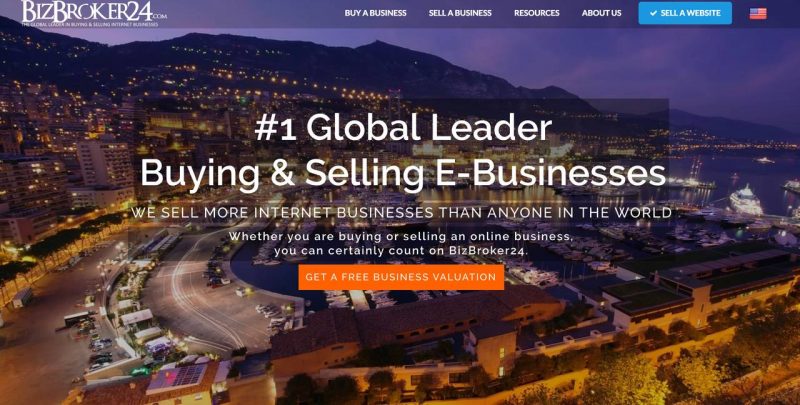 BizBroker24 is one of the largest e-business merger and acquisition companies in the world. This is where the big timers converge, offering opportunities for everyone to join the big leagues.
The marketplace already has an established network of over 15,000 international buyers and investors who have been pre-qualified to ensure that no bad deal passes this way.
A free valuation service is also available, allowing you to see how much your online business is really worth. From here, BizBroker24 helps you close the deal with the best buyer by assisting you through negotiations.
Dealing only with online businesses that have transaction valuations of $150,000 to $20 million, this is definitely one chance for you to deal with some of the biggest online players in the world.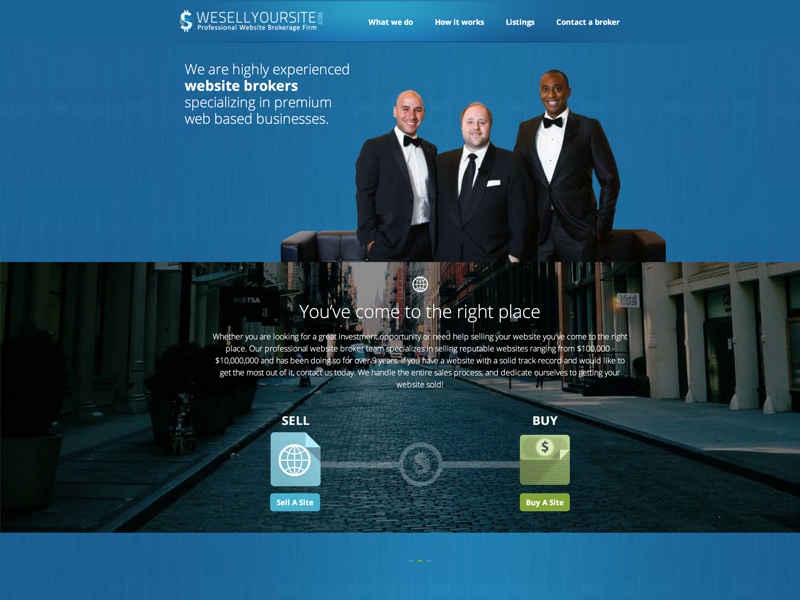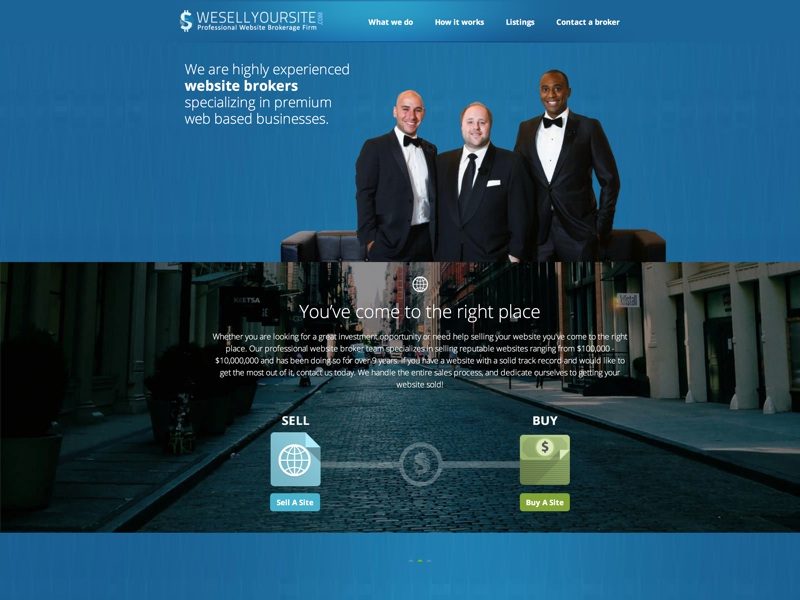 With over 9 years of experience in helping people buy and sell their online businesses, WeSellYourSite.com helps buyers meet sellers (and vice versa) and close the kind of deals that are win-win for everybody.
Another marketplace that deals with the big numbers, this marketplace buys and sells websites with values ranging from $100,000 to $10 million. You can either be a buyer and negotiate for the best prices possible, or be a seller who works with one of their brokers so that you can make sure you get the best possible price out of the deal.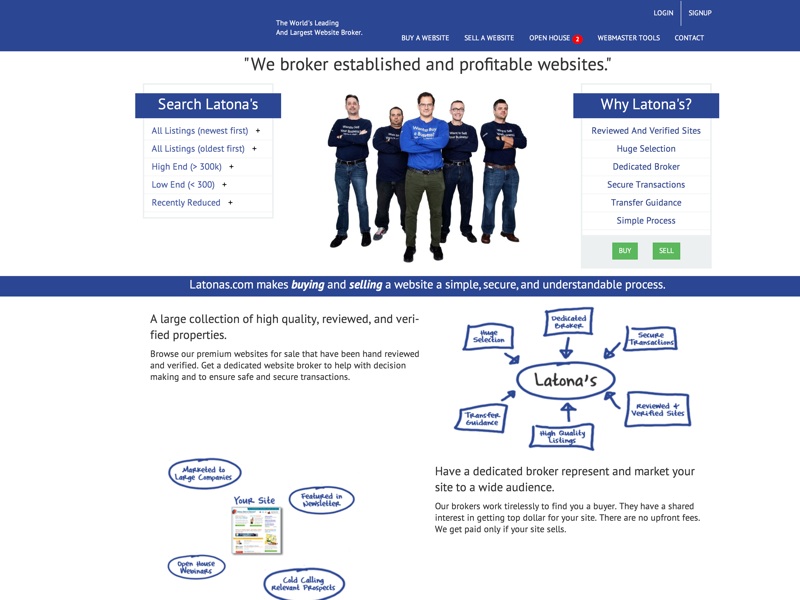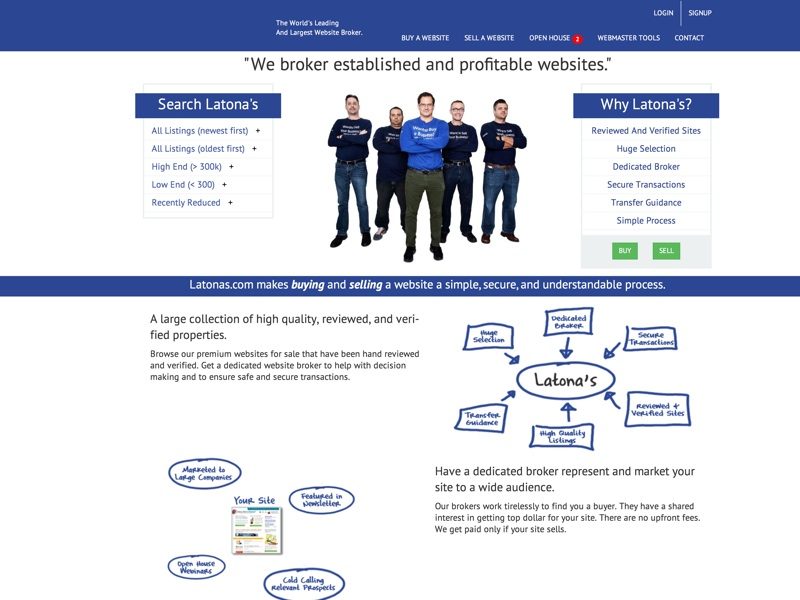 Latona's is another place where you can work with website brokers who can make sure you get nothing less than top dollar for your site. You don't even have to pay an upfront fee to get them to sell your website – they only get paid the moment they succeed in selling your website.
Each online business sold here has also been reviewed and verified, giving buyers the security they need in closing deals. The best part about Latona's is that they do not just focus on the high end.
Because they want to help all kinds of entrepreneurs to make it in this highly competitive industry, they also offer services even to those whose prices are on the lower end of the spectrum.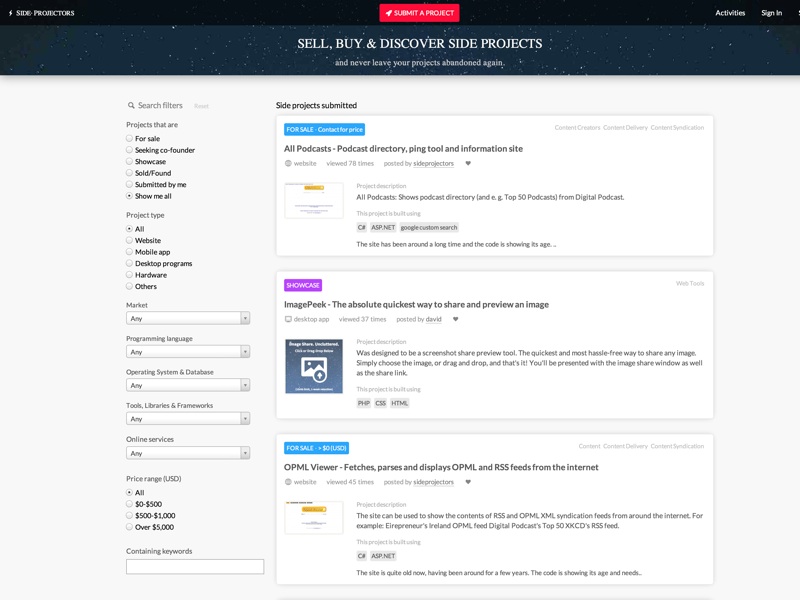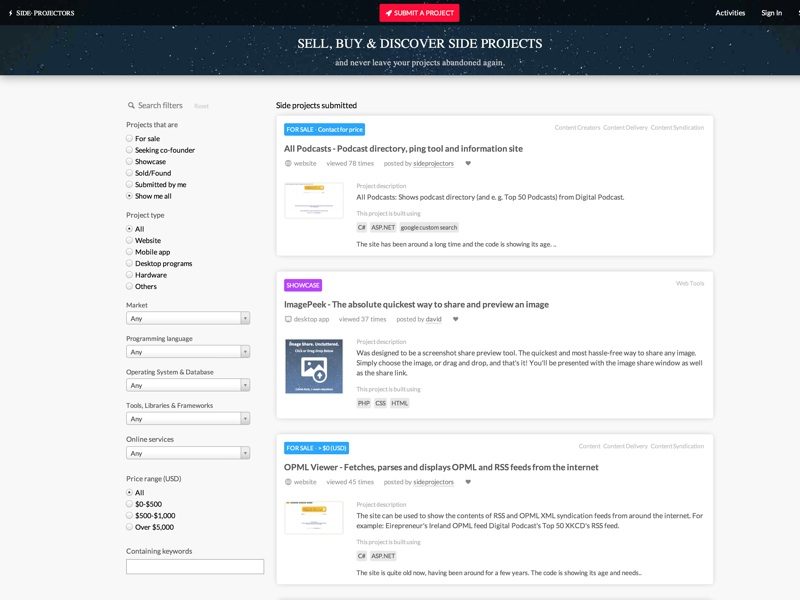 From the name itself, you'll immediately know that this is not just a place where you can buy and sell websites – it's a place where you can get side projects as well.
Side Projectors allows people to buy and sell their website, mobile app, desktop program, hardware, and a lot more. You could also find a co-founder here in case you feel you need another person's contribution to take an online business from good to great.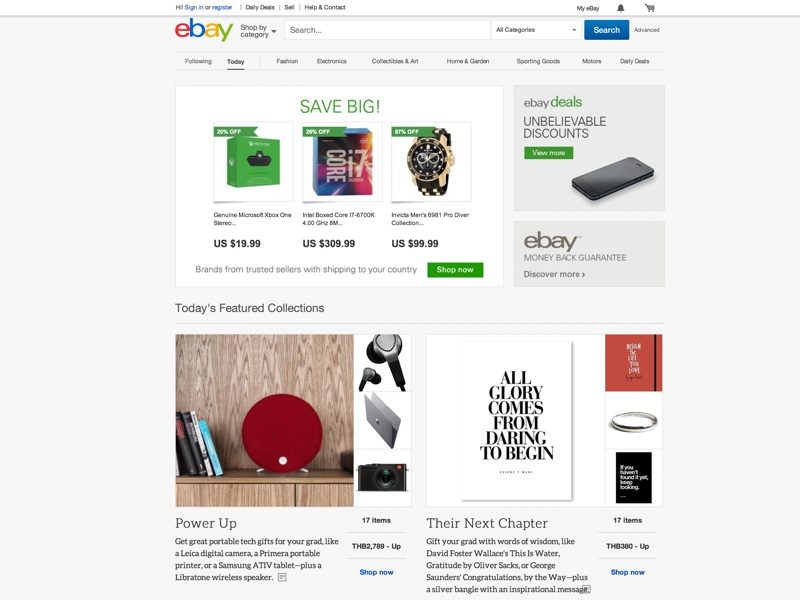 No buying and selling list is complete without having eBay in it. Although most people know it as a place where you can buy and sell clothes, makeup, electronic gadgets, toys and a whole lot more, only a few have discovered that there are quite a few great deals here as well as far as online businesses are concerned.
Try typing in "websites" on the eBay search bar and you'll immediately see a long list of online businesses that you can buy cheap. Sure, you may not have a broker assisting you through the process. But if you are smart about your choices and decisions, you can actually end up closing the deal of a lifetime.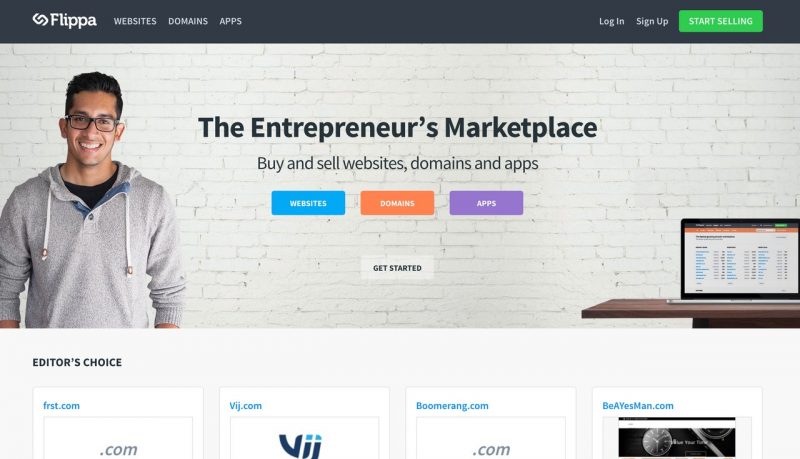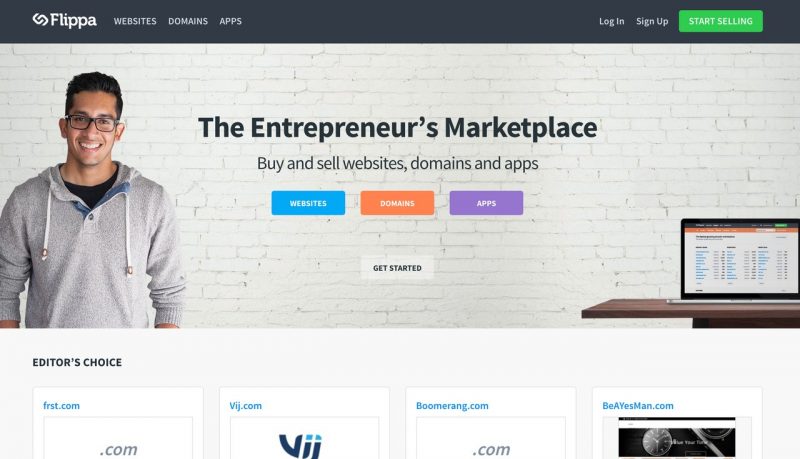 Flippa is an entrepreneur's marketplace where people can buy and sell websites, domains and apps. With over 5,000 online businesses being listed on Flippa on a daily basis, you can just imagine how huge the market is here for potential sellers.
For potential buyers on the other hand, there are so many businesses to choose from, you can even end up buying more than one, if the budget permits. With 800,000 registered members and over $5 million worth of businesses being sold on a monthly basis, who's to say what the limits are when it comes to your opportunities can be here?
Browse through each of these places and see what kind of opportunities they offer for you and your online business. 
Buying and Selling Tips
Yes, online businesses are definitely the way to go in terms of profitability and convenience. However, you also have to make sure each deal you become part of will give you exactly what you want and more the fairest way possible.
To make sure this happens, here are a few tips for those buying or selling an online business:
Know who you're dealing with.
Especially for those who will be buying or selling online businesses without a broker, make sure you know exactly who you're dealing with. Find out more about them, what they do, and whether they have the capacity to pay.
This is why going through secure marketplaces is always better than going direct. If you do not have the time to do background checks on each interested party, then just opt for marketplaces that verify their members first before letting them into the group.
Know the business's value.
Before buying or selling anything, always have an accurate estimate of how much the online business's value really is. The last thing a seller wants is to be given a few thousand when their online business, when valued accurately, is actually worth hundreds of thousands.
On the buyer's part, nobody wants to end up paying thousands for an online business that isn't really worth much when valued properly. A lot of marketplaces offer free valuation services or offer valuation tools. Always grab the opportunity to use these. It's understandable for buyers to be excited about some of the options they see, but this excitement can also blind them about reality. As for the sellers, especially if they have invested so much on that online business, it's understandable for them to want top dollar for it. However, they also have to be fair on the buyers.
Know if this is something you actually want.
Regret is a common thing in the digital world. Some sellers see their websites a few months from now, growing in ways they never imagined.
This gives them a feeling of regret, especially if they decided to sell their website because they couldn't make a profit out of it. Before selling your online business, find out if this is what you truly want. Also, explore all possible options before deciding to sell. Who knows, you might be an idea away from striking it big.
As for the buyer, don't be forced into buying an online business just because it's what everybody else is doing. Yes, online businesses are big nowadays. However, it's not for everybody. Is the business something related to your field of interest? Do you know how the entire thing works?
Would you spend the time and effort needed to know the ins and outs of the business? Always do a self-assessment before taking the plunge. Otherwise, you might end up spending an amount that you could have used to invest in something that would turn out to be a better fit for you.
Think about the future.
You can't just buy an online business because it has a cheap tag price. Think about what the future has in store for it. Could the online business be selling something that could possibly be phased out in the next few months?
Then might as well invest in something more up-to-date. Do you think the online business you're selling now could have a higher value in the next year or so? Then might as well wait until then. Always think about how this deal would turn out in the future to avoid any regrets and wasted resources.
Jumping into the buying and selling process involved when it comes to online businesses can be complicated sometimes. There are just so many things to consider.
At the end of the day, it's all about maximizing the opportunities presented to you and making sure you're doing something that you really want to do. From there, everything else will follow.