Last Updated on March 8, 2022
A true icon of action films, Chuck Norris made a name for himself through his films such as "The Delta Force", "Walker, Texas Ranger", and "The Hitman". Norris is most famous for his stint as a martial artist, but he was a talented actor as well.
He also wrote both books and screenplays. He is also currently known as an Internet sensation, partly due to his strong aura and image to the public.
Chuck Norris' Early Days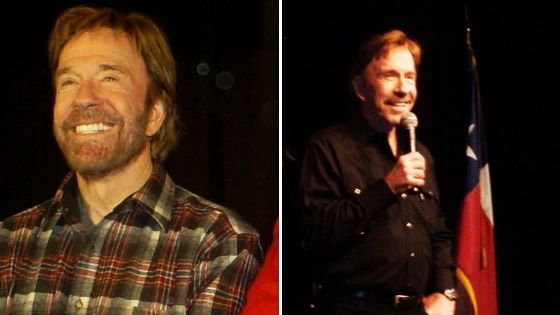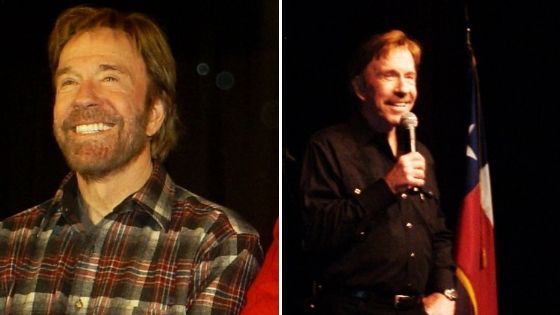 Carlos Ray Norris was born in 1940 in Oklahoma. Norris was actually a timid little boy in his early days. He was also known to keep to himself, and part of this is because of his relationship with his father.
His father was a soldier in the Second World War. However, he was widely known to be an alcoholic and Norris was reportedly humiliated by his father's way of life. This affected him a lot as a child and triggered his introvert way of life.
Marriage Life
Norris married twice. His first marriage was with Dianne Holecheck, which lasted over thirty years. They had two children, and their daughter was a huge talk of the town back then. She was rumored to be an illegitimate child, but Norris cleared all accusations when the girl turned into an adult. Norris said that the girl, whose name was Dina, was indeed his kin.
Later on, Norris settled down with Gena O'Kelley, who was a public figure. She was a model and was twenty-two years younger than Norris. Their union created much buzz, but they continued to settle down and later on had with twins. O'Kelley had also brought in two children from her previous relationship into the family.
Martial Artist, Actor, and Author
Surprisingly, Norris's interest in martial arts began in an unconventional way. He was not originally into Taekwondo or any form of fighting at the start.
The inspiration came from when he was serving as an Air Policeman in the Air Force. He served in the United States Air Force for four years and received several awards. He was awarded the National Defense Service Medal, Outstanding Unit Award, Longevity Service Award, and even an award for Small Arms Expert Marksmanship.
He also gained an award during his stay in South Korea, still as a member of the Air Force. The country was widely known for martial arts, and he got his calling from his stay there. When he got back to the United States, he maintained this particular interest in martial arts and the rest is history.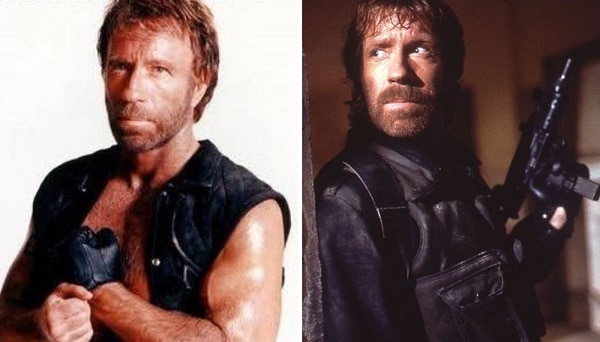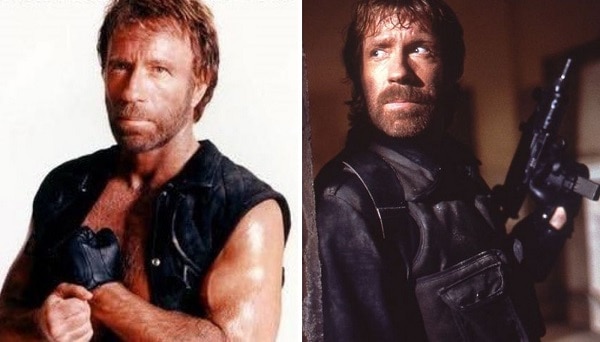 Immediately after serving in the military, Norris continued his saga with martial arts. He began to join amateur competitions and his small wins here and there compelled him to join in the professional ring.
He held the Professional Middleweight Karate belt for more than six years until he lost a match to Louis Delgado. Delgado was a tight competitor of Norris at the time.
They were constantly compared and betted against. This defeat, however upsetting, did not discourage him from continuing the game. He was eventually awarded the title "Fighter of the Year" by a renowned magazine in martial arts, Black Belt Magazine.
His love for martial arts pushed him to open a Karate school in California. Among his popular students then were Steve McQueen, Bob Barker, and many more influential martial artists. Norris founded "Chun Kuk Do", a form of martial arts that is closely related to Taekwondo and Tang Soo Do.
Chun Kuk Do is composed of the many martial arts moves and techniques Norris acquired as an enthusiast and as a professional. It also includes words of honor to live by.
His biggest motion picture break was a film he starred in with Bruce Lee. The movie, "Way of the Dragon", is remarkably one of his most famous works, even as Lee's nemesis. He also wrote books about martial arts. A bestseller during his time was a book he wrote entitled "Wining Tournament Karate". It included stories and detailed descriptions of techniques he valued and mastered over the years.
Norris: The Internet Sensation
Any person who's into pop culture has probably heard of or seen satirical texts or photos of Norris. Netizens have taken a creative twist to Norris's famous masculine and tough persona as a martial artist and actor. A lot of search results would pop up if you type in "Chuck Norris" on your social media accounts, and that force still remains today.
This so-called trend usually involves Norris's fighting stance positions, with netizens relating them to everyday life. A live sketch on Saturday Night Live might have also contributed massively to this modern-day Internet phenomenon.
The artists began to air exaggerated "facts" about Norris and it eventually spread like wildfire. Norris is very much aware of this hit and is very vocal about not taking things personally. His agency relayed the message that the Internet star hopes that this would pique their interest in his "real" work as an actor and author.
Here are the best Chuck Norris quotes:
Chuck Norris Quotes
"Men are like steel. When they lose their temper, they lose their worth." – Chuck Norris
"A lot of people give up just before they're about to make it. You know you never know when that next obstacle is going to be the last one." – Chuck Norris
"My mother lived through the Great Depression. Her family of 11 children pulled themselves up by their bootstraps and moved to wherever there was work at the time. And in rural Oklahoma, that wasn't easy to find." – Chuck Norris
"When the boogie man goes to sleep, he checks his closet for me." – Chuck Norris
"I don't initiate violence, I retaliate." – Chuck Norris
"It's important to remember that because these athletes exercise so beyond what even a normal active person would, they generally must also supplement their diet." – Chuck Norris
"Anytime you get action legends together, it has to be a classic." – Chuck Norris
"Violence is my last option." – Chuck Norris
"Unfortunately, in the entertainment field, sometimes you start believing your celebrity. You have a strong tendency to drift from the Lord, which I did. I did drift for a number of years." – Chuck Norris
"If I wanted your opinion, I'd beat it outta ya." – Chuck Norris
"Ads sway kids' preferences. Star athletes' spokespeople sway kids' preference." – Chuck Norris
"In 1968, I fought and won the world middleweight karate championship by defeating the world's top fighters. I then held that title until 1974, when I retired undefeated." – Chuck Norris
"It's the bullies who are afraid, are the ones that do all the fighting. It's not the secure kids that get out there and fight. It's the insecure kids." – Chuck Norris
"Good morals lead to good laws." – Chuck Norris
"Let's face it: so much of what we consume is not driven by knowledge but by basic craving and impulse." – Chuck Norris
"The process of what we eat starts in our heads." – Chuck Norris
"No one is more in our heads than a food industry that spends billions of dollars in marketing its message in every means possible." – Chuck Norris
"One of my life's principles is to develop myself to the maximum of my potential in all ways and to help others do the same." – Chuck Norris
"Whether we are famous or not, we all need God. We also need other people." – Chuck Norris
"Exercise, prayer, and meditation are examples of calming rituals. They have been shown to induce a happier mood and provide a positive pathway through life's daily frustrations." – Chuck Norris
"We can't deal with the flood in the orchards until we cap the floodwaters coming into them. And that means giving our Border Patrol the total resources they need to get their job done, and even utilizing military personnel in particular hot crossing spots." – Chuck Norris
"I would give illegal immigrants already here a three-month grace period to apply for a temporary worker's visa. If they failed to apply within that time frame, they would be considered fugitives, and they would be found and deported." – Chuck Norris
"Asking your children about their fears or worries about going back to school will help them share their burden." – Chuck Norris
"Getting into a sleep routine before the first week of school will aid in easing the shock of waking up early." – Chuck Norris
"It's official: The biggest back-to-school bullies are anxiety, worry and fear." – Chuck Norris
"Taking in too much added sugar from highly marketed sugary foods and drinks displaces healthier foods in the diet." – Chuck Norris
"Our forefathers increased and decreased the influx of peoples because America was building a melting pot and because certain ethnicities often brought with them certain securities and degrees of productivity." – Chuck Norris
"If the government decides to become a tyrannical government, our guns are to protect us against that." – Chuck Norris
"The final line in the Second Amendment says, 'The right of the people to keep and bear arms shall not be infringed.' That means not by the president, not by Congress." – Chuck Norris
"My mom was essentially a single mother raising three boys. If anyone could have had any reason to give up, it was her. But she didn't, and neither did we." – Chuck Norris
"A walk in nature is a perfect backdrop to combine exercise, prayer, and meditation while enhancing the benefit of these activities." – Chuck Norris
"There's no reason we can't all live harmoniously together, and that's what I would say to the head of Iran." – Chuck Norris
"There's a lot to be done; I just see a total moral decay in our society." – Chuck Norris
"I've got a bulletin for you, folks. I am no superman. I realize that now, but I didn't always." – Chuck Norris
"As six-time world karate champion and then a movie star, I put too much trust in who I was, what I could do, and what I acquired. I forgot how much I needed others and especially God." – Chuck Norris
"I think Christians and Muslims should hug each other." – Chuck Norris
"We either go one direction, left, which would be socialism. Or right, which would be people trying to make the money themselves." – Chuck Norris
"The Apostle Paul did what he had to do to spread the message of God. I realize that that is what I have to do; I have to bite the bullet and overcome my shyness." – Chuck Norris
"Martial arts was really the first thing in my life that I followed through on and accomplished a degree of proficiency for." – Chuck Norris
"I was just a start-and-stop guy. I could never really follow through on anything that I started." – Chuck Norris
"I think you can learn from history." – Chuck Norris
"Whatever luck I had, I made. I was never a natural athlete, but I paid my dues in sweat and concentration and took the time necessary to learn karate and become world champion." – Chuck Norris
"Some of the most miserable people I know are some of the richest people in America, they are the most miserable individuals I've ever seen." – Chuck Norris
"A lot of times people look at the negative side of what they feel they can't do. I always look on the positive side of what I can do." – Chuck Norris
"There is one thing on which most athletes and experts seem to agree. If you want to be an elite athlete, good nutrition at a young age is an important place to start."- Chuck Norris
"I've always found that anything worth achieving will always have obstacles in the way and you've got to have that drive and determination to overcome those obstacles on route to whatever it is that you want to accomplish."- Chuck Norris
"As a former Airman First Class in the United States Air Force, like many veterans in America, my military experience played an important part in instilling in me a sense of character and discipline that has served me throughout my life."- Chuck Norris
"It's important to concede that modern pesticides have helped to make farming more productive and to increase yields."- Chuck Norris
"I gave my life to the Lord at 12. I was baptized at 12."- Chuck Norris
"I'm – you know, I'm not a good actor." – Chuck Norris