Celebrated martial artist, actor, and filmmaker Bruce Lee was noted for his roles in various movies and films, as well as his unique martial arts technique of Jeet Kune Do. It is believed that Bruce Lee's efforts paved the way for change in how Asians were presented in American films.
A few of Lee's most-acclaimed performances included his role as Kato in the 60's TV series The Green Hornet, and his lead role in 'The Big Boss' and 'Fist of Fury'. He also established a few martial arts schools where he taught Jeet Kune Do, or 'The Way of the Intercepting Fist'.
Bruce Lee: Early Years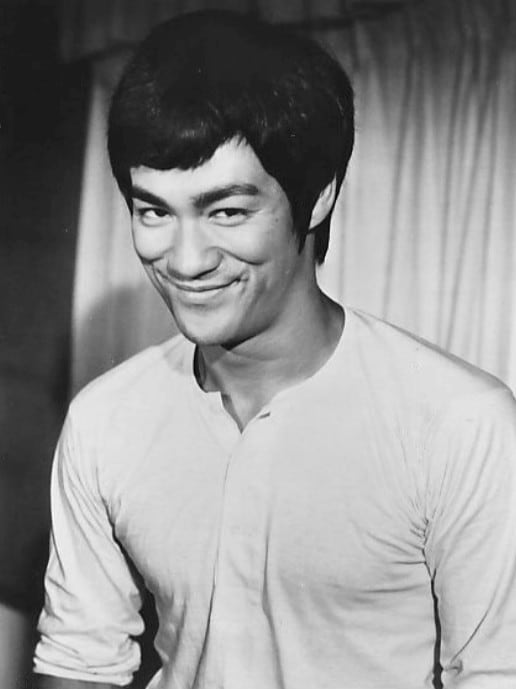 Born as Lee Jun Fan on November 27, 1940, in the Chinatown of San Francisco, California, he got the name 'Bruce' from the hospital attending physician. His parents were Lee Hoi-chuen, a Hong Kong Cantonese opera singer and film actor, and Grace Ho, adopted daughter of Ho Kom-tong, a known businessman and philanthropist. Bruce Lee was their fourth child among five.
Even at a tender age of only three months old, it seems that Lee was a natural in front of the camera, as his first appearance then was as a stand-in baby for Golden Gate Girl (1941). But the family had to move back to Hong Kong during that time. It was there that Bruce Lee began his career in acting, by appearing in several films as well as learning dance.
Lee's birth name Lee Jun Fan means 'return again'. It was given by his mother in her belief that he would return to America once he was at the right age. However, his original name was said to have been Sai-fon, which means 'small phoenix'.
Aside from that, he had other names: Li Yuanxin, which was a family or clan name; Li Yuanjian, which was his student name while attending La Salle College; and his Chinese screen name Li Xiaolong, which means 'little dragon'. This is only fitting as Bruce Lee was born in the year and hour of the Dragon.
While in Hong Kong, Lee lived a life of privilege and affluence. But as times then began to be tumultuous – and he became involved in several street fights – his parents decided he needed to learn martial arts. His father was his first teacher in the basics of Wu-style t'ai chi ch'uan. When he was 16, he studied Wing Chun under teacher Yip Man.
His father, fearing for his son's safety and also for his wish for Lee to live a healthier life, decided to send him back to America. This decision was also influenced by his last bout with an opponent with an apparently powerful criminal background. When he was 18, he was sent to the United States to stay with his older sister.
Bruce Lee: Later Life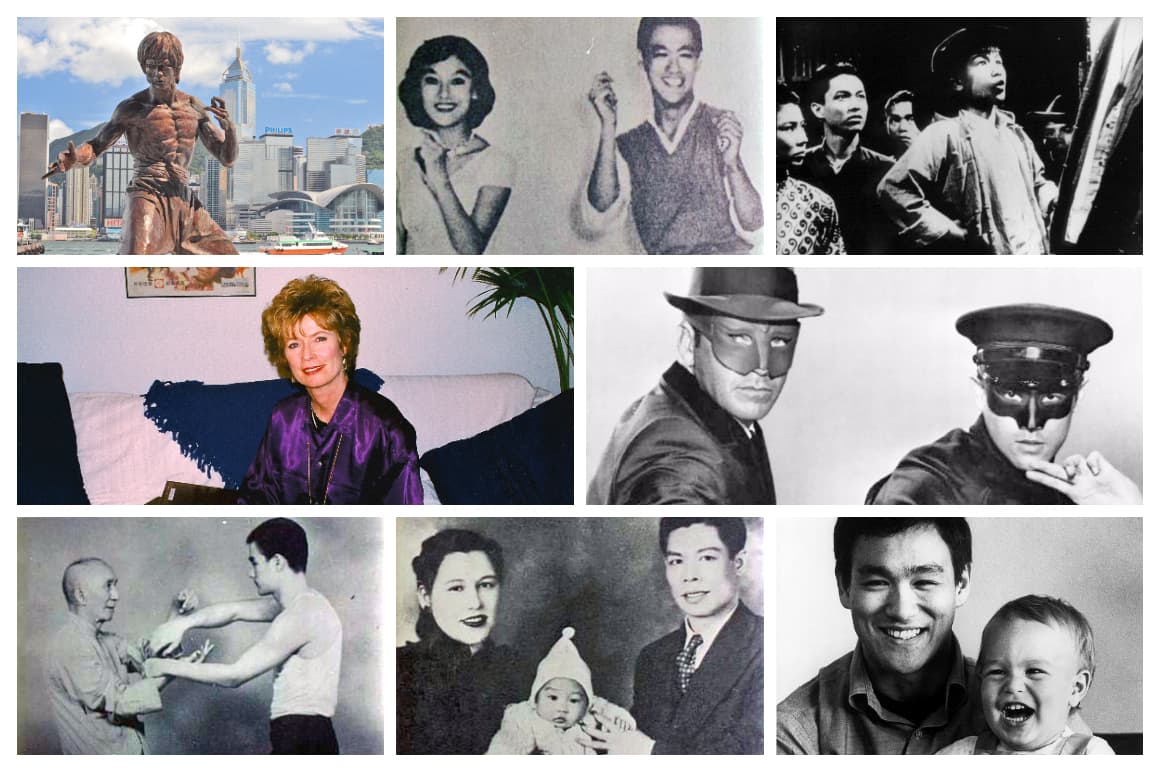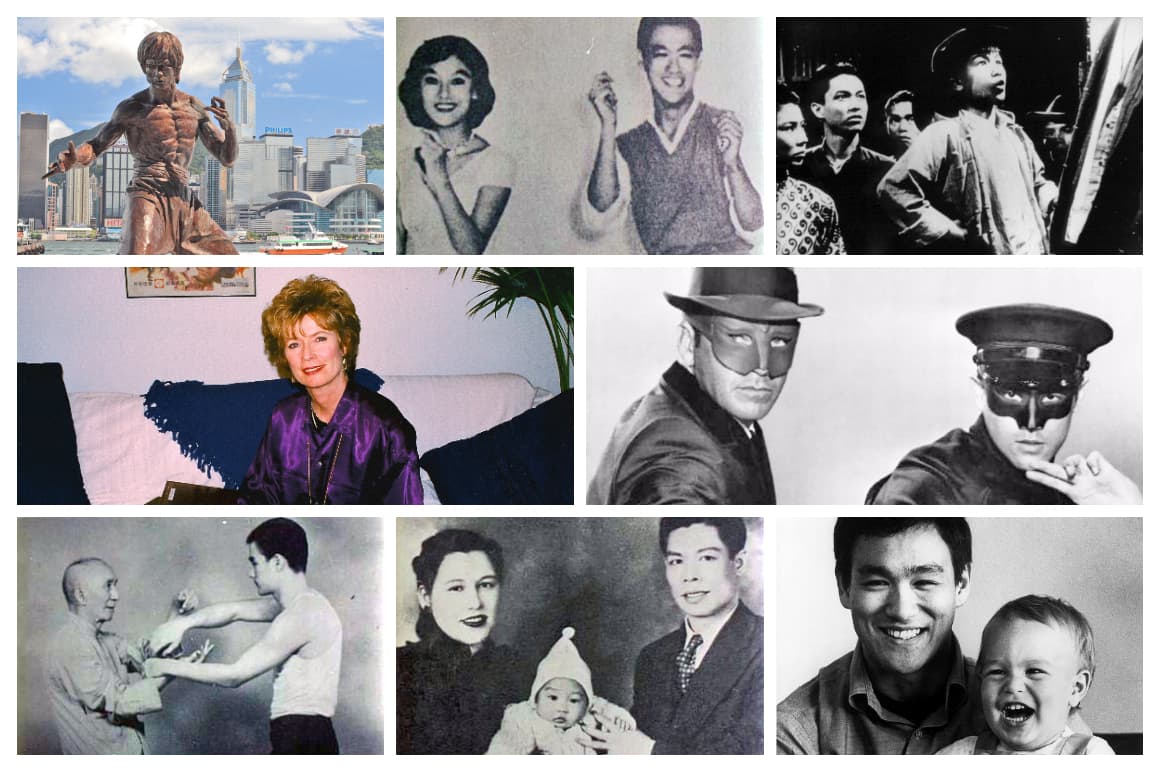 Bruce Lee finished high school from Edison Technical School (now Seattle Central Community College). He then enrolled at the University of Washington, majoring in drama. It was here that he met his wife, Linda Emery. They married in August 1964 and had two children: Brandon and Shannon.
During his busy years, Bruce Lee suffered a major back injury that took some time for recovery. It was then that he took up writing and self-care. Feeling the stereotype against Asian actors, Lee left with his family to Hong Kong, where he would work on the movies The Big Boss and Fist of Fury. Both films gained popularity in Asia.
Tragedy struck on July 20, 1973, when Bruce Lee suddenly died of brain edema. This was just a month before the release of Enter the Dragon. Though there are many controversies surrounding his death, it can't be denied that Lee left a wonderful legacy.
Bruce Lee Interview
To those who wish to be inspired by his words, here are the most popular Bruce Lee quotes for your enjoyment.
30 Bruce Lee Quotes for Self-Improvement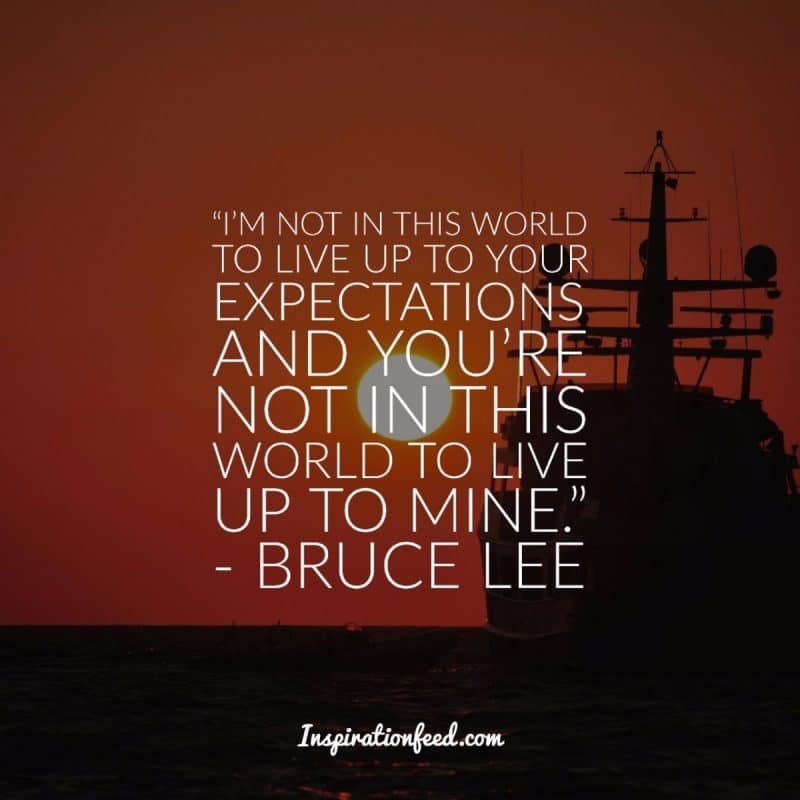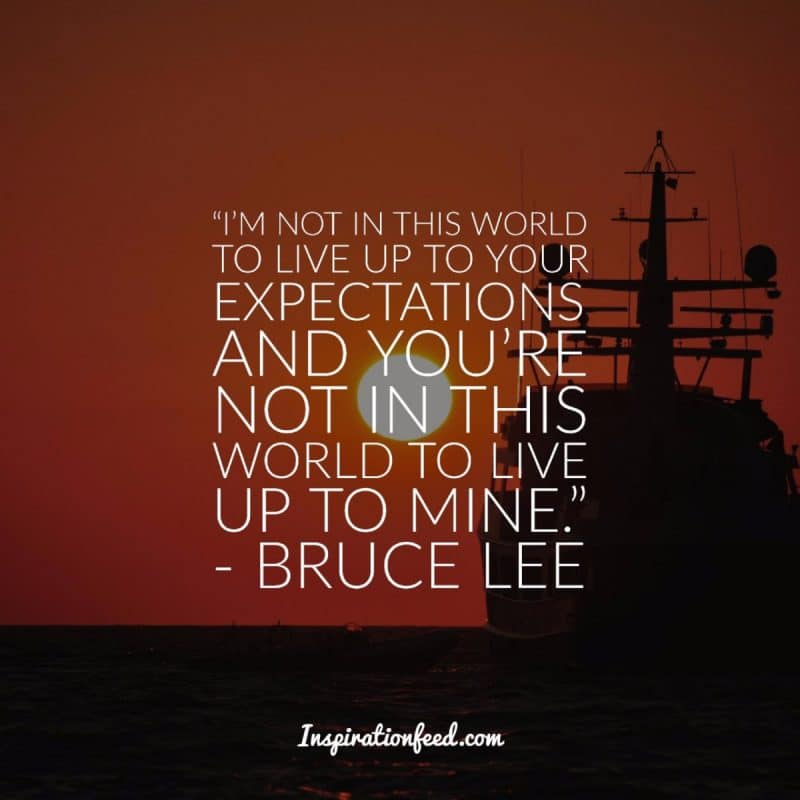 "I'm not in this world to live up to your expectations and you're not in this world to live up to mine." – Bruce Lee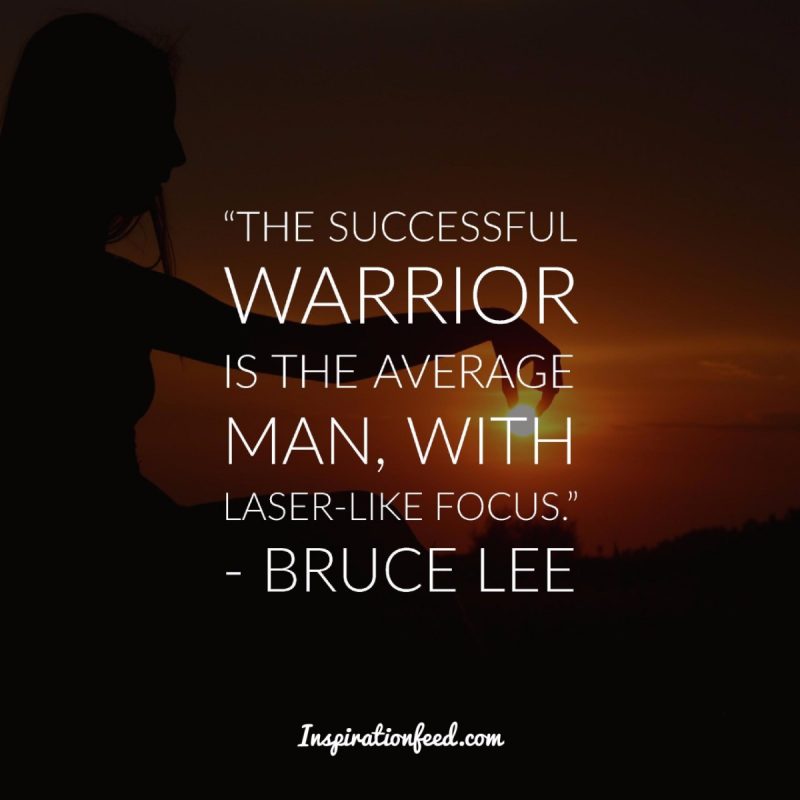 "?The successful warrior is the average man, with laser-like focus." – Bruce Lee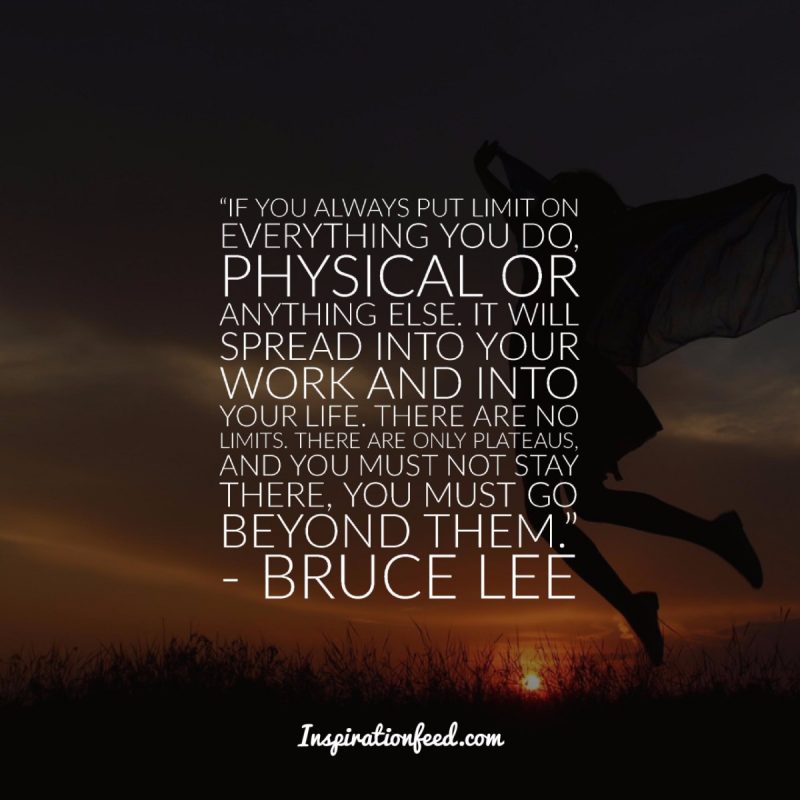 "If you always put limit on everything you do, physical or anything else. It will spread into your work and into your life. There are no limits. There are only plateaus, and you must not stay there, you must go beyond them." – Bruce Lee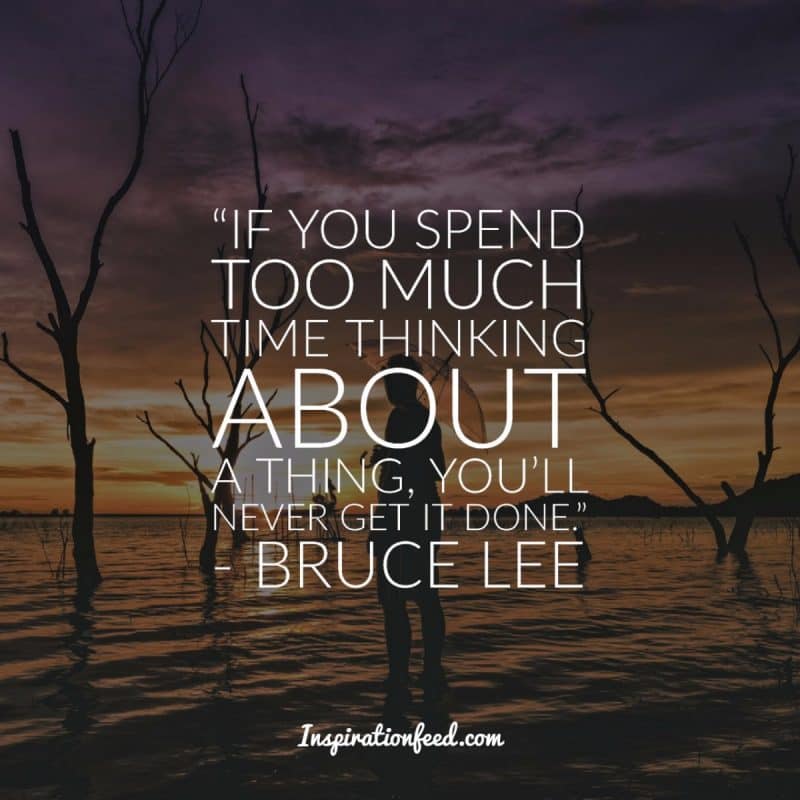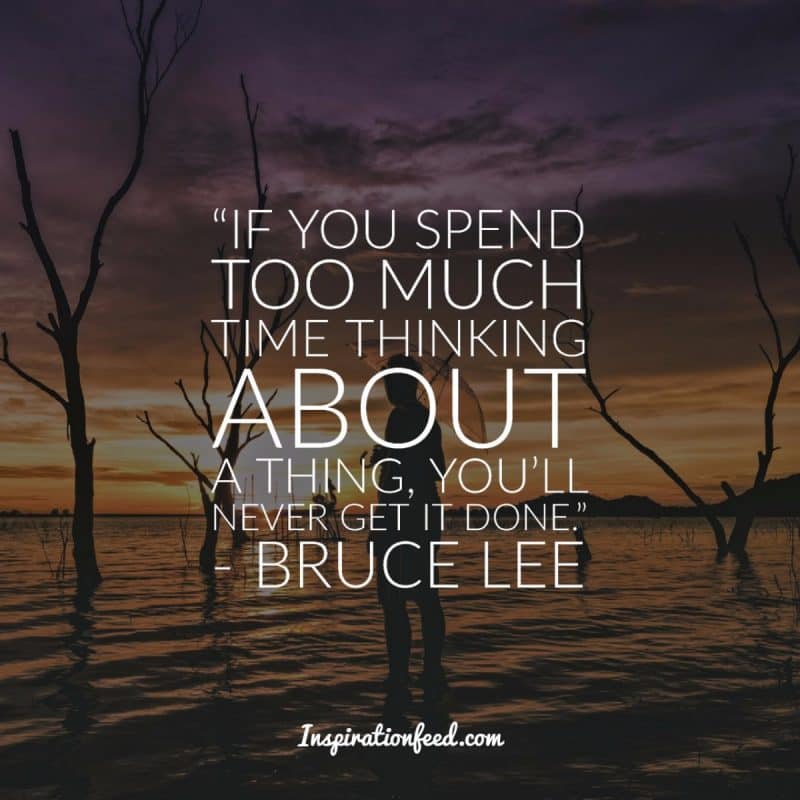 "If you spend too much time thinking about a thing, you'll never get it done." – Bruce Lee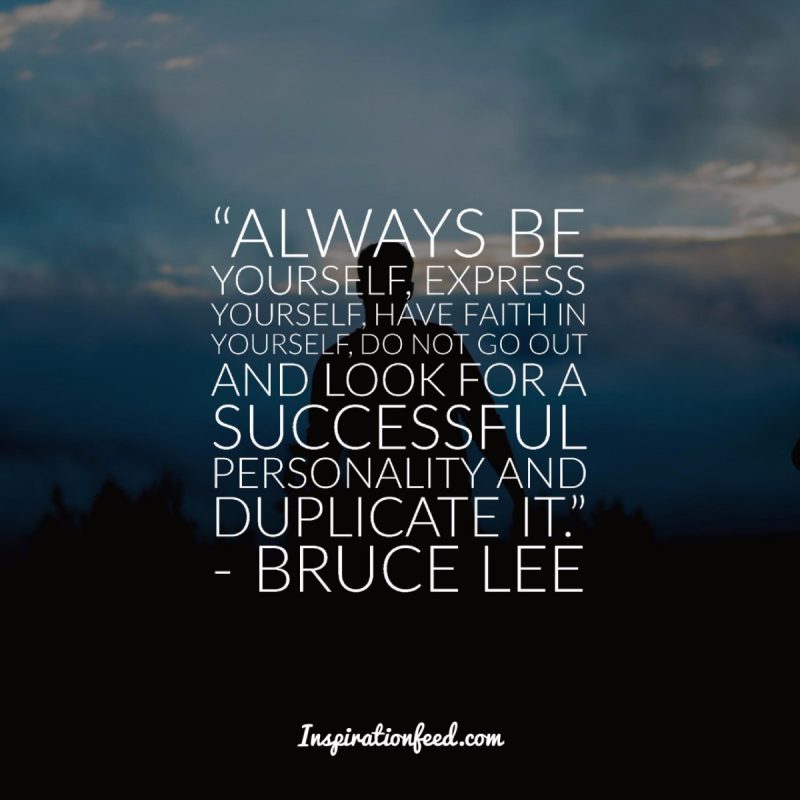 "Always be yourself, express yourself, have faith in yourself, do not go out and look for a successful personality and duplicate it." – Bruce Lee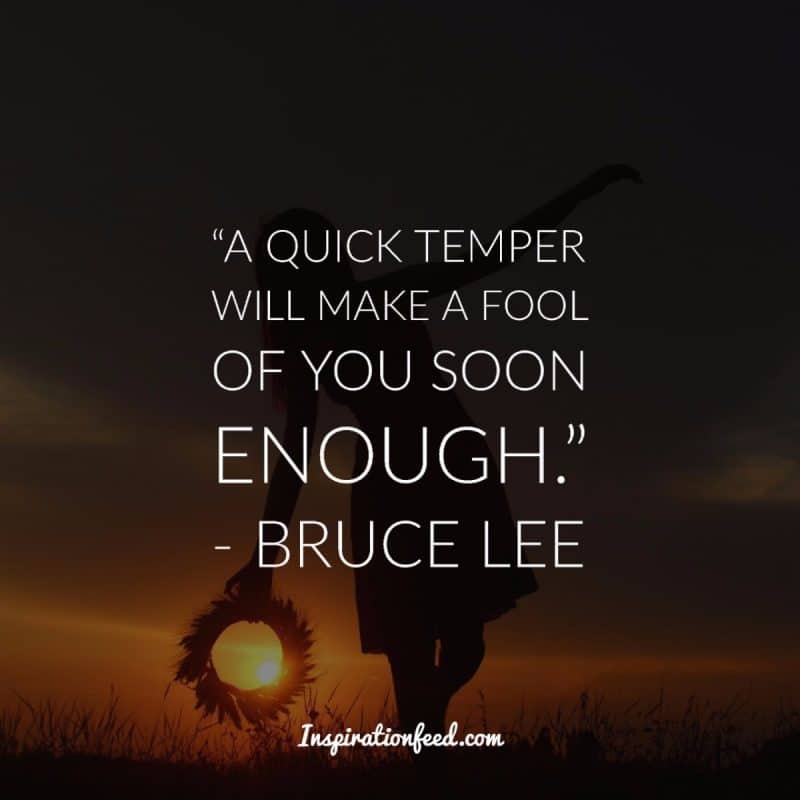 "A quick temper will make a fool of you soon enough." – Bruce Lee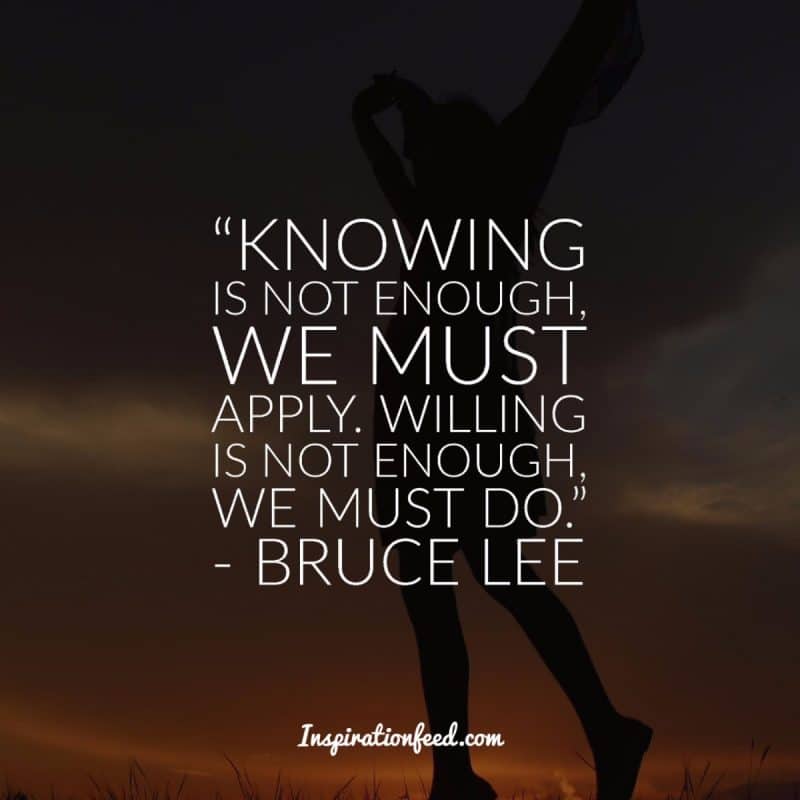 "Knowing is not enough, we must apply. Willing is not enough, we must do." – Bruce Lee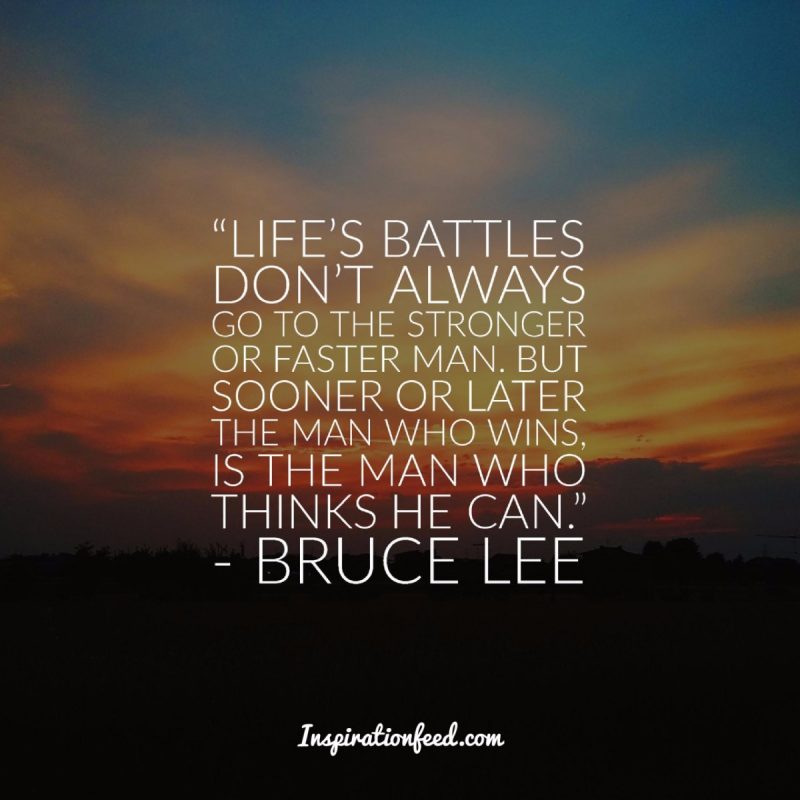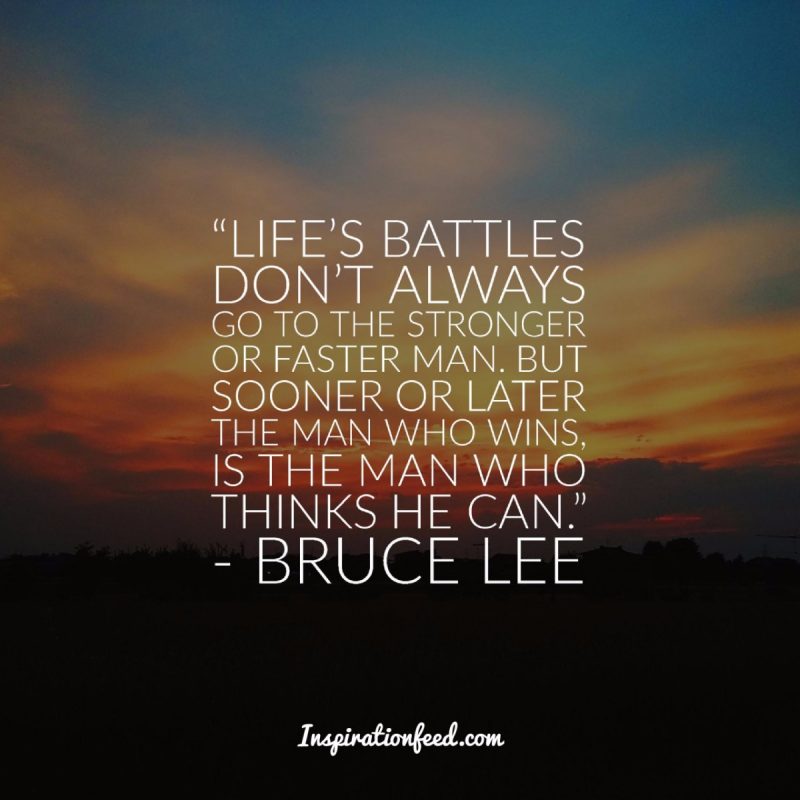 "Life's battles don't always go to the stronger or faster man. But sooner or later the man who wins, is the man who thinks he can." – Bruce Lee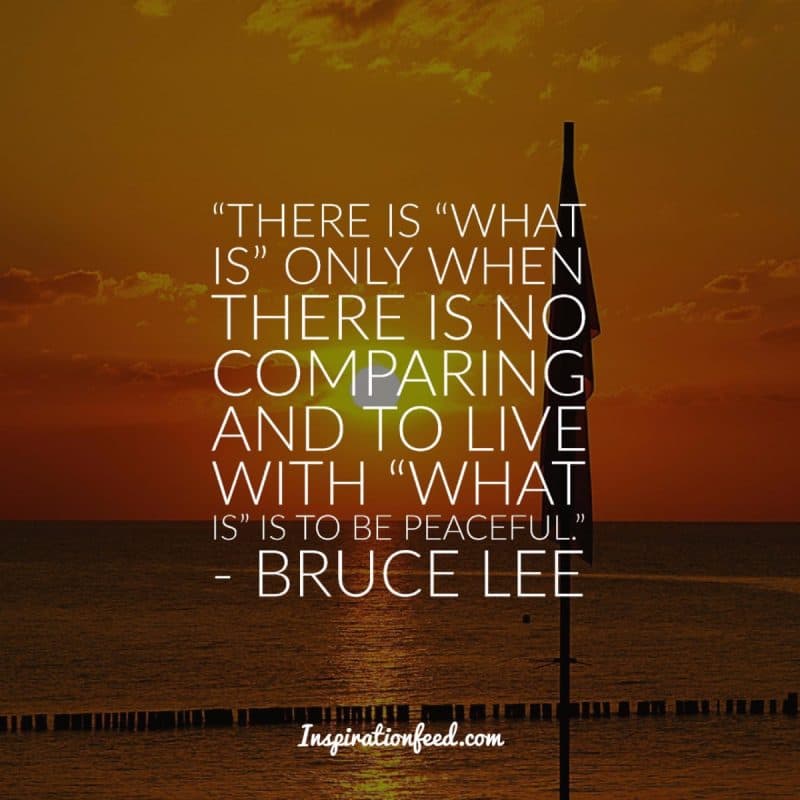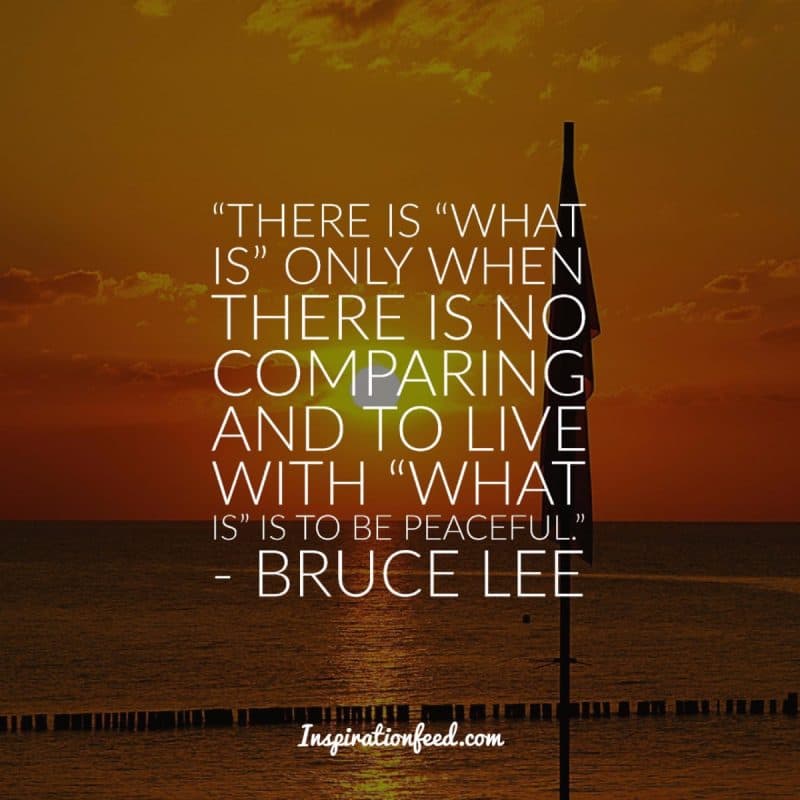 "There is "what is" only when there is no comparing and to live with "what is" is to be peaceful." – Bruce Lee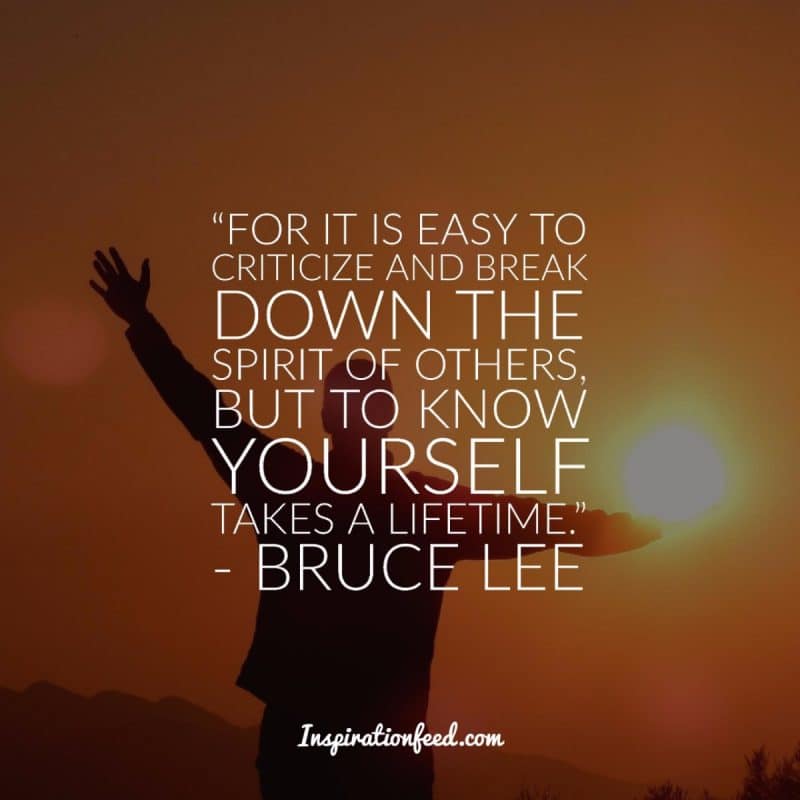 "For it is easy to criticize and break down the spirit of others, but to know yourself takes a lifetime." – Bruce Lee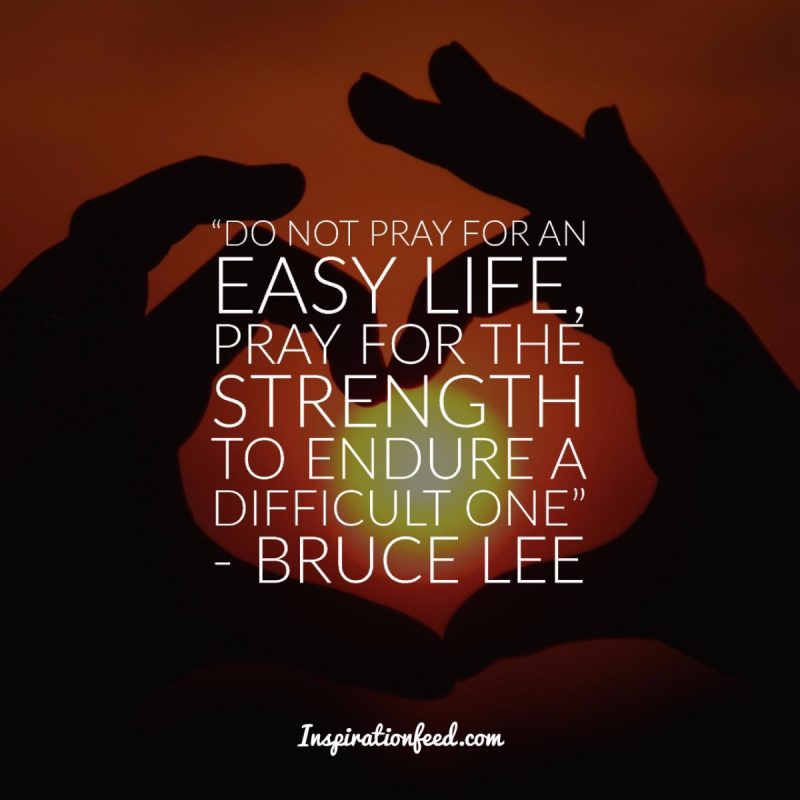 "Do not pray for an easy life, pray for the strength to endure a difficult one" – Bruce Lee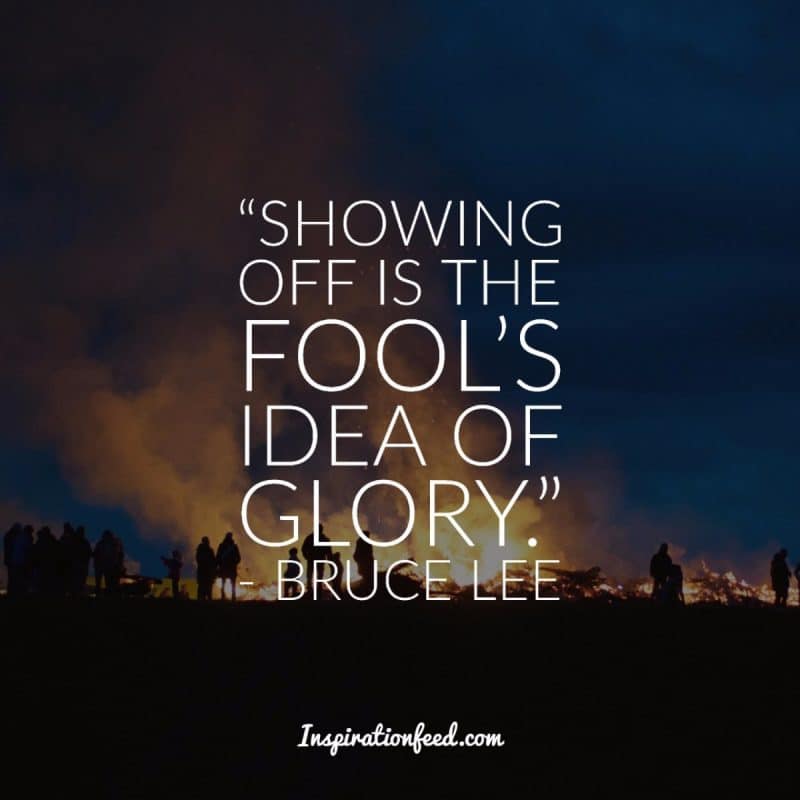 "Showing off is the fool's idea of glory." – Bruce Lee
"Mistakes are always forgivable, if one has the courage to admit them." – Bruce Lee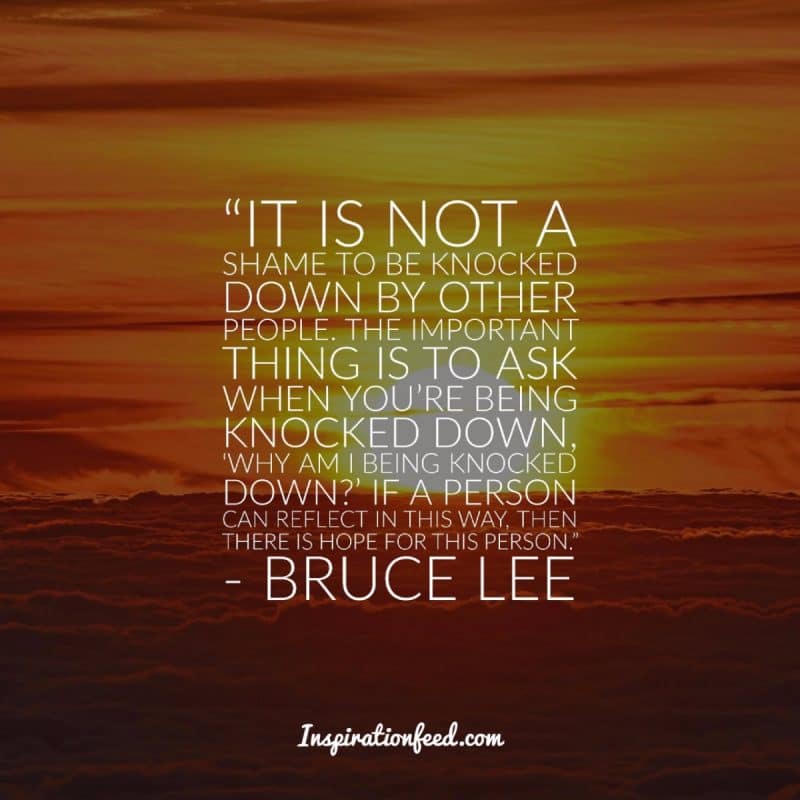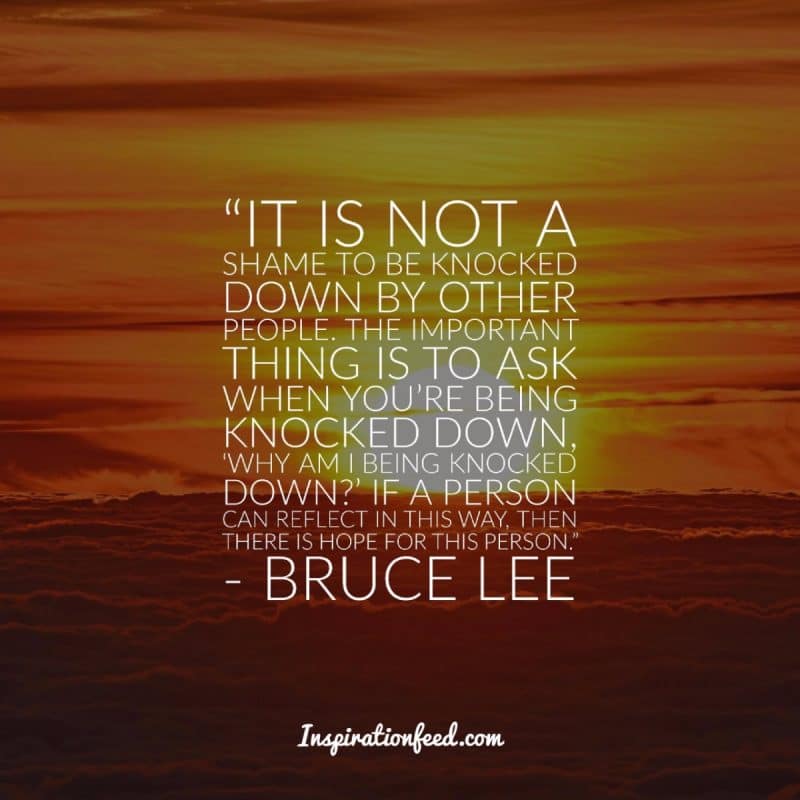 "It is not a shame to be knocked down by other people. The important thing is to ask when you're being knocked down, 'Why am I being knocked down?' If a person can reflect in this way, then there is hope for this person." – Bruce Lee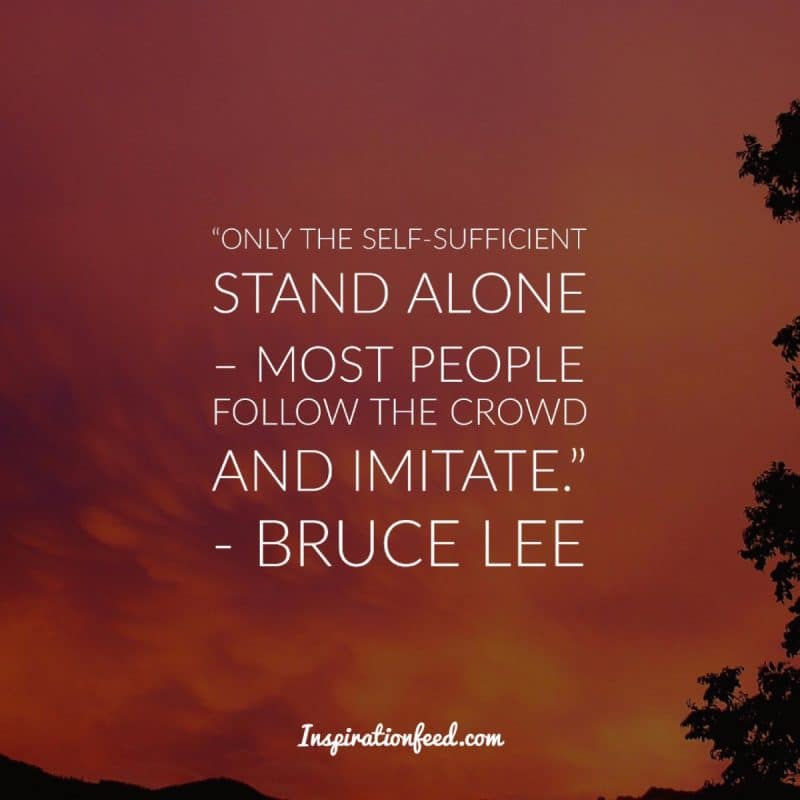 "Only the self-sufficient stand alone – most people follow the crowd and imitate." – Bruce Lee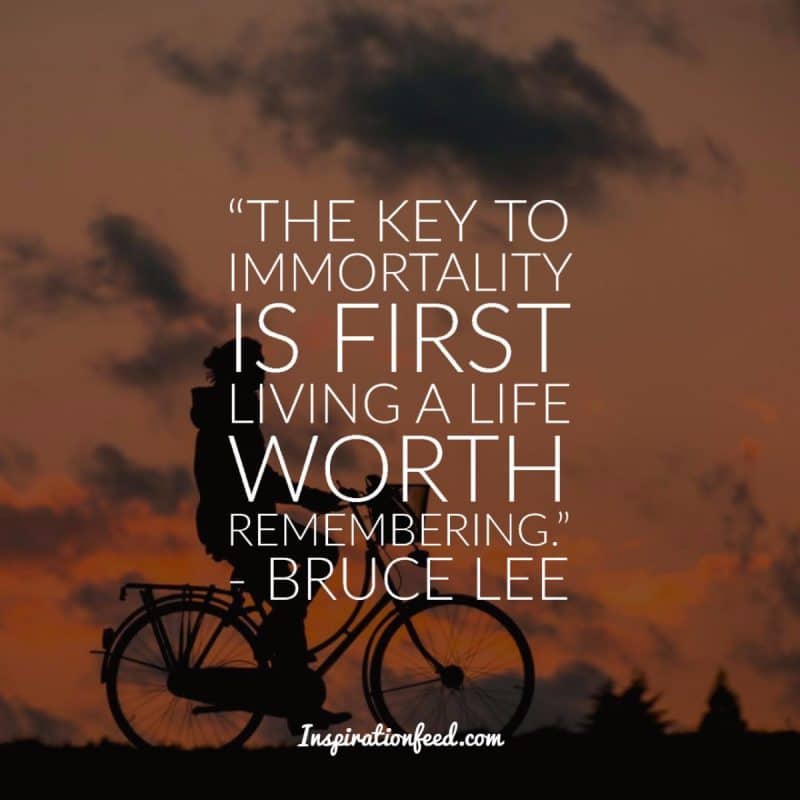 "The key to immortality is first living a life worth remembering." – Bruce Lee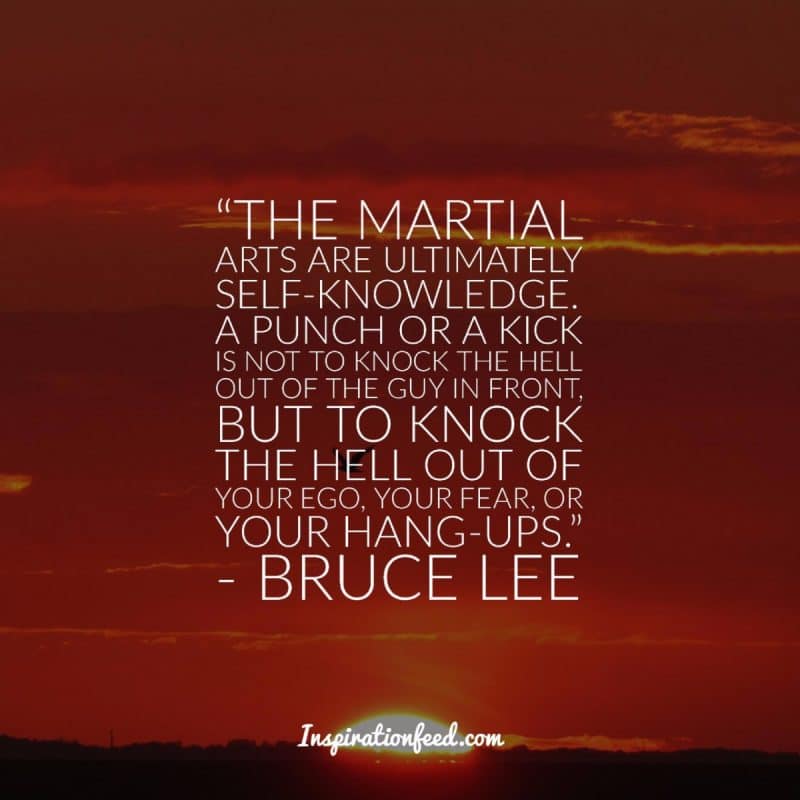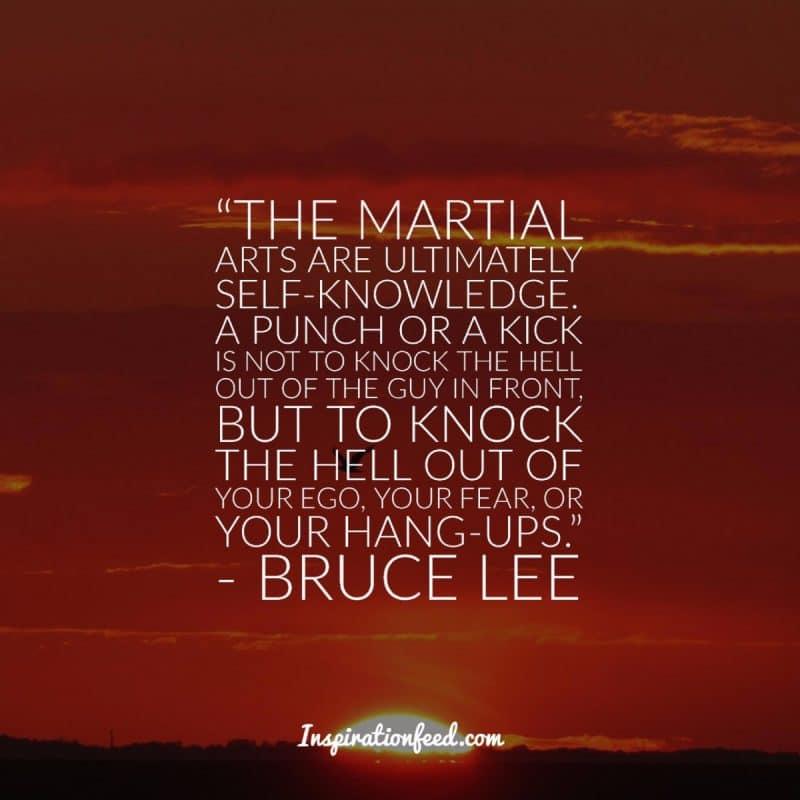 "The martial arts are ultimately self-knowledge. A punch or a kick is not to knock the hell out of the guy in front, but to knock the hell out of your ego, your fear, or your hang-ups." – Bruce Lee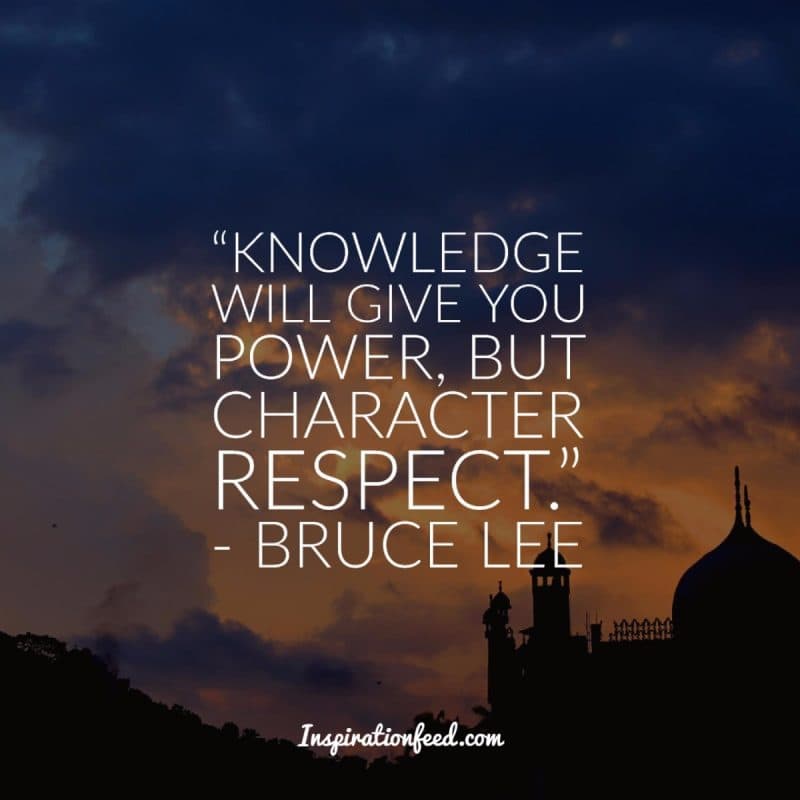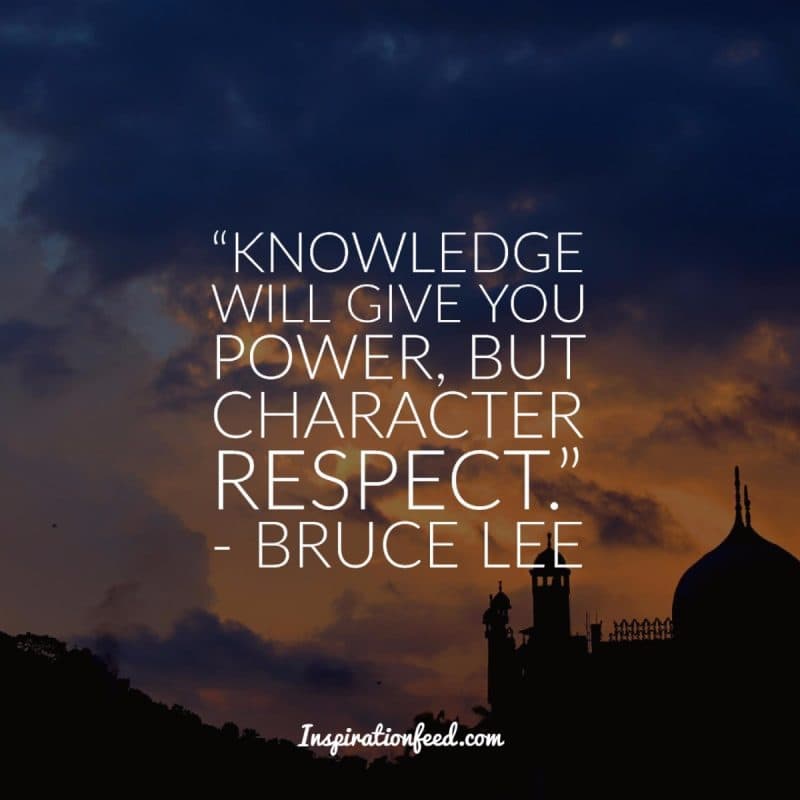 "Knowledge will give you power, but character respect." – Bruce Lee
"There is no such thing as defeat until you admit so yourself, but not until then!" – Bruce Lee
"Learning is never cumulative; it is a movement of knowing which has no beginning and no end." – Bruce Lee
"A fight is not won by one punch or kick. Either learn to endure or hire a bodyguard." – Bruce Lee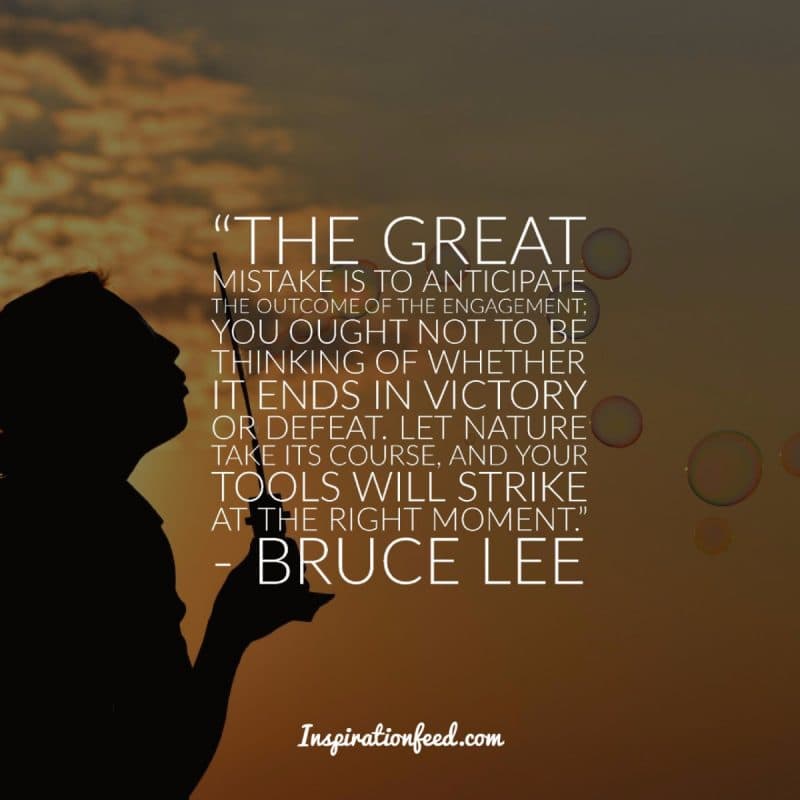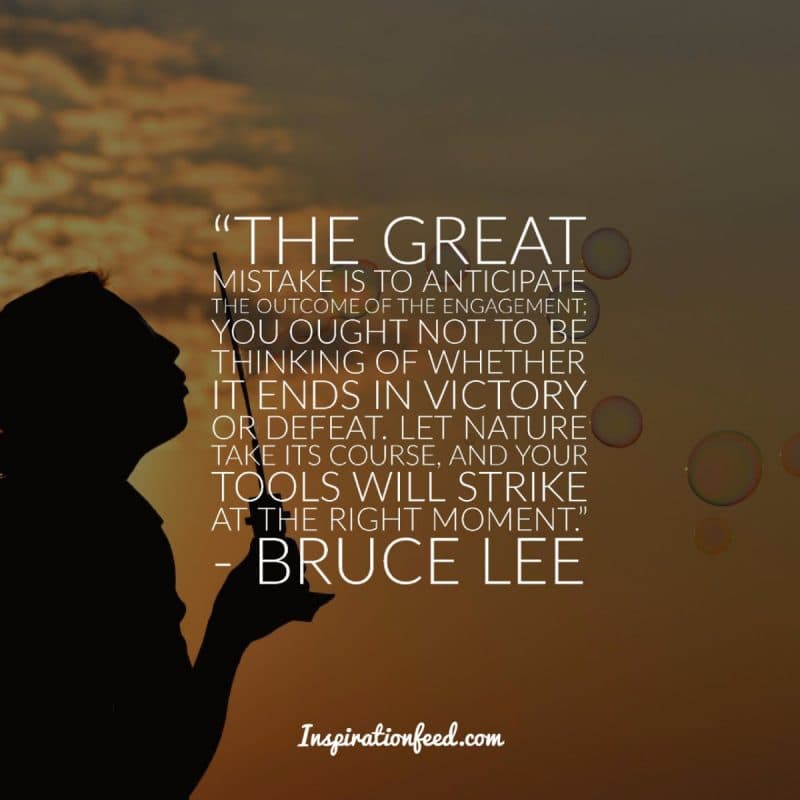 "The great mistake is to anticipate the outcome of the engagement; you ought not to be thinking of whether it ends in victory or defeat. Let nature take its course, and your tools will strike at the right moment." – Bruce Lee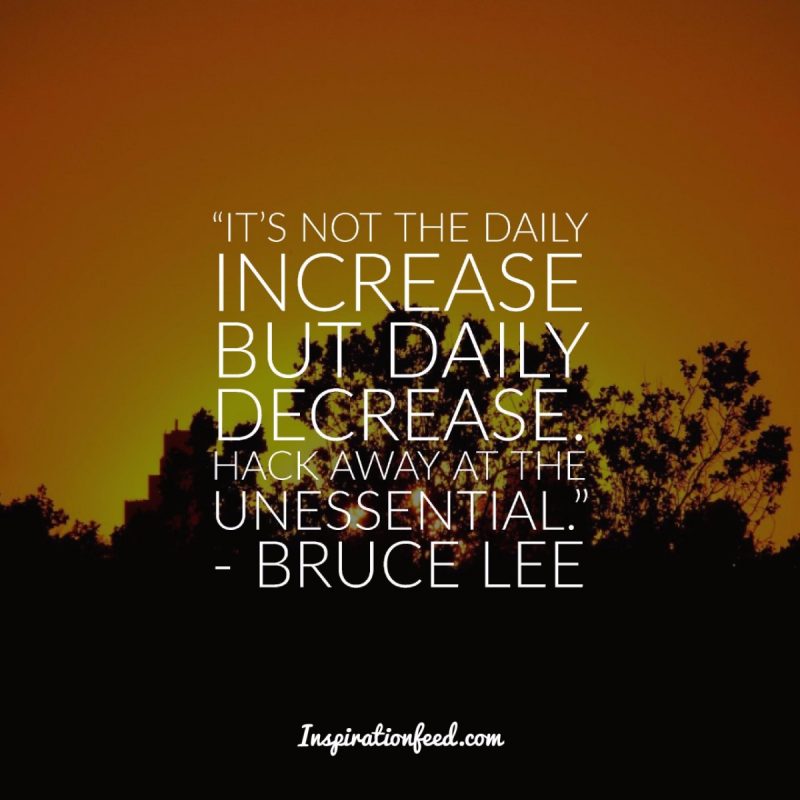 "It's not the daily increase but daily decrease. Hack away at the unessential." – Bruce Lee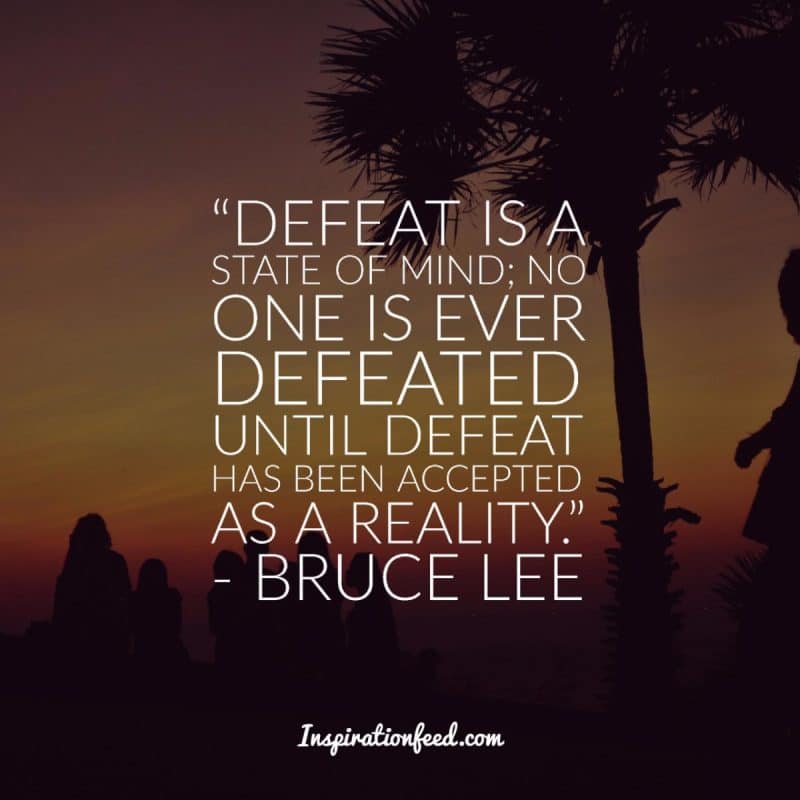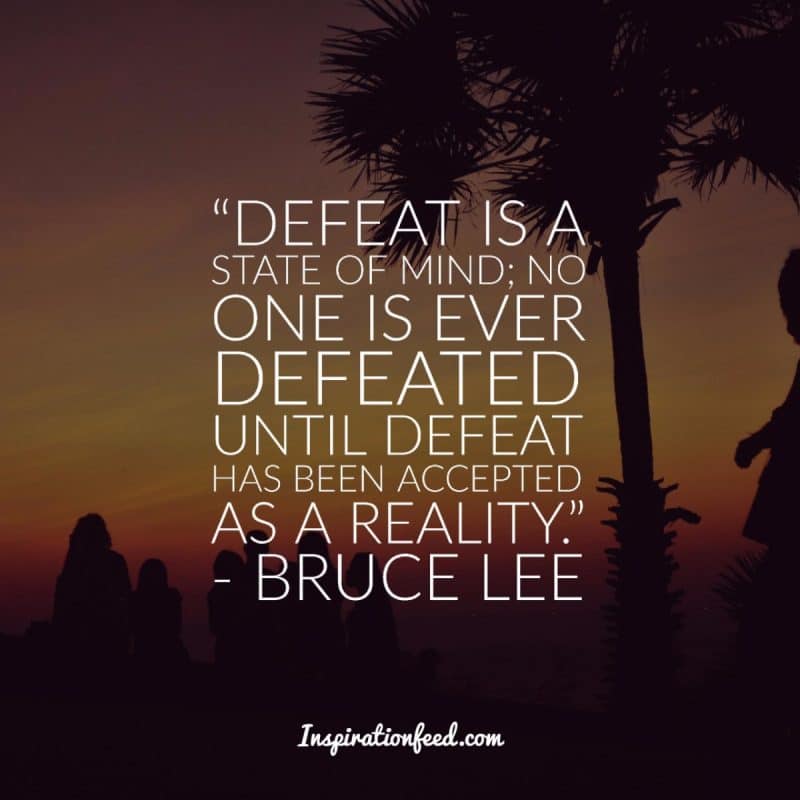 "Defeat is a state of mind; no one is ever defeated until defeat has been accepted as a reality." – Bruce Lee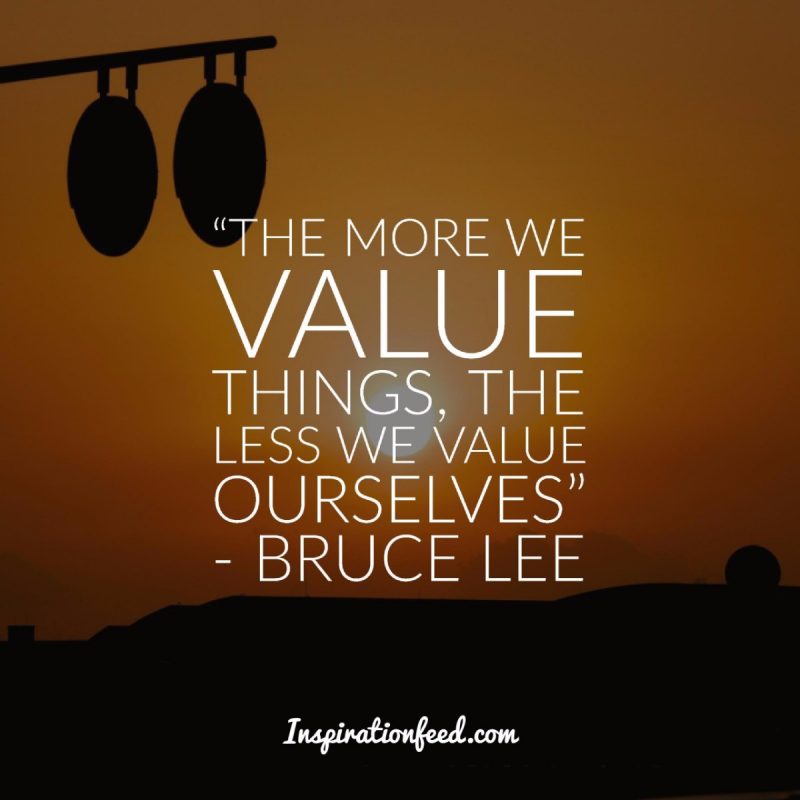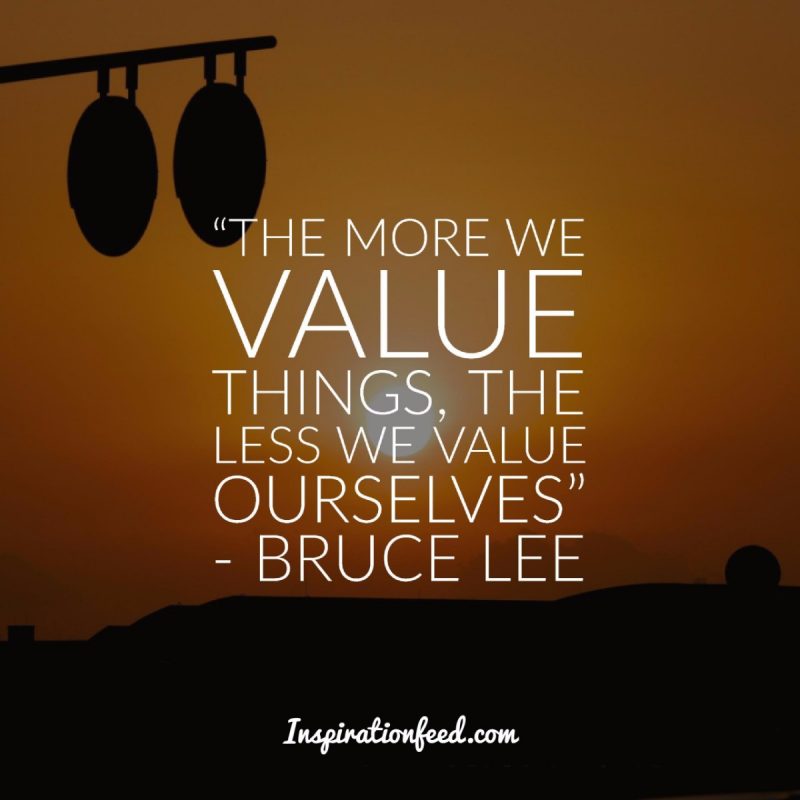 "The more we value things, the less we value ourselves" – Bruce Lee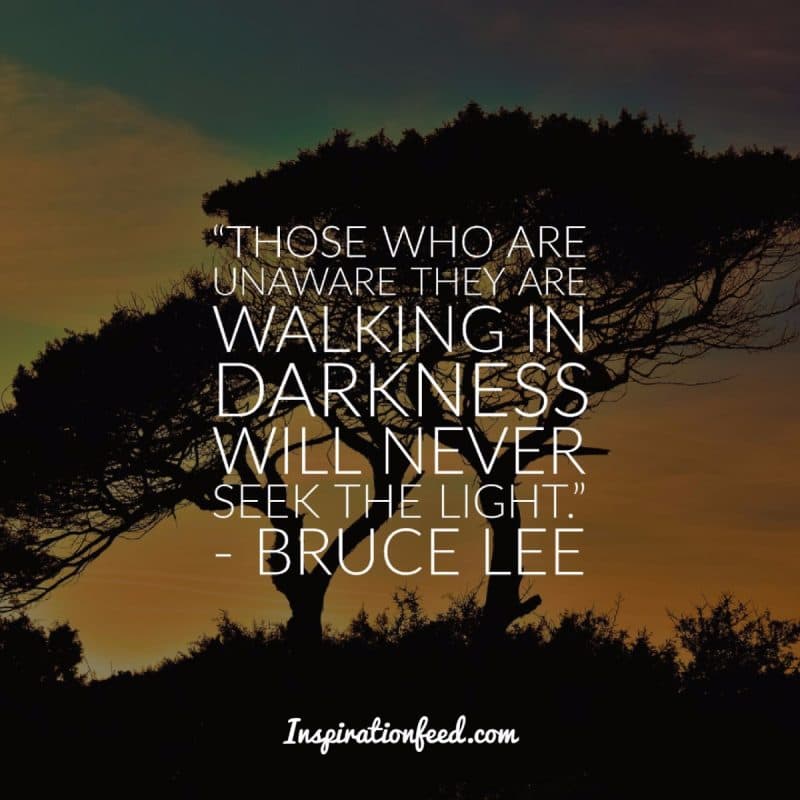 "Those who are unaware they are walking in darkness will never seek the light." – Bruce Lee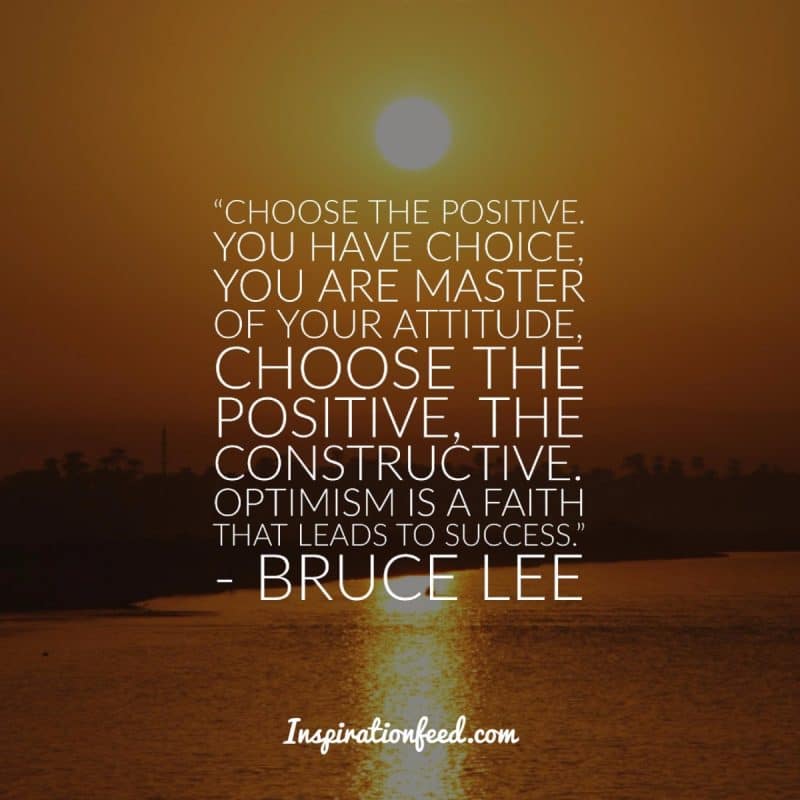 "Choose the positive. You have choice, you are master of your attitude, choose the positive, the constructive. Optimism is a faith that leads to success." – Bruce Lee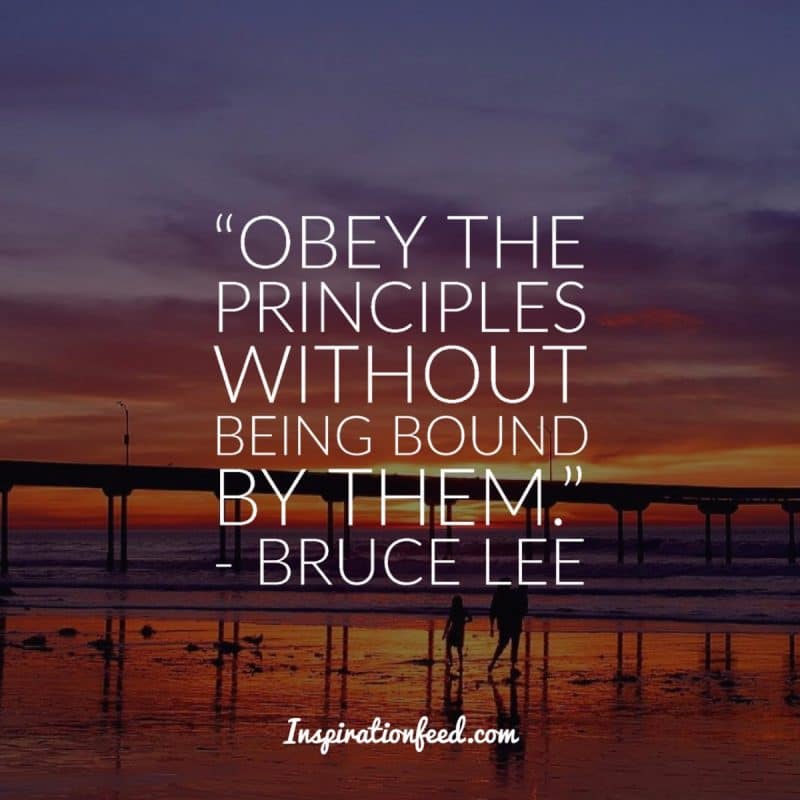 "Obey the principles without being bound by them." – Bruce Lee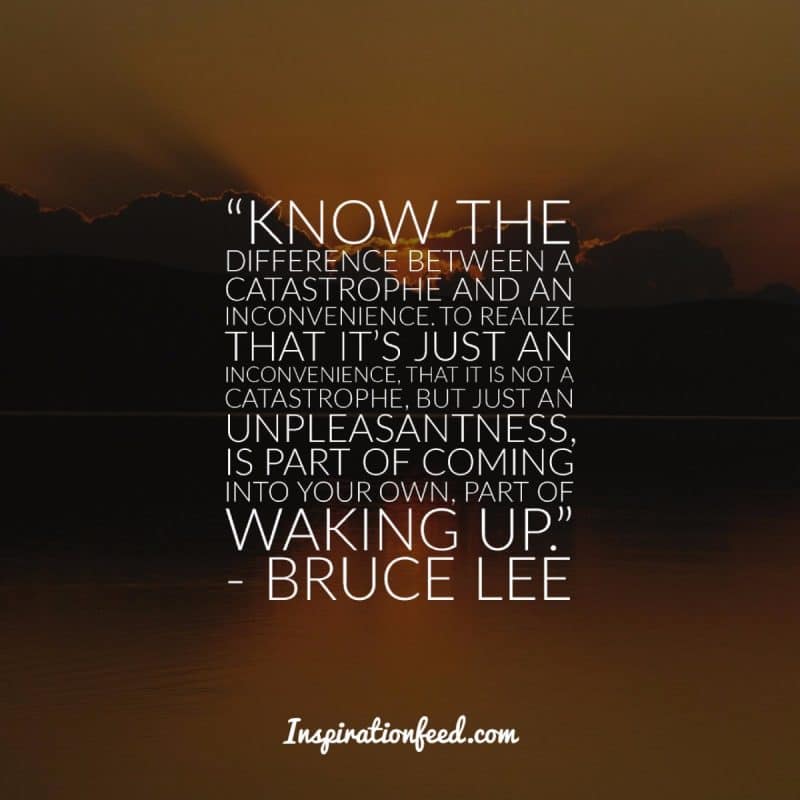 "Know the difference between a catastrophe and an inconvenience. To realize that it's just an inconvenience, that it is not a catastrophe, but just an unpleasantness, is part of coming into your own, part of waking up." – Bruce Lee
"Life is wide, limitless. There is no border, no frontier." – Bruce Lee