Last Updated on March 3, 2023
Successful bloggers have to keep many different aspects of writing in their heads. It's quite challenging to write engaging and interesting content on a regular basis over time.
Whether you create content for your business or personal blog, it's important to do it right. Writing original content will help you get more traffic from Google and, as a result, more leads and boost for your brand.
Of course, bloggers have different definition of 'excellent content' due to their own styles. However, there are some basic principles of successful blog post which will work out for everyone. In this post I'm going to tell you 7 easy steps of writing a killer blog post I wish I knew in my early days of blogging. Developing great content requires time and effort, but it's definitely worth it.
1. Create Unique Content
As Google's algorithms have changed, republishing content of other bloggers can be punished. It's no longer a choice. Google prevent bad content of ranking high. So, in order to get on Google's top and get organic traffic you need to publish original unique content.
Original content also means originality. People love those bloggers who speak their mind, who does not afraid to say what they think and those who say it in creative original way. Copying what other have already said would most probably lead to being ignored by your audience.
Most of newbie bloggers try to create a lot of content as cheap and fast as it's possible. But such approach will lead nowhere. You get what you pay for. Say something only if you have something to say.
2. Choose Your Topics Properly
All blog post topics are not equal. Some of them will permanently fail, while the others are programmed to success. The first thing first, when you come up with new topic for your blog, you need to make sure people are actively looking for this topic.
You can use Google Keyword Planner tool to discover search traffic for the topics you have. This way you'll be able to see if this topic resonate with people or not.
The other way to choose a great topic for your next blog post is to see what worked out for other bloggers within your niche. I like using famous marketing toolset Ahrefs to identify which posts on other blogs are the most visited and bring organic traffic from Google.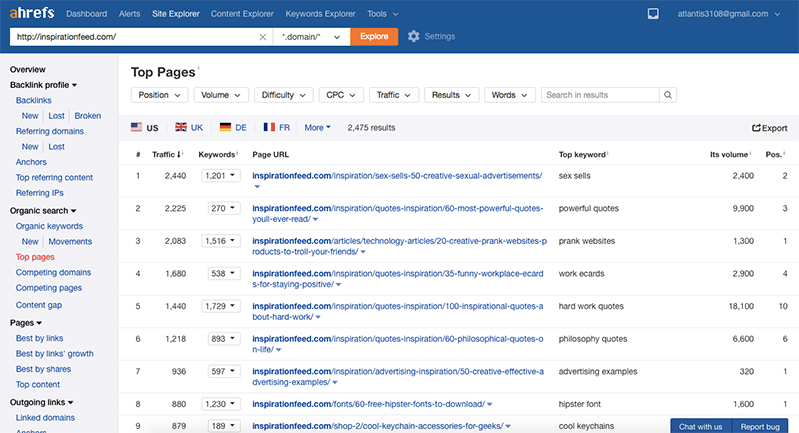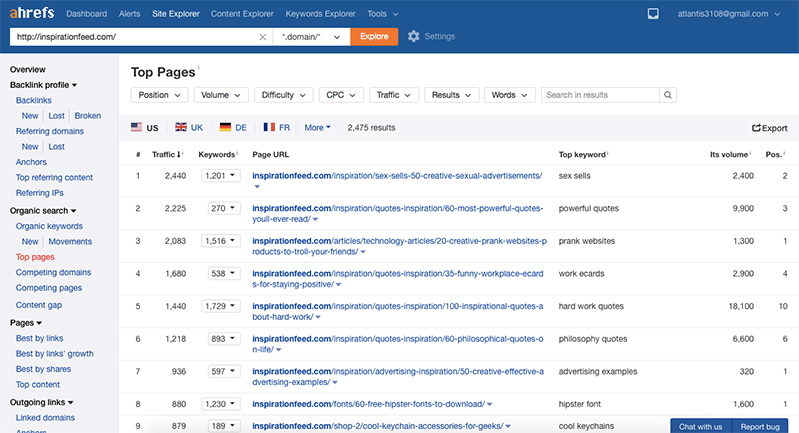 Open Ahrefs, insert URL of a blog and go to Site Explorer. Top pages tab will show you the most popular pages of the site along with keywords and position in Google.
Also, there are two more important reports to check: 'Best by shares' and 'Best by links'. 'Best by shares' shows the most shareable on social media posts. 'Best by links' tells you which pages have the most backlinks.
Top ten topics from each report could become your future blog post topics. But don't copy ideas, use them as a base to create your own unique titles.
3. Use Strong Headlines
A strong headline grabs reader's attention and encourages to open a post. There are no rules of creating a killer headline, it's quite subjunctive. However, some principles are common for all web titles.
Keep it simple. Try to avoid long complicated words. The most successful titles are simple, short and easy to understand. You can break this rule to grab attention, but be careful – it may also confuse your potential readers. For example, 'How to Create a Winning A/B Testing Strategy'.
Make it relevant. You can try to trick your readers and put some words like 'shocking truth', 'conflates', 'big claims' into your headline. It may bring people's attention, but they would be disappointed to get to know your title does not fit the content. For example, '5 Actionable Google Analytics Reports to Improve Your Marketing Today'.
Solve a problem. Your headline should show your readers that it can solve some kind of a problem. Have you noticed that the most popular articles are How-to's or tutorials, because people like learning something new. For example, 'How to Discover Whether Your Audience is Bored with Your Content'.
Describe your content. Along with being simple, relevant and problem-solving, your title needs to describe what your post is actually about. I mean, giving a quick preview of what people are going to find in your article. For example, '10 Awesome WordPress Features You Probably Didn't Know Existed'.
It takes time. Sometimes bloggers spend numerous hours on writing an interesting blog post, but add poorly written headline, so the post is never read. Remember, you title is a little advertisement for the work you have done, – thus, put your heart and soul into it.
Also, there is a useful tool Headline Analyzer by CoSchedule.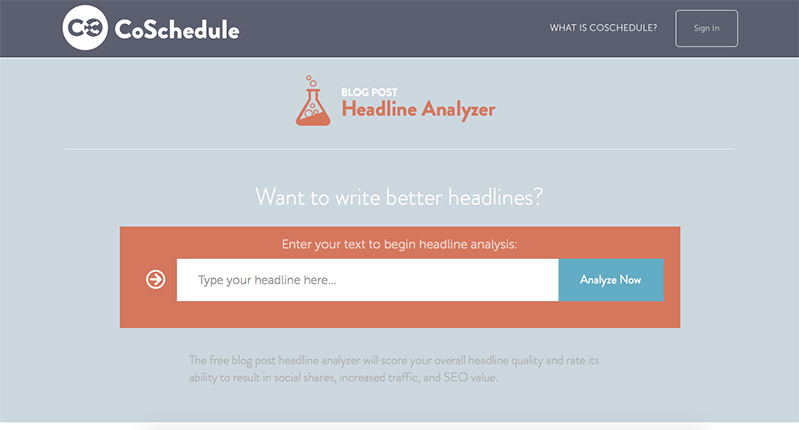 It will tell you how much common, uncommon, powerful, and emotional words your title has, show how it's going to look like in Google, and give some tips on improving it.
4. Make Your Posts Well-Formatted
Due to Nielsen/Norman eyetracking study, only 16% of web users read articles word-by-word. The rest of them just scan a web page picking individual words, sentences, headlines and other eye catching cues.
Knowing that you need to make your blog post easy to scan with formatting. You need to keep your article easy to read and understand. Take into account the following techniques while formatting your next post:
Headings and subheadings. Bold text is an awesome way to show reader what your article is about and encourage to read further.
Formatting. Use bold, italic, uppercase letters to highlight your thoughts and some meaningful ideas.
Bulleted lists. Text with lists is much more easy to understand than a usual essay style post.
Blockquotes. Text in a box or with quotes is an easy way to pay reader's attention.
Space. Huge chunks of text can make your readers feel overwhelmed. There is why it's better to leave space between 2-3 sentences for easy scanning and reading.
Pictures. Studies have found that visuals (like images) increase people's willingness to read a post up to 80%.
So, make sure your posts are easy to read and scan before you push a 'publish' button. You can also work on improving formatting of your previous blog posts.
5. Stay Consistent
How often should you publish a post on your blog? Every blogger asks this question. It seems that the more often the better.
But publishing too many post in short period of time you risk to get writer burnout. Of course, you may always find new topic to write about, but would you be able to write more than 1 post per day?
Also, by pushing too many posts online you risk to loose your readers. If you have over 20 posts in RSS feed, you would be more likely to feel overwhelmed and open none of them.
You need to find your blogging rhythms and stick to it. Blogging is a commitment that you will add new blog posts frequently. Besides, search engines don't like sites which are not frequently updated.
Working on a photography blog Photodoto, we used to publish 3 posts per week: on Monday, Wednesday and Friday. People got used to our schedule and checked our new posts on certain days. This schedule does not feel too overloaded.
It's up to you how often to update your blog, but you need to post something new at least twice a week.
6. Make Sure to Add Images and Videos
As I previously mentioned, content with images, videos or other colorful visuals are more likely to be read than the one with no visuals.
Different people learn in different ways: some learn by seeing, some by listening. Images, videos, and graphs helps you better understand and imagine the point. Picture enhance reading experience. Modern magazines and books prove it.
Whether you're writing about, just add images. Noone want to read huge text with no images (unless it's a book). Images have a power to communicate in the way words can not, so use it.
In order to enhance your blog posts list and RSS feed, you can add featured images with text. Such kind of images will encourage people to open your post and they are much more engaging on social media.
One of my favourite tools to create images with text is Canva. This simple online editor allows you to create blog post images, presentations, Facebook covers, Instagram posts, letters, resumes, eBooks, album covers, posters and much more using pre-made templates.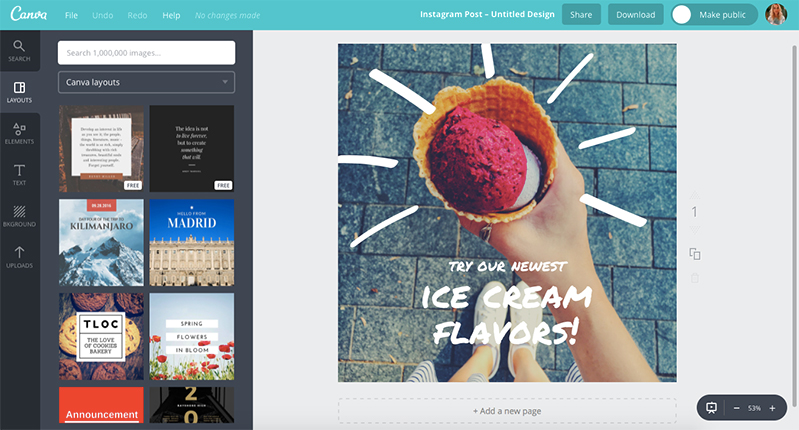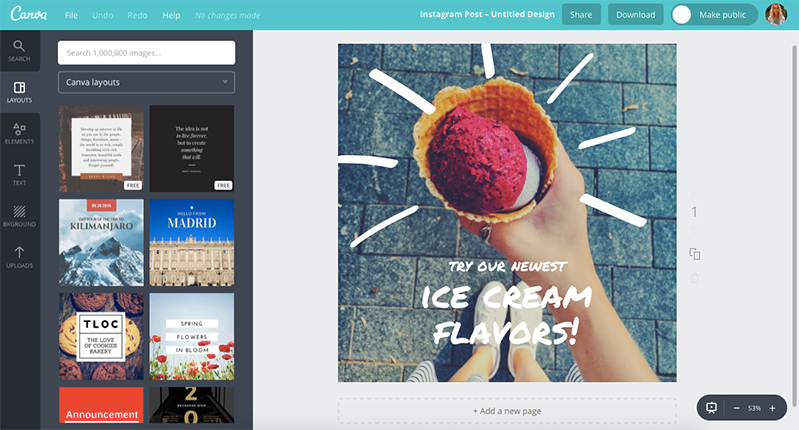 You don't need some special skills to create awesome images. Thousands of templates with texts and other elements will help you to create graphics in a few clicks.
7. Add Call-to-Action
You'd be surprise to figure out that most of your readers are passive. They don't comment, don't subscribe to your email newsletter, they don't vote in polls, don't buy products and services, don't bookmark your content, and even don't share your posts on social media. Just check out your number of visitors per month and compare to the number of comments on your blog.
Have you ever asked them to comment? Have you ever invited them to vote in a poll? Have you ever asked them to subscribe?
If you want people to participate in your blog, ask them for it. I noticed that when there is no comments under the post, people are too scared or too shy to be the first to left a comment. But when there are some comments under post, people are more likely to share their opinion too. Action brings action.
Responders to call-to-action would be much better if you put them into your post, not sidebar or popup. You can use Content Upgrades to add extra piece of content to your article and increase your user engagement.
It works simple: you add a box with some extra content into your post (it could be a free guide or ebook), when your readers click the box it asks for an email address, and then they get your bonus directly.
One call-to-action per post is enough, in other way you may confuse your readers. Make your CTA simple and easy to do. They should be easy to achieve and clear. Once you start asking people to comment or subscribe, you'll see they do it.
Over to You
Writing great blog posts is a tough job, but when you are passionate about what you write it could be much easier. I hope these tips with help you to produce better content for your blog. What are your tips for writing good content? Feel free to share your thoughts in the comment field below.