Successful blogging isn't just about writing great content. You also need to implement promotion strategies, develop connections with other influencers, and define a brand that stands out from the competition.
More importantly, you must constantly seek opportunities to improve and grow every aspect of your online presence.
A widespread practice is to refer to guides and case studies when determining your next growth strategy. This is one way to make data-driven decisions, so to speak. But even if you follow these guides to the letter, you are not guaranteed to achieve the same results.  
Remember that there is no one-size-fits-all solution when it comes to online success. The only dependable method is to track your own data and let them show you the right direction.
Without further ado, below are some of the best analytics tools for bloggers and how to use them:
1. Google Analytics
You have to hand it to Google – they are always prepared to help bloggers improve their website's UI factor. Google Analytics, for example, is a free analytics platform that can provide you with everything you need to know to make data-driven decisions. After the initial integration process with your WordPress site, you can start taking advantage of real-time metrics and visual reports to understand how each individual page performs.
With GA, you can get to know your website in new dimensions. However, it can be overwhelming for new users who have no idea on how analytics work. Just remember that, in order to turn analytics into actionable strategies, you need to focus on analyzing one page at a time. Identify which content generates the most engagement and use its structure for future posts. At the same time, you can use GA to pinpoint pages that perform poorly and require optimizations.   
2. Geckoboard


Analytics can be a confusing ordeal, especially with a ton of metrics and performance indicators to track. With Geckoboard, you can prevent analysis from turning into paralysis by focusing on metrics that matter. Using a drag-and-drop interface, you can easily customize a dashboard that monitors crucial web analytics – from your audience's average time on site to the number of unique monthly visitors. You may also integrate your WordPress site to Geckoboard through an automation app like Zapier.
The biggest advantage of Geckoboard is that it provides distraction-free, interactive dashboards that can also be shared via TV screen. This is ideal for blogs run by editorial teams of all sizes. But even if you're a solo blogger, it's still fairly easy to set up your analytics dashboard – thanks to dozens of integrations with services like Google Sheets, Buffer, and AdSense.
3. Cyfe
Cyfe is another analytics dashboard platform that is highly flexible, scalable, and easy to use. Its main advantage over Geckoboard is the freemium pricing model, which means bloggers on a shoestring budget don't need to invest cash to acquire in-depth analytics. Everything in the platform, from data sources to reports, are also completely customizable.
You can jumpstart your analytics efforts in Cyfe with the help of pre-built widgets that pull data from external services. For WordPress-powered blogs, you may send analytics directly to your dashboard through a specialized plugin. The platform itself remains active in real-time, so there will be zero missed opportunities as long as you react and adapt quickly.
4. KYA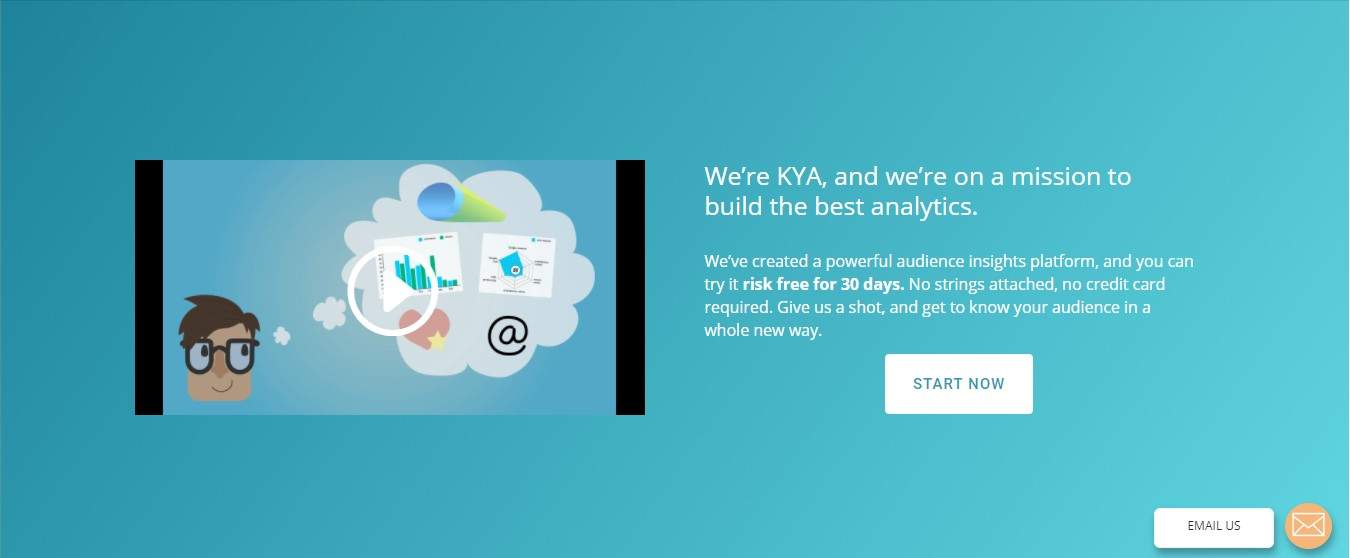 Always remember that the goals of web analytics are to optimize your content for conversions, figure out why your visitors leave, and find opportunities to maximize your exposure through referrals – all of which are futile if you don't focus on user experience. KYA aims to simplify analytics for bloggers and small online businesses by making it easier to gauge audience engagement. The site features a neat, clutter-free interface with colorful visualizations so you can easily analyze audience behavior, social shares, views, demographics, and more.
Another advantage of KYA is the ability to segment user data based on the device they're using – useful for scaling the performance of responsive and mobile pages. This is present from almost every section of the platform, from the real-time overview to the side-by-side comparisons. Lastly, it features trending topic analysis so you can be in the know and provide content that will surely intrigue your target audience.
5. Clicky Web Analytics
With Clicky, you can have a complete arsenal of analytics tools in a single platform, including heatmaps, individual behavior tracking, and even uptime monitoring. Some of these features are only available in paid plans, but free users can still take advantage of all the core features. Installation is also a breeze with the help of WordPress plugin provided by Yoast SEO.
Perhaps the most impressive feature of Clicky is that everything is constantly updated with real-time data – a feature that is absent from plenty of premium analytics tools out there. And its interface may not be as fancy as Google Analytics, but it does make analytics a lot less intimidating for solopreneurs and DIY bloggers.
6. Crazy Egg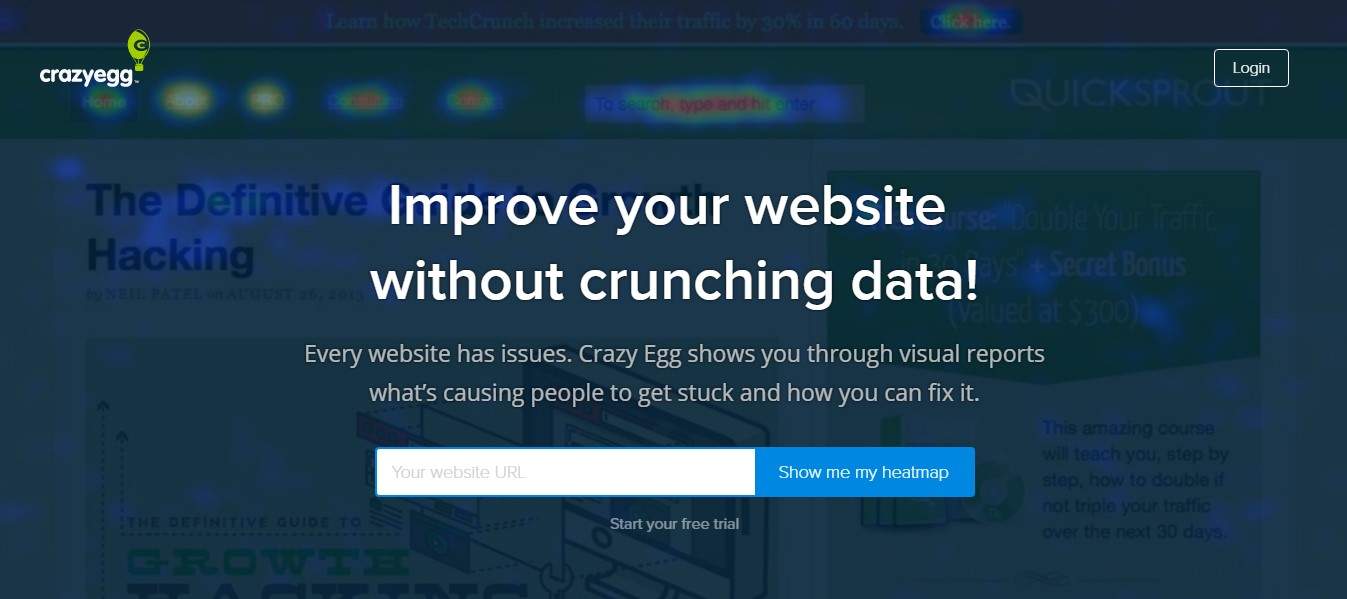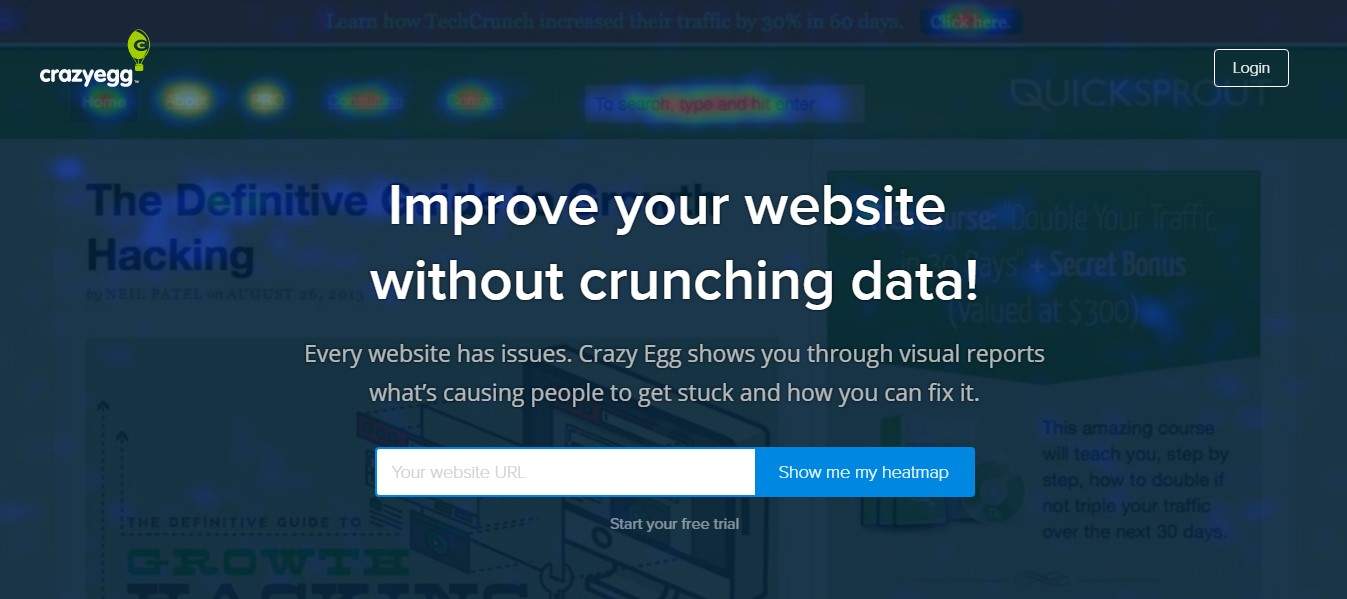 If you want to measure your blog's performance without going nose deep in charts and numbers, you can opt for a heatmap tool like Crazy Egg instead. It works by pinpointing the specific page elements that get the most attention – as well as the spots that visitors tend to ignore.
For example, if you find that your top menu gets most of the clicks, consider adding a button to your pricing or subscription page and see if it leads to more conversions. If, however, your CTAs barely get any engagement, you can either update your layout or check for a page element that causes your audience to look away. To speed up the optimization process, take advantage of Crazy Egg's split testing feature to test multiple versions of the same page simultaneously.
Conclusion
Always remember that, when it comes to blogging, there are different strokes for different folks. When applied by a certain blogger, one content strategy may produce positive results, but it could also cause disasters when applied by another. To ensure your efforts lead to positive results, see to it that analytics becomes a core component of your online strategy.