An image compressor tool does exactly what the name implies – it compresses your image so that you can easily publish it online. So, the more pertinent question should be – why would you want to compress your images before publishing them?
An exceedingly large image size reduces your websites average load speed significantly. And websites that take forever to load suffer from high bounce rates, which further affects their overall SEO rankings. An image compressor tool takes away these hassles.
Image compression tools use either of the following mechanisms;
• Lossy compression – Tools that use lossy compression compress your images by discarding unnecessary information from the original image file.
• Lossless compression – In lossless compression, an image compressor retains all the data in the original image file, which means the final file is still somewhat large.
Listed below are some of the most powerful image compression tools you can use today to improve the user experience on your website or blogs.
JPEGMini uses the lossless image compression technique to shrink the size of your image files up to five times smaller. The tool is easy to use, as all you have to do is import image files to the app by dragging and dropping the folders. After that, JPEGMini optimizes each image automatically.
Another excellent feature of JPEGMini is that it offers its users a server package. With this package, you can reduce the average load time of image-intensive web-pages, thereby lowering your storage and bandwidth costs.
JPEGMini is available in both freemium and premium plans, and the tool is compatible with Windows as well as macOS X. But as the name implies, JPEGMini primarily compresses images in JPEG formats.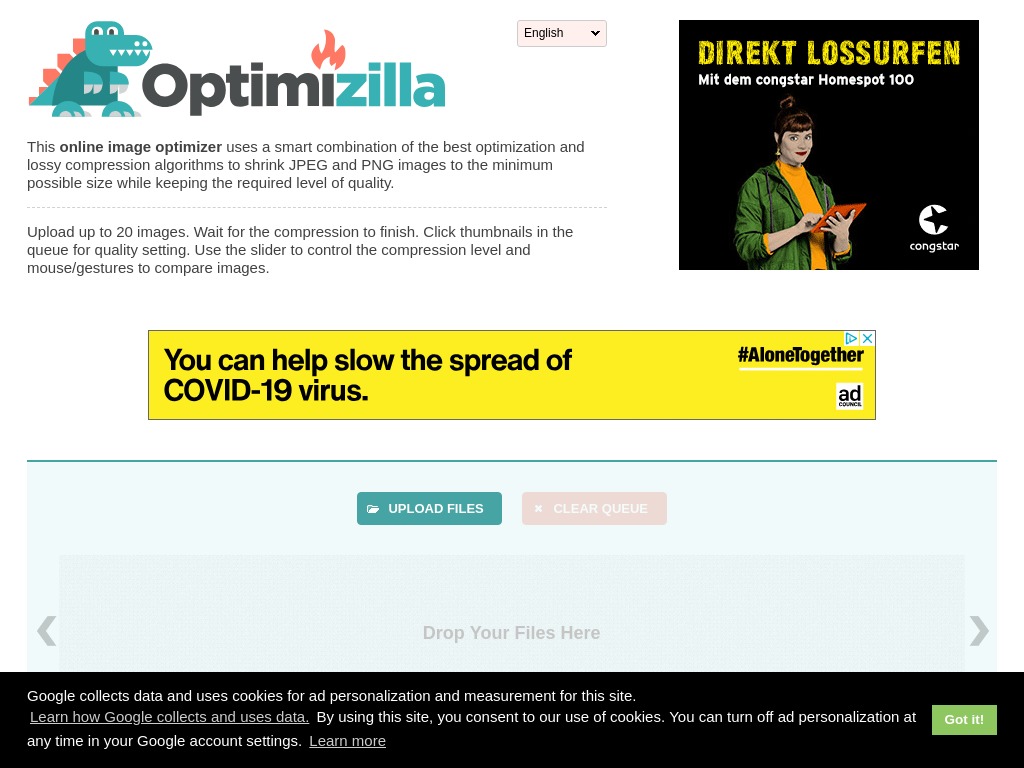 Unlike JPEGMini that only compresses your images in JPEG format, Optimizilla supports both JPEG and PNG file formats. With Optimizilla, you can track the entire image compression process. That's because the tool comes with a slider where you can preview the before and after versions of your images. This allows you to get a glimpse of the quality of the final image and make the necessary tweaks as you go.
Optimizilla is recommended for batch image processing. You can upload up to 20 files in one go and be able to set your desired compression level for each of the photos.
The only notable drawback to Optimizilla is that it doesn't support PDF, which happens to be one of the most popular image file formats used online today.
Tiny PNG also markets itself as a user-friendly image compression tool. You just have to drag and drop the files you wish to compress, then allow for a few minutes for Tiny PNG to complete the compression process.
Tiny PNG supports both PNG and JPEG image files. And like Optimizilla, this image compressor is ideal for batch processing. You can upload up to 20 images in one go and set your requirements for each image separately. But note that with its freemium package, Tiny PNG compresses only 100 images monthly, and the maximum image size limit is 5 MB.
It's also worth noting that Tiny PNG shrinks the size of your image without losing its quality. And after the compression process is completed, the compressor tool allows you to download and export your images directly to your PC or save them to Dropbox. The service is one of the few image compressors that come with a WordPress plug-in as well as a Magento extension. That way, you can compress your images directly on your website.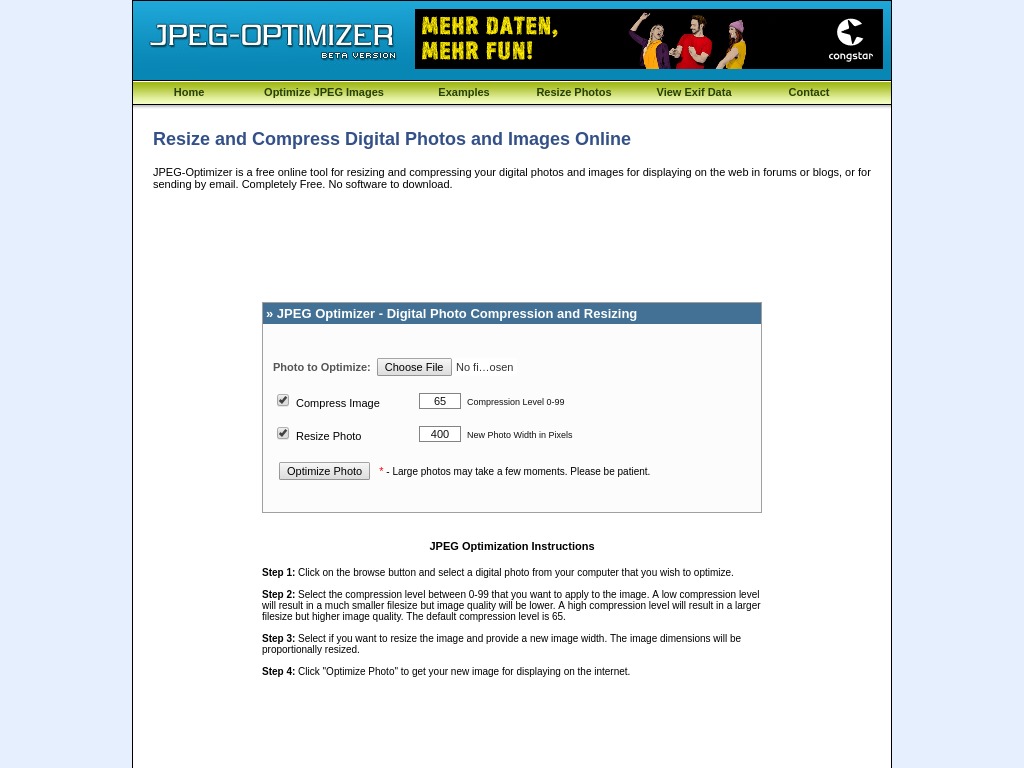 JPEG Optimizer is another image compressor tool on our list that works exclusively with JPEG image files. But that shouldn't be a deal-breaker, as the service comes with plenty of other redeeming features.
With JPEG Optimizer, you can resize your image before optimizing it, which further improves your website's load speed. Besides, the tool lets users select their desired optimization levels, which gives them more control of the image optimization process.
JPEG Optimizer compresses JPEG image files to as small as 100 kb. What's more, the tool allows you to choose one extra image that you wish to compress to between 1 and 99 kb. And needless to mention, the service comes free of charge – no downloads or subscription fees.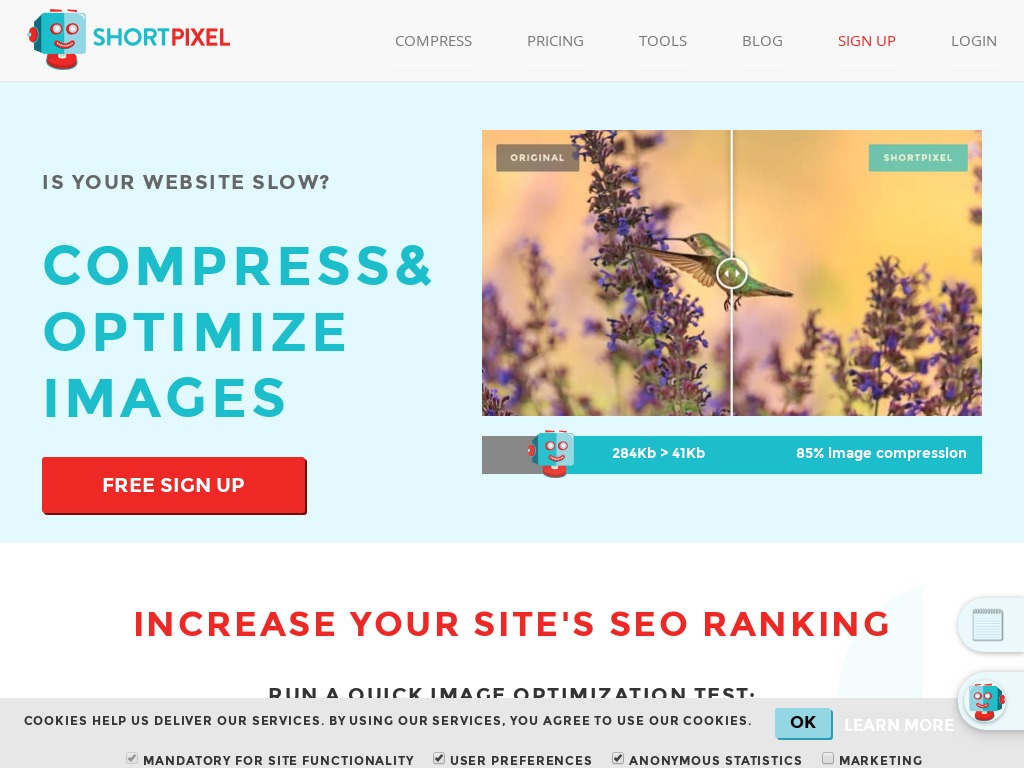 ShortPixel supports three image file formats, namely JPEG, PNG, and GIF. Besides, it can also compress PDF online files, making it one of the most flexible image compressor tools on our list.
Still on flexibility, ShortPixel lets you drag and drop up to 50 image files at a go. That saves you the time and hassles of having the images optimized separately. After compressing your images using this tool, you can automatically save them on your website or export and download them on your PC.
The tool supports Lossless, Lossy, and Glossy compression modes. And the fact that ShortPixel comes with a WordPress image optimization plug-in means that you can compress your images without necessarily leaving your website.
The only notable drawback with ShortPixel is that your images must not exceed 10 MB.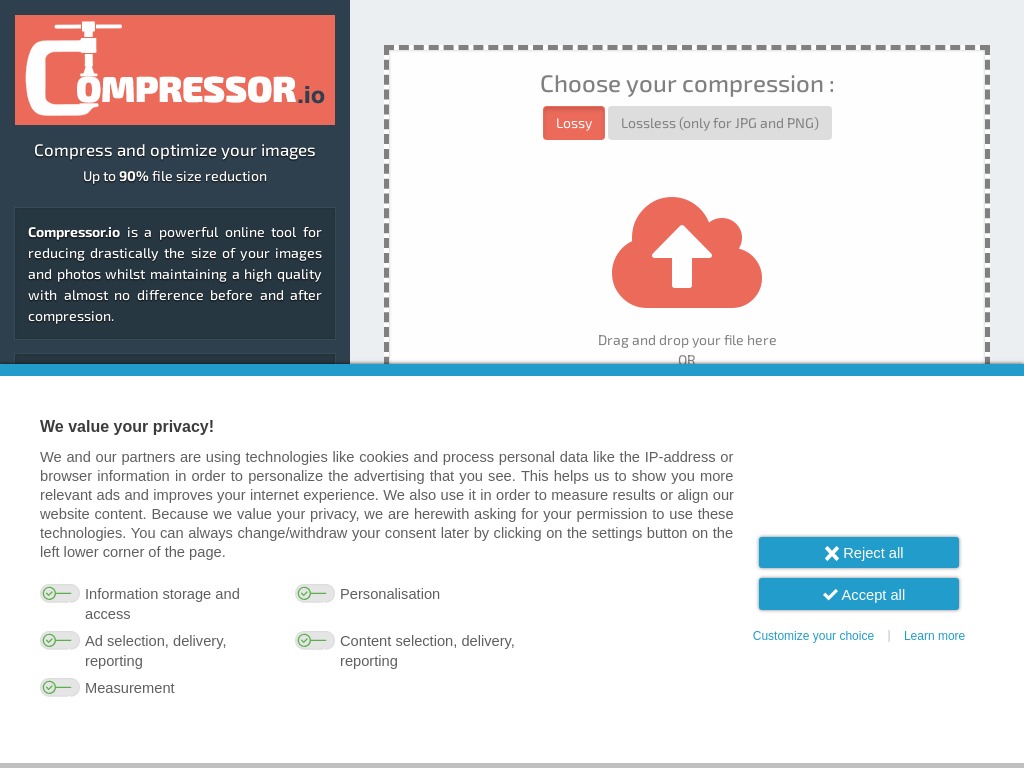 If you're looking for an image compressor tool that sports an incredibly friendly UI, look no further than Compressor.io. Compressor.io lets you import your images in four file formats, including PNG, JPEG, GIF, and SVG. And when the images are ready, you can readily export them to your PC using Google Drive or Dropbox.
Compressor.io reduces the size of your images without losing the original quality, which is perfect if you're looking to retain the authenticity of your online photos. Besides, you can also use the lossy technique if you're looking to trade image quality with a higher storage space
Notable cons include the fact that Compressor.io only supports image file sizes of 10 MB and doesn't accept unlimited image uploads.
Compressing images with Kraken.io is a simple three-step process.
i. You select the image file that you wish to compress
ii. Choose your preferred optimization mode; Lossy, Lossless, or Exert
iii. Resize your image
Once your images have been compressed, you can download them into a .zip file with a single click or access them anytime in your secure Kraken.io Cloud Storage Account.
The fact that this tool uses both the Lossy and Lossless techniques gives you a lot of flexibility. You can choose the lossless mode for files whose originality you want to retain and opt for the lossy mode if you're keen on saving more space. Kraken.io is available in both freemium and premium plans.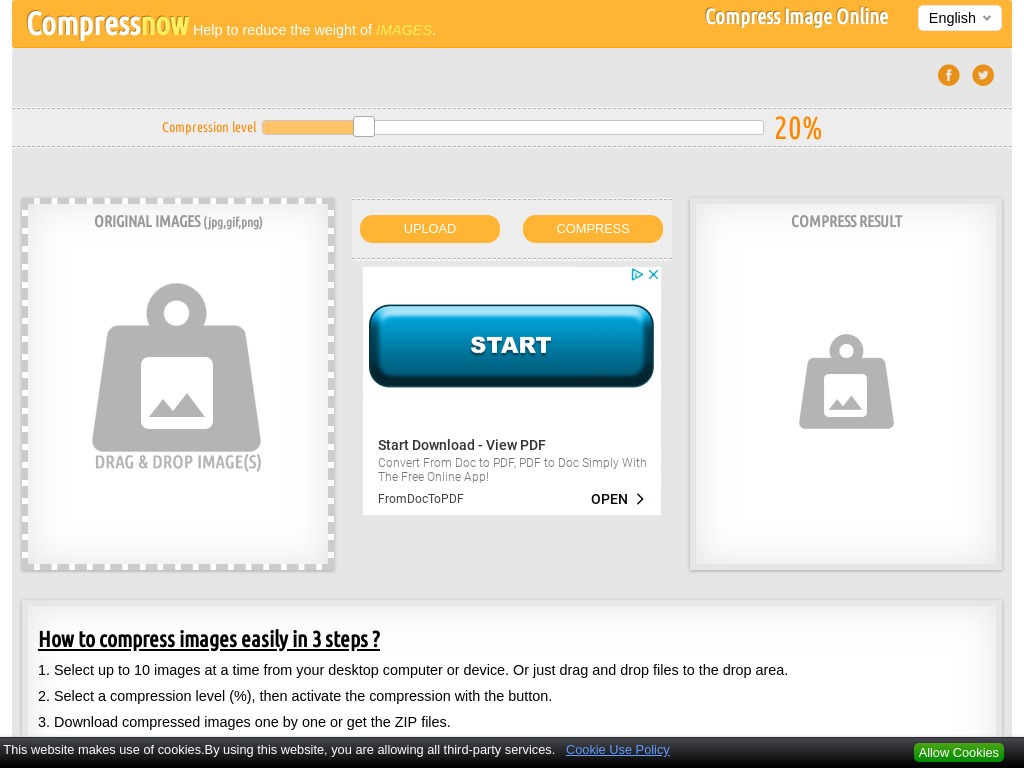 CompressNow accepts image uploads in three file formats – JPEG, PNG, and GIF. The tool also accepts bulk image uploads. You can drag and drop as many as ten images at a go. However, you cannot apply different settings to your image uploads. Instead, CompressNow applies one optimization percentage for all the uploaded files.
To use CompressNow, upload your image in any of the supported file formats, set your preferred compression level, and allow the tool to get to work. You can then download all the compressed files to your device.
While CompressNow is completely free, there are lots of invasive ads to contend with.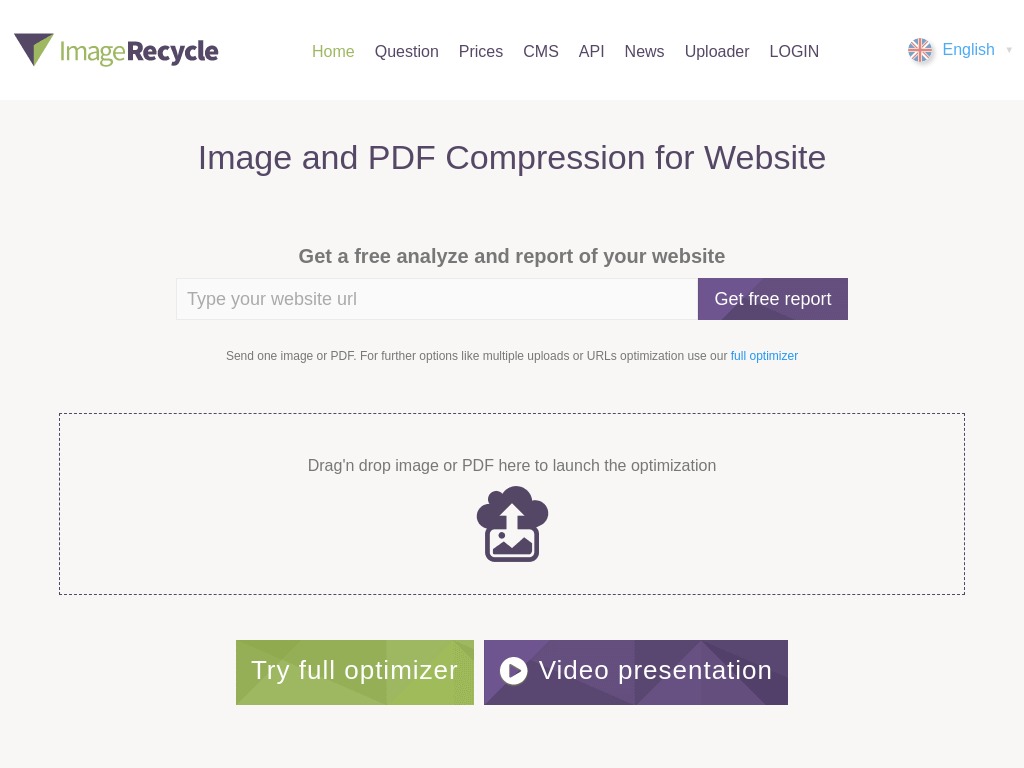 ImageRecycle can shrink your images in different file formats, including PNG, JPEG, GIF, and PSD. The tool applies the lossless technique, which means that all your compressed images are of the same quality as the original file.
ImageRecycle is available in both freemium and premium plans. There's also a 15-day trial period that allows you to test the suitability of the tool for your needs before fully subscribing to it. However, the free trial limits you to 100 MBs.
For $10 per month, you can enjoy plenty of image optimization features, including the option of getting free reports on your website, which capture the images that require optimization. The premium package also entitles you to a WordPress plug-in, Shopify app, as well as Magento and Joomla extensions. With these incredible features, you can optimize your images without exiting your website.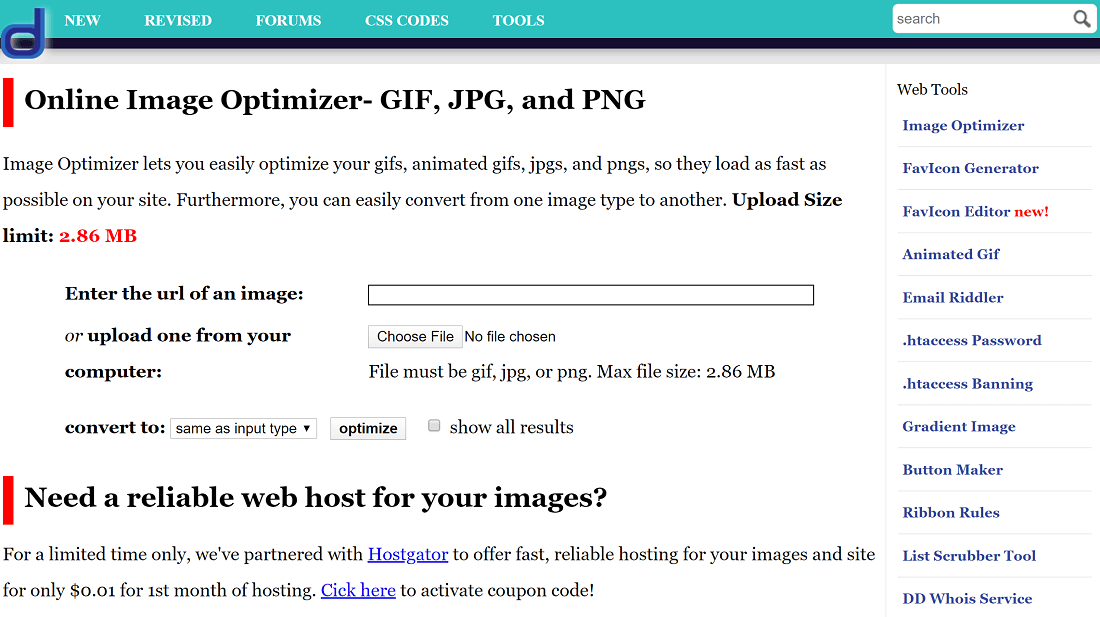 Online Image Optimizer by Dynamic Drive product prides itself on being able to compress your images in all the major file formats, including JPEG, PNG, and GIFs.
Besides, you can also import your images directly from the internet by pasting the image URL. That makes it easy to optimize images that you're already using on your website, which saves you the time you'd have otherwise spent replacing an old image with a newly-compressed one.
In terms of flexibility, Online Image Optimizer lets you convert your image between different formats. However, this tool doesn't support bulk image compression and only accepts a maximum file size of 2.86 MB.
Wrap Up
Your website's load speed directly affects your SEO rankings. And one of the reasons for slow load speed is bulky image size. Fortunately, the above image optimization tools can help to compress your images and ensure that your site doesn't suffer high bounce rates.