A lot of people are known for building up their careers with passion and grit. But not a lot of people are known for building a career with the same passion and grit while inspiring others along the way.
One of those men, who is brilliant and inspirational, was born on January 6, 1973 at a cellar in Follansbee, West Virginia. Together with his sister and parents, he grew up in a one-bedroom apartment with a half bath and a kitchen for seven years. His name is Lou Holtz.
His name might ring a bell because it was Lou Holtz, the slender, bespectacled man, who delivered that brilliant and powerful 2015 commencement speech at the Franciscan University of Steubenville, Ohio. The video of him speaking during the graduation event is still going viral on Facebook, currently accumulating over 20 million views.
Despite growing up poor, Lou Holtz went to high school in East Liverpool, graduated at Kent State University, and earned his Master's in Arts and Education in Iowa. In one of his interviews, Holtz said that he never considered his financial deficiency to determine his future. He was raised by parents who taught him that life is a matter of making choices. He chose to embrace hard work to achieve his goals.
Holtz played football as an undersized line backer in Kent before an injury crushed his career.
Lou Holtz as a Coach, Speaker, and Author
Lou Holtz did not get his popularity from the inspirational video that's still being shared by Facebook users all over the world. He is, first and foremost, best known as the head coach of the 1998 Notre Dame Fighting Irish who dominated the Fiesta Bowl, finishing at 12-0. Their continuous success made Holtz's team the consensus national champion.
His first coaching job at the College of William and Mary in 1969 marked the kick-off of his football career. He then coached at North Carolina State University in 1972 and joined the New York Jets of the National Football League (NFL) in the 1976 season. He described his NFL career as the most trying time. He quit after 10 months with one game remaining for the season, leaving the Jets at 3-10.
He recovered his profession when he went back to college football at the University of Arkansas in 1977. He then moved to the University of Minnesota in the 1984 season, and finally coached at Notre Dame in 1986. He was named national coach of the year in several sport organizations in 1988. He is the only college football coach to lead six various programs to bowl games and collated his career record of 249-132-7.
He retired in 2003 and joined ESPN a year later as a college football analyst on Saturday College Football Final. He notably joined Reece Davis and Mark May with no teleprompter, no script, and no rehearsals. After 10 football seasons, ESPN said in their parting that Holtz brought a champion's perspective in every telecast.
During his time as a football analyst, he was selected to be part of the College of Football Hall of Fame. He was 78 years old when he retired from broadcasting.
Lou Holtz as a Motivator
At the age of 79, he was a sought-after motivational speaker in various congregations across the United States. But before he began his speaking engagements, Holtz was known in establishing a set of disciplinary rules over his team.
His professional reputation has been described as someone who improves his players through rigorous disciplines so as to make them the best players in the field, wanting them to have bright opportunities after college.
Outside of the football field, he is known as someone who has the ability to give simple and practical advice. He always sees the potential in others, and at the same time, gives his perspective to pull people upward, away from the mediocre toward the exceptional.
Lou Holtz as the Maker of Life's 3 Simple Rules
When you search Lou Holtz's name on the Internet, you will learn that he is known for outlining three simple points: trust, commitment, and love. He believes that doing what is right, doing everything the best way, and showing people you care can be the only three rules you can live by.
Last year, Holtz captivated a group of high school kids with his quick wit and smart humour at a school presentation at Archbishop Spalding High School. There were about 1,000 kids listening intently to what he was saying for 50 minutes. People who were present, particularly those who have heard him many times, always say that he is effective in ruling out overcomplicated matters.
For many years, Lou Holtz is among the greatest speaking legends in America today. He has been married to Beth Barcus for 50 years. They are currently residing in Orlando, Florida with their four children.
Lou Holtz Quotes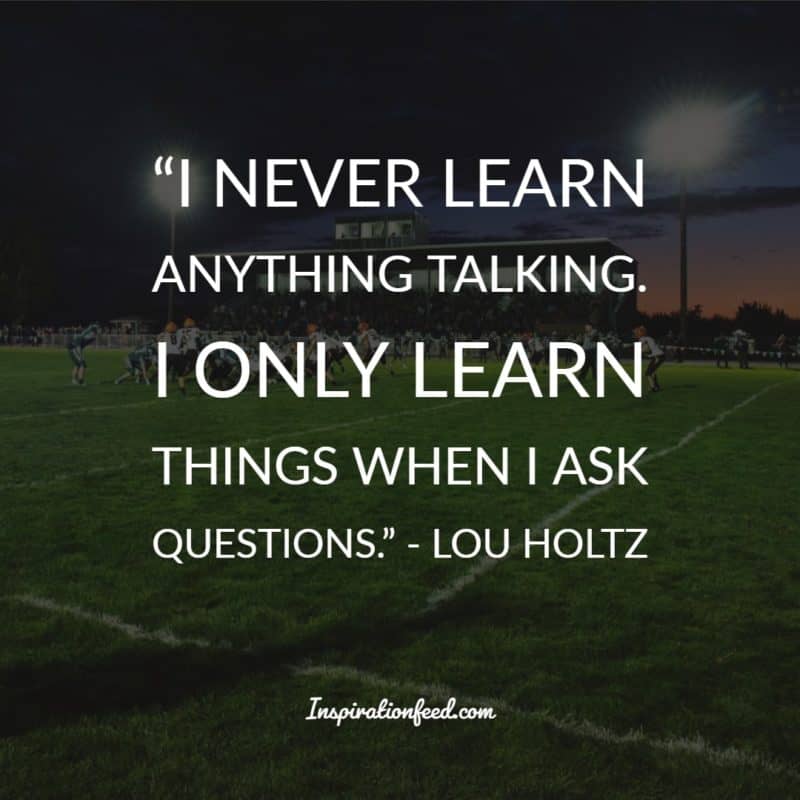 "I never learn anything talking. I only learn things when I ask questions." – Lou Holtz
"Remember, if you have a problem, it's your problem. Solve it. Don't blame other people. Don't burden people with your complaints. 90 percent of the people you meet don't care about your troubles. The other 10 percent are glad you have them." – Lou Holtz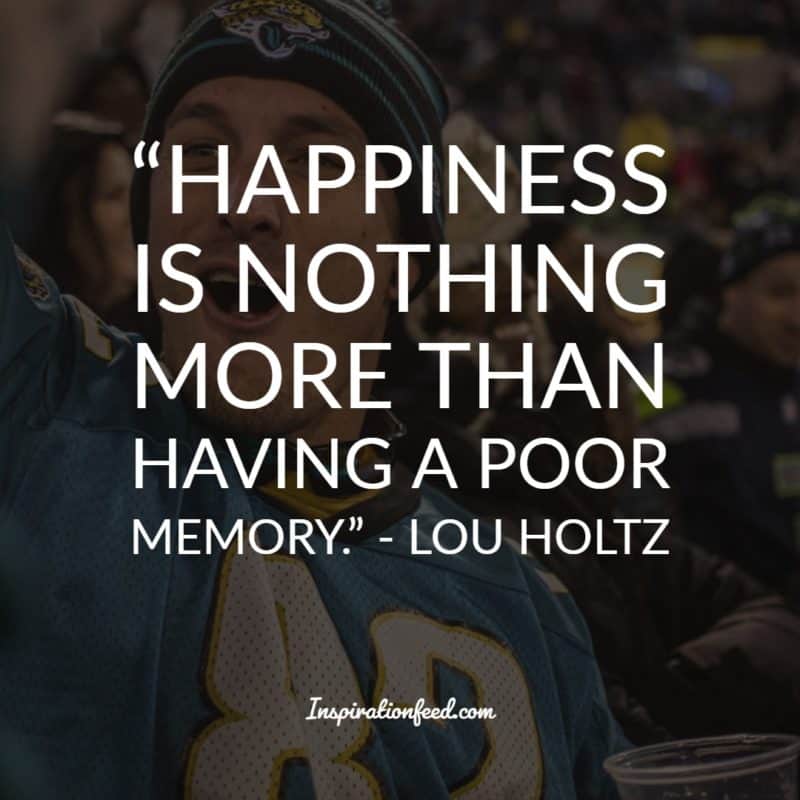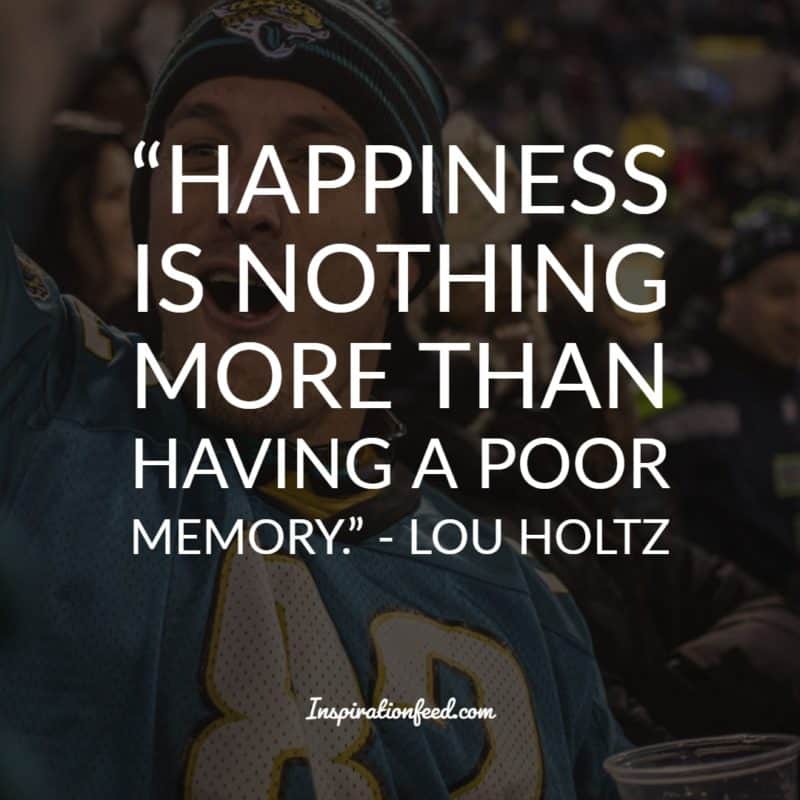 "Happiness is nothing more than having a poor memory." – Lou Holtz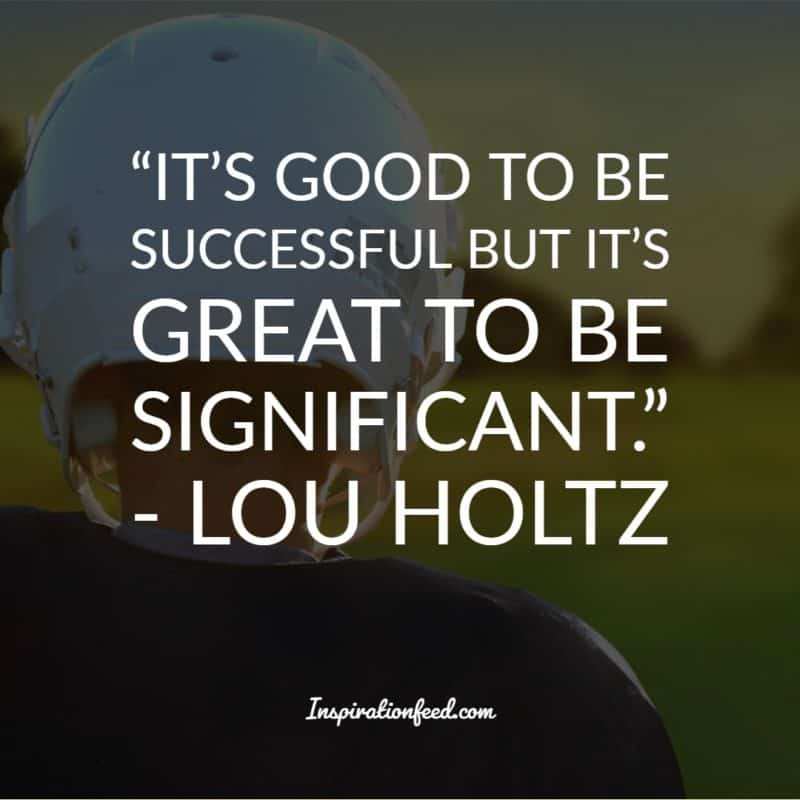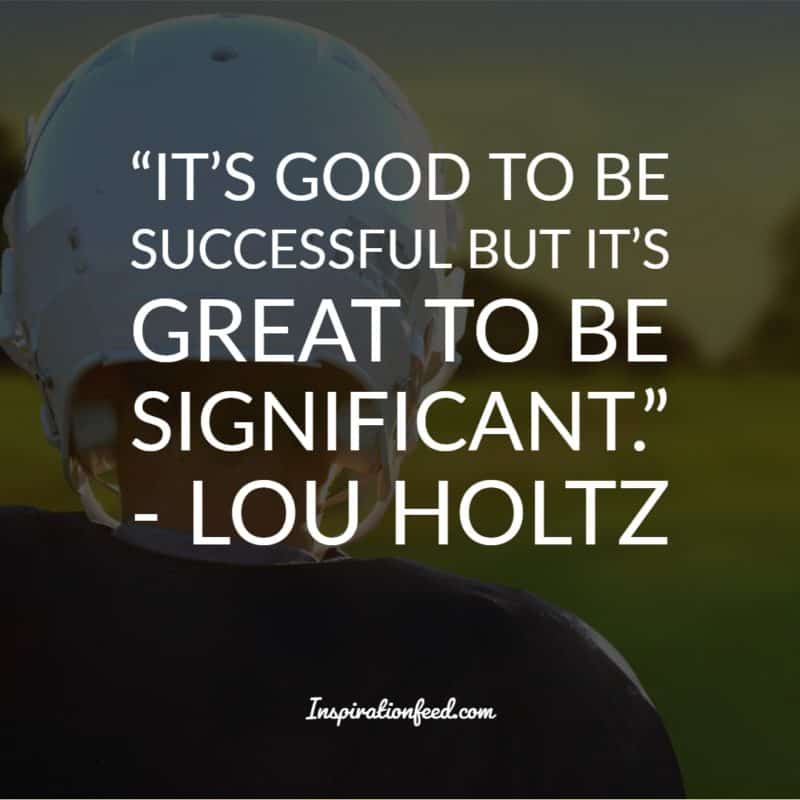 "It's good to be successful but it's great to be significant." – Lou Holtz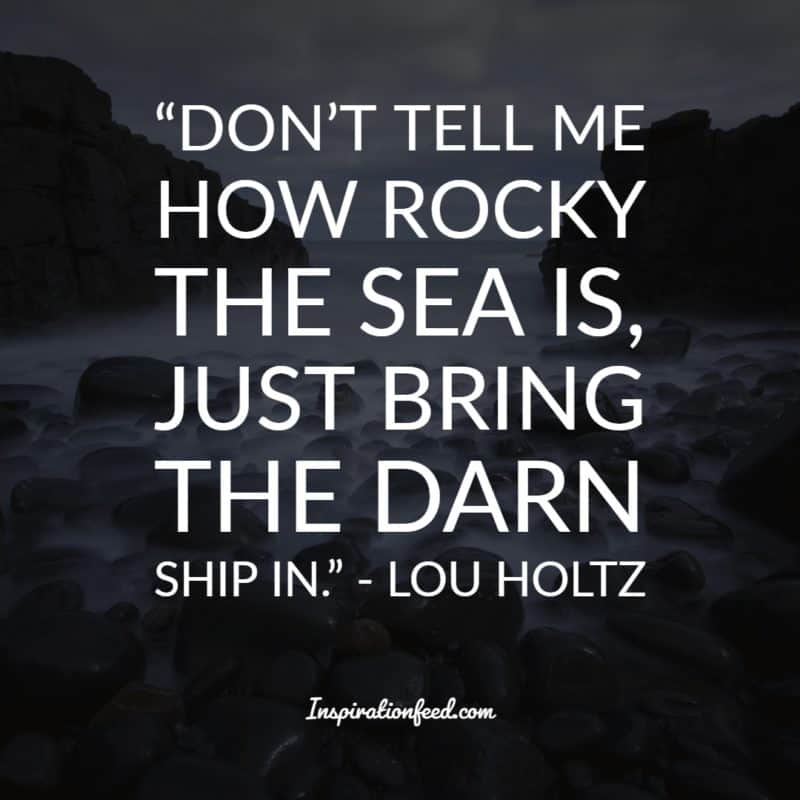 "Don't tell me how rocky the sea is, just bring the darn ship in." – Lou Holtz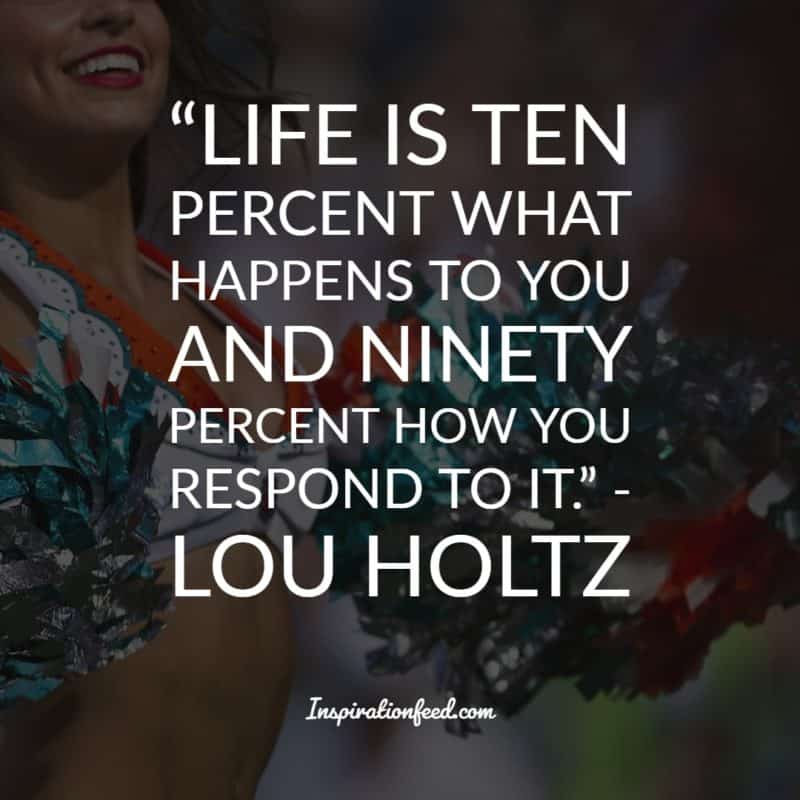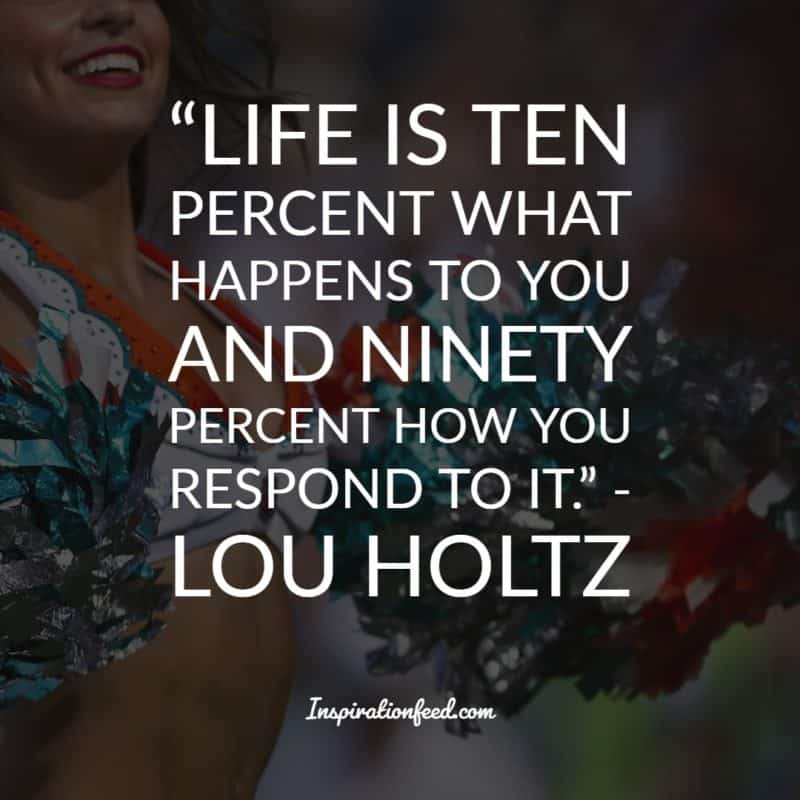 "Life is ten percent what happens to you and ninety percent how you respond to it." – Lou Holtz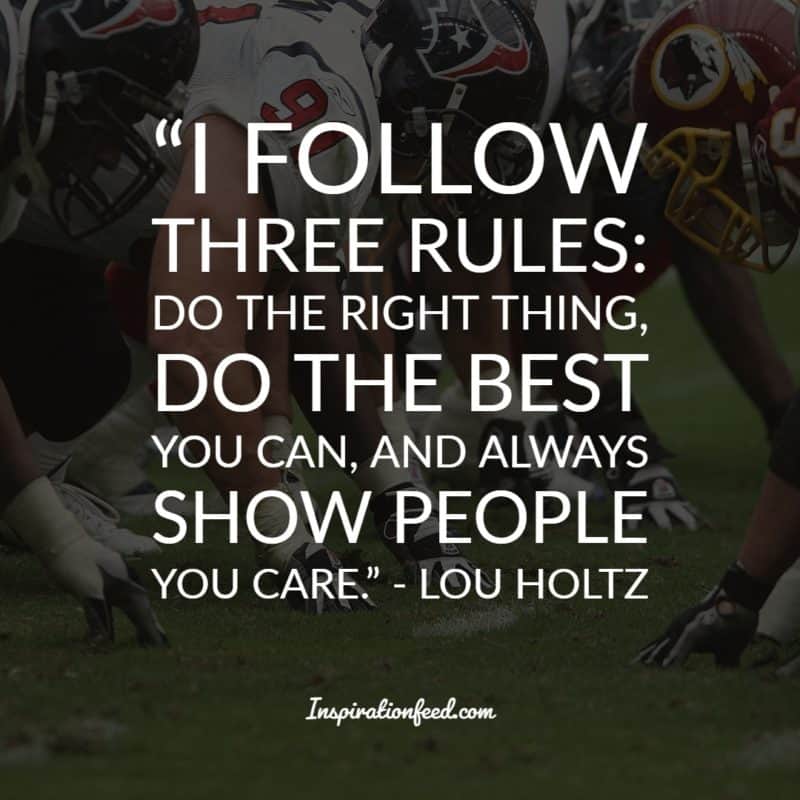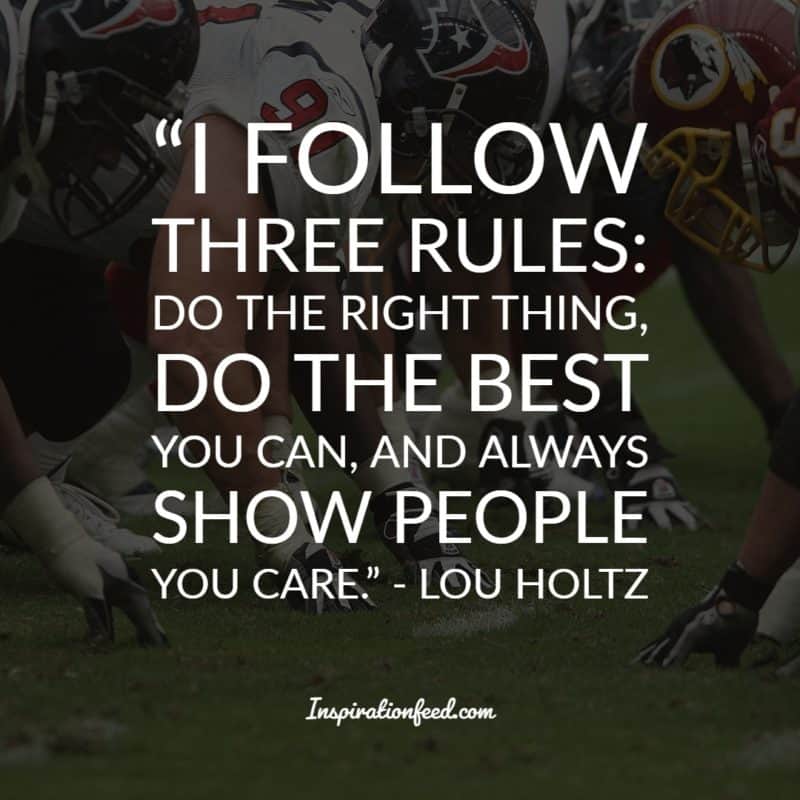 "I follow three rules: Do the right thing, do the best you can, and always show people you care." – Lou Holtz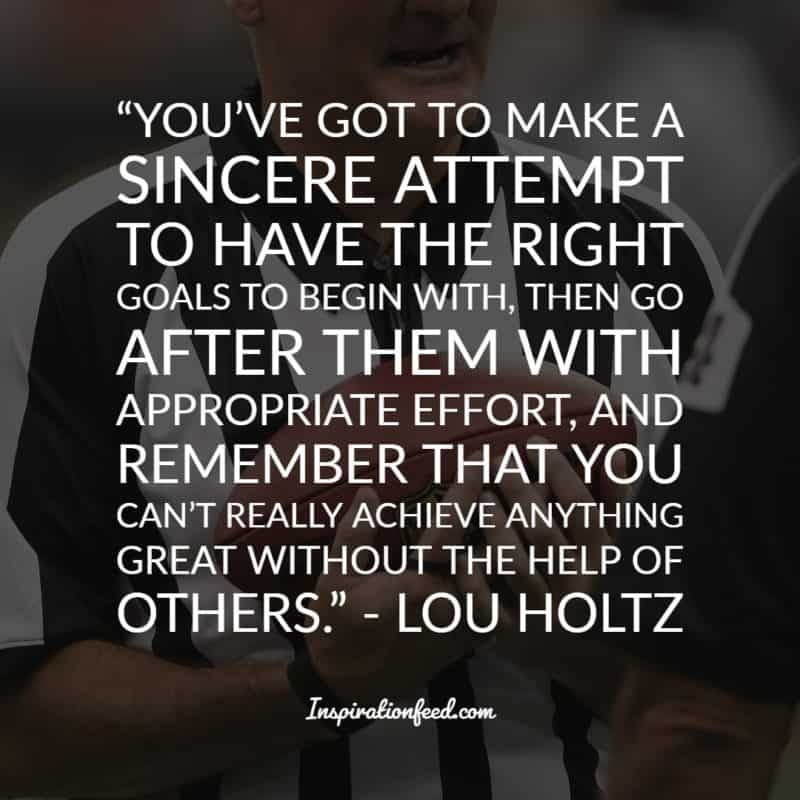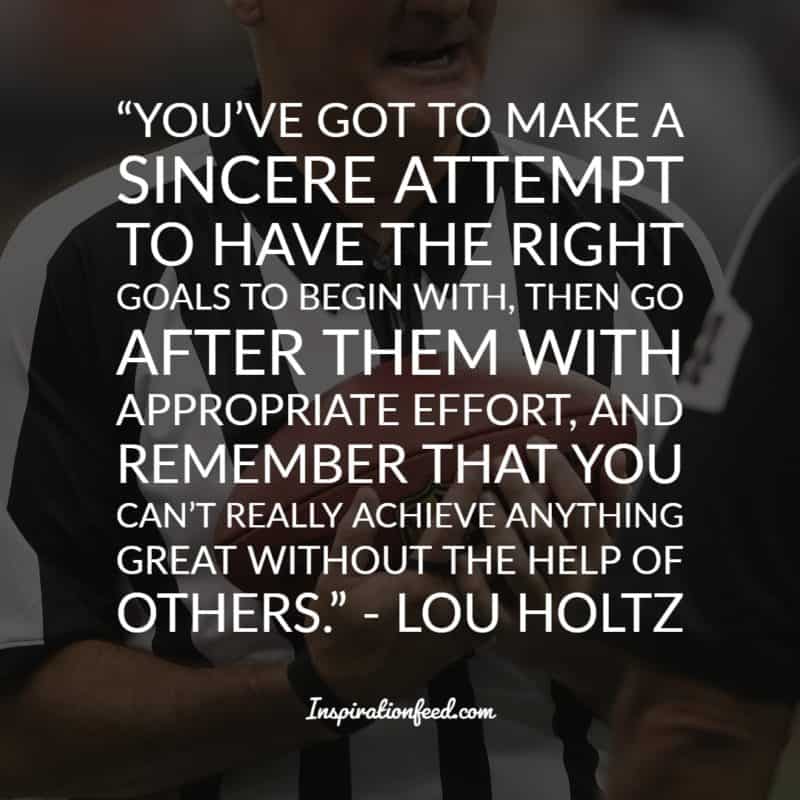 "You've got to make a sincere attempt to have the right goals to begin with, then go after them with appropriate effort, and remember that you can't really achieve anything great without the help of others." – Lou Holtz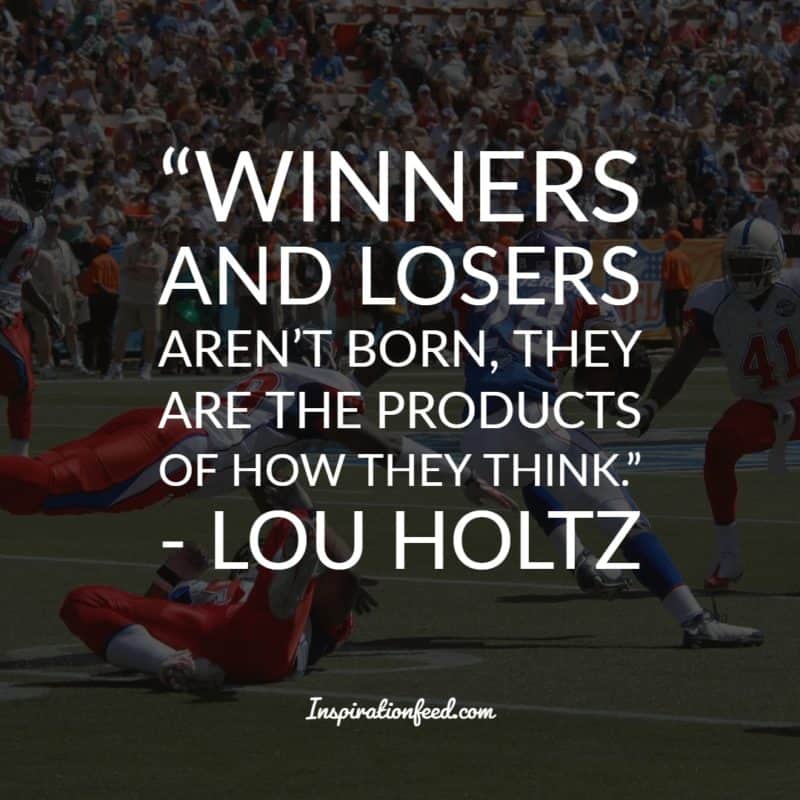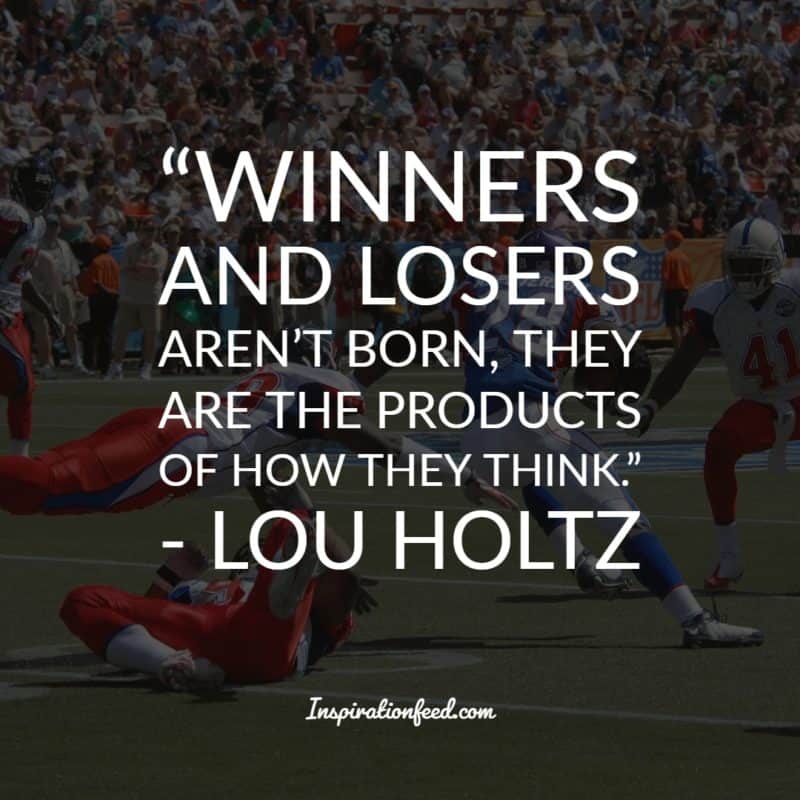 "Winners and losers aren't born, they are the products of how they think." – Lou Holtz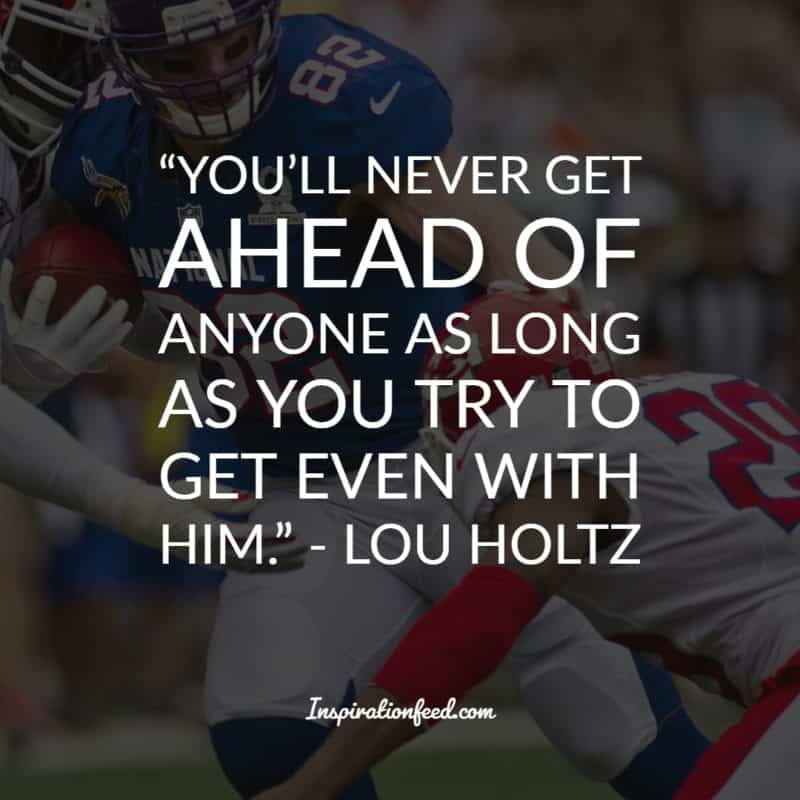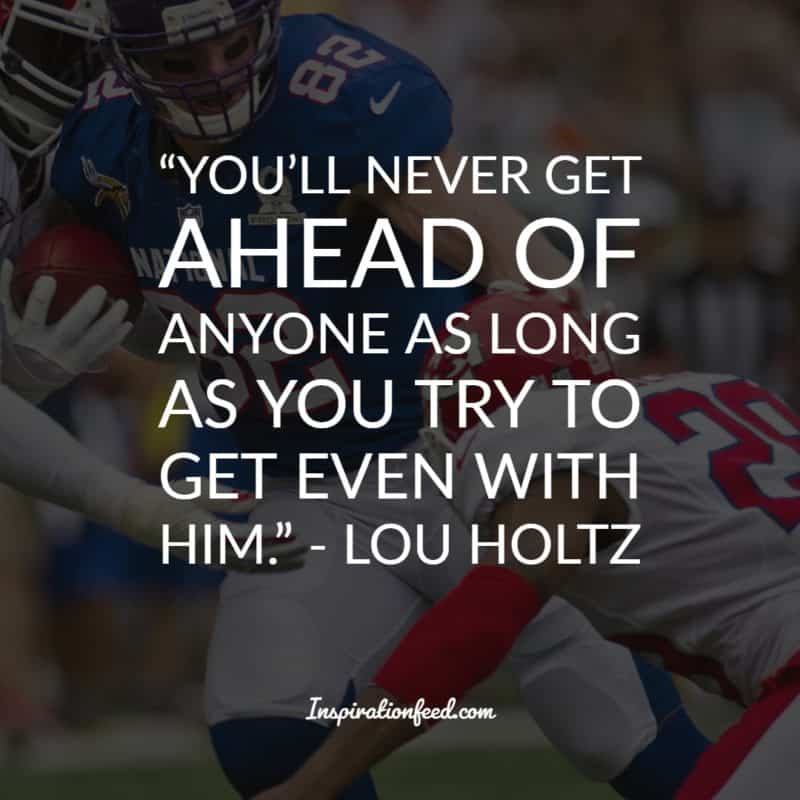 "You'll never get ahead of anyone as long as you try to get even with him." – Lou Holtz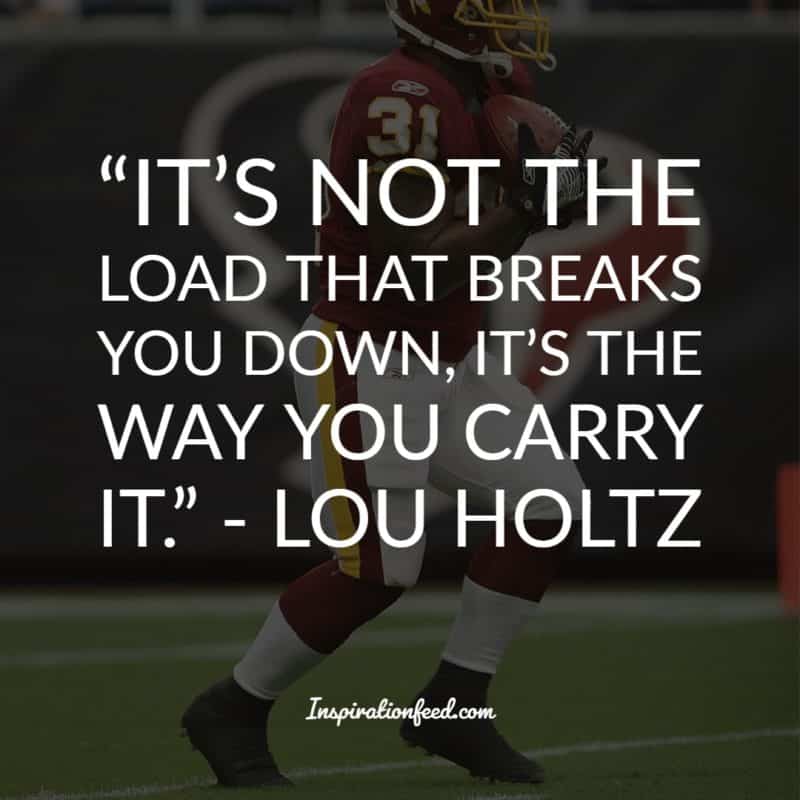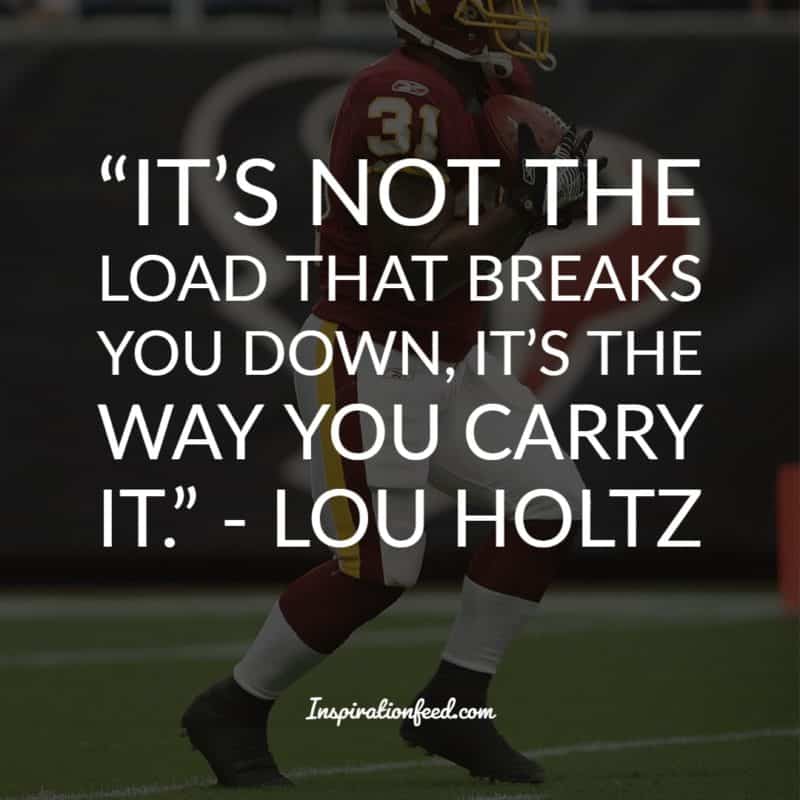 "It's not the load that breaks you down, it's the way you carry it." – Lou Holtz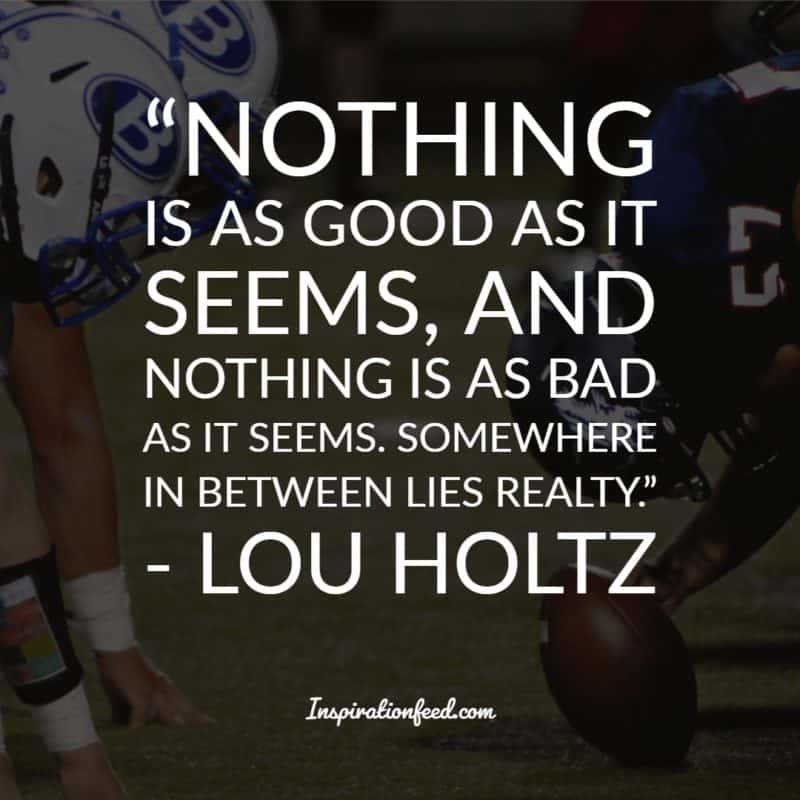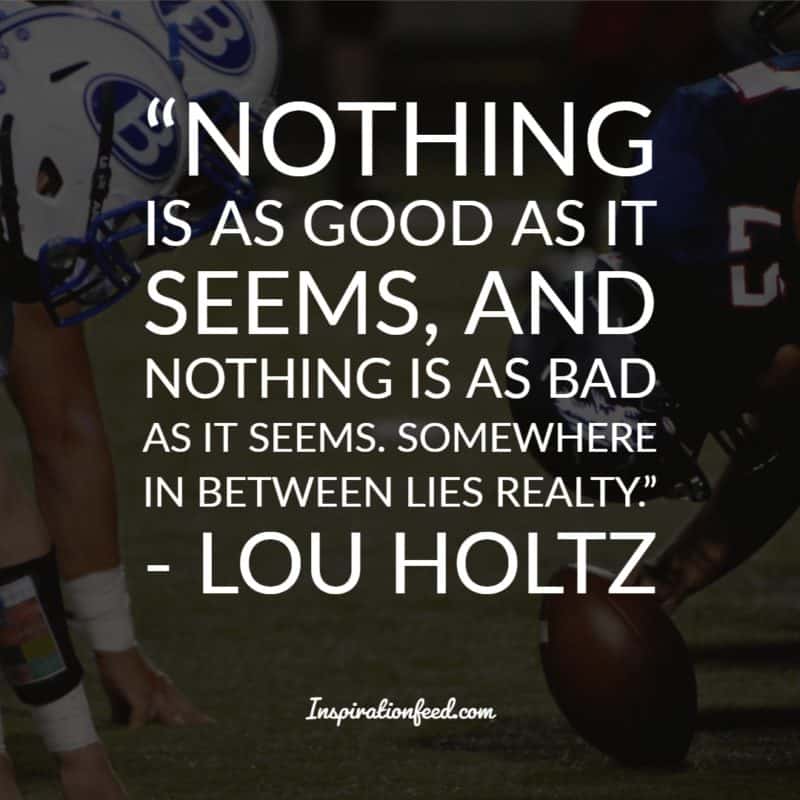 "Nothing is as good as it seems, and nothing is as bad as it seems. Somewhere in between lies realty." – Lou Holtz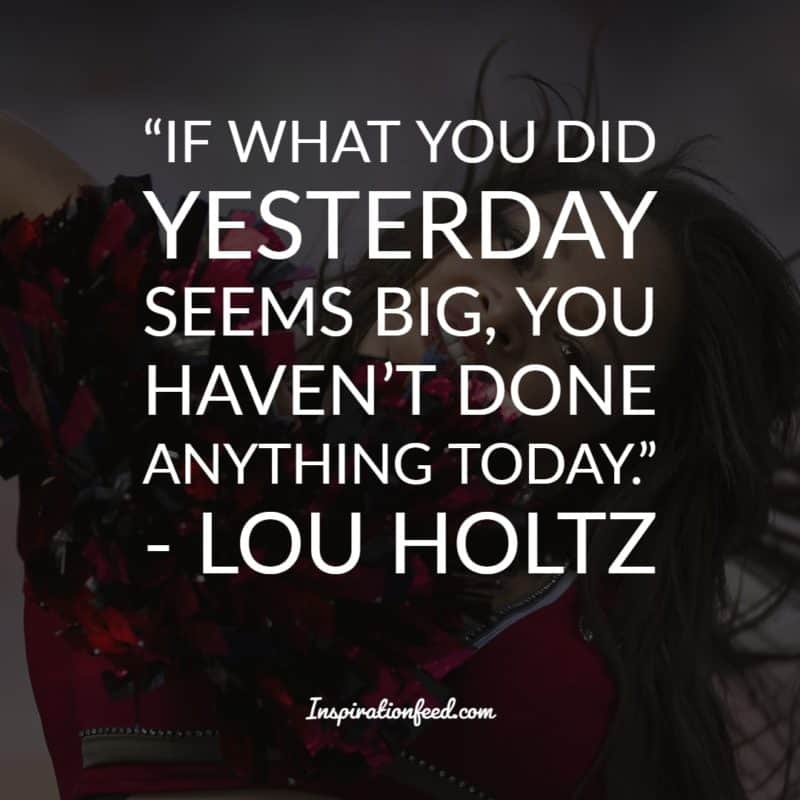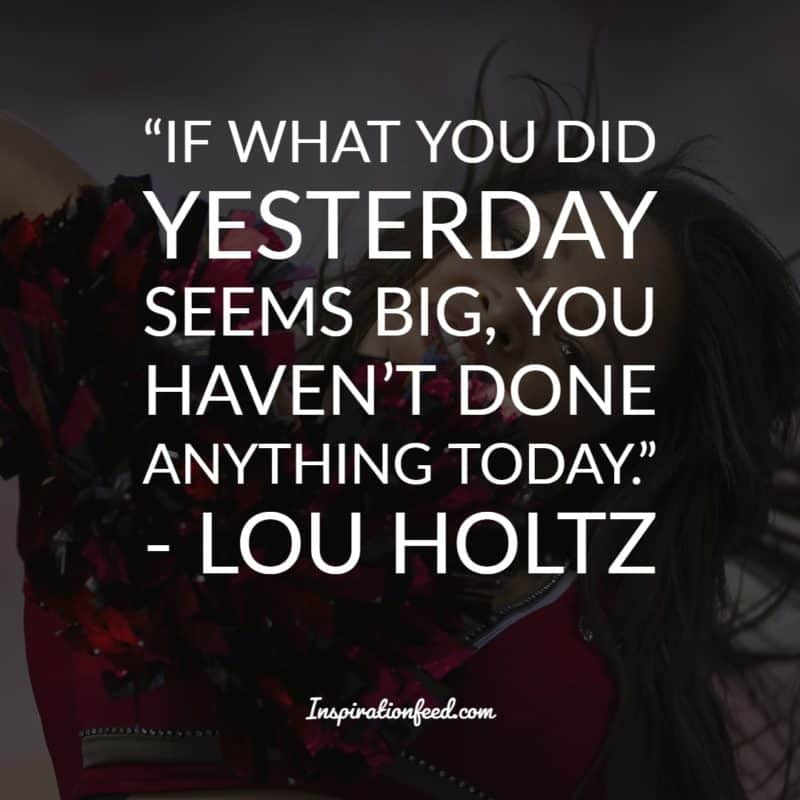 "If what you did yesterday seems big, you haven't done anything today." – Lou Holtz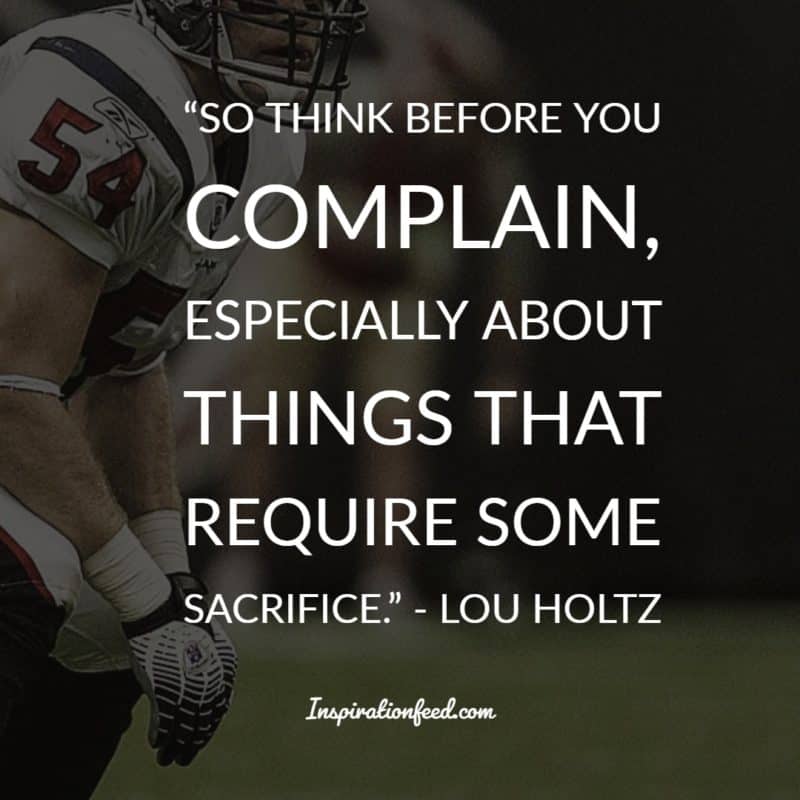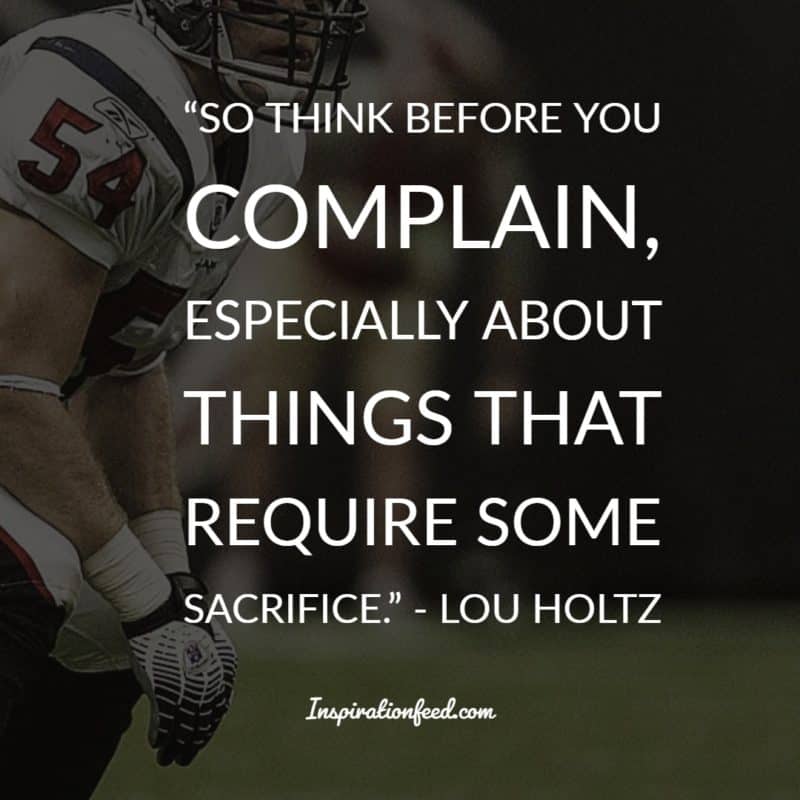 "So think before you complain, especially about things that require some sacrifice." – Lou Holtz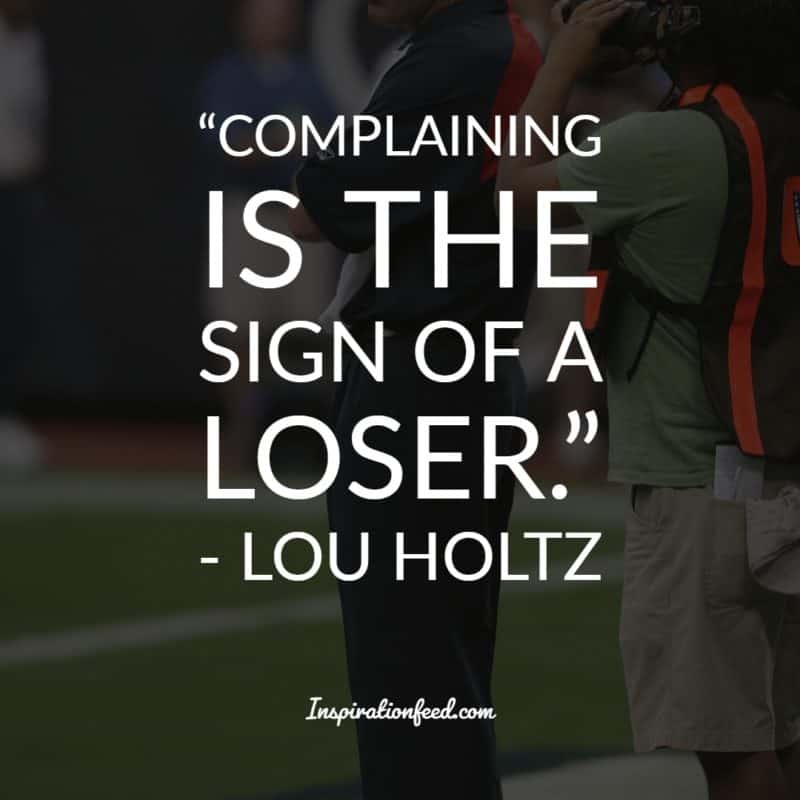 "Complaining is the sign of a loser." – Lou Holtz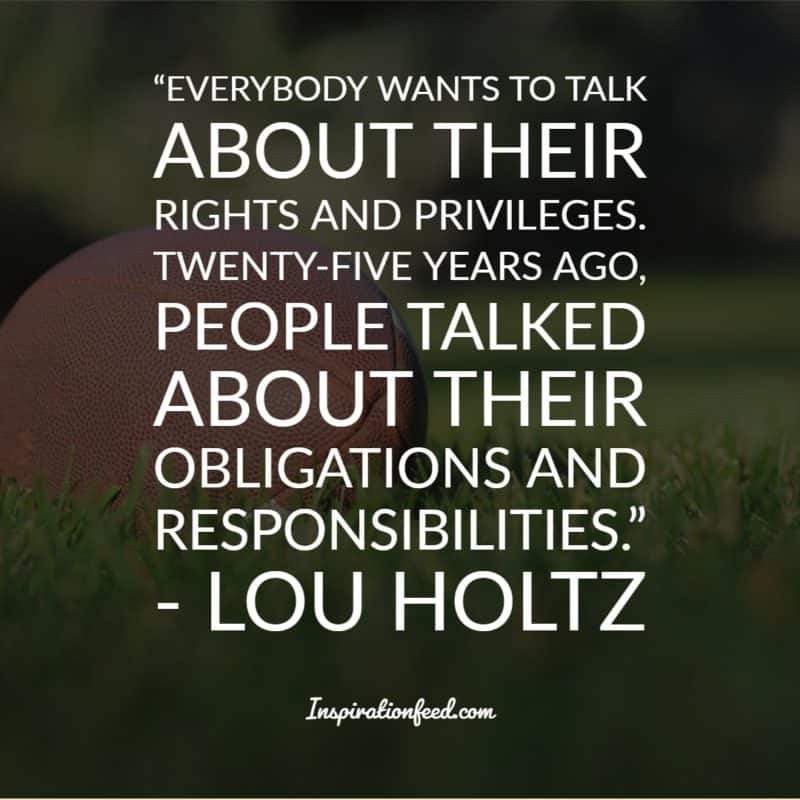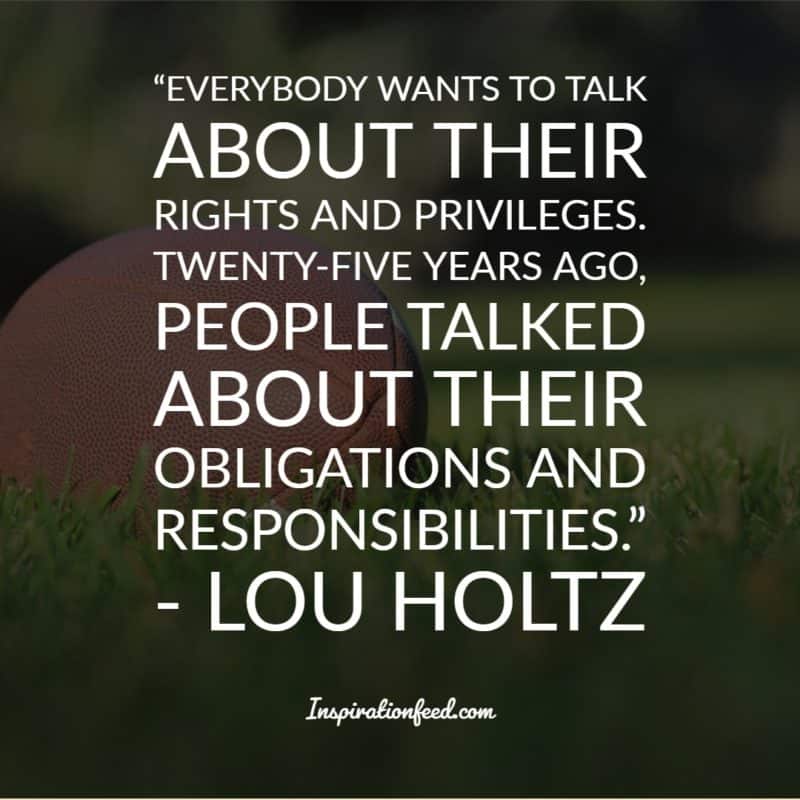 "Everybody wants to talk about their rights and privileges. Twenty-five years ago, people talked about their obligations and responsibilities." – Lou Holtz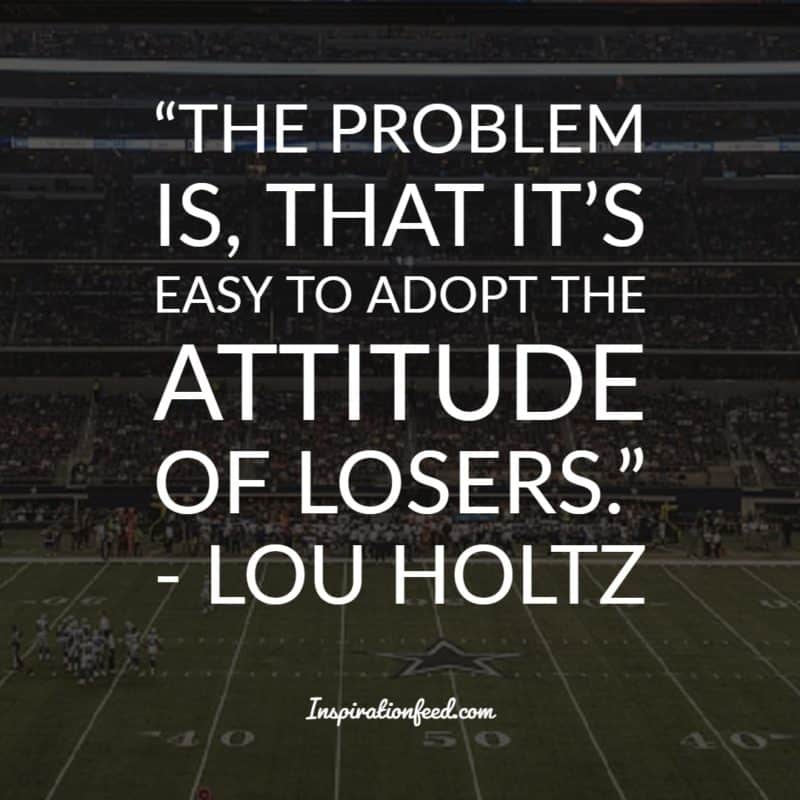 "The problem is, that it's easy to adopt the attitude of losers." – Lou Holtz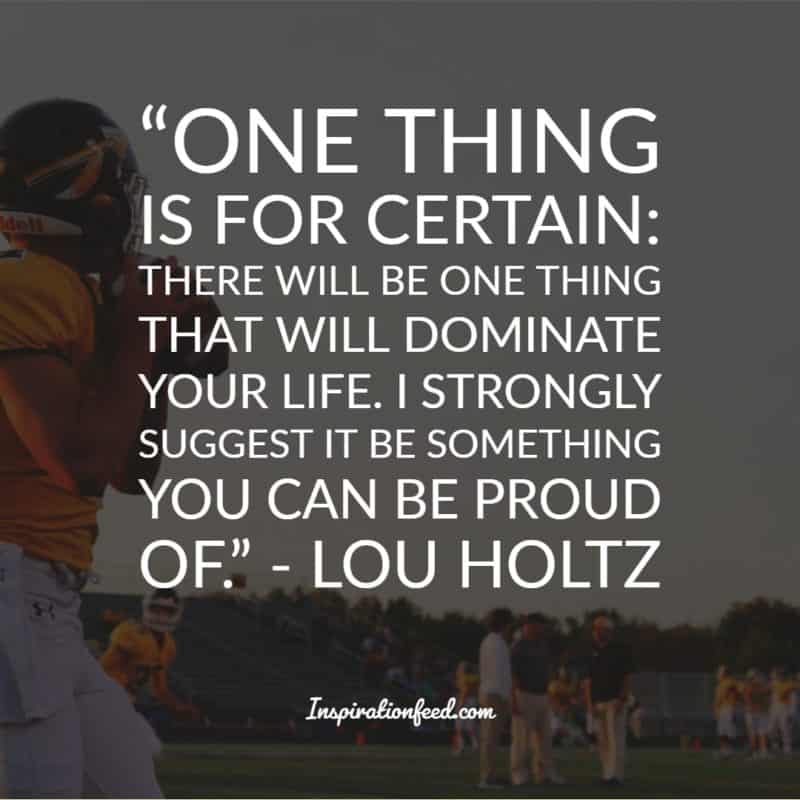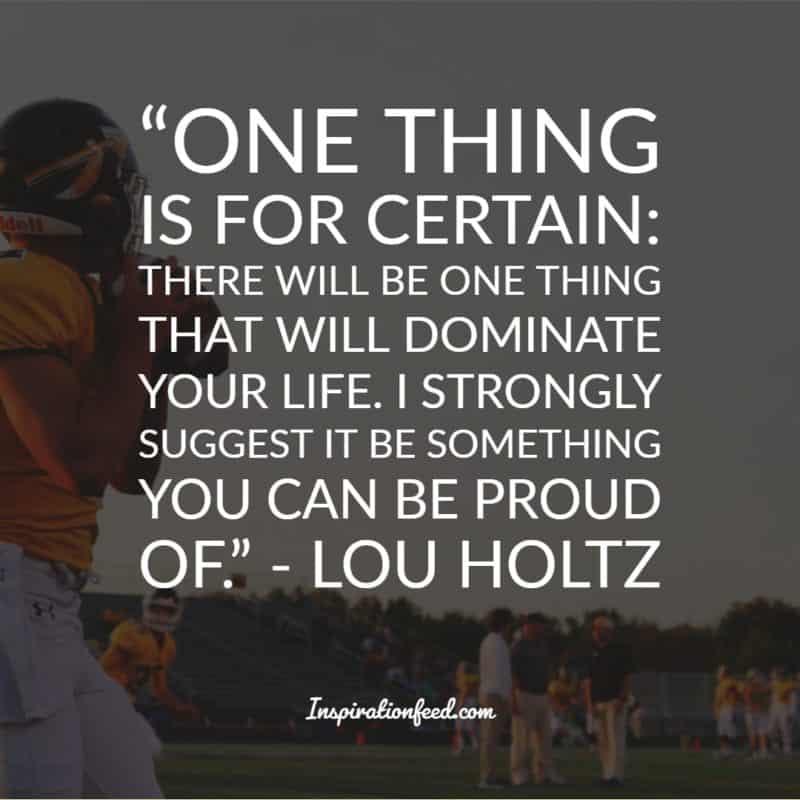 "One thing is for certain: there will be one thing that will dominate your life. I strongly suggest it be something you can be proud of." – Lou Holtz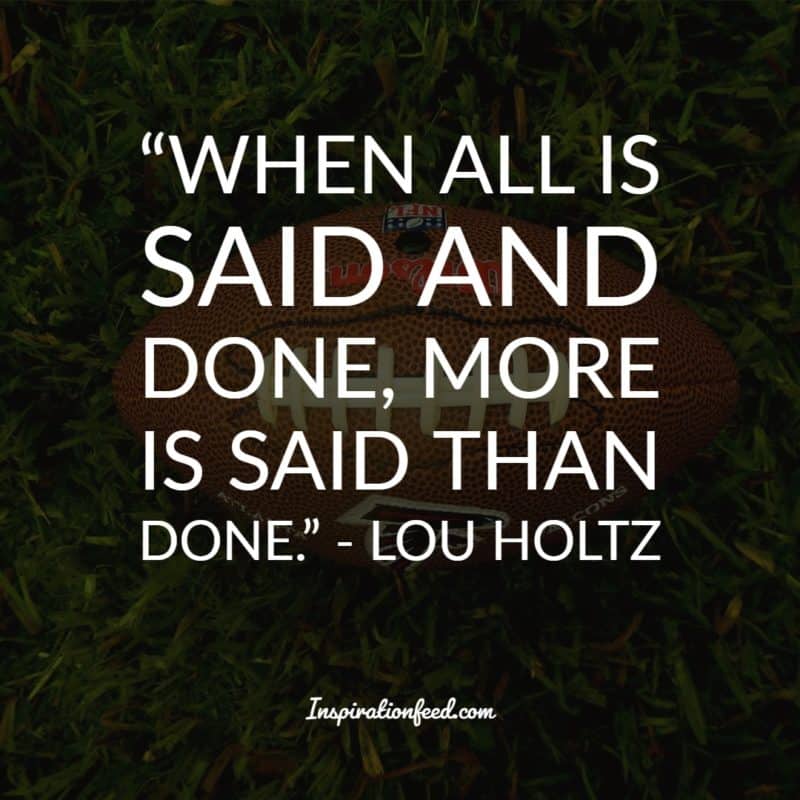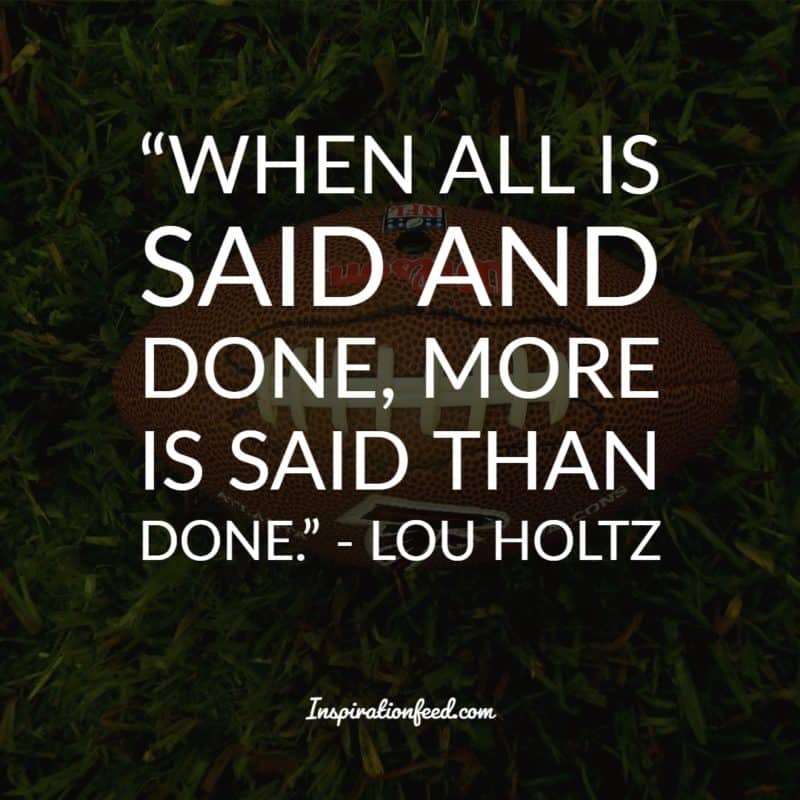 "When all is said and done, more is said than done." – Lou Holtz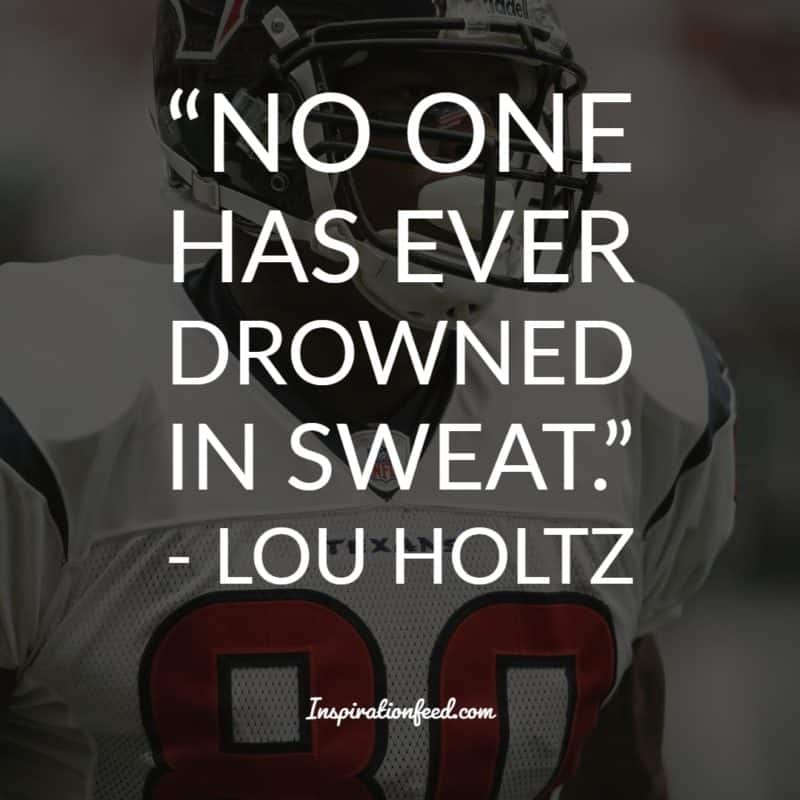 "No one has ever drowned in sweat." – Lou Holtz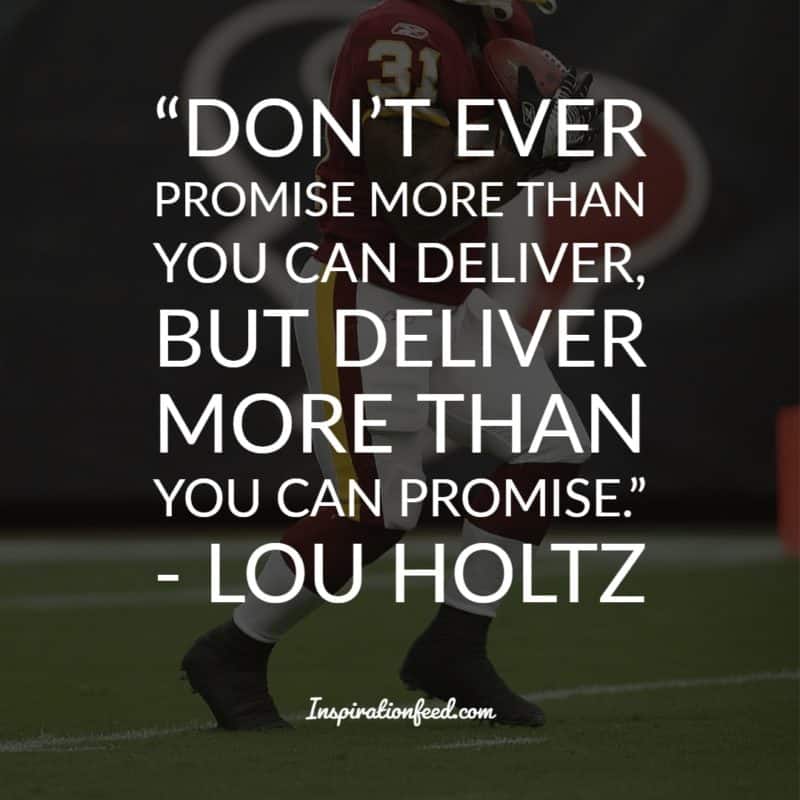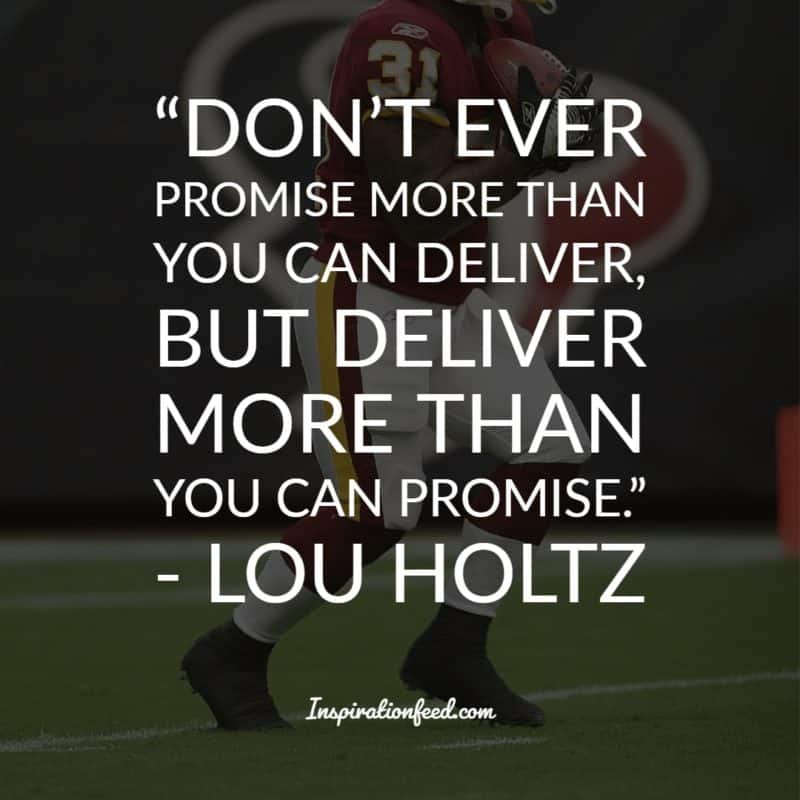 "Don't ever promise more than you can deliver, but deliver more than you can promise." – Lou Holtz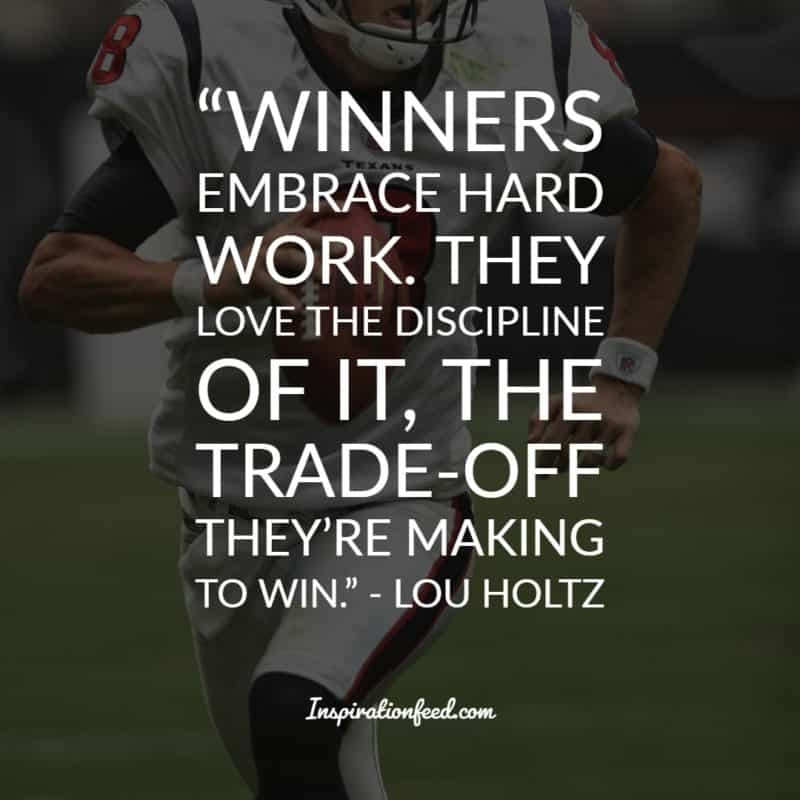 "Winners embrace hard work. They love the discipline of it, the trade-off they're making to win." – Lou Holtz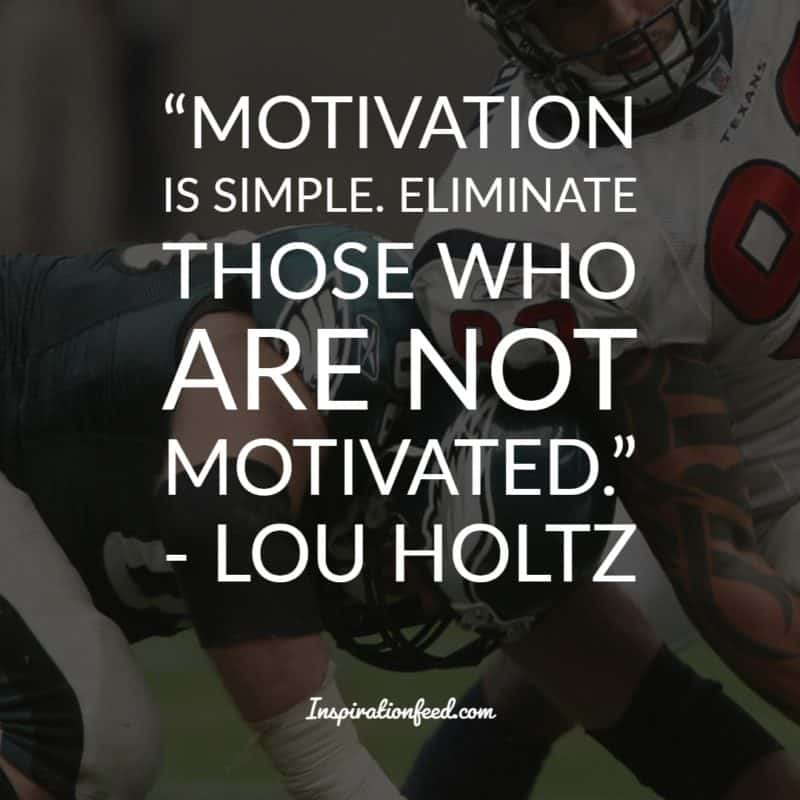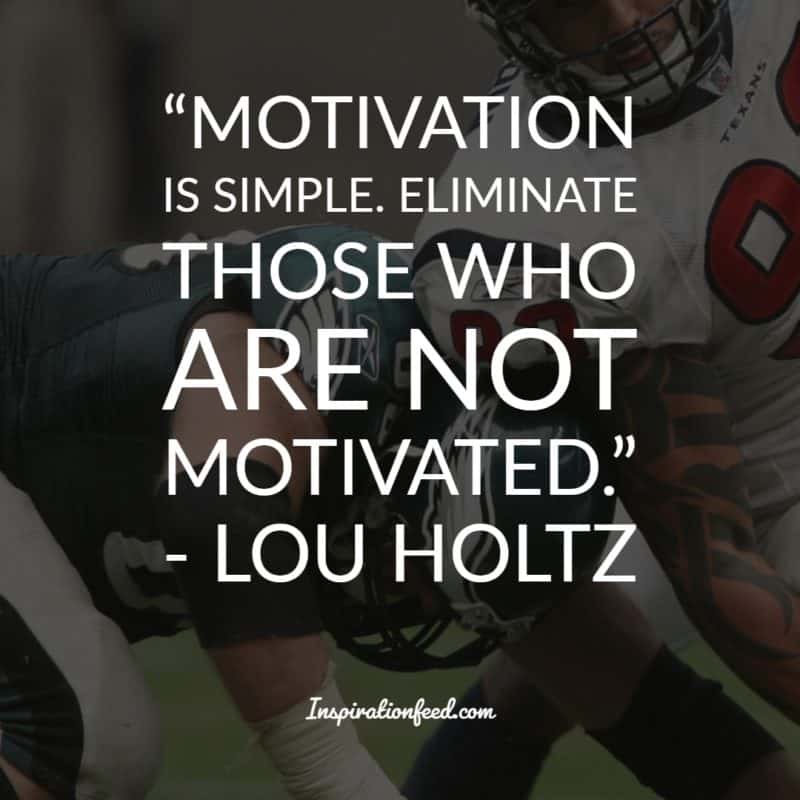 "Motivation is simple. Eliminate those who are not motivated." – Lou Holtz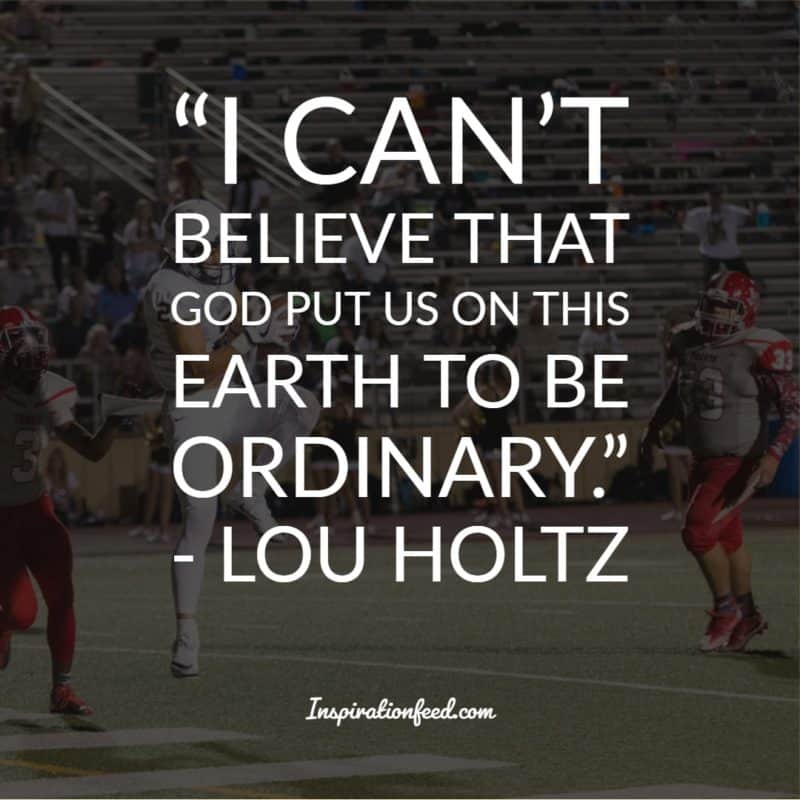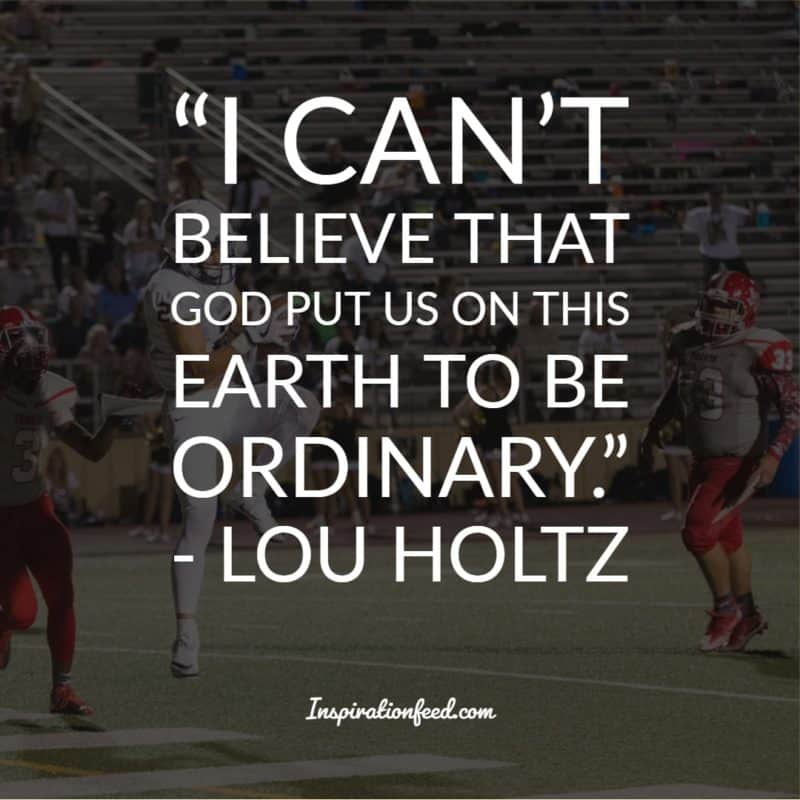 "I can't believe that God put us on this earth to be ordinary." – Lou Holtz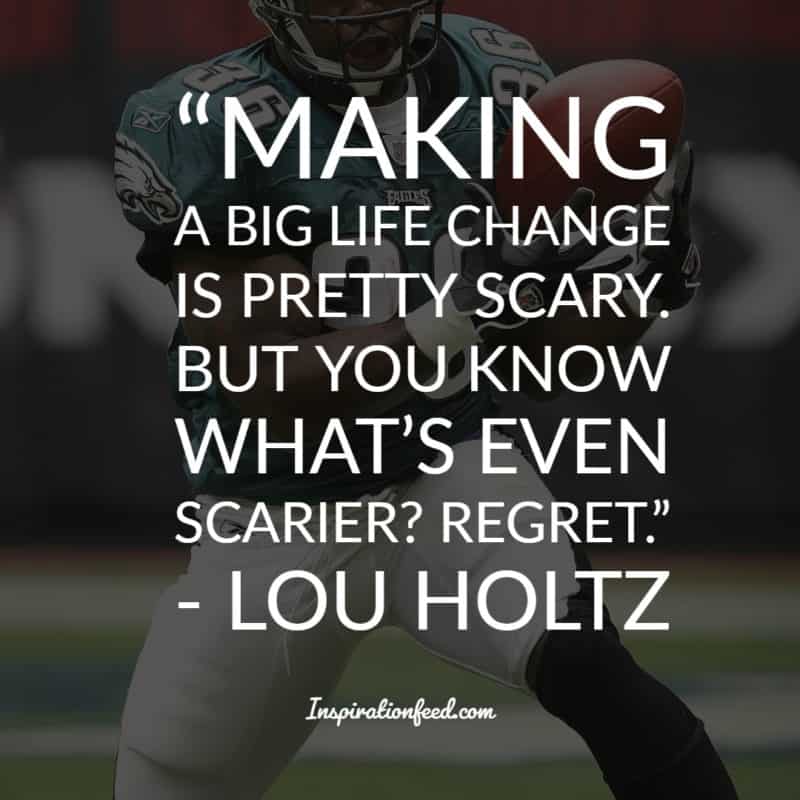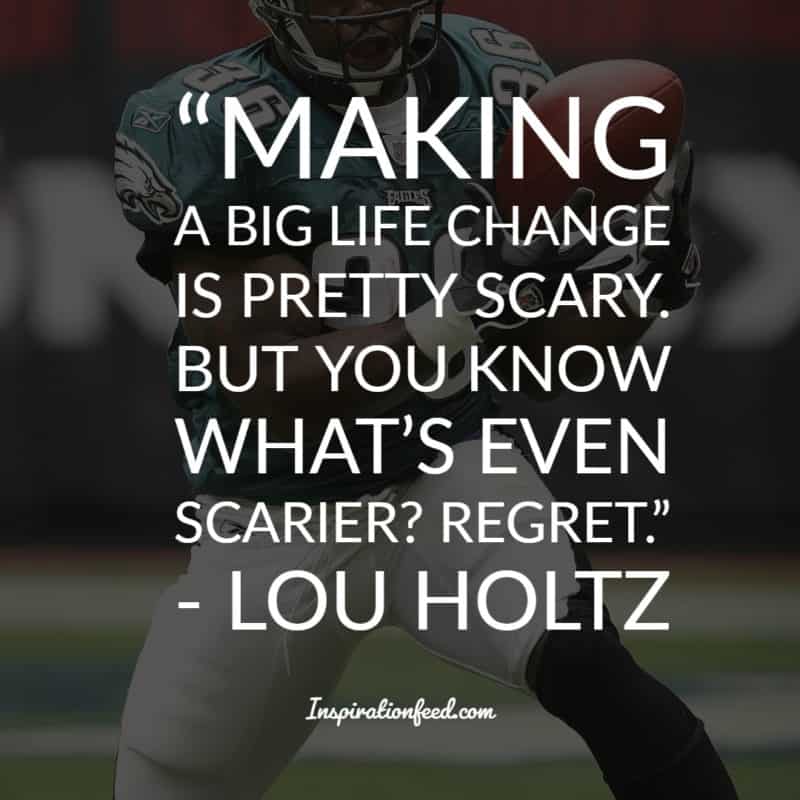 "Making a big life change is pretty scary. But you know what's even scarier? Regret." – Lou Holtz