Last Updated on January 20, 2022
Who Is Tom Steyer?
Thomas Fahr Steyer is an American hedge fund manager, environmentalist, liberal activist, and philanthropist. Steyer is best known for founding the American investment firm Farallon Capital Management, L.L.C., where he also served as a co-senior managing-partner.

In addition to Farallon Capital, Tom Steyer also co-founded Onecalifornia Bank, which merged into the Oakland-based community development bank, Beneficial State Bank.
Quick Facts
| | |
| --- | --- |
| Full Name: | Thomas Fahr Steyer |
| Popular Name: | Tom Steyer |
| Gender: | Male |
| Birth Date: | June 27, 1957 |
| Age: | 64 years |
| Parents: | Roy Henry Steyer and Marnie Fahr Steyer |
| Siblings: | Hume Steyer and Jim Steyer |
| Birth Place: | New York City, New York |
| Nationality: | American |
| Ethnicity: | White |
| Education: | Buckley School, Philips Exeter Academy, Yale University, and Stanford Graduate School of Business |
| Marital Status: | Married |
| Sexual Orientation: | Straight |
| Wife/Spouse: | Kathryn Ann Taylor |
| Children: | Samuel Taylor Steyer, Charles Augustus Steyer, Evelyn Hoover Steyer, and Henry Hume Steyer |
| Dating: | N/A |
| Net Worth: | USD 1.6 billion (as of August 1, 2021) |
| Source of Wealth: | Entrepreneurial Ventures |
| Height: | 5′ 9″ (1.75 m) |
| Weight: | 66 kg; In pounds: 145.5 lbs. |
Early Life and Career Information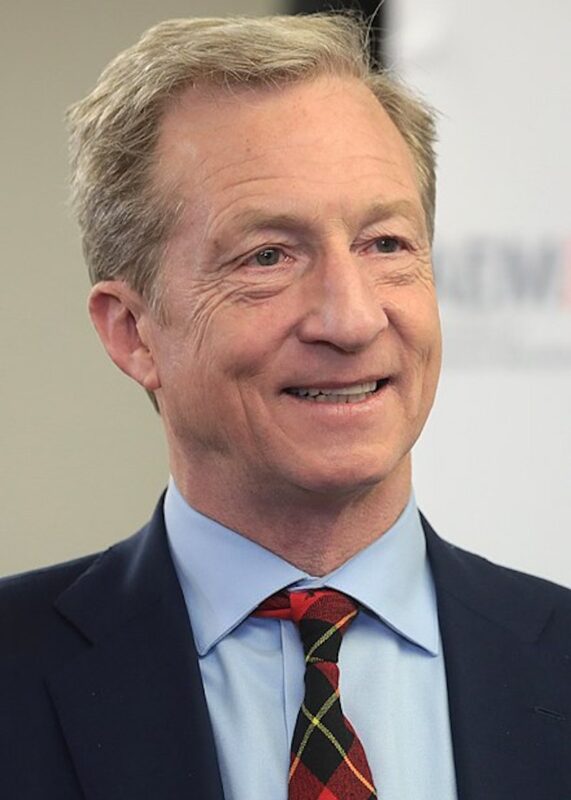 Tom Steyer was born on June 27, 1957, in New York City, New York, to Roy Henry Steyer and Marnie Fahr Steyer. His father was a partner in the New York-based law firm of Sullivan & Cromwell, as well as a prosecutor at the Nuremberg Trials. His mother was a remedial education teacher at the Brooklyn House of Detention.

Tom Steyer studied at the Buckley School and Philips Exeter Academy, before graduating from Yale University summa cum laude in economics and political science.

After graduating from Yale University, Steyer landed his first job at Morgan Stanley in 1979. He left the financial services company after two years to attend Stanford Graduate School of Business.

Between 1983 and 1985, Steyer worked at the risk arbitrage division of Goldman Sachs. After a short stint at the company, he became a partner as well as member of the Executive Committee of a private equity company based in San Francisco, known as Hellman & Friedman.

In January 1986, Tom Steyer established the San Francisco-based hedge fund, Farallon Capital. Soon after founding Farallon Capital, Steyer embarked on a series of campaigns to grow the hedge fund into the globally-renowned brand that it is today. When he left the company, Farallon was managing over $20 billion.

Besides being an accomplished hedge fund manager, Tom Steyer is also a renowned political and environmental activist.

Steyer's political activism goes way back to 1983, when he worked on the presidential campaign team for Walter Mondale. He also raised funds for the presidential campaigns of Bill Bradley in 2000 and John Kerry in 2004. Steyer was also deeply involved in the 2008 presidential campaigns and was considered one of Barack Obama's biggest funders.

Steyer's other high-profile political engagement includes spending about $10 million from October 2017 in television advertisements advocating for the impeachment of President Donald Trump. More recently, he unsuccessfully sought the Democratic nomination for president in 2020.

In October 2012, Tom Steyer became an alternative energy activist. To demonstrate his commitment to his new-found passion, Steyer disposed of all his investments that he considered were contributing to carbon footprint.

Tom Steyer's effort as a political and environmental activist haven't gone unnoticed. He has received numerous awards and honors, including:

• The Phillip Burton Public Service Award of Consumer Watchdog in 2011,
• The Environmental Leadership Award of the California League of Conservation Voters in 2012,
• The Environmental Achievement Award of the Environmental Law Institute in 2013, and
• The Land Conservation Award of the Open Space Institute in 2015
Tom Steyer's Net Worth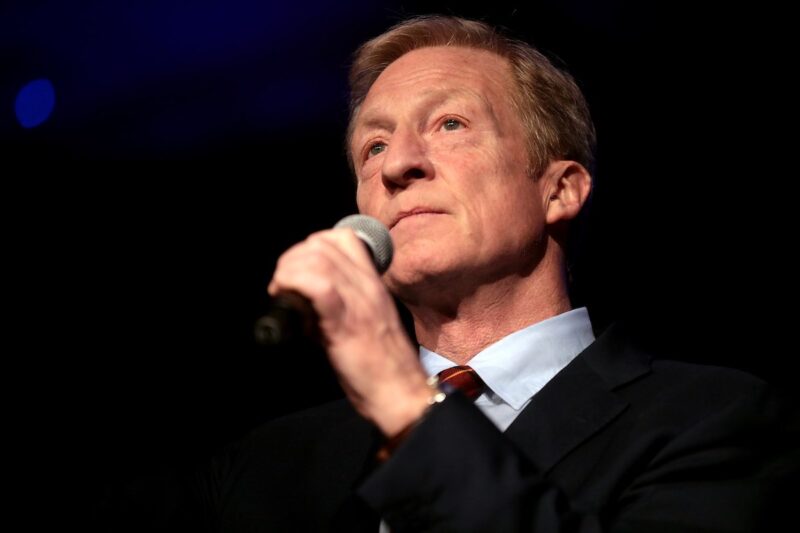 As of August 1, 2021, Tom Steyer had a net worth of $1.6 billion. Farallon Capital remains Steyer's most profitable venture to date, and accounts for a significant portion of his wealth. As of the time of writing, the company manages at least $29 billion in capital for institutions like college endowments and foundations, as well as for high-net-worth individuals.

How does Tom Steyer spend his money?

The bulk of Tom Steyer's expenditure goes towards funding numerous political, environmental, and social causes. Steyer and his wife are members of The Giving Pledge, an initiative by billionaire Bill Gates whose members pledge to donate a substantial amount of their fortune to charity during their lifetime or upon their death. The couple joined the initiative in 2010, where they pledged to donate half of their wealth during their lifetime.
Lessons from Tom Steyer
1. If you believe in a cause, pursue it with all you've got

Tom Steyer does not just advocate for change from the sidelines. Instead, he gets fully involved by donating huge sums to make it happen.

2. The sky is the limit

Despite being a successful hedge fund manager, Steyer hasn't allowed his achievements to slow him down. He continues to harbor bigger ambitions, such as becoming the president of the United States.

3. Give back to society

Tom Steyer has undertaken numerous community empowerment projects. Most notably, he founded the community development bank, Beneficial State Bank, which offers commercial banking services to underserved businesses in the San Francisco Bay Area.
Famous Quotes by Tom Steyer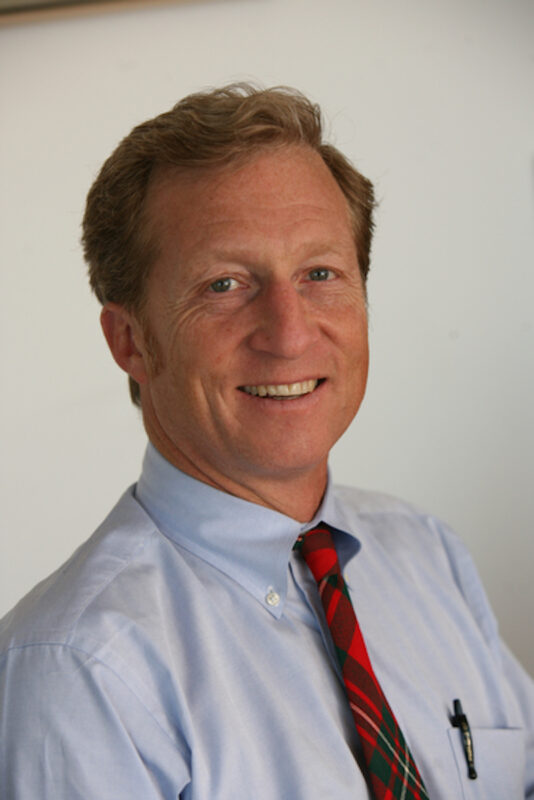 "Clean energy is the ultimate growth strategy for our economy – one that would add millions more good-paying jobs right here in the United States."
"Climate change is a global crisis – one the international community and private sector must tackle together if we have any hope of averting the worst impacts on our health, our economies, and our communities."
"The dialogue around climate change can often become mired in gloom and doom, which is understandable given the topic."
"The more we allow Republicans to concentrate the lion's share of wealth in the hands of a few, the more power these wealthy few will have. And they will use this power to continue rewriting the rules of both our economy and our political system in their favor."
"We need to make sure that we're not in a society that is unbalanced and unfair and where the richest Americans are taking advantage of everybody else."
Conclusion
Tom Steyer adds meaning to the good-old phrase, 'put your money where your mouth is.' When he believes in a cause, he goes all out to make it a reality. That explains why he comfortably spent $191 million in his 2020 Democratic Party presidential primaries despite him not being a frontrunner in the race.