Last Updated on September 21, 2020
The novel coronavirus disease, popularly known as COVID-19, has introduced a couple of new normals all over the world. One of those is working from home or a quarantine facility. If you were used to working in an office environment, you might experience challenges adjusting to this new normal.
However, you don't need to fall behind with your work even during the pandemic, not when there are plenty of video conferencing services that you can take advantage of.
Not only will video conferencing apps help you to stay ahead with your work amidst COVID-19 lockdown and quarantine. These services will also ensure that you keep in touch with your family, friends, and work colleagues, which is instrumental in keeping corona-related anxiety at bay.
But as you might expect, there's the little challenge of finding a reliable and affordable video collaboration tool. You don't need to fret though, as we've done the research work for you.
Read on as we unpack the top 9 video conferencing software in 2020 (and beyond).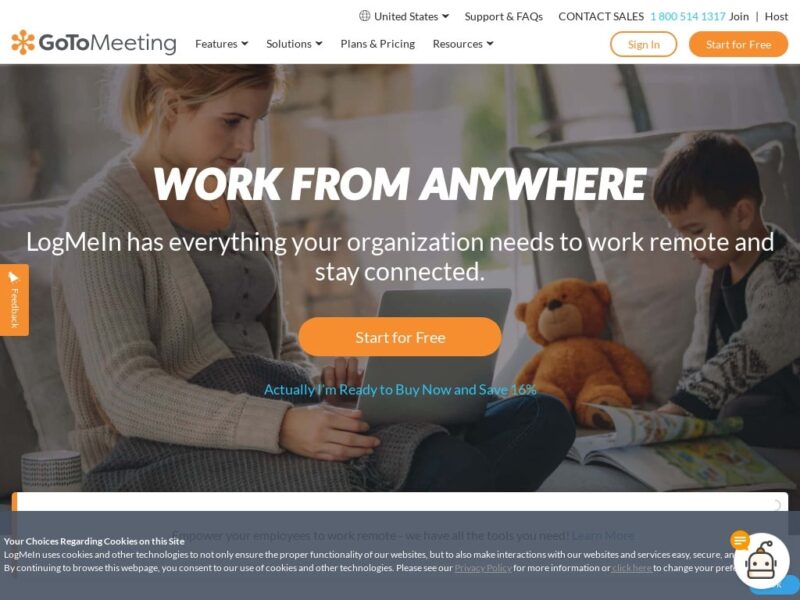 Compatible With: Windows, Web, Android, iOS, and macOS operating systems
Pricing: Basic tier costs $14/month or $12/month with an annual payment and Business tier costs $19/month or $16/month with an annual payment. Enterprise plan also available
GoToMeeting is a mobile-friendly video conferencing software that comes with both audio and video conferencing, as well as screensharing features. Though GoToMeeting is a mobile-compatible app, you don't have to worry about dealing with poor video quality. That's because the app comes with customizable settings aimed at maximizing image and call quality.
A one-tap function lets you invite collaborators hassle-free. Even with the Basic payment tier, you're entitled to almost all of the app's standard features, including dial-in numbers, call recording, and an ability to support up to 150 participants. The Business tier offers collaboration with up to 250 participants while the Enterprise plan accommodates a whopping 3,000 participants.
Compatible With: Windows, Web, Android, and iOS operating systems
Pricing: Free
Google Hangouts is available to anyone with a Google account, which makes it one of the most accessible video conferencing apps. The software lets all Gmail and G Suite Basic customers enjoy its features free of charge. Some of those include collaboration with 10 participants via chat or video call, simultaneous voice transmission, and an ability to connect to a video conference through your Gmail or a shareable link.
Google Hangouts users have a lot to smile about amidst the coronavirus pandemic. That's because Google has since relaxed a few restrictions for all G Suite as well as G Suite for Education customers.
For instance, customers can now enjoin up to 250 participants in a video call. Also, you can stream videos using Hangouts to up to 100,000 viewers within a single domain, as well as record and export meetings straight to Google Drive. However, note that these are limited-duration offers.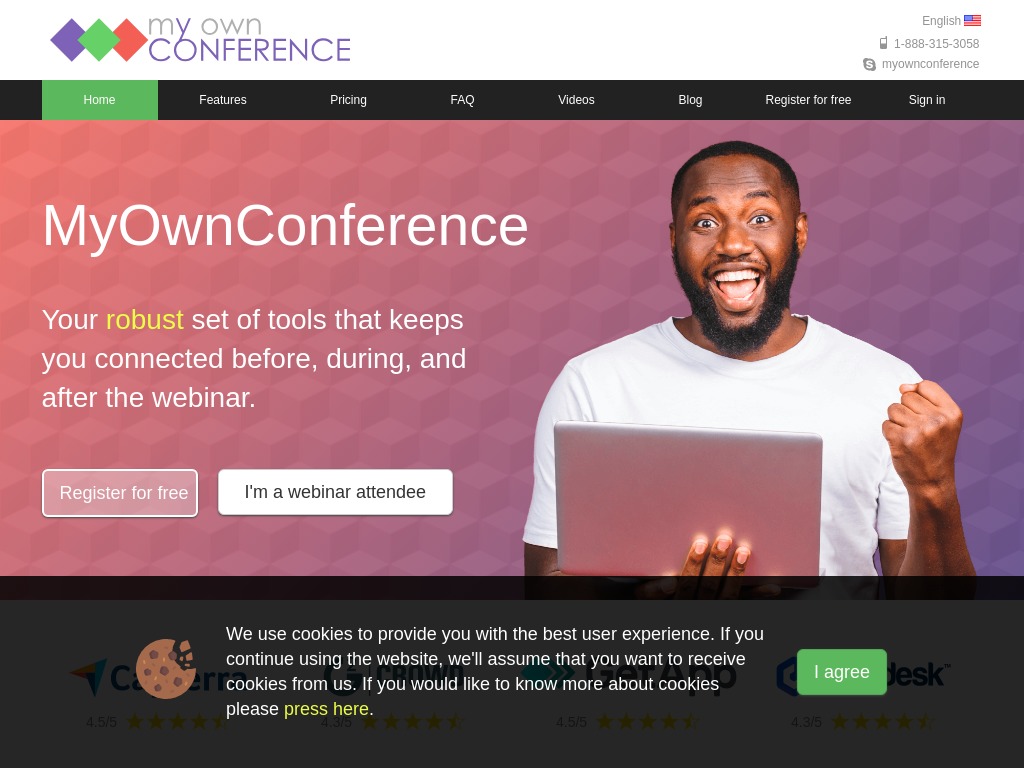 Compatible With: Windows, Web, Android, and iOS operating systems
Pricing: Free for up to 20 attendees. Premium plans start at $30 for 60 attendees.
My Own Conference comes with standard features like online meetings, polls, webinar recording, screen sharing, and video conferencing. The app is browser based, so there is no need to download or install anything. Simply sign up and you're good to go.
My Own Conference is perfect for e-learning, you can quiz your students with online tests, track their results, and communicate privately if you need. You can also record lessons ahead of time and share them with your students later.
Another huge selling point is that Myownconference.com offers white-labeling. Which means you can add your own logo and banner. They use datacenters compliant with TIER III international level. This ensures the best quality of broadcasting all over the world. At the moment the app supports 16 languages with more being added soon.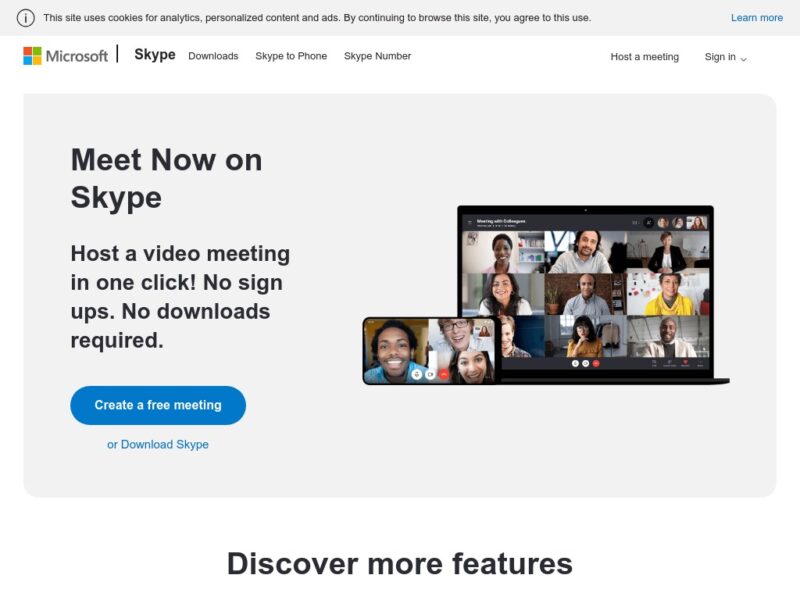 Compatible With: Windows, Web, Android, iOS, and macOS operating systems
Pricing: Free
Skype is one of the oldest video conferencing apps and still one of the most efficient too. The software allows users to collaborate with up to 50 participants for an unlimited time.
One of the things you'll love about Skype is its compatibility with numerous operating systems. You can connect with participants from any web browser using Skype for Web even if you haven't already downloaded the app on your PC. However, mobile device users must download the Skype app to enjoy its amazing features.
Skype also comes with a cloud-based call recording feature, which any participant in a video call can activate. Once activated, all the other members will know that the meeting is being recorded so they won't need to save any additional copies. The saved meetings are sharable for a period of thirty days.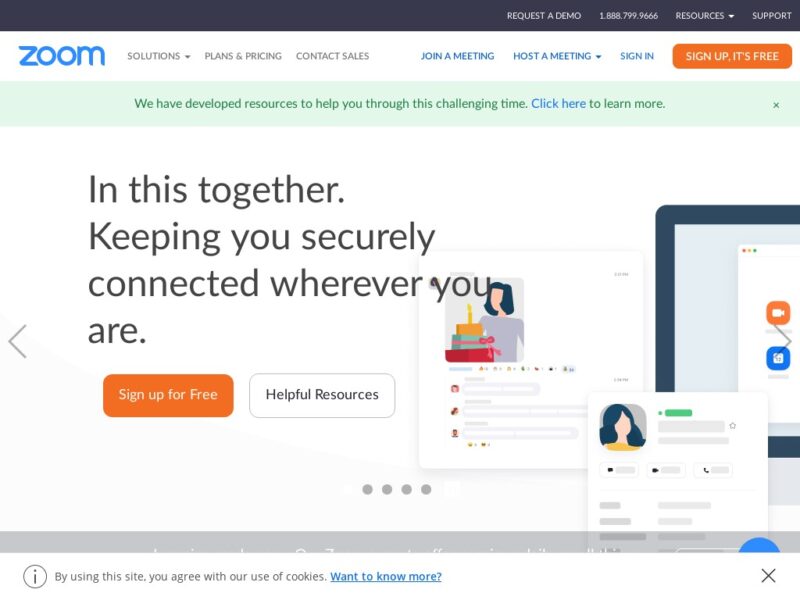 Compatible With: Windows, Web, Android, iOS, and macOS operating systems
Pricing: Basic plan starts at $14.99/month while Business and Enterprise plans cost $19.99/month. Free plan also available
Zoom prides itself on its affordability, reliability, and ease of use. The video conferencing platform comes with audio and video collaboration features that are available for both desktop and mobile devices.
With Zoom, you can connect with 1,000 participants simultaneously and share up to 49 videos on a single screen. It also allows you to save your meetings on your laptop or mobile device, or export them to the cloud for future reference.
And to make your saved meetings easy to retrieve from Zoom's ten-year archive, the app saves them using searchable text. Screensharing and file-sharing features are available too. What's more – you don't need to worry about the safety of your saved or shared files. That's because Zoom implements a powerful 256-bit TLS encryption security feature for both meetings and shared files.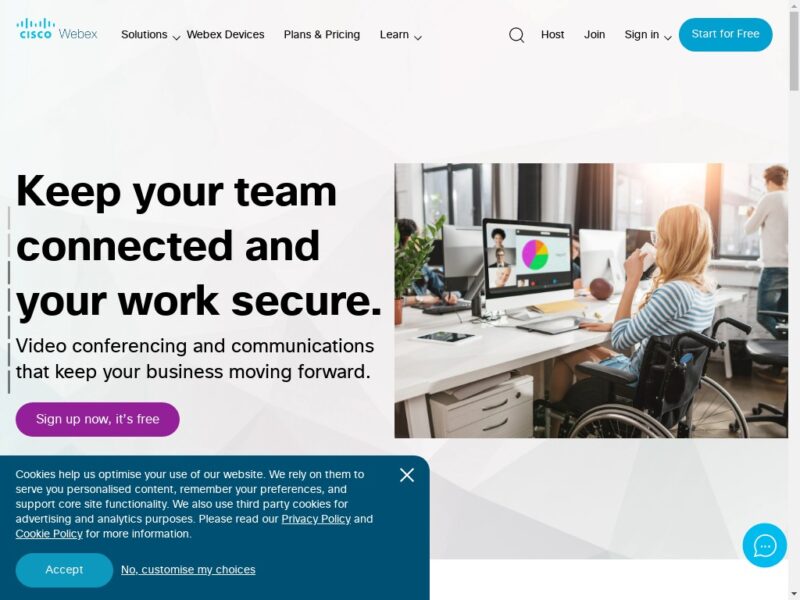 Compatible With: Windows, Android, iOS, and macOS operating systems
Pricing: Mostly free. Basic paid plan starts at $14.95/host/month
Cisco WebEx Meetings offers users crisp audio and video quality, an ability to connect with up to 100 participants in one call for an unlimited duration, as well as a 1 GB offer. Using a standard telephone, users can join a Cisco WebEx video conference from more than 50 countries. The app's other amazing offers include screensharing, file-sharing, and video recording.
However, Cisco's standout feature is undoubtedly its virtual whiteboard. After starting a call, you can share your screen as a virtual white space and collaborate with your participants using various sketching and texting tools. Cisco even lets you create a separate section where you can view your whiteboards and navigate through them individually as thumbnails.
Compatible With: Windows, Web, Android, and iOS operating systems
Pricing: Live package costs $25/month while Automated package costs $40/month. Free trial available
ClickMeeting comes with various collaboration tools that you'll find in a reliable video conferencing software, such as screensharing and an ability to play videos and slideshows. The app also lets you share the mouse of other attendees and even supports live polls as well as question-and-answer sessions.
In addition to supporting live polls, another thing that makes ClickMeeting ideal for data-driven companies is that it integrates with plenty of analytics and marketing tools. For instance, you can seamlessly connect its webinar's landing page to Google Analytics or Dropbox.
And using Zapier, you can synchronize your webinars with a CRM software or email marketing platforms. Besides, ClickMeeting's webinars also come with fully customizable pages, allowing you the freedom to show off your brand.
Compatible With: Windows, Web, Android, and iOS operating system
Pricing: Free
Many video conferencing apps are marketed as free, only for the user to discover that the free tier contains only basic webinar features. If you've fallen for this trap before and have had to upgrade to a premium tier against your wishes, maybe it's time to try a video conferencing software that's truly free.
Jitsi is a 100% free and open-source video collaboration service that comes with plenty of basic and premium features. First, the app offers you the option of choosing between its two versions – the hosted version at meet.jit.si or a downloadable version. As you may expect, the self-hosted solution comes with maximum flexibility in terms of customizable features.
With Jitsi, you can also collaborate with up to 75 attendees per call and in the near future, that number might rise to over 100. Another excellent feature of this video conferencing software is its ability to support phone-in audio attendees, which works for both the hosted and self-hosted versions. What's more – Jitsi allows you to stream your webinars to YouTube and then generate a sharable link or download the file for future reference.
Compatible With: Web (only Google Chrome, Microsoft Edge, and Mozilla Firefox browsers supported), Android, and iOS operating systems
Pricing: Basic plan starts at $6/month, Business plan costs $12/month, and Enterprise plan goes for $25/month
If you feel a bit limited by Google Hangouts' restricted services, you can pay a small fee and unlock plenty of premium video conferencing features with Google Meet. Formerly known as Google Hangouts Meet, Google Meet offers first-class video collaboration features, particularly for business conferences.
With Google Meet, you can seamlessly connect with external clients on the web without needing them to download and install any apps. The provision of a dedicated dial-in number allows participants to join the experience on the go.
And the fact that it's part of the G Suite lets you access data from other applications within the platform, such as Google Calendar. In addition to supporting both Android and iPhone devices, Google Meet can also sync with exiting video conferencing hardware.
To make that happen, you only have to ensure that the software follows SIP and H.323 protocols applicable to Skype for Business users.
Conclusion
When choosing a video conferencing app, some of the top features you must consider are the number of attendees the software supports and how it integrates with various platforms.
Convenience features like screensharing and file-sharing should also be taken into account. Not to mention, the app must be affordable too. Fortunately for you, the eight apps we've reviewed in this post deliver on those crucial parameters and more.