Last Updated on March 3, 2023
Who Is Bruce Willis?
Walter Bruce Willis, popularly known as Bruce Willis, is an American actor, producer, singer, and businessman. Some of his fans refer to him as John McClane, the same character that he played in the Die Hard franchise. But in addition to Die Hard, Willis has featured in more than 70 movies during his professional career.
Quick Facts
| | |
| --- | --- |
| Full Name: | Walter Bruce Willis |
| Popular Name: | Bruce Willis |
| Gender: | Male |
| Birth Date: | March 19, 1955 |
| Age: | 67 years |
| Parents: | David Willis and Marlene Willis |
| Siblings: | Florence Willis, Robert Willis, and David Willis |
| Birth Place: | Los Angeles, California, U.S. |
| Nationality: | American |
| Ethnicity: | German |
| Education: | Penns Grove High School and Montclair State University |
| Marital Status: | Married. Formerly married Demi Moore (1987 and 2000) |
| Sexual Orientation: | Straight |
| Wife/Spouse: | Emma Heming |
| Children: | Rumer Willis, Scout Willis, and Tallulah Willis (from marriage with Demi Moore) and Mabel Willis and Evelyn Willis (from his current marriage with Emma Heming) |
| Dating: | N/A |
| Net Worth: | USD 250 million |
| Source of Wealth: | Acting and Voice Acting, Film and Television Production, Singing, Writing and Composing, Endorsement Deals, and Other Ventures |
| Height: | 6′ 0″ (1.8 m) |
| Weight: | 93 kg; In pounds: 205 lbs. |
Early Life and Career Information
Bruce Willis was born on March 19, 1955, in Los Angeles, California, to David Willis and Marlene Willis. His father was an American soldier, which might help to explain why Willis has played a military character in quite a few of his movies.

Bruce Willis worked as a security guard and private investigator before venturing into acting. The following are some of the popular movies he has featured or starred in:
• Moonlighting comedy-drama series (1985–1989),
• Die Hard franchise (1988–2013),
• The Last Boy Scout (1991),
• Pulp Fiction (1994),
• 12 Monkeys (1995),
• The Fifth Element (1997),
• The Jackal (1997),
• Armageddon (1998),
• Mercury Rising (1998),
• The Sixth Sense (1999),

• Unbreakable (2000),

• Sin City (2005),

• Red (2010),

• The Expendables 2 (2012),

• Death Wish (2018), and

• Glass (2019)

In addition to acting, Bruce Willis is also a singer. He released his debut album in 1987, titled The Return of Bruno. His second album, If It Don't Kill You, It Just Makes You Stronger, came in 1989, while his third album, Classic Bruce Willis: The Universal Masters Collection, was released in 2001.
Bruce Willis Net Worth
Bruce Willis' net worth stands at $250 Million, as of 2023. At the height of his career, Bruce Willis was one of the highest-earning actors on the planet. His biggest earner is The Sixth Sense (1999), which has since paid him a total of $100 million.
The amount was the second-highest ever to have been made by an actor from a single movie, with Keanu Reeves' $250 million from the Matrix franchise still holding the number one position. However, Keanu Reeves' $250 million for three separate films against Bruce Willis $100 million from one film gives Willis a technical edge in terms of which actor has earned the most from a single movie.

But even before his earnings from The Sixth Sense, Bruce Willis was already taking home some hefty paychecks. In 1985, he successfully auditioned for the role of David Addison Jr. on the comedy-drama series Moonlighting.
Willis performed exceptionally well on the series, going on to win an Emmy and Golden Globe awards. His performance was partly due to the show's rich ensemble of casts, which included Cybill Shepherd, as well as Bruce Willis' over 5-year experience as a detective.

Bruce Willis' breakout movie role came with 1988's Die Hard, where he starred as John McClane. His Die Hard earnings for the first, second, third, and fourth installments were $5 million, $7.5 million, $15 million, and $25 million, respectively. By the time the Die Hard franchise came to an end, Bruce Willis had earned at least $52 million out it. Those figures work out as $70-80 million if adjusted for inflation.

The following are other notable films where Bruce Willis earned handsomely:

• Look Who's Talking (1989) – Earned $10 million for lending his voice to the film, and another $10 million from the movie's sequel,
• The Last Boy Scout (1991) – Earned 14 million,
• Pulp Fiction (1994) – Earned $800,000. The amount may have been insignificant, but the film helped Bruce Willis to reclaim his position among A-list movie stars of the 90s,
• Last Man Standing (1996) – Earned $16.5 million, and
• Armageddon (1998) – Earned $14.8 million
1. Real Estate
Bruce Willis has flipped several valuable real estate properties around the world. In 2014, Willis sold his former Beverly Hills estate for $16.5 million. Two years later, his ex-wife, Demi, listed a New York City penthouse that the couple purchased together in the 90s, at a cost of $75 million.

In April 2018, Bruce Willis sold an NYC-based penthouse for $18 million. Around March 2019, Willis listed one of his prime properties in Turks and Caicos for sale. At the time, the estate was going for $33 million.
2. Endorsement Deals
Bruce Willis has signed several profitable endorsement contracts throughout his career. In the late 80s, he was paid $7 million over two years to promote Seagrams' Golden Wine Cooler. If adjusted for inflation, the amount works out as $17 million.

In 2009, Willis signed a deal to become the global face of Sobieski Vodka by Belvedere SA, in a deal that would see him enjoy a 3.3% stake in the company.
3. Other Ventures
Bruce Willis co-founded Planet Bollywood in 1991, with actors Arnold Schwarzenegger and Sylvester Stallone. He has scores of businesses, including The Mint Bar and The Liberty Theater.

Bruce Willis is also a musician, even though information is scanty on how much he has made from his music endeavors. So far, he has released three rock albums which have gained fairly decent reviews.
Life Lessons from Bruce Willis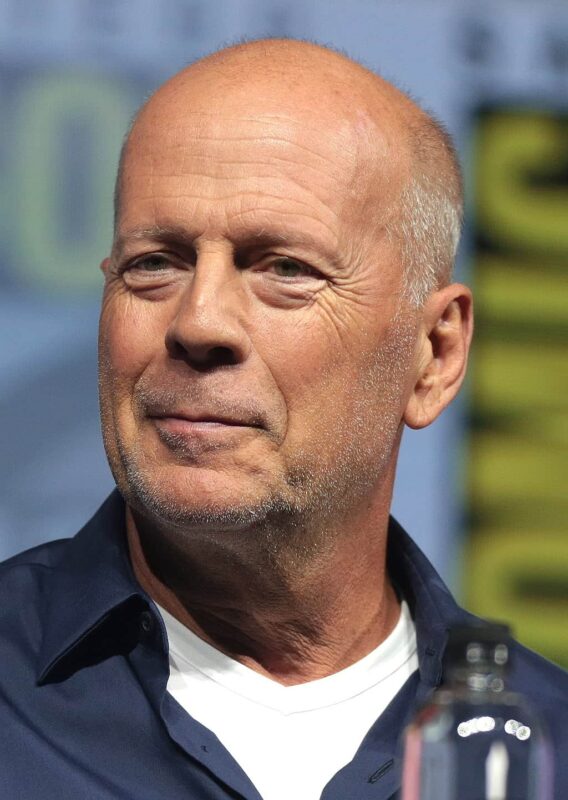 1. Leverage your experience to grow

When he landed a role in Moonlighting, Bruce Willis leveraged his previous experience as a private investigator, and his performance exceeded expectations.

2. Accept your mistakes

When Bruce Willis and Demi Moore filed for divorce, Willis accepted the fact that he had not pulled his weight enough to make the marriage work. He said, "I felt I had failed as a father and a husband by not being able to make it work."

3. Align your ambitions with your principles

Bruce Willis gave up alcohol in 1988. At the time, he was doing a commercial for Seagrams' Golden Wine Cooler. As lucrative as the deal was, Bruce Willis was forced to end it.
Famous Quotes by Bruce Willis
"Everybody, no matter how old you are, is around 24, 25 in their heart."
"I wake up laughing. Yes, I wake up in the morning and there I am just laughing my head off.
"I'm much more proud of being a father than being an actor."
"On the one hand, we'll never experience childbirth. On the other hand, we can open all our own jars."
"You can't undo the past… but you can certainly not repeat it."
Conclusion
Bruce Willis has amassed incredible wealth over the 3+ decades he has been active in the film industry. He may retire from the industry now if he chooses to. After all, he has already made his mark.