Crossword puzzles provide an exciting way to relax and escape the hustle and bustle of ordinary life, albeit momentarily. But crossword puzzles aren't only useful for entertainment purposes.

Numerous studies have established that filling crossword puzzles can relieve anxiety and elevate your mood, thereby improving your overall brain health. Tutors can also use these puzzles to improve their students' language, problem-solving, and fine motor skills.

Often, the challenge is finding a crossword puzzle that contains the specific words you're trying to study. Fortunately, the advancement of technology has made it incredibly easy to generate all manner of crossword puzzles. All you have to do is find a suitable online or downloadable crossword puzzle maker.

In this post, we review the ten most reliable tools to generate crossword puzzle games.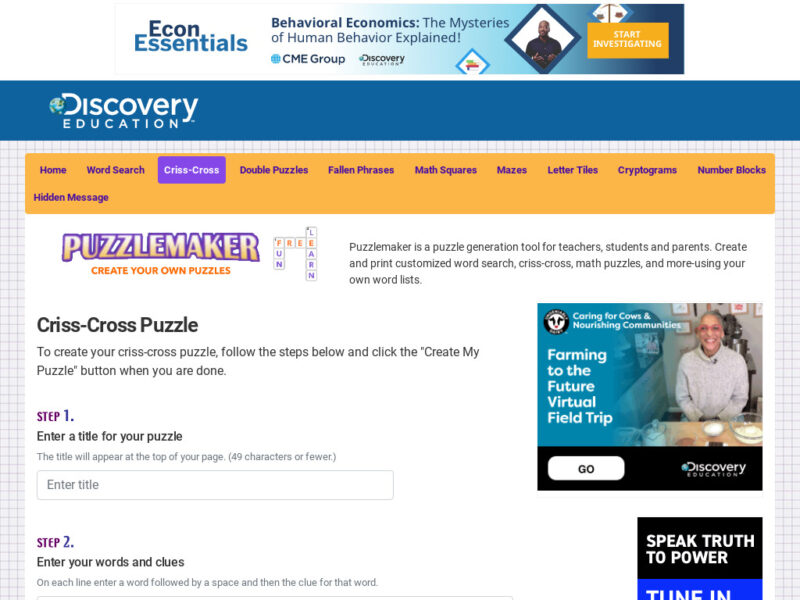 Pricing: Free

Puzzle Maker by Discovery Education is a user-friendly crossword puzzle generator that lets you create puzzles in a matter of minutes.

To use the tool, you simply enter a title for your puzzle in the search bar marked "Enter title." There are up to 49 characters to exhaust. So, the title can be as long as you want it to be.

The next step is entering your words and clues. Here, you simply enter a word on each line, followed by a space and a clue for that word. There are up to 3000 characters for this field.

The last step is clicking on the link with the anchor text "Create My Puzzle." Also, there's a box to check if you wish for your instructions to appear underneath the puzzle.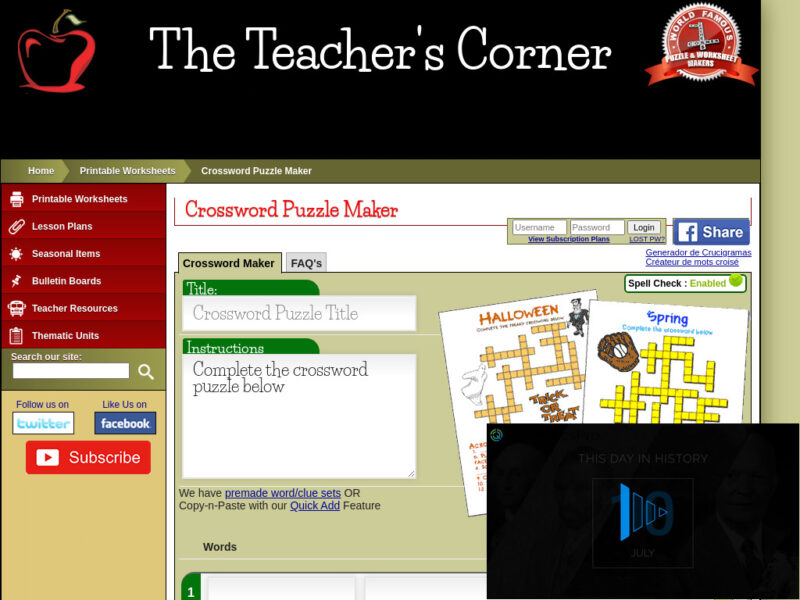 Pricing: Free version available, Paid plans start from $2.49/week

The Teacher's Corner Crossword Puzzle Generator is an excellent tool for students who want to hone their vocabulary and language skills. The crossword puzzle generation process is similar to the one on Discovery Education's Puzzle Maker – you start by selecting the desired title for your crossword then enter your choice words and clues.

But this is where the tool gets more interesting. Instead of brainstorming the words and clues by yourself, The Teacher's Corner allows you to experiment with its list of premade word and clue sets. There's a "Quick Add" feature that you can take advantage of if you wish to feed your own collection of words and clues.

The Teacher's Corner also maintains a vast library of stock images. You can add an image to the page from this database or upload your own images with the paid versions.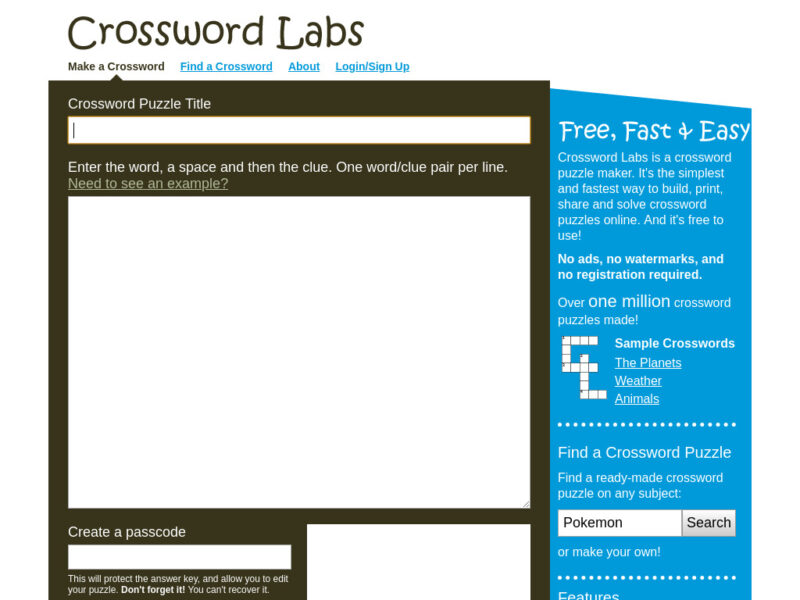 Pricing: Free, Comes with a Lifetime Membership costing $9.95

Crossword Labs has two things in common with ReadWriteThink's Crossword Puzzle Tool. First, both tools have a preview feature that you can use to see how the final puzzle will look like. The tools also include an option to share your crosswords instantly with your students or other collaborators.

Crossword Labs is largely free. However, you can pay a lifetime membership of $9.95 to unlock a truckload of features. Examples include a fancy crossword manager, a public list of all your crosswords, and the answer key to any crossword that you add to your account.

Under the lifetime membership package, you're also entitled to Delete and Privacy controls.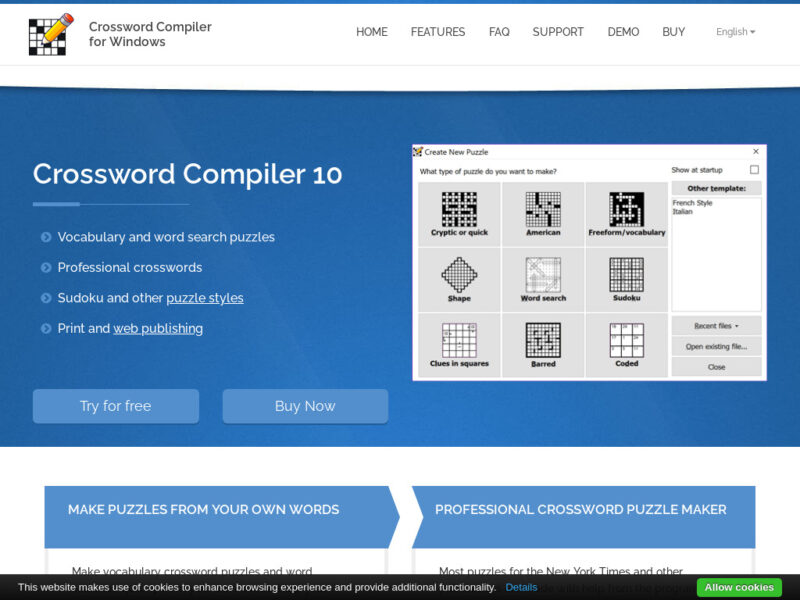 Pricing: Plans start from $49 for a single user, Free trial available

The one glaring drawback to this crossword puzzle maker is its relatively high cost. Crossword Compiler for Windows costs up to $49/user. Plus, there's some learning curve involved.

But there's a reason reputable publications like the New York Times rely on this puzzle generator.

Most importantly, Crossword Compiler for Windows allows you to create puzzles in various forms. You can choose from a list of Cryptic or Quick puzzles, American puzzles, Freeform/vocabulary puzzles, Shape-based puzzles, Sudoku, Word Searches, to mention but a few. There's also a thematic word list that aids the puzzle-making task.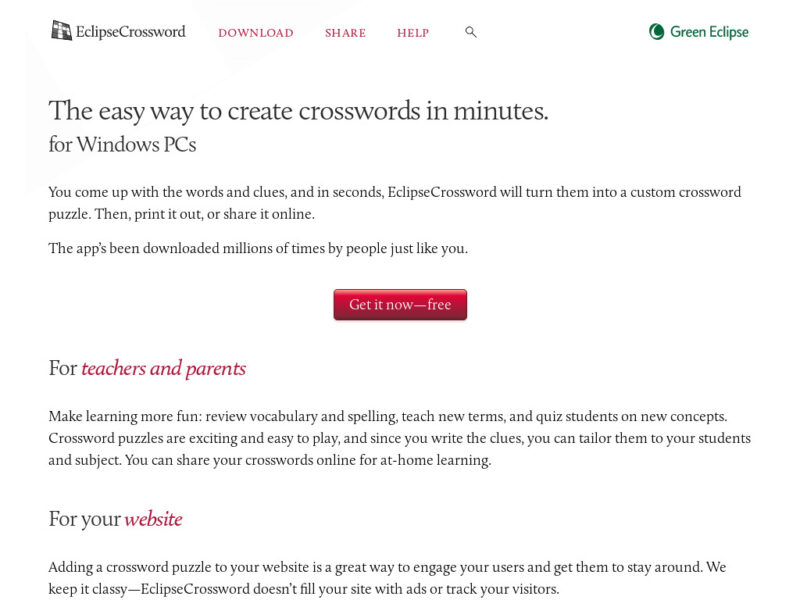 Pricing: Free

EclipseCrossword is a free crossword puzzle generator that's compatible with Windows 10 devices. The tool comes with a user-friendly interface that allows you to generate puzzles fast. Its homepage contains brief but invaluable information on whom crossword puzzles are meant for.

Like most crossword puzzle makers on this list, generating a puzzle using EclipseCrossword requires that you enter your preferable words and clues. There's an option for saving a list of words that you can use in the future.

After saving your list of words, you'll be able to generate future crosswords simply by choosing the size of the puzzle. The final output can be printed or saved directly on your PC.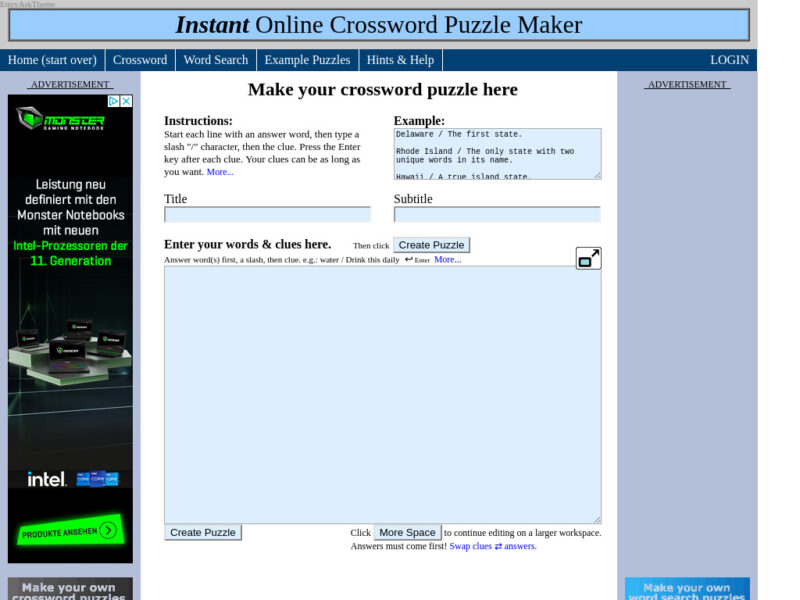 Pricing: Free

Instant Online Crossword Puzzle Maker does exactly what its name suggests – allowing you to make crossword puzzles online instantly. It's also one of the puzzle makers on this list that's ideal for students of different learner levels, ranging from 1st Grade to 8th Grade.

The tool comes with fields for entering the title and subtitle, as well as words and clues you wish to generate.

To create a puzzle, you start each line with an answer word, type a slash (/) character, and then end with the clue. After that, you can click "Create Puzzle" to generate your crosswords or "More Space" to continue editing the puzzles on a larger workspace.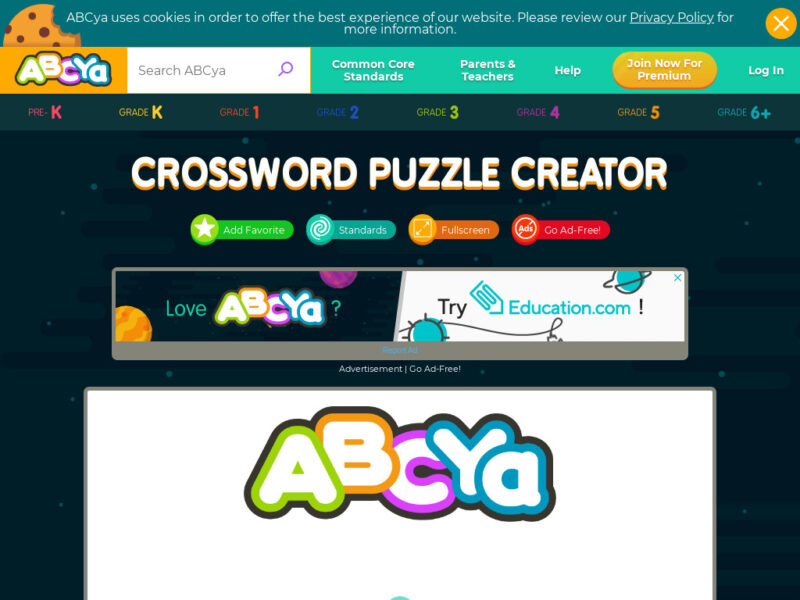 Pricing: Free version available, Paid plans start from $25/month

ABCYa! offers an interactive crossword puzzle maker designed with students in mind. Each page asks a question and kids input their answers and clues using a simple form. There's the option of copy-pasting the answers and clues from a text document.

ABCYa's Crossword Puzzle Creator lets you choose to play the puzzles on the computer or print them out. You can search for puzzles based on specific themes. Examples include Earth Day Crossword Puzzles, Easter Crossword Puzzles, Memorial Day Puzzles, Martin Luther King Crossword Puzzles, etc.

The only drawback is that you must use between 10 and 20 words. Also, the tool doesn't let you copy and paste complete puzzles onto the platform.
Pricing: Free

The primary thing that sets Klest-crossword apart from many crossword puzzle makers is the ability of users to build their reputation on the platform. The tool ensures that by registering the number of views your puzzles garner.

The open-source puzzle maker maintains over 1,000 fully customizable puzzles. You can use these puzzles as they are or edit them further to suit your specifications. You also get to save numerous templates for future use. Once your crosswords are ready, you can export them in various file formats, including PDF, HTML, RTF, PostScript, etc.

What's more, Klest-crossword also checks for the correctness of a puzzle. This makes the puzzle generation process even quicker.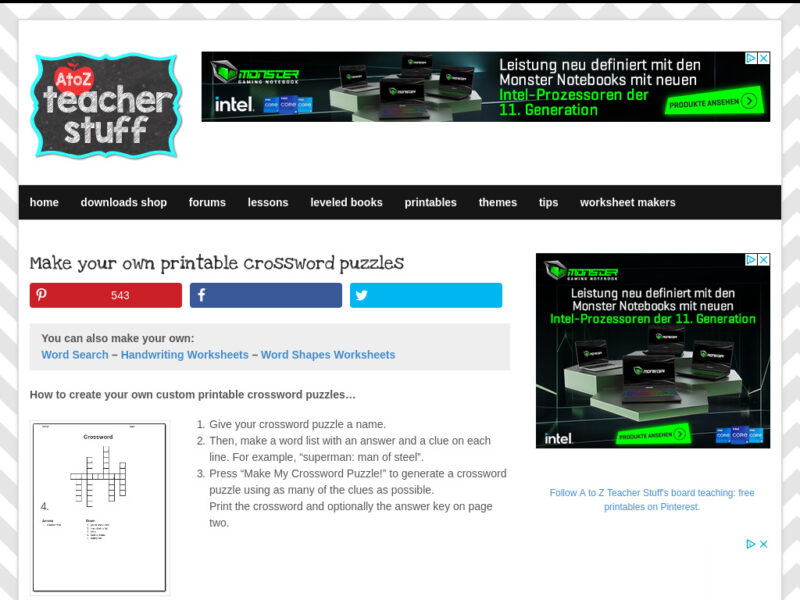 Pricing: Free

AtoZ Teacher Stuff Printable Crossword Puzzles adds to the long list of free and user-friendly crossword puzzle generators out there. The puzzle creation process is as easy as typing in a title, followed by words and clues.

AtoZ Teacher Stuff produces your crosswords as an image that you can easily copy-paste and solve in your Word Doc. The final output has a place to write your name and date of puzzle creation.

And just like Klest-crossword, AtoZ Teacher Stuff Crossword Puzzles comes with the option of creating puzzles from scratch or modifying someone else's crosswords.
Conclusion
When looking for the best puzzle generator, consider a service that's affordable, easy to use, and comes with numerous customizable features.

The above-reviewed tools are a great place to begin your search for cool and interactive puzzle creators.