Last Updated on January 24, 2023
What Is A Personality Test?
A personality test is an assessment that reveals various aspects that may help you discover your personality type. Commonly assessed parameters include psychological preferences, motivations, beliefs and values, character, temperament, emotions, and mental aptitude.

Personality tests are typically available as a set of questions. The questions can be random or systematic. However, your response to each question says a lot about your overall personality.

Most people take personality tests to help them gain better self-awareness. They can then leverage that knowledge to choose their social circles or determine their career paths. Some people also take these tests just for the fun of it.

In the corporate sector, employers may use personality test quizzes to match their employees with their respective teams for optimized productivity. The tests can play a crucial role in improving company culture while also forming part of employee benefits.

We've prepared a list of the 18 most popular personality tests that you can take online for free.
Major Types of Personality Tests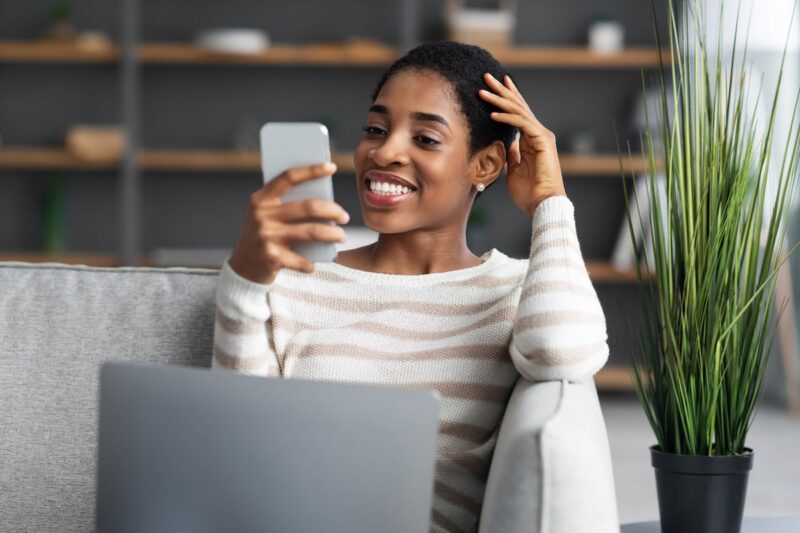 There are four main types of personality tests.

They include:
a) Myers-Brigg Personality Tests
Myers-Brigg personality tests are introspective self-report questionnaires intended to uncover an individual's psychological preferences. These tests offer better insights into how people perceive the world around them and how that perception influences their day-to-day decision-making abilities.

Myers-Briggs personality tests are attributed to Katharine Cook Briggs and her daughter Isabel Briggs Myers, after whom the tests are named. The tests were initially inspired by Carl Gustav Jung's personality theory and were first used in the 1940s.
b) DISC Assessments
DISC refers to a behavior assessment tool that focuses on four different personality traits.

The attributes include Drive, Influence, Support, and Clarity.
c) Big Five Personality Tests
The Big Five Personality Tests assess five core aspects that psychologists have established are central to our personality.

Those aspects are Openness To Experience, Conscientiousness, Extraversion, Agreeableness, and Neuroticism.
d) Tests
Tests is a personality typing system made up of nine different personality types.

They include:

• The reformer
• The helper
• The achiever
• The individualist
• The investigatory
• The loyalist
• The enthusiast
• The challenger
• The peacemaker
18 Personality Tests You Can Take Online For Free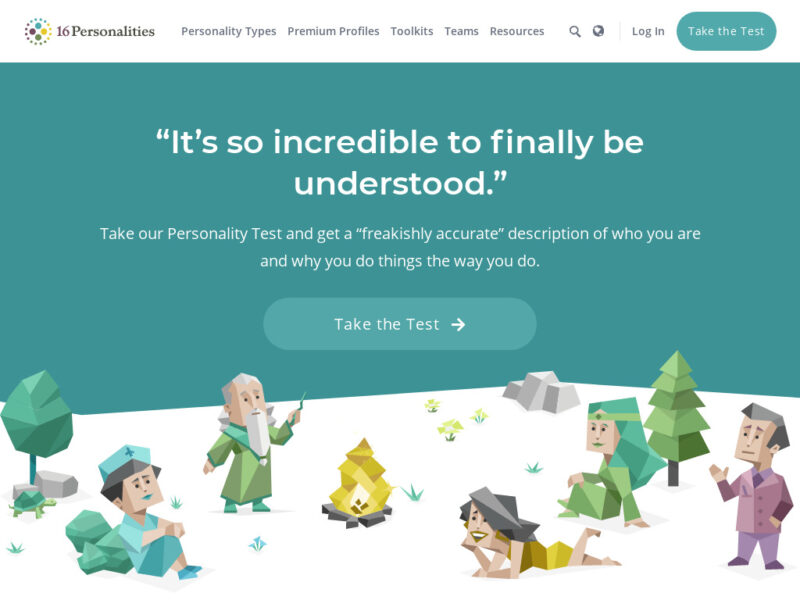 16 Personalities is the most common personality test under the Myers-Brigg Personality typing system. The test also takes inspiration from Carl Gustav Jung's study of various psychological attributes, such as extroversion and introversion. It's considered one of the most popular personality tests, having been taken over 126 million times and translated into 30 different languages.

16 Personalities is based on five broad personality aspects, namely mind, energy, nature, identity, and tactics. There are up to 60 questions to answer. However, the questions are simple and direct, with some appearing as subtle statements like "You cannot stand chaos."

In the end, the test assigns you a personality from any of the following 16 categories:

• The Advocate (ENFP)
• The Artist (ISFP)
• The Chief (ENTJ)
• The Confidant (INFJ)
• The Craftsman (ISTP)
• The Defender (ISFJ)
• The Dreamer (INFP)
• The Engineer (INTP)
• The Entertainer (ESFP)
• The Examiner (ISTJ)
• The Mentor (ENFJ)
• The Originator (ENTP)
• The Overseer (ESTJ)
• The Persuader (ESTP)
• The Strategist (INTJ)
• The Supporter (ESFJ)
41 Questions, 1 Personality is another popular test under the Myers-Brigg personality typing system. But unlike many personality tests, this test is a bit more direct.

There are up to 41 questions to answer, each of which is intended to clue you in on your individual personality type. Some of the unique personalities tested include "Sensitive Doer" and "Determined Realist."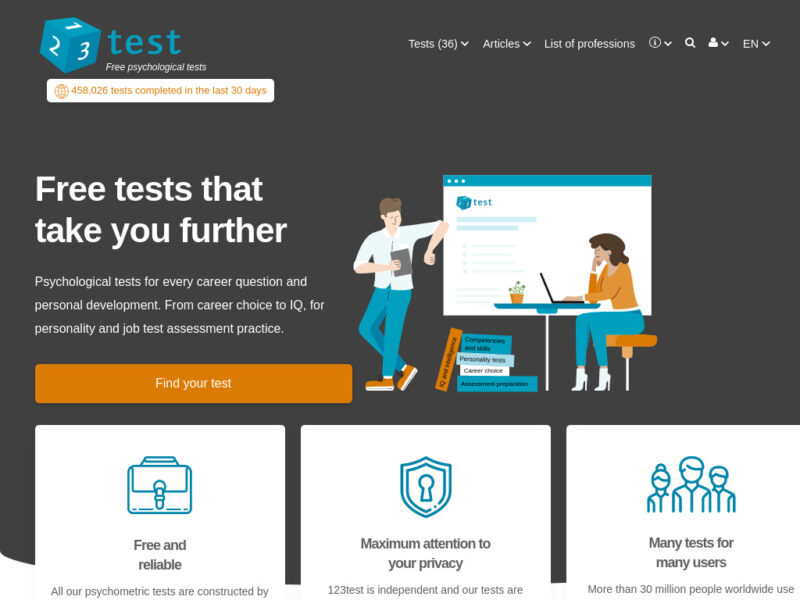 123Test is based on the DISC behavior assessment tool. It's a short personality test that you can take in under five minutes.

123Test will help you understand your unique behavior system and predict how you're likely to interact with your relatives, friends, or coworkers. The focus is to establish your perception of other people's actions and attitudes.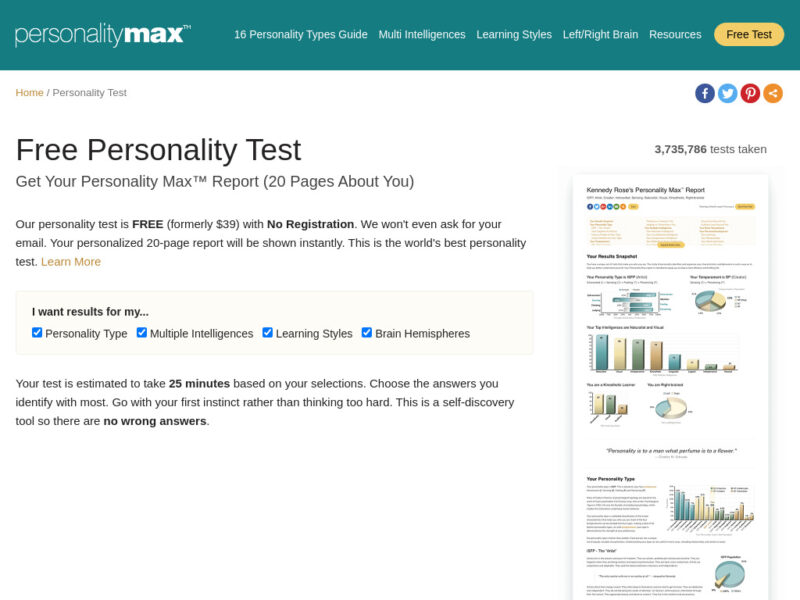 Personality Max is a 221-quiz personality test that takes around 25 minutes to complete.

The test assesses various personality aspects, including your:

• Brain Hemispheres
• Learning Styles
• Multiple Intelligences
• Temperament
• Psychological Preferences
• Personal Development Style

The Personality Max website includes a link that you can use to share your findings immediately with your friends or coworkers.
In MyPersonality Test, you answer a set of over 100 personality test questions by picking a response on a 5-point scale. The scale ranges from "strongly agree" to "strongly disagree."

Based on your responses, the test assigns you a personality type after analyzing five major parameters.

They include:

• Conventiality or openness
• Emotional balance or reactivity
• Introversion or extroversion
• Guardedness or agreeableness
• Spontaneity or discipline
Personality Perfect follows the same approach as 16 Personalities. The test analyzes four broad categories and then assigns you a personality type based on a four-letter abbreviation.

The categories investigated include:

• Extraversion vs. introversion
• Thinking and feeling
• Sensing and intuition
• Judging and perceiving

Using the findings from Personality Perfect, you can predict your individual behavior and interactions with others.
Where To Take: http://www.philosophyexperiments.com/health/Default.aspx/

Philosophical Tensions is based on 30 philosophical questions ingeniously framed as statements. You'll encounter statements like 'It is quite reasonable to believe in the existence of a thing without even the possibility of evidence for its existence.'

All you need to do is agree or disagree with each statement. The results from this questionnaire analyze philosophical tensions, conflicts in beliefs, competing thoughts, and lapses in logical reasoning.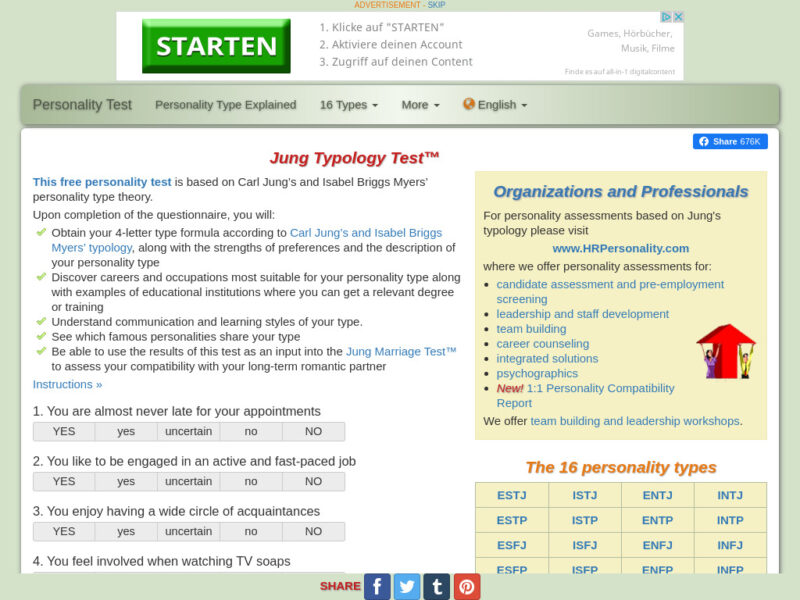 Human Metrics doesn't just reveal your personality. The 64-quiz test also shows information on famous people with the same personality as yours.

You can then determine whether you'd like to pursue the same career paths as those celebrities.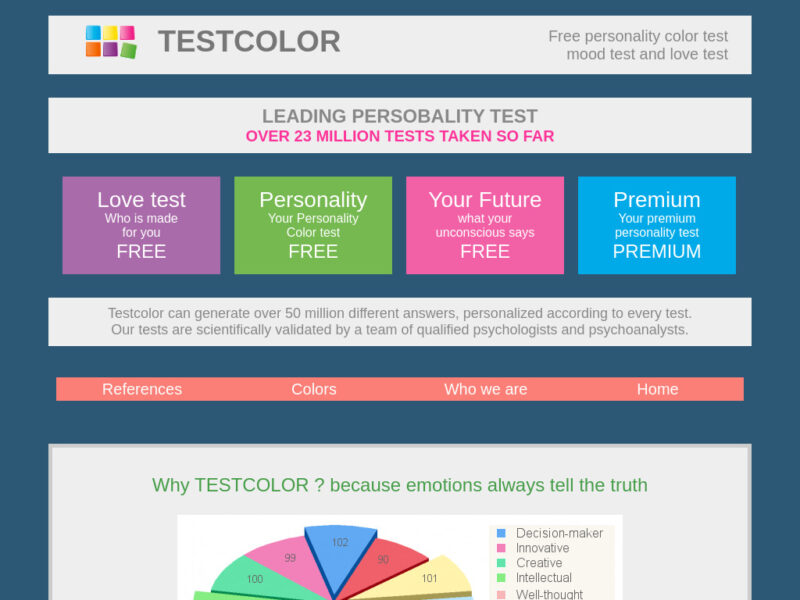 Most personality tests are question- or statement-based. However, TestColor takes personality testing a notch higher by presenting its quizzes in color forms.

In this test, you choose your favorite and least preferred colors from a collection of 36 color blocks. Common attributes tested here include creativity and imagination, emotional intelligence, social skills, and work style.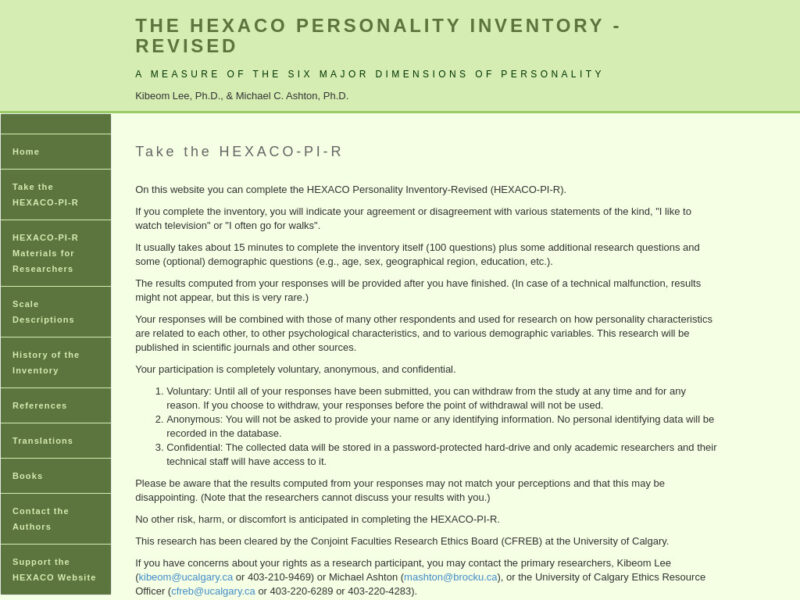 HEXACO is a 100-quiz test that analyzes six broad personality aspects, including:

• Agreeableness
• Conscientiousness
• Emotionality
• Extraversion
• Honesty and humility
• Openness to experience

The test breaks down the responses to its quizzes into subtraits like aesthetic appreciation, fearfulness, social self-esteem, and greed avoidance. It then assigns you a percentile score depending on your overall performance.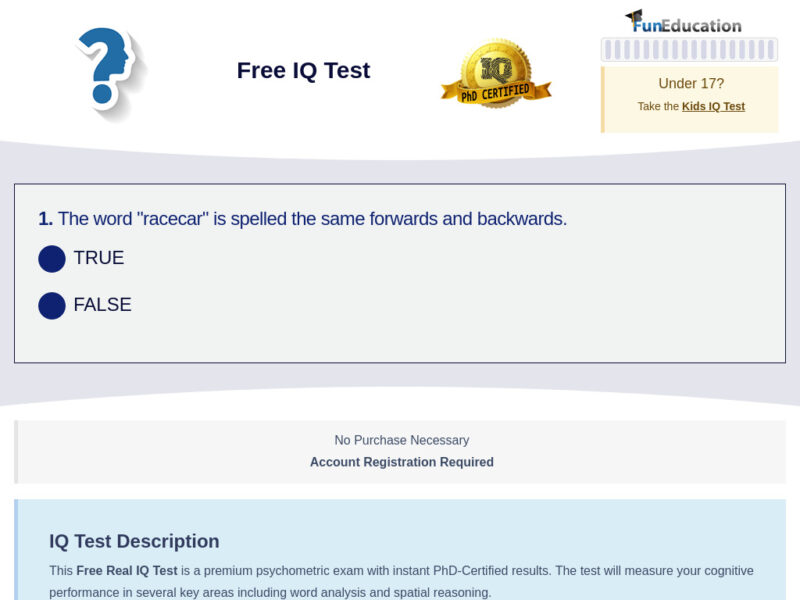 Fun Education IQ Test is a 43-item questionnaire that measures a range of personality dimensions, including spatial and verbal reasoning, as well as word analysis.

When you're done with the test, your raw intelligence quotient (IQ) score is scaled. The score is then applied to the standard deviation in a bid to measure your individual IQ based on the normal IQ scores.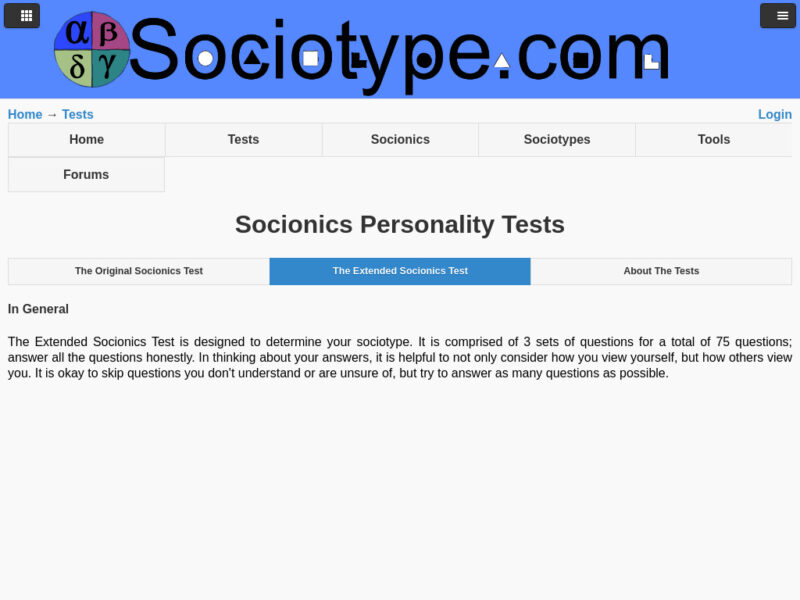 Sociotype uses the theory of socionics in analyzing and predicting interpersonal relationships.

The quiz analyzes the following psychic functions by posing two opposing statements:

• Aristocratic/democratic
• Carefree/farsighted
• Constructivist/emotivist
• Obstinate/compliant
• Positivist/negativist
• Process/result
• Questioner/declarer
• Reasonable/resolute
• Static/dynamic
• Subjectivist/objectivist
• Tactical/strategic

The scores from the Sociotype quiz are presented in a 3-letter acronym, assigning you a specific personality type.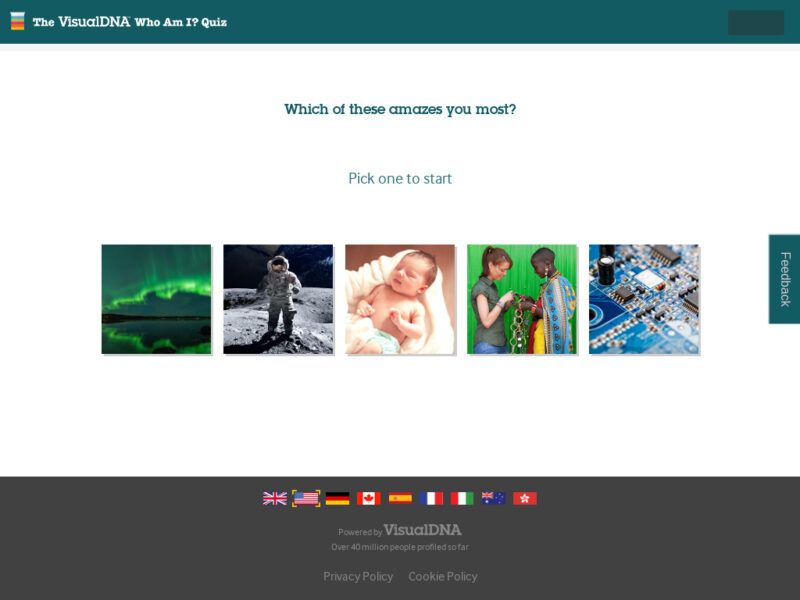 Yes, exactly who are you? This personality test will bring you as close as possible to getting a satisfactory answer to that question.

"Who Am I?" is a picture-based test where you get to pick a photo that you consider pretty. The test then shows you how your character helps define your outlook of and approach to life.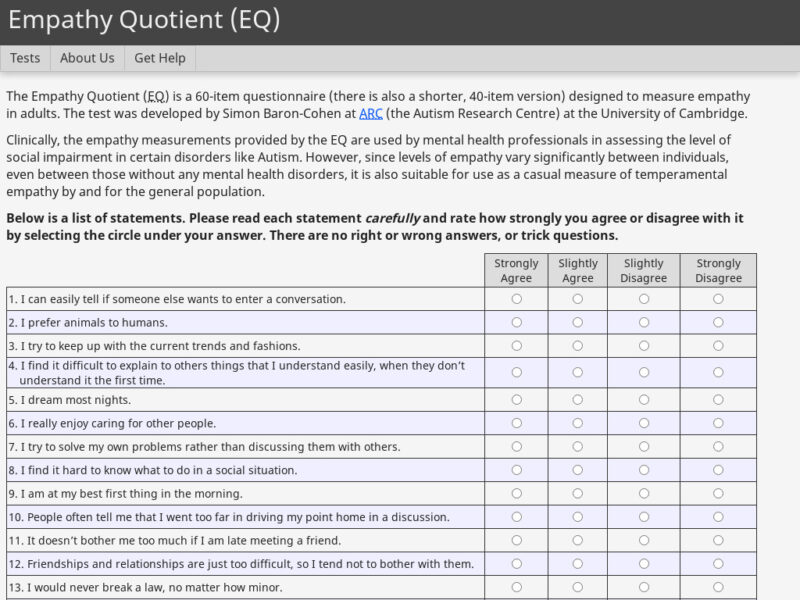 Unlike many personality tests that simply allow you to uncover your character and interpersonal skills, the Empathy Quotient test assesses you clinically.

The 60-item questionnaire is most suitable for gauging temperamental empathy in adults. It uses the same emotional dimensions used by mental health professionals in diagnosing social impairment.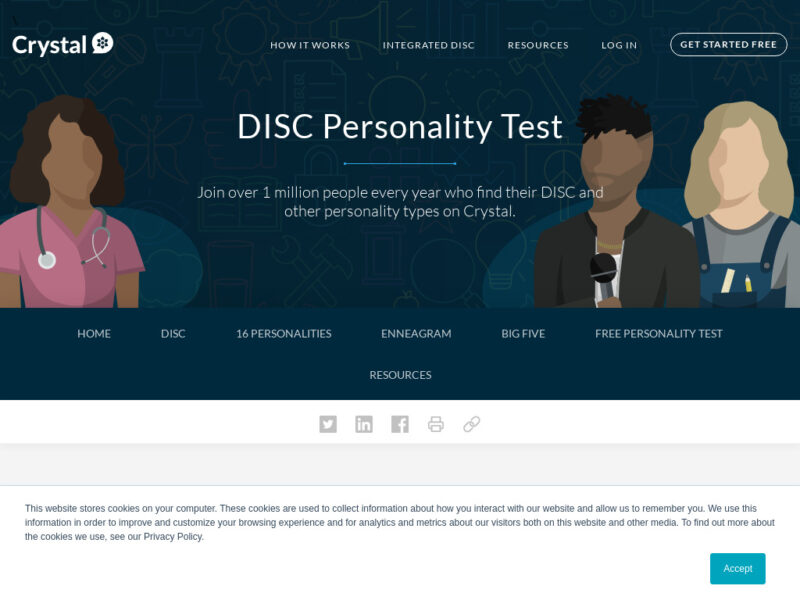 Crystal is another popular personality test that assesses your compatibility with your coworkers and helps you predict your career path. It's one of the few tests that can help you uncover potential conflicts between your personality and that of your colleagues.

The Crystal test also analyzes your perception of other people's behaviors as well as how other people perceive your own behaviors.
Don't let the name fool you. The Political Compass doesn't just analyze your level of political consciousness. The test also investigates other topics like your sense of religion, the criminal justice system, nationalism, and economics.

In The Political Compass, you'll be asked to respond to each question/statement with "strongly agree," "agree," "disagree," and "strongly disagree."
Remember…
The above-listed personality tests may not be 100% accurate. However, they're the closest you can get to know your character, interpersonal skills, and how your career is likely to pan out.