Last Updated on
With music now mostly digital, it is the preference of many people to have all their favorite tunes stored on their computer and iPod, mp3 player or even on their Smartphone.
In some cases, you may have difficulty to identify music in YouTube videos that you have wanted for awhile. Often, figuring out how to rip the song from the video seems like a perplexing task, especially if you don't have special software installed to your computer.
However, if this is the case and you want to convert the video to mp3, you can use one of many great websites that allow you to convert files to this format. Best of all, the service from all of these sources is completely free to use. Today we have listed some of the top tools for your convenience:
YouTubNow is a powerful service that allows you to find and download your favorite YouTube videos as well as music tracks quickly, easily and absolutely for free. No need to install different software or apps! Simply paste a YouTube link into the search box, select a video quality and click the Download button.
Main Features:
YouTube to MP4 Converter
No Sign up
Higher Download Speed with Original URL Substitution
Support of Multiple Formats (144p, 240p, 360p, 480p, 720p, or 1080p)
Cross-browser Platform
Unlimited Downloading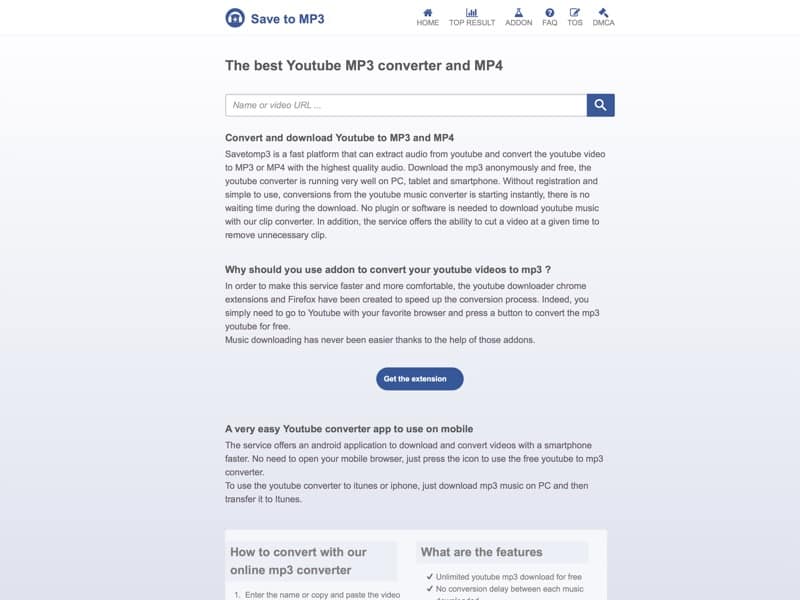 Savetomp3 is a fast platform that can extract audio from youtube and convert the youtube video to MP3 or MP4 with the highest quality audio. Download any mp3 anonymously and free. No registration required!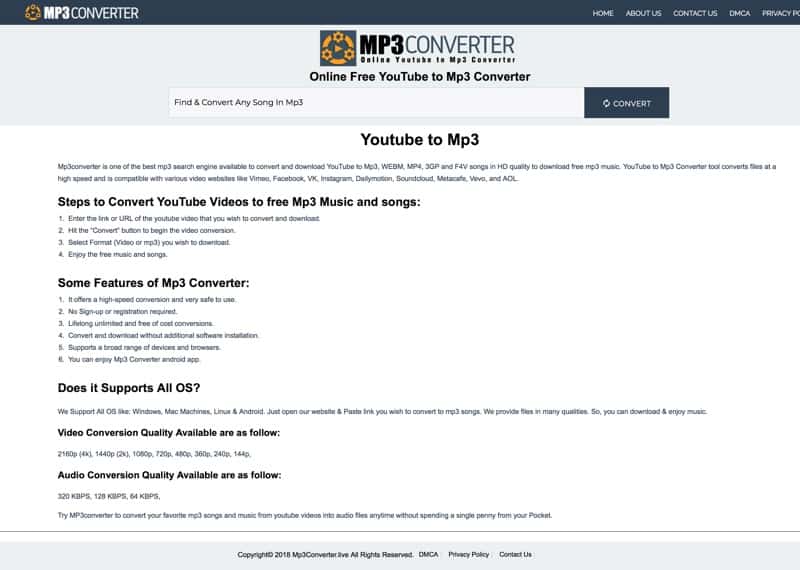 Mp3converter is one of the best mp3 search engine available to convert and download YouTube to Mp3, WEBM, MP4, 3GP and F4V songs in HD quality to download free mp3 music.
The process is very simple:
Enter the link or URL of the youtube video that you wish to convert and download.
Hit the "Convert" button to begin the video conversion.
Select Format (Video or mp3) you wish to download.
Enjoy the free music and songs.
Listen to YouTube is a great free website that allows you to convert YouTube videos to mp3 format. This is an easy process and only requires you to paste a link into a field. You can choose standard or high quality output. After a few minutes, the process will finish and you will be able to download your new mp3 file. There is no limit to how many downloads you can make with this wonderful free service.
Dirpy is another free website that allows you to convert YouTube videos to mp3 files. As with the other websites, you will have to copy and paste a link to a YouTube video into a field for the conversion process. You can even download YouTube videos as they are as well with this great service. Convert as many files as you like and enjoy them on your smartphone, computer or iPod.
Xenra is also free and enables you to get your favorite songs in mp3 format from YouTube videos. Copy and paste a link into the field and click the "Download Now" button to start the download process. Once this is done, the video will be available for conversion on the site's server, and after the final process, you can download the file for your own enjoyment.
YouTube mp3 dot TV is another excellent resource for obtaining your favorite songs in mp3 format from YouTube videos. It is free and allows you to get your file in normal or high quality. Again, you will have to copy and paste a link from YouTube and enter it into an allotted field for conversion to mp3. If you want to download YouTube videos proper, you can do that as well.
YouTube to mp3  is a website that is based in Australia and offers a free service that can convert a video of your choice to an mp3 file. It is very easy to use and fast. All you have to do is to copy a URL into a field and click the button below for conversion. The process takes between three and four minutes. There is no limit to how many downloads you want.
We are not encouraging anybody to use Youtube only for download songs that could be purchased on Amazon, iTunes, Beatport, or any other digital music outlet. These tools are only for songs that were nowhere to be found. Music artists work just as hard as you do. Please use these tools cautiously and support your favorite artists. Plus to be 100% honest with you, Youtube videos do not provide the best music quality either. Take this info as you will.
And if sound quality is what you're after, you should consider using one of the paid music services (they're really cheap, $20 a month cheap) like SoundCloud or Spotify, or even Youtube's Premium service for ad-free streaming of all their videos. Don't have access to any (or all) the music services? Then you should definitely use a VPN to unblock them.