Last Updated on January 24, 2023
One of the biggest challenges of content marketing is having a "hook" that captures attention. Shocking headlines, intriguing questions, quoting a popular phrase – these are some of the old techniques that may still work, but will not get you ahead in today's competition.
Today, the online community wanted information fast and delivered in the most convenient way possible. After all, not everyone has the time to read a 1,000-word article each time they want to learn something new. However, with visual content, you can increase your audience's willingness to read content by up to 80%.
Using visual content such as images, videos, and charts is an excellent way to improve user experience and increase the value of your posts. Not only can they convey information fast, but they can also help people remember what they've learned using visual cues. Moreover, visual content such as infographics is highly shared in social networks – about 3x more than any other content type.
Infographics are picture-based content that may contain text, interactivity and other visual elements geared towards learning. They can be used in a variety of creative ways. You can make a direct comparison between products, highlight the key events in a timeline, show step-by-step instructions with visual illustrations, and so on. To give you a demonstration of how useful infographics are, you can check the following piece by Infobrandz:


Making great infographics is one thing; promoting them to a large audience is another. Given the time and effort it takes to create a great infographic, you need the right promotion strategies that can help you get the most out of them. Below are three of the best strategies you need to consider:
1. Blogger Outreach
Simply put, blogger outreach works by communicating with authoritative bloggers and capitalizing their online reach. As bloggers, they would welcome any source of relevant and high-quality content. In exchange, they can link to your site, bring traffic, and improve your reputation.
There are a few ways to perform blogger outreach. The first step is always to identify the most influential bloggers in your industry. An efficient way to do this is to use a tool such as Alltop, Technorati, and Inkybee. These platforms curate a list of popular blogs that fall under your specified categories.
Another strategy is to target influential people rather than blogging sites to promote your infographic content. For this, you can use a tool such as FollowerWonk and check their main websites. Don't forget to target only authoritative sites to provide a strong backlink foundation for your site's SEO. Check each site's Domain Authority (DA) using a tool like Open Site Explorer to aim for sites with at least 30 DA. After which, you can organize your list of blogs according to who has the highest DA and work your way down to the bottom.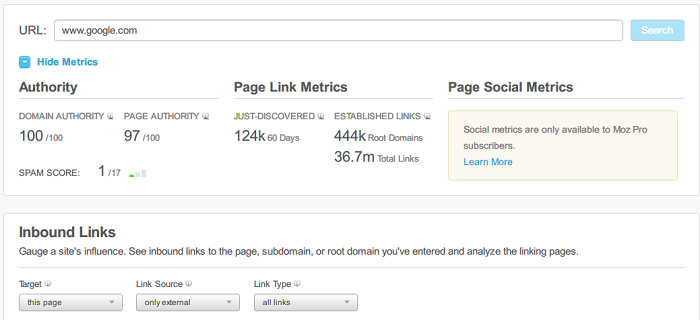 Finally, there are different approaches when it comes to outreaching itself. Just remember that you need to warm up to the blogger first using complimentary emails and constructive comments on their posts. When you think they are ready, you can hit them with a pitch email and offer your infographic content.
You can also try the "Skyscraper" method, which works by looking for content they've already shared, writing something more thorough (adding infographics work), and then offer the new content as a more polished version of the old one.
2. Guest Posts
Apart from blogger outreach, you can also look for websites that accept guest posts to promote your infographic content. The main difference is that, in guest posting, the entire content will be credited in your name. You may also be asked to fill an author bio to make things more official.
When looking for target websites, you can perform searches on Google with the following keywords:
Guest Post
Write for Us
Guest Post Wanted
Contributing Writer
Become Guest Writer
Looking for Guest Posts
Submit an Article
Don't forget to include your niche-specific keywords in your query to find relevant websites. Aside from this, you can check the profiles of popular bloggers and look for their guest posting experience. Most bloggers openly share this, so it should not be too hard to find.
3. Social Sharing
Finally, you can take it upon yourself to promote your content to the online community. Given that infographic content is highly shareable on social networks, it is only a matter of finding the right networks and sharing methods.
This is a fairly straightforward solution in promoting your infographics. For this, you simply need to leverage your existing social media pages to promote your content there. You can also tag groups and other influential contacts that can help spread your infographic. Lastly, you may also leverage platforms like SlideShare to push your content to a larger audience.
Remember the following when sharing infographics on specific networks:
On Twitter: Indicate that the tweet links to an infographic using a tag like [Infographic] or something similar. Don't forget to use hashtags that describe your infographic.
On Pinterest: Pins are also searchable using hashtags, so be sure to include them when pinning your infographic. Aside from this, add a short description of the infographic to let searchers know what it is about.
On Facebook: Add a short link to the full infographic since it probably won't appear correctly on a Facebook post alone. Additionally, take a screenshot of the most exciting part of the infographic as opposed to using the thumbnail.
LinkedIn: Always include a concise description of the infographic and highlight the benefits of reading it.
Conclusion
Keep in mind that infographics are merely tools that can improve your brand's visibility and authority. This means they still depend on how you use and promote them to a large audience. For this, you need to take advantage of blogger outreach, guest posting, and social sharing to capitalize some of the best channels of promotion. They may not give you overnight success, but these strategies will help you make full use of your infographics.