Last Updated on March 3, 2023
The number of searches for the term "influencer marketing" has increased by 1500% in the past 3 years. The main reason for this is the high ROI that you can get from it. In fact, for every $1 invested in influencer marketing, businesses are able to get an earned media value of up to $18.
Image via Influencer Marketing Hub 
The first and most important step of planning an influencer marketing campaign is that of selecting your social media platform. There are numerous options available for you to choose from, but the toughest choice lies between YouTube and Instagram.
Here's a complete guide to help you choose between the two.
Instagram vs YouTube – How They Stack Up
Instagram
Instagram has over

1 billion

monthly active users and is the third-most-popular social media platform.
Brands are spending over $1 billion on influencer marketing on Instagram.
Sponsored content on Instagram increased by more than 150% across North America in 2018 alone.
The number of users on Instagram has grown by 10x in about 5 years.
The engagement rates on Instagram are high. Nano-influencers have an engagement rate of about 8%, while those with over 100k followers have a rate of 1.5%.
79% of marketers feel that Instagram is important for their influencer marketing campaigns.
YouTube
YouTubers who have between 1 and 3 million followers earn about $125k per post.
YouTube has over 2 billion monthly active users who watch over 250 million hours per day on TV screens.
About 46% of marketers feel that YouTube is essential for their influencer marketing campaigns.
Videos created by the best YouTubers are seen 3 times more than those of celebrities. They have more than 12x the number of comments and 2x more actions.
Now that we know how they both stack up statistically, let's look at the factors you need to consider to choose between the two.
How to Choose Between YouTube and Instagram?
When you have to decide which platform to use for your influencer marketing campaign, you need to analyze each for the three "Rs."
Relevance: When you're selecting a platform, you need to first consider how many of your target customers are on the platform. One of the best ways of finding this out is by finding influencers in your niche. Once you've discovered them, you can see which platforms they use the most. These are the platforms you should target.
Reach: Reach is a measure of how many people you can reach through the influencer's content on the social media platform. You can figure this out by the number of followers the influencer has.
Resonance: Resonance is a measure of how well the influencer is able to generate engaging content for their audience. This can be measured by seeing the number of likes and comments on the post.
Now that you know how to choose between the two platforms, let's see why each platform is suited for influencer marketing.
Why Should You Choose YouTube?
YouTube is the second-largest search engine in the world after Google. With over 2 billion monthly active users, it's also the second-largest social media network in the world.
YouTube videos cover everything from beauty to food and travel, and users consume this content daily. Over 500 million hours of videos are watched on YouTube daily, and they can give immense visibility to your brand.
A lot of content on YouTube is evergreen so you can expect it to generate interest for a long time too. The entire platform is centered around videos, and people watch videos for about 30 minutes on mobiles daily.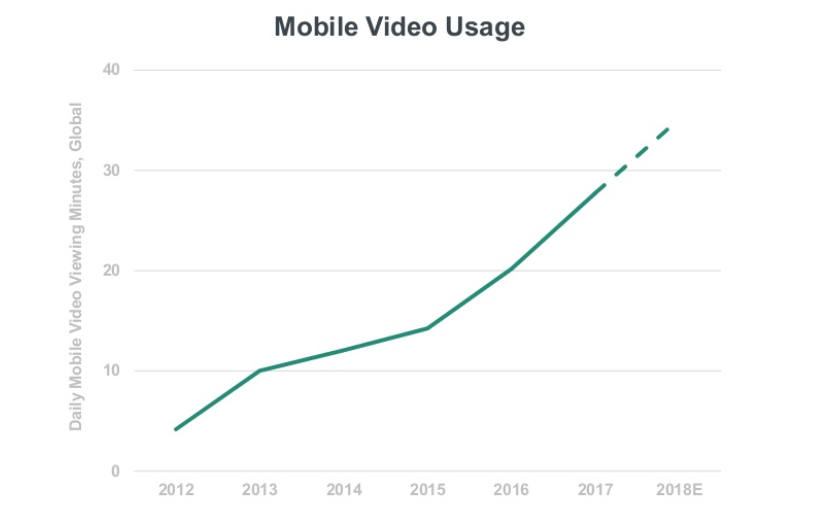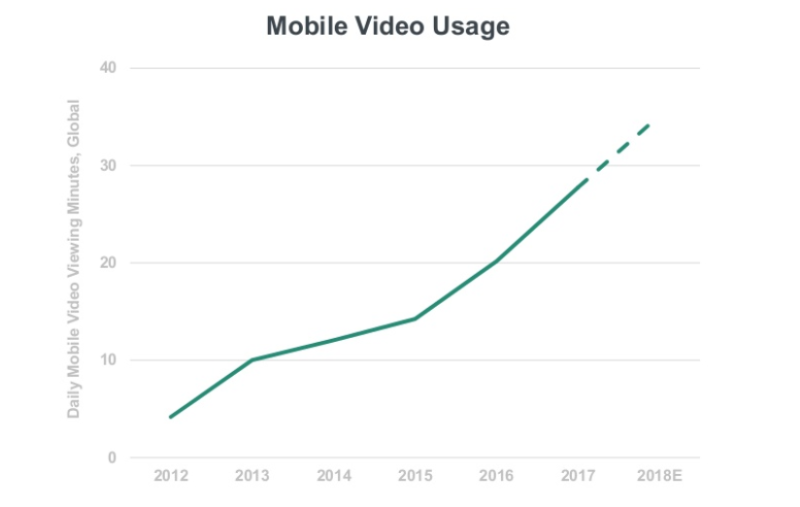 Image via Kleiner Perkins
Partnering with influencers on YouTube is slightly expensive, and you may need to shell out $2000 for every 100k followers of an influencer.
Why Should You Choose Instagram?
Instagram influencer rates are significantly low and affordable for brands. The platform also gives you the option of choosing between videos and photos. You may need to spend about $300 for every 100k followers an influencer has.
Image via Influence.co
Also, influencer marketing on Instagram is valued at over $1 billion currently. Additionally, a majority of marketers prefer this platform for it.
There are multiple options for influencer marketing on Instagram, apart from photo and video posts. You can create Instagram Stories, Highlights, or even come up with IGTV videos to promote your brand. It is also possible to do Instagram takeovers for promoting your brand even further.
Advantages of YouTube and Instagram
Instagram
Great platform to increase your visibility and engagement with your target audience.
It's more affordable to partner with influencers on Instagram as compared to YouTube.
A variety of content formats are available for your campaign, including pictures, videos, long-form videos, Stories, etc.
Possible to use hashtags, stickers, filters, etc. to further enhance your campaign.
Reuse of images and videos is possible after the campaign is over on taking the influencer's permission.
A fantastic platform to promote beauty, fashion, food, travel, lifestyle, and fitness brands.
YouTube
Can help improve sales and traffic to your website.
Videos on YouTube are mostly evergreen in nature, and that means that their lifespan is fairly long.
It's easy to measure the results of your campaign.
Videos can help you generate a lot of engagement too.
It's a great medium to create and promote content for food, entertainment, fashion, beauty, gaming, and many other brands.
Final Thoughts
Instagram and YouTube are both amazing platforms for influencer marketing. While YouTube videos allow you to promote your brand for a longer time, Instagram gives you multiple options for promotions. Additionally, Instagram helps you reach your audience quickly and has a high engagement rate.
An effective influencer marketing strategy should involve promotions on both these platforms to get the best results possible. Don't forget to check where your target audience is most active and put more effort into that platform first.
Which platform do you, as a consumer, use the most? Let us know in the comments.