Last Updated on March 8, 2022
Teamwork isn't just about working in a team together. It is about working together as a team. It is about collaborating to successfully accomplish a common goal. It is about driving the entire team to work towards that shared vision.
The success of a team relies heavily on effective teamwork. When everyone works together toward their common vision and shared goals, an organization becomes more fluid and productive. Aside from that, promoting teamwork in your organization brings more benefits, including:
Higher Productivity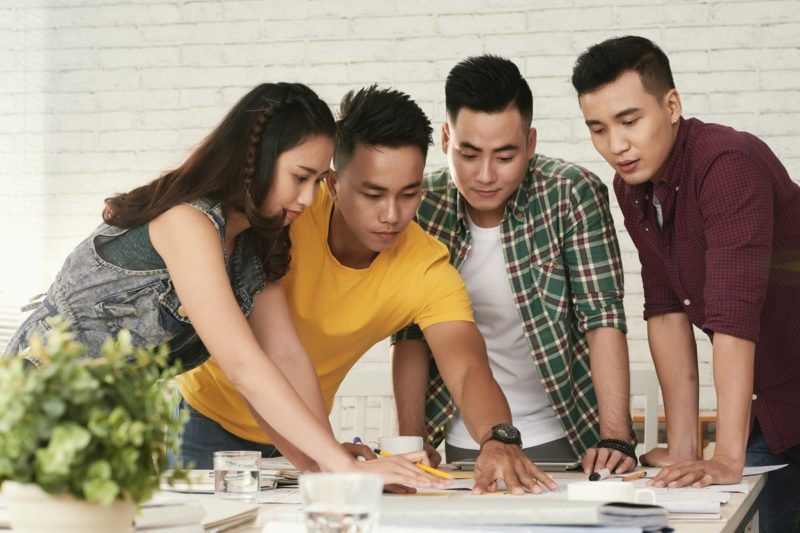 They say that two heads are better than one. Well, just imagine what an entire team of creative heads can do. With more hands on-deck, workload is shared, and tasks are completed faster and more efficiently. Delegating work according to the unique skills and capabilities of each team member ensures high-quality output and increased productivity.
Undoubtedly, teamwork leads to better outcomes as the team accomplishes much more than what they can do individually. 
Wider Talent Pool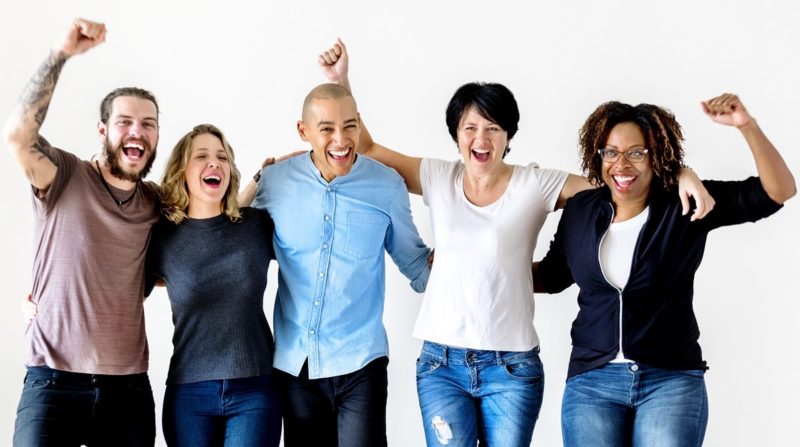 Having a team means having a talent pool with a great mix of personality types, skills, and capabilities. In this pool, each team member contributes something unique to help achieve the goals of the team. When people who excel in different areas are brought together, they form a strong and highly efficient team that accomplishes tasks with competence. 
Effective teamwork encourages team members to build on the talents of each other rather than compete. Each member brings their individual talents to the table and combines these with others to become a formidable team.
Better Ideas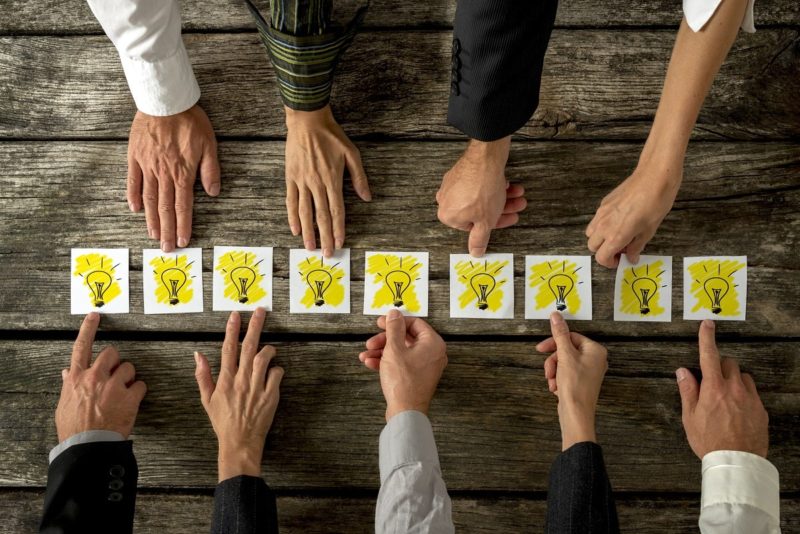 The diversity of members in a team make brainstorming much more productive. When ideas are bounced off during these sessions, team members are more likely to come up and share out-of-the-box ideas.
Both individual and team knowledge are utilized to produce innovative and practical solutions to problems. With teamwork, you can come up with more effective solutions. 
Good Support Network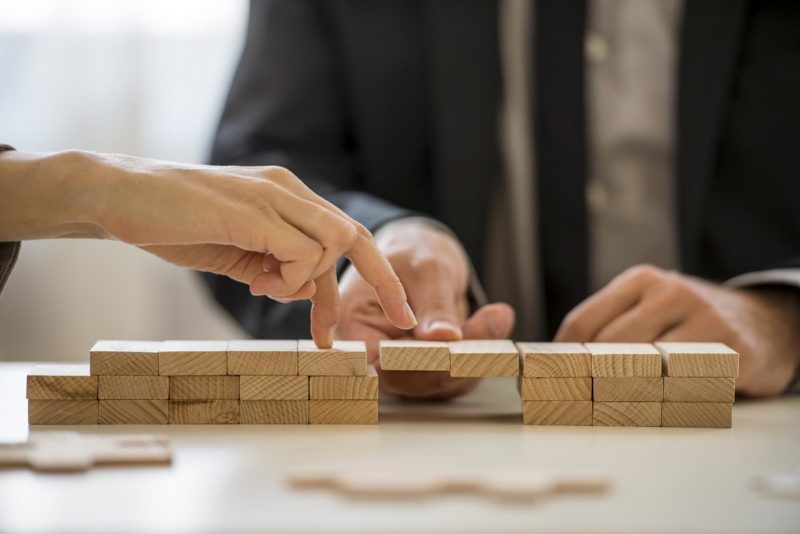 People who work as a team become very supportive of each other. They offer mutual support and share team accountability. They can boost each other's spirit when projects aren't going along as planned. They share successes when tasks are accomplished well. 
Teamwork allows people to feel connected to the organization and the people they work with. This helps build loyalty and enhance work satisfaction among team members.
Faster Conflict Resolution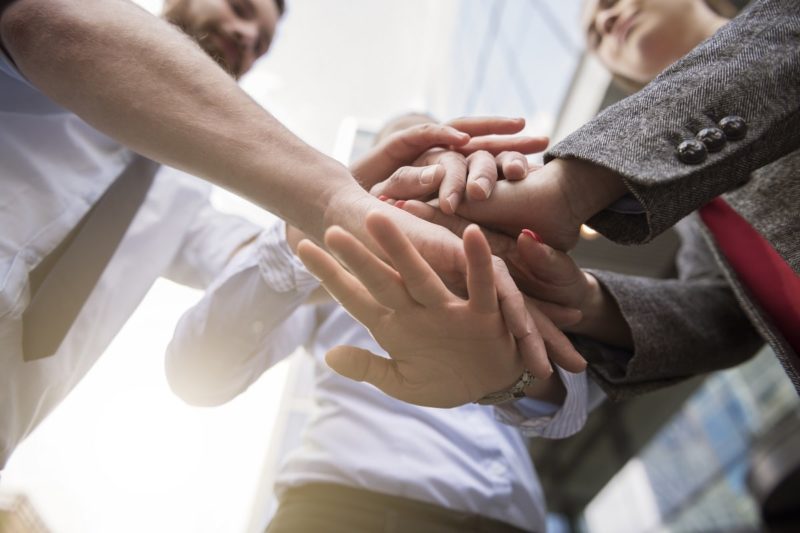 As we've mentioned, having a team means bringing people of diverse personalities together. While those with opposing personalities may find themselves with conflicting ideas, these conflicts can be resolved immediately with effective teamwork. 
Teamwork encourages everyone to work collectively towards a common goal. Thus, team members know the importance of dealing with disagreements in a positive manner so as not to disrupt the team's progress.
More Fun at Work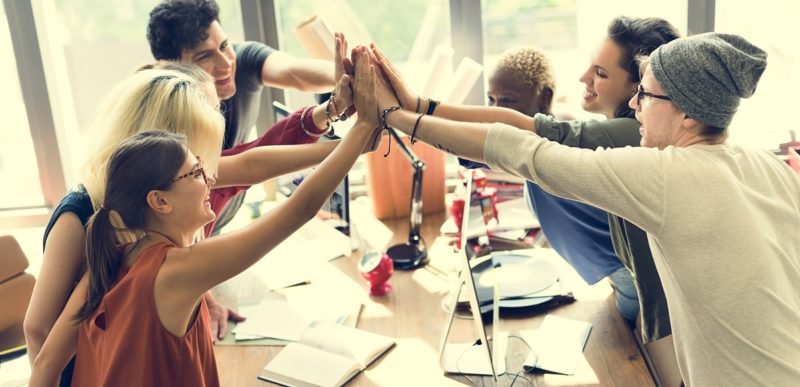 Having a solid teamwork relieves stress and creates more fun at work. Promoting friendship at work creates a positive environment that boosts work motivation and spurs productivity. When people bring humor and fun into the workplace, tasks become less tedious and everyone becomes more inspired to work harder.
Improved Service
The benefits of teamwork aren't limited within the organization; it also benefits people who receive services from them. Because teamwork helps provide better outcomes and higher productivity, the quality of services an organization provides also increases in value and quality. Without a doubt, an organization that works well as a team can meet the needs of their customers better.
More Leaders
A team always has a leader. But an effective leader won't just lead or show power over the others. An effective leader would empower and encourage the rest of the team to be leaders themselves. This is another value that teamwork brings to an organization. Everyone is motivated to develop their own leadership qualities as they learn to work together and build on each other's strengths.
Indeed, working as a team brings a host of benefits to your organization. As a leader, you must strive hard to develop teamwork and ensure that each member of the team feels valued and respected.
Here are 90 quotes that can inspire you and your team to work better together:
Teamwork Quotes
"Alone we can do so little; together we can do so much." – Helen Keller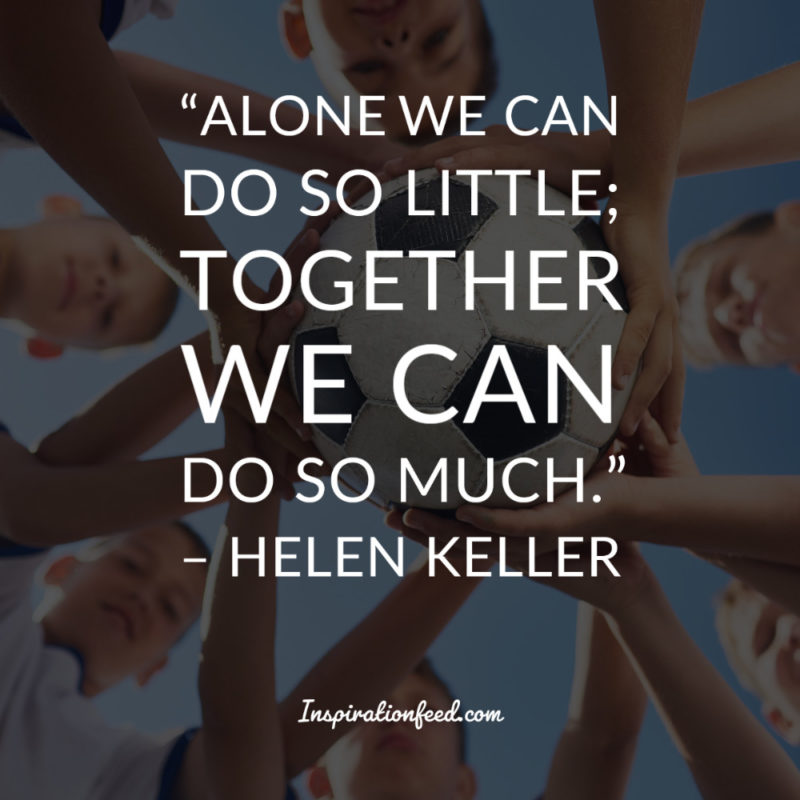 "Talent wins games, but teamwork and intelligence wins championships." – Michael Jordan
"The strength of the team is each individual member. The strength of each member is the team." – Phil Jackson
"There is immense power when a group of people with similar interests gets together to work toward the same goals." – Idowu Koyenikan, Wealth for All
"Trust is knowing that when a team member does push you, they're doing it because they care about the team." – Patrick Lencioni, The Five Dysfunctions of a Team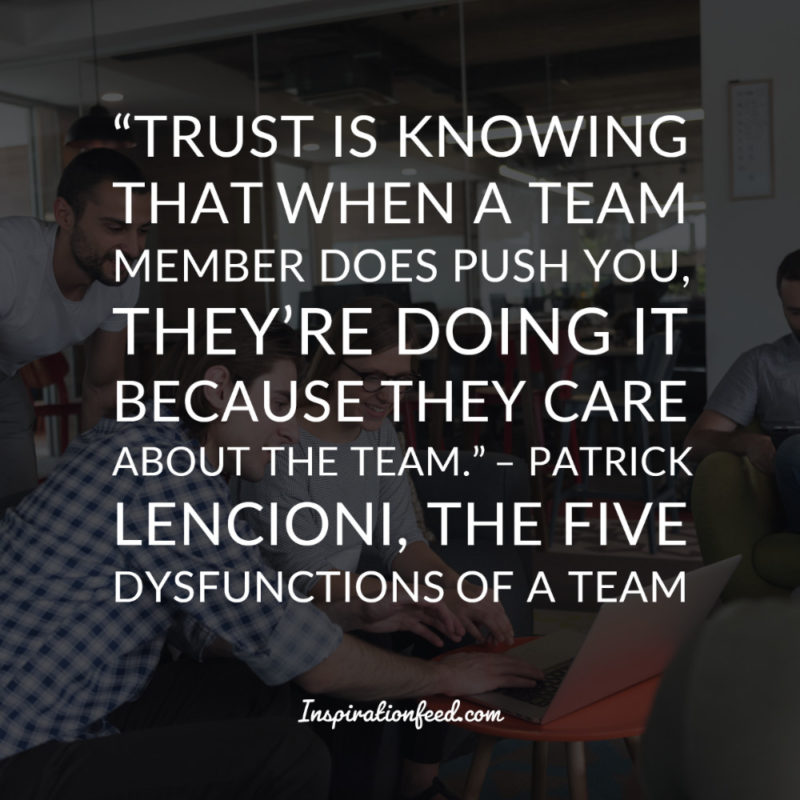 "Only by binding together as a single force will we remain strong and unconquerable." – Chris Bradford, The Way of the Dragon
"On our own, we are marshmallows and dried spaghetti, but together we can become something bigger." – C.B. Cook
"The greater the loyalty of a group toward the group, the greater is the motivation among the members to achieve the goals of the group, and the greater the probability that the group will achieve its goals." – Rensis Likert
"Snowflakes are one of nature's most fragile things, but just look what they can do when they stick together." – Vesta M. Kelly
"It takes two flints to make a fire." – Louisa May Alcott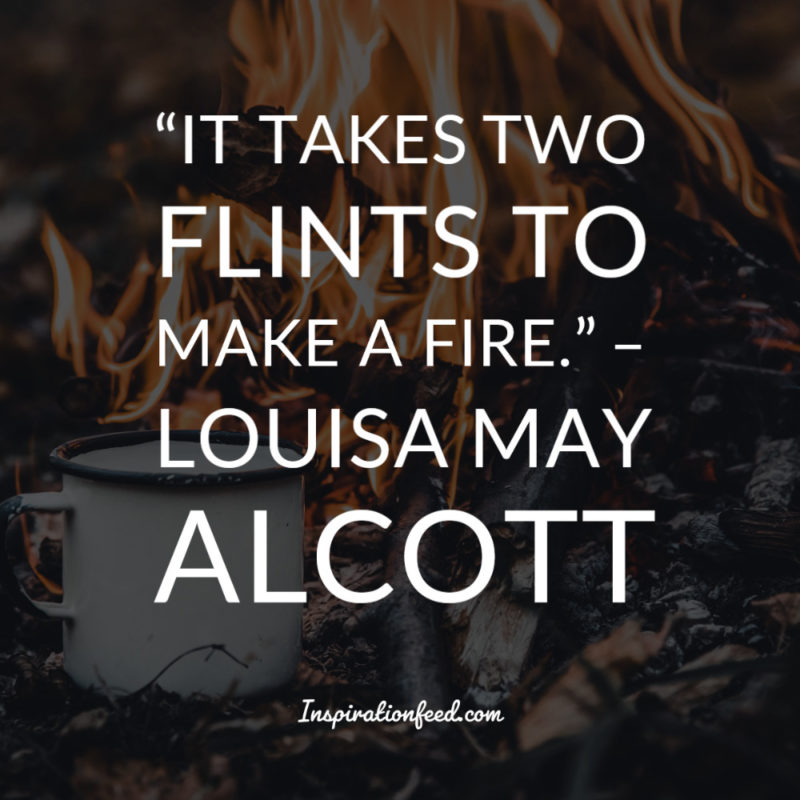 "We = power." – Lorii Myers, Targeting Success
"If two men on the same job agree all the time, then one is useless. If they disagree all the time, both are useless." – Darryl F. Zanuck
"If anything goes bad, I did it. If anything goes semi-good, we did it. If anything goes really good, then you did it. That's all it takes to get people to win football games for you." – Paul W. Bryant, Bear Bryant on Winning Football
"We're a team. It's part of our job to help each other out, and to forgive each other quickly. Otherwise, we'd never get anything done." – Jeramey Kraatz, Villains Rising
"In a team setting, leadership is shared by a community of people, which counters the tendency for pastors to form congregations in their own images." – Adam S. McHugh, Introverts in the Church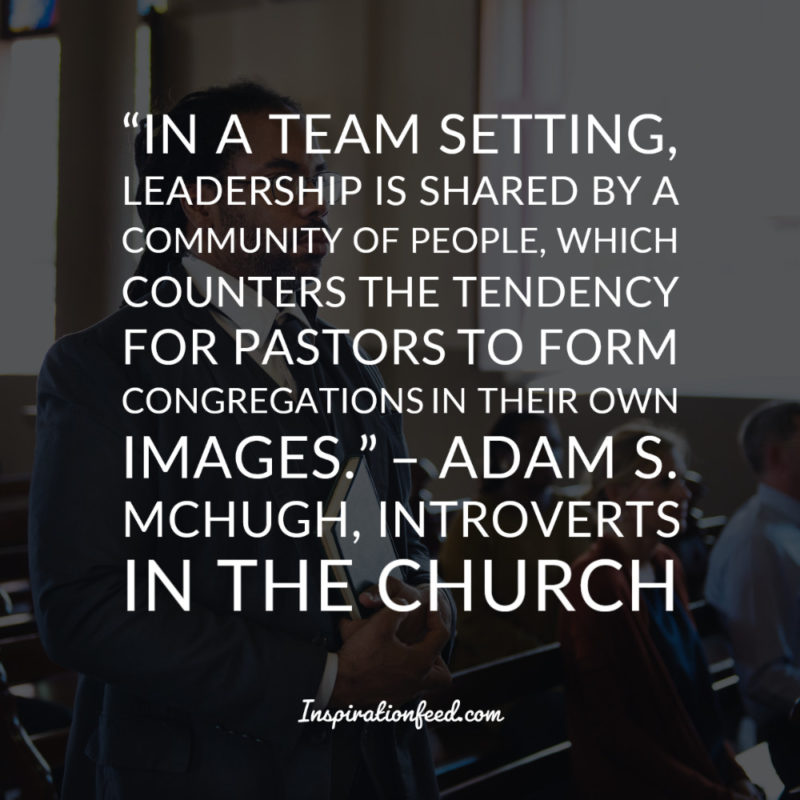 "You are either supporting the vision or supporting division." – Saji Ijiyemi
"The ability of a group of people to do remarkable things hinges on how well those people pull together as a team." – Simon Sinek, Leaders Eat Last
"It is great to do what you love but greater with the great team." – Lailah Gifty Akita, Think Great
"Together, we will raise the dunes from the earth, and rain death from the sky. Together, we are capable of anything." – Hafsah Faizal, We Hunt the Flame
"If Kingdoms wish to move quickly, they must go alone. If we wish to go far, we must go together." – E.Y. Laster, Of Captivity & Kings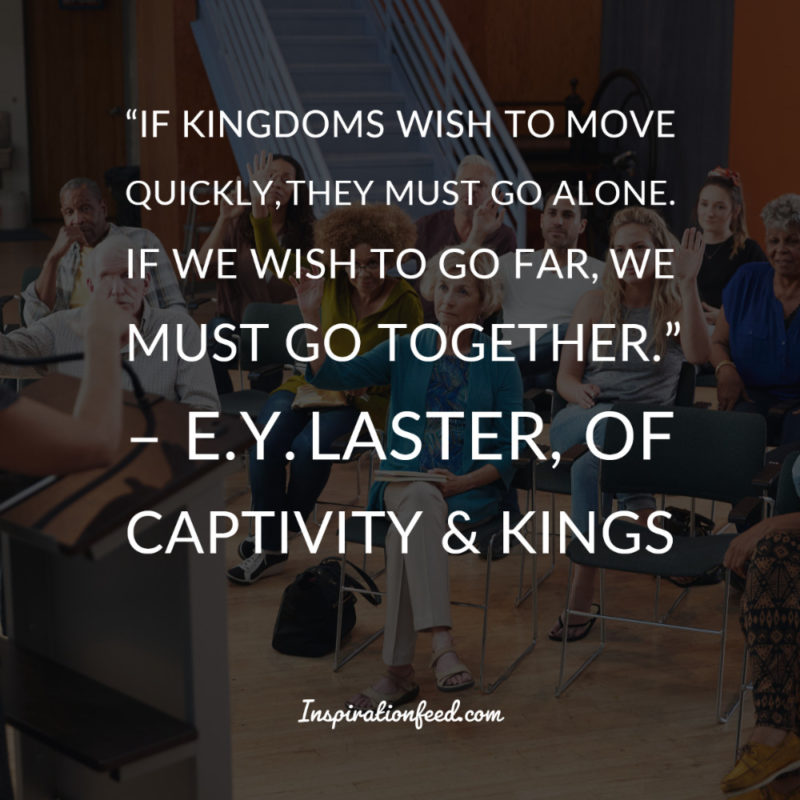 "Teamwork doesn't happen without good teammates." – Lance Loya
"Successful business based on successful team." – Sunil Godhwani
"When the world around us changes for the worse, it's not just the snap of fingers which will bring it back to the earlier position, it will take courage, thinking, team-work & the sacrifices to bring normalcy to the chaos." – Shahenshah Hafeez Khan
"You've never heard the phrase: 'Divided We Stand.'" – Manuel Corazzari
"Don't let the ability to do a thing on your own become a liability." – Hunter Post
"At the end of the day, our organizations are here for people. We must not only be about product innovations, we must also be about innovation in leadership." – Janna Cachola
"Connection and teamwork are very much intertwined. If you can't connect with a person be a team player. If a person does not show teamwork connect with them. All engagement is centered around relationships"

Janna Cachola, Lead by Choice, Not by Checks
"Selfishness sinks ships: friendships, partnerships, relationships, championships, even leaderships. Like an iceberg tearing through the hull of an ocean liner, selfishness will inevitably send all of those ships plummeting to the depths of the abyss. Selfishness sinks ships." – Lance Loya
"The cost of having a team is way lower than the expense of not having a team." – H. J. Chammas
"People educate you to write exams individually and expect you to work as a team. Crazy people, crazy world." – Dr. P.S. Jagadeesh Kumar
"Nice words and empty values do not deliver effective teams." – Simon Mac Rory
"Working together, has a whole new meaning." – Oscar Auliq-Ice, The Secret of Greatness
"The smallest of contributions made collectively makes the biggest difference." – Shahenshah Hafeez Khan
"As your Commander, I remind you that we must work together, as what holds a unit together is trust, built on integrity." – Rehan Khan, A Tudor Turk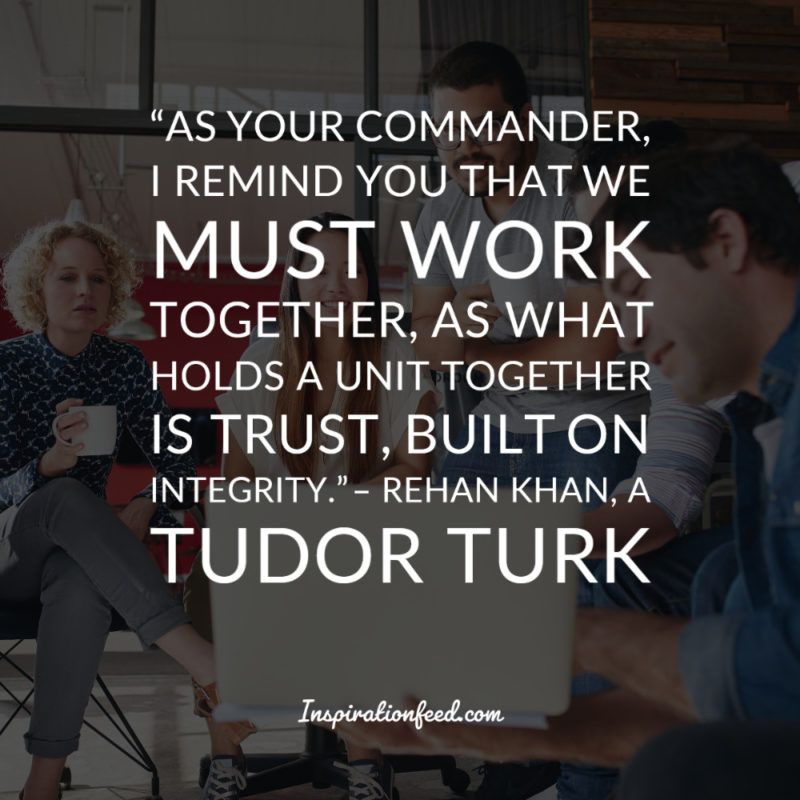 "The smallest of contributions made collectively makes the biggest difference." – Shahenshah Hafeez Khan
"How one raindrop marries the other and forms an ocean of love." – Suyasha Subedi
"No one is better alone!" – Manuel Corazzari
"If one member of the team is not at their full capacity, the team cannot be at its full capacity." – Britt Andreatta, Wired to Connect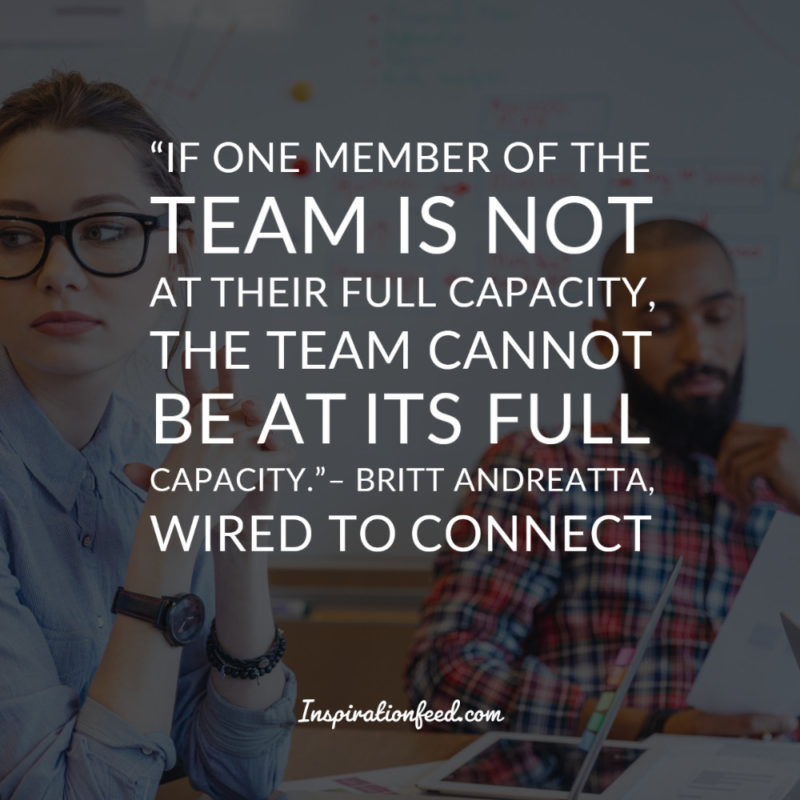 "Even upon the waters of trial and tribulation, by building the ships of kinship, fellowship, leadership and mentorship, we become unsinkable." – Brian S Woods, The Codex Bellum III
"It should never be ME against the world but WE against the world." – Janna Cachola
"I do not know what came first, the brown-nose worker or the arrogant boss; I simple hate it and I not be part of it." – Rodolfo Peon
"A job interview is a two-way communication to probe for cultural and team fit. No matter which side of the table you sit, you should be asking questions that are important to you without fear." – Salil Jha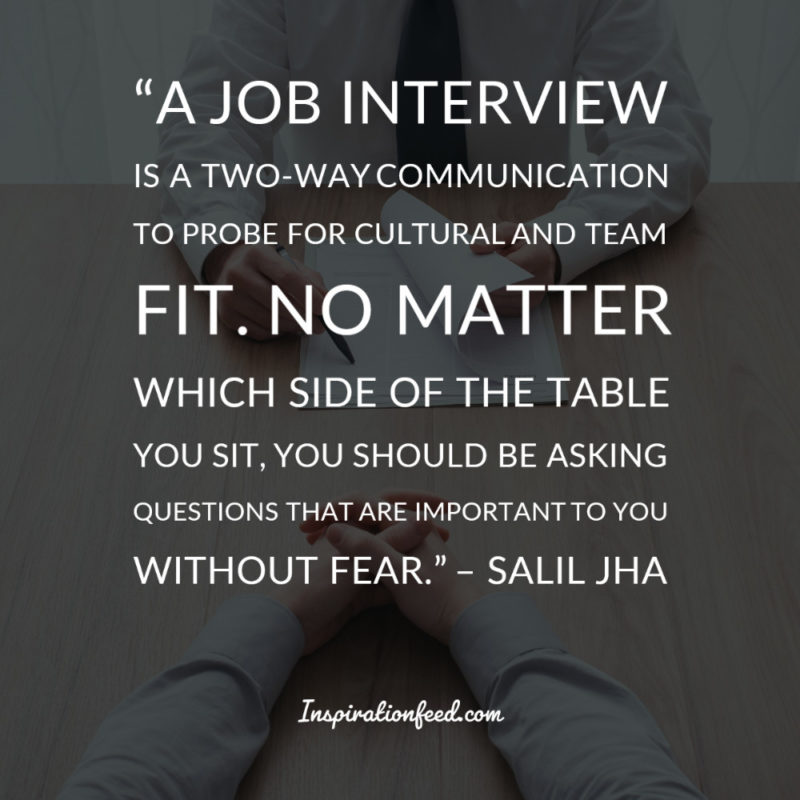 "A team never loses due to strong opposition or unfavorable conditions; a team loses due to own players failing to upgrade their game and continue running up and down the field thinking that their job is not to score or defend but to run behind the ball." – Shahenshah Hafeez Khan
"Number does not necessarily guarantee performance. For I have seen a team of 8 outperform a team of 80." – Awolumate Samuel
"The chain is only as strong as its weakest link, for if that fails the chain fails and the object that it has been holding up falls to the ground." – Thomas Reid, Essays on the Intellectual Powers of Man
"When your team member makes a request, take it seriously. Those who make an effort of asking cares about your organization, those who don't ask don't care." – Janna Cachola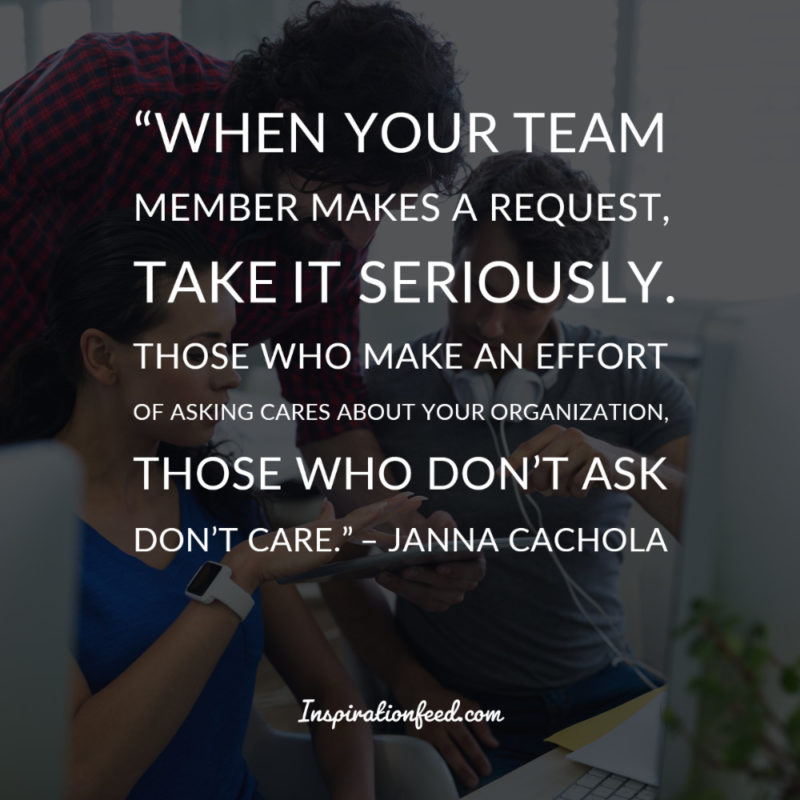 "When building an organization, build teams. Assign different colors to each team so they create identities, affiliate, and merge to produce all that is needed for success. Balance the colors." – Jennifer Ritchie Payette
"No member of a crew is praised for the rugged individuality of his rowing." – Ralph Waldo Emerson
"Not every one of us can be great, but every one of us can get associated with something that is great." – Amit Kalantri, Wealth of Words
"Sometimes it isn't just about the people doing the exciting part of things. Sometimes it's about the people holding things together back home too." – Kailin Gow, Fever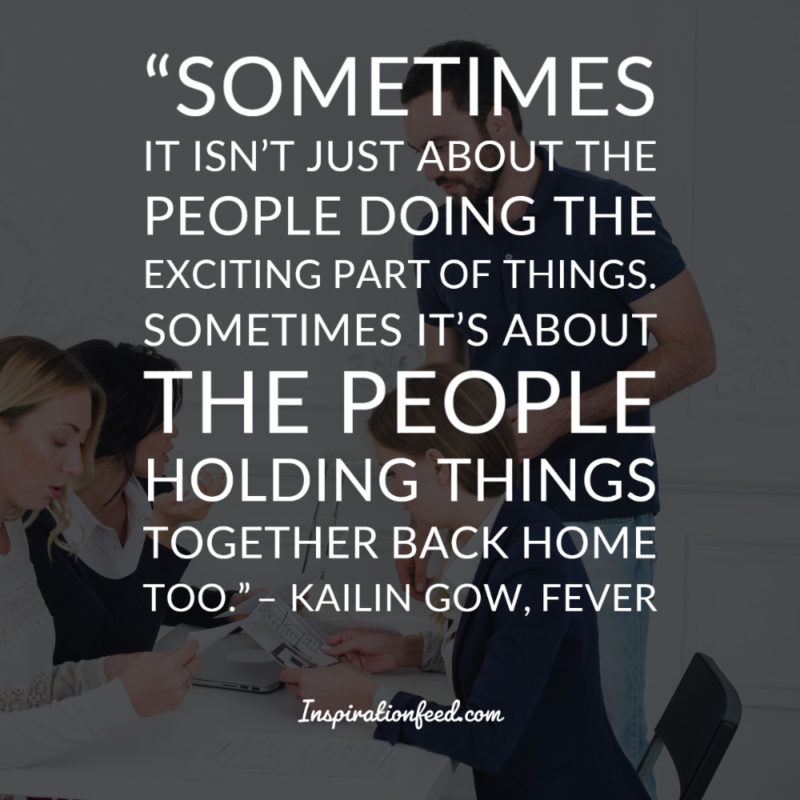 "Individual development is essential to collective/team success. Show me a team that exudes greatness and I will tell you about their individual commitments." – Awolumate Samuel
"Learn to allow your team leaders to shine while you reign. All that matters in the end is the result; nobody cares about attention without financial benefits." – Olawale Daniel
"When you fall short of your goals and dreams ask yourself is it your mindset, perspective, expectations, effort, approach, acceptance, company or a blend of these that needs to change." – Rasheed Ogunlaru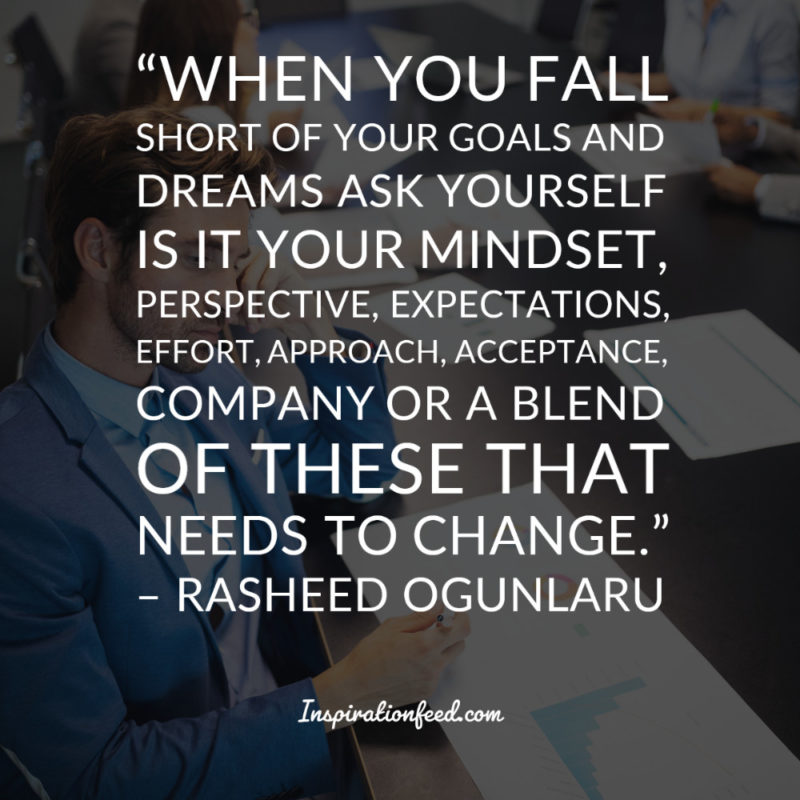 "Strategy is not really a solo sport – even if you're the CEO."
– Max McKeown, The Strategy Book
"Train like you are the worst player, play like you are the best player." – Amit Kalantri, Wealth of Words
"Great things in business are never done by one person; they are done by a team of people" – Steve Jobs
"Synergy without strategy results to waste of energy." – Ogwo David Emenike
"There are two kinds of people: goal-oriented and ego-oriented. Goal-oriented people work together and get things gone. Ego-oriented people don't work." – Charbel Tadros
"I'm very much about letting other people shine, because it makes us all shine brighter." – Chelsea Handler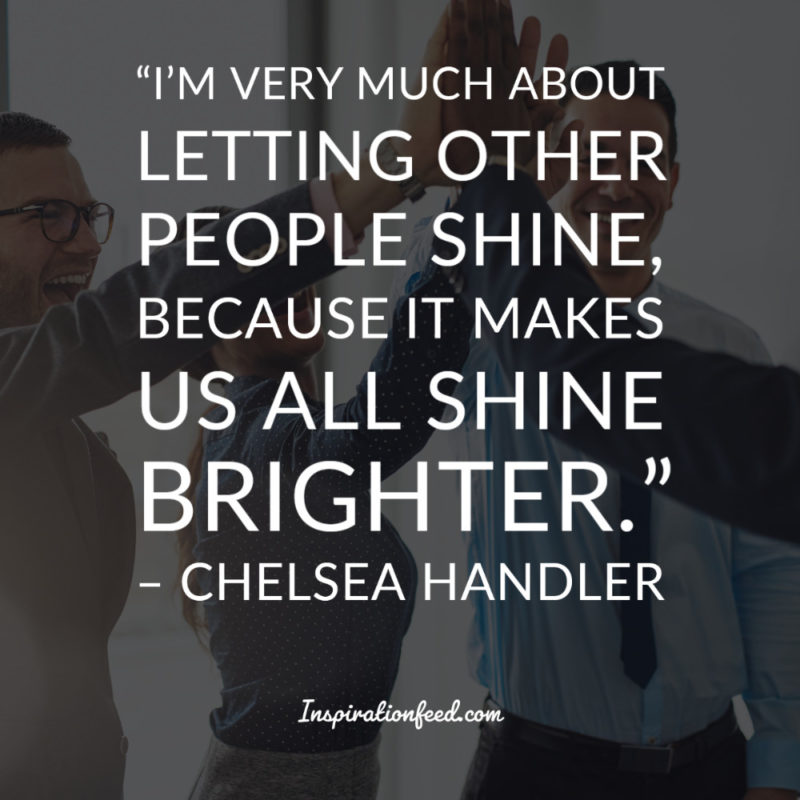 "There is no 'I' in team. But there are two in motivation." – T. Jay Taylor
"When you can, show them, when they can't teach them and when you do remember the only deed worth doing is the one that helps another up." – Bluenscottish
"Sometimes changing the game is as simple as finding a few people who play by the same rules as you." – Curtis Tyrone Jones, Sleeping With Enormity
"An intelligent mind who trust nothing but the intelligence will eventually face problems which intelligence won't solve." – Amit Kalantri, Wealth of Words
"Decisions decide your output." – Jo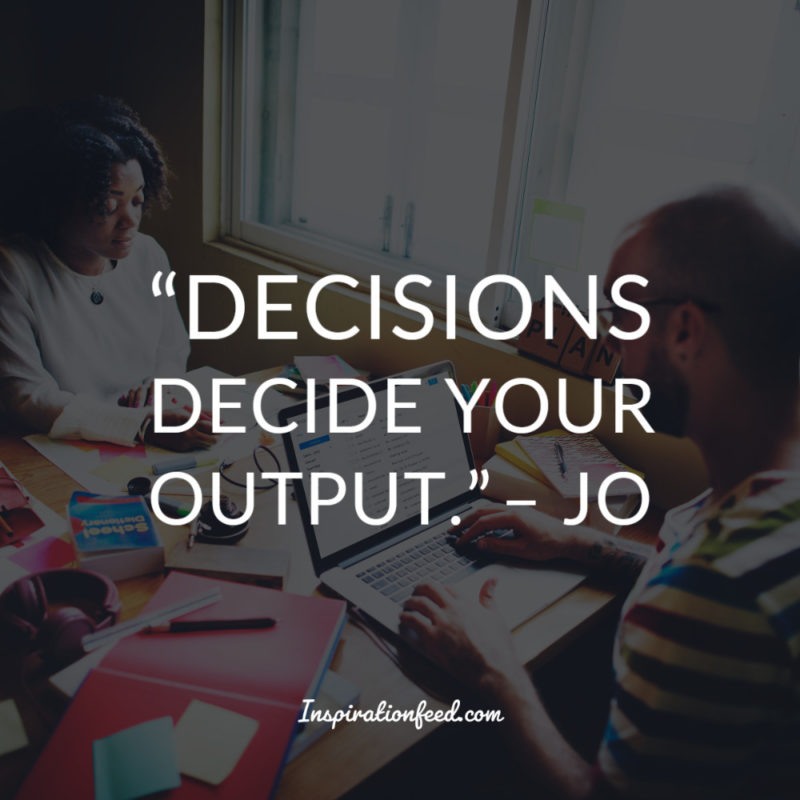 "Your leadership responsibilities are the real golden stripes." – Captain VS Parani, Golden Stripes
"Team work is essential to meet high expectation at work place." – Anikor Daniel
"See what you've done? It's catching. That great kid, going an extra mile because you're a great kid." – Stanley Gordon West, Blind Your Ponies
"Ego is the ultimate killer on a team." – Patrick Lencioni, Overcoming the Five Dysfunctions of a Team
"Be a team player, not a bandwagon jumper." – Aaron Lauritsen, 100 Days Drive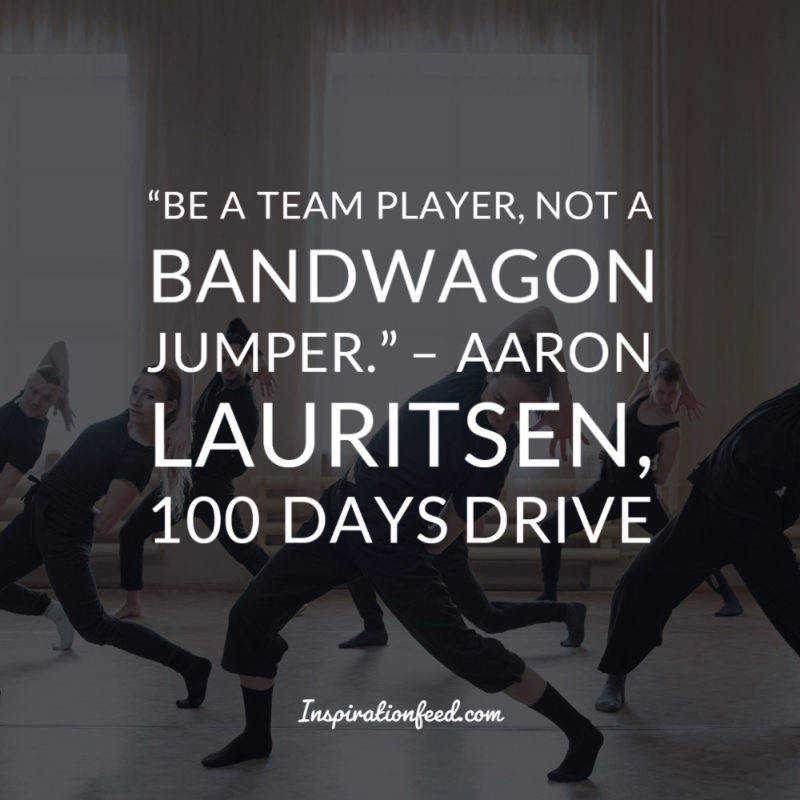 "Neighbor to neighbor. It is a mentality that has been fostered over centuries, since the earliest settlers realized the only way to survive in this desolate but beautiful outpost was to work together. Much of their music captures this spirit." – Jim DeFede, The Day the World Came to Town
"Givers reject the notion that interdependence is weak. Givers are more likely to see interdependence as a source of strength, a way to harness the skills of multiple people for a greater good." – Adam Grant
"Be fast, be first, but never be alone. Nothing can replace the value of teamwork." – Farshad Asl
"You are at different levels with different people." – Syed Sharukh
"Ants are successful creatures; they are successful because they know very well that the mind of the team is superior to the mind of the individual!" – Mehmet Murat Ildan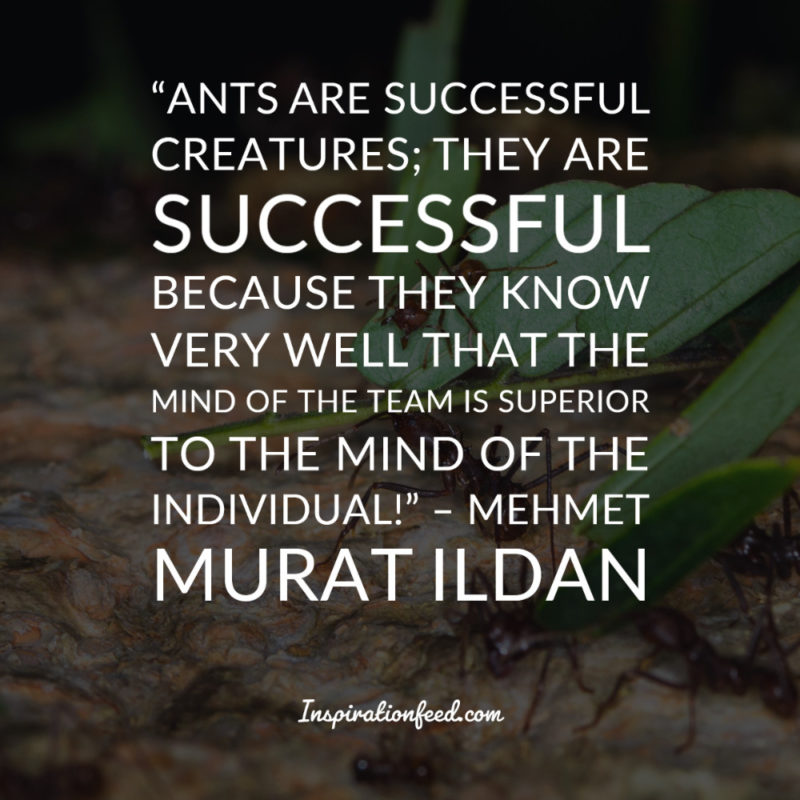 "When you switch your focus from the 'we' to the 'me', the goal from 'team' to 'self', you upset the balance of the whole. Consequentially, that redistribution of effort impedes success." – Carlos Wallace, The Other 99 T.Y.M.E.S.
"A rival can become an important ally if we find a common ground." – Izey Victoria Odiase
"There is no need to tell someone how to do his job if you have properly trained your team." – Dick Winters, Beyond Band of Brothers
"You learned a good lesson about fighting as a team. Remember that no warrior needs to be a hero. The most heroic actions take more than one cat." – Erin Hunter, Sign of the Moon
"The second you make it all about you, is the second you've already lost. It's about people – it always has been and it always will be." – Chris Hill
"We all cannot do everything or solve every issue. 'It's impossible', however, if we each simply do our part. Make our own contribution, regardless of how small we may think it is…together it adds up and great things get accomplished." – Mark W Boyer
"The secret to teamwork is an outward mindset." – Steve Young
"If you want the long road to success do it all by yourself." – James Jean-Pierre
"Every successful start-up is built on four pillars. Team, idea, passion and presentations." – Aayush Jain
"Neither gold nor diamonds mine themselves." – Johnnie Dent Jr.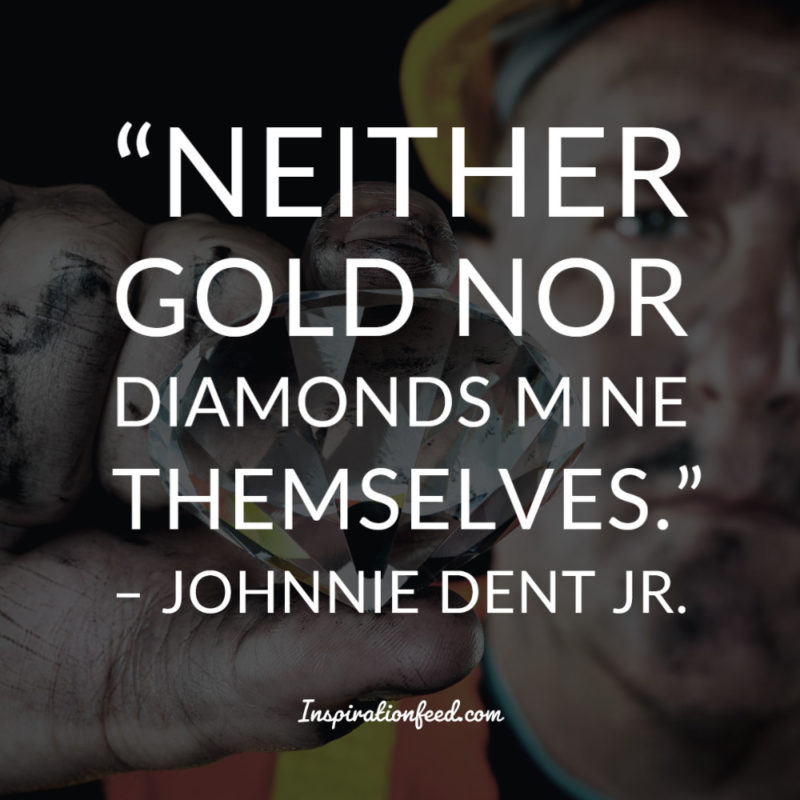 "To play a good game, you need a few players." – R.J. Torbert, The Face of Fear
"Cohesion is the bane of effective independence." – Anthony Corlisatra
"It takes healthy, resilient leaders and employees to achieve great results." – Sue Tetzlaff, The Employee Experience
"A core group of guys, all sharing similar goals, can move mountains." – Chris Matakas, The Tao of Jiu Jitsu
"You won't benefit from diverse perspectives if you aren't open to utilizing differences." – Eunice Parisi-Carew, Collaboration Begins with You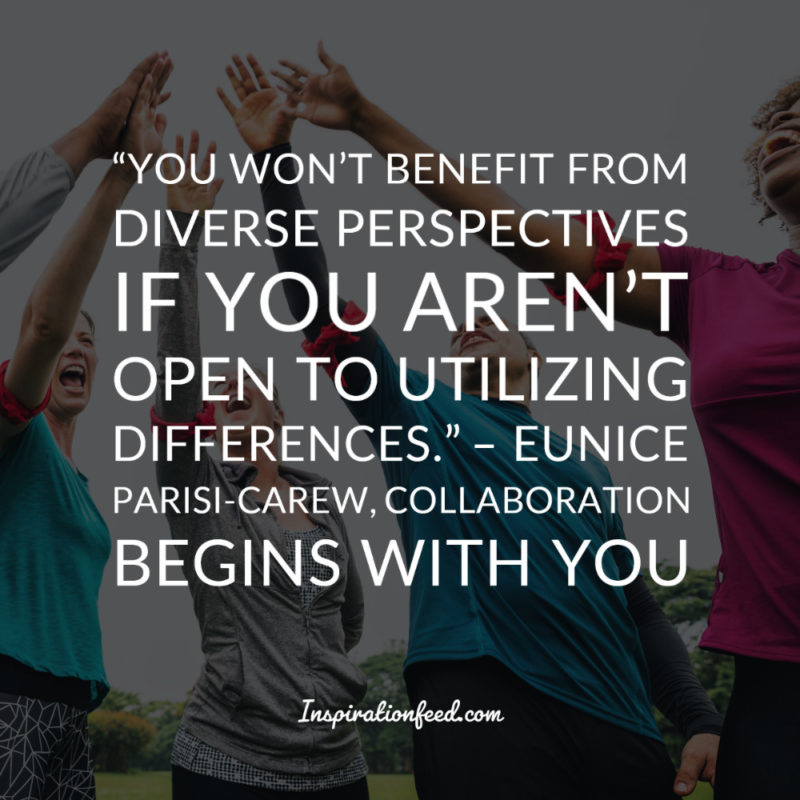 "Teamwork builds trust and the trust builds growth." – Nazim Ambalath