When you're in Dubai, there's never a shortage of fun things to do with your family. Did you know Dubai is the top destination in the world for its fantastic variety of site-seeing and adventure sports (remember the shopping extravaganzas too!). So if you're planning a visit or looking at properties for sale in Dubai, you may want to know why people from every corner of the world love this beautiful city.
With a growing need for a safe and balanced lifestyle, and the ability to live in a luxurious city, could be other reasons for this shift. A stable government and opportunities for all, combined with a beautiful cosmopolitan culture where you also maintain your ethnicity, could be some of the top reasons why foreign investors choose Dubai. This also explains why the Allsopp & Allsopp property consultants in Dubai are very busy with customers, even in the pandemic situation.
1.Burj Khalifa
At 2717 feet tall, it is the tallest tower in the world. Burj Khalifa is a human-made wonder and by far the most popular attraction in Dubai. It's about three times higher than the Eiffel tower and twice taller than the Empire State building: a structure architected by the best talents in the world.
Home to the first Armani 5-star hotel, this tower combines residential, commercial as well as chic cafes and restaurants within. You may not want to miss catching a glimpse of this imposing tower when you're in Dubai. Grab your tickets to take a tour inside this world-famous architectural wonder. Remember to pick up souvenirs and take pictures from this truly remarkable trip.
 2.Dubai Water & underwater zoo
Can you imagine a sea world with 33,000 aquatic animals and 140 marine species? This kind of abundance is possible only in Dubai.  The Dubai water and underwater zoo are one of the largest aquaria in the world.
You will be amazed at this remarkable collection of marine life and their ecosystem. Children get the opportunity to see the expansive range of aquatic life and their significance. This aquatic zoo is the perfect place for you and your family to be awed and gain some valuable knowledge at the same time.
3. I M G worlds of adventure
Yet another 'world's largest' in Dubai, the IMG world of adventure boasts the world's most extensive indoor temperature – controlled, themed entertainment, a sure place to see in Dubai. Indulge in thrills and adventure rides for the child in you: themed from famous cartoon characters and superheroes straight from the big screens, this is your world of adventure in every sense. If you enjoy the Disney world and its characters, then the IMG worlds of Adventure can be just the perfect place for you.
4.The Royal Atlantis resorts and residences
Situated on the breathtaking Palm Jumeirah island, is a stunning resort for a fantastic beach holiday experience combined with fancy cafes, restaurants, and family poolside hangouts. Plus, there are some great spots to dine in luxury. The resort is sprawling and provides you with a unique holiday experience.
A high style with luxury rooms and international cuisine are some of the added attractions at this resort. We're confident that you can feel the highs of living on a picturesque island in every way.
5.Gold Souk
Your Dubai experience will be incomplete if you skip the famous Gold Souk. It's a one of a kind area with hundreds of stores selling 22 Carat gold ornaments. And if you love jewelry, how about buying some pretty ornaments that are unique collectives when you head back home. Plus, you have the option to choose between 18 Carat contemporary jewelry or 22 Carat, depends on your style preference. Nowhere in the world can you see such a vast array of jewelry on display and sale. From trinkets to a vest made of gold! You get a glimpse of the golden lifestyle of Dubai here. Walk down the streets in the Deira Gold souq with your family and be awed by its lavish display.
6.The Desert Safari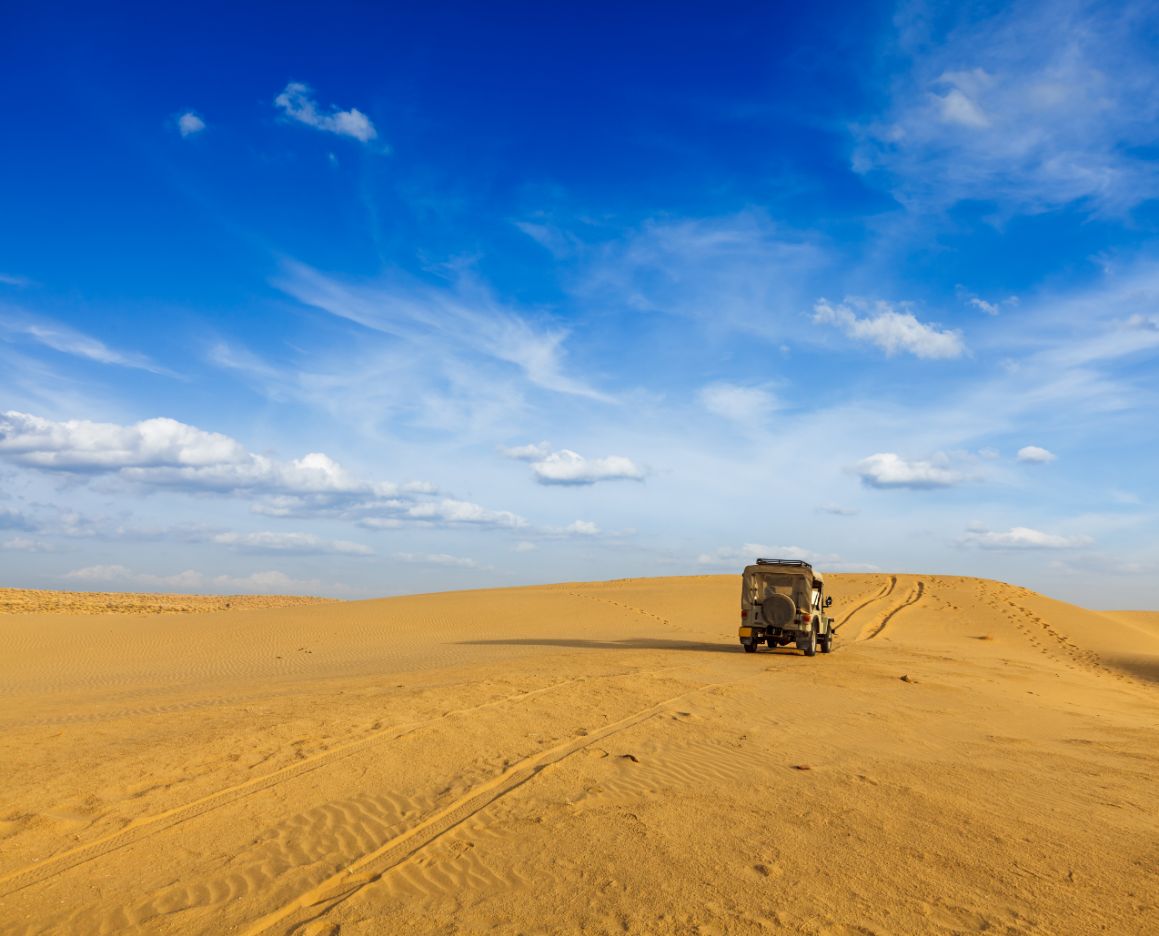 One of the oldest attractions in Dubai, the desert safari is an exciting ride into the beautiful deserts of Dubai. If you love new thrills, then you will be thoroughly satisfied with a desert safari. So what's unique about this safari? Firstly, you will board a high -end four-wheel-drive which is built for desert and mountain drives. An experienced driver will drive you through the dunes, popularly called 'dune dashing' ( the ride can be quite fast and different from what you might be used to). Here, you drive deep into the desert and enjoy family gala events, camel rides, dinner, and dance.
7.The Dubai fountain walk
A spectacular fountain show just behind the Dubai mall,  enjoying the Burj Khalifa view. Besides the fantastic view, you will fall in love with this jaw-dropping show of choreographed 'dancing fountains'. The fountains are tall and graceful in their movements and an absolute feast to your eyes. Also, you can pick up tickets for the Fountain walk –  referred to as the Broadwalk, and walk among the breathtaking fountains.
8.Parasailing off Jumeirah beach
Exhilarating and thrilling, an adventure you will always remember – Parasailing off the Jumeirah Beach. For the sporty-you, this can be a great getaway. Soar over the Arabian Gulf on this parasailing adventure and catch some incredible sights of the Palm Jumeirah, Dubai Marina, and surroundings, from an aerial view at 152 meters! (if the wind permits).
9.Miracle Garden
For nature lovers, gasp at the 50 million blooms in this beautiful flower garden. We're sure you will find this garden delightful and peaceful. It's a great way to show the beauty of nature in its bloom and colors to your children ( who knows? This trip can inspire them to create a lovely garden back home.
10.Butterfly Garden
Dubai is ever-growing with outstanding new developments that make it the most-beloved city worldwide. The Butterfly Garden is claimed to be the 'World's largest covered butterfly garden'. It's a truly unique garden with over 15,000 butterflies in all sizes and colors. These pretty butterflies thrive in a climate-controlled dome spanning about 6,673sq m. It's a fascinating day-trip with the family; a day spent with the winged beauties in a peaceful environment, a getaway to remember for a long time.